Whether or not the Irish like it, Ireland is known for its beer and pubs. In fact, beer has been a part of Irish history for at least 5,000 years and dates back to the country's earliest days of agriculture. Due to this long association with beer, Ireland also has a long history with public houses or pubs. Ireland is home to some of the oldest pubs in the world, several of which are still open to this day. Many of the pubs on this list are popular tourist destinations and manage to maintain their Irish heritage while appealing to modern tastes.
7. O'Donoghue's
Year Established: 1789; started operating as a full-time pub in 1934
Location: Dublin
Still Open: Yes
Operating Hours: Sun – Thurs: 11:00AM – 12:00AM; Fri – Sat: 10:00AM – 1:00AM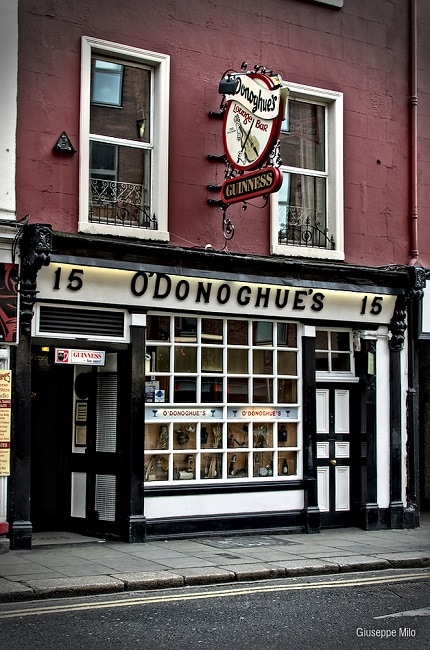 photo source: Flickr via Giuseppe Milo
In addition to being an historical landmark in Dublin, O'Donoghue's is famous for its association with Irish folk group, The Dubliners. Other notable Irish musicians frequent O'Donoghue's, such as Christie Moore, and the whole bar is covered with photographs of these musicians.
O'Donoghue's dates back to 1789 and was turned into a full-time pub in 1934 by Paddy and Maureen O'Donoghue – the bar has not changed its name since then. It was at this time that O'Donoghue's became famous for nightly traditional Irish music sessions; the Dubliners formed their band in O'Donoghue's. The bar was owned by another family before being purchased by current owner Oliver Barden and John Mahon in 1988. Barden continues to run O'Donoghue's with his family today.
---
6. McHughs Bar
Year Established: 1711; built between 1710 and 1715
Location: Belfast
Still Open: Yes
Operating Hours: Mon – Sat: 12:00PM – 1:00AM; Sun: 1:00PM – 11:00PM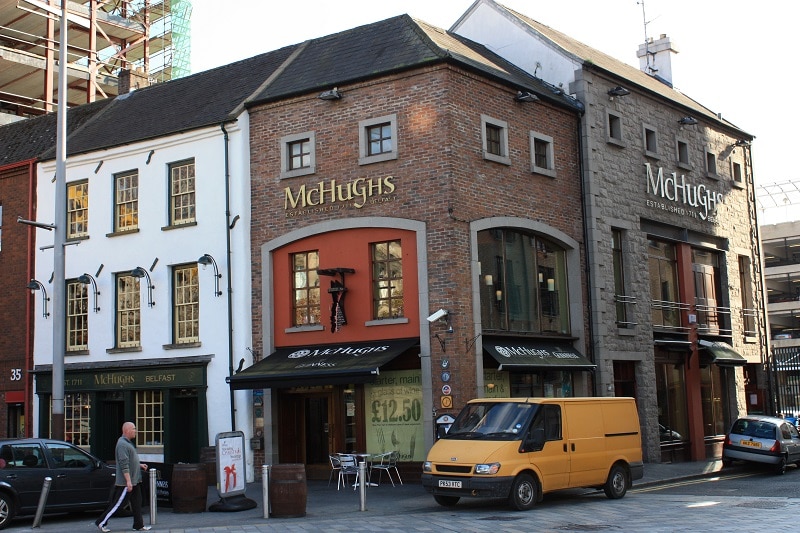 photo source: Wikimedia Commons
McHughs Bar is notable for being the oldest known building in Belfast. Although people knew that McHughs had been in Belfast for a long time because of the building's architectural style, its true age wasn't discovered until 1997. Following an archaeological survey of McHughs Bar by FW Hammond, it was revealed that the building is the only remaining construction from the early days of Belfast.
McHughs Bar has always operated as a pub (public house) or bar. The bar got its current name in 1989 from then owner Pat McHugh. The current iteration was reopened in 1998 following a £1 million renovation project. McHughs Bar has been owned by the Downeys Bar Group since 2013 and continues to offer great Irish food and drinks and stands as a symbol of Belfast's past.
---
5. Crosskeys Inn
Year Established: c.1654
Location: Ardnaglass, Toomebridge, Northern Ireland
Still Open: Yes
Operating Hours: Mon – Sat: 11:30AM – 1:00 AM; Sun: Noon – 11:00PM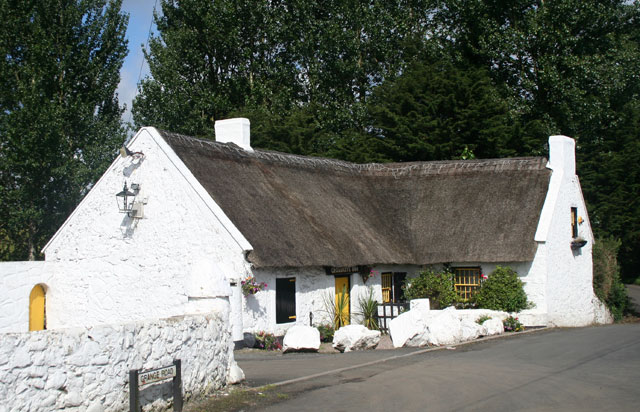 photo source: Geograph
The Crosskeys Inn in Northern Ireland has the distinction of being the oldest thatched pub in Ireland. Until recently, the owners of the Crosskeys Inn thought that the pub only dated back to the 1740s. However, in 2010 Queens University Belfast properly dated the building and determined that the Crosskeys Inn was built before 1654.
Various public records show that the Crosskeys Inn was a notable establishment. At one point, the Crosskeys Inn was a post office and a dwelling house. In early 2000, the Crosskeys Inn was partially damaged by a fire. The building was restored the following year by Eamon Stinton and the current owner, Vincent Hurl purchased the Crosskeys Inn a few months later. Hurl completely restored the Crosskeys Inn and made the pub popular again. The Crosskeys Inn is featured in Tourism Ireland marketing campaigns. According to the Crosskeys Inn website, Hurl will be adding dining facilities and accommodations.
---
4. Morahan's Bar
Year Established: c.1641; current bar since 1841
Location: Ballinagare
Still Open: Yes
Operating Hours: N/A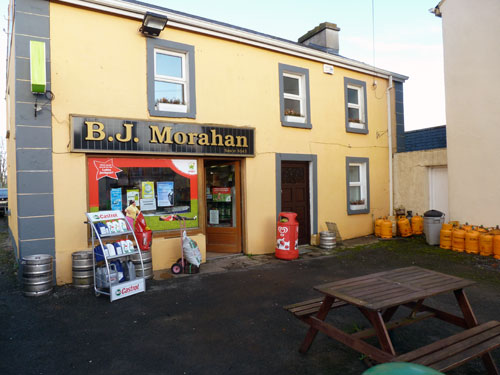 photo source: Morahan's Bar
According to Morahan's Bar, the Morahan family have been operating some type of bar in Ballinagare since at least 1641. The current version of Morahan's Bar dates back to 1841, evidenced by the licenses on the bar's wall from that time period.
The Morahan family are one of the oldest in Ballinagare and have always provided goods and services to the local community. At one point, the Morahans had a traveling shop that offered meal, flour, tea, and sugar. Today, Morahan's Bar continues to serve as a commerce and social center. In addition to offering libations, Morahan's Bar sells modern packaged goods.
---
3. Kyteler's Inn
Year Established: 1324
Location: Kilkenny City
Still Open: Yes
Operating Hours: Mon – Fri 10:30AM – 11:30PM; Sat 10:30AM – 2AM; Sun 12:15PM – 12AM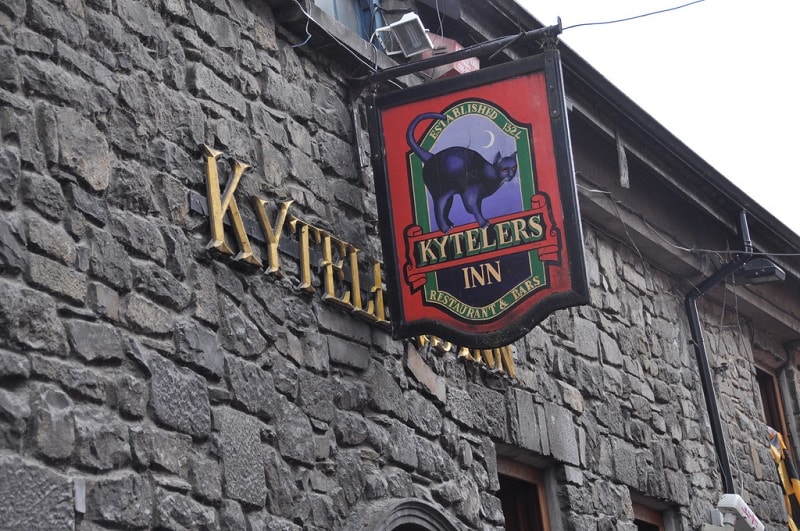 photo source: Flickr via Marcus Meissner
Kyteler's Inn was established by Dame Alice de Kyetler in 1324. Dame Kyteler is a famous historical figure in Kilkenny City and gained notoriety because of her four marriages and considerable fortune. Following accusations of witchcraft, Dame Kyteler fled to England to avoid being hanged. After Dame Kyteler's departure, the Inn passed through various owners and had highs and lows.
By the 20th century, Kyteler's Inn fell into disrepair and wasn't renovated until the 1960s by Kilkenny investors. Unfortunately, Kyteler's Inn struggled for several years until it was acquired in 1986 by current owner, Nicky Flynn. She wanted to revive the inn and provide good food, drinks, and Irish hospitality. Since then, Kyteler's Inn has been thriving and is a popular tourist destination. Flynn and the staff at Kytler's Inn belive that Dame Alice de Kyteler's ghost hangs out at the pub.
---
2. The Brazen Head
Year Established: 1198; present building built in 1754
Location: Dublin
Still Open: Yes
Operating Hours: Mon – Thurs 10:30AM – Midnight; Fri – Sat 10:30AM – 12:30 AM; Sun 12:30 AM – Midnight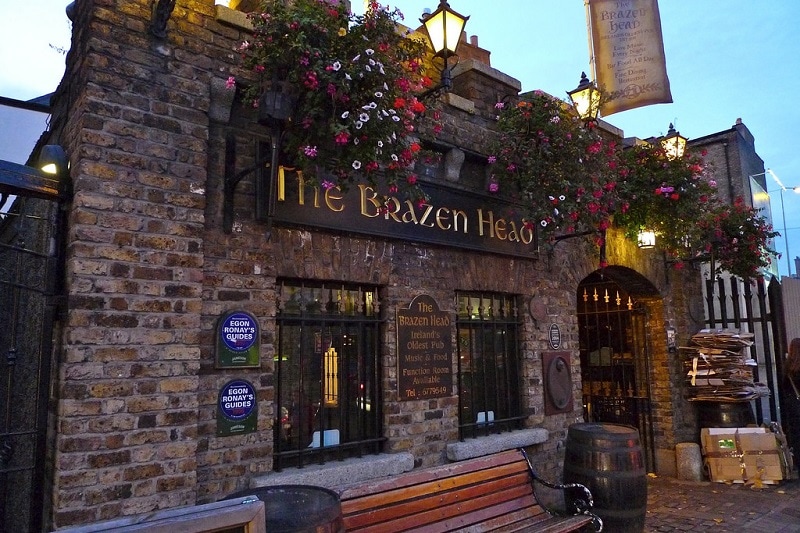 photo source: Flickr via Chad and Steph
Although Sean's Bar has documented proof that it is older, The Brazen Head boldly claims that it is "Ireland's Oldest Pub." According to The Brazen Head, the site has been home to an inn since 1198 and the current building was built in 1754 as a coaching inn. The pub also says that the name "The Brazen Head" appears in documents dating back to 1653.
While The Brazen Head might not be the oldest pub in Ireland, it does have a rich history. The Brazen Head was used by Robert Emmet to plan The Rising of 1798 – a rebellion against British rule – because it was close to Dublin Castle, the seat of English power in Ireland. Emmet's rebellion failed and he was hanged nearby; many people believe Emmet's ghost haunts the pub. The Brazen Head was also a popular spot for various famed writers such as James Joyce, Jonathan Swift, and Brendan Behan.
---
1. Sean's Bar
Year Established: c.900 CE
Location: Athlone
Still Open: Yes
Operating Hours: Mon – Sat 10:30AM – 12:30AM; Sun 12:30AM – 11:30 PM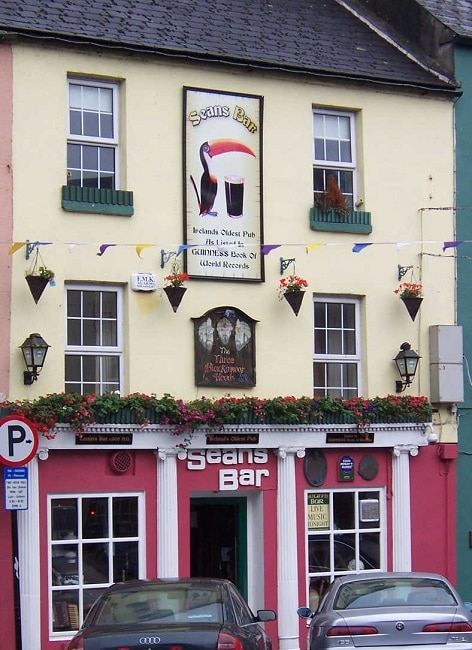 photo source: Wikipedia
Sean's Bar in Athlone is the oldest pub in Ireland and one of the oldest in Europe and quite possibly the entire world. The bar dates back to 900 CE when a man named Luain Mac Luighdeach – Luain son of Lewy built an inn close to the old great ford located in what is now Athlone. Sean's Bar has been recognized by Guinness World Records as "The Oldest Public House (pub) in Ireland."
During renovations in the 1970s, it was discovered that the original walls of Sean's Bar were made out of "wattle and wicker" dating back to the ninth century. Old coins from various points in the history of Sean's Bar were also uncovered. The coins and the walls are currently on display in Ireland's National Museum. Recently, Sean's Bar has gained even more recognition for creating its own whiskey – following extensive research into the history of whiskey making, it was discovered that distilling whiskey originated in the Athlone area.
OTHER POSTS YOU MAY BE INTERESTED IN
---