On the surface, Minecraft appears as a simple game where the main objective is to mine resources and craft objects, hence the name.
While this may be the very basic element of the game, mining and crafting regular objects just scratches the surface of the game — the things that people can create in Minecraft are only limited by their imaginations.
In early 2017, Minecraft announced that it had sold over 122 million copies since it was released in 2009, with 55 million players logging on every month.
The game's enduring popularity is driven by the limitless nature of its simple game mechanics. Because players can create anything, there is always something to do in the game.
A few months after the game was released, the first multiplayer mode was released and the popular survival multiplayer mode went live a year later in 2010. Since then, hundreds of Minecraft servers have been created for players to create communities, share their creations, and develop unique game modes.
Some of the most popular servers today originated almost immediately after survival multiplayer was launched.
7. Hypixel
Year Established: April 2013
Country of Origin: United States
Founder(s): Minecraft username: Hypixel and Rezzus
Total Number of Unique Players: over 7,000,000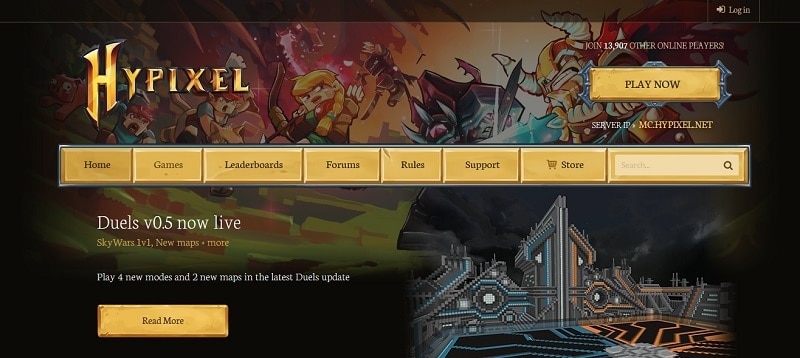 photo source: Hypixel
Along with Mineplex, Hypixel is one of the most popular Minecraft servers ever created. In 2015, the 7,000,000th unique player logged on to the Hypixel server. The player, HubBubTheNerdy, was celebrated as the 7,000,000th player and a small celebration to mark the milestone was held by the players in the game with HubBubTheNerdy at the time.
Hypixel has stayed popular for so long because of how massive it's world is and its unique minigames. Each of the minigames has its own coins, quests, and lobby. The server has shooters, normal survival, team survival, and hardcore survival, arcade games, hide and seek, arena brawl, and many more.
---
6. Mineplex
Year Established: January 24th, 2013
Country of Origin: United States
Founder(s): Minecraft username: Sterling_ and Spu_
Total Number of Unique Players: Unknown, possibly millions; over 525,000 users are registered on the Mineplex forums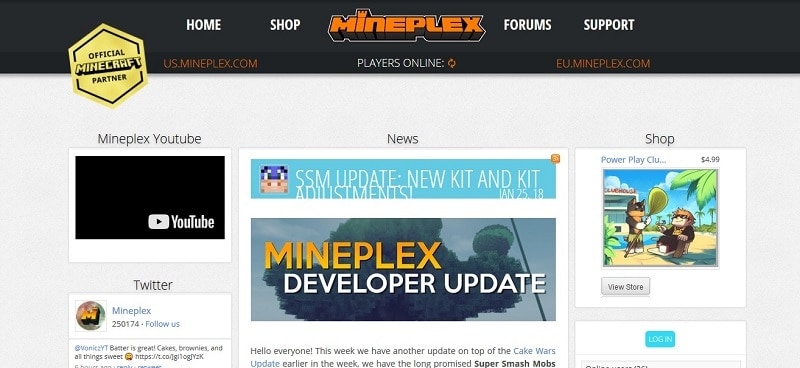 photo source: Mineplex
Even though Mineplex isn't as old as most of the other servers on this list, it is currently the largest and most popular Minecraft server in the world. Mineplex is so massive that there are thousands of players logged on to the server at all hours throughout the day and night. The server is even listed as an official Minecraft partner on its website.
To keep things running smoothly, Mineplex sells its own custom in-game cosmetics to help pay for server costs, world development, plugin development, and giveaways. Mineplex's main feature is its "minigames", which are special customized maps with different challenges. Minigame categories include: Classics, Arcade, Survival, Champions, Clans, and Holiday.
---
5. Crazy Fools UK
Year Established: 2010
Country of Origin: United Kingdom
Founder(s): Minecraft username: BRooNiE
Total Number of Unique Players: over 5,156 (last count from 2014)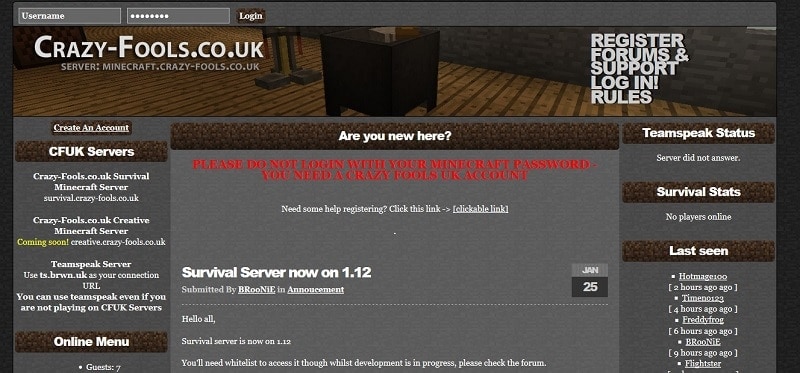 photo source: crazy-fools.co.uk
Although Crazy Fools UK might not be a well-known server, it is one of the oldest from the United Kingdom. The server's official website even says that its the oldest from the UK, but MinecraftOnline, which is based in England, is a a few months older.
Crazy Fools UK is a traditional survival mode server that says it is a "friendly and safe place to play without any of the hassles of idiotic admins or griefers." As a little custom touch to the regular game, Crazy Fools UK has its own custom coded "WaterWorld", which features a vast ocean full of islands and pirate ships. While the server is public, Crazy Fools UK says that anyone wanting to join the server has to pass a simple intelligence test.
---
4. 2b2t (2builders2tools)
Year Established: December 2010
Country of Origin: United States
Founder(s): Minecraft usernames: Georgebush420 and Hausemaster
Total Number of Unique Players: over 175,000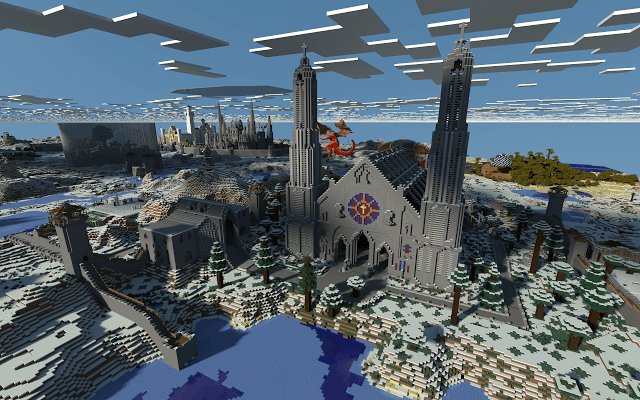 photo source: Imgur via user ArchQuantam
2builders2tools, which is usually just called 2b2t, is the oldest and most famous "anarchy server" in Minecraft history. It is typically considered the second oldest Minecraft server (even though there are a few older servers) overall after MinecraftOnline. The server has been run since December 2010 and has never been reset.
2b2t is best-known for how chaotic it is. Although the server is still reportedly owned by the original founders, no one actually runs or moderators the server. There are absolutely no rules on 2b2t and anything goes. This has led to many "wars" between different factions of players over the years. The server is so popular that there is a 1,000 player-long queue just to get in.
---
3. Minr.org
Year Established: October 22, 2010
Country of Origin: United States
Founder(s): Unknown
Total Number of Unique Players: Unknown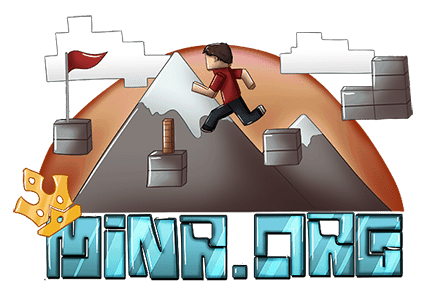 photo source: Minr.org
Like all of the servers on this list, Minr.org believes it is the oldest still running Minecraft server. Minr.org is one of the oldest servers that features mazes, challenges, and parkour maps. All of the servers challenges are created by members who have completed the hardest maps on the Minr.org.
Although the server is open to anyone, full membership, which includes building rights, into the Minr.org community must be earned by escaping the hardcore maze/parkour system. There are currently over 250 playable challenges on Minr.org. The server also hosts limited time, server-wide special events such as Ninja Warrior and The Amazing Race, which are both based on the TV shows with the same names.
---
2. MinecraftOnline
Year Established: August 4, 2010
Country of Origin: England
Founder(s): Minecraft usernames: SlowRiot with the help of RuneChan
Total Number of Unique Players: 125,379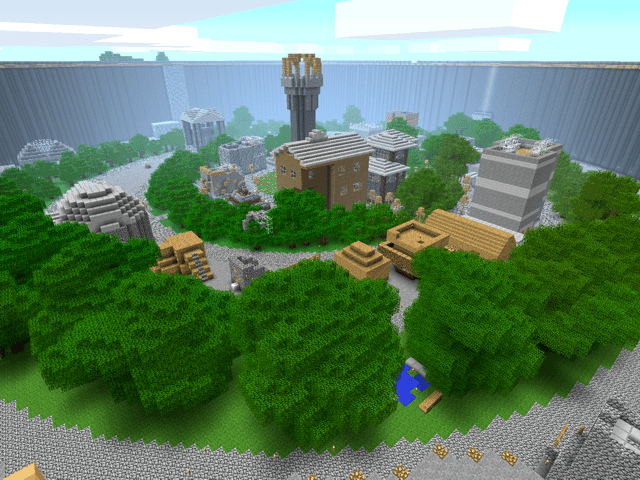 photo source: MinecraftOnline Wiki
While there is a lot of debate over which existing Minecraft server is the oldest, most people believe that MinecraftOnline is officially the oldest Minecraft server. The main world of MinecraftOnline, Freedonia was created on the same day Minecraft survival multiplayer was opened to the public. Freedonia has never been restored or regenerated since it first went live in 2010, making it the longest continuously running world in the game.
Since Freedonia has been running for so long and has always been open to the public, it is filled with numerous towns, cities, and sites. To preserve all the hard work of its users over the years, the admins of MinecraftOnline permanently ban anyone who tries to mess with any of the constructions in Freedonia.
---
1. Nerd.nu
Year Established: June 10, 2009
Country of Origin: United States
Founder(s): Unknown; current head admins – Minecraft usernames: cujobear, Silversunset, torteela, and Zomise
Total Number of Unique Players: Unknown; official wiki has 35,958 registered users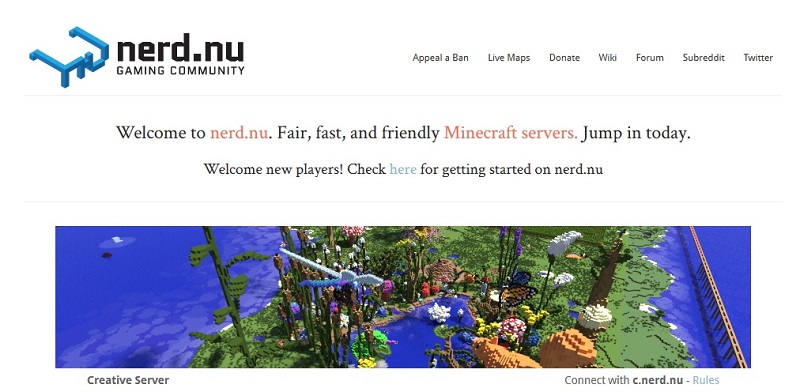 photo source: Nerd.nu
According to the official wiki page for Nerd.nu, it is one of the oldest Minecraft servers in the world. The server went online on June 10, 2009, just a few days after Minecraft's multiplayer mode went live.
Nerd.nu's servers are the oldest existing servers that were founded at the servers for Minecraft's Reddit community.
Today, Nerd.nu hosts three different server types: creative, PvE (player versus environment), and minigames. Nerd.nu also occasionally hosts events on its special events server. The creative server is Nerd.nu's longest running server and is currently on its 32nd revision. Nerd.nu says that its servers are "fair, fast, and friendly" and that new players are always welcome.
OTHER POSTS YOU MAY BE INTERESTED IN