Hello to all you history enthusiasts and adventurers out there!
Today, we're embarking on a relaxed journey through India's rich history to unveil some truly remarkable ancient forts. Imagine standing right where epic battles were waged, illustrious empires flourished and declined, and countless tales of bravery and mystery unfolded.
From the rugged hills of Rajasthan to the lush landscapes of Kerala, India's forts serve as captivating time capsules, transporting us to eras long gone by. So, grab your virtual backpack, and let's delve into the realm of India's ten oldest and most astonishing forts!
1. Qila Mubarak – Punjab's Hidden Jewel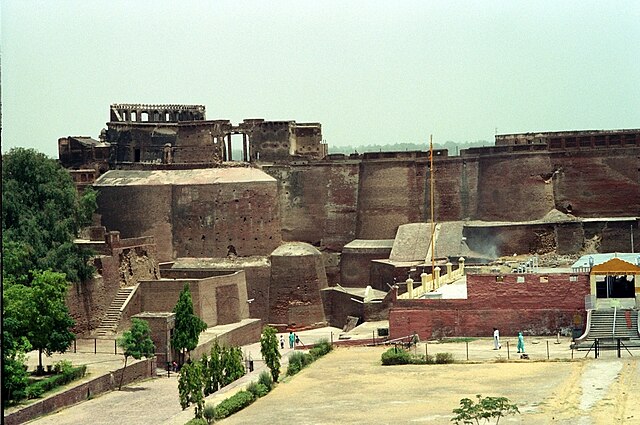 Photo Source
Qila Mubarak, nestled in Bathinda, Punjab, has witnessed it all. Visualize this: a fortress that has stood for over a millennium and dates back to the early 11th century! Rajput reigning supreme, Guru Gobind Singh's heroic deeds, and the tumultuous course of colonial rule. What's particularly captivating is its architectural fusion, combining elements of Hindu, Sikh, and Islamic styles, showcasing India's harmonious spiritual blend.
Did You Know?
Qila Mubarak is home to the Qila Sahib Gurdwara, a gathering place for millions of Guru Gobind Singh's devotees to pay homage annually on his birth anniversary.
---
2. Chittorgarh Fort – Rajasthan's Proud Heritage
Year Est.: 7th century AD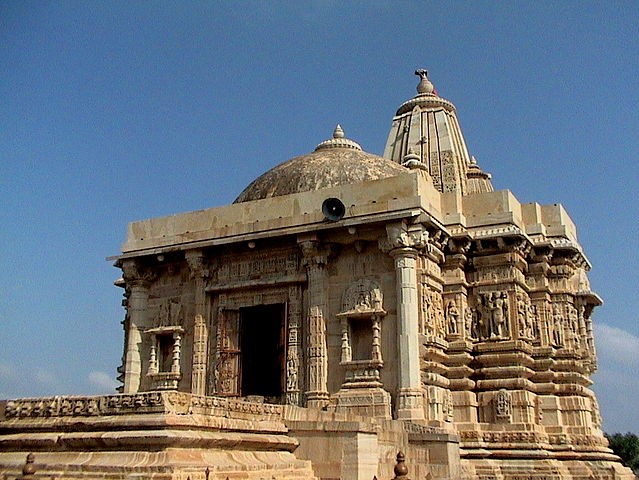 Photo Source
Prepare to be astounded by Rajasthan's Chittorgarh Fort. Perched majestically atop a 590 feet high hill, it's a living testament to the unwavering spirit of the Rajputs. Envision grand palaces, exquisite temples, and towers that whisper tales of Rajput valor and 'Jauhar,' their valiant last stands. This UNESCO World Heritage Site unfolds like a living history tome!
Did You Know?
The Vijay Stambha (Victory Tower) in the Chittorgarh Fort is an exquisite stone-carved masterpiece commemorating Maharana Kumbha's triumph over Mahmud Khilji. It was built by Maharana Kumbha. It showcases a multitude of intricate carvings and inscriptions.
---
3. Agra Fort – Mughal Grandeur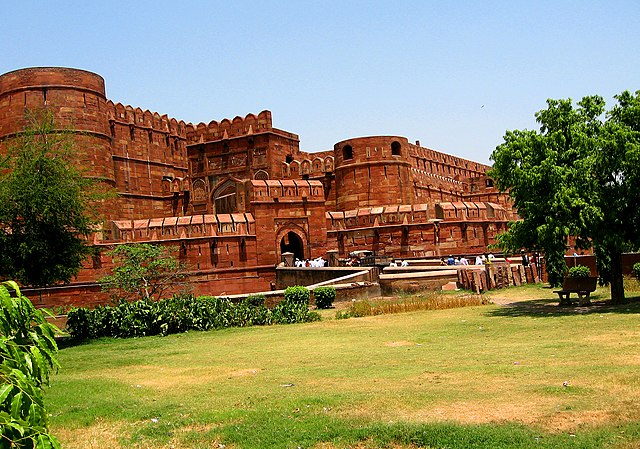 Photo Source
Step into the opulent world of the Mughal era at Agra Fort in Agra, Uttar Pradesh. It sits proudly on the banks of the Yamuna River. It hosted emperors near the Yamuna River, including Shah Jahan, the visionary behind the iconic Taj Mahal! Emperor Akbar's genius conceived it in 1565, creating a time capsule of Mughal history.
Did You Know?
Shah Jahan, the builder of the Taj Mahal, was confined here by his son, Aurangzeb.
---
4. Red Fort – Delhi's Jewel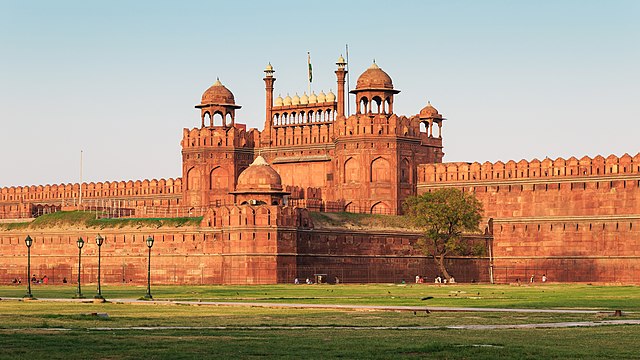 Photo Source
Delhi's Red Fort shines as a superstar among Indian forts. It has borne witness to Mughal splendor, colonial domination, and even India's struggle for independence. Constructed by Emperor Shah Jahan in 1639, this UNESCO World Heritage Site captivates with its striking red sandstone walls, lush gardens, and majestic chambers.
Did You Know?
It was once the residence of Mughal emperors and was called "Qila-e-Mubarak" for nearly 200 years and later transformed, during colonial rule, into a British stronghold.
---
5. Gwalior Fort – Madhya Pradesh's Crown Gem
Year Est.: 8th Century AD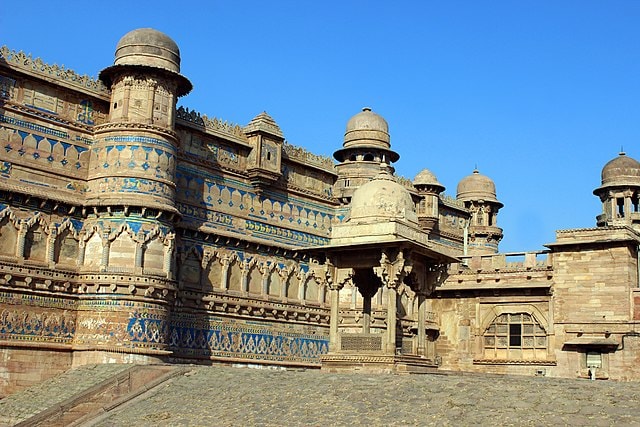 Photo Source
Gwalior Fort, a gem in Madhya Pradesh's crown, boasts a history spanning a millennium. Rulers like the Tomars, Mughals, Marathas, and even the British sought its possession. It's no wonder – its architecture and location combine to create an exceptional allure!
Did You Know?
The Man Singh Palace within this fort resembles an art gallery showcasing India's diverse architectural styles with a unique blend of Indian, Persian, and European architectural styles.
---
6. Kangra Fort – Himachal's Precious Relic
Year Est.: Circa 4th century BC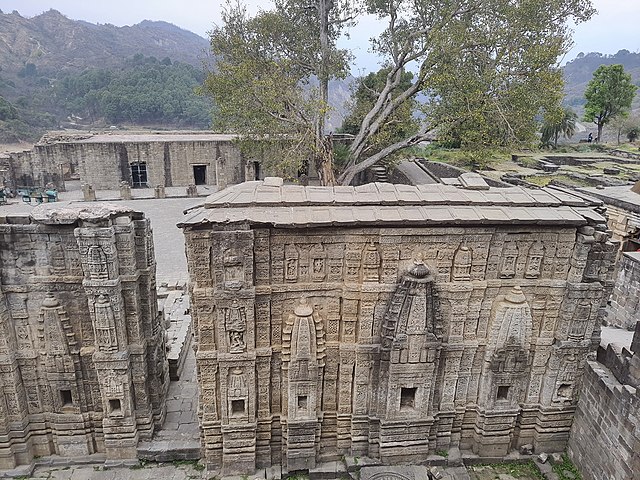 Photo Source
Himachal Pradesh's Kangra Fort is as ancient as myths themselves! This massive fort, dating back to the 4th century BC, has witnessed empires like the Katoch rulers and the British rise and fall.
Did You Know?
Kangra Fort's history spans over 2,000 years. Surprisingly, it even finds mention in the Mahabharata! Now that's a paradise for history enthusiasts!
---
7. Jaigarh Fort – Rajasthan's Defender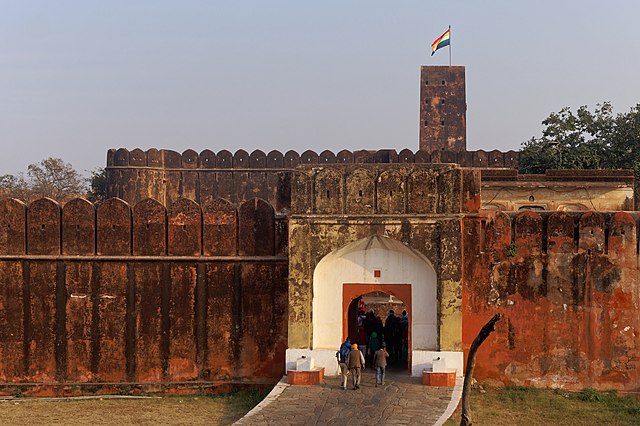 Photo Source
Rajasthan's Jaigarh Fort (Victory Fort) is all about grandeur – it houses the world's largest wheeled cannon, Jaivana! It was commissioned by Maharaja Jai Singh II and served as a strong defense line along with treasury for the royal family.
Did You Know?
The Jaigarh Fort has breathtaking vistas, royal treasures, and a network of concealed passages linking it to the renowned Amber Fort. The fort's cannon, Jaivana, plays the role of a medieval superhero.
---
8. Mehrangarh Fort – Jodhpur's Crown Gem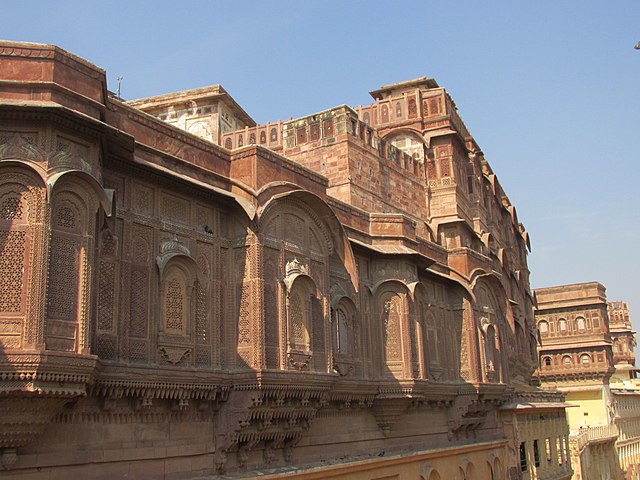 Photo Source
Jodhpur's Mehrangarh Fort is like a high-five from the Rajputs to history. It was erected in 1459 on a 400-foot hill, it brims with stories and artifacts. Its museum acts as a time machine, providing insights into Rajput's magnificence.
Did You Know?
Despite numerous battles, Mehrangarh Fort has never been conquered. Now that's resilience! It has a reputation for being "invincible," and rightfully so!
---
9. Golconda Fort – Telangana's Precious Jewel​​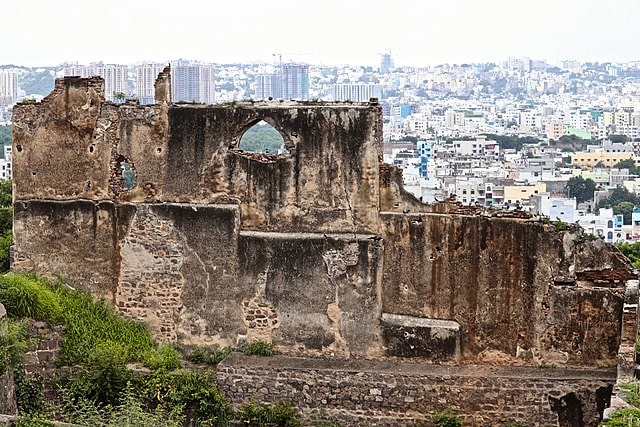 Photo Source
Ever heard of a fort that doubles as an acoustic marvel? Golconda Fort in Hyderabad, Telangana, is just that. It started off being a mud fort only to be later fortified by the Outb Shahi dynasty with granite stone. Once a hub for the diamond trade, this ancient fort has basked in its share of glory.
Did You Know?
Some of the world's most renowned diamonds, like the Hope Diamond and Koh-i-Noor, have roots in Golconda Fort's glittering history.
---
10. Palakkad Fort – Kerala's Time Portal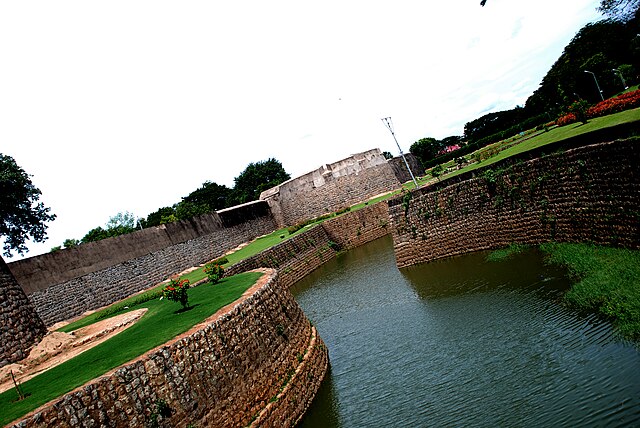 Photo Source
Nestled in the heart of Kerala, Palakkad Fort (aka Tipu's Fort) is a silent narrator of tales. Hyder Ali was the ruler of Mysore and constructed the fort in 1766, it bore witness to intense clashes between the British and the Mysore kingdom.
Did You Know?
This fort houses a Hanuman temple! Who knew history and spirituality could be such close companions? It is one of the few forts with a shrine inside the fort's premises.
---
Conclusion
And there you have it – a breezy journey through India's most captivating ancient forts. From Punjab to Kerala, these forts function as enchanting gateways that transport us to the past.
They bring history textbooks to life, reminding us of the incredible narratives that have woven India's vibrant tapestry. So, as you wander through these forts next time, remember – you're not just sightseeing; you're time-traveling!