Oaks are beautiful, robust trees that grow in many parts of the world where the climate is relatively mild. They can be found in the Americas, Europe, Asia, and North Africa. Oak trees are split into many different species, and there are over 500 kinds of them in the world.
Starting from just a small acorn, an oak tree grows tall and wide, reaching up to 100 feet in height for a mature tree. When fully grown, the crown of an oak tree is large enough to shield half a football field from the sun.
Oak trees reach maturity at around 75 years of age. Their average lifespan is around 150-250 years. However, some of these magnificent trees defy all odds and live much longer than that.
Would you like to see the oldest oak trees on the planet? Read on below!
8. Major Oak
Estimated age: around 800-1,000 years
Status: Alive
Location: Edwinstowe, Sherwood Forest, England
Oak species: Quercus robur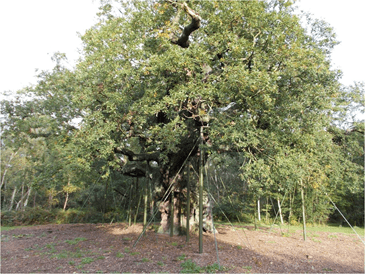 photo source: Wikipedia
Major Oak is a large oak tree located in Sherwood Forest, Nottinghamshire, England. This is a tree steeped in legend and folklore.
Local legends say that this is the tree where Robin Hood's shelter was located. According to the tales, Robin and his merry men slept in this very tree.
It's certainly large enough to allow for that to happen — with an estimated weight of 23 tons and a girth of 10 meters (33 feet), it's one of the largest oak trees in all of England.
Did you know?
As the Major Oak continues to produce acorns, the fruits of this tree can be found far and wide.
Back in 2003 in Dorset, England, 260 acorn saplings from the Major Oak were used to start an oak plantation. The purpose of this particular plantation was to widen the public knowledge about Major Oak as well as to run scientific studies.
---
7. Bowthorpe Oak
Estimated age: over 1,000 years
Status: Dead
Location: Bourne, Lincolnshire, England
Oak species: Quercus robur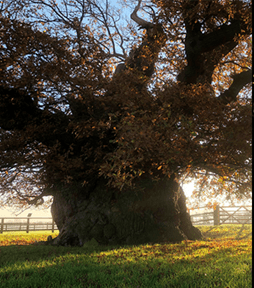 photo source: Bowthorpe Park Farm
Bowthorpe Oak is a massive oak tree located in Manthorpe near Bourne, England. It has an estimated age of over 1,000 years, which would make it the oldest oak tree in England.
This tree definitely classifies as huge. It has a circumference of 12.30 meters, which translated to over 40 feet.
It stands on Bowthorpe Park Farm and is open to visitors, which means that thousands of people see this ancient tree every single year.
Did you know?
The hollow interior of the tree is big enough to have been used by up to 20 people at a time! It has been fitted with chairs and served as a dining area at one time. The fitting was done by George Pauncefort in 1768, although the benches have since been taken down.
---
6. Seven Sisters Oak
Estimated age: 1,000-1,500
Status: Alive
Location: Mandeville, Louisiana, United States
Oak species: Quercus virginiana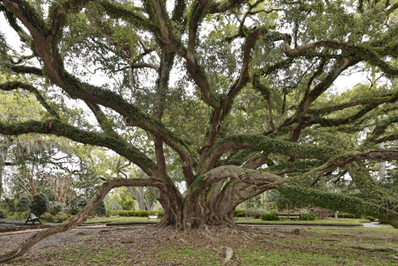 photo source: Wikipedia
The Seven Sisters Oak is a massive oak tree located in Mandeville, Louisiana. It's one of the oldest live oak trees in the area.
The name of this oak is a relic of bygone days. It used to be known as the "Doby's Seven Sisters" oak due to the fact that it stood on a property owned by the Doby family. Mrs. Dobby was one of seven sisters, and thus, the name was born.
There used to be some doubt as to whether the Seven Sisters Oak is not a clonal tree, meaning a combination of several trees, but a scientific analysis in 1976 revealed it to be a single tree.
Did you know?
This oak was registered in the Live Oak Society. It was later awarded an additional honor — the Seven Sisters Oak is now considered to be the president of the society.
Due to its impressive size, it is also the National Champion on the National Register of Big Trees.
---
5. Stelmužė Oak
Estimated age: 1,500-2,000 years
Status: Alive
Location: Stelmužė, Zarasai, Lithuania
Oak species: Quercus robur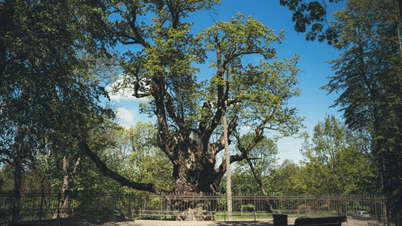 photo source: VisitZarasai
The Stelmužė Oak is a beautiful tree that grows near the village of Stelmužė, Lithuania. It's located on lands that used to belong to Stelmužė Manor Park.
Not all of the tree's branches are still alive, but it continues to be considered a living tree. This makes it the oldest living tree in all of Lithuania.
Stelmužė Oak has been declared a natural monument in 1960. Ever since then, it's on the Lithuanian list of protected monuments, and it is well looked after.
Did you know?
If one wanted to embrace the tree, 8 to 9 men would need to do it simultaneously for it to happen!
The Stelmužė Oak has impressive measurements: 13 meters (42 feet) in girth at the widest part of the trunk as well as a height of 23 meters (75 feet).
---
4. Kongeegen
Estimated age: 1,500-2,000 years
Status: Alive
Location: Jægerspris North Forest, Sjælland, Denmark
Oak species: Quercus robur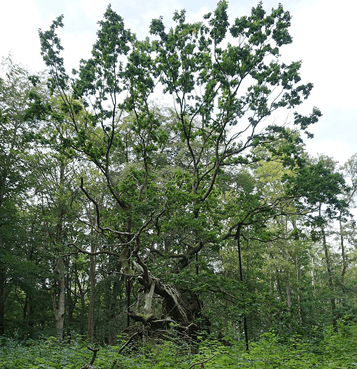 photo source: Wikipedia
Kongeegen, also known as the King Oak, is a large oak tree located in the north of Denmark. The forest is actually located on a small Danish island called Sjælland.
Kongeegen's exact age is unknown. The tree went through a scientific investigation in 1965. Through the process of dendrochronology, which is an analysis of the tree's rings, Kongeegen's age was determined to be anywhere between 1,500 and 2,000 years. This would make it the oldest living oak in the northern part of Europe.
It's speculated that the oak, now surrounded by trees, probably grew in an open meadow. The trees that now grow around Kongeegen, many of which are taller, likely only grew later, somewhat stilting the tree's growth.
Did you know?
In the same forest where Kongeegen is located, two more famous Danish oaks used to live.
Snoegen, the first of the two, was estimated to be around 700 years old. The tree died in 1991, but its trunk remains in the forest.
Storkeegen is the second ancient tree in that forest. Unfortunately, the tree has officially died in 1981, estimated to be around 800 years old at the time.
---
3. Granit Oak
Estimated age: 1,700 years
Status: Dead
Location: Granit, Bulgaria
Oak species: Quercus robur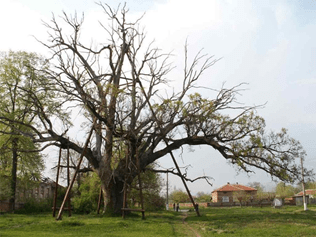 photo source: Guide-Bulgaria
Located in the small Bulgarian village of Granit, the Granit Oak is amongst Europe's oldest trees. It is also considered to be the oldest tree in all of Bulgaria.
This is a massive tree: the Granit Oak measures 2.38 meters (8 feet) in diameter, 7.46 meters (25 feet) in girth, and 23.4 meters (78 feet) in height. The crown of the tree measures a whopping 1017 square meters, which translates to nearly 11,000 square feet.
Back in 1967, the Bulgarian government declared this oak a protected tree and it has been under protection ever since. It's included on Bulgaria's list of national monuments.
Did you know?
Granit Oak suffered several losses throughout the years. In 1969, it lost its main branch on the northern side. This was a huge loss to the tree and it impeded its growth.
Since 1983, the tree is supported by a metal construction. Most of it is considered dead, although there are some live branches sprouting from it occasionally.
---
2. The Pechanga Great Oak Tree
Estimated age: 2,000 years
Status: Alive
Location: Temecula, California, United States
Oak species: Quercus agrifolia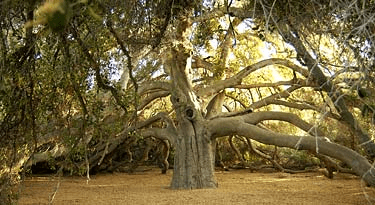 photo source: pechanga-nsn.gov
The Great Oak in Pechanga, also known as Wi'áaşal by Pechanga locals, is recognized as the oldest singular oak tree in the world. On top of all that, it's the oldest still living oak tree.
This magnificent tree grows in an area that used to be known as the Great Oak Ranch. It is now part of the Pechanga Reservation, and thus, it remains under protection and is in federal trust.
To the native people of Pechanga, the land on which the Great Oak stands carries a deeply spiritual meaning. Locals often speak of the resemblance between the great tree and the people who reside there, naming qualities such as strength, wisdom, and determination.
Did you know?
Despite being such an old tree, this oak continues to produce acorns once every two or three years. These acorns are not left to waste.
The employees of the local Cultural Department, as well as the Pechanga Youth, collect these acorns and then transplant them into pots. Once they grow large enough, they are planted elsewhere within the reservation.
These tiny tree saplings are referred to as "Wi'áaşal's Children".
---
1. Jurupa Oak
Estimated age: 15,600 years
Status: Dead
Location: Jurupa Mountains, California, United States
Oak species: Quercus palmeri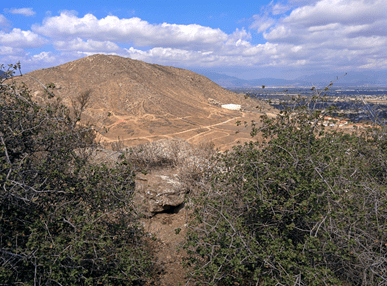 photo source: Wikipedia
Jurupa Oak, also known as Hurungna Oak, is the oldest oak tree in the world. It's more than just one tree — this is a colony of oaks that has stayed alive so long through the process of clonal reproduction.
Jurupa Oak was discovered by Mitch Provance, a passionate botanist, back in the 1990s. Although the colony of oaks is still deemed alive, it only grows after a wildfire hits it. At that point, its burned branches sprout new roots, proving that Jurupa Oak lives on.
This colony of trees, treated as one organism by scientists, is not only exceptionally old — it's also oddly placed. Jurupa is the only one of its species in the area. The local climate in Jurupa Mountains is much drier than where Quercus palmeri, also known as Palmer's Oak, tends to normally grow.
Did you know?
Scientists are not exactly sure how old Jurupa Oak is, but various analyses proved that it has to be at least 13,000 years old.
On the other hand, Michael May from the University of California stated that the tree must be at minimum 15,600 years old. However, May also added that it's a very conservative estimate, and if anything, the tree might be even older than that.
Such an age makes Jurupa Oak colony one of the world's oldest trees, as well as possibly the third oldest living organism on Earth.
OTHER POSTS YOU MAY BE INTERESTED IN