The oldest planes are not always historical relics. Many still make scenic flights throughout the world. From the sturdiest operational airliners to the old-school aviation artifacts, here is a brief guide to the oldest planes that you can still fly today.
9. Air Inuit
Model: 737-200
Year: 1978
Registration: C-GMAI
Country: Canada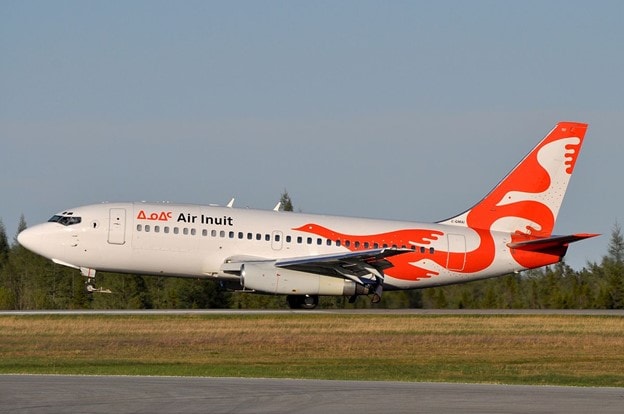 photo source: Wikimedia Commons
The first owner of the Canadian operator Air Inuit's Boeing 737-200 was Air Gabon. This aircraft, number C-GMAI, has flown for four different airlines in its 42 years of service and continues to fly today.
It was delivered directly from the Boeing factory to Libreville International Airport in Gabon, Central Africa. From there, the French-owned province eventually transported the craft to various airlines before it ended up at Air Inuit.
DID YOU KNOW?
The airline is collectively owned by the Inuit people, specifically the Nunavik in Quebec. A female Inuit pilot even made captain in 2016, being the first of her people to do so. Her name is Melissa Haney, and she has the Canadian Ninety-Nines commemorative postage stamp to prove it!
---
8. Conviasa
Model: 737-200
Year: 1976
Registration: YV3434
Country: Venezuela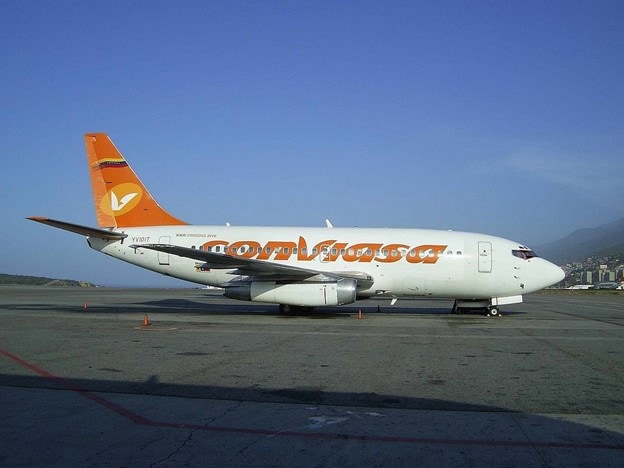 photo source: Wikimedia Commons
Conviasa is the flagship carrier of Venezuela with headquarters at the Simon Bolivar International Airport. It has an old first-generation Boeing 737-200 still in operation, registration number YV3434.
It has carried hundreds of thousands of passengers since its service start date in 1976 and has always been in public operation in Venezuela, though for different airlines.
DID YOU KNOW?
In 2020, the United States Office of Foreign Assets Control added Conviasa's 40-plane fleet to its SDN list. SDN, or Specially Designated Nationals, refers to organizations and individuals that United States citizens are prohibited from doing business with. In other words, Conviasa will unlikely be able to source replacement parts for many of its domestic aircraft and has already grounded several B737 planes for this reason.
---
7. Nolinor C-GNLK
Model: 737-200
Year: 1974
Registration: C-GNLK
Country: Canada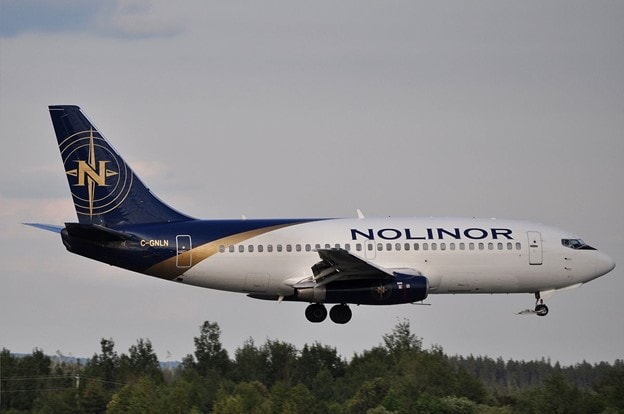 photo source: Wikimedia Commons
This Boeing 737-200, registration number G-GNLK, is still being flown by the Canadian airline operator, Nolinor Aviation. It's been flying since 1974 and has had a dozen owners over the years, beginning with flying for Transavia.
This plane is still in operation, equipped with a low-bypass turbofan engine and gravel kit, which makes it a hardy bush plane suitable for rough takeoffs and landings. Its gravel kit blows high-pressure air down in front of the engine to prevent it from sucking up sand and gravel on takeoff. It has a nose-ski on the nose as well for a similar purpose.
DID YOU KNOW?
Flying a 47-year-old aircraft may seem like a risk, but Nolinor clarifies that it's actually a strategic move. The 737-200 is a tough plane and could handle far more treacherous landing conditions than later models. Only this first generation of 737s, for instance, can be trusted to land on narrow runways, ice strips, gravel strips, and unpaved surfaces. For planes that need to take off and land in the bush, you need something old-school.
---
6. Iran Air Force
Model: 747-121
Year: 1969
Registration: 5-8106
Country: Iran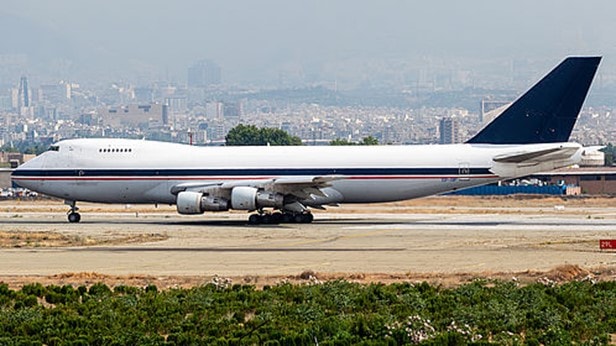 photo source: Planespotters.net
The fifth oldest 747 ever built is considered active as a government plane in Iran as part of the Iranian Air Force. This plane used to be an Iraqi Airways machine before taken by Iran as war reparations in the 1980s.
In 2020, the plane got out of a 6-year aircraft D-check only to suffer a brake failure that caused engine damage during a test at the Mehrabad airport in Tehran. The plane is still considered active and will likely be refitted with an Iran Air 747SP-86 engine. This comes as bad news after its extended maintenance check, but the plane may see active duty again soon!
DID YOU KNOW?
The Boeing 747-121 was the largest passenger aircraft ever built. The plane was built with such flexible, powerful hardware that it was even modified to carry the space shuttle during the NASA shuttle program. They even served as command posts for U.S. Air Force One.
---
5. Lockheed Super Constellation
Model: L-1049 Super Constellation
Year: 1943
Registration: HB-RSC
Country: United States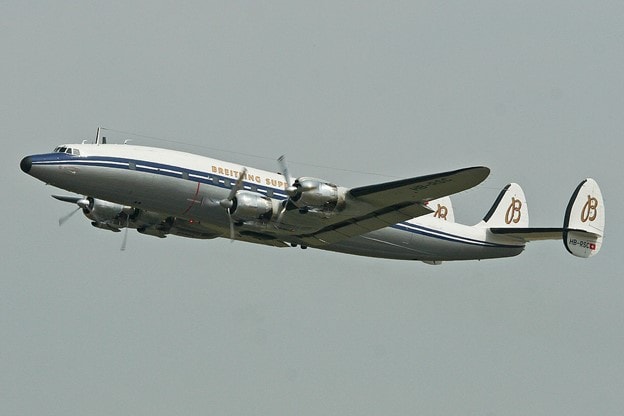 photo source: Wikimedia Commons
The Lockheed L-1049 Super Constellation, nicknamed the "Super Connie," was absolutely breathtaking when it debuted in 1943 (it still is). Their triple-finned tails were post-war treasures that lasted all the way to the 60s when the Boeing 747 took the reins.
The last of the Super Connies served as civilian transports before being retired in the 1990s, at the latest. However, two Super Constellations from the old days still fly, one for the Historical Aircraft Restoration Society based in Australia. They can be seen at airshows around the world and draw the same awe from the crowds that they did in 1943.
DID YOU KNOW?
The Lockheed Constellation was built to specific demands and in top secrecy. The original commissioner, none other than Howard Hughes, thought of the Constellation as a way to get his airline to the top and destroy his transcontinental competition before they knew what hit them. To do it, he commissioned the Constellation to be the first plane with hydraulically boosted power controls, able to hit 350 mph, faster than most WWII fighter planes.
---
4. Douglas DC-3
Model: DC-3
Year: 1934
Registration: Various
Country: United States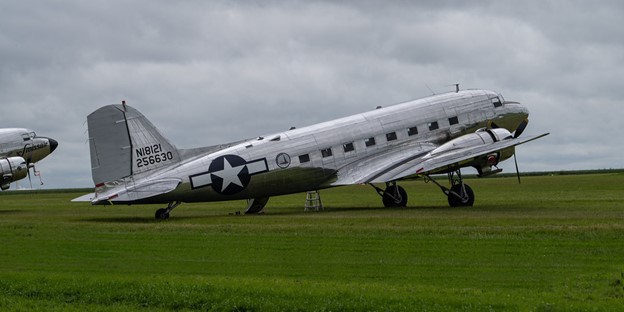 photo source: Flickr
The Douglas DC-3 is one of the most iconic planes in aviation history. It was the backbone of the Allied armies during WWII after already serving several years as the go-to passenger airliner, the first to offer coast-to-coast flights.
Today, after over 80 years of service, several DC-3s remain airworthy. DDA Classic Airlines operates one for special bookings. Air Chathams in New Zealand and Springbok Classic Air in South Africa offer scenic flights on Douglas DC-3s.
DID YOU KNOW?
In the U.S. military, the Douglas DC-3 was converted into the C-47 military transport, where it flew by the thousands in the European theater. It was such a powerful presence that the Soviet Union copied the design for their Lisunov Li-2.
---
3. de Havilland Dragon Rapide
Model: Dragon Rapide
Year: 1934
Registration: G-AEML
Country: England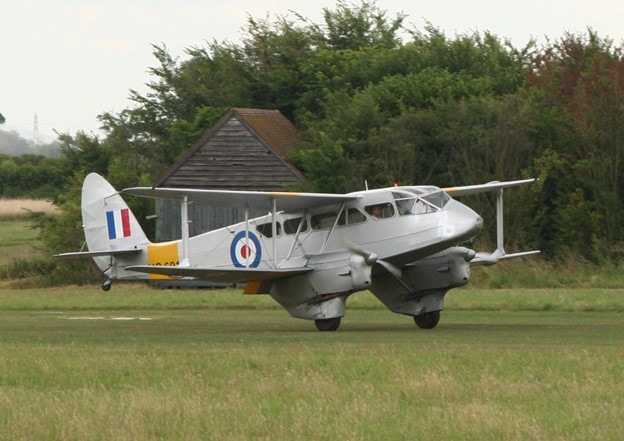 photo source: Wikimedia Commons
This wooden biplane airliner has its place in aviation history, no doubt. It's the plane that General Francisco Franco flew during the military rebellion that started the Spanish Civil War in 1936. It's the plane that evacuated General De Gaulle from France to England in 1940. And it's been flying ever since.
Several de Havilland Dragon Rapide planes still offer pleasure flights. One such plane resides at Classic Wings at the Imperial War Museum in Duxford, England. There's another at the Membury airfield in Berkshire.
DID YOU KNOW?
When WWII began, this popular passenger aircraft was impressed into the Royal Air Force and rechristened the "de Havilland Dominie." It was used throughout the war for passenger transport, communication missions, training exercises, and navigation missions. "Dominie" is a Scots word for teacher.
---
2. Junkers Ju52
Model: Ju52
Year: 1930
Registration: Various
Country: Germany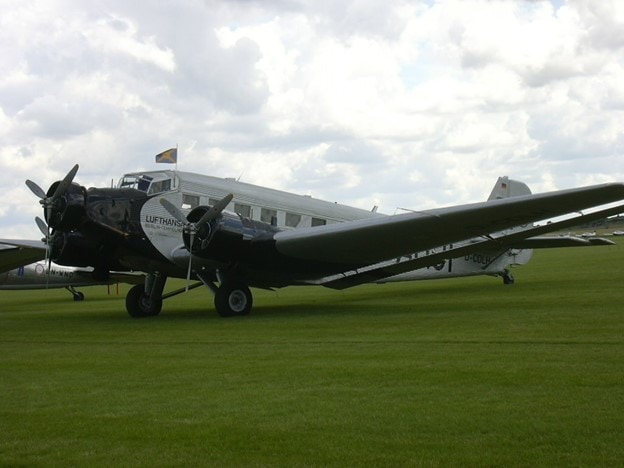 photo source: Flickr
The Junkers Ju52 was affectionately nicknamed Auntie Ju (or "Tante Ju") and was a civilian airliner in the 1930s in Germany. This plane was in a long line of goodies flying out of the Junkers workshop and was so well-constructed that it saw military service during WWII. As a transport aircraft for the Luftwaffe, the Junkers Ju52 flew for multiple airlines and air forces throughout the war.
Even today, the German airline Lufthansa has maintained a Ju52 in its fleet of aircraft and keeps her flight-worthy for special occasions. On request, the plane can be chartered for pleasure flights from Dubendorf, Switzerland.
DID YOU KNOW?
The same airfield that houses the remaining air-worthy Ju52 (Ju-Air) also has a Junkers F13 on deck. Technically, this plane has been flying since 1919. However, we didn't include it on the list because it doesn't have the original airframe – it's been replaced by a replica.
---
1. Bleriot Monoplane
Model: Bleriot XI
Year: 1909
Registration: None
Country: United States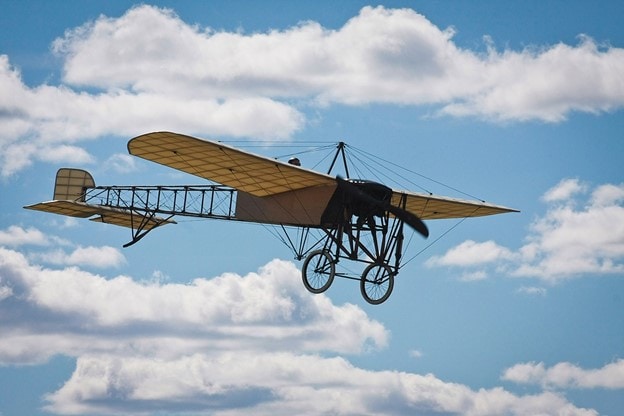 photo source: Wikimedia Commons
The oldest plane still flying in the world is the Bleriot XI. And it's not even close! Where generations of aircraft have been built and retired in its wake, the Bleriot XI, one of the first planes ever, built in 1909, still flies in Hudson Valley, New York.
This plane is not made of forged steel and aluminum but slats of wood tied together by fabric and tightened by wire cables. The pilot should feel lucky to have gauges for air speed, gas, elevation, and oil pressure because that's ALL they have. To fly it, they sit on a wicker stool.
Bleriot set records flying a similar version of this plane across the English Channel. Bought by Louis John Bergdoll, a beer brewery mogul, the plane was stored in his barn for decades. It was refurbished in the 1950s and is still flying today.
DID YOU KNOW?
The Bleriot XI's successful flight across the English Channel made it the first coveted "commercial" aircraft, as 103 orders poured in for more planes. Accidents almost prevented Bleriot from continuing production, such as when Leon Delagrange killed himself by overloading his Bleriot XI with an overpowered engine, which split the frame apart mid-flight. The French army almost banned all civilian use of monoplanes, until Bleriot himself defended his design, stating that consumer negligence was to blame.
OTHER POSTS YOU MAY BE INTERESTED IN