The history of motorcycles is incredibly rich. From its humble beginnings as an aerodynamic vehicle for the cavalry to its evolution into a mainstream transportation mode like we know it today, motorbikes have come a long way in a very short period of time.
Motorcycles are one of the favorite pastimes for all American teens and adults. The oldest motorcycle companies in the United States have been in operation since 1865. With high quality and reliable products, these motorcycle companies are valued by many Americans.
Motorcycle companies have been around for hundreds of years and have developed from dirt bikes to modern bikes. So, if you're someone who is an enthusiast about motorcycles, you may find the list below of the oldest motorcycle companies in the USA useful.
10. Simplex
Year Founded: 1935
Headquarters: New Orleans, Louisiana, United States
Founder: Paul Treen
Still in Business: No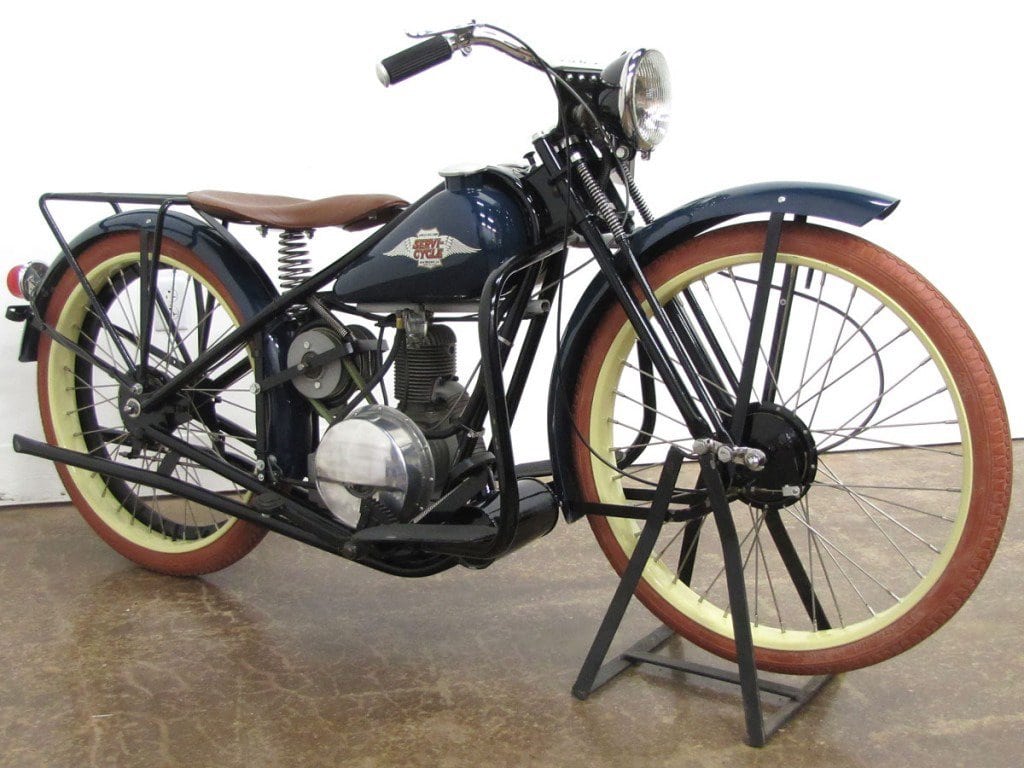 photo source: nationalmcmuseum.org
Smaller and lighter motorbikes were first produced by the Simplex Manufacturing Corporation in New Orleans in 1935. Given its basic design, both adults and youngsters could afford personal transportation.
Did You Know?
Up until 1972, when the corporation closed down, Simplex continued to develop motor scooters after ceasing manufacture of motorcycles in 1960.
---
9. Ace Motor
Year Founded: 1919
Headquarters: Philadelphia, Pennsylvania, United States
Founder: William G. Henderson
Still in Business: No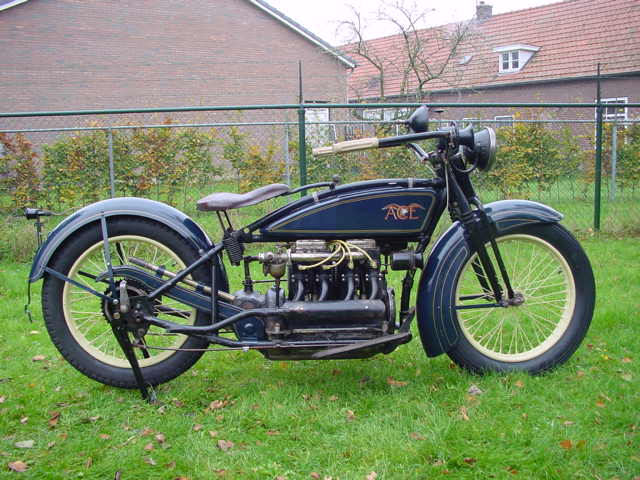 photo source: classic-motorbikes.net
William G. Henderson, an American engineer and motorcycle designer, established Ace Motor in 1919. From 1919 to 1924, Ace Motor Corporation produced motorcycles consistently. Thereafter, the company operated sporadically until 1927.
Henderson started to build his own company once again, and the new Ace motorcycle was dubbed the "Two-Wheeled Duesenberg" because of its remarkable engineering and performance.
In 1927, Ace Motor Corporation was bought by Indians following Henderson's death.
Did You Know?
Upon testing the Ace Sporting Solo in Philadelphia in 1922, William Henderson lost his life in a car accident.
---
8. Flying Merkel
Year Founded: 1911
Headquarters: Milwaukee, Wisconsin, United States
Founder: Joseph Merkel
Still in Business: No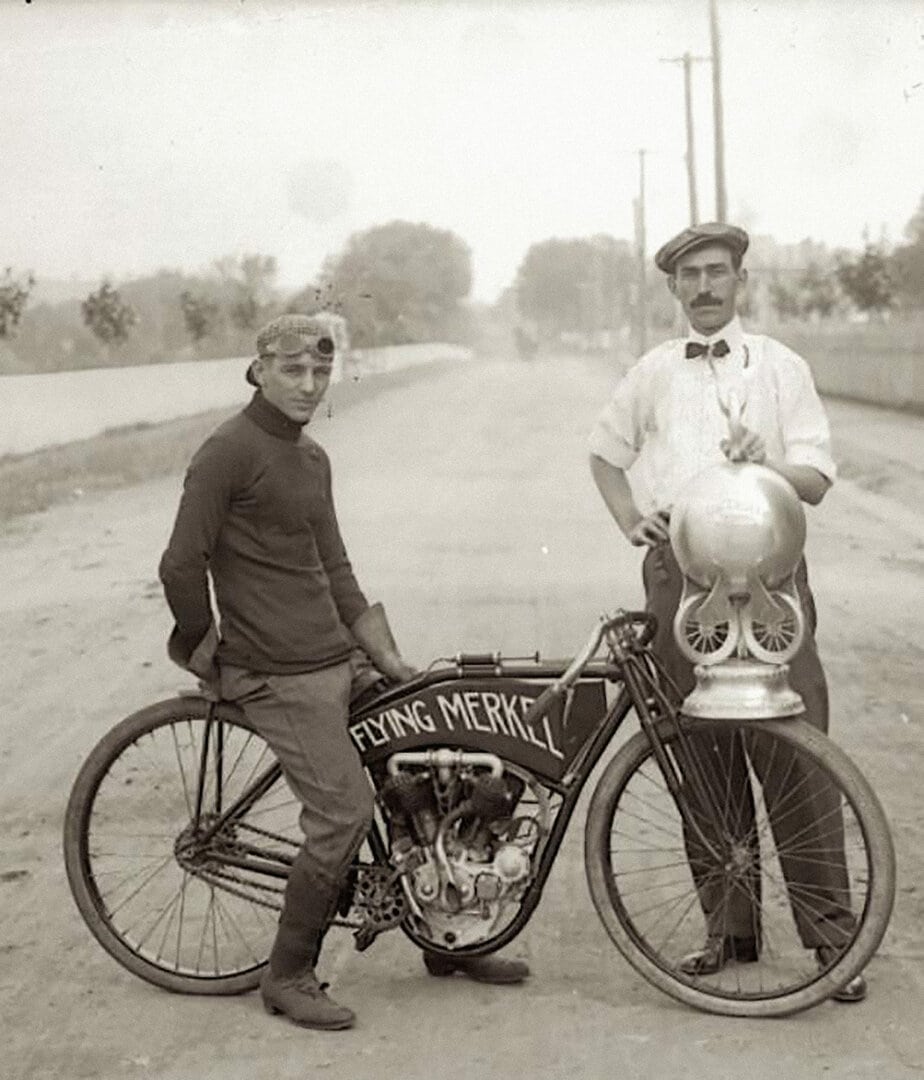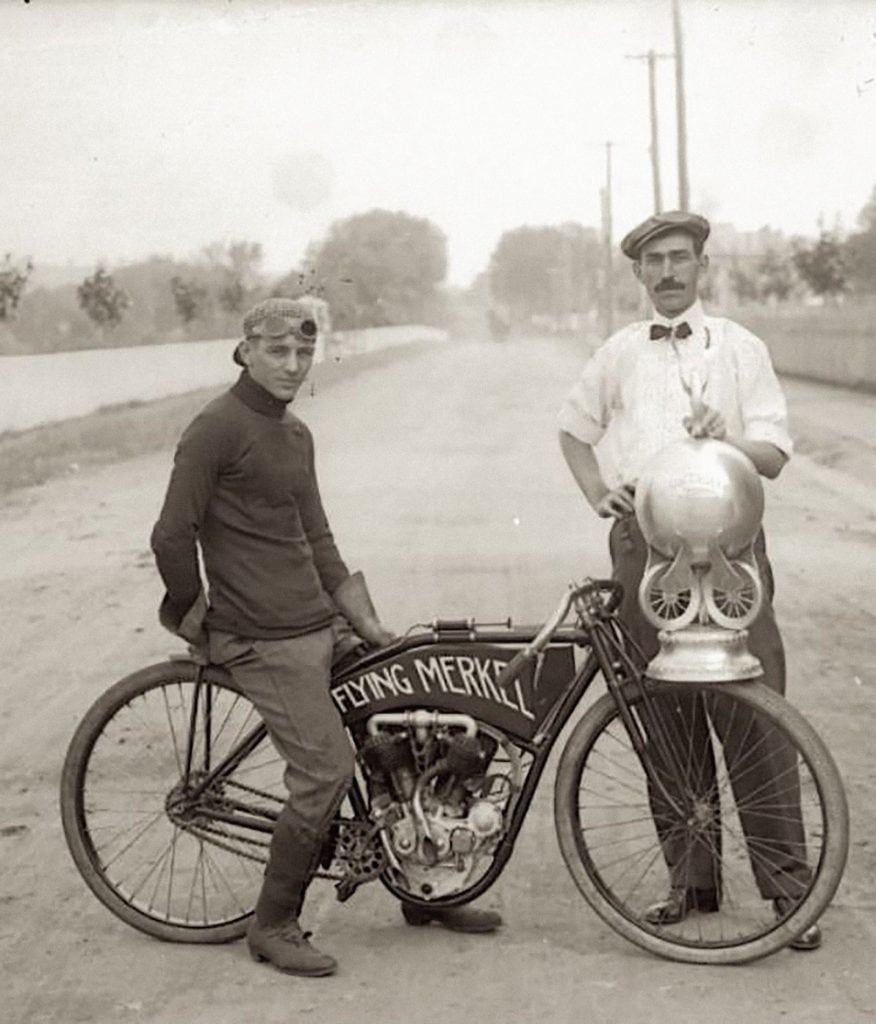 photo source: flyingmerkelinc.com
In 1902, Joseph Merkel opened a factory in Milwaukee, Wisconsin, where he began making single-cylinder motorcycles. Among the first motorcycle manufacturers, Merkel was one of the most inventive.
The Flying Merkels, known for their outstanding engineering, were used to compete in board- and dirt-track races in the 20th century.
The Flying Merkel's production sputtered as a result of the outbreak of the war, a declining market, and growing competition. In 1917, the last Merkel machines were built.
Did You Know?
The tanks of Joseph Merkel's motorcycles had the distinctive "Merkel Light" logo.
---
7. Excelsior (Chicago)
Year Founded: 1905
Headquarters: Chicago, United States
Founder: Ignaz Schwinn
Still in Business: No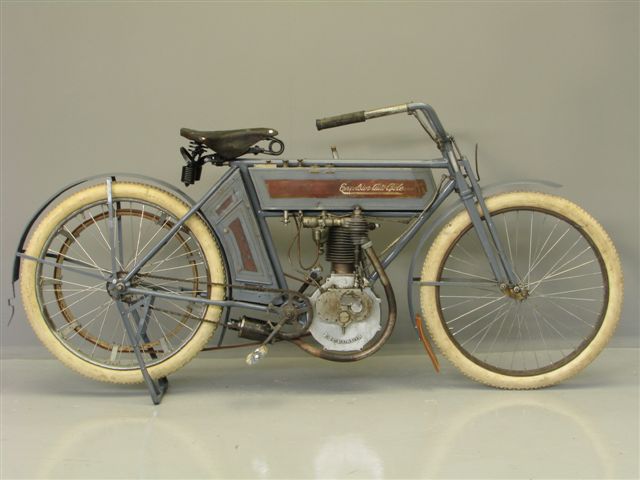 photo source: yesterdays.nl
From 1905 until 1931, the Excelsior Motor Manufacturing & Supply Company produced American motorcycles on Randolph Street in Chicago. Ignaz Schwinn, the owner of the bicycle company named Arnold, Schwinn & Co., acquired it in 1911.
The renowned "X" series was an engine configuration that Excelsior introduced in 1910 and continued to produce until 1929. Excelsior participated in several contests and broke numerous world records in an effort to promote the brand.
The Henderson Company achieved yet another record at this time when rider Lee Humiston reached a peak speed of 100 mph. The Excelsior brand was proven to be a success by 1914 as one of the successful motor manufacturers.
Did You Know?
In 1917, the Henderson Company made a buyout offer to Excelsior due to financial constraints and a lack of raw materials.
---
6. Harley-Davidson
Year Founded: 1903
Headquarters: Milwaukee, Wisconsin, United States
Founder: William S. Harley, Walter Davidson, William A. Davidson, Arthur Davidson
Still in Business: Yes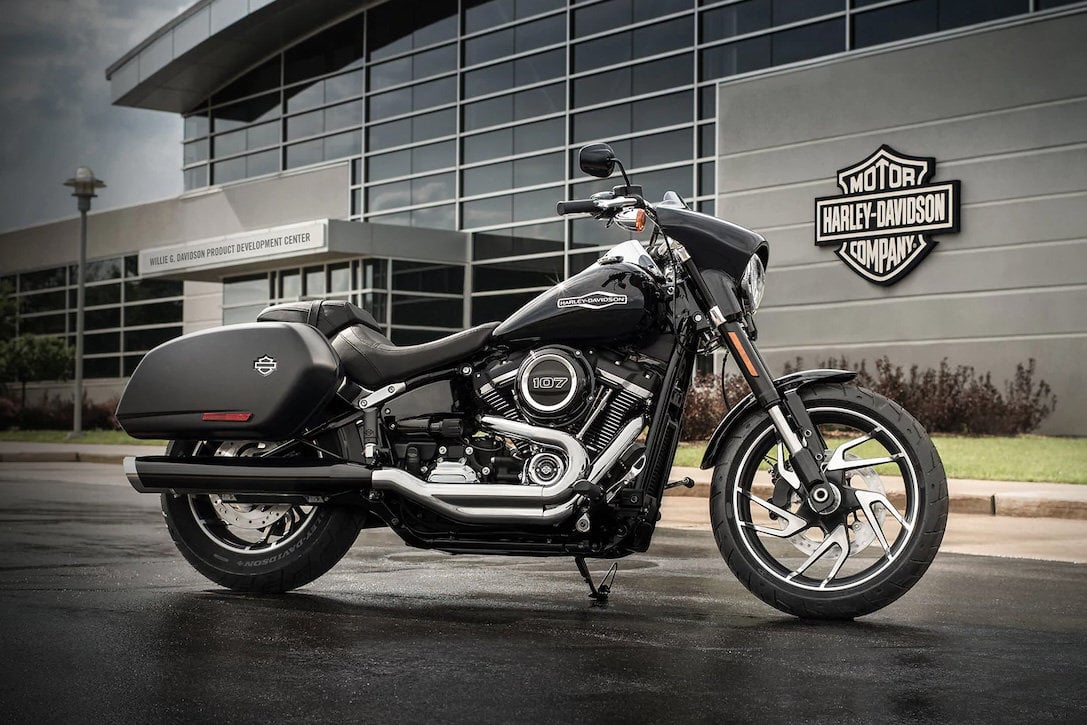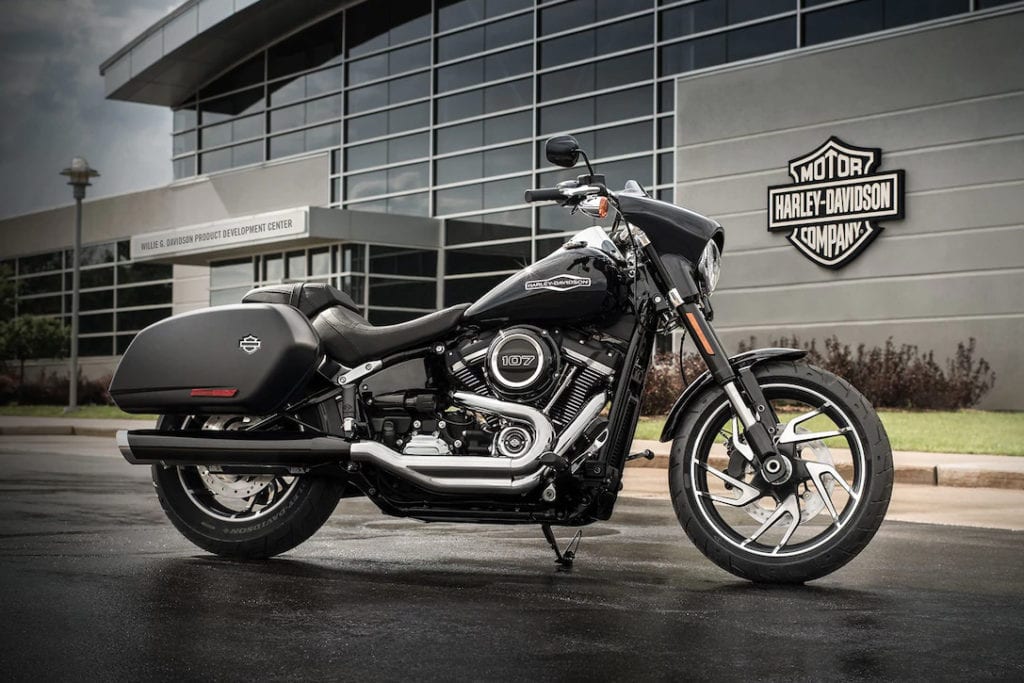 photo source: business-review.eu
American motorcycle manufacturer Harley-Davidson is a famous motorcycle brand. It was formally incorporated in 1907, with Walter Davidson acting as the president. The company has a reputation for releasing some of the most popular motorcycles in the world.
Harley-Davidson is renowned for its brand of personalization, which helped to create the chopper motorcycle design.
Did You Know?
Due to the fact that Harley, out of the four men, was the one to come up with the initial idea for a motorbike, the company name was pronounced as Harley-Davidson and not Davidson-Harley.
---
5. Indian Motorcycle
Year Founded: 1901
Headquarters: Medina, Minnesota, United States
Founder: George M. Hendee, Oscar Hedstrom
Still in Business: Yes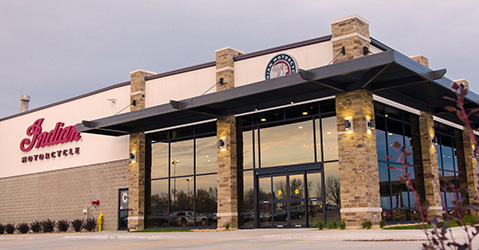 photo source: indianmotorcycle.com
George M. Hendee, a forerunner in the business, established the Hendee Manufacturing Company (i.e., now known as the Indian Motorcycle Manufacturing Company) as a manufacturer of bicycles. Hendee established the business's first plant in Springfield's downtown in 1901 alongside co-founder and chief engineer Oscar Herdstrom.
The bikes were first made in Springfield, Massachusetts, in the United States, from 1901 until 1953. The company's name was changed to Indian Motocycle Manufacturing Company in 1923.
In 1953, all models of Indian Motorcycles were taken off the production line, beginning a five-decade hiatus in the company's illustrious past. When Polaris Industries purchased the Indian Motorcycle Company in 2011, it marked the end of the ambiguity and effectively inaugurated a brand-new era of prosperity reminiscent of the business's early continuous expansion.
Did You Know?
Indian Motorcycles were first used by the U.S. Army in 1913.
---
4. Thor
Year Founded: 1901
Headquarters: Aurora, Illinois, United States
Founder: Aurora Automatic Machinery Company
Still in Business: No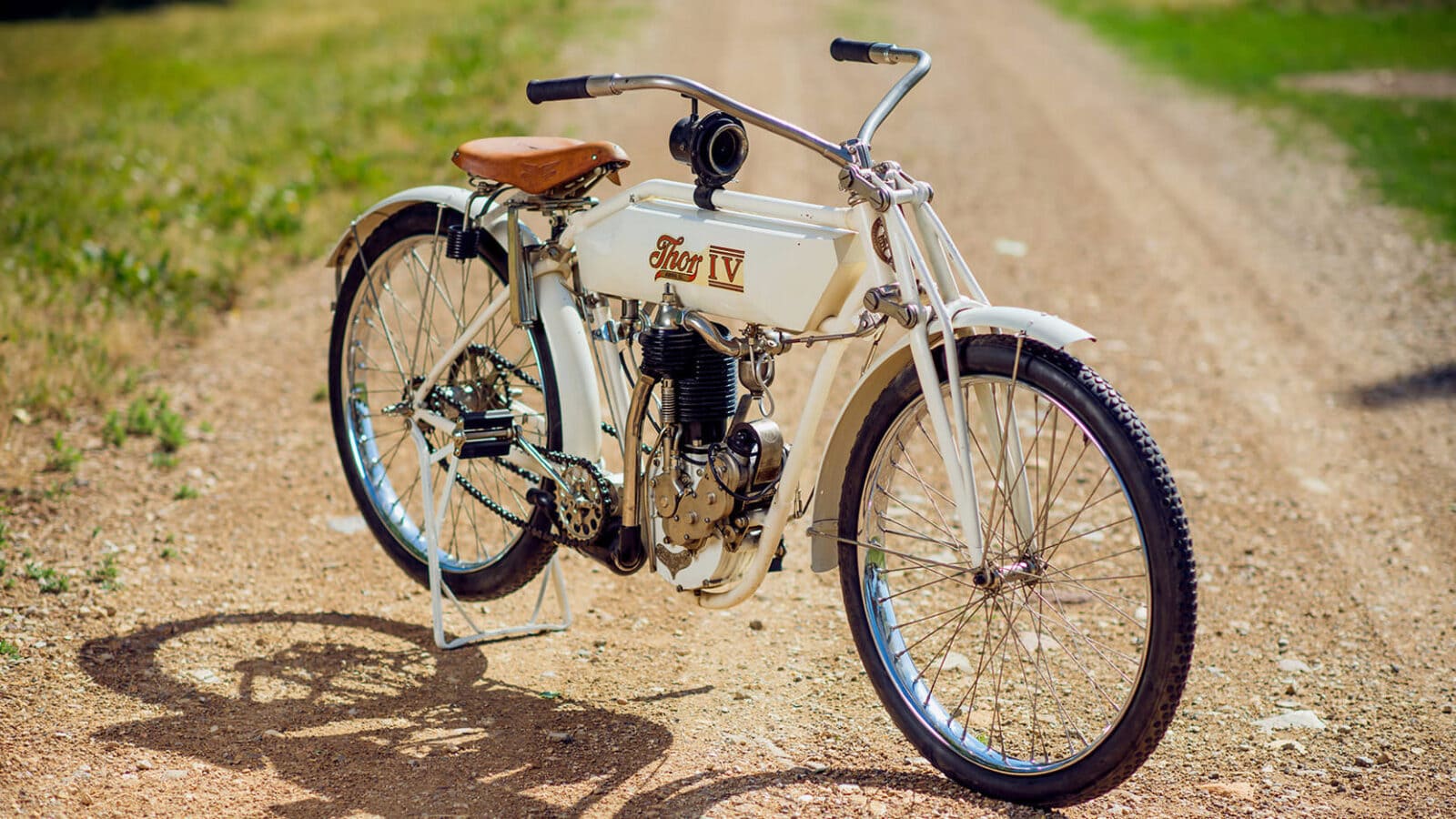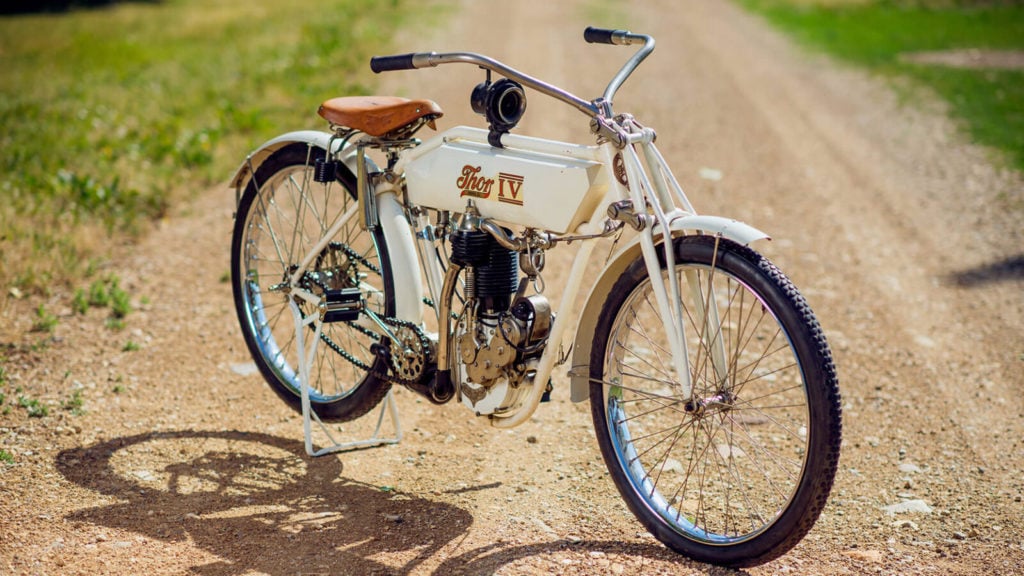 photo source: silodrome.com
Aurora Automatic Machinery Company manufactured motorcycle engines for Indian bikes in the early 1900s before branching out to create its own line of motorized bicycles, which they named Thor.
The company produced engines for Indian Motorcycles of Springfield, Massachusetts, from around 1901 to 1907, and Thor was also authorized to sell those engines on the international market. By 1913, a more refined engine with a bigger displacement had been created. It was installed with both cylinders angled, as is customary for a V-shape engine.
Production of Thor motorcycle engines began to decline in the late 1910s and was discontinued in 1916.
Did You Know?
Despite the end of the Thor motorbike line, the parent Aurora Automatic Machinery Company kept the Thor name alive as a line of home appliances.
---
3. The Pope Manufacturing Company
Year Founded: 1876
Headquarters: Hartford, Connecticut, United States
Founder: Albert Augustus Pope
Still in Business: No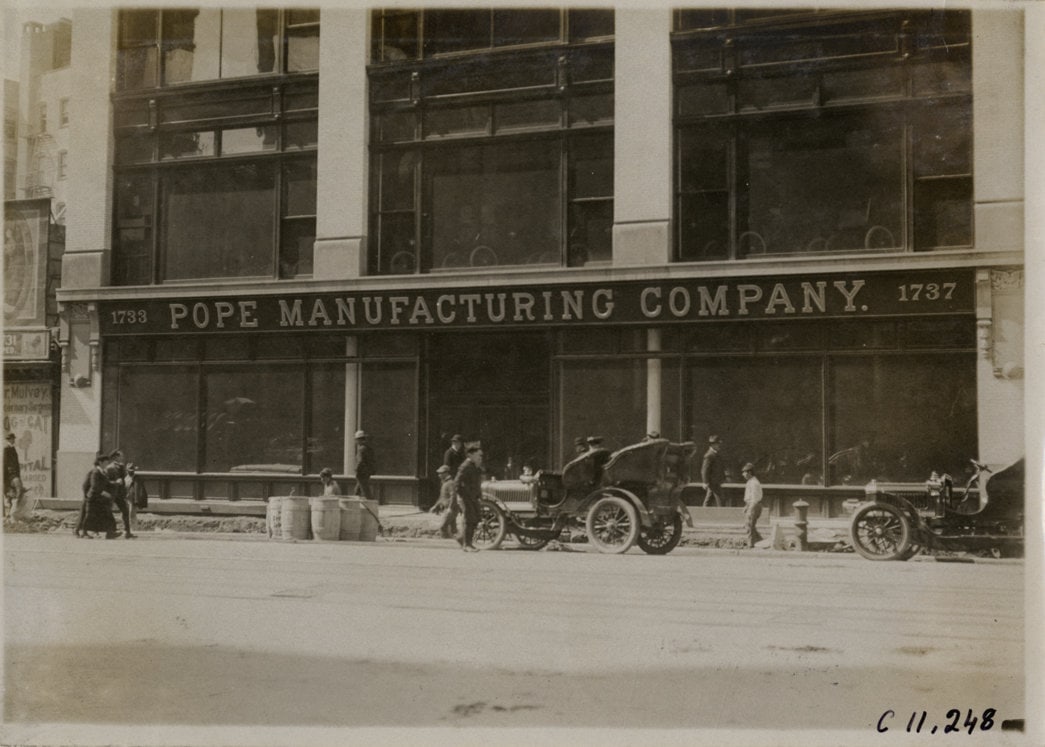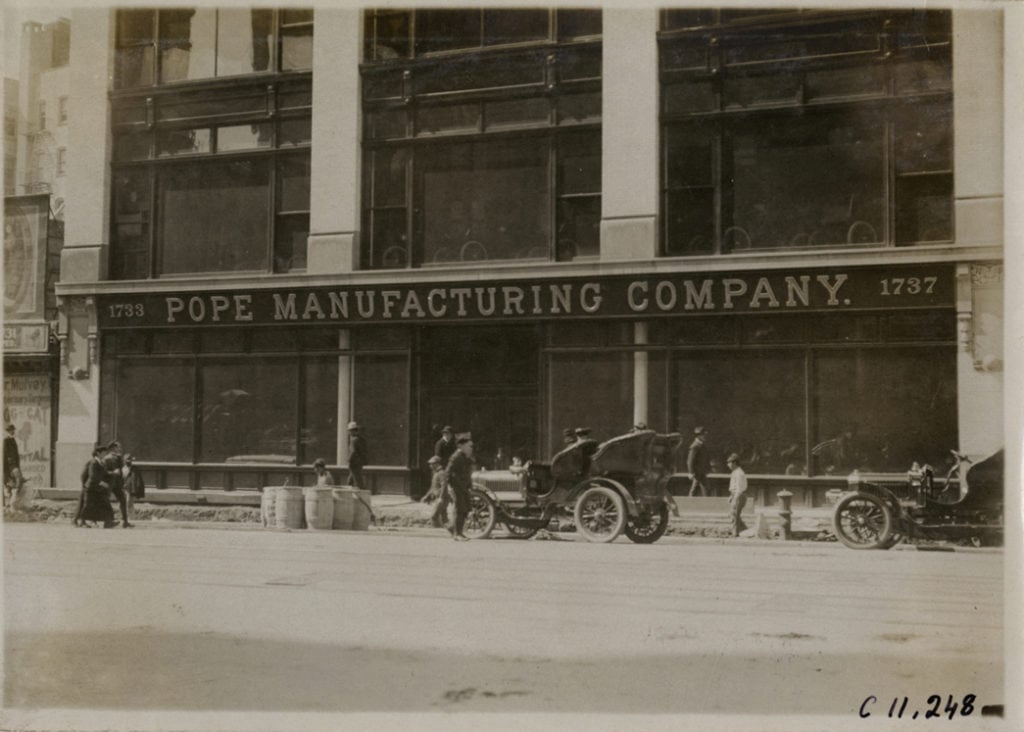 photo source: digitalcollections.detroitpubliclibrary.org
The Pope Manufacturing Company was established in Boston, Massachusetts, way back in 1876, and it became a legal entity in Hartford, Connecticut, in 1877.
In 1907, Pope filed for bankruptcy and he died in 1909. The firm was reconstituted in 1914, and The Westfield Manufacturing Company was formed a year later.
The Torrington Company acquired Westfield as a subsidiary in 1933. A stand-alone corporation was established, and in 1967 it changed its name to Columbia Manufacturing Company. In 1987, the company declared bankruptcy and once more underwent restructuring.
Did You Know?
Up until 1896, Albert Pope was the top American producer of bicycles.
---
2. Iver Johnson
Year Founded: 1871
Headquarters: Jacksonville, Arkansas, United States
Founder: Iver Johnson
Still in Business: No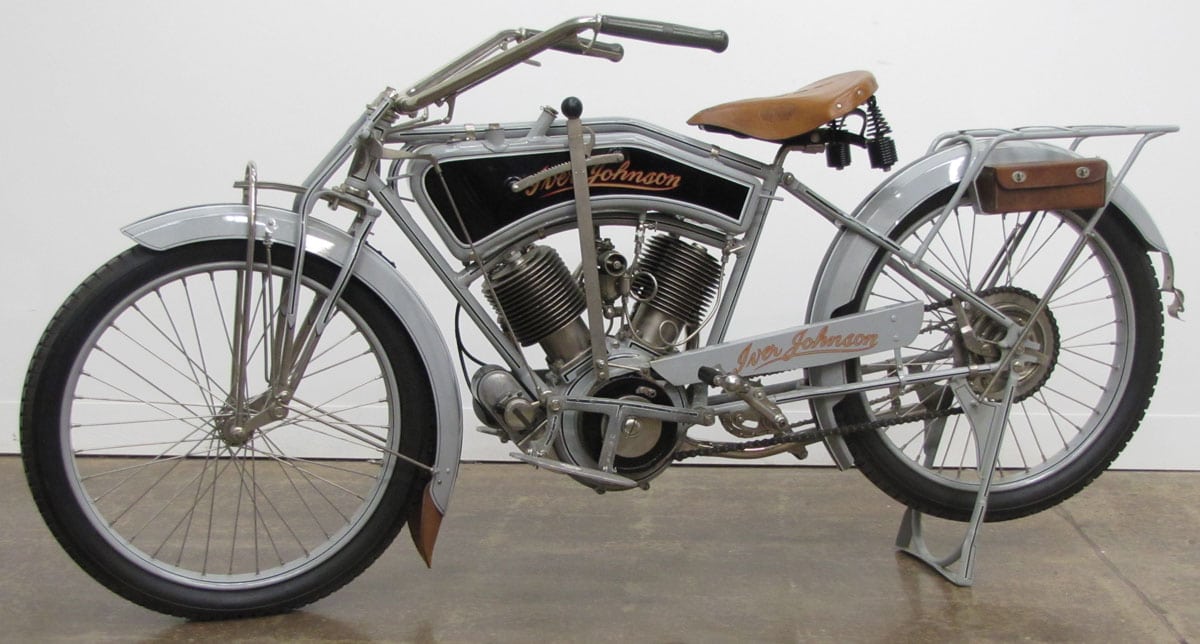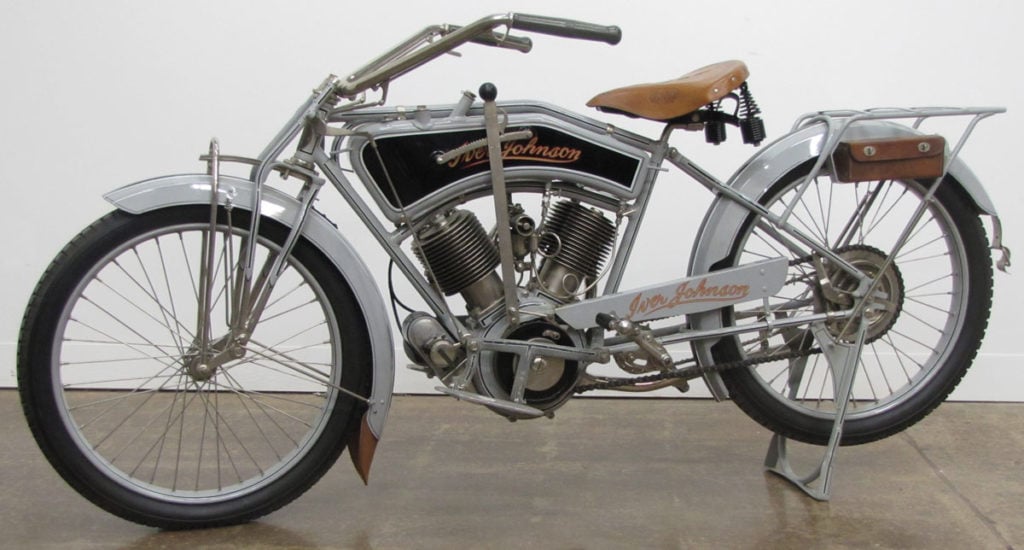 photo source: digitalcollections.detroitpubliclibrary.org
Iver Johnson was an American manufacturer of bicycles, motorcycles, and weapons. The business bore the same name as its founder, Iver Johnson, who was of Norwegian ancestry.
The renowned Massachusetts gun maker, Iver Johnson Arms and Cycle Works, produced Iver Johnson motorbikes from 1907 until 1915. The company was taken over by Iver Johnson's sons after his death from illness in 1895.
Their more than three decades of motorcycle operations came to an end as the brothers focused on manufacturing firearms during World War I.
Did You Know?
Iver Johnson's Arms & Cycle Works became the company's new name when it relocated to Fitchburg, Massachusetts.
---
1. Pierce-Arrow
Year Founded: 1865
Headquarters: Buffalo, New York, United States
Founder: George N. Pierce
Still in Business: No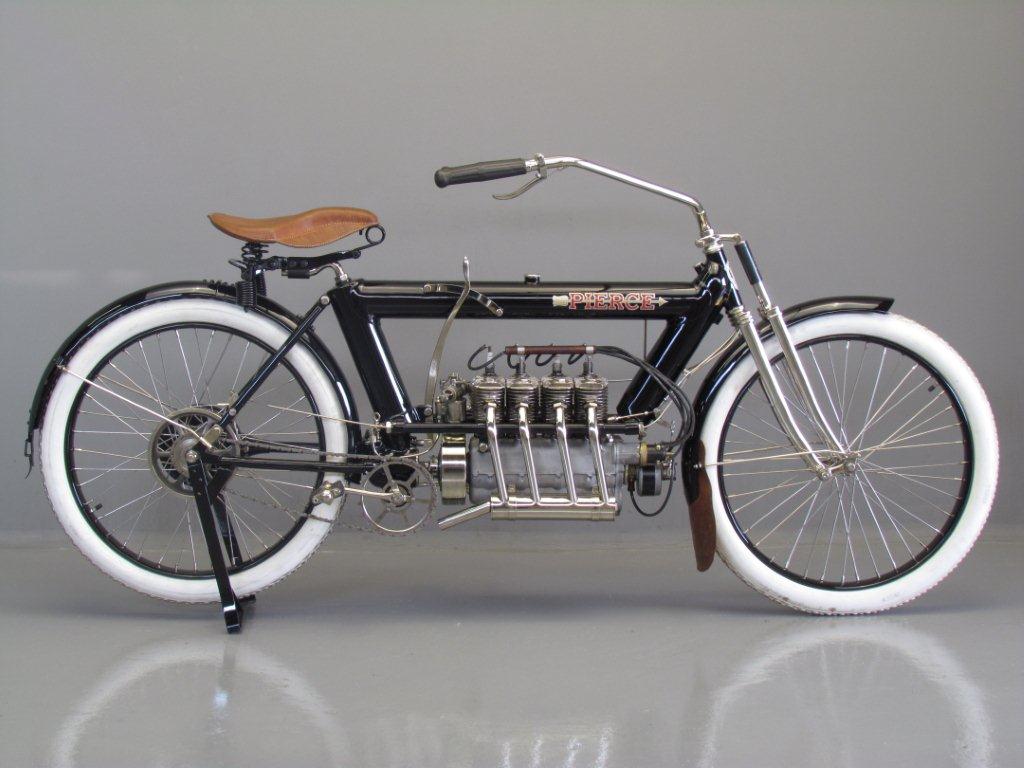 photo source: yesterdays.nl
Pierce-Arrow, formerly known as Heinz, Pierce, and Munschauer, is considered the oldest motorcycle company in the United States. Pierce-Arrow produced commercial vehicles, fire trucks, camp trailers, motorbikes, and bicycles in addition to its pricey luxury cars, which are the company's best-known product line.
By 1901, the company had produced its first single-cylinder, two-speed, no-reverse motorette. The Arrow, a two-cylinder vehicle, was created in 1903.
Due to a lack of sales and funding for growth, Pierce, the only luxury brand without a lower-priced vehicle like the Packard 120, filed for bankruptcy in 1938 and ceased operations.
Did You Know?
George N. Pierce passed away in 1910. Herbert M. Dawley joined Pierce-Arrow in 1912 and worked there until 1938, designing nearly every model.