Bugatti does not need an explanation, as it is one of the most iconic manufacturers of fast and powerful cars worldwide. A company that started in 1909 used to produce one model a year, but their production expanded successfully throughout the years.
According to Net Worth Spot, their net worth was approximately $55,76 million in 2021.
When you think Bugatti, you probably think about their most successful race car of all time, the Type 35, as they are pioneers in taking victories and spots on the podium with their designs.
But Bugatti is much more than racing cars and expensive prototypes, as they had many successful productions over the last 110 years. The company's success was seemingly overnight, but it seems like they're not stopping anytime soon, carrying on a legacy left by the founder Ettore Bugatti.
We advise you to sit back and enjoy the ride with our list of the oldest Bugatti production cars ever made!
17. Bugatti W16 Mistral
Production: 2022-present
Number Produced: 99
Estimated Price Today: $5,800,000
Class: Road car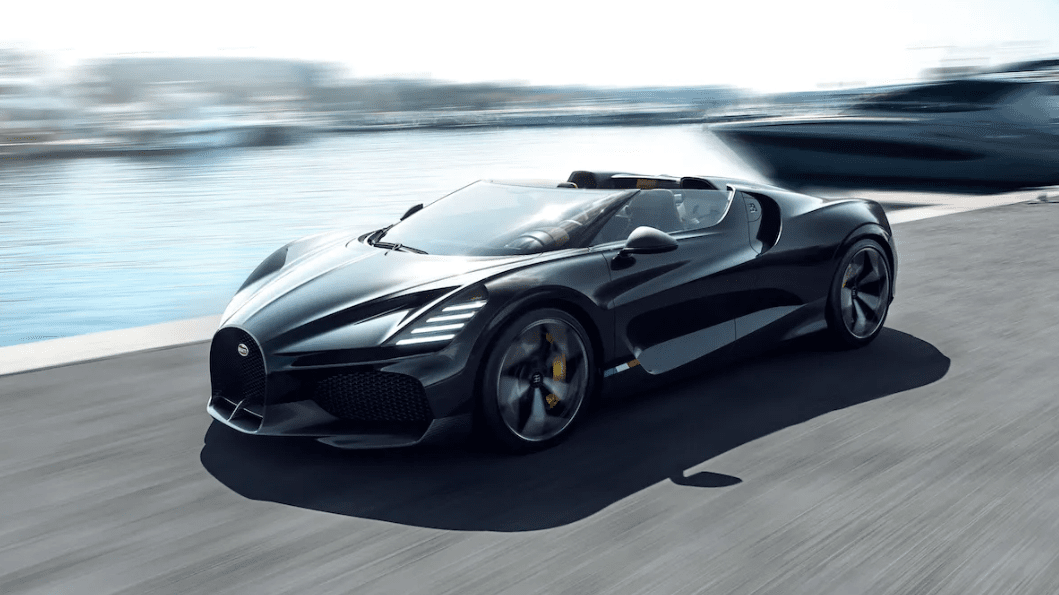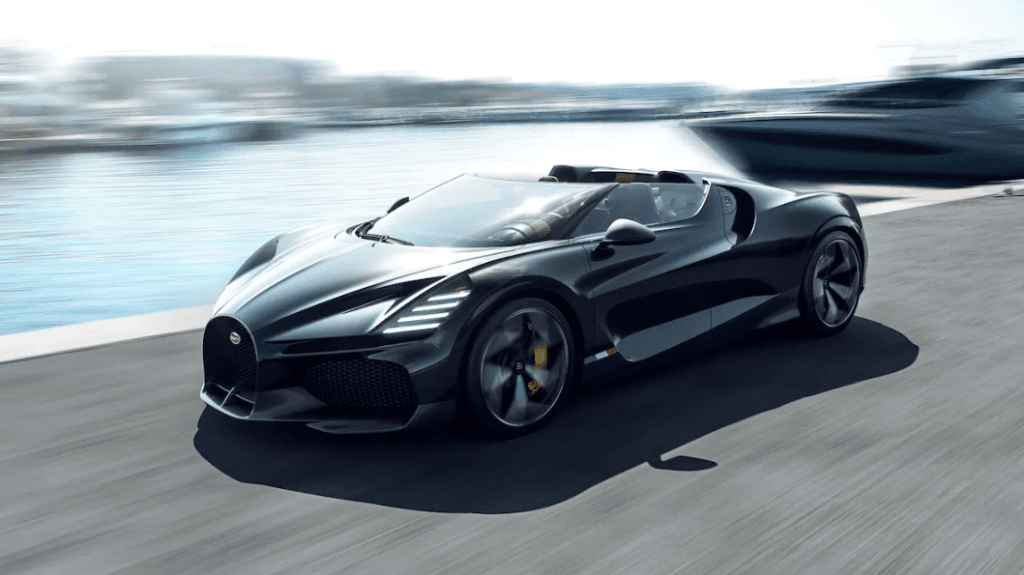 photo source: Bugatti News Room
The youngest Bugatti on our list is just a few days old, as the new W16 Mistral was announced in August 2022 as the last model with the W16 engine. Mistral takes the best features from Chiron like the previous models.
The supposed production of 99 units is still not available for purchase.
Mistral isn't only Bugatti's child but a collaboration with Rimac Automobili, a Croatian car manufacturer, which started in November 2021. The reviews of this model, named after a mighty wind that blows in southern France, are divided for now. Some celebrate this addition, while others claim it added nothing to the existing models.
---
16. Bugatti Centodieci
Production: 2022-present
Number Produced: 10
Estimated Price Today: $8,000,000
Class: Sports car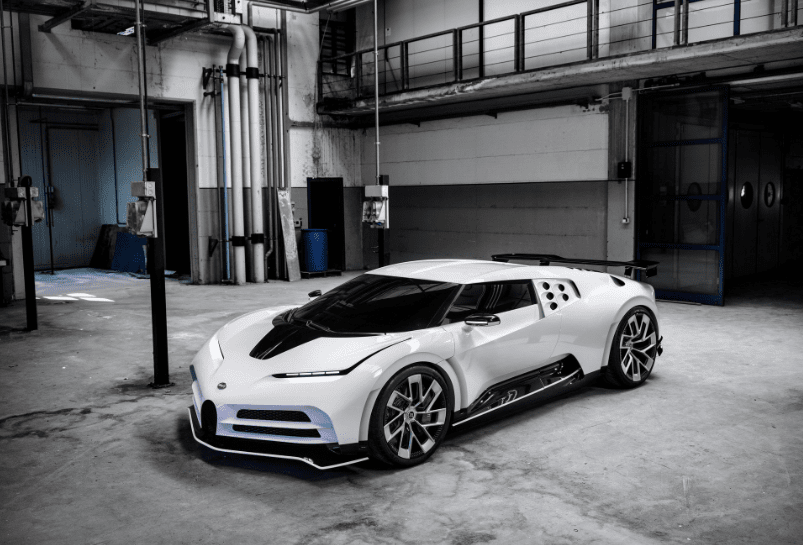 photo source: Supercars
Bugatti Centodieci is one of the latest supercars from the brand, with ten units planned for manufacturing. This limited edition pays homage to the legendary Bugatti EB 110 from 1991 in celebration of Bugatti's 110th birthday. EB 110 was considered the fastest supercar of its time.
With an improved design, the model stays loyal to the horseshoe grille, narrow headlights, and eight tail lights of 110. And while Bugatti announced that their previous Bolide was the last model with a W16, the company also designed the same engine for Centodieci (110 in Italian). The estimated price is around $8,000,000.
---
15. Bugatti Bolide
Production: 2021-present
Number Produced: Unknown
Estimated Price Today: $4,700,000
Class: Track day car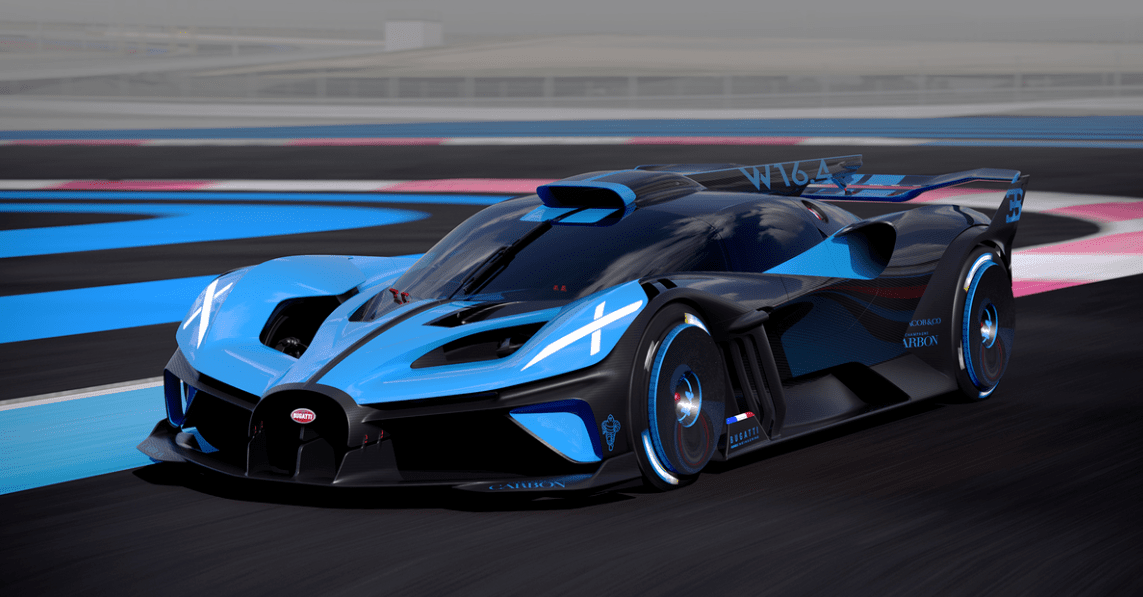 photo source: Bugatti
Bugatti Bolide production started in 2021, but the number of units produced is unknown. This track-day sports car has a W16 engine installed with a 16-cylinder piston and four banks, a rare engine type for any model. The super-sleek body is the last Bugatti car to have a W16.
With similar transmission as seen in Chiron, Bolide has extraordinary power, which allows it to accelerate from 0-100 km/h (62 mph) in 2.2 seconds. And while the production is still in order, Bugatti scheduled delivery for 2024 with an estimated price of $4,700,000. A small fee for the best experience.
---
14. Bugatti Divo
Production: 2019-2021
Number Produced: 40
Estimated Price Today: $5,800,000
Class: Sports car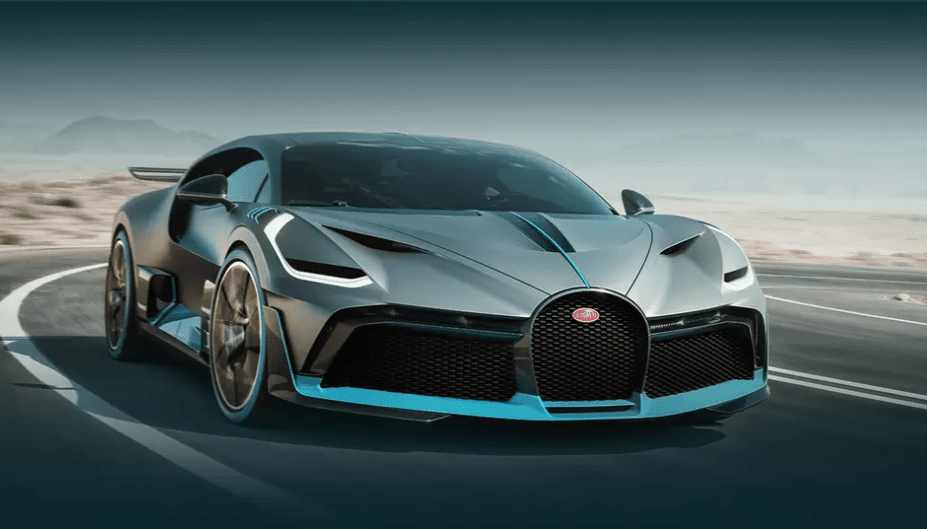 photo source: Bugatti
Bugatti Divo, a 2-door coupe, has been in production for two years with 40 manufactured units. Divo is their first modern coach-built custom project, taking inspiration from a 2015 prototype Vision Gran Turismo. Gran Turismo had only one car made, so Bugatti did not want their plans to fall through.
Divo is 8 seconds quicker than Chiron, with a sleek design and lightweight materials to improve its power. Besides that, it takes pride in being similar to Chiron in its engine design and mechanical features. All 40 units were estimated to be worth around $5,800,000.
---
13. Bugatti Chiron
Production: 2016-present
Number Produced: 500
Estimated Price Today: $3,000,000
Class: Sports car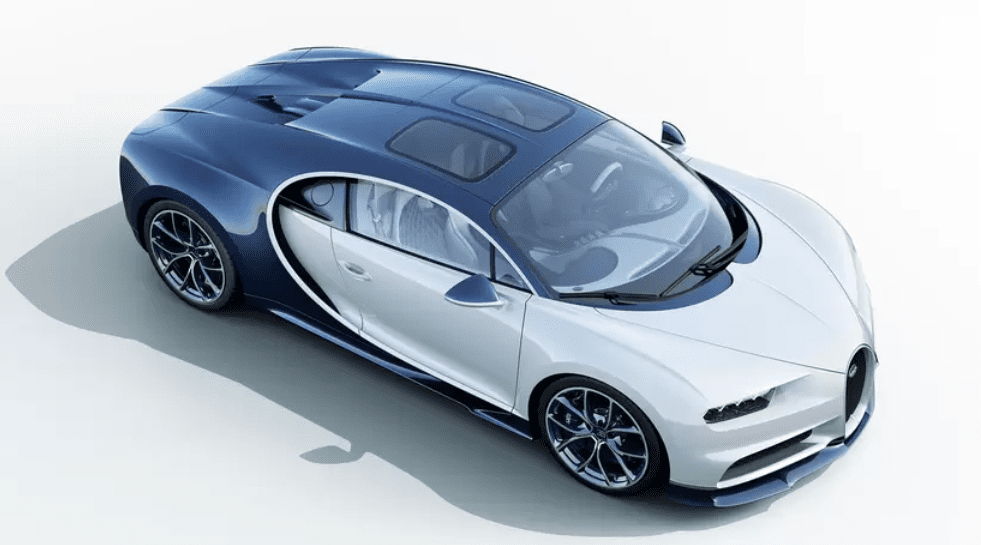 photo source: Bugatti
Another legend on our list is a two-seater sports car Bugatti Chiron. The name honors a race car driver Louis Chiron who competed in Grand Prix. According to Bugatti, Chiron is the fastest production car in their history. It was tested extensively across the world for the best results.
This sports car was designed to resemble a road car anyone could drive, but it kept the features of a powerful car. The company updated the Veyron engine for this model with a carbon fiber body structure and acceleration from 0-100 km/h in 2.4 seconds. The last models were sold in January of 2022.
---
12. Bugatti Veyron
Production: 2005-2015
Number Produced: 450
Estimated Price Today: $1,900,000
Class: Sports car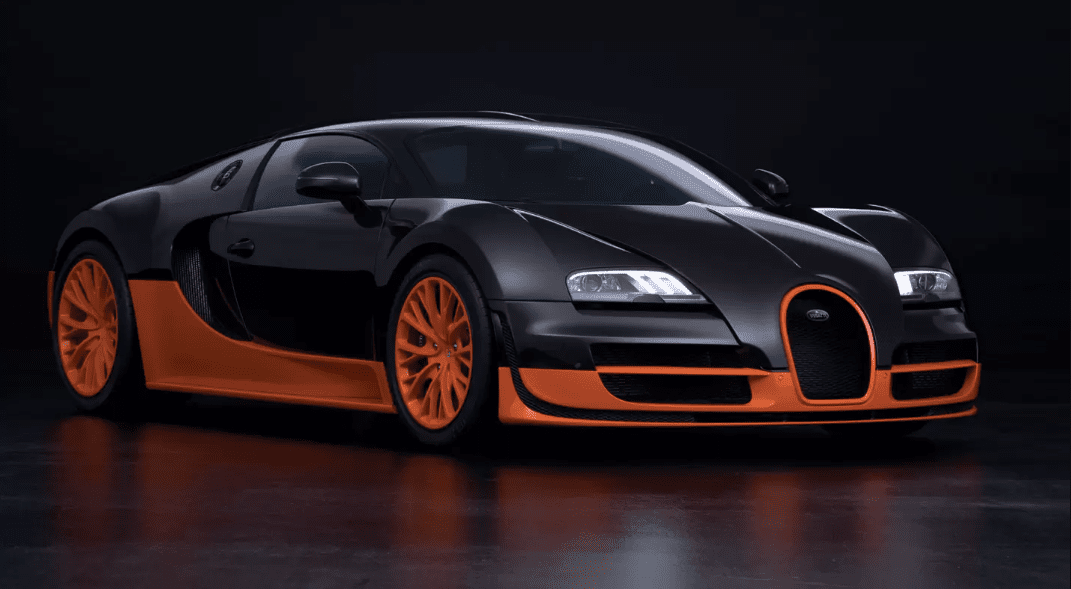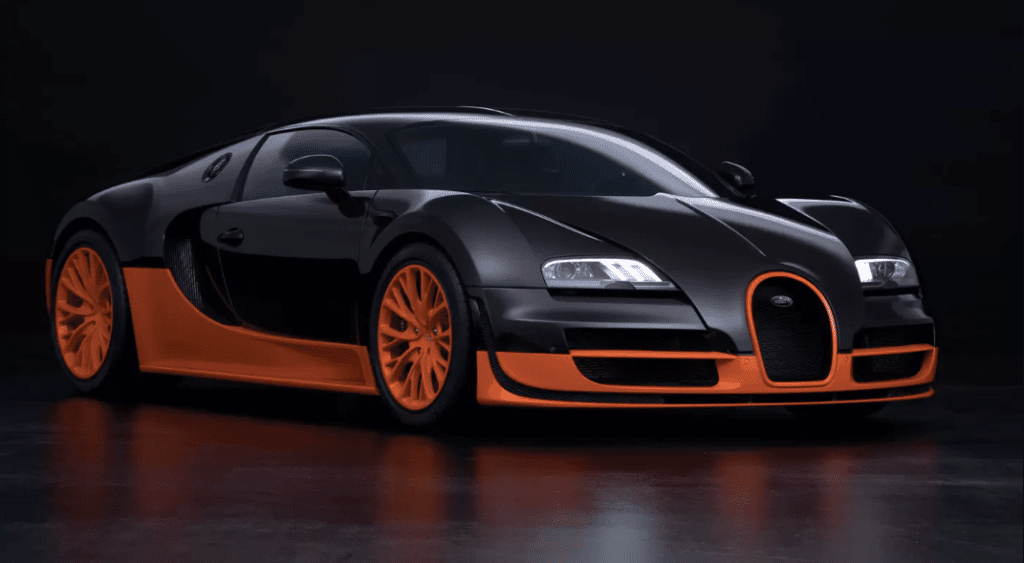 photo source: Bugatti
After the company's bankruptcy in 1998, the new company Bugatti Automobiles was founded as a subsidiary of Volkswagen Group based in France. The first model they introduced, Veyron EB 16.4, named after race driver Pierre Veyron, waited until 2005 with a new concept.
"The Record Breaker" Bugatti spun off dozens of unique versions of this model in the next ten years, creating the Super Sport in 2010, one of the most recognizable Bugattis. Veyron was named the 2000s Car of the Decade by BBC's program Top Gear and won the Best Car Driven All Year award in 2005.
---
11. Bugatti EB 112
Production: 1993, 1998
Number Produced: Unknown
Estimated Price Today: $2,000,000
Class: Luxury car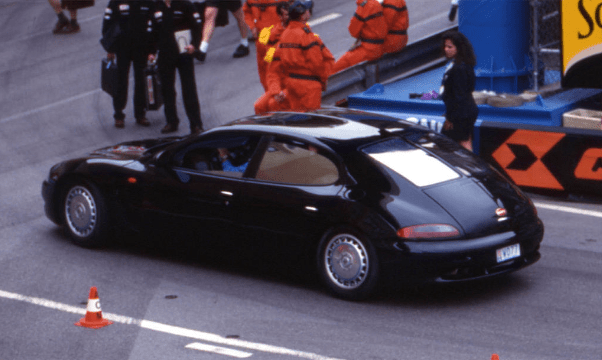 photo source: Wikiwand
Italian entrepreneur Romano Artioli bought the original company in 1987 and established Bugatti Automobili (1987-1995), creating only two models during his reign. The second was EB 112, a luxury version of the EB 110 sports car designed by Italian designer Giorgetto Giugiaro.
It's unknown how many produced units were there, but the company went bankrupt in 1995. Businessman Gildo Pastor bought the rest of the company that year, finishing the two unfinished models in 1998. His Racing team completed the project, making one with a black exterior and the other with red.
---
10. Bugatti EB 110
Production: 1991-1995
Number Produced: Unknown
Estimated Price Today: $1,500,000-$2,200,000
Class: Sports car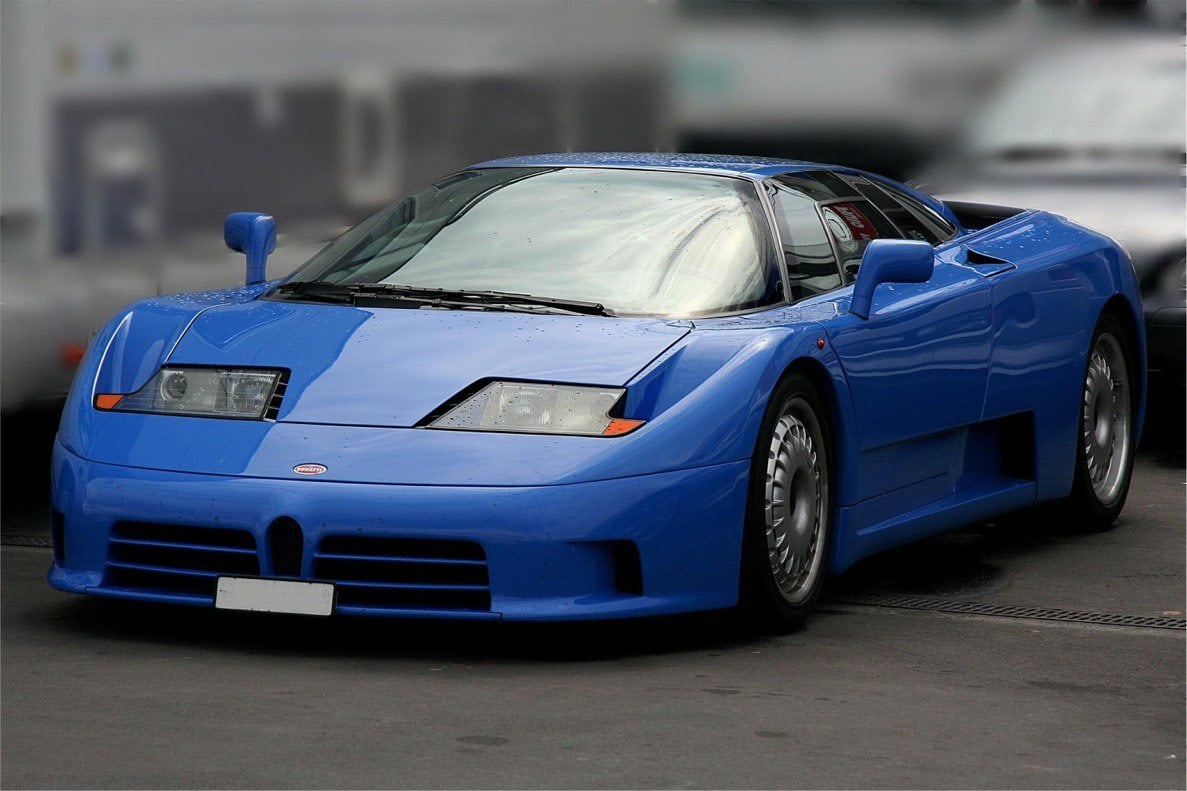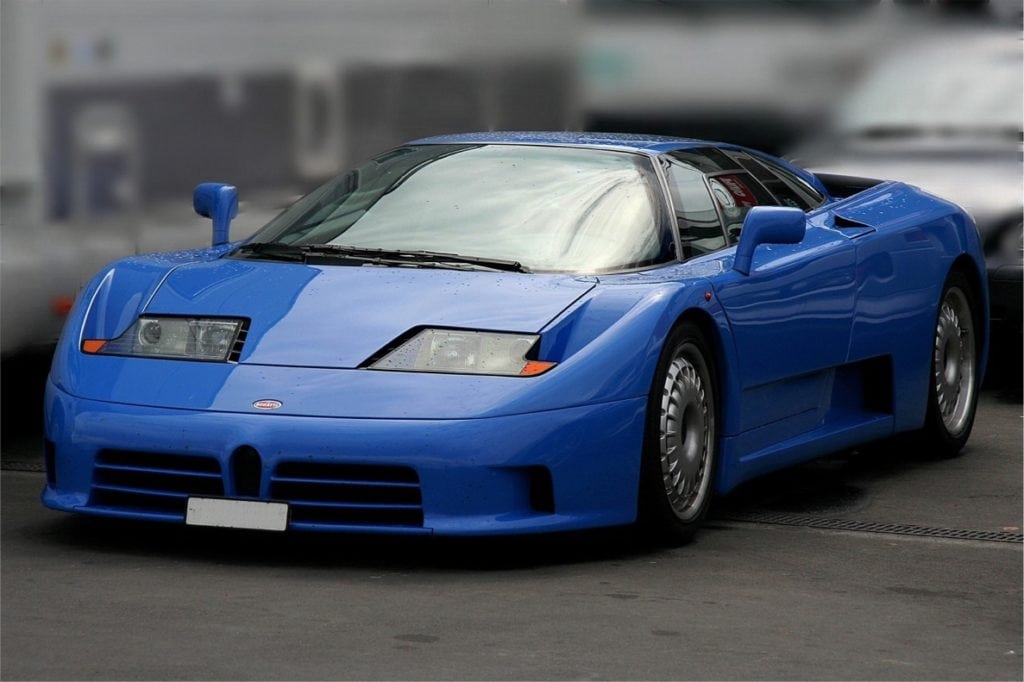 photo source: Wikimedia
The second model from the new company Bugatti Automobili was a sports car EB 110, produced from 1991 to 1995. Italian car designer known for his work with Lamborghini, Marcello Gandini, made the prototype design. EB 110 was revealed on September 15, 1991, 110 years after Ettore's birth.
This super sports car paved the way for modern hypercars, including dramatic styling and improved technology. Bugatti wanted to make the car light and fast, the production using aluminum, titanium, and aramid fibers for the bodywork. Thirty years later, 110 is still one of the best Bugatti designs.
---
9. Bugatti Type 101
Production: 1951-1965
Number Produced: 8
Estimated Price Today: $300,000
Class: Grand tourer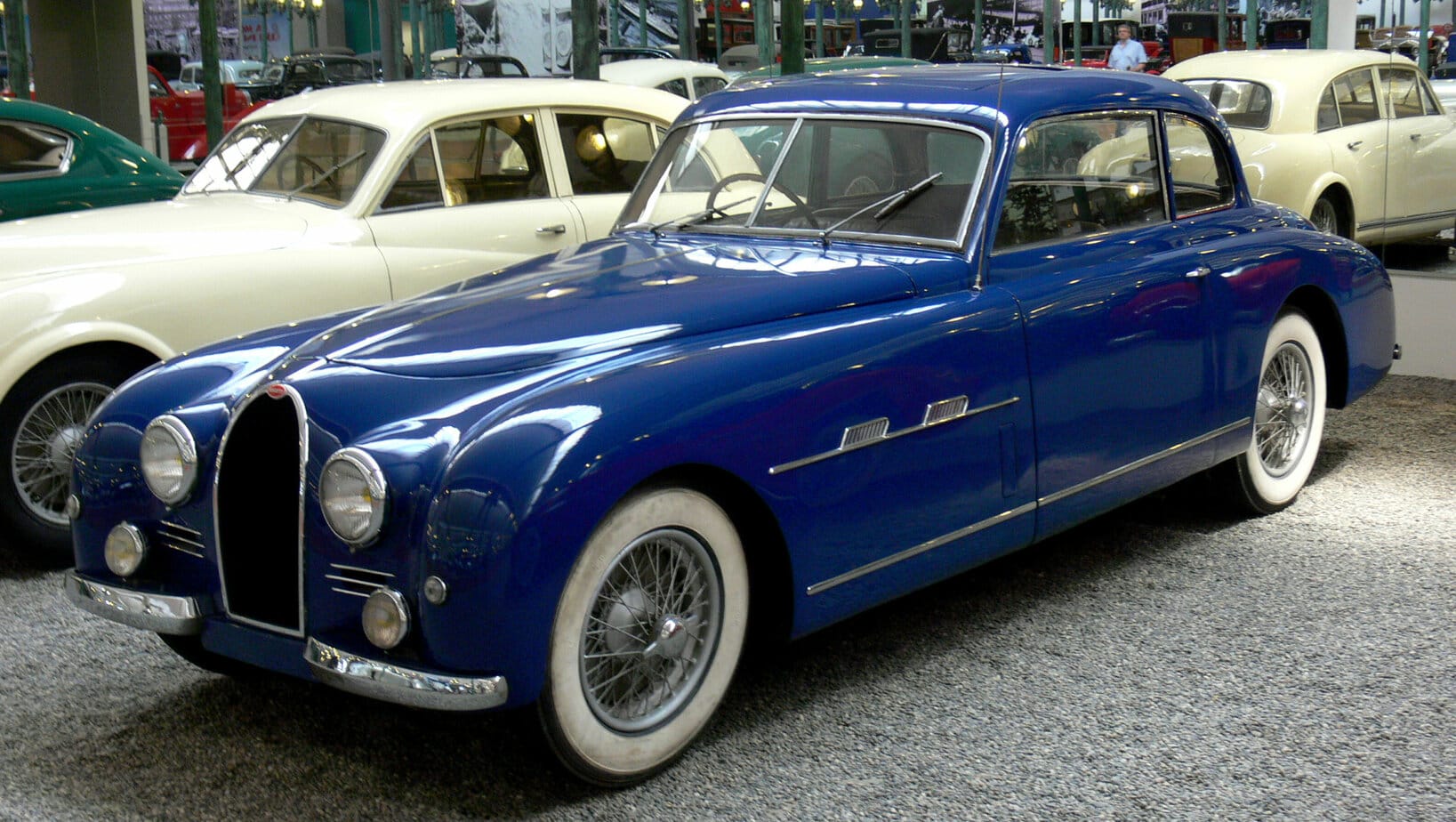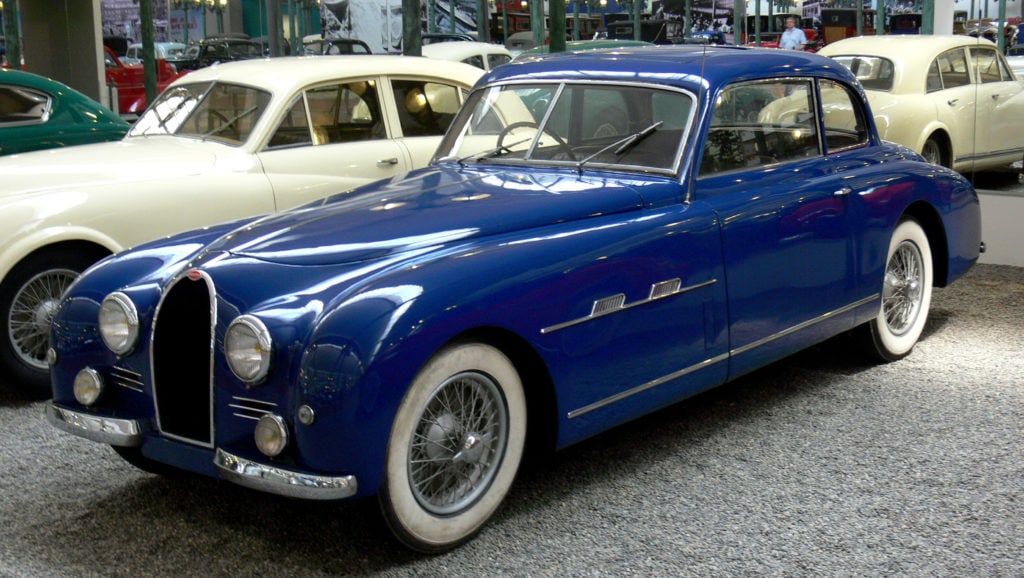 photo source: Wikipedia
During World War II, Bugatti did not produce any new models, so Type 101 was their first restart production. This type developed from the Type 57 design, and its production was limited to only eight units. Type 101 is also the last production in the Automobiles Ettore Bugatti company (1909-1963).
All eight models had different chassis numbers and bodies: from the coupe to the cabriolet. The last one was produced in 1965 by a Chrysler designer, Virgil Exner. It was exhibited at the Turin Motor Show to collect interest for the production to continue, but financing failed.
---
8. Bugatti Type 57/57S/57SC
Production: 1934-1940
Number Produced: 710
Estimated Price Today: $12,044,000
Class: Grand tourer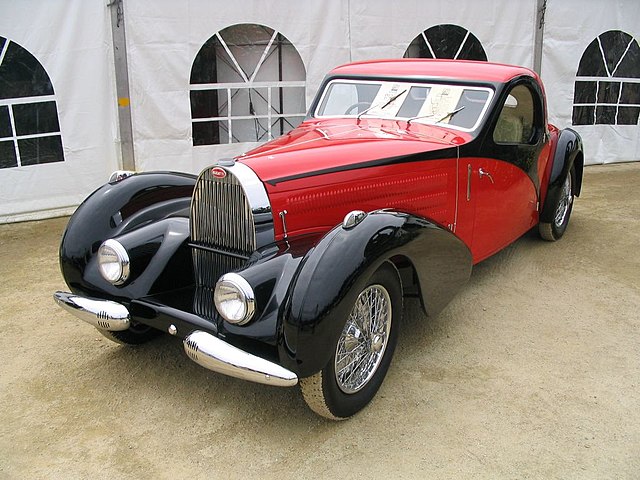 photo source: Wikipedia
Grand tourer, Type 57, was produced by Ettore's son, Jean Bugatti, from 1934 to 1940. While the 57 started the model, Type 57S and 57SC models are considered more iconic for the brand. The "S" is for Surbaissé, meaning lowered, while "C" stands for Compresseur or increased power.
Bugatti took a chance and lowered the car while increasing its power. The design was bulky until 57S Atlantic and Aérolithe concept cars were introduced in 1935. The two models had the same body but were lightweight and more durable. One Atlantic sold for $12 million at the 2019 Geneva Auto Show.
---
7. Bugatti Type 55
Production: 1932-1935
Number Produced: 38
Estimated Price Today: $2,500,000 – $7,100,000
Class: Sports car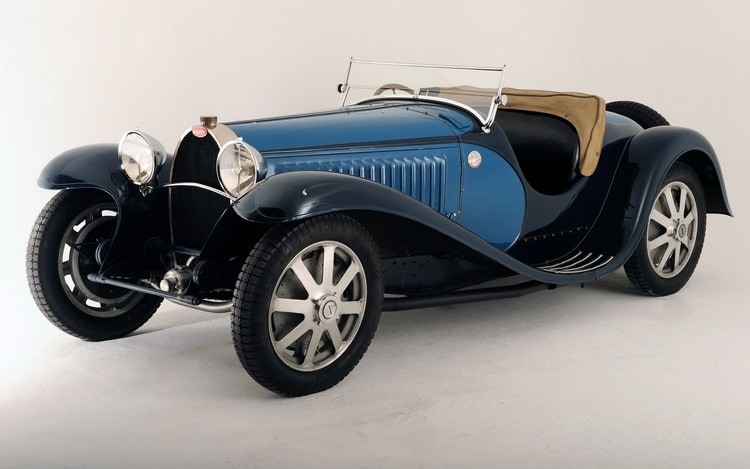 photo source: Bugatti Revue
Bugatti often used Paris Motor Show to introduce new models, so Type 55 appeared at the 1931 Show before the production of 38 models began. Type 55 was a redesigned Type 51 Grand Prix version, considered one of Bugatti's most attractive and agile fast cars.
These cars, designed by Jean Bugatti, made 16 2-seater cars while seven had coupe style. But his design was often criticized due to noisy mechanics and lack of practicality. Estimated prices for Type 55 are grander than the other models, as one sold for $7,1 million at Amelia Island auction in 2020.
---
6. Bugatti Type 46/50
Production: 1929-1939
Number Produced: Unknown
Estimated Price Today: $500,000 – $1,100,000
Class: Touring car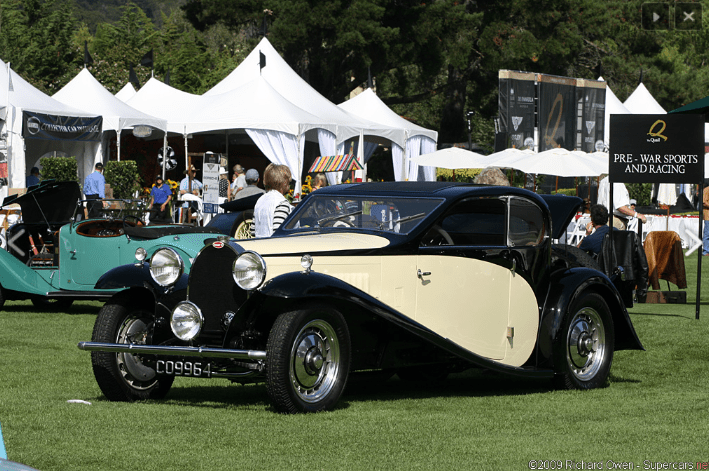 photo source: Supercars
Types 46 and 50 were large touring cars produced by Automobiles Ettore Bugatti from 1929 to 1939. Type 46 was launched first in 1929 at Paris Motor Show as a luxury coupe before the official production started. It was larger than Type 50 and the following Types 50T and 50B.
Type 50 was designed the same way, with enclosed passenger space, but it rode on a smaller wheel size. Their appearance and styling made them resemble another popular model, Molsheim Buick, from an American car manufacturer with the same name.
---
5. Bugatti Royale
Production: 1922-1933
Number Produced: 7
Estimated Price Today: $6,000,000
Class: Road car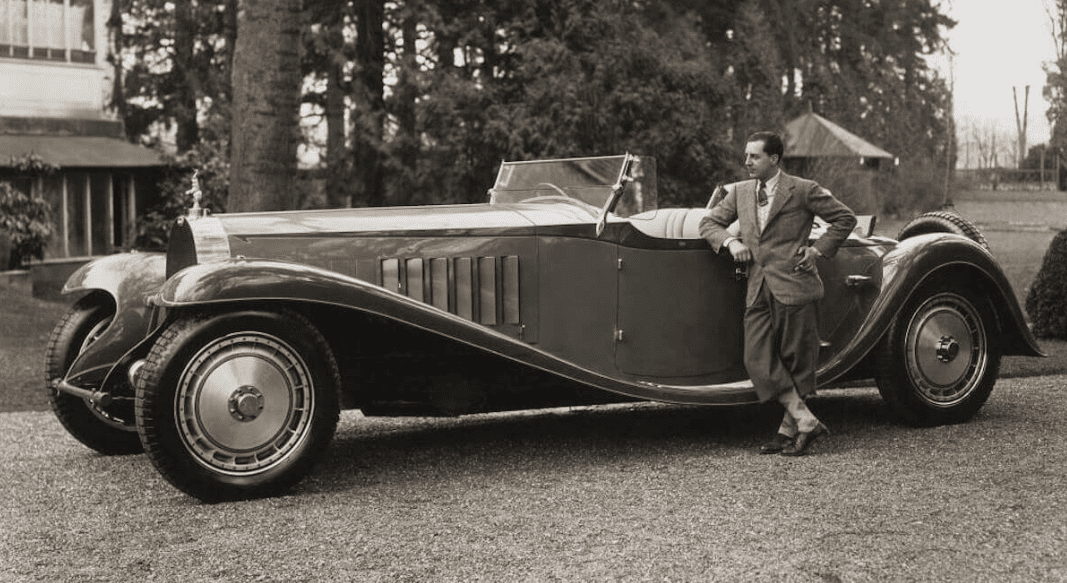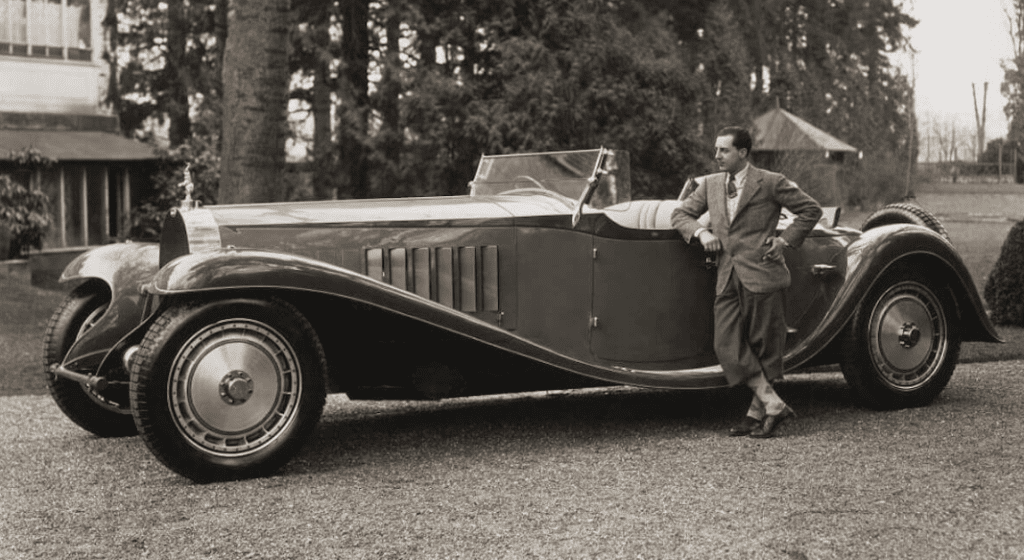 photo source: Secret Classics
Bugatti started getting its name out in 1922 when the production of a large luxury Royale began. Also known as Type 41, Royale was the most potent and most luxurious car in the world at the time, but today it still holds the title for one of the largest cars in the world, with a length of over 19 feet.
Despite the plan to create a massive production, Bugatti couldn't sell many during the Great Depression. Instead, they only made seven cars. The blueprint for the engine was Bugatti's personal best, the so-called aircraft engine, designed in 1927. Royale is the only Bugatti vehicle with a hood ornament, a dancing elephant, designed by Ettore's brother Rembrandt Bugatti.
---
4. Bugatti Type 30/38/40/43/44/49
Production: 1922-1934
Number Produced: 3,540 in total
Estimated Price Today: $170,000 – $650,000
Class: Road car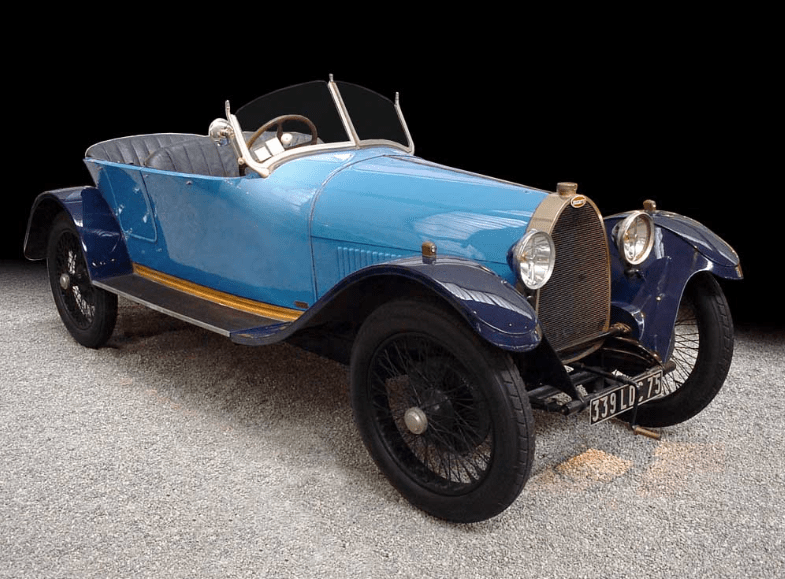 photo source: Supercars
Bugatti began their 8-cylinder production in 1922, manufacturing six new models until 1934. Bugatti Type 30 was the first race car produced with this engine, and it shared the classic features with Type 13 Brescia. Type 30 was modified for the 1923 Indianapolis race.
Bugatti tried to upgrade it the following years with Type 38, but nothing major changed until Type 43, when Bugatti changed the engine again, taking a supercharged instead and providing more power to the car. Type 44 was the most extensive production, with 1,095 cars made, and Type 49 was the last manufacturing in 1934.
---
3. Bugatti Brescia Tourer
Production: 1920-1926
Number Produced: 2,000
Estimated Price Today: $60,000
Class: Sports car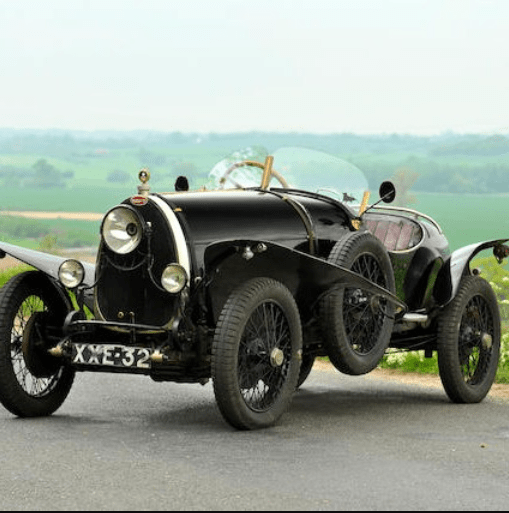 photo source: Supercars
Bugatti Brescia is a revamped version of the first Bugatti ever made, Type 13. Also called Type 23 due to the years it was produced, Brescia got its name from the competition in which Bugatti's car finished in the top four. The open-top car changed the game for race cars as the first lightweight racing car to compete.
After witnessing the Brescia success, Bugatti started production of around 2,000 Brescia Tourer up until 1926. The cars had multivalve engines on their right side, which was the first for sportscars, and this production was the first multivalve production ever made.
---
2. Bugatti Garros
Production: 1912-1914
Number Produced: 7
Estimated Price Today: $2,500,000
Class: Road car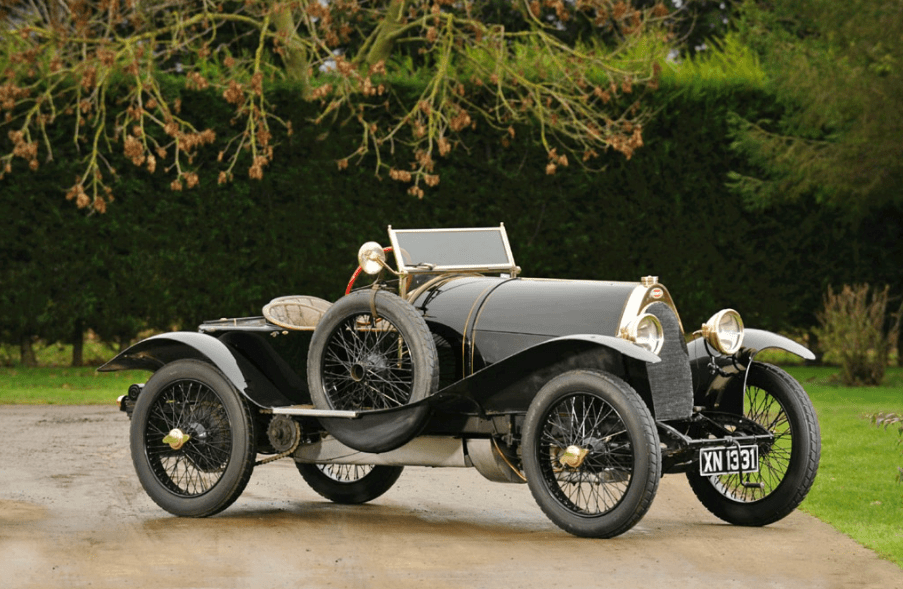 photo source: Supercars
Also known as Bugatti Type 18, Garros was produced from 1912 to 1914. Only seven units exist, while three are known to survive up until today. Before starting his own company, Ettore Bugatti had designed cars for a German company, so Type 18 resembled his previous work.
One of the most famous cars from this collection was No.474, sold to Bugatti's friend Roland Garros, a French aviator and sportsman. Unfortunately, he passed away in 1918, and his car was sold to a professional race car driver Ivy Cummings, who named it Black Bess. Black Bess was sold for $2,500,000 at the Retromobile auction in 2009.
---
1. Bugatti Type 13
Production: 1910-1920
Number Produced: 435
Estimated Price Today: $379,500
Class: Road car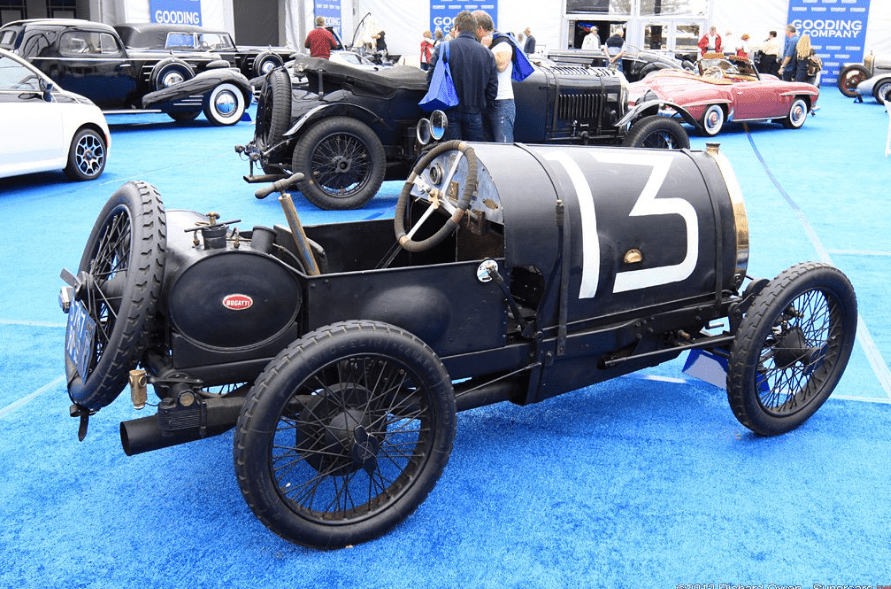 photo source: Supercars
The Bugatti car that started it all, the first and oldest Bugatti, is Bugatti Type 13. The production began with the company Automobiles Ettore Bugatti in 1910, with an internationally renowned automobile designer Ettore Bugatti as the founder.
This road car was produced in only 435 units, with a 16-valve head engine, one of the earliest models since most road cars used an 8-valve head. Type 13 was prototyped as Type 10 in Bugatti's basement.
The production started the following year with Type 13, and later Type 15, 17, 22, and 23, all produced throughout 1920.