The development of cellular/mobile phones began in the early 1900s as phone companies began to explore wireless technology. It would take the several decades for all the components that make cell phones work to emerge and the world's first commercial cell phone, the Motorola DynaTAC, was finally released in 1983.
Cellular phone technology developed rapidly after this and led to the smartphones we all know and love (or hate) today.
This list features some of the most important cell phones ever developed, which had a lasting impact on society.
10. Nokia 9000 Communicator
Release Date: August 15, 1996
Manufactured By: Nokia
Original Retail Price: $800+ (about $1,362 in 2021)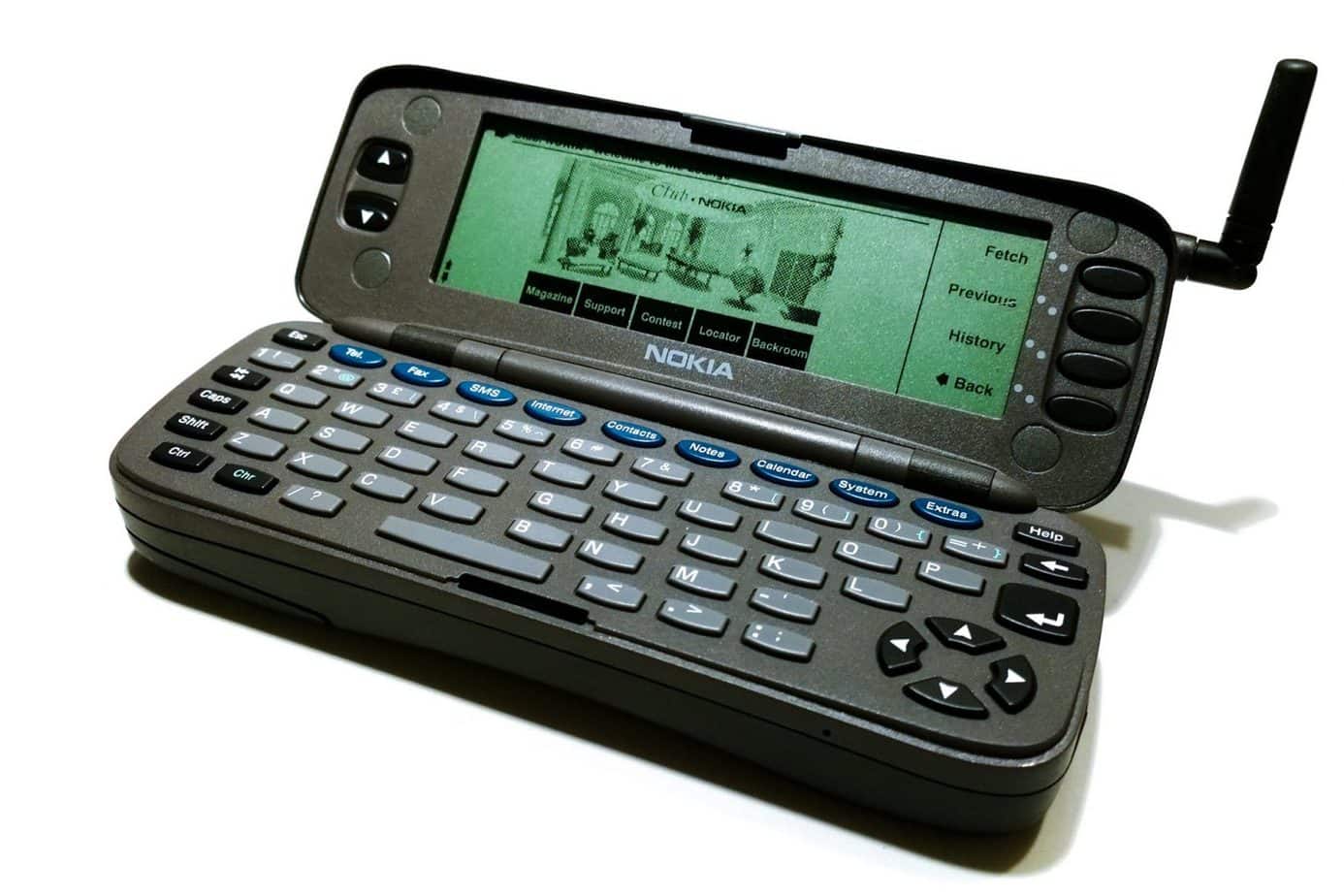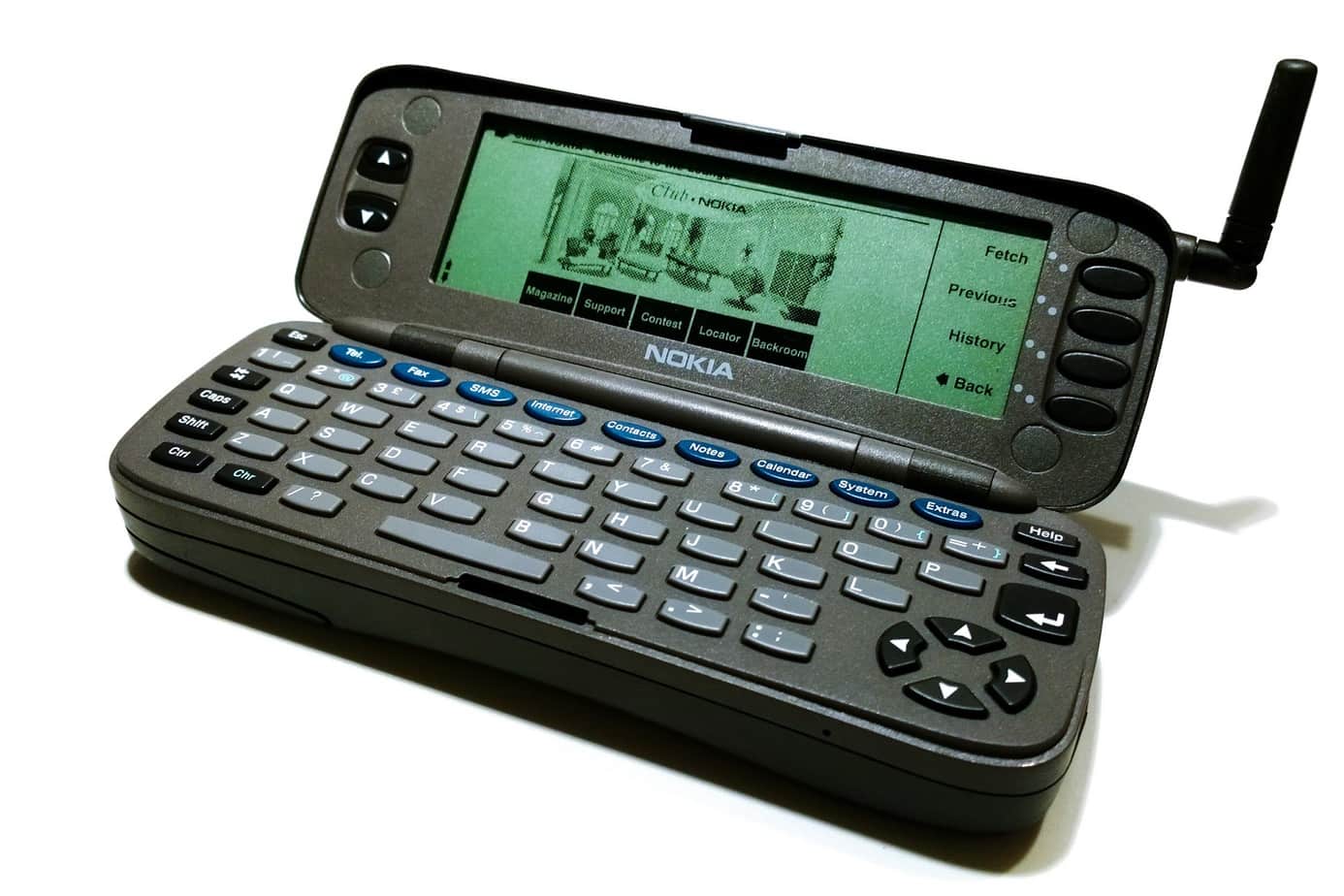 photo source: Wikimedia Commons
The Nokia 9000 Communicator was one of the first true smartphones and was considered a mobile office. It had all the features of an office — phone calls, e-mail access, web browsing, faxing, word processing, and spreadsheets — in a compact device.
However, because the Nokia 9000 Communicator could do all of these things it was quite heavy, weighing in at 397 grams (14.0 oz). The Nokia 9000 Communicator was years ahead of its time, debuting way before the Blackberry became favored by business professionals.
This mobile office was powered by an Intel 24 MHz i386 CPU and had 8 GB of memory. It opened up to reveal an LCD display and a full QWERTY keyboard.
Did You Know?
The Nokia 9000 Communicator had a suite of business programs that could read and edit Microsoft Office files from a desktop PC.
---
9. Nokia 8110
Release Date: September 9, 1996
Manufactured By: Nokia
Original Retail Price: Unspecified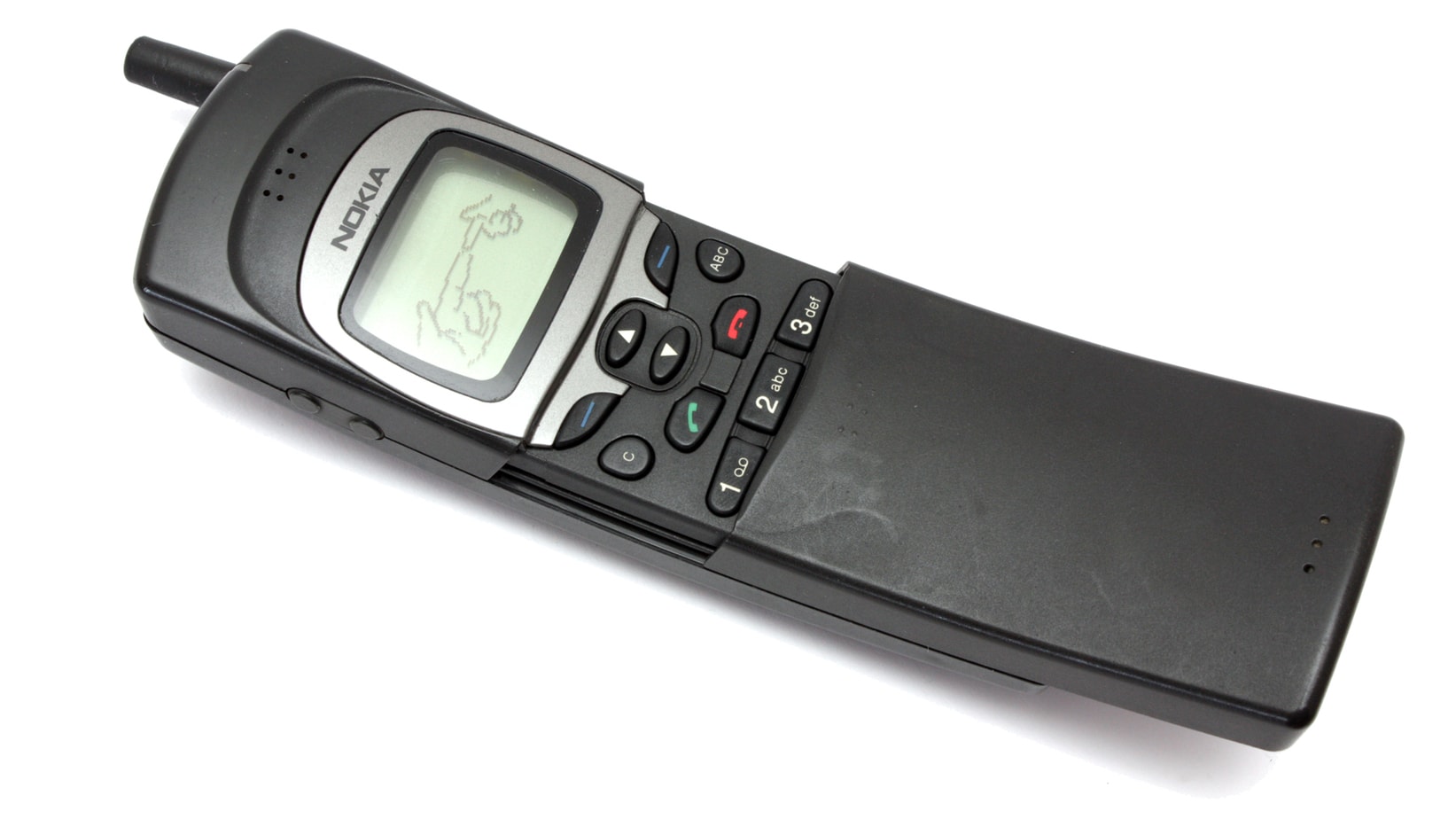 photo source: Wikimedia Commons
Immortalized by The Matrix, the Nokia 8110, aka the banana phone, was released in 1996 as the first phone in Nokia's high-end 8000 series.
The Nokia 8110 was notable for its sleek design, which featured a keypad cover that slid down. This was the first cell phone to have any sort of sliding design feature. It was also the first Nokia phone with a graphic LCD screen.
Another unique feature of the Nokia 8110 was that it was the first cell phone with Smart SMS technology. This allowed users to send and receive ring tones through text messaging, among other capabilities.
Did You Know?
In 2018, a modern version of the Nokia 8110, dubbed the Nokia 8110 4G, made its debut and even had a yellow colorway as an homage to its "banana phone" nickname.
---
8. Motorola StarTAC
Release Date: January 3, 1996
Manufactured By: Motorola
Original Retail Price: $1,000 (about $1,702 in 2021)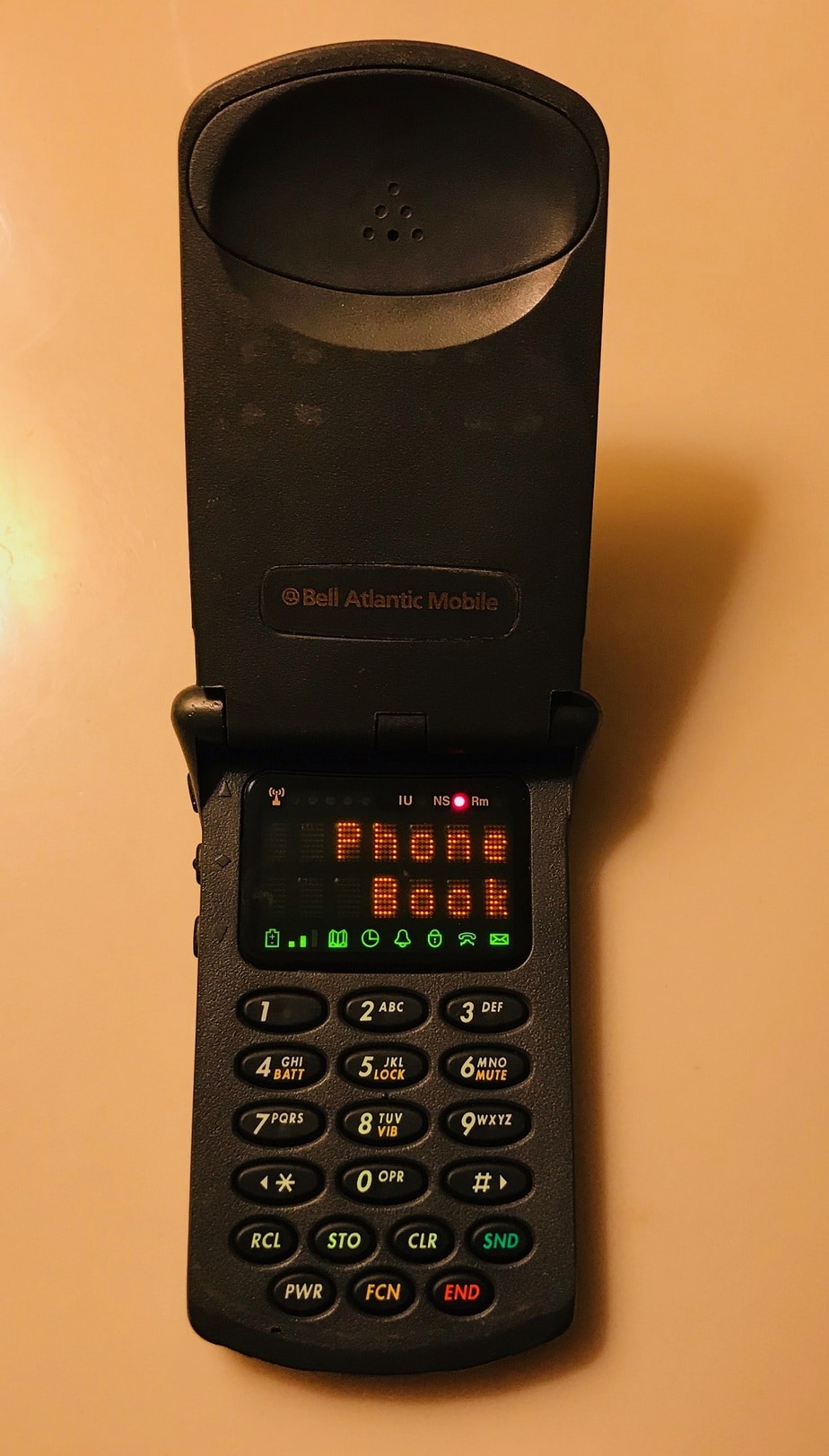 photo source: Wikimedia Commons
The Motorola StarTAC is perhaps one of the most iconic cell phones from the 1990s. It was the first true clamshell or flip phone and was a follow up to Motorola's earlier MicroTAC, which was also a partial flip phone.
The StarTAC was very small by cell phone standards at the time and was essentially the first truly mobile phone. It was so small, that Motorola advertised that the StarTAC was a "wearable cell phone." All you needed was a hip holster, which became incredibly popular accessories following the StarTAC's release
The initial Motorola StarTAC model (3000) was followed up by many different versions that had additional features or came in special colors, like the Rainbow colorway released in 1998.
The Motorola StarTAC changed history by becoming the first cell phone to gain widespread consumer adoption.
Did You Know?
The Motorola StarTAC has remained such a popular vintage cell phone that Motorola revived the brand name twice: first in 2004 for a model released in the South Korean market and again in 2007 when the StarTAC III was released.
---
7. Hagenuk MT-2000
Release Date: 1994
Manufactured By: Hagenuk
Original Retail Price: Unspecified

photo source: Wikimedia Commons
Like many of the other early cell phones on this list, the Hagenuk MT-2000 made many firsts. The Hagenuk MT-2000 was the first cell phone with an internal antenna. All cell phones, from any manufacture, before this (and even after) had to have traditional antennas to boost their signal.
Additionally, the Hagenuk MT-2000 and its predecessor, the Hagenuk MT-900, were the first cell phones to have soft keys (buttons that have more than one function).
Despite its many firsts and Hagenuk getting into the GSM phone market early, both the Hagenuk MT-2000 and the company were not popular enough to survive the cell phone wars.
Hagenuk sold off its mobile phone division in 1995, just a year after the Hagenuk MT-2000's release.
Did You Know?
For many years, it was widely believed that the Hagenuk MT-2000 was the first cell phone to come pre-loaded with a mobile game. However, it turns out that the Siemens S1 (released in 1993) had a hidden game of Tetris and IBM Simon (released earlier in 1994) had Scrabble.
---
6. IBM Simon
Release Date: August 16, 1994
Manufactured By: IBM and Mitsubishi Electric
Original Retail Price: $899 to $1099 (about $1,620 to $1,980 in 2021)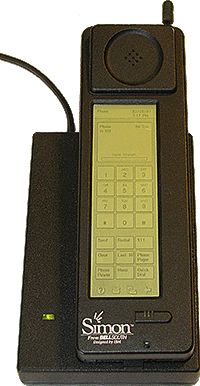 photo source: Wikimedia Commons
A year before the term "smartphone" was coined (because of this phone's capabilities) and decades before they became a common personal item, the IBM Simon made its debut in 1994 as the world's very first smartphone.
The IBM Simon was a touchscreen PDA (personal digital assistant) designed by IBM and manufactured by Mitsubishi Electric. It was distributed by BellSouth Cellular Corp. for $899 with a two-year service plan or $1,099 without a contract.
The prototype for the IBM Simon was revealed in 1992 and the company spent the next two years developing a commercial model. In addition to making and receiving cellular phone calls, the IBM Simon could send and receive faxes, e-mails, and cellular pages.
The phone also featured an address book, calendar, appointment scheduler, calculator, world time clock, electronic notepad, handwritten annotations, and standard and predictive stylus input screen keyboards.
Did You Know?
The IBM Simon was only on the market for six months and about 50,000 units were sold.
---
5. Nokia 1011
Release Date: November 10, 1992
Manufactured By: Nokia
Original Retail Price: 2500 DM (German Mark) (about $1,557)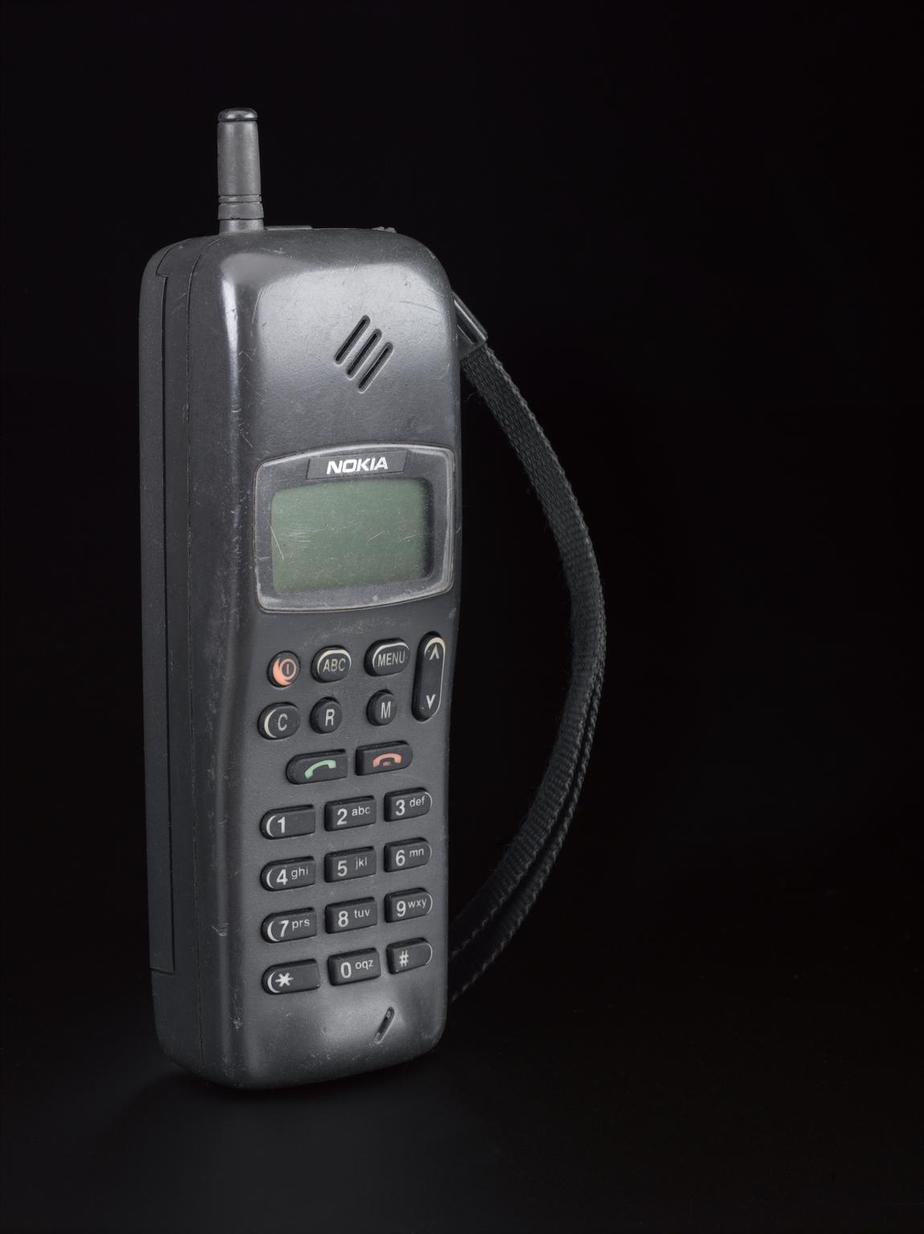 photo source: Science Museum Group
The
Nokia 1011
was the very first commercial cell phone produced by Nokia and it was also the world's first mass-produced GSM cell phone. By the standards of the time period, the Nokia 1011 was pretty compact and could fit into pockets and purses.
Additionally, this was the first commercial cell phone that could send and receive text messages, kicking off Nokia's dominance in cell phone market over the next few years.
Following the release of the Nokia 1011, Nokia decided to almost exclusively focus on developing GSM phones, while its rival Motorola continued with analog.
Did You Know?
The model number of the Nokia 1011 refers to its release date on the 10th of November.
---
4. Motorola International 3200
Release Date: 1992
Manufactured By: Motorola
Original Retail Price: $1,238 (about $2,284 in 2020)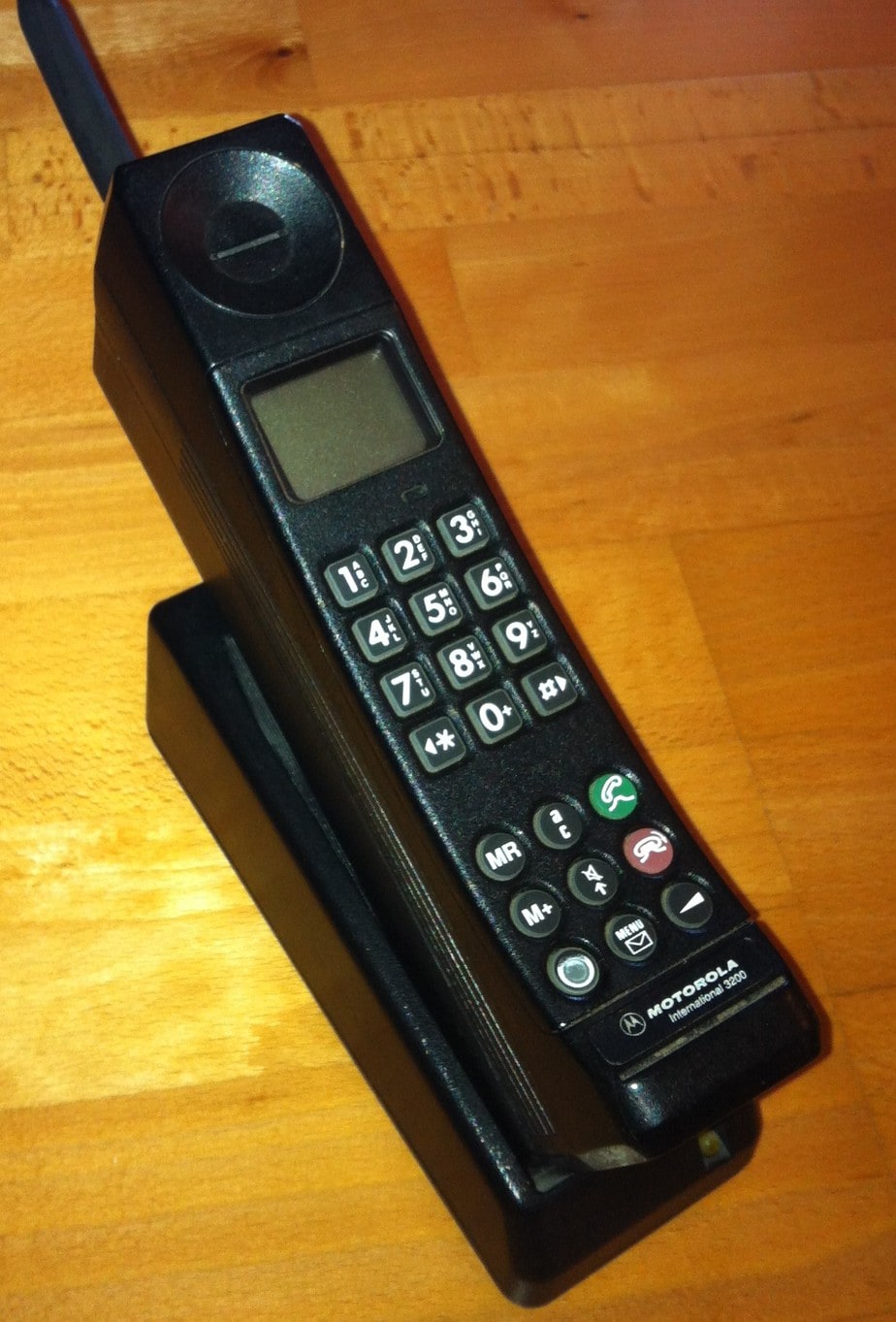 photo source: Wikimedia Commons
Although British company Orbitel beat Motorola to produce the world's first digital phone, the Motorola International 3200 was the first digital hand-held mobile phone. The International 3200 was designed to replace original analog cell technology developed in the late 1960s and early 1970s and first commercially available in 1983.
While mobile phones were becoming more compact, because of the new GSM technology, the Motorola International 3200 looked like the earlier brick phones, but it wasn't as heavy or quite as large.
It took five hours to charge the Motorola International 3200 and it could last in stand-by for eight hours or 30 minutes to an hour of continuous talk time.
Did You Know?
Because the Motorola International 3200 used the GSM network, any existing models could still technically work on any current 900 MHz GSM networks that are still in operation.
---
3. Orbitel 901
Release Date: 1991
Manufactured By: Orbitel
Original Retail Price: Unspecified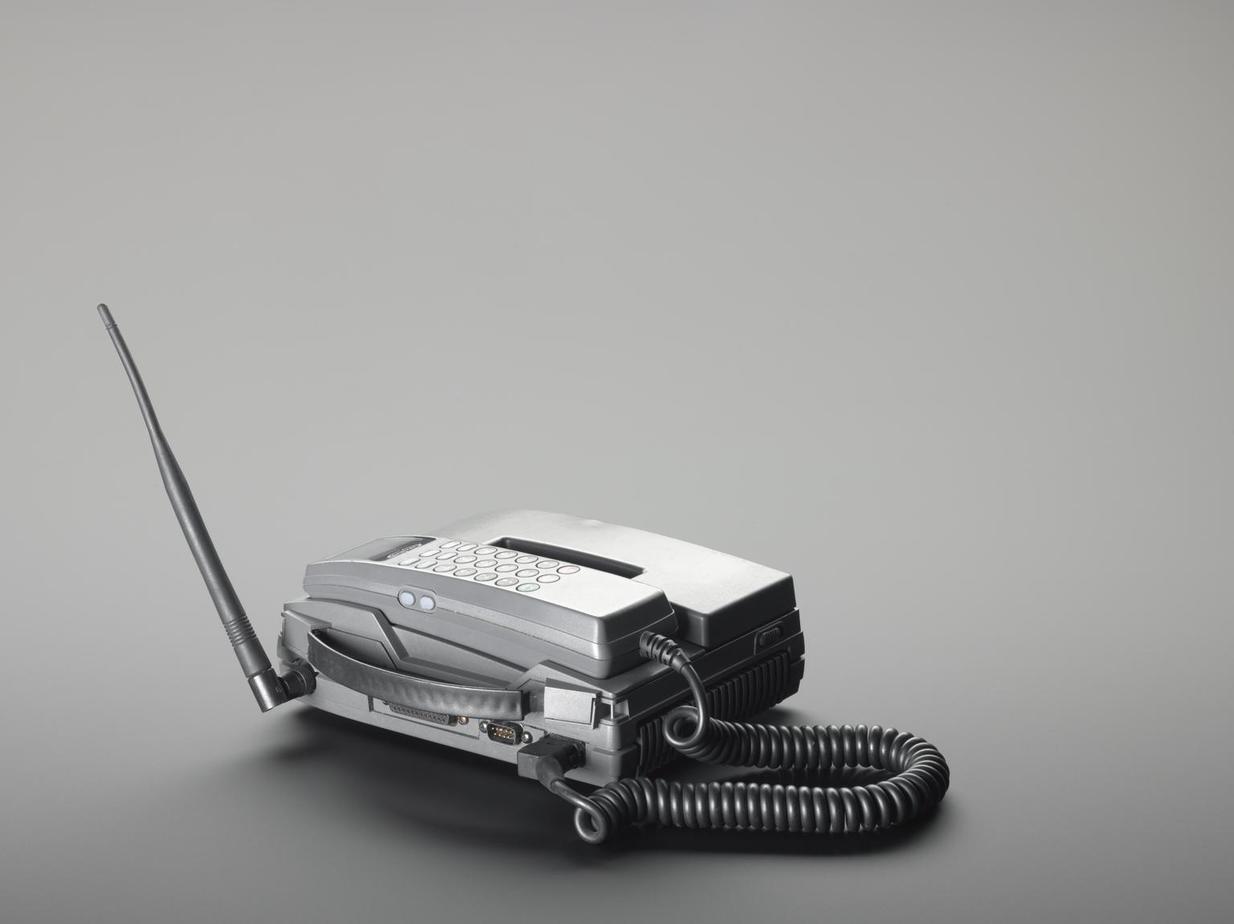 photo source: Science Museum Group
The Orbitel 901 might look like a landline phone, but it was the world's first GSM (Global System for Mobile Communications) mobile phone. While cell phones were birthed in the United States, European telecommunications companies were the first to move away from analog systems and invest in digital cellular technology.
A British company, Orbitel, worked with Racal and Plessey to develop the Orbitel 901.
Due to the cumbersome nature of the Orbitel 901, it wasn't very popular, but it opened the door for later GSM models. The Orbitel was the first phone that the UK's first GSM provider, Vodaphone, offered.
Did You Know?
The Orbitel 901 was the first phone to ever receive a text message on December 3, 1992 when Neil Papworth of Sema Group (now Mavenir Systems) used his computer to send the message, "Merry Christmas," to Richard Jarvis of Vodafone on his Orbitel 901.
---
2. Motorola MicroTAC 9800X
Release Date: April 25, 1989
Manufactured By: Motorola
Original Retail Price: $2,495 to $3,495 (about $5,373 to $7,527 in 2021)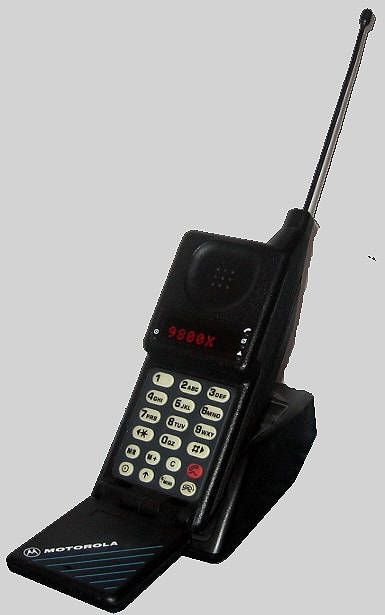 photo source: Wikimedia Commons
The Motorola MicroTAC 9800X was the world's first semi-flip phone and was Motorola's solution to the heaviness and large size of its earlier DynaTAC models. Initially, the mouthpiece was on the part of the phone that flipped down, but it was moved to the base of the phone.
This iconic phone influenced the design of every flip phone that came out on the market in the following decades.
The MicroTAC was 9 inches (23 cm) long when open and weighed in 12.3 ounces (350 g) and had a slim battery. The phone was small enough to fit into a shirt pocket. Motorola released several different version of the MicroTAC until it was succeeded by the Motorola StarTAC in 1996.
Did You Know?
Some of the features of the Motorola MicroTAC 9800X include security codes, two phone number operations, a charge rate and currency calculator, secretarial memory scratchpads, hands-free operation, keypad tones, memory protection, and phone number and name storage.
---
1. Motorola DynaTAC 8000X
Release Date: 1983
Manufactured By: Motorola
Original Retail Price: $3,995 (about $10,712 in 2021)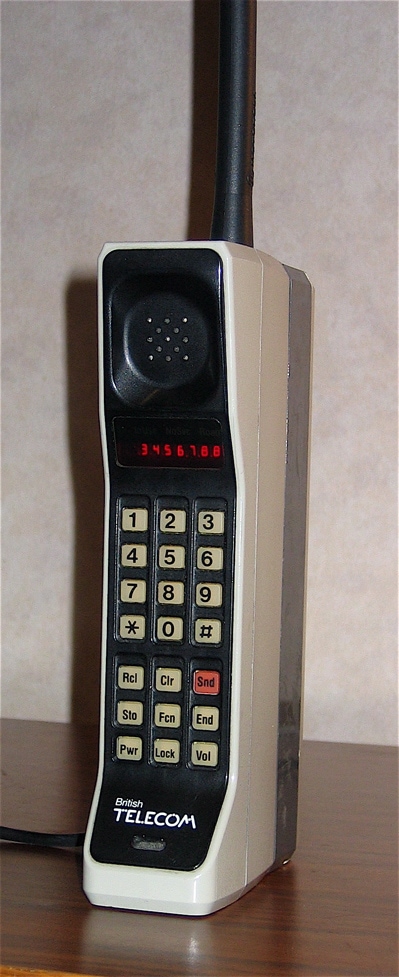 photo source: Wikimedia Commons
The
Motorola DynaTAC 8000x
, aka the "brick phone", became the first commercial cellular phone to receive FCC approval on September 21, 1983, making it the oldest cell phone ever in the world.
Motorola had produced mobile phones for cars for several decades and wanted to develop portable mobile technology.
A prototype that is the predecessor of the Motorola DynaTAC was completed in 1973 and it was able to make a phone call.
Over the next decade, Motorola spent more than $100 million developing the Motorola DynaTAC, which was finally released to the public in 1984.
By today's standards, the Motorola DynaTAC was heavy, large, and kind of a pain to use. It took 10 hours to charge and could only make calls for up to 60 minutes.
Despite all this, there was a waiting list to buy the Motorola DynaTAC and this legendary cell phone set off decades of innovation, research, and development that led to today's smartphones.
Did You Know?
The first commercial wireless call made on a Motorola DynaTAC 8000X took place on October 13, 1983 when David D. Meilahn to Bob Barnett, former president of Ameritech Mobile Communications, who then used his DynaTAC to call the grandson of Alexander Graham Bell, who was all the way in Germany.
OTHER POSTS YOU MAY BE INTERESTED IN