Although Chevrolet first produced the Camaro with the intention of disrupting sales of the Ford Mustang, the Camaro would soon become a standalone American icon. For over 50 years, the Camaro has been a fan favorite of muscle car enthusiasts and motorsports athletes alike. While not all of Chevrolet's experiments in engine power and design for the Camaro were successful, the consistent effort toward improvement and change allowed the Camaro to become a cultural mainstay. Follow along the list below to discover vintage Camaros that demonstrate how the vehicle changed over time.
12. 1997 Z28 Convertible
Production Number: 4,533
Engine: 3.8 Liter or 5.7 Liter
Bonus Fact: Celebrated Camaro's 30th anniversary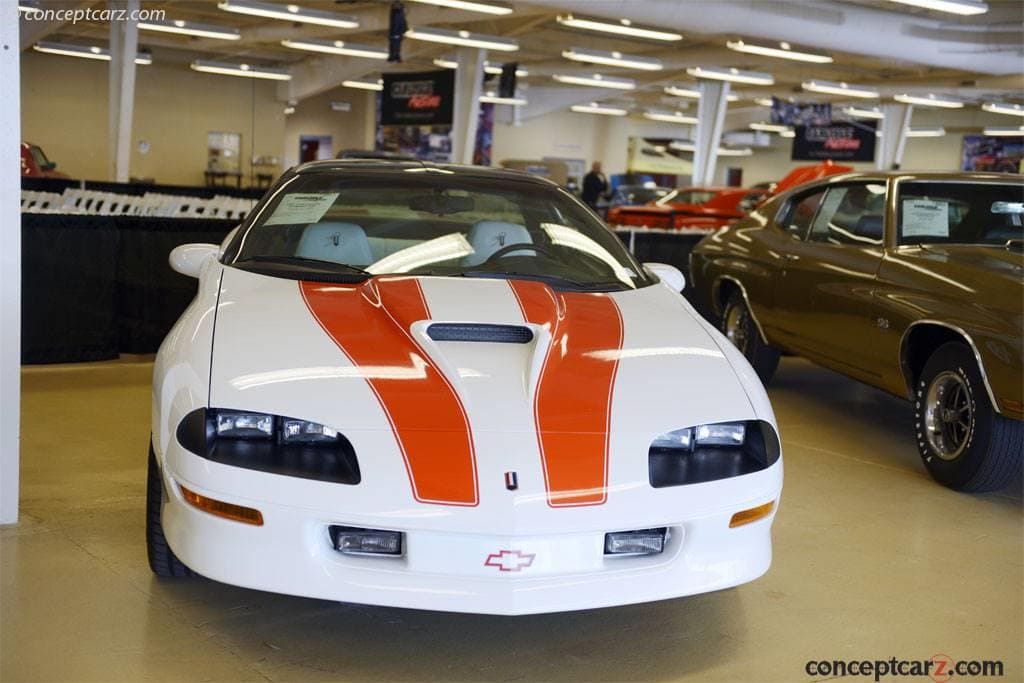 photo source:Conceptcarz.com
Like its 1987 predecessor, the 1997 Z28 convertible celebrated a Camaro anniversary. To commemorate 30 years, Chevrolet released a convertible reminiscent of the Pace car from 1969. The orange and white design resembled Speed Racer's car, although it was meant to remind the consumer of the Indy 500 Pace Car. The 90s marked a hiatus for Camaro innovation as sales slipped. The fifth generation Camaro appeared in 2010, 44 years after the car's debut.
---
11. 1993 Z28
Production Number: 17,850
Engine: 3.4 Liter or 5.7 Liter
Bonus Fact: Fastest horsepower for a Z28 model since 1971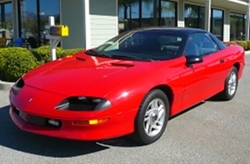 photo source: Pete Dunton via Old Car Memories
After effectively retiring the Z28 in favor of the IROC model in the late 80s, the Z28 made a triumphant return in the early 90s. The 1993 Z28 outsold Mustangs, the Camaro's longtime competitor. This Z28 model also had the fastest horsepower since 1971 and welcomed in the fourth generation of Camaros with all new exterior and interior designs. Chevrolet removed the spoilers and air dams on the car for a sleeker look. The 1993 Z28 also had the largest windshield ever featured on a Camaro, which contributed to its more futuristic look.
---
10. 1987 Commemorative Camaro
Production Number: About 1000
Engine: 5.7-liter
Bonus Fact: First convertible model since 1969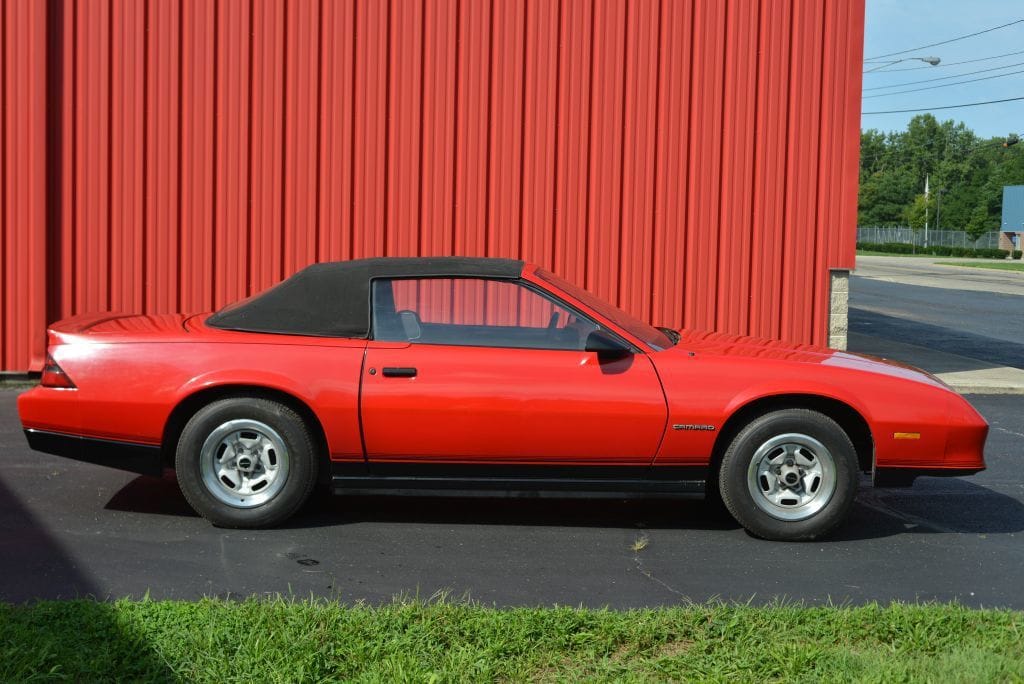 photo source: Proxibid
1987 was the Camaro's 20th anniversary so Chevrolet put out special edition commemorative Camaros to mark the milestone. Camaro brought back its convertible model for the first time since 1969 and used it as the commemorative car, outfitting the IROC-Z with a dash badge that read "20th Anniversary Commemorative Edition." In total, Chevrolet produced a measly 1,007 convertible models in 1987.
---
9. 1985 Camaro IROC-Z
Production Number: 2,497
Engine: 5.0 Liter
Bonus Fact: First Camaro with 16 inch tires
photo source: Hemmings.com
IROC stands for the International Race of Champions, a series of annual competitions in which motorsports athletes compete with the same vehicle. Camaros had been used in the IROC since the 1970s and the 1985 IROC-Z brought in some new changes. It was not a separate model, but a modified Z28 with larger tires and more louvered inserts, bolder ground effects, and spoilers. The IROC-Z's status as a transformed Z28 was really its claim to fame as it proved that Chevrolet could take a more or less average car and turn it into a speed machine.
---
8. 1982 DeAtley Trans-Am Chevrolet Camaro Race Car
Production Number: Limited because this car was for a specific race
Engine: Unknown
Bonus Fact: Helped David Hobbs win the championship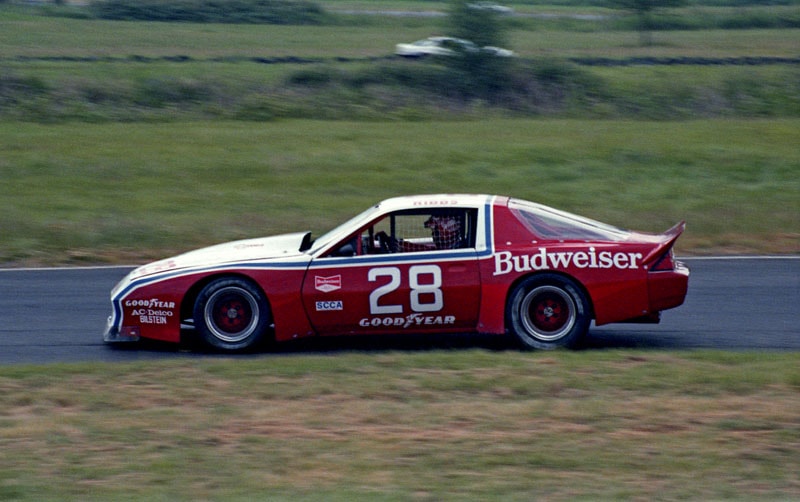 photo source: Dan Wildhirt via Wikipedia
Like the Pace car, this model was built to race. This Camaro race car was prevalent throughout the 1983 DeAtley Trans American race, winning events for David Hobbs and Willy T. Ribbs. Hobbs actually ended up winning the championship with the Camaro. Hobbs' car was red and white, with a prominent Budweiser logo on the side.
---
7. 1977 Z28
Production Number: 14,349
Engine: 5.7 Liter
Bonus Fact: Included new graphics and various package options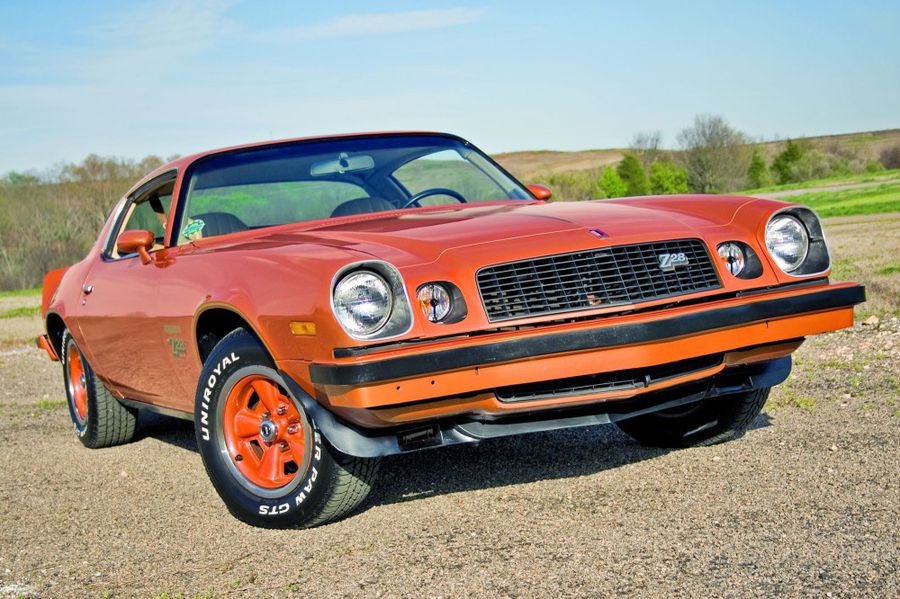 photo source: Hemmings.com
The 1977 version of the Z28 was a comeback of sorts for Chevrolet. Although the 1970 version was well made, it lacked the impressive engine power of previous Camaro models and, throughout the early 1970s, Camaro sales dropped. The Z28's return came with a revived style, including graphics and various package options. Luckily for Chevrolet, Camaro sales reached a record high of over 280,000 sales in 1979.
---
6. 1976 Rally Sport
Production Number: 15,855
Engine: 5.7 Liter
Bonus Fact: 1976 was one of Camaro's best selling years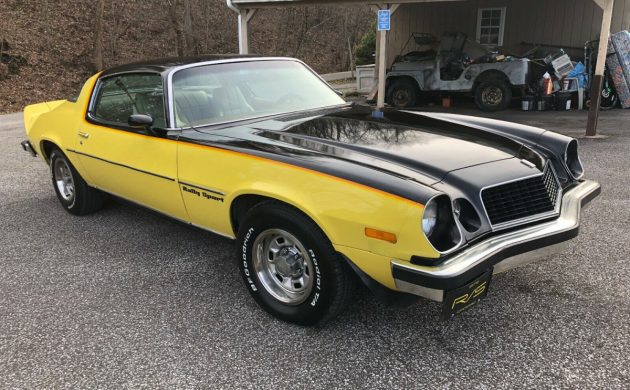 photo source: Adam Clarke via BarnFinds
The 1976 Rally Sport came at a good time for Chevrolet. After a sales dry spell in the early '70s, Chevrolet once again saw an increase in Camaro revenue in 1975. As a result, the 1976 model does not have many distinct aesthetic changes from the 1975 model. Chevrolet doubled their production of the Rally Sport and offered it in white, silver, light blue metallic, Firethorn metallic and bright yellow.
---
5. 1970 Z/28
Production Number: 8,733
Engine: 3.8 – 5.7 Liter
Bonus Fact: Featured a new Camaro design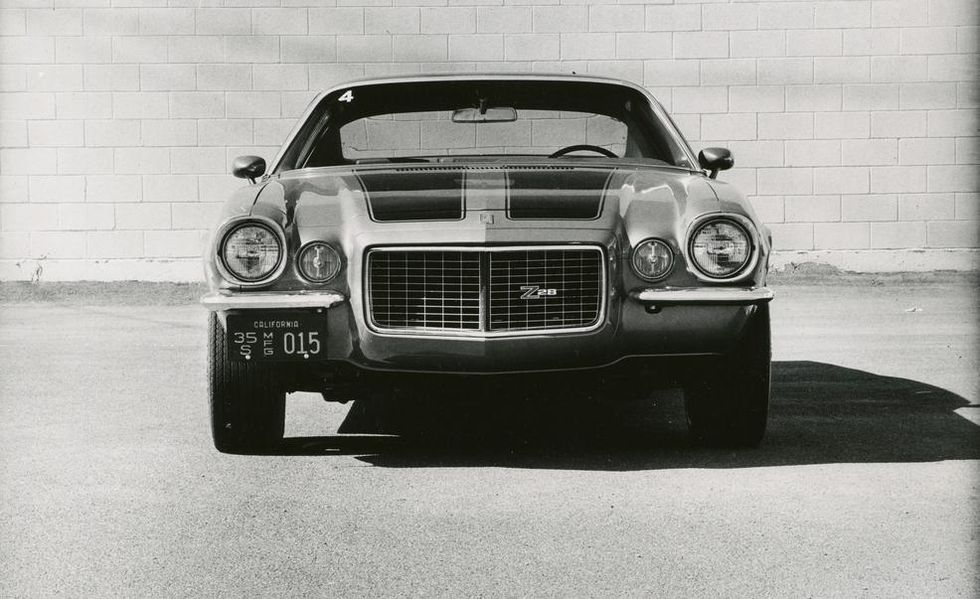 photo source: The Manufacturer via Car and Driver
The start of a new decade also beckoned a new Camaro model. Chevrolet redesigned the body and generated a classic with its second generation Camaro. Unlike some of the previous cars, the second generation Camaro only came as a coupe. In this case, less truly was more as the 1970 Camaro Z/28 is still highly regarded as one of the best Z28s around.
---
4. 1968 SS 396
Production Number: 30,695
Engine: 6.5 Liter
Bonus Fact: Some car dealers fitted this Camaro with a Corvette engine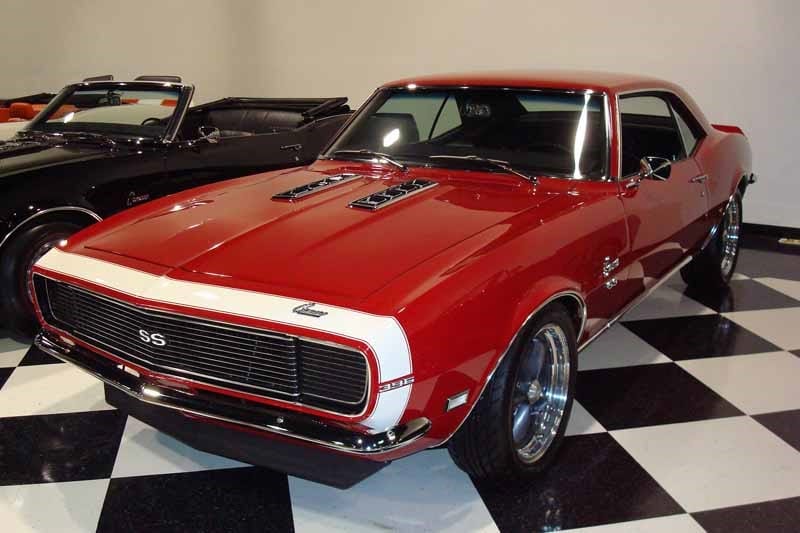 photo source: Pack Automotive Museum
The 1968 Camaro SS 396 added some much needed refinements to the classic muscle car. It included Astro-Ventilation, which circulated air within the vehicle and eliminated the need for vent wing windows. Owners could also purchase different packages at varying price points to improve their engines or other features. Additionally, this version of the Camaro was the only Super Sport with a blackout tail panel. Nineteen sixty-eight also saw increased Camaro sales, with 12 percent of their total sales coming from SS models.
---
3. 1967 Pace Car
Production Number: 100
Engine: 5.7 Liter
Bonus Fact: Specially created for racing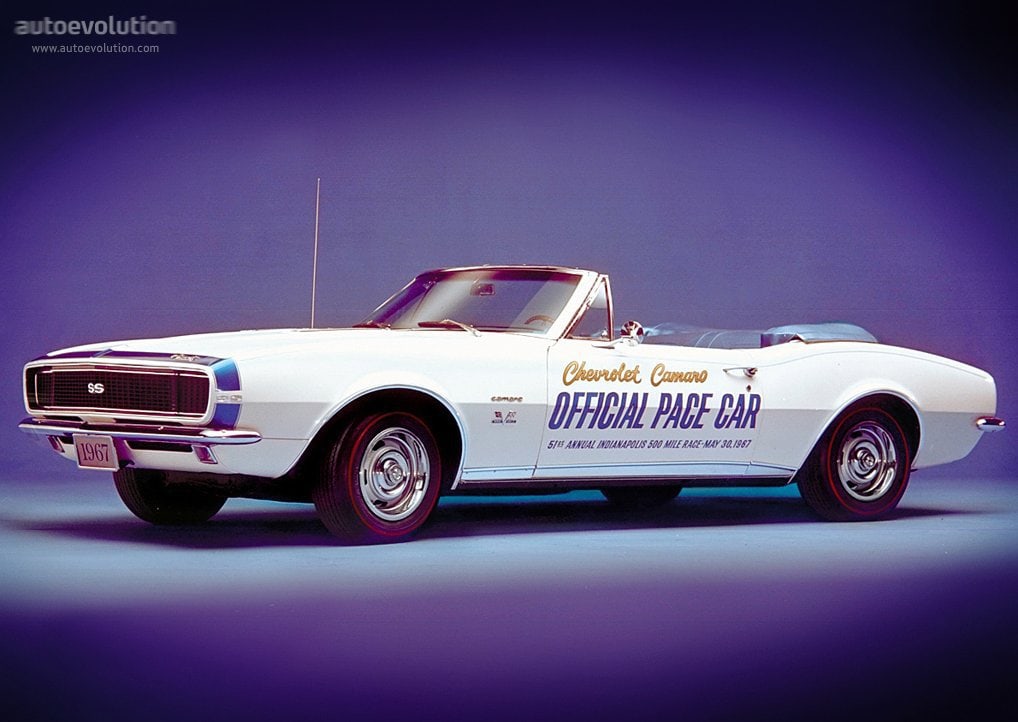 photo source: Autoevolution
The Pace car was a special edition Super Sport convertible for the Indy 500, one of the largest car races in the United States. Camaro didn't sell these to the average consumer and only produced about 100. After the race, they were sold off as used cars. The Pace car was all white and had writing on the side declaring its role in the Indy 500.
---
2. 1967 Super Sport Convertible
Production Number: 25,141
Engine: 5.7 Liter
Bonus Fact: First convertible Camaro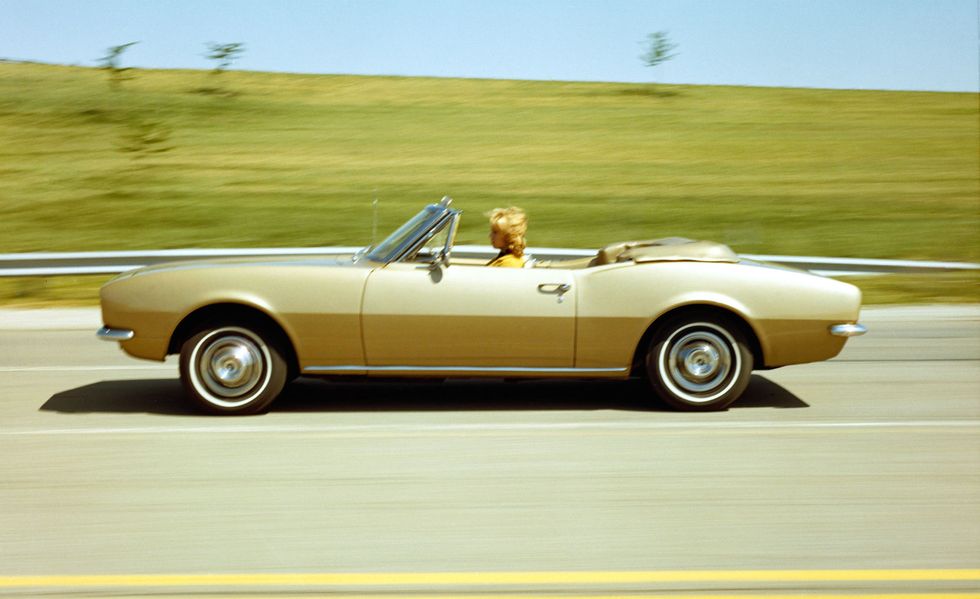 photo source: Car and Driver
The 1967 Super Sport Convertible added some flashiness to the standard Camaro model. Like the first Camaro, the Super Sport Convertible existed to diverge Mustang sales. Although the convertible style made the Super Sport less than ideal for professional racing, the average consumer appreciated the fancy design and powerful engine. It featured a chrome Super Sport badge and power domes on the hood.
---
1. 1966/67 Camaro 100001
Production Number: 49 initial prototypes
Engine: 3.7 Liter
Bonus Fact: Could also be outfitted with stronger engines and is considered very rare today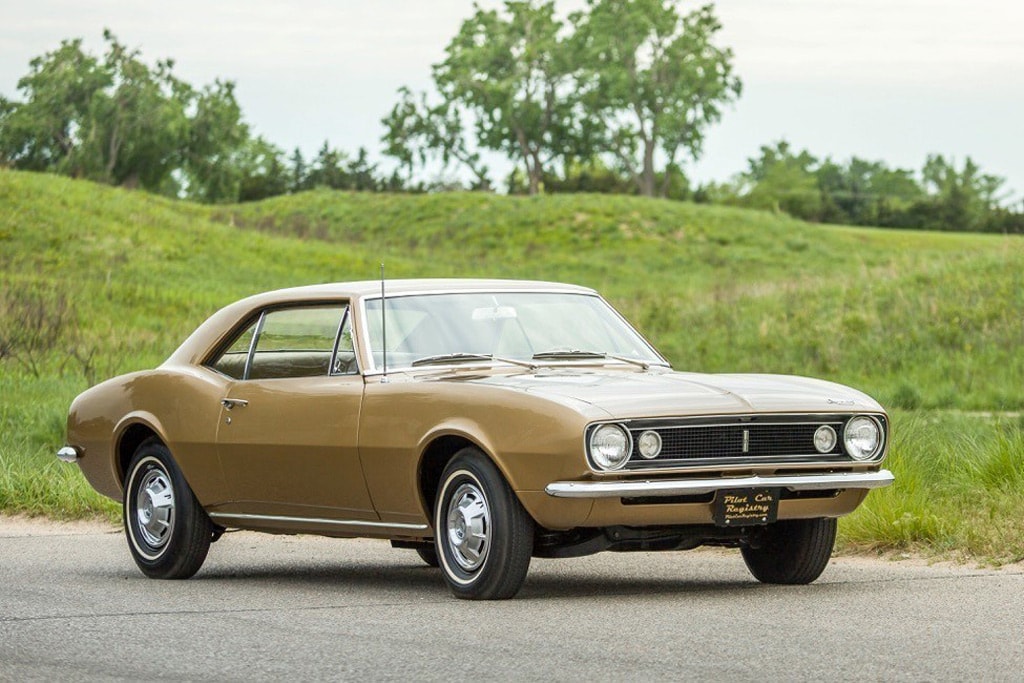 photo source: Andrew Ganz via Motor Authority
The very first Camaro had humble beginnings. It was secretly made from handmade parts in a warehouse in Norwood, Ohio. It featured a simple design with a six cylinder engine as well as a cheaper price point at around $2,400. Chevrolet wanted to create a car that could compete with the wildly popular 1964 Ford Mustang and worked quickly to develop the Camaro as a viable competitor. It was ready by 1966 and the Chevrolet team met their goal as the Camaro became the Mustang's greatest competition.
OTHER POSTS YOU MAY BE INTERESTED IN