If you ever meet people from the 1900s' they'll tell you all about the slight economy boost that encouraged people to look forward to more exciting things in their lives. After the end of World War I, people witnessed an economic boom, their lives began shaping up – the world's population began growing. People started going out, they began experiencing freedom and the thirst for more excitement came into the picture.
Presenting 10 of the world's oldest roller coasters that'll definitely blow your mind.
10. The Thunderhawk
Year Opened: 1923
Location: Dorney Park, Allentown, Pennsylvania, USA
Height: 80 feet (24 meters)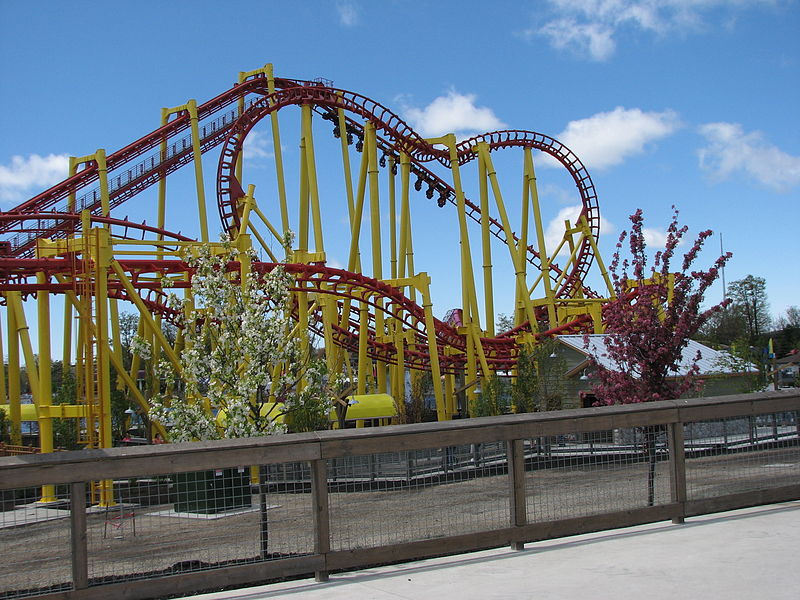 Image Credit: Wikipedia
Formerly known as The Coaster, the Thunderhawk was built with an out-and-back design and track, but was refurbished in the year 1930 to have a figure eight twister. There has been only one accident with the Thunderhawk, but it was caused by an operator error and the ride reopened the next day with no problems.
In 2016, the Thunderhawk began renovations that would change many aspects of the ride, from its design to its safety features. It has also undergone many repaints and appearance alterations through the years.
---
9. The Big Dipper
Year Opened: 1923
Location: Blackpool Pleasure Beach, Blackpool, England
Height: 65 feet (20 meters)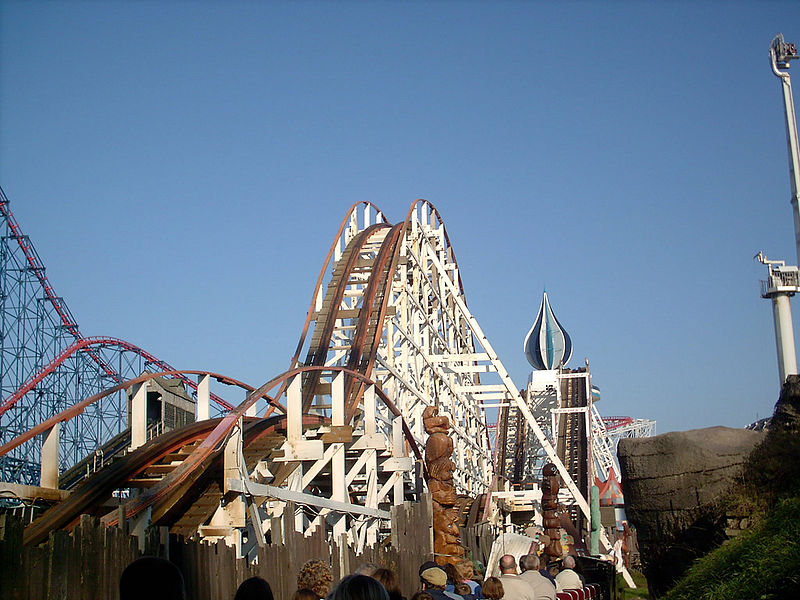 Image Credit: Wikipedia
The Big Dipper is featured in the Guinness Book of World Records, but not for the reasons one may think. It is in the book thanks to Richard Rodriguez, who rode it for 1000 hours straight in 1998 to set a record, then returned and rode it again for 2000 hours. The ride was given an extension in 1936. It has since gone through plenty more refurbishments, with new additions added and many sections repainted, with the 2010 refurbishments costing a whopping 500,000 pounds.
The Big Dipper was referenced and featured as the Title of Jethro Tull's Big Dipper, which was a song released in 1976, and it is – as of April 2017 –a Grade II listed building.
---
8. The Hullamvasut
Year Opened: 1922
Location: Vidampark, Budapest, Hungary
Height: 55.8 feet (17 meters)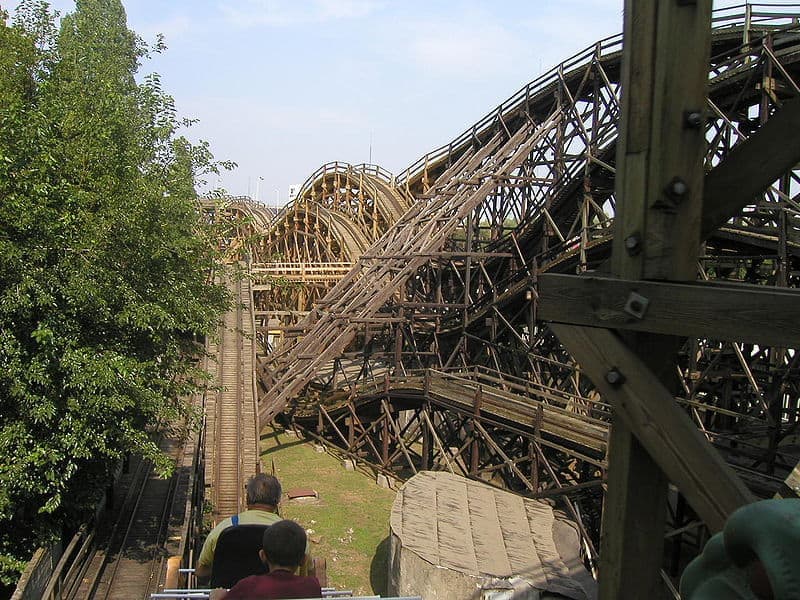 Image Credit: Wikipedia
Technically, the Hullamvasut, which translates to "roller coaster", is now known as the Timber Roller Coaster, is no longer part of an amusement park. It now belongs to and is a part of the Budapest Zoo, which reopened the ride after Vidampark shut down for good.
The Hullamvasut is a scenic roller coaster that follows a railway-style route and is considered an Ace Coaster Classic. Its popularity is likely what saved it from being closed down and demolished with the rest of Vidampark.
---
7. The Roller Coaster
Year Opened: 1921
Location: Lagoon Park, Farmington, Utah, USA
Height: 60 feet (18 meters)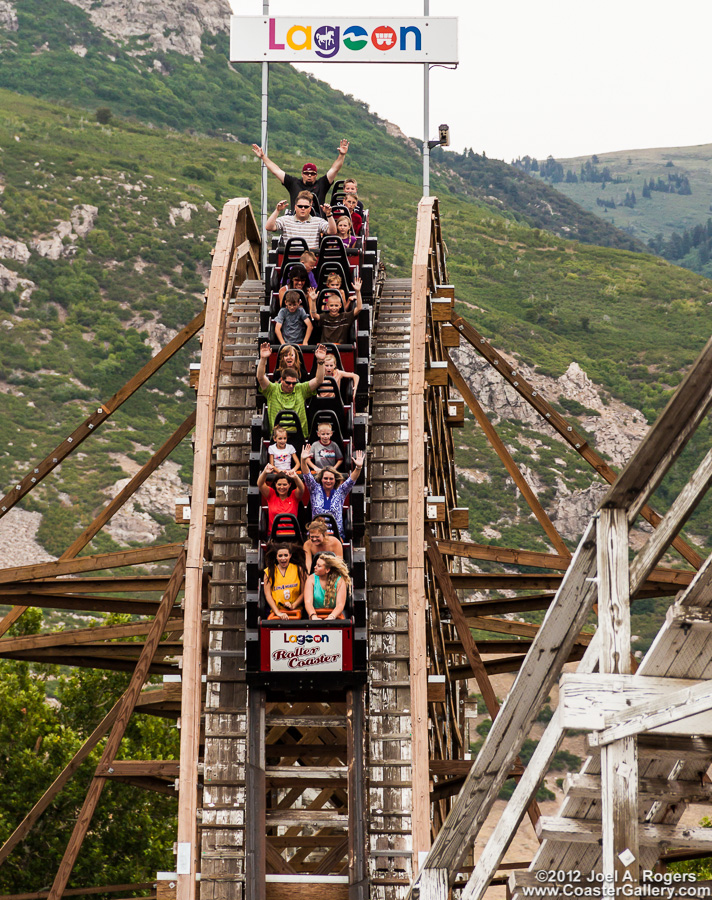 Image Credit: Coaster Gallery
With no official name, Lagoon Park's Roller Coaster is on the National Register of Historic Places. Due to the paint job, it was given when it was first opened, this ride is often called the White Roller Coaster by locals – even though it has not been repainted in years and has now reverted to its initial brown color.
The Roller Coaster had to be rebuilt in many places after a fire in 1953, and since then it has undergone plenty of refurbishments and updates that make it more modern and advanced, one of which involved installing a computer in a new train. It has been an ACE Roller Coaster Landmark as of 2005.
---
6. The Jack Rabbit
Year Opened: 1920
Location: Kennywood Park, West Mifflin, Pennsylvania, USA
Height: 40 feet (12 meters)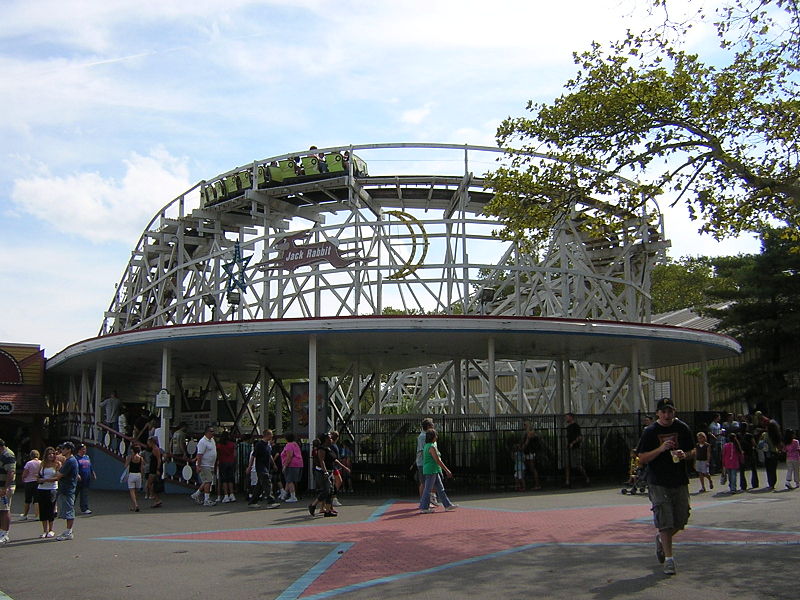 Image Credit: Wikipedia
Although it shares a name and opening date with the previous entry on this list, the Jack Rabbit isn't affiliated with its namesake. Its impressive 70-foot drop was one of the first of its kind when it was first built. The ride was built according to the terrain and on an ecological ravine, which meant it was much more inexpensive to make in comparison to its fellow coasters.
With a mid-course lift hill, the Jack Rabbit has a unique track, fitted with an interesting double-dip mechanism. In order to maintain a vintage, old-timey feel, the ride retains its original trains and carriages to this day. Unfortunately, younger children are not allowed on the ride due to the small lap bar that functions as the only device holding riders in.
---
5. The Jack Rabbit
Year Opened: 1920
Location: Seabreeze Amusement Park, Irondequoit, New York, USA
Height: 75 feet (23 meters)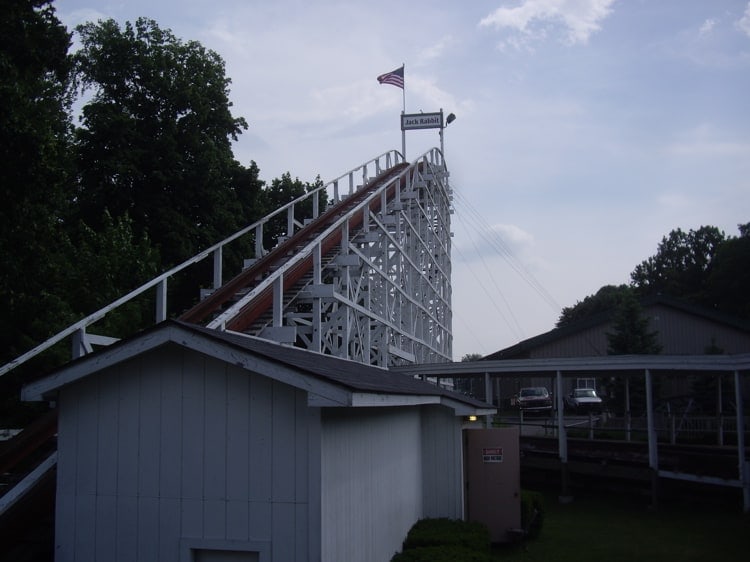 Image Credit: Wikipedia
This ride, when built, was the fastest roller coaster in the world. It wasn't very long before a fire destroyed part of the ride, which happened three years after it was first built. However, since it was fixed and rebuilt, the coaster has not closed or stopped operations at all. Due to the Scenic Railway's brief shut down, the Jack Rabbit officially took over the title of longest continually running roller coaster in the world, although it isn't often credited as such.
The Jack Rabbit coaster is said to be difficult to learn to operate due to multiple brake levers that require specific timings and sequences in order to get the ride to stop at the right times.
---
4. The Wild One
Year Opened: 1917
Location: Six Flags (formerly Paragon Park), Upper Marlboro, Maryland (formerly Hull, Massachusetts), USA
Height: 98 feet (30 meters)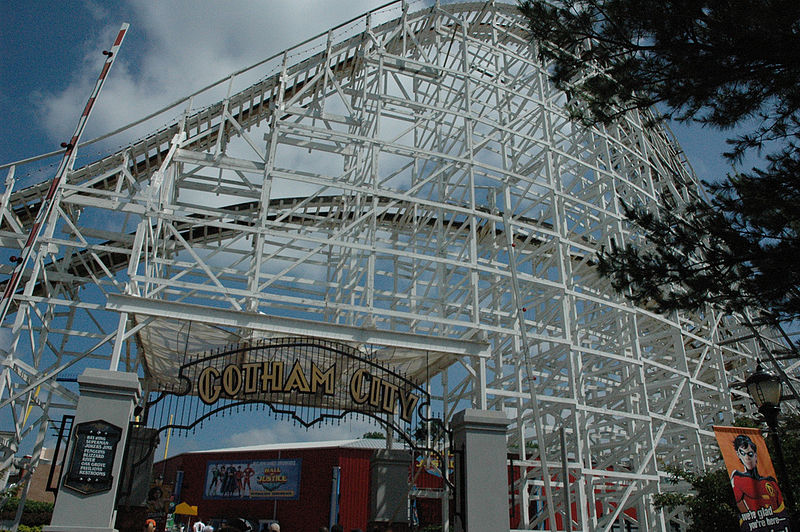 Image Credit: Wikipedia
At the time of its building, the Wild One – which was originally known as the Giant Coaster – it was the highest reaching roller coaster in the world. It began its life as a double out and back side friction coaster.
The roller coaster has been through multiple changes and has seen a lot in its extensive years. The ride had to be redesigned in 1932 when it was destroyed in places by a fire, and once more in 1963 when a more severe fire destroyed even more of it. The 1963 refurbishment left out some areas of the coaster due to budgeting reasons.
Paragon Park, which is where the coaster was originally built, eventually shut down suddenly in 1984, and the coaster was auctioned off and purchased by Six Flags (then known as Wild World). It has now been brought back to its full former glory and original condition.
---
3. The Rutschebanen
Year Opened: 1914
Location: Tivoli Gardens, Copenhagen, Denmark
Height: 42 feet (13 meters)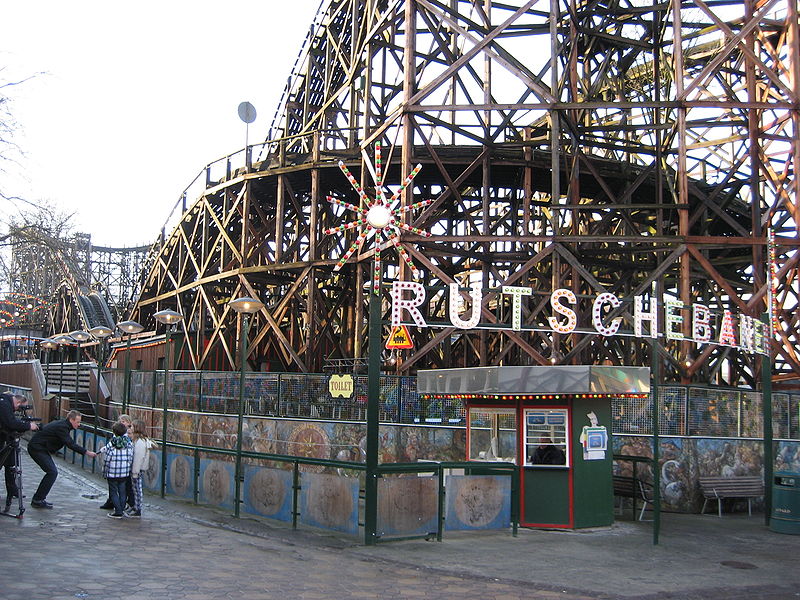 Image Credit: Wikipedia
The Rutschebanen, which translates to "Roller Coaster", was designed by LaMarcus A. Thompson with an out-and-back design, but underwent modifications in the year 1930 to turn it into a figure eight. Like the Leap-the-Dips, it is a side friction coaster, and like the Scenic Railway, a brakeman is present in the carriage during the ride.
This ride has always been extremely popular, so much so that back in World War II, when gas was limited, the coaster did not stop running. Instead, workers resorted to using capstans to lift the coaster and keep it going.
---
2. The Scenic Railway
Year Opened: 1912
Location: Luna Park, Melbourne, Australia
Height: 60 feet (18 meters)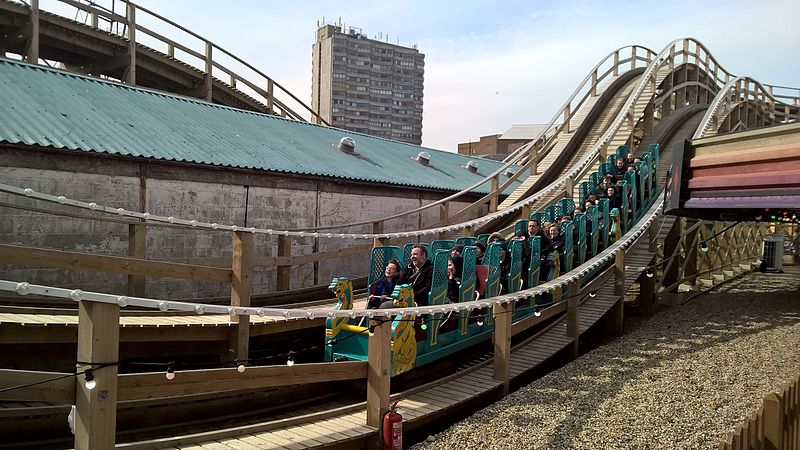 Image Credit: Wikipedia
Dubbed the longest continuously running roller coaster in the world, despite shutting down for a time in 1989 after it derailed, resulting in 20 injured civilians. It is also operated in a unique manner, being one of the only three coasters in the world where a brakeman is needed to stand in the middle of the train during the ride.
The coaster undergoes regular maintenance, often for months at a time, in order to keep it going in optimum condition. It is considered an ACE Coaster Classic.
---
1. The Leap-The-Dips
Year Opened: 1902
Location: Lakemont Park, Altoona, Pennsylvania, USA
Height: 41 feet (12 meters)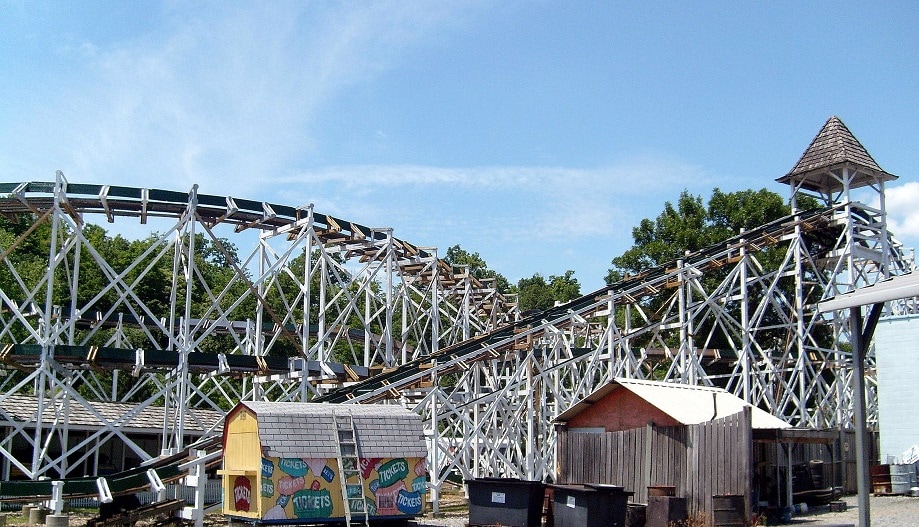 Designed by Edward Joy Morris, the Leap-The-Dips is the oldest wooden roller coaster that continues to operate to this day, and it is thought to be the last side friction roller coaster of the figure-eight variety that is still functional today. The ride actually closed in 1985 due to its rapidly deteriorating condition and may have been on the road to being demolished, but thanks to a fundraising campaign, it was successfully fixed and reopened for business in 1999.
In 1996, a year before refurbishment work began, this coaster was designated a National Historic Landmark. Shortly after, the American Coaster Enthusiasts granted the Coaster Classic and Coaster Landmark awards to the Leap-The-Dips.