In the heart of small towns and big cities, the post office has long been a community pillar, connecting people and places across the country. Across the United States, post offices have stood the test of time, serving their communities for decades and in some cases, even centuries. These post offices are a living piece of history, with stories of political upheaval, social change, and cultural shifts woven into their walls.
When you enter these post offices, their historical significance is palpable, with traditional counters, antique mailboxes, and worn walls transporting you to another era.
Come with us on a journey through time as we discover the oldest post offices in the United States, where the past and present meet at the intersection of history and community.
5. Morristown, New Jersey & Havre de Grace Maryland
Date Established: August 19, 1777
Location: 30 Schuyler Place, Morristown, NJ , 301 N Juniata St, Havre De Grace, MD
Postmaster: Frederick King, Tiffany Lurz
Still Operating: Yes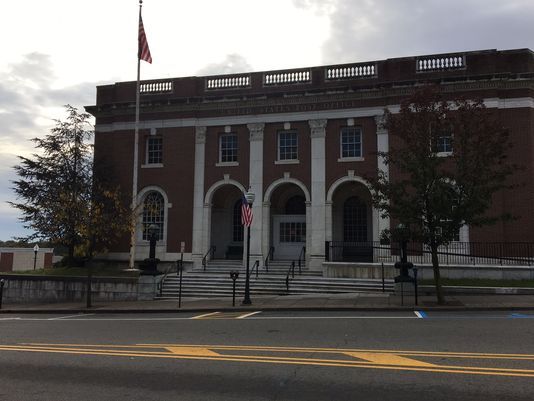 photo source: Save the Post Office
Morristown, New Jersey, has a long history of post offices dating back to the Revolutionary War. Washington's three encampments in Morristown starting in 1777 placed the small community of 250 souls in the middle of the war and consequently created a need for a post office.
The origin of the post office in 1777 is somewhat unclear but is believed to have functioned until the end of the war in 1780. It then slips from sight, reappearing in the records around 1792.
Once the post office was firmly established under the constitutional government in 1792, its history became uneventful except for its numerous moves between the 1840s to the 1860s. The history of these moves has been pieced together from articles found in the clipping file of the Morristown Public Library.
On the other hand, the Havre de Grace post office in Maryland was first established in 1777 with John Rodgers as its first postmaster. Over the years, the post office has been a valuable resource for the local community, providing essential services such as sending and receiving mail and packages, purchasing stamps, and more.
Did You Know?
In 1973, the Havre de Grace, Maryland post office was damaged by a fire, but reportedly saved by the Hell's Angels motorcycle gang members who rescued a handicapped woman trapped inside.
---
4. Fishkill, New York
Date Established: February 27, 1777
Location: 1018 Main St, Fishkill, NY
Postmaster: Alexander N. Zevely
Still Operating: Yes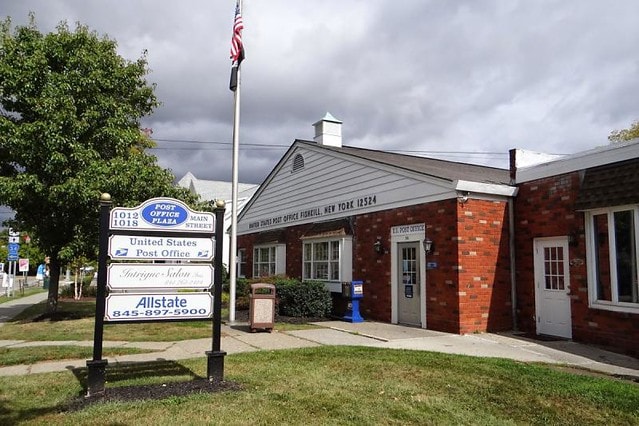 photo source: Flickr
The Fishkill, New York, post office has a long and rich history, dating to its establishment on February 27, 1777. It is located at 1018 Main St, Fishkill, NY, and continues to serve the local community today, with Postmaster Alexander N. Zevely at the helm.
The Fishkill post office offers its customers a range of postal services, including bulk mail acceptance, business reply mail, money orders (domestic and international), pickup of accountable mail, and more. Customers can also apply for a PO Box online, and the post office offers Priority Mail International services for those who need to send mail or packages overseas.
Did You Know?
The Fishkill post office, one of the oldest in the US, has a rich history and has survived wars, recessions, and technological advancements, still serving the community as a vital connection hub for people and businesses.
---
3. Elkton, Maryland
Date Established: April 8, 1776
Location: 137 W Main St, Elkton, MD
Postmaster: Robert A. Saunders
Still Operating: Yes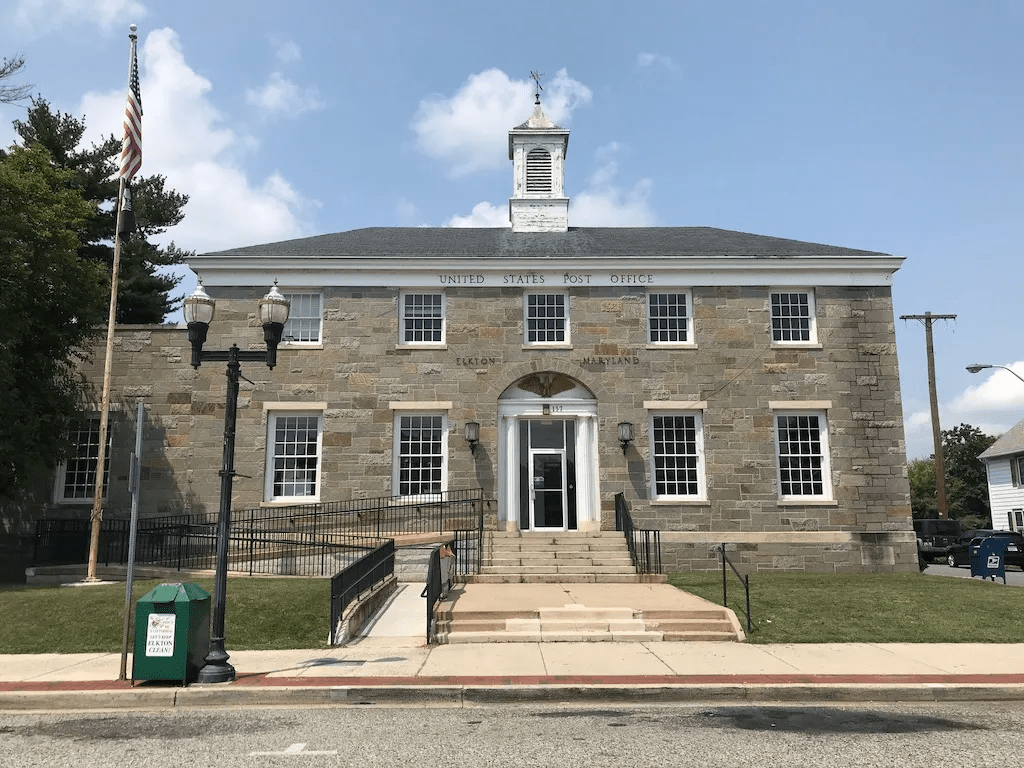 photo source: Post Office Fans
As one of the oldest post offices in the United States, Elkton has a rich history and has played a vital role in connecting people and businesses in the region. The post office serves the town of Elkton and its surrounding areas, providing a range of services, including sending and receiving mail and packages, purchasing stamps and other postal products, and applying for passports.
Despite the many technological advances that have changed how we communicate and conduct business, the Elkton post office is an essential service for the local community. Its convenient location and range of services make it a valuable resource for residents and businesses.
Did You Know?
As a historic institution that has stood the test of time, it remains an important part of the town of Elkton and a reminder of the enduring importance of communication and commerce in our society.
---
2. Post Offices in 13 States under Benjamin Franklin
Date Established: July 26, 1775
Location: Connecticut, Georgia, Maine, Maryland, Massachusetts, New Hampshire, New Jersey, New York, North Carolina, Pennsylvania, Rhode Island, South Carolina, Virginia
Postmaster: Benjamin Franklin
Still Operating: 4 offices discontinued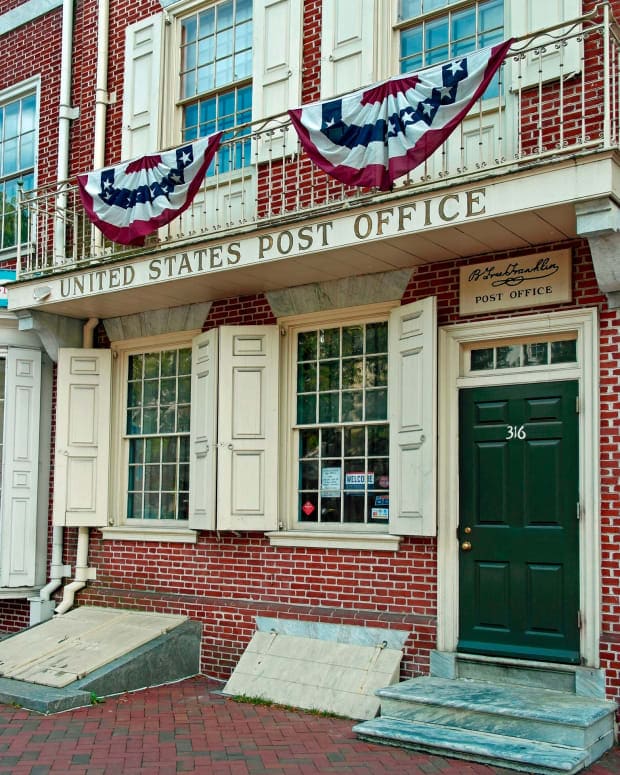 photo source: History.com
Benjamin Franklin is known for his contributions to the American postal system as the first Postmaster General of the United States. During his tenure, he oversaw creating and expanding post offices throughout the country, including in 13 states. Franklin recognized the need to expand the postal system inland, establishing new post offices and improving transportation routes between them.
Under Franklin's leadership, post offices were established in 13 states, including New York, Massachusetts, Pennsylvania, Virginia, and Georgia. These post offices served as vital communication and commerce hubs, connecting people and businesses throughout the country.
Franklin's postal system also introduced the concept of uniform postal rates, making sending and receiving mail more affordable. Prior to this, postal rates varied depending on the distance and weight of the mail, making it expensive for many individuals.
Did You Know?
One of the significant achievements of Franklin's postal system was the establishment of regular mail delivery. Prior to this, individuals had to travel to post offices to collect their mail.
---
1. Fairbank's Tavern
Date Established: November 5, 1639
Location: between Washington and Devonshire Streets
Postmaster: Richard Fairbank
Still Operating: Yes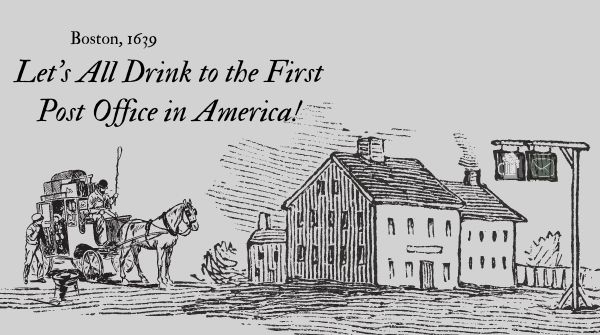 photo source: DocuSend
Fairbank's Tavern, located in Boston, Massachusetts, is the oldest post office in the United States. On November 6, 1639, the Massachusetts General Court named the tavern the official post office for letters coming into or going out of the colony to overseas posts. This decision was based on taverns being a familiar gathering place for the colonists.
Richard Fairbanks, the tavern's proprietor, was originally from England, where he was born in 1588 to George Fairbanks and Isabella Stancliffe in Lincolnshire. Richard Fairbanks held the post office in his tavern until he died in 1667. Although the post office has undergone various transformations and uses over the centuries, it remains a testament to American history.
Did You Know?
The post office room in the tavern still features the original mail slot and postmaster's desk, providing a glimpse into the past.
---
OTHER POSTS YOU MAY BE INTERESTED IN