Exploring the oldest forts in America is a great way to learn about our nation's rich history. From the Spanish colonies of the Southwest to the French imperialists in the North, the US has a long and complex history, and many of these forts have played a key role.
From Fort Pulaski in Georgia to Castillo de San Marcos in Florida, these forts are a testament to the struggles and triumphs of the past.
From the first landings of Europeans to the American Revolution and the Civil War, these forts have seen it all. Join us as we take a journey back in time, exploring the 10 oldest forts in America. Visit Fort Verde in Arizona, Fort Halifax in Maine, Fort McHenry in Maryland, and more.
These forts are full of stories and will be an unforgettable experience for history buffs and travelers alike.
10. Fort Pulaski
Year Constructed: From 1829 to 1847
Location: 101 Fort Pulaski Rd, Savannah, GA
Area: 427.39 acres
Designed By: Simon Bernard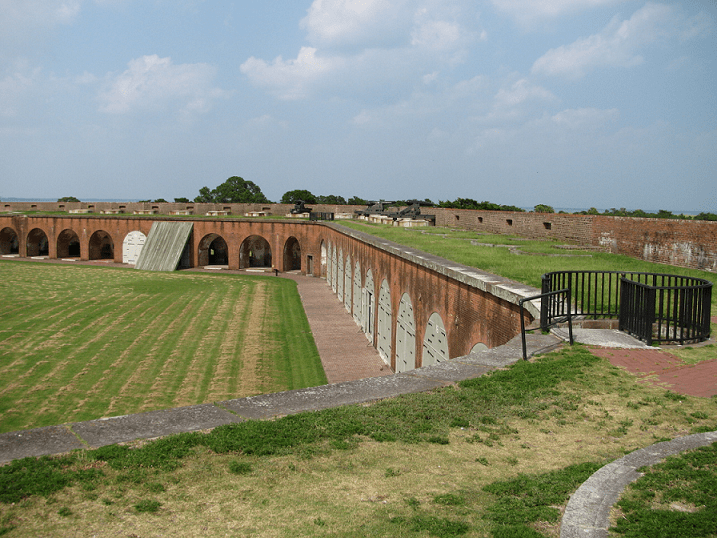 photo source: Wikimedia Commons
Fort Pulaski National Monument is located on Cockspur Island, between Savannah and Tybee Island in Georgia. It was built in the early 19th century and served as the main defense against overseas enemies for much of the century.
During the Civil War, Union forces used rifled cannons and compelled the Confederate garrison inside Fort Pulaski to surrender, marking a landmark military science and invention experiment.
The fort has five sides or "faces," two guards on the south and north channel of the Savannah River. Guided tours are offered, and the guides are very knowledgeable about the fort's history. It was a source of excitement in Georgia when word of South Carolina's secession from the Union in 1860 spread.
There are also great views of the Savannah River from the fort. Its walls stand today, and its place in history will never be forgotten.
Did You Know?
It is also a popular site for film screenings and virtual ranger-led tours, even during the pandemic.
---
9. Bent's Old Fort
Year Constructed: 1833
Location: 35110 CO-194, La Junta, CO 81050
Area: 178 acres
Designed By: James W. Abert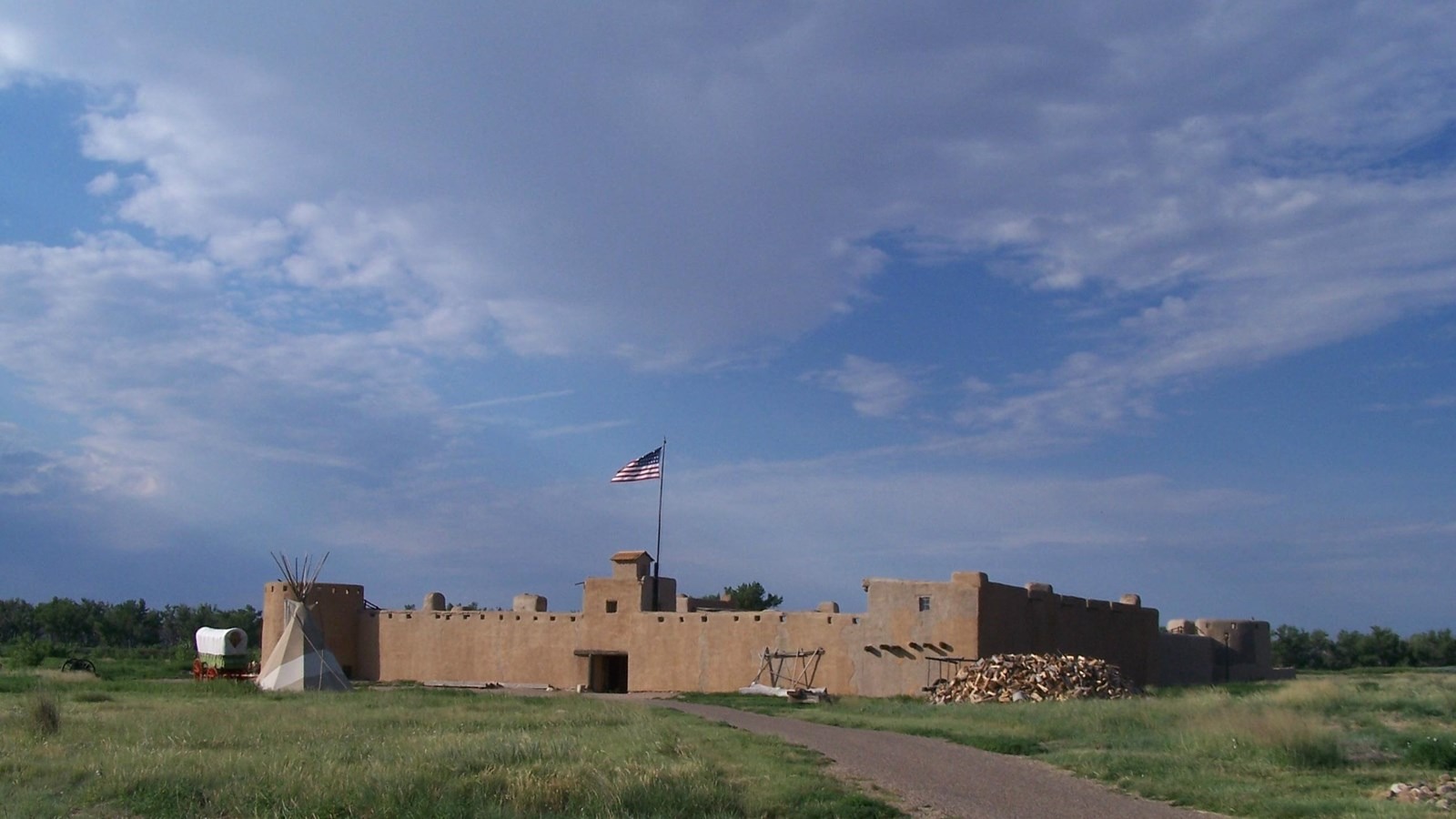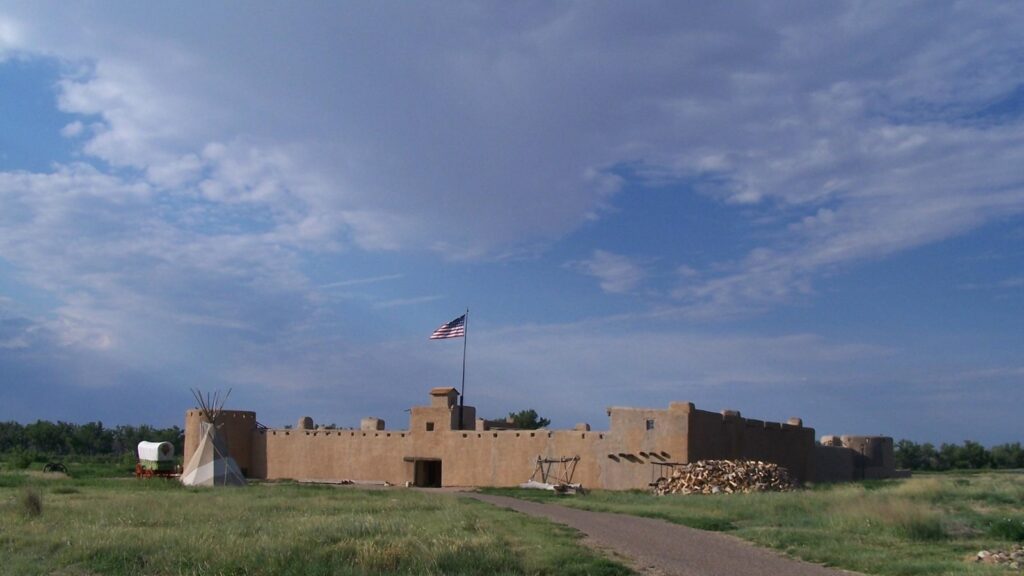 photo source: National Park Service
Bent's Old Fort is a National Historic Site in Otero County, Colorado. It was originally built in 1833 and served as the only major permanent white settlement on the Santa Fe Trail between Missouri and Mexico.
Today, visitors can experience the sights, sounds, and smells of the past with guided tours, demonstrations, and special events.
Living historians bring the fort to life, and visitors can explore the battlements, merchant ships, and melting pot of cultures that met here for trade. Bent's Old Fort offers an immersive history experience, allowing visitors to understand the past better.
Did You Know?
The reconstructed 1840s adobe fur trading post is a tangible example of Santa Fe Trail history.
---
8. Fort Sumter
Year Constructed: 1829
Location: South Carolina 29412
Area: 230 acres
Designed By: Unspecified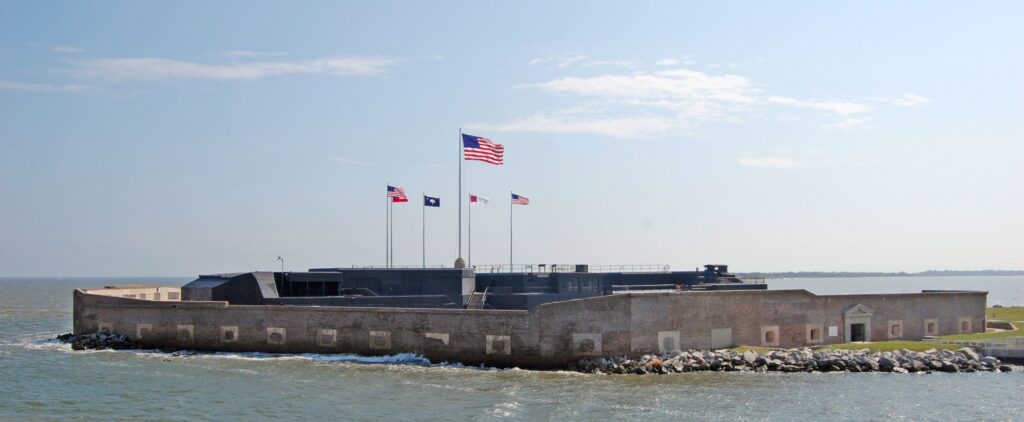 photo source: Wikipedia
The historic Fort Sumter is a fortification located in Charleston Harbor, South Carolina, and is most famous as the site of the first battle of the American Civil War.
The fort was situated in the middle of the harbor, surrounded by jungle-like foliage, and built with roads, forts, an artillery battery, and a supply depot.
Nearly a century of discord between North and South finally culminated in the attack of Fort Sumter, marking the official beginning of the Civil War. The fort has become a symbol of the conflict, a place to tell the broader story and create a safe place to remember history.
Did You Know?
It was bombarded by the South Carolina militia in April 1861 and is only accessible by ferry rides through Fort Sumter Tours.
---
7. Fort Gaines
Year Constructed: 1821
Location: 51 Bienville Blvd, Dauphin Island, AL 36528
Area: 29.65 acres
Designed By: Joseph Totten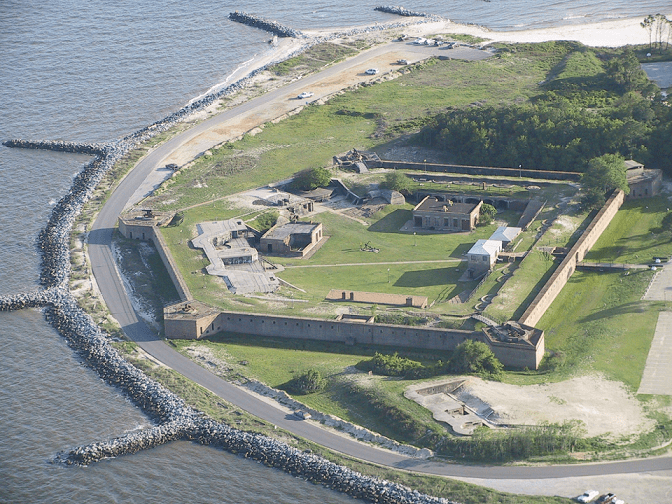 photo source: Wikimedia Commons
Fort Gaines is a historic fort located on Dauphin Island, Alabama, United States. Established in 1821, it is named after Edmund Pendleton Gaines and is best known for its role in the Battle of Mobile Bay during the American Civil War.
The fort contains two blockhouses and a stockade eight feet high. It features five pre-Civil War brick buildings in the interior courtyard, an operational blacksmith shop, kitchens, and tunnel systems to the fortified corner bastions.
The fort also boasts an anchor from the USS Hartford, Admiral David Farragut's flagship, and original cannons used in the battle. Tourists can visit the fort to explore its history and participate in historical reenactment events.
Did You Know?
In recent years, the fort has been listed as one of the nation's most endangered historic sites due to erosion and destruction from hurricanes and tropical storms.
---
6. Fort Smith
Year Constructed: 1817
Location: 301 Parker Ave, Fort Smith, AR 72901
Area: 75 acres
Designed By: Stephen H. Long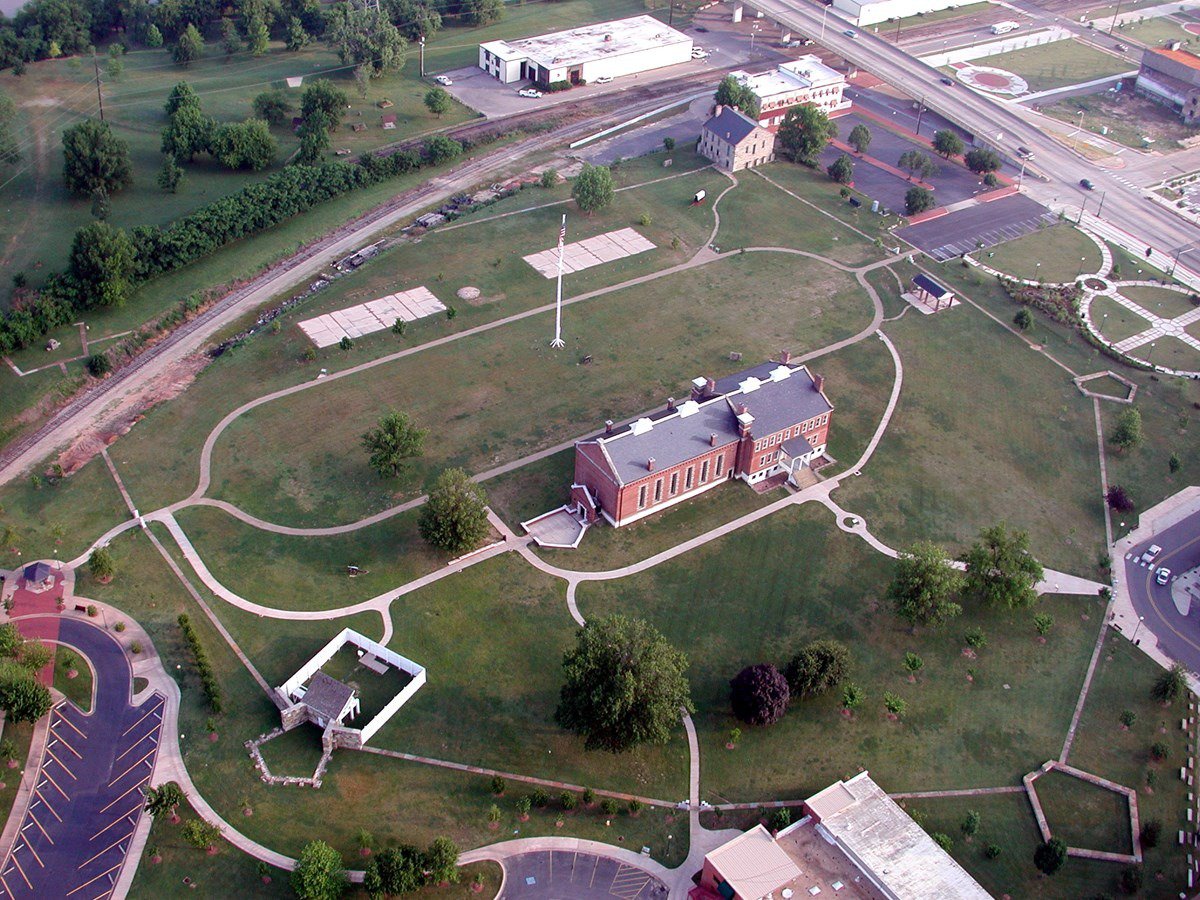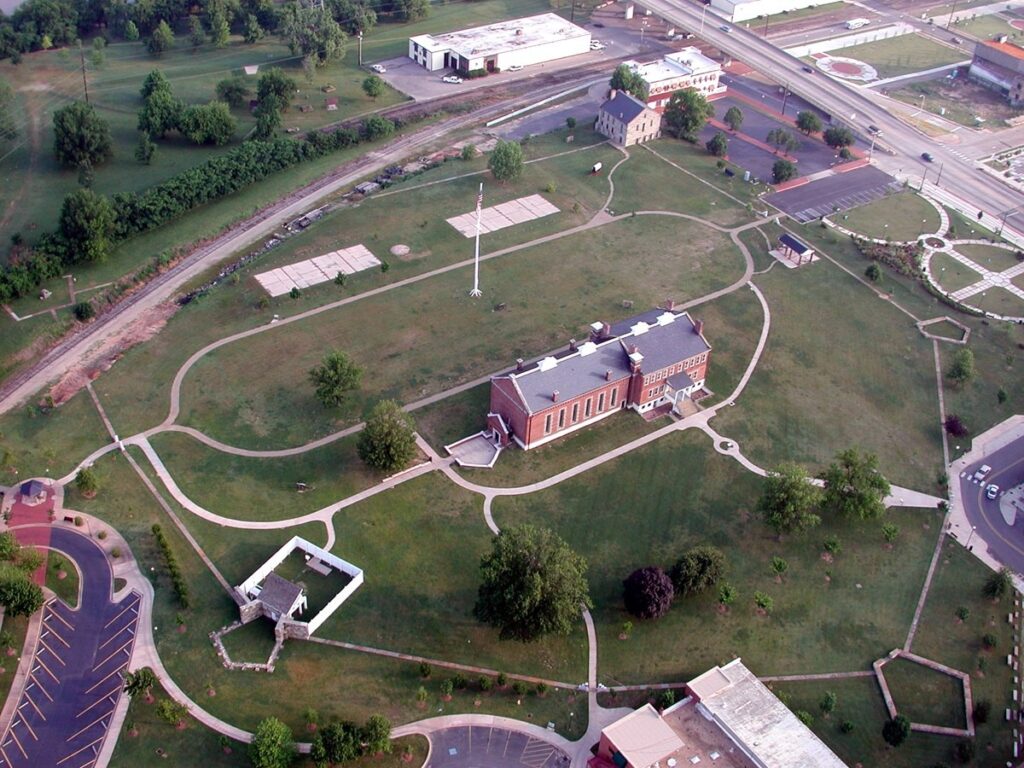 photo source: National Park Service
Fort Smith National Historic Site is a unique and historically significant location. It was shaped by a diverse cast of characters, including soldiers, Indians, outlaws, and lawmen. It was the site of two forts, built in 1817 and 1838, and it witnessed the tragic Trail of Tears.
It was here that Judge Isaac C. Parker established a federal courthouse and jail. The first fort was built to keep the peace between the Osage and the newly arriving Cherokee and was constructed of logs and stone.
The second fort was built in 1838 due to an unfounded fear of Indian attack, but it soon became an important supply depot due to the US-Mexican War, Gold Rush, and western migration. In 1865, a Fort Smith Council was held to establish relations with Indians after the war.
Today, visitors to Fort Smith can explore remnants of the forts, the Trail of Tears, the historic jail, and the federal courthouse.
Did You Know?
The park brochure is available in various formats, including braille, audio description, and text-only, so everyone can learn about the rich history of this location.
---
5. Fort McHenry
Year Constructed: 1798
Location: 2400 E Fort Ave, Baltimore, MD 21230
Area: 43 acres
Designed By: Jean Foncin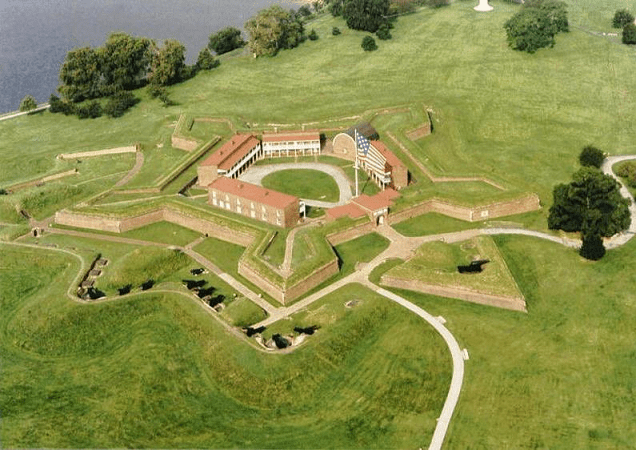 photo source: Wikimedia Commons
Fort McHenry is a historical American pentagonal bastion fort located on Locust Point in Baltimore, Maryland. It was constructed from 1899 to 1902 with a star-shaped design, with 15 stripes and 15 stars on the flag flying over it when Francis Scott Key wrote the lyrics to "The Star-Spangled Banner."
The fort was built to defend Baltimore from a British attack during the War of 1812.
It was never attacked during the American Revolution, but military experts saw its importance in defending the young nation.
The fort was tested during the War of 1812 when British forces attempted to launch a land assault on Baltimore, only to be repulsed by the fort's defenses. The dramatic bombardment of Fort McHenry forced the British to retreat and abandon their Chesapeake Campaign.
Did You Know?
The said victory was a turning point in the war, leading both sides to a peace agreement later that year.
---
4. Fort Ticonderoga
Year Constructed: 1755
Location: 102 Fort Ti Rd, Ticonderoga, NY 12883
Area: 2,000 acres
Designed By: Michel Chartier de Lotbinière, Marquis de Lotbinière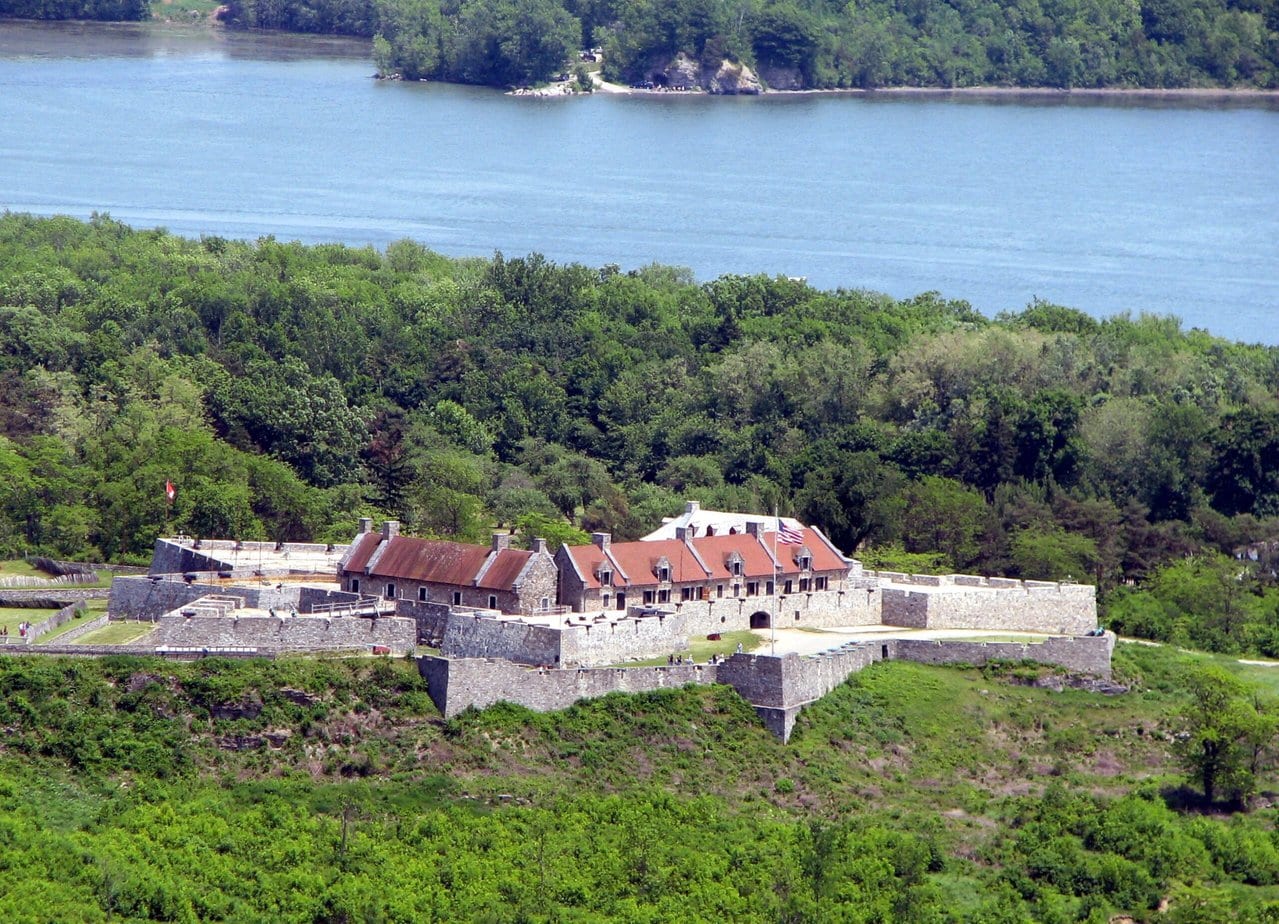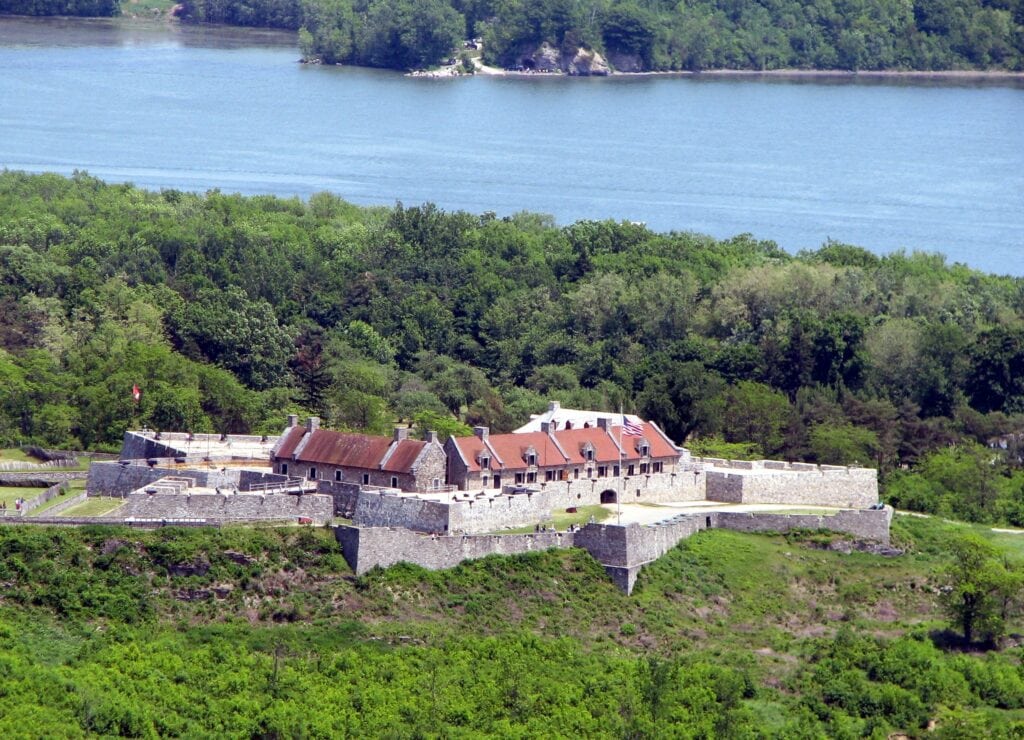 photo source: Wikipedia
Fort Ticonderoga is an 18th-century star-shaped fort located at a narrows near the south end of Lake Champlain in northern New York. Constructed by Canadian-born French military engineer Michel Chartier de Lotbinière between 1755 and 1757, it holds strategic importance due to its location at the junction of two waterways.
The fort was built to control the south end of Lake Champlain and prevent the British from gaining access to the lake.
Inside the fort were three barracks and four storehouses, a bakery capable of producing 60 loaves of bread a day, and a powder magazine hacked out of the bedrock. During the Revolutionary War, the fort was captured by the Green Mountain Boys and other state militia in a surprise attack in 1775 and then abandoned by the British after a failed Saratoga campaign in 1777.
After gaining independence, the fort fell into ruin until a private family purchased it in 1820 and then restored it in the early 20th century.
Did You Know?
Today, it is operated as a tourist attraction, museum, and research center by the Fort Ticonderoga Association.
---
3. Fort Halifax
Year Constructed: 1754
Location: US-201, Winslow, ME 04901
Area: 174 acres
Designed By: Captain William Lithgow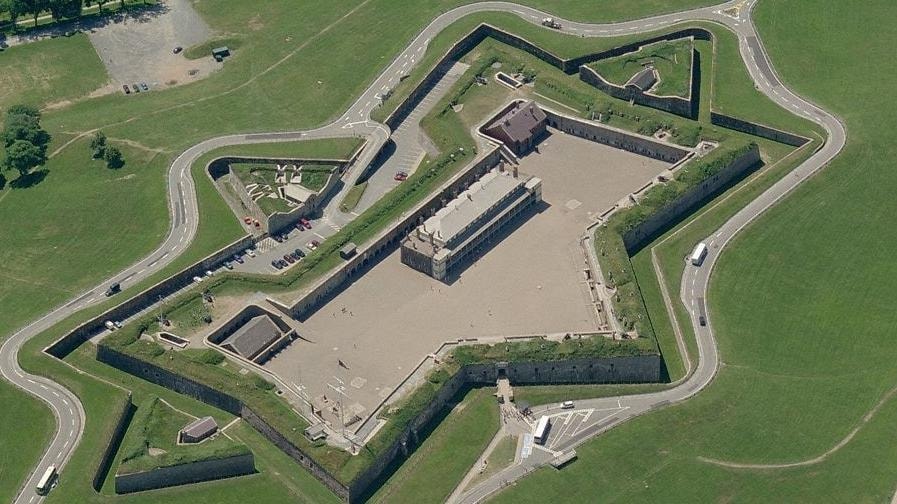 photo source: Wikipedia
On July 25, 1754, Major General John Winslow, with a force of 600, came here from Fort Western (in modern-day Augusta) after five arduous days of the tough river and land travel to construct Fort Halifax. England and France often engaged in battle during the 1600s and 1700s, both in Europe and the New World.
The government of Massachusetts (which at the time encompassed Maine) felt extremely concerned when hostilities between the two countries flared up again from 1753 to 1754 because the French could easily travel through Quebec's Chaudiere River to reach English possessions in the Kennebec River Valley.
Massachusetts deemed that a defensive structure was required to safeguard the valley and commanded the building of Fort Halifax.
Today, Fort Halifax is now a National Historic Landmark located in Winslow. It had two large blockhouses, a barracks, the main structure, and two more blockhouses on a neighboring hill overlooking the region.
Did You Know?
When the blockhouse was destroyed by the flood on April 1, 1987, workers rescued logs forty miles downstream at the Richmond-Dresden Bridge in the south.
---
2. Fort Alamo
Year Constructed: 1718
Location: Alamo Mission, San Antonio
Area: 4.94 acres
Designed By: Fray Antonio de Olivares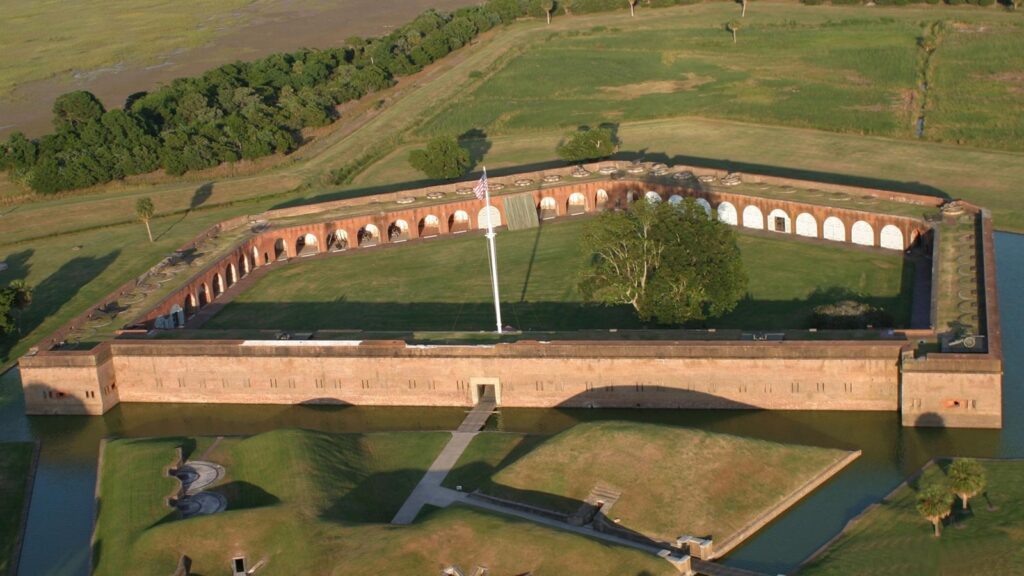 photo source: National Park Service
You'll find the Fort Pulaski National Monument on Cockspur Island between Savannah and Tybee Island, Georgia. It protects Fort Pulaski, where the Union Army successfully tested rifled cannons in battle in 1862, making brick defenses obsolete. The fort was also used as a prisoner-of-war camp.
To defend the country from an attack by another country after the War of 1812, US President James Madison authorized a new system of coastal fortifications. Under Major General Babcock's supervision and Second Lieutenant Robert E. Lee, a recent West Point alum, work on a fort to guard Savannah's harbor started in 1829.
Did You Know?
The fort's walls were 11 feet thick, and only the biggest land artillery was believed to be able to penetrate them.
---
1. Castillo de San Marcos
Year Constructed: Between 1672 and 1695
Location: 1 S Castillo Dr, St. Augustine, FL 32084
Area: 20.48 acres
Designed By: Ignacio Daza, Pedro Ruiz de Olano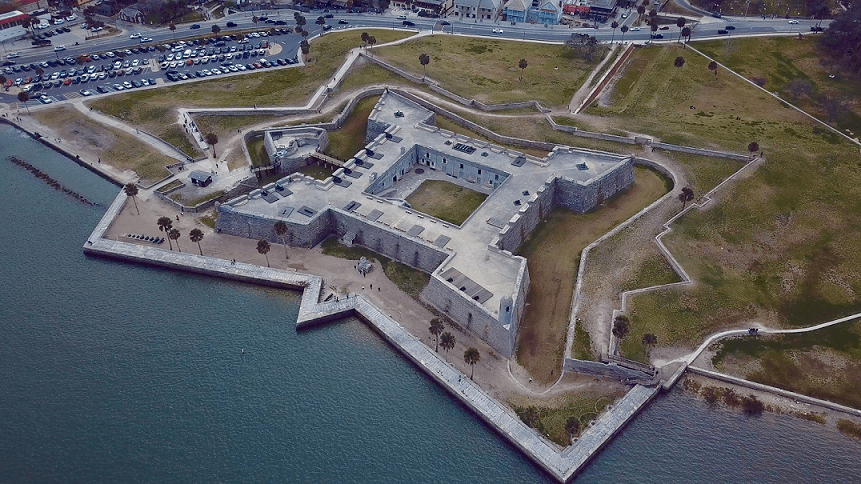 photo source: Wikimedia Commons
As it was built between 1672 and 1695, Castillo de San Marcos is considered the oldest fort in the United States. Architecture in North America has never been like the Castillo de San Marcos.
It is a prime example of the bastion system of fortification, the product of hundreds of years of military defense engineering, and the nation's only surviving military structure from the 17th century.
Architecture adapted to technology to create the unique star-shaped design of the Castillo, which originated in Italy in the 15th century.
Black powder guns changed the nature of warfare. They led to the development of new types of defensive constructions designed to successfully install cannons to resist intruders and to withstand or escape the impact of cannon shells.
Did You Know?
After being dubbed Fort Saint Mark in 1763, Castillo de San Marcos was finally returned to its former name in 1942 by the National Park Service and the US Congress in recognition of its distinctive Spanish past.
OTHER POSTS YOU MAY BE INTERESTED IN