Visiting Seattle is a no-brainer—between Pike Place Fish Market, the first Starbucks and Washington State's gorgeous natural scenery—there's something for everyone. As it turns out, this sentiment has remained for a while, with gorgeous hotels in the area dating back to the beginning of the twentieth century. While time travel is impossible, these stately buildings tell a history of Seattle after the Great Fire, offering guests a glimpse of the city as it was in its vintage heyday. Read below to discover Seattle's oldest hotels and, perhaps, book your next trip.
10. Graduate Seattle
Year Built: 1931
Average cost per night: $175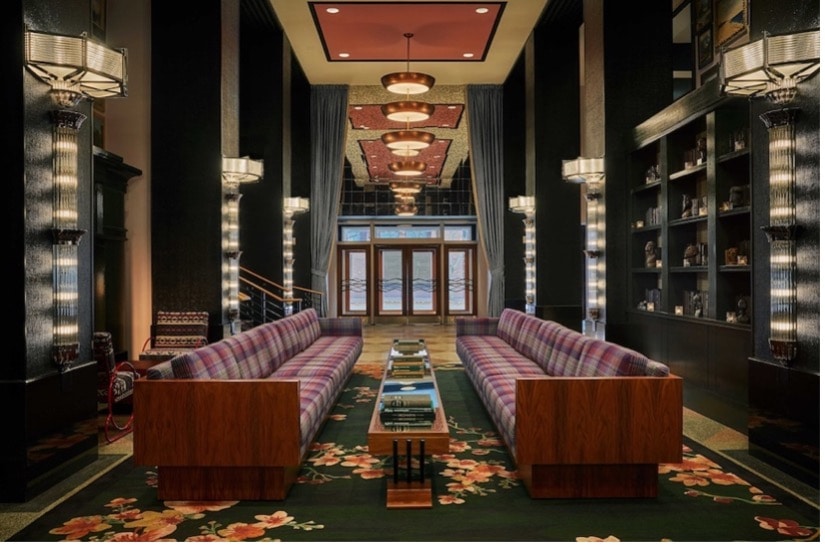 photo source: Graduate Hotels via Instagram
Graduate Seattle is a new hotel with a long history. The building first opened its doors in 1931 as the Edmond Meany Hotel, one of the first structures in the region to use poured concrete rather than brick and terra cotta. The Edmond Meany ran for about 60 years, until it was renovated and rebranded as the Hotel Deca. Today, it is Graduate Seattle, a stylish hotel that mainly caters to university students and their visiting families. With this new life, the building went through another series of makeovers, which maintained its 1930s roots while adding a fresh, artistic look characteristic of the city.
Did you know:
Graduate Seattle is the twelfth in a chain of university-centered hotels.
---
9. Mayflower Park Hotel
Year Built: 1927
Average cost per night: $339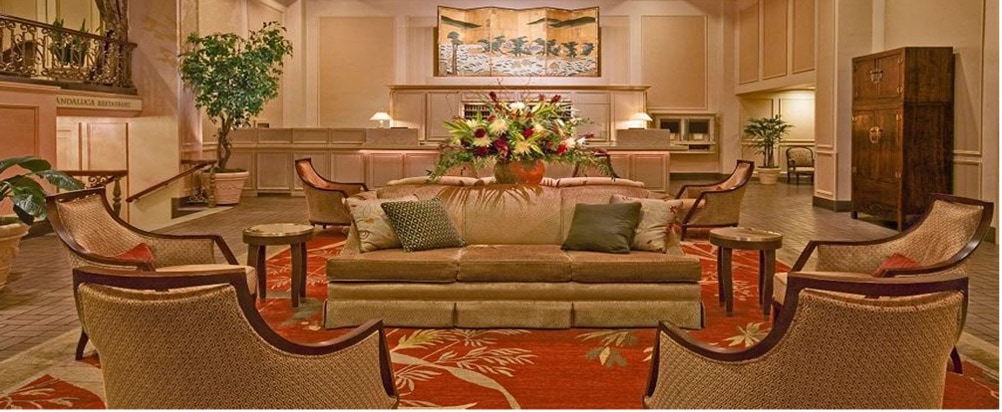 photo source: Visit Seattle
Like many other hotels on this, Mayflower Park began with a different name. In 1927, it opened as the Bergonian Hotel. It was one of the city's first luxury hotels, offering 240 rooms with private bathrooms and a palm tree theme. Additionally, as it was built during prohibition, the original building didn't feature any bars or wine cellars. Throughout the years, the hotel had many owners and, in 1974, became the Mayflower Park—the name used to this day. While it's been renovated, it still maintains its original charm and vintage design elements.
Did you know:
The Bergonian Hotel featured a fish tank with live goldfish in the lobby.
---
8. Fairmont Olympic Hotel
Year Built: 1924
Average cost per night: $215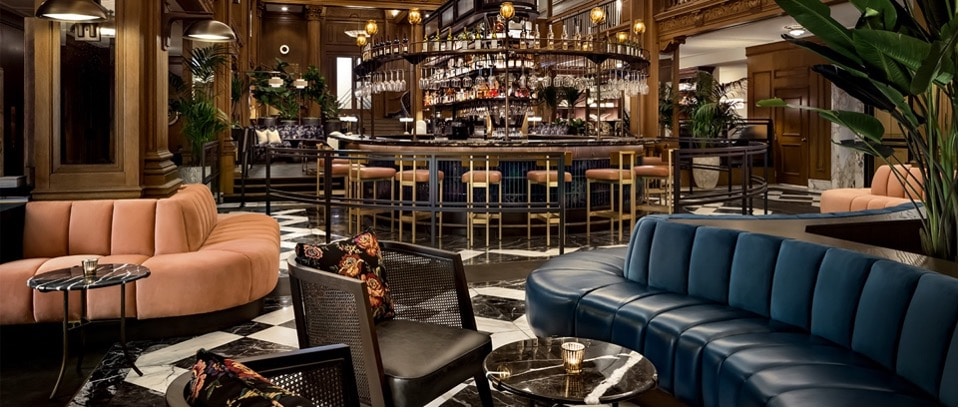 photo source: Fairmont Olympic
One of Seattle's most celebrated buildings, the Fairmont Olympic took about two years to construct—opening in December 1924. It was somewhat of a community effort, utilizing public funding and choosing a name from those submitted by Seattle citizens. Simply known as "The Olympic," the completed building with furnishings cost about $5.5 million and did not disappoint. A crowd of 2,000 attended its grand opening, amazed by the hotel's impressive features, which included terra cotta trim, granite and Belgian marble flooring, and American oak. Today, Fairmont Hotels and Resorts runs the hotel's operations—thus, the slight change in name.
Did you know:
In its prime, the hotel was host to several exciting venues and housed multiple U.S. presidents.
---
7. MarQueen Hotel
Year Built: 1918
Average cost per night: $200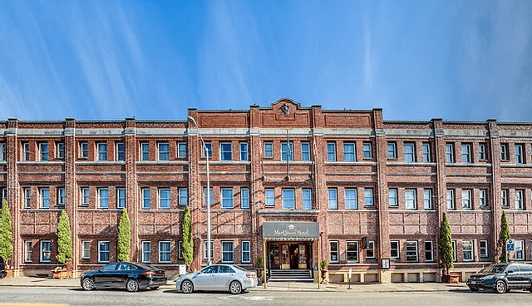 photo source: MarQueen Hotel
While it was not originally intended as a hotel, the MarQueen Hotel building is over a century old, making it one of the oldest structures in Seattle. In an odd twist of events, the MarQueen did not begin its life as a social club or happening venue, but as part of the Seattle Engineering School for Ford Auto employees. Once construction on the Model-T became serious, the building transformed into a makeshift garage and development space. Today, guests can visit the renovated building, which has maintained its vintage charm while offering modern accommodations.
Did you know:
Each room features a kitchenette and real wood floors.
---
6. Arctic Club Hotel
Year Built: 1916
Average cost per night: $386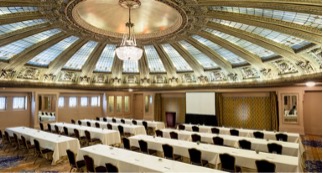 photo source: Hilton Hotels
Before the Arctic Club Hotel, there was the Arctic Club, a group of gentlemen explorers with experience traversing the dangerously frigid climates of the arctic or, at the very least, America's Pacific Northwest. They originally met at the building that is now known as the Morrison Hotel, mentioned above, until they commissioned a structure of their own in the early twentieth century. The building made news as one of the first in the city to use terra cotta, which amplified its eccentric designs—including colorful terra cotta polar bears and walruses. The inside is just as lavish and, in its hey-day, the "Dome Room" was the most extravagant element of all.
Did you know:
Today, the Arctic Club Hotel is a historical landmark with several of the original designs having been restored to their former glory.
---
5. Hotel Sorrento
Year Built: 1909
Average cost per night: $200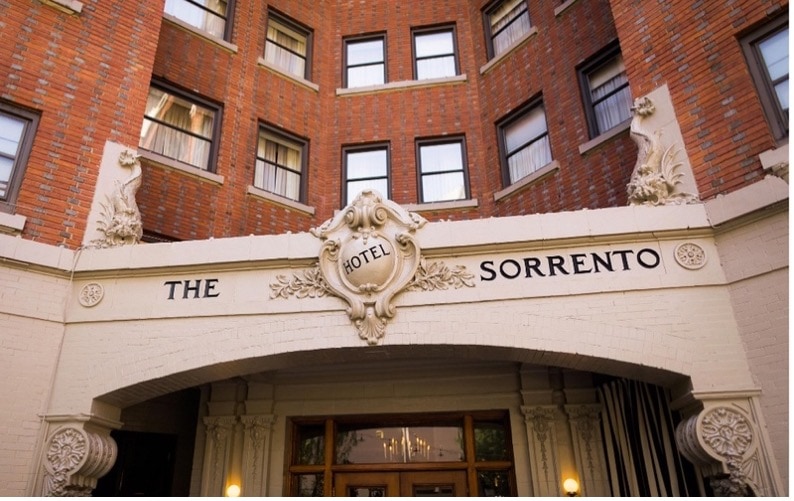 photo source: Hotel Sorrento
The city's first boutique hotel, the Hotel Sorrento opened its doors right before the Alaska-Yukon-Pacific Exposition, one of the world's fairs. It was a shrewd business maneuver as the event attracted about four million visitors to Seattle, many of whom required overnight lodging. The seven-story building accommodated the guests, offering Italian Renaissance-style architecture that includes a one-of-a-kind fireplace in the open "Fireside Room."
Did you know:
The building's architect, Harlan Thomas, became the first dean for the University of Washington's School of Architecture.
---
4. Morrison Hotel
Year Built: 1908
Average cost per night: None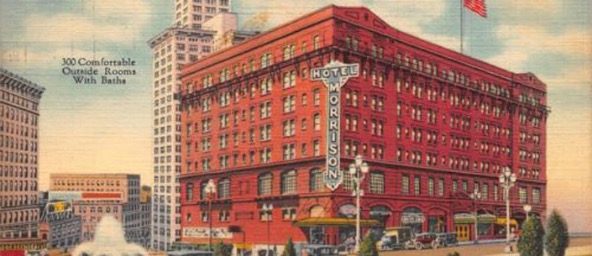 photo source: Historic Seattle
What is now known as the Morrison Hotel was the first meeting spot of the Arctic Club, a group of explorers with a penchant for freezing climates. They gathered in the building until 1916, when they commissioned a new space, the Arctic Club Hotel, which is mentioned below. The building was known for its lavish designs and, today, maintains its historical exterior. Its purpose has also shifted, with 190 rooms of its rooms now serving as refuge for Seattle's homeless population.
Did you know:
This building offers housing, counseling and mental health services to men and women.
---
3. Gaslight Inn
Year Built: 1907
Average cost per night: $198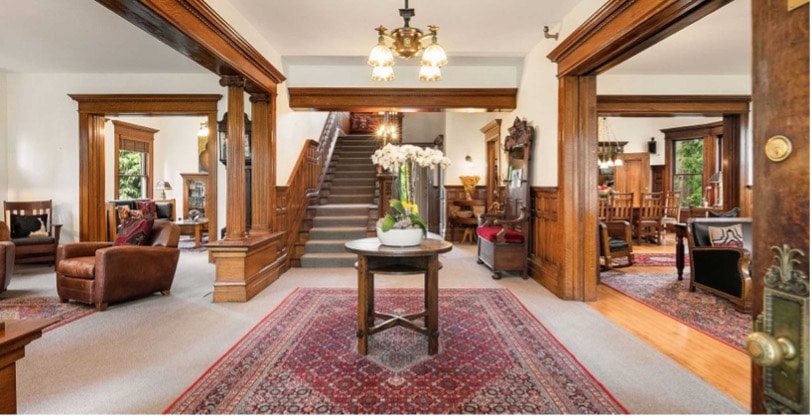 photo source: Matthew Gallant, Clarity Northwest
Currently a bed and breakfast, the Gaslight Inn was originally built as a house in the early twentieth century. About a decade after, the Gaslight Inn became a rooming house, which is a sort of apartment building where tenants rent rooms rather than full units. It would remain this way throughout the Great Depression, offering people a place to live during extreme poverty. In 1983, the building was purchased and renovated, even becoming an important part of Seattle's LGBT community. To put the building's value into perspective, it was built for $7,000 in 1907 and sold for around $3.5 million in 2019.
Did you know:
The Gaslight Inn served as a safe space for families to stay while attending funerals during the 1980s AIDS epidemic.
---
2. Eitel Building/ State Hotel
Year Built: 1904
Average cost per night: $240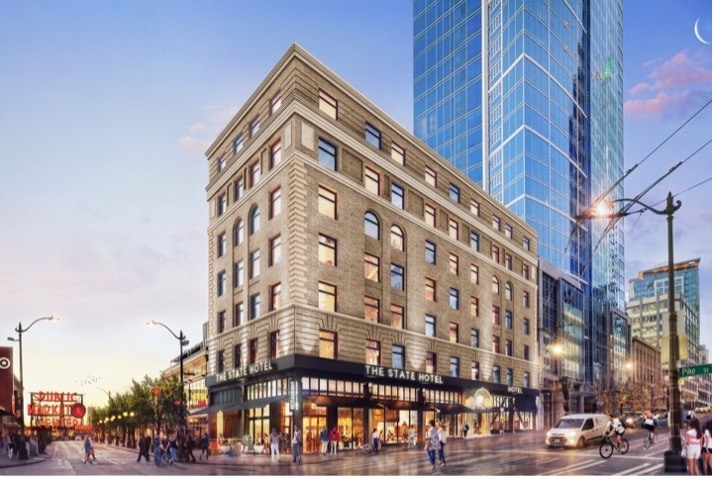 photo source: Weinstein A+U, courtesy of Lake Union Partners
Originally built in 1904, another relic of Seattle's post-fire era, the Eitel Building served as a large space for medical offices and even included a pharmacy. Throughout the years, a seventh floor was added and it eventually became housing. In the 1970s, however, the building remained mostly vacant and started to deteriorate. In 2019, the building was purchased and renovated—being transformed into the State Hotel with an additional eighth story. The new hotel combines the Eitel's vintage elements with a modern flair, showcasing the hard work and strenuous effort involved in bringing the building back to livable standards.
Did you know:
The Eitel Building now has 91 rooms.
---
1. The Globe Building/Alexis Royal Sonesta Hotel
Year Built: 1901
Average cost per night: $214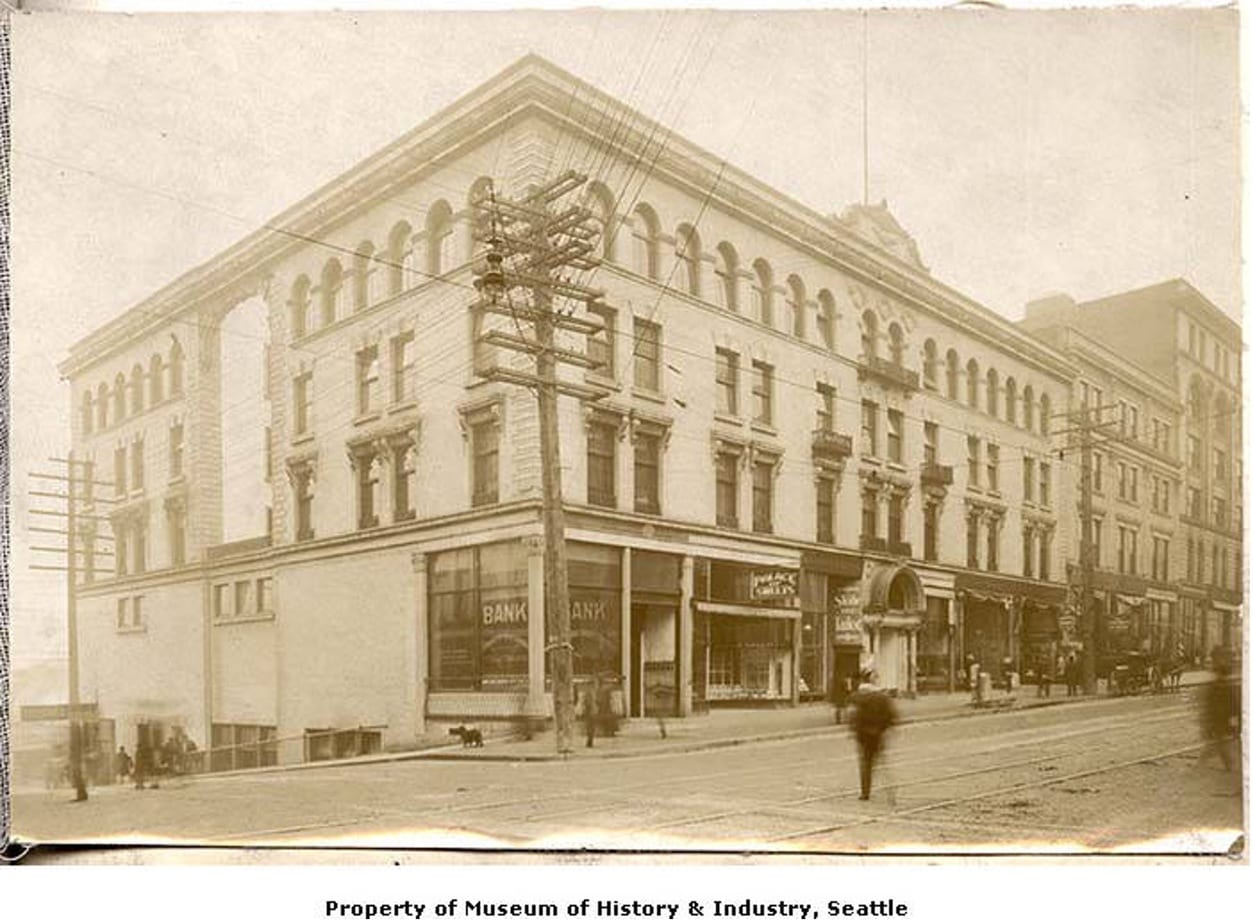 photo source: MOHAI, Seattle Businesses and Buildings Photograph Album
While the Alexis Royal Sonesta Hotel originally opened in the mid-1990s, the building that houses it was built in 1901—making it the oldest hotel in Seattle. Known as the Globe Building, it was designed by James Clive in the aftermath of the Great Seattle Fire, which decimated the city in the late nineteenth century. In its early days, the four-story construction served as an office building with a few lower-level storefronts. After those businesses moved into larger places, the Globe Building succumbed to time, turning decrepit. Fortunately, it was declared a historical site, purchased, renovated and transformed into a combination of the Alexis Royal Sonesta Hotel and various shops.
Did you know:
Prior to the Sonesta, this was known as the Kimpton® Hotel Alexis Seattle.
OTHER POSTS YOU MAY BE INTERESTED IN