Las Vegas is one of the most popular tourist destinations in the United States, with about 40 million people a year visiting one of the only places in the world where people can indulge in their wildest fantasies.
While Las Vegas is one of the most fantastical and busiest cities in the world, it wasn't always this way. The area was originally occupied by Native Americans before the first Europeans arrived in 1829. Nevada became a state in 1864 and the town of Las Vegas was established in 1905.
A year later, the first hotel opened on Fremont Street and is amazingly still in operation today. Since then, Las Vegas has not stopped growing and while many of the old hotels and casinos have closed down, several of the city's original hotels are still thriving.
10. Harrah's Las Vegas
Year Opened: July 2, 1973
Original Name: Holiday Casino
Location: 3475 South Las Vegas Boulevard
Number of Rooms: 2,677
Total Gaming Space: 91,833 sq ft (8,531.6 m2)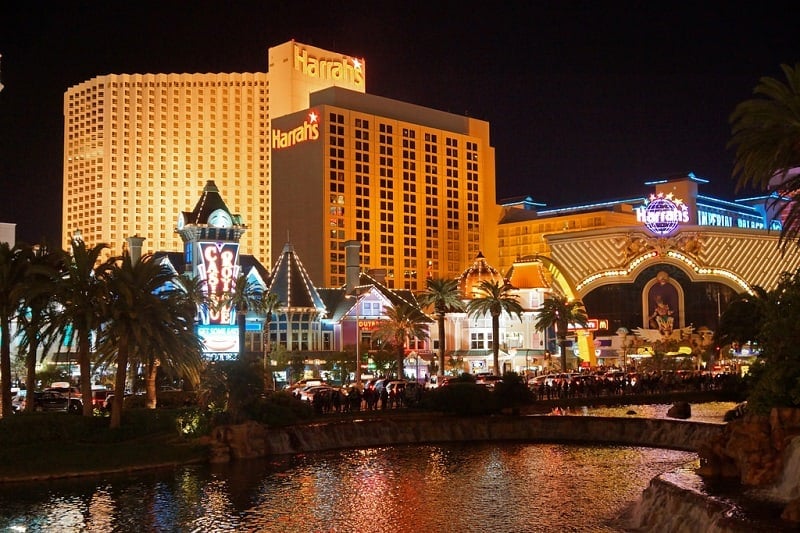 photo source: Flickr via Allie_Caufield
Harrah's Las Vegas was not the first Harrah's hotel and casino in Nevada — founder Bill Harrah started his empire in nearby Reno in 1937/38. The hotel was originally opened in 1973 as the Holiday Casino by former Silver Slipper casino owners, Shelby and Claudine Williams.
The Holiday Casino had a riverboat theme. A few years after Shelby Williams died, Holiday Inns, Inc. acquired Holiday Casino as well as Harrah's Hotel Casino Company.
In 1992, the hotel's name was changed to Harrah's Las Vegas and a couple of years later, the riverboat theme was dropped in favor of a carnival/Mardi Gras theme, which the hotel still maintains today. Harrah's Las Vegas recently had a $140 million renovation just in time for the 80th anniversary of the Harrah's Hotel Casino Company in early 2018.
---
9. Circus Circus
Year Opened: October 18, 1968
Original Name: Circus Circus
Location: 2880 South Las Vegas Boulevard
Number of Rooms: 3,773
Total Gaming Space: 123,928 sq ft (11,513.3 m2)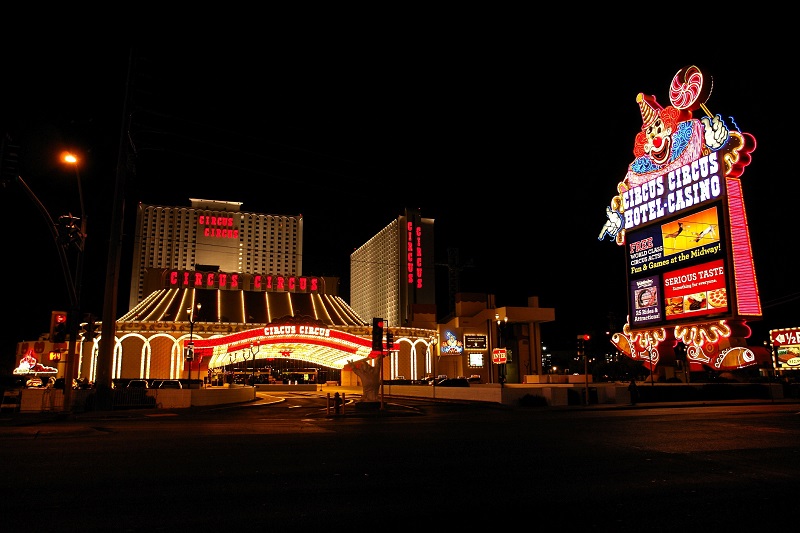 photo source: Wikimedia Commons
Circus Circus is famous for its carnival theme and the Adventuredome indoor amusement park. The circus themed hotel was opened by Jay Sarno, who wanted to followup the success of Caesars Palace with a place that could be enjoyed by all members of the family.
It was the first property in Las Vegas designed to attract families. Sarno was initially so impressed with his circus theme that he opened the casino without finishing the hotel rooms.
However, Sarno's gamble nearly failed and Circus Circus was almost shut down. The hotel portion of Circus Circus was finally completed in 1972 and Sarno sold the hotel two years later.
Circus Circus was expanded over the years and the Adventuredome was added in 1993 and remains the hotel's most popular attraction.
---
8. Caesars Palace
Year Opened: April 5, 1966
Original Name: Caesar's Palace
Location: 3570 South Las Vegas Boulevard
Number of Rooms: 3,976
Total Gaming Space: 124,181 sq ft (11,536.8 m2)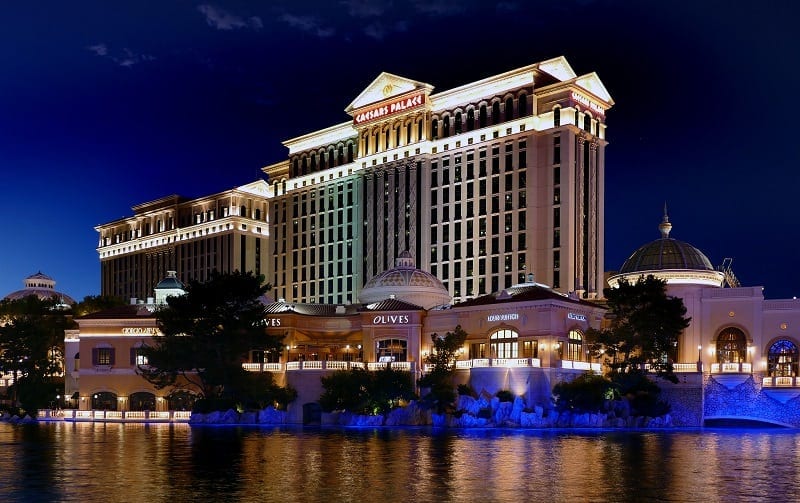 photo source: Flickr via Bernard Spragg.NZ
Caesars Palace is one of the only hotels on this list that has kept it original name and theme since it was first opened. A
lthough there were a few other hotels with distinct themes opened earlier, Caesars Palace is considered the first true themed resort in Las Vegas. Caesars Palace was opened by hotelier Jay Sarno, who wanted the hotel to be opulent and over the top.
From the start, Caesars Palace was a place of excess. The grand opening party cost $1 million and had famous guests such as Johnny Carson, Jimmy Hoffa, and a young Steve Wynn. Over the years, Caesars Palace expanded and in 1992 a large luxury mall called the Forum Shops was added to the hotel.
Caesars Palace has also hosted several famous musicians like Frank Sinatra, Diana Ross, Celine Dion, and Elton John.
---
7. The LINQ Hotel & Casino
Year Opened: 1959
Original Name: Flamingo Capri
Location: 3535 South Las Vegas Boulevard
Number of Rooms: 2,640
Total Gaming Space: 32,890 sq ft (3,056 m2)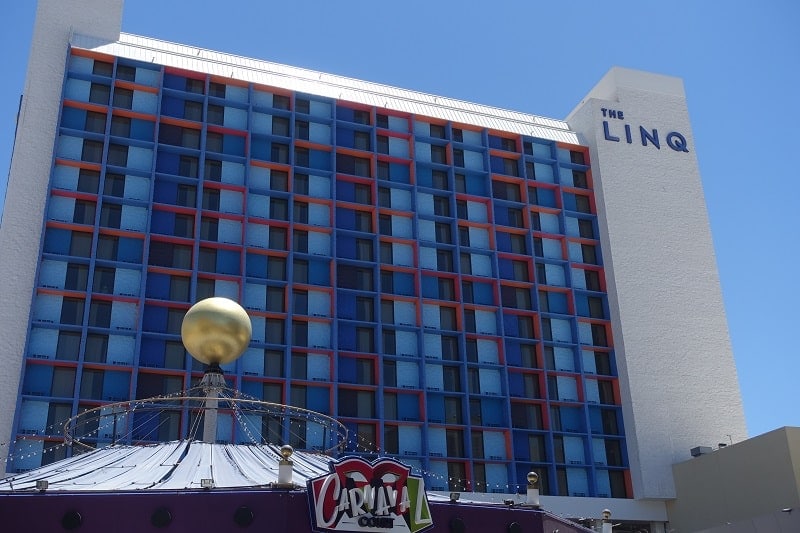 photo source: Wikimedia Commons
Of all the hotels on this list, the LINQ Hotel & Casino, has had the most identity changes since it was originally opened as the Flamingo Capri motel in 1959. The Flamingo Capri was a luxury motel built near the Flamingo Hotel & Casino, hence its name — the Flamingo Hotel also agreed to provide hotel services to the motel's guests.
In 1971, Ralph Engelstad purchased the Flamingo Capri and expanded the motel by adding additional buildings as well as a casino in 1972.
Engelstad kept making the motel larger until it was officially large enough to qualify as a hotel and he changed its name and theme to the Imperial Palace in 1979. The hotel operated as the Imperial Palace for over 30 years before it was acquired by the Caesars Entertainment Corporation in 2011.
Caesars briefly named the hotel The Quad Resort and Casino before finally settling on the LINQ Hotel & Casino in 2014.
---
6. Tropicana Las Vegas
Year Opened: April 4, 1957
Original Name: Tropicana
Location: 3801 Las Vegas Boulevard South
Number of Rooms: 1,467
Total Gaming Space: 50,000 sq ft (4,600 m2)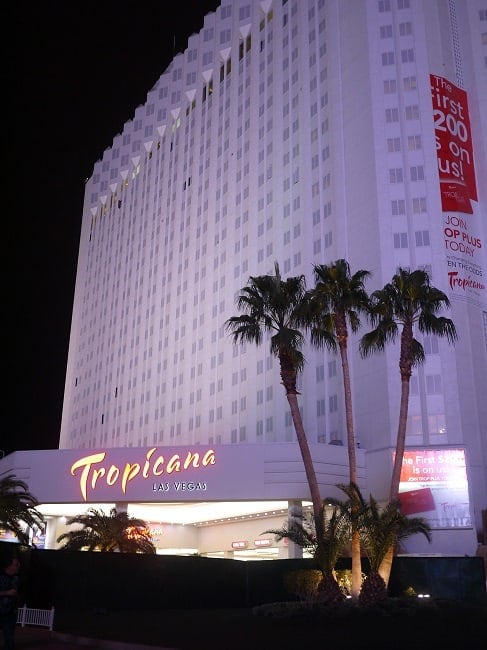 photo source: Flickr via kennejima
The Tropicana Las Vegas opened on April 4, 1957 and was the first hotel in Las Vegas designed as a resort hotel rather than a typical hotel and casino. The founder of the Tropicana, Ben Jaffee (a Miami hotelier), wanted to build a luxurious and classier hotel in the city and chose a tropical theme for the aptly named Tropicana.
At the time, the Tropicana was the most expensive hotel ever built in Las Vegas.
Although Jafee was the owner of the Tropicana, the hotel was built and operated by Conquistador Inc., which was owned by "Dandy" Phil Kastel. Kastel had strong connections to the mob through his long partnership with mobster Frank Costello.
Since then, the Tropicana has been renovated a few times and the hotel is currently owned and operated by Penn National Gaming is a franchise of Hilton's DoubleTree chain.
---
5. Sahara Las Vegas
Year Opened: original on October 7, 1952; current on August 23, 2014
Original Name: Sahara Hotel and Casino
Location: 2535 Las Vegas Boulevard South
Number of Rooms: 1,720
Total Gaming Space: 85,000 sq ft (7,900 m2)
Initially, SLS Las Vegas did not have anything to do with its iconic predecessor, the Sahara Hotel and Casino. However, in 2018, the SLS was sold to the Merulo Group, who decided to do another renovation. Merulo renamed the hotel to Sahara Las Vegas and hotel's design has subtle nods to the Sahara's original North African theme.
Despite all these changes, the hotel has always been in its original building and site. SLS Las Vegas was short-lived and only lasted for a few years, while the original Sahara was open for nearly 60 years.
The original Sahara was successful for several decades, before it slowly declined in popularity. After several last ditch attempts to help the Sahara stay afloat, it finally shut down in the spring of 2011. This Las Vegas icon has now been revived with a modern twist.
---
4. Flamingo Las Vegas
Year Opened: December 26, 1946
Original Name: Flamingo Hotel & Casino
Location: 3555 South Las Vegas Boulevard
Number of Rooms: 3,626
Total Gaming Space: 72,299 sq ft (6,716.8 m2)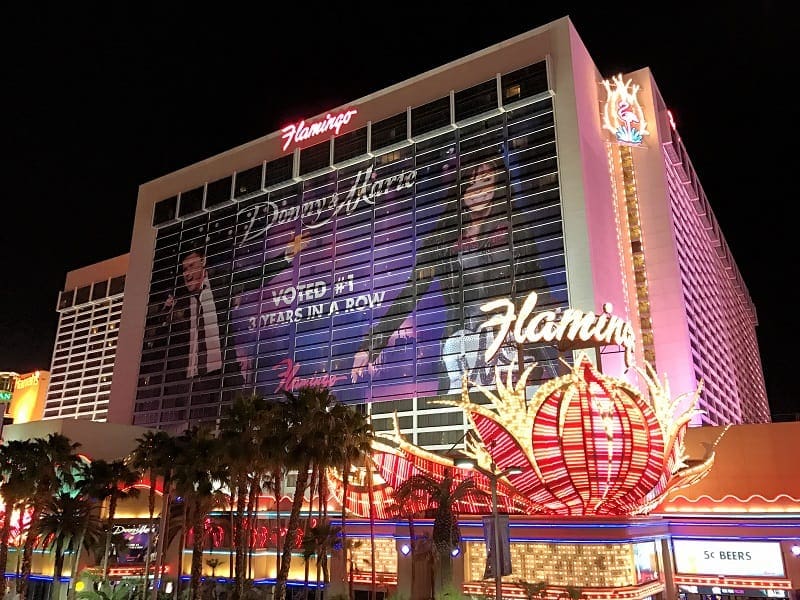 photo source: Wikimedia Commons
The Flamingo Las Vegas is the oldest hotel on the Strip (the modern Strip) and has been in continuous operation since December 1946. Billy Wilkerson, the founder of The Hollywood Reporter magazine, was the man behind the idea of the Flamingo.
Wilkerson, along with notorious mobster Bugsy Siegel, wanted to build a hotel and casino that would basically "trap" gamblers in and keep them playing for hours — this was the start of the way modern casinos in Las Vegas and around the world operate today.
The Flamingo was the first casino to have no clocks or windows so gamblers would lose track of time. It was also the first hotel in Las Vegas to ditch the old Wild West themes and opt for glitz and glamour instead.
---
3. The Golden Nugget Las Vegas
Year Opened: August 30, 1946
Original Name: The Golden Nugget Saloon
Location: 129 Fremont Street
Number of Rooms: 2,419
Total Gaming Space: 38,000 sq ft (3,500 m2)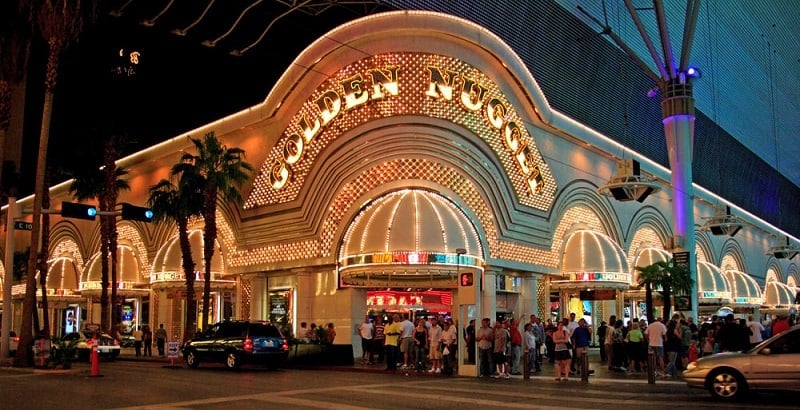 photo source: Wikimedia Commons
Today, the Golden Nugget is a small chain of hotels/casinos with locations in Biloxi, Atlantic City, Laughlin, Lake Charles, and the original in Las Vegas. Like many of the oldest hotels and casinos in Las Vegas, the Golden Nugget's history is tied to the mob.
The original Golden Nugget was opened in 1946 by Guy McAfee, a kingpin in the illegal gambling scene of Los Angeles who had fled to Las Vegas.
McAfee is credited with coining "The Strip", the name used for the main area of Las Vegas' hotels and casinos. When it was first built, the Golden Nugget was the flashiest and biggest casino in the world. It was also the first building in Las Vegas to built as a stand alone casino.
---
2. El Cortez
Original Name: El Cortez
Year Opened: 1941 (77 years ago)
Location: 600 East Fremont Street
Number of Rooms: 364
Total Gaming Space: 45,300 sq ft (4,210 m2)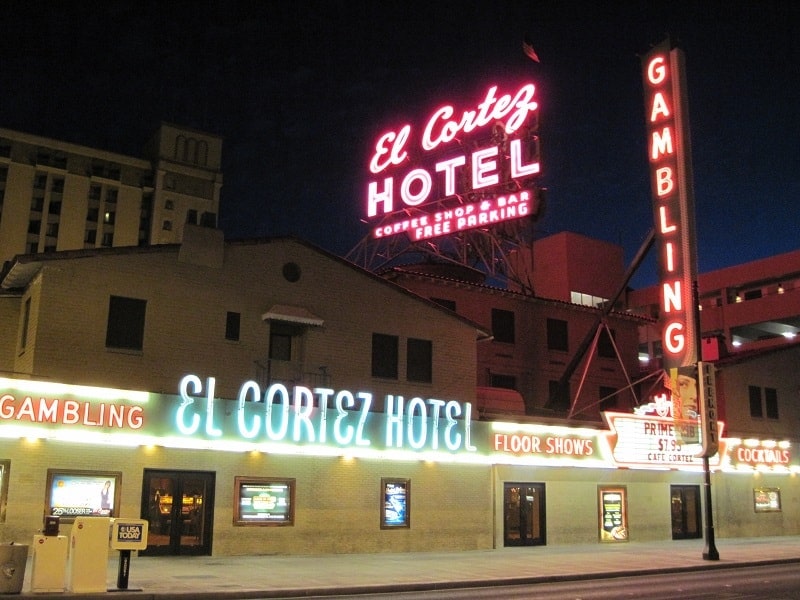 photo source: Wikimedia Commons
Although the Golden Gate Hotel and Casino is older by several decades, El Cortez bills itself as the longest continuously running hotel and casino in Las Vegas. El Cortez was opened in 1941 by John Kell Houssels, John Grayson, and Marion Hicks. It was the first major resort in Downtown Las Vegas.
A few years later Houssels, Grayson, and Hicks sold El Cortez to group that included Gus Greenbaum, Moe Sedway, Bugsy Siegel, and Dave Berman.
After Houssels reacquired El Cortez in 1946, the hotel was remodeled in 1952 — a neon arrow, marquee, and large roof sign was added and are still present today.
While El Cortez has modernized its interior and rooms, the façade is still the same as it was in 1952. Due to the outside of the building being unchanged, El Cortez was added to the U.S. National Register of Historic Places in 2013.
---
1. Golden Gate Hotel and Casino
Original Name: Hotel Nevada (Miller Hotel)
Year Opened: January 13, 1906 (112 years ago)
Location: 1 Fremont Street
Number of Rooms: 122
Total Gaming Space: 35,000 sq ft (3,300 m2)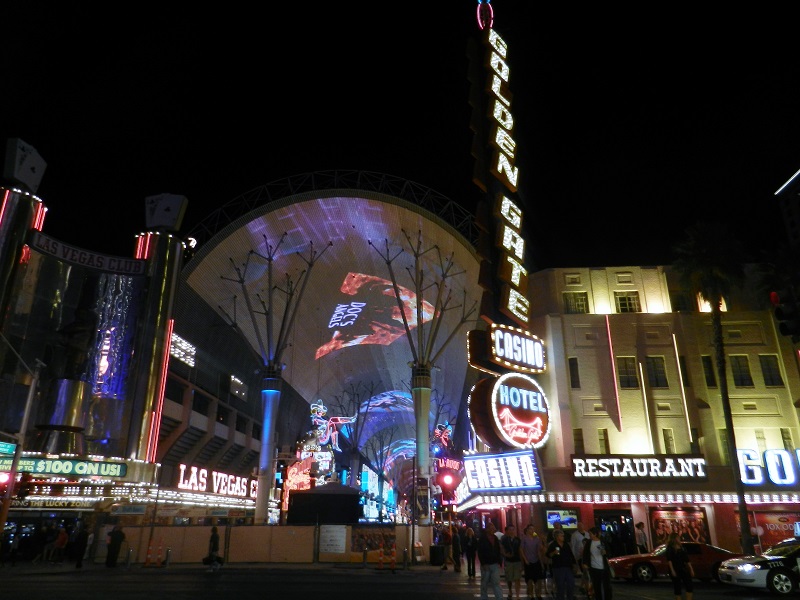 photo source: Wikimedia Commons
The Golden Gate Hotel and Casino first opened its doors at the beginning of 1906, making it the oldest hotel (and oldest casino) in Las Vegas. The opening of the Golden Gate Hotel (originally Hotel Nevada) is considered the birth of Las Vegas. It was the first hotel built on Fremont Street, which is the founding site of the city of Las Vegas.
Several Las Vegas firsts happened at the Golden Gate Hotel and Casino, including having the city's first telephone installed (the Golden Gate's phone number was 1); putting up a large outdoor sign, a precursor to Las Vegas' iconic neon lights; and being the birthplace of the shrimp cocktail.
The Golden Gate Hotel and Casino is still going strong today and many of the original rooms have been updated and are still being used.
OTHER POSTS YOU MAY BE INTERESTED IN