UFC fighters often draw parallels to the modern-day gladiators of the ancient Roman era. It might seem like an exaggerated, sensational, click-baiting exclamation, but when given enough thought, opinions may change. Gladiators are probably the aptest way to describe these warriors that lay down their lives for the glory of combat and our amusement.
Not much is different between then and now. Death is not as intentional as it was in Ancient Rome but is still a present and a danger when two fighters lock heads and trade fists. And the Colosseum remains the same. Except now, it comes in the shape of an octagon. The bravery these young men and women show, knowing they're about to shed blood, teeth, and tears, is astounding.
That's why we're going to take a look at the youngest fighters of the UFC. The ones who, despite their age, were brave enough to step into the 8-sided ring and turn into men before our very eyes.
8. Muhammad Mokaev
Age: 21
Born: 07/30/2000
Height: 5'9"
Division: Bantamweight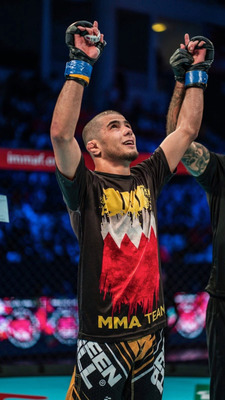 photo source: tapology.com
Muhammad Mokaev is a 21-year-old fighting phenom who signed to the UFC in 2021. Even before his professional career, he's earned the nickname "The Punisher," and for good reason thanks to a stellar amateur career. The 5'9", 135-pound martial artist is a two-time amateur MMA Junior World Champion and the IMMAF Bantamweight Junior European and World Champion.
As far as junior MMA goes, he holds the record for longest active undefeated streak at 23 wins and no losses. The kid from Manchester, England, is shaping up to take a career trajectory similar to the greatest who have stepped foot into the cage.
Did You Know?
Mokaev came to England from Dagestan at 12-years-old as a refugee with his family. On arrival, he decided he wanted to become a wrestler, citing that his motivation was to become the best he ever could be at the sport. He joined the Manchester Wrestling Club in 2013. One year later, he was the British Junior Champion.
---
7. Michael McDonald
Age: 20
Born: 01/15/1991
Height: 5'8"
Division: Bantamweight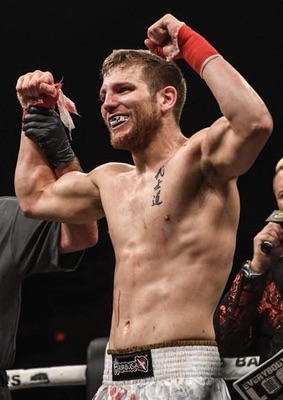 photo source: tapology.com
Michael McDonald is a 5'8", 135-pound Bantamweight fighter hailing from California. Now at 30-years-old, he's retired. Considering the brutality of this sport, a nine-year career should count as 19 in terms of the physical toll it takes on your body.
McDonald comes from a kickboxing and Brazilian Jiu-Jitsu foundation. It served him well as a lethal combination. His martial arts record consists of 23 total fights and 19 total wins.
Did You Know?
McDonald began his amateur career at 14-years-old and went professional soon after, at only 16-years-old. A true fight tactician. He has two brothers who also possess the gift of combat. Justin Smitley, his oldest brother, is signed with Bellator MMA.
---
6. Max Holloway
Age: 20
Born: 12/04/1991
Height: 5'11"
Division: Featherweight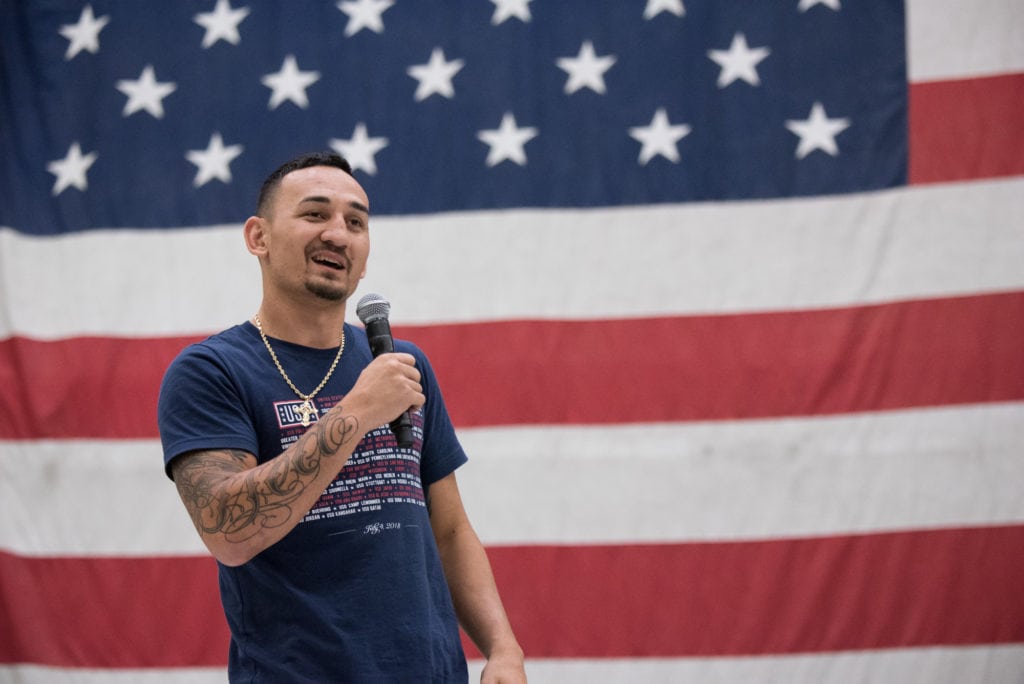 photo source: commons.wikimedia.org
Max Holloway is a 5'11", 145-pound featherweight fighter from Honolulu, Hawaii. His welcome party into the world of UFC came at just 20-years-old. Competing in featherweight and lightweight, he became featherweight champion after defeating Jose Aldo in June of 2017. Proving his fighting prowess wasn't a fluke, he defended that title three times.
10 years later, at the seasoned, elderly age of 30, he is No. 1 in the UFC featherweight division in 2021. He's also No. 7 in UFC men's pound for pound rankings.
Did You Know?
His martial arts career so far consists of 29 fights, of which he won 23 of them. In 2012, he was the youngest fighter on the UFC roster when he was called up to the big leagues to replace Ricardo Lamas at UFC 143 after he sustained an injury. His first fight was a loss against Dustin Poirier. Showcasing true warrior spirit, he didn't let his rocky introduction derail him from becoming one of the greatest ever.
---
5. Nick Diaz
Age: 20
Born: 08/02/1983
Height: 6'1"
Division: Middleweight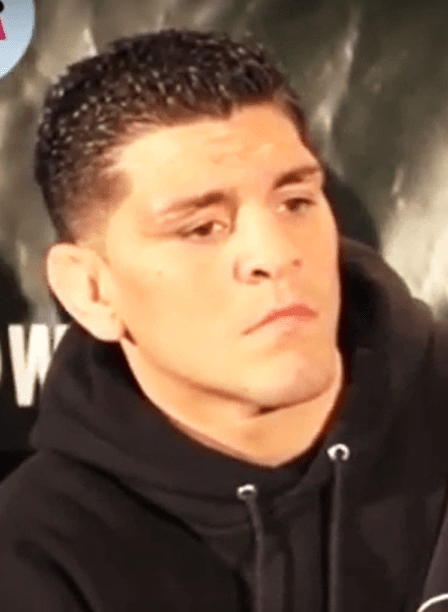 photo source: commons.wikimedia.org
Nick Diaz is the 6'1", 185-pound middleweight powerhouse, from Stockton, California. You might also know him as the older brother of famed UFC fighter Nate Diaz. The blood-related dynamic duo has done wonders for the UFC by popularizing the sport during its early inception.
Nick turned professional just after his 18th birthday in 2001. He celebrated in style with a victory against Mike Wick at the IFC Warriors Challenge.
Did You Know?
UFC management noticed Diaz and his exceptional talent in the fighting circuit. Signing him to the company was a no-brainer. They were proven right when he made his debut at UFC 44, submitting his first opponent via armbar in the final round of the fight.
---
4. Robbie Lawler
Age: 20
Born: 03/20/1982
Height: 5'11"
Division: Welterweight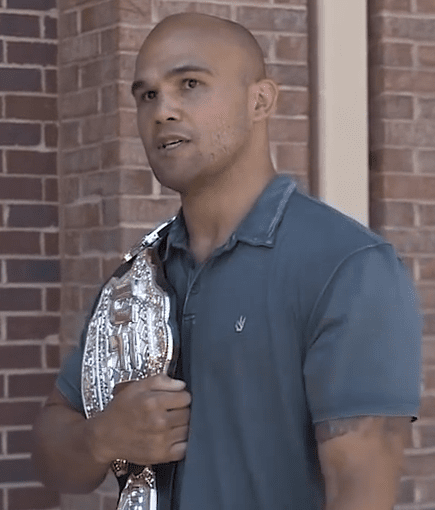 photo source: commons.wikimedia.org
Robbie Lawler is a 5'11", 185-pound Welterweight champion out of Florida. Growing up, Lawler always had a proclivity towards fighting. He picked up taekwondo at eight and received All-State honors as a wrestler at his high school, Bettendorf, in Iowa.
His introduction to professional fighting was picture perfect. He made his pro debut in 2001 and won his first four career fights either by TKO or KO. Now retired, Robbie Lawler finished his career with 29 wins and 15 losses with plenty of accolades to show for it.
Did You Know?
Lawler was the former Welterweight Champion and successful two-time defender of the title. He is also the 2014 and 2015 fighter of the year.
---
3. Vitor Belfort
Age: 19
Born: 04/01/1977
Height: 6'0"
Division: Heavy, Light, and Middleweight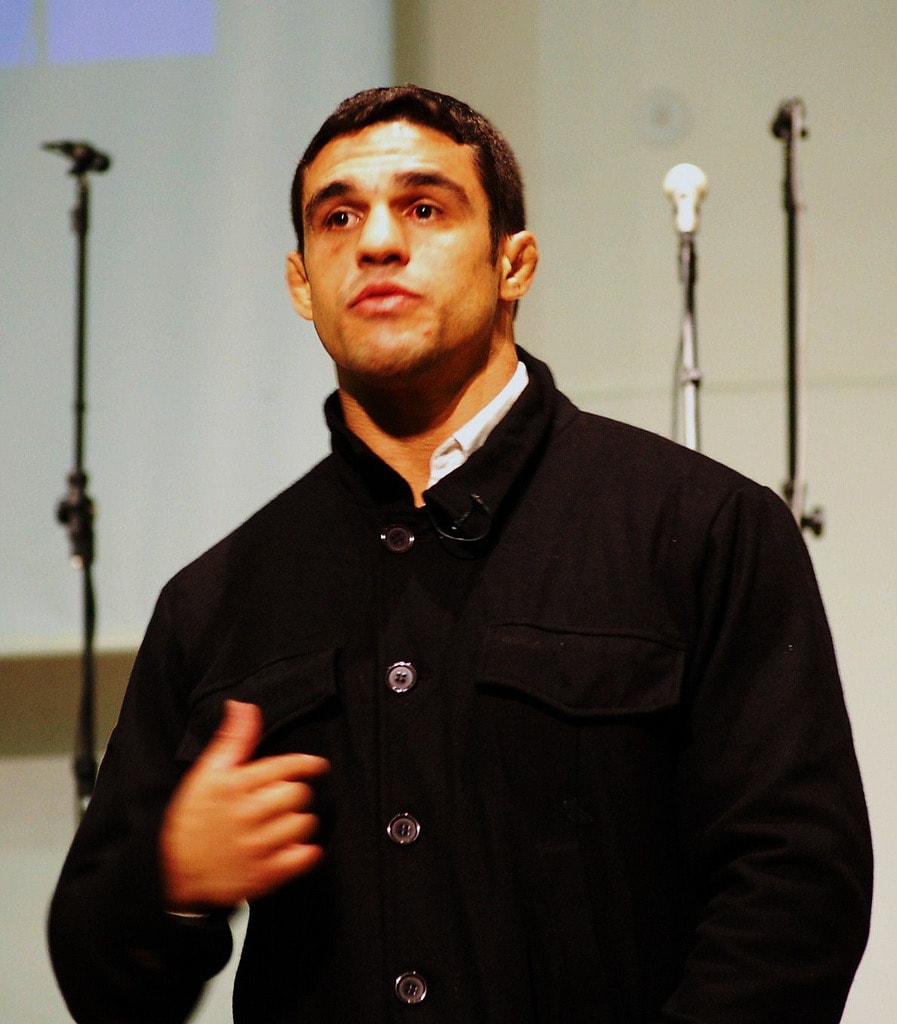 photo source: commons.wikimedia.org
Vitor Belfort is a 6'0", 185-pound Brazilian Jiu-Jitsu practitioner from Brazil. Competing in several divisions, Belfort has had an incredible career in the sport and become a household name to anyone involved or a fan of combat sports.
His claim to fame was his explosive power, delivered by devastating knockout blows. He's tied for third-most knockout finishes in UFC history with 14.
Did You Know?
Vitor Belfort is the youngest UFC tournament winner at 19-years-old! It served as just a preview of what was to come later in his illustrious career.
---
2. Chase Hooper
Age: 19
Born: 09/13/1999
Height: 6'1"
Division: Featherweight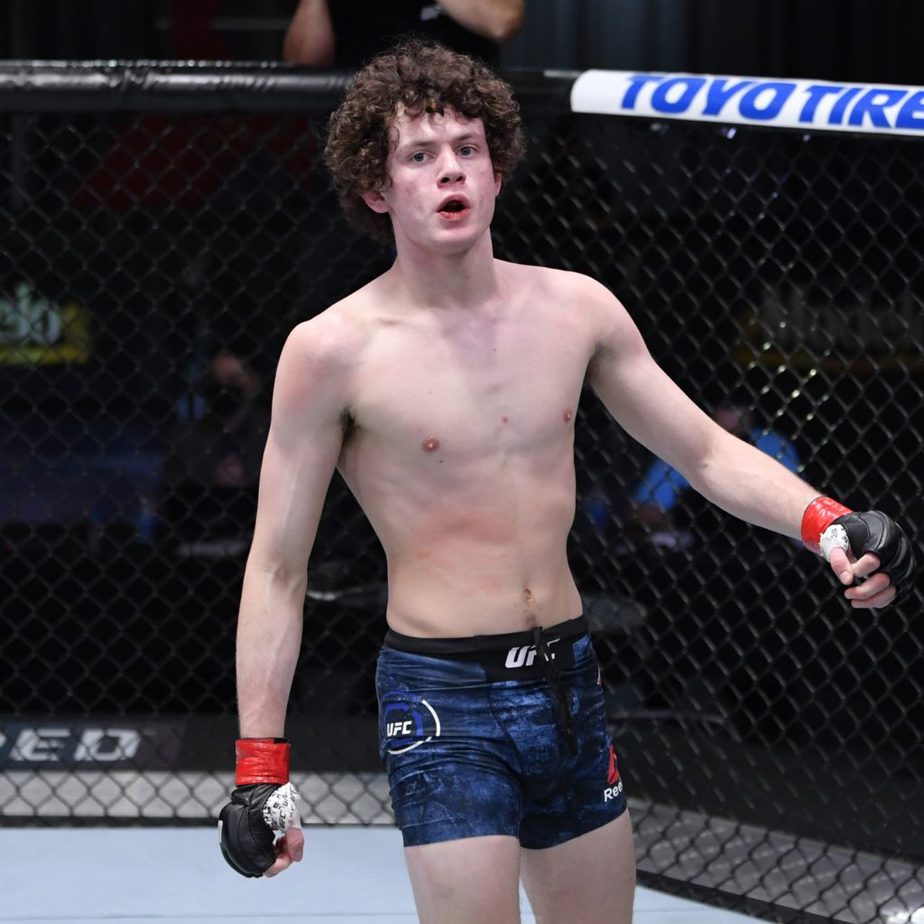 photo source: mmafighting.com
Chase Hooper is the 6'1", 145-pound featherweight fighter from Washington. At 19-years-old, he's so young that his amateur MMA career began while he was still attending Enumclaw High School, where he strung together an impressive 5-0 record.
Proving he was simply a league above the rest among his age bracket, he made his professional debut in 2017 against Edson Penado. Chase "The Dream" Hooper decided to take over early, crushing fans' hopes for a bloody brawl, and ended that fight via submission in the first round thanks to his elite, black belt Jiu-Jitsu skills.
Did You Know?
Chase Hooper has 13 MMA fights under his belt so far in his short but action-packed career. Of his four fights under the UFC banner, he's split down the middle with two wins and two losses. That's to be expected when you're stepping into the ring with fully grown adults. Even with the growing pains, Hooper is going to have a long and noteworthy career.
---
1. Dan Lauzon
Age: 18
Born: 03/30/1988
Height: 6'0"
Division: Lightweight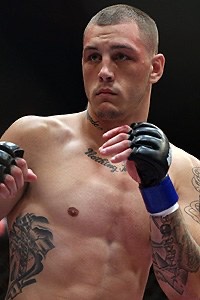 photo source: sherdog.com
Dan "The Upgrade" Lauzon is the youngest fighter in the UFC!
Lauzon is a former martial artist who's competed in the World Series of Fighting's Lightweight division, Affliction, and UFC. Mixed martial arts runs in his blood, as his older brother, Joe Lauzon, is a mixed martial artist as well.
The 6'0", 155-pound lightweight is proficient in several forms of fighting, including boxing, BJJ, and wrestling. His well-rounded fight education paid off in droves, considering he's won 17 of his 23 fights throughout his career.
Did You Know?
After UFC, Lauzon won eight consecutive fights between 2007 and 2009. Off of that success, he received an offer to return to the premier fighting company but was ousted after back-to-back losses to Cole Miller and Efrain Escudero.
OTHER POSTS YOU MAY BE INTERESTED IN