The Tour De France is the longest multi-stage male cycle competition held annually in France. The contestants in this 21-stage cycling competition cycle for over 2,200 miles through nearby countries.
The first Tour De France race was held in 1903, sponsored by the newspaper L'Auto. Maurice Garin, an Italian-French bicycler, holds the Guinness World Record for the first-ever Tour De France trophy winner.
The average age of Tour De France winners is 28, which means the age of most winners ranges between 23 and 33. However, the eight Tour De France winners we're discussing today earned the trophy before even celebrating their 23rd birthday!
8. Laurent Fignon
Born: 1960
Nationality: French
Age When He Won the Trophy: 22 years and 346 days
Current Age: Deceased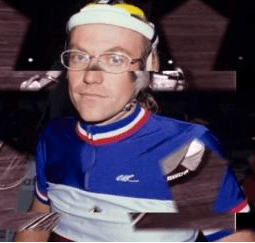 photo source: thefamouspeople.com
Laurent Fignon is one of the most enigmatic French road cyclists to ever race in the Tour de France competition. He won the 1984 and 1983 Tour de France, as well as the 1989 Giro d'Italia. Fignon nearly won the Tour De France trophy in 1989, but was edged by Greg LeMond by a close margin of 8 seconds.
Fignon won multiple classic races, including 1988 and 1989 Milan-San Remo, 1985 La Flèche Wallonne, and 1987 Paris-Nice. He died of cancer in Paris in 2010, aged 50.
Did You Know?
Laurent Fignon had already retired from active cycling by the time he died in 2010. In fact, he claims to have retired from professional cycling in 1993, after a decade of being heavily involved in the sport. However, things weren't always all business for Fignon; in his book, We Were Young and Carefree, Fignon revealed that he was a proponent of doping products.
---
7. Philippe Thys
Born: 1889
Nationality: Belgian
Age When He Won the Trophy: 22 years and 292 days
Current Age: Deceased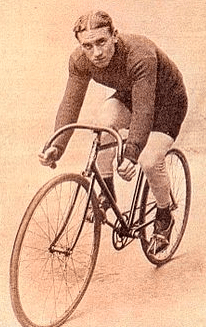 photo source: wikipedia.org
Philippe Thys was a Belgian professional cyclist who competed internationally in road cycling competitions. He had dozens of trophies under his name, including three Tour de France trophies and circuit François Peugeot.
Thys participated in and won Belgium's national cyclo-cross 1910 competition, aged 20 years. Two years later, Philippe Thys won the 1913 Tour de France trophy aged 22 years and 292 days.
Thys won the Paris–Tours and the Giro di Lombardia in 1917. He also won the second and final Tours–Paris in 1918. Finally, the cyclist won the Tour for the third and last time in 1920, following World War I. He maintained the record of the pro cyclist with most Tour de France trophies until 1963, when Jacques Anquetil won his fourth trophy.
Did You Know?
Although Philippe Thys was born in Anderlecht, he died in the Brussels metropolitan area, aged 81. That was on January 16th, 1971, 8 years after Jacques Anquetil had broken his three-time tour de France record.
---
6. Felice Gimondi
Born: 1942
Nationality: Italian
Age When He Won the Trophy: 22 years and 289 days
Current Age: Deceased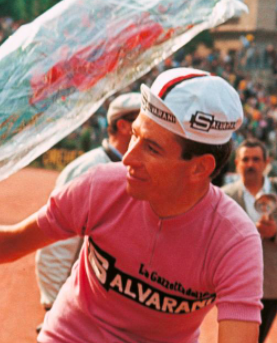 photo source: thetimes.co.uk
Popularly nicknamed "The Phoenix," Felice Gimondi was an award-winning Italian racing cyclist. He was the son of a postmistress and a transport manager, which kickstarted his cycling career – he used to ride his mom's post-bicycle to school, and eventually assisted delivering mail on it.
Gimondi competed in the road race at the 1964 Olympic Games, finishing in 33rd position. Two years later in 1965, Gimondi – just 22 years old and in his first year as a competitive athlete – won the Tour de France, a major achievement.
In 1967, 1969, and 1976, Gimondi went on to win the Giro d'Italia, and the Spanish Vuelta in 1968.
Did You Know?
Before he died on August 16, 2019, Felice Gimondi was featured in two major movies. He was first featured in the film, Il Pirata – Marco Pantani in 2007, aged 65. His second film is called For a Yellow Jersey (1965).
---
5. Octave Lapize
Born: 1887
Nationality: French
Age When He Won the Trophy: 22 years and 280 days
Current Age: Deceased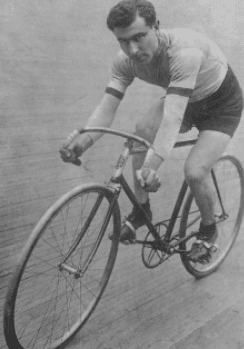 photo source: cyclingarchives.com
Octave Lapize was a renowned French pro-road-racing and track cyclist. He is best-known for his Tour de France win in 1910, as well as winning a bronze medal in the men's 100 kilometers at the 1908 Summer Olympics. He also won the Paris–Roubaix and Paris–Brussels one-day classics three times.
Lapize dropped out of his initial Tour de France in 1909 due to wintery weather in July; however, he still finished second on Stage 2 behind Tour victor, Francois Faber. Altogether, between 1909 and 1914, Lapize made six Tour de France starts, but only one resulted in a win.
On June 28, 1917, Lapize was shot down by a German aircraft but survived. He was shot down again two weeks later, this time more seriously injured, and died in the hospital as a result of his injuries.
Did You Know?
Octave Lapize was laid to rest the day he died at the military hospital; however, his body was exhumed and taken to Villiers-sur-Marne, where a stage of the Tour de France was dedicated to him.
---
4. Egan Bernal
Born: 1997
Nationality: Colombian
Age When He Won the Trophy: 22 years and 196 days
Current Age: 25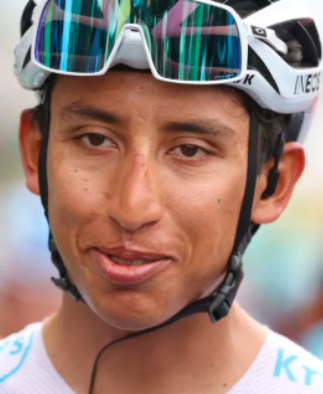 photo source: cyclingnews.com
Egan Bernal is a Colombian cyclist who is currently riding for UCI World-Team INEOS Grenadiers. Bernal won the 2019 Tour de France, aged 22 years and 196 days. This feat qualified him as the first-ever Latin American trophy winner, and the youngest since 1909.
Bernal began his career as a junior road cycle racer, and won the Sognando Il Giro delle Fiandre and Clasica Juventudes Cajica, aged 18. He has many cycling trophies under his name, including two Grand Tours, two individual stages, one Paris-Nice, one Tour of California, one Gran Piemonte, and one National Time Trial Championships.
Did You Know?
Bernal's parents, Flor Gómez and Germán Bernal, confused their pregnancy with Egan for a medical condition in the first eight months. One month before she was taken to the labor ward, Flor Gomez suffered from constant stomach pain, dizziness, and vomiting, which forced them to speak to their doctor. He confirmed the pregnancy.
---
3. François Faber
Born: 1887
Nationality: Luxembourgian
Age When He Won the Trophy: 22 years and 187 days
Current Age: Deceased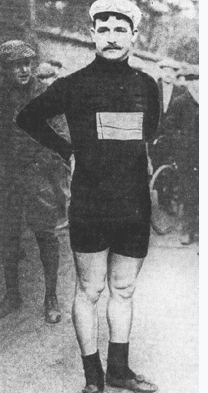 photo source: wikipedia.org
Born in 1887, François Faber was the first Luxembourgian racing cyclist to compete in the coveted Tour de France. He holds a remarkable record of winning five consecutive Tour de France stages.
Faber professionally cycle-raced for eight years, and achieved a record of 27 race wins. Before winning the 1909 tour de France, Faber had participated in the 1906 competition, but didn't finish. He also participated in the 1908 competition, where he came in second, winning four stages.
Despite the bad 1909 weather coupled with deeply rutted and impassable stretches, Faber led the Tour de France that year for 200 kilometers before crossing the finish line.
Did You Know?
At the onset of the First World War, Faber joined the French Foreign Legion. He received word from his wife that she had given birth to a daughter on May 9, 1915, the first day of the Battle of Artois at Carency near Arras. According to one story, he jumped out of the trench while cheering and was shot by a German bullet.
---
2. Tadej Pogacar
Born: 1998
Nationality: Slovenian
Age When He Won the Trophy: 21years and 365 days
Current Age: 23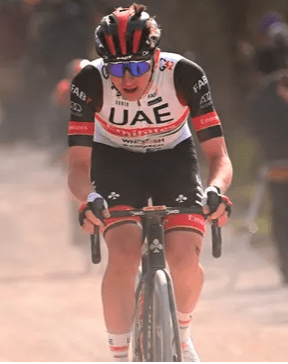 photo source: theguardian.com
Tadej Pogačar is the youngest Tour de France winner currently alive. Pogačar, who was born in 1998, has won two Tours de France, two one-day Monuments (Giro di Lombardia and Liège–Bastogne–Liège), and an Olympic bronze medal in Tokyo.
He is the youngest Slovenian professional racing cyclist to win Grand Tour 3rd stage at the UCI World Tour Race. In addition, Pogača is the youngest cyclist from Slovenia to win Tour de France, aged 21 years and 365 days. He won the trophy a day before he celebrated his 23rd birthday. Pogačar is the first-ever professional cyclist to break the UCI World Ranking barrier of 6,000 points.
Did You Know?
Tadej Pogačar's love for professional cycling started at a very young age. He started watching Tour de France in 2009, aged ten years. He was an avid follower of Andy Schleck and Alberto Contador, and his love for the sport and admiration for these pros motivated him to want to participate in the Tour de France.
---
1. Henri Cornet
Born: 1884
Nationality: French
Age When He Won the Trophy: 19 years and 352 days
Current Age: Deceased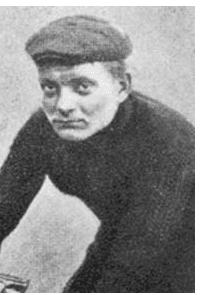 photo source: kids.kiddle.co
Henri Cornet is the youngest Tour de France winner of all time.
Cornet's Tour de France win was associated with great controversy because of the many cheating allegations proposed against several other lead cyclists in the race. Although Cornet reached the finish line in fifth position and with two flat tires, he was declared the winner due to the unprofessional conduct of the other competitors.
Today, there are cycling trophies named after the famous Henri Cornet, including a one-day Paris Roubaix and one individual stage trophy.
Did You Know?
Henri Cornet retired from active professional cycling in 1912 after finishing 28th in the competition. He had complained of several health issues before that time, and finally decided it was time to give up the sport on a professional level.