Tennis at the professional level is one of the hardest sports to break into, let alone succeed in. Competition rises every year thanks to advances in sports science and new data, strengthening the games of old and young players alike. Like in many leagues, the older the player is, the smarter they get. With experience comes the knowledge to compensate for any decline in physical prowess. That's why in a sport like tennis, which demands so much physicality, we see players in their late 20s and 30s succeed at the highest level. The mental game is more than half the battle.
Every once in a while, we see a transcendent star who can merge the veteran savvy with the explosive athleticism of a young pro. That's why today we're going to be looking at some of the youngest tennis phenoms who turned pro before they were even 18!
8. Roger Federer
Age: 17
Born: 08/08/1981
Country: Switzerland
Plays: Right-handed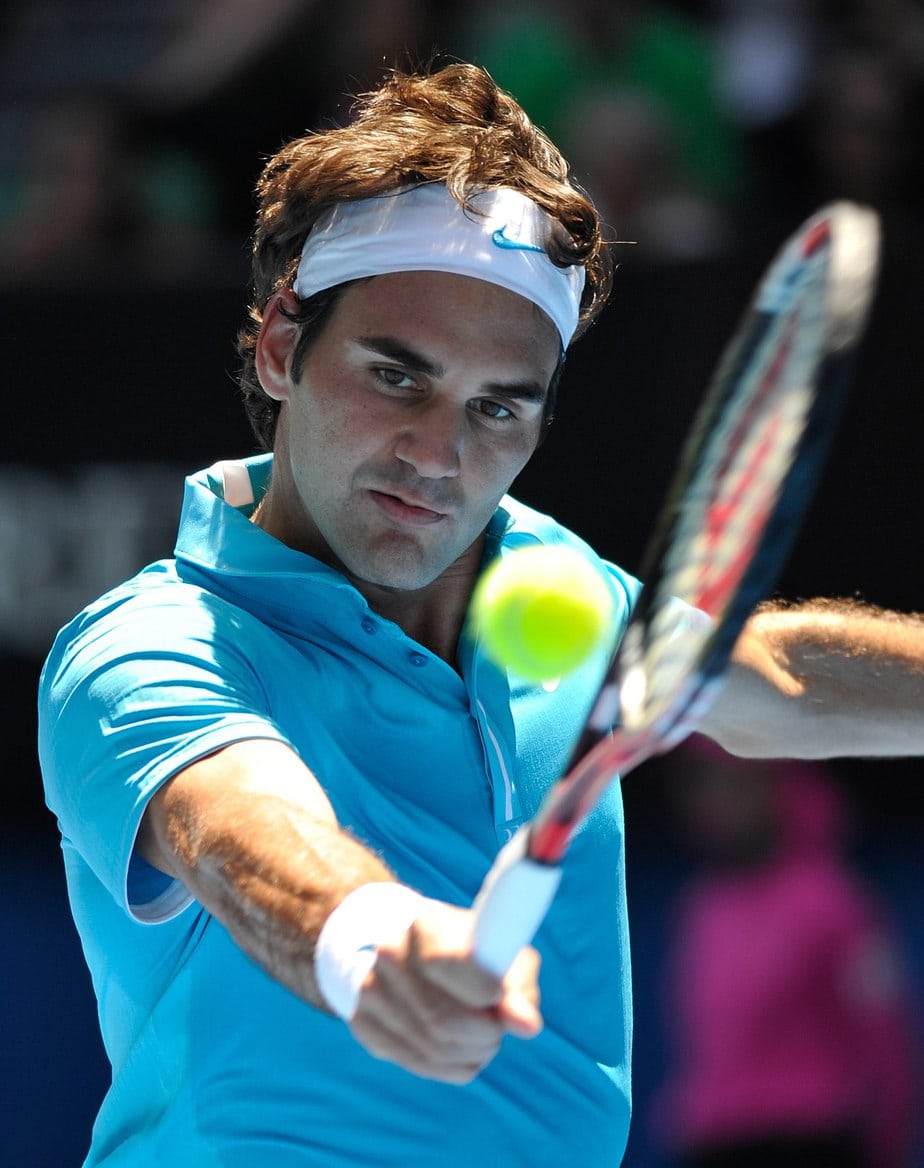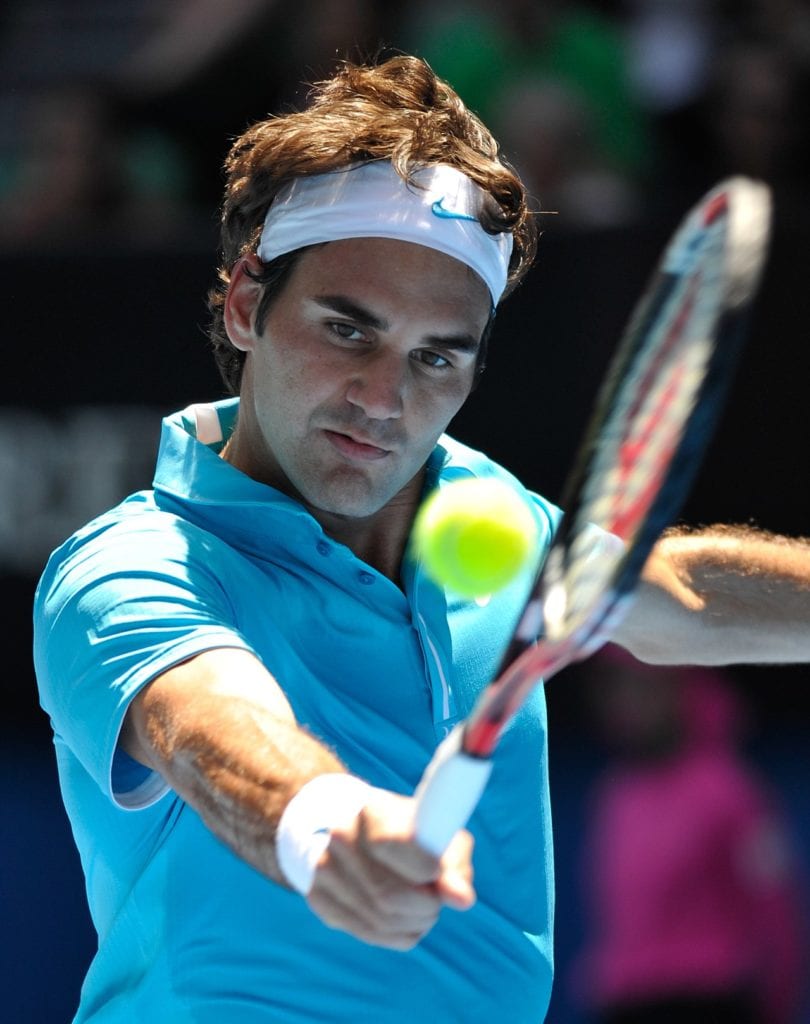 photo source: commons.wikimedia.org
Roger Federer is placed 8th on this list, but he's far from it when it comes to pure talent. Depending on who you ask, he's considered the greatest to ever step onto the court. The Swiss native turned pro at only 17-years-old and quickly became the face of men's tennis and a wonderful ambassador for the game.
Federer has won Wimbledon eight times, with five of those wins coming consecutively through 2003 to 2007. His dominance has spanned decades, and even at 40-years-old in 2022, he is ranked 30th in singles among the world's greatest current players.
Did You Know?
Roger Federer's salary reflects his generational dominance. Since 2012, he's appeared on Forbes list of the world's highest paid athletes. He's also the first living person to be recognized on the Swiss coin, appearing on the 20-franc in 2020.
---
7. Naomi Osaka
Age: 16
Born: 10/16/1997
Country: Japan
Plays: Right-handed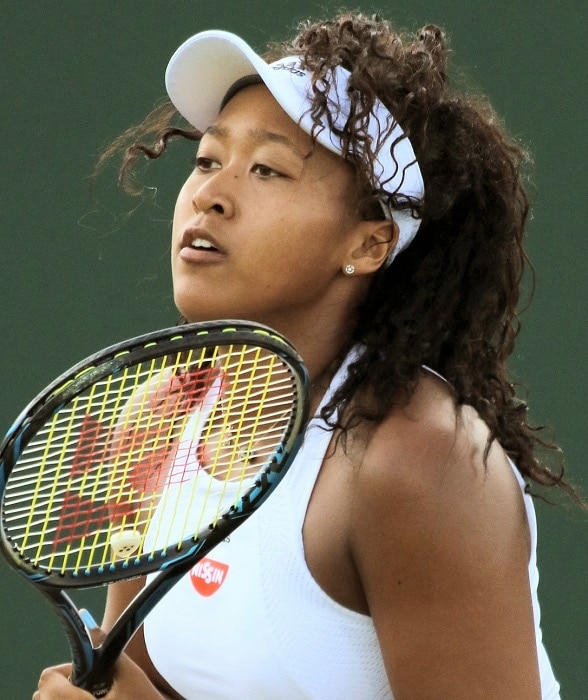 photo source: commons.wikimedia.org
Naomi Osaka erupted onto the scene at 16-years-old. She garnered mass media attention after squaring up against Serena Williams in 2018 and winning en route to her first Grand Slam title. She became the first Japanese woman to win a Grand Slam singles, making history and etching her name into the history books forever.
At the 2020 Tokyo Olympics, she was the first tennis player to light the Olympic cauldron to kick off the opening ceremony.
Did You Know?
Naomi is currently in a relationship with American rapper, singer, and songwriter – Cordae.
---
6. Novak Djokovic
Age: 16
Born: 05/22/1987
Country: Serbia
Plays: Right-handed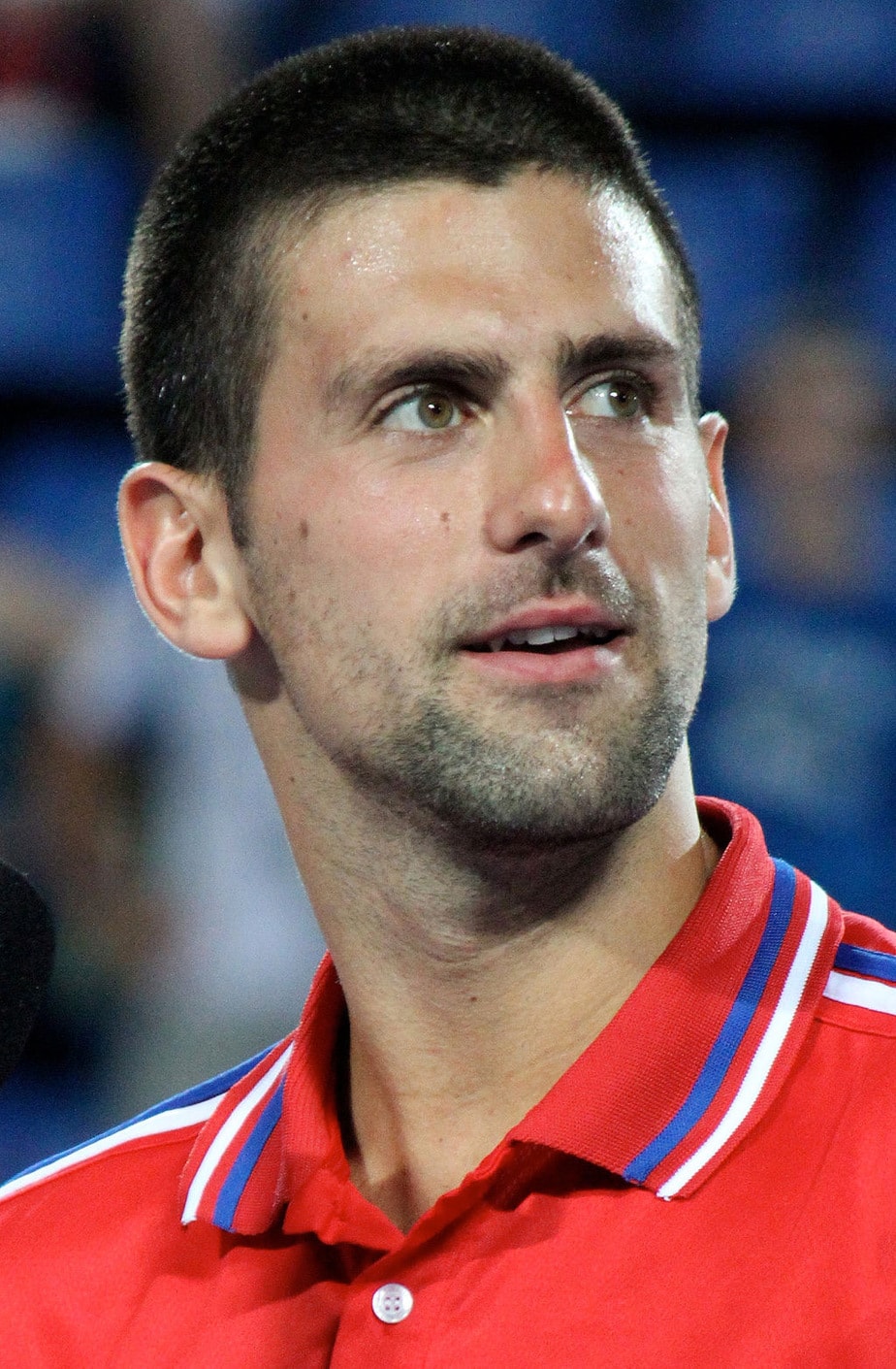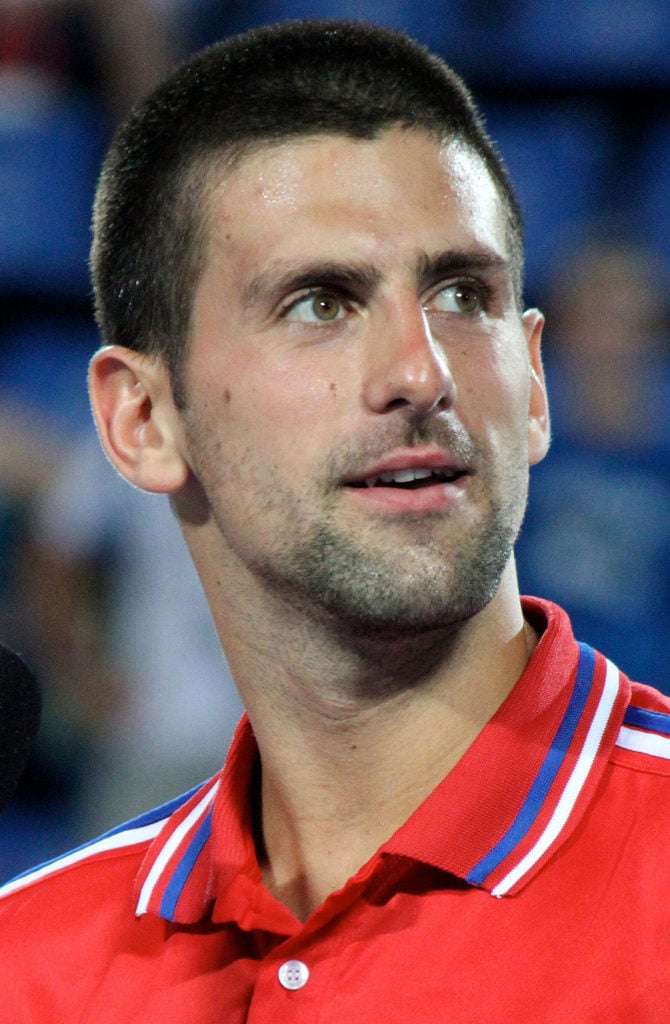 photo source: commons.wikimedia.org
Novak Djokovic turned pro at 16-years-old, and it was obvious he had generational talent the moment he stepped onto the clay. The 20 Grand Slam-winning men's single champion is currently ranked No.1 and has held that title for 358 weeks. His career record in singles is 989-199, sporting a winning percentage of 83.2%. That's first-ballot Hall of Fame material.
According to his father, his most beloved toy in life was his mini-racket and soft foam ball. Maybe he knew that putting a racket in his hand before he was four would be the best decision he ever made.
Did You Know?
Novak has won six Wimbledon's, 20 Grand Slams, and nine Australian Open titles thus far in his career with no signs of slowing at 34-years-old.
---
5. Zachary Svajda
Age: 16
Born: 11/29/2002
Country: United States
Plays: Right-handed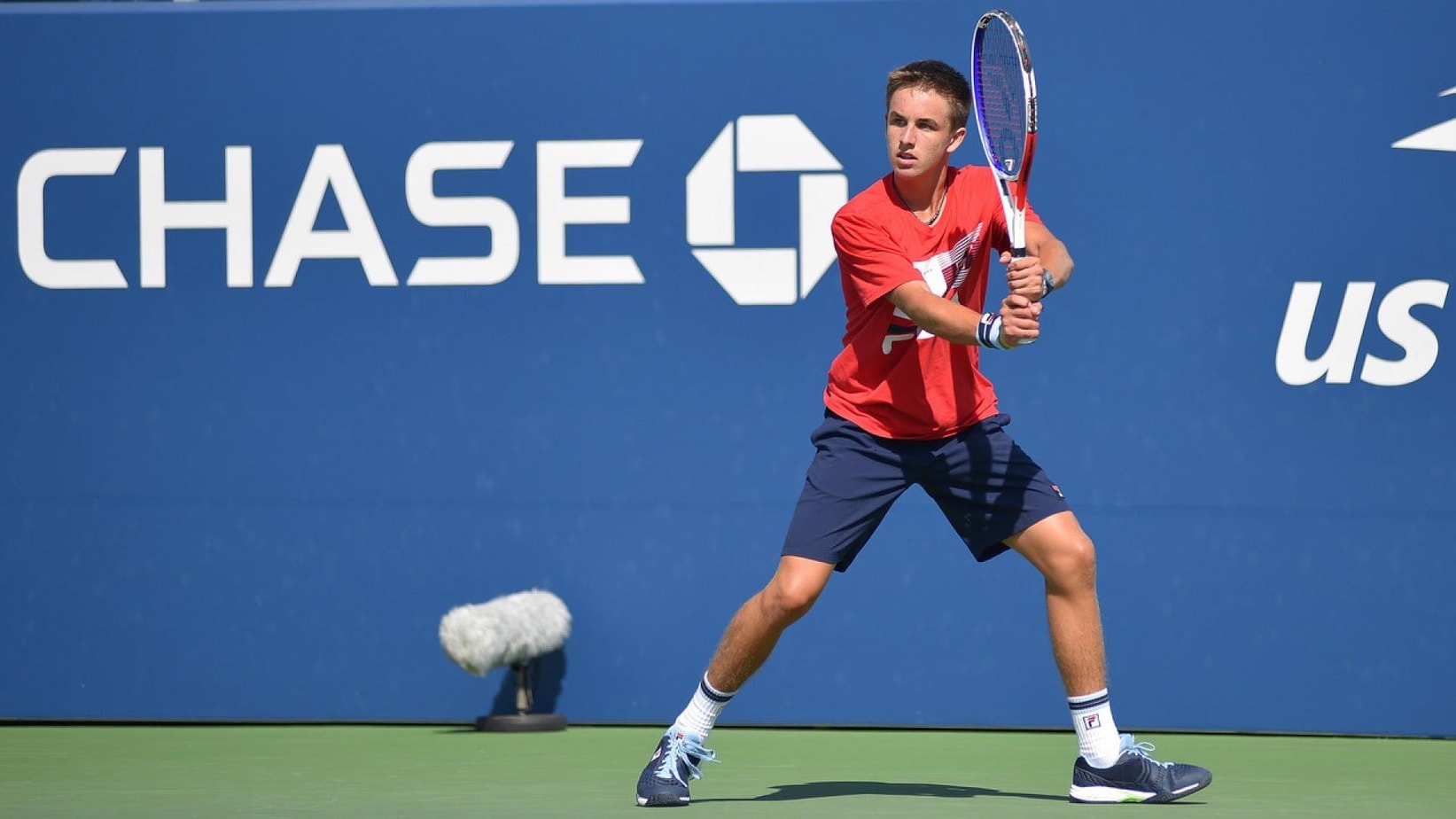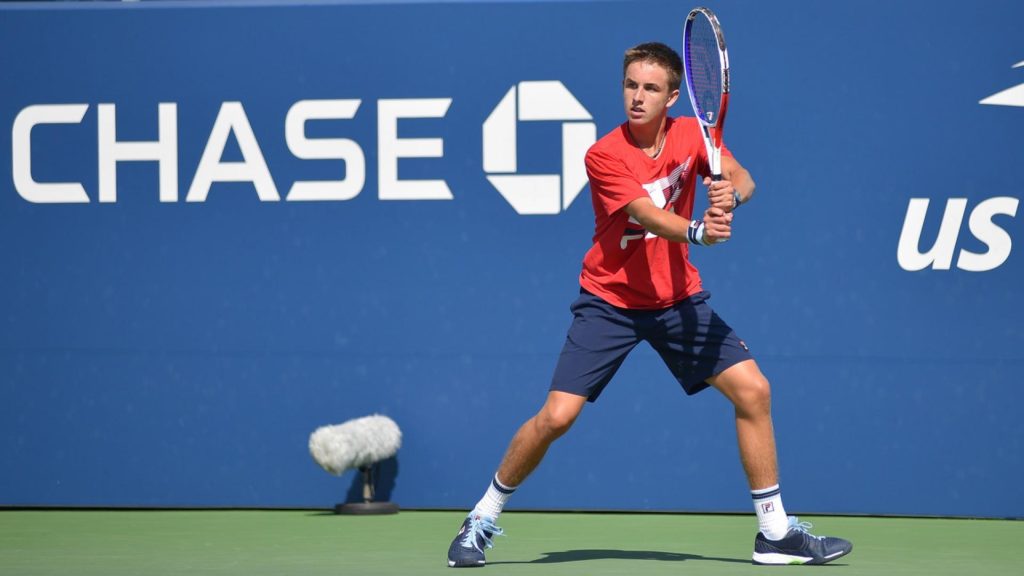 photo source: tennisworldusa.org
Zachary Svajda was 16-years-old when he turned professional. Thus far in his career that's only spanned three years, his singles record is 1-3, which is excusable considering he hasn't finished puberty yet! Growing pains amongst the world's elite are to be expected. Even so, he has a career-high ATP singles ranking as No. 385.
His coach is former professional tennis player from South Africa, David Nainkin.
Did You Know?
Svajda discovered tennis at only 2-years-old. With that news, the notion that he went pro at just 16 makes a little more sense considering he's been training for 14 years and has been preparing to compete against the best his entire life.
---
4. Rafael Nadal
Age: 15
Born: 06/03/1986
Country: Spain
Plays: Left-handed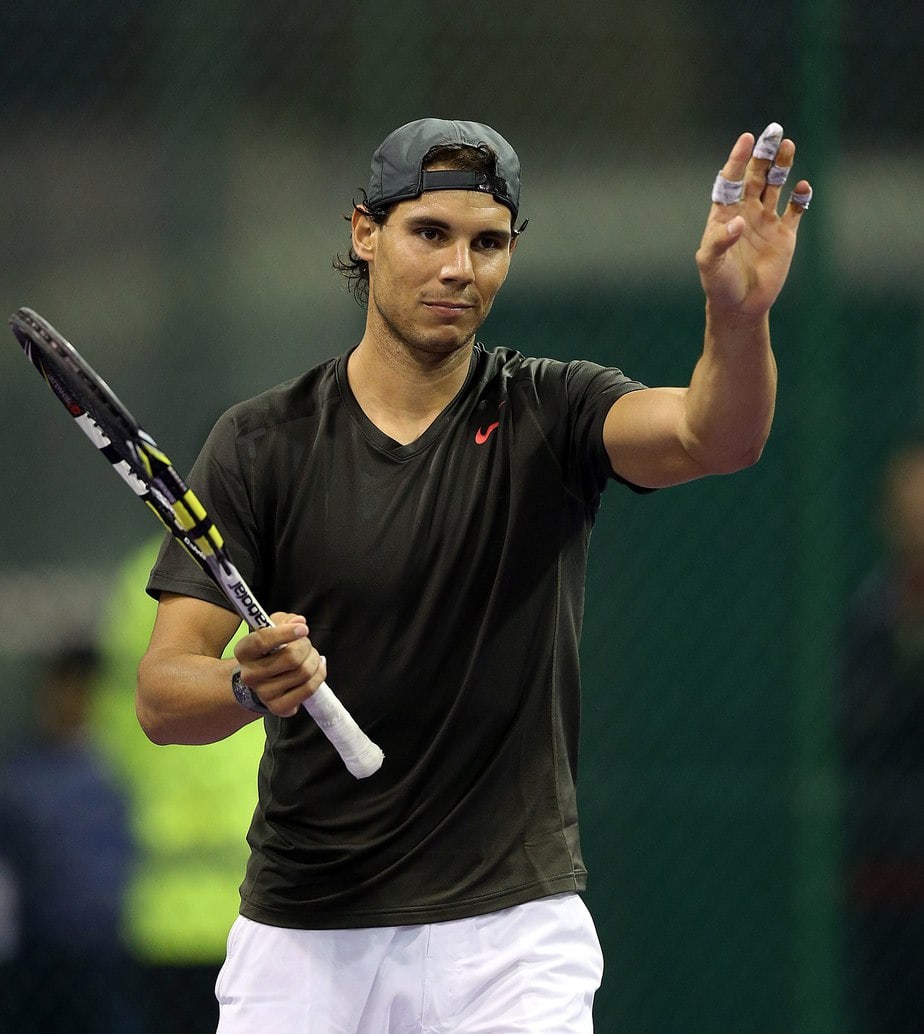 photo source: commons.wikimedia.org
Rafael Nadal is one of the greatest to ever lace them up and needs to be included amongst the greatest of all-time conversations. Turning pro at 15-years-old, h's been ranked No. 1 in the ATP rankings for 209 consecutive weeks and won 21 Grand Slam men's singles titles (the most in history).
Nadal was an immediate force when he turned professional, reaching a world ranking at No. 2 and winning 16 titles before he turned 20. The Beijing Olympic gold medal winner was also party to some of the most gripping, competitive, jaw-dropping matches against greats like Roger Federer and Novak Djokovic.
Did You Know?
Nadal is the record holder in the Open Era as the player with most Clay court titles at 62, alongside another record of 13 French Open titles.
---
3. Venus Williams
Age: 14
Born: 06/17/1980
Country: United States
Plays: Right-handed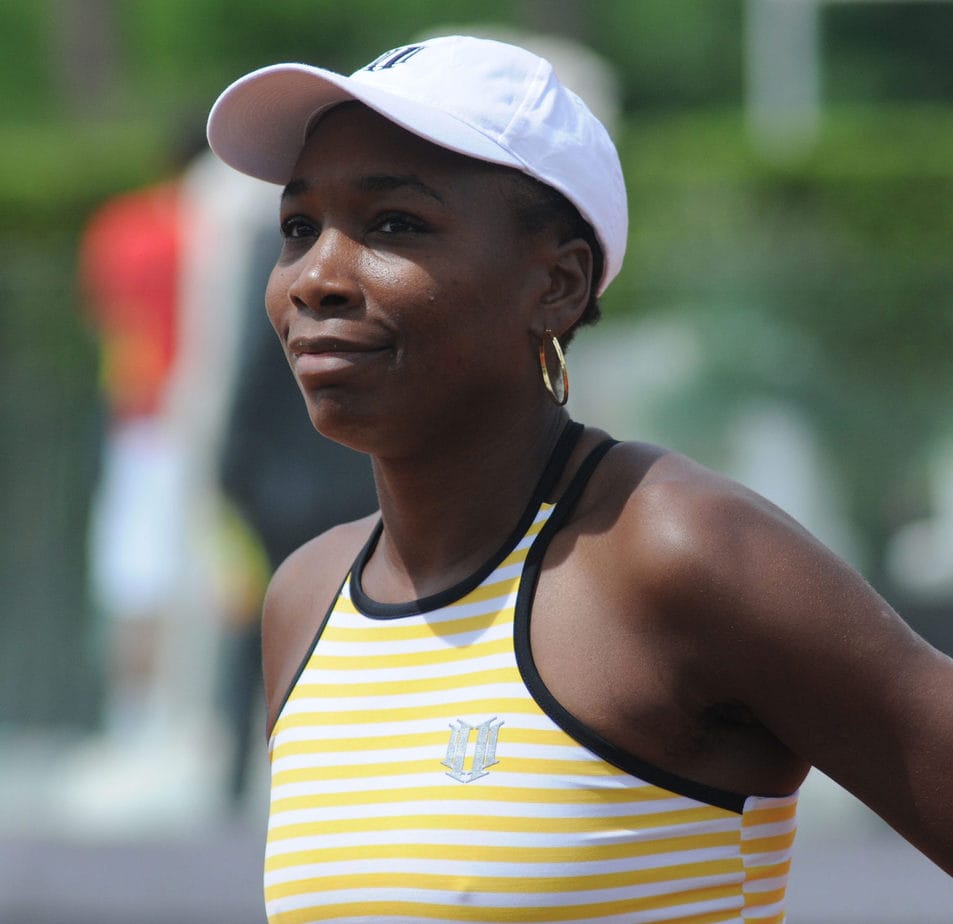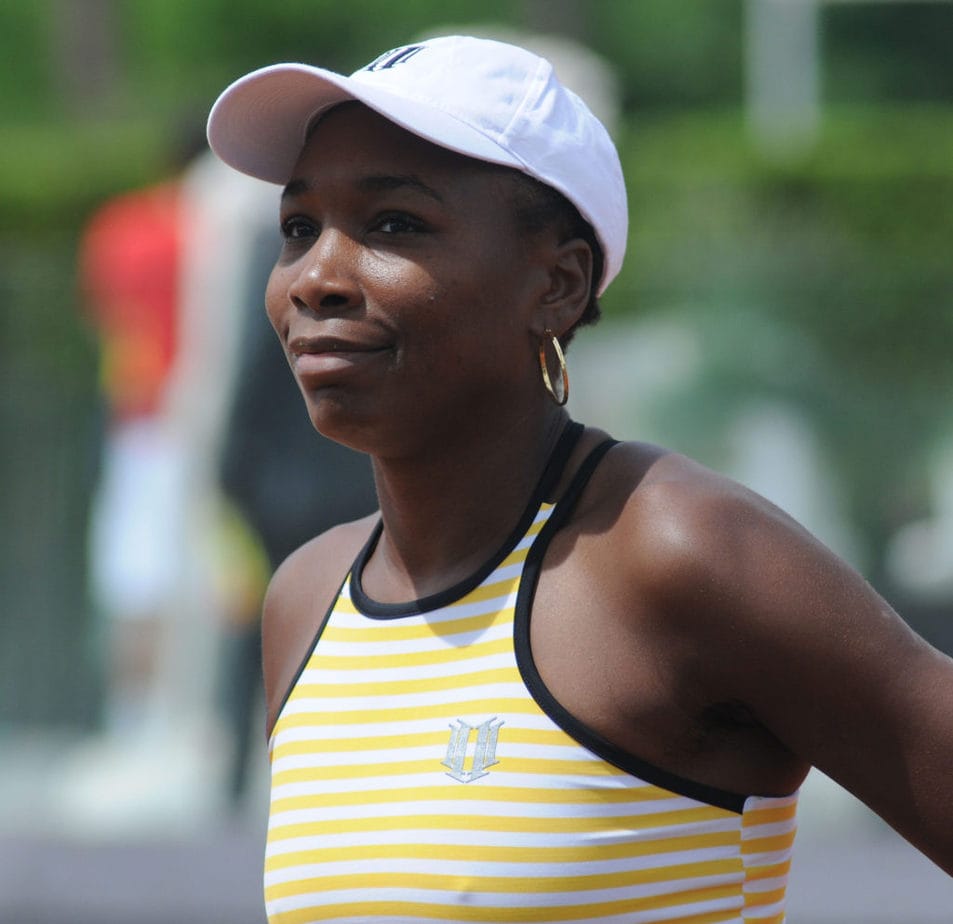 photo source: commons.wikimedia.org
Venus Williams and her sister Serena are the most recognizable names in the world of tennis and arguably the greatest ambassadors for the sport in both the men's and women's divisions. The world took notice of Venus and her talent when she turned professional at 14-years-old, under the guidance and strict discipline of her father, who had high hopes for the future superstar.
Venus met those lofty expectations and then surpassed them. She's been the queen of the hill, ranking No. (https://aaronkirman.com) 1 in singles in 2002 and bringing home championship hardware from five Wimbledon appearances.
Did You Know?
Williams is the CEO of her interior design firm V Starr interiors. Her company designs residences and business establishments in Palm Beach, Florida.
---
2. Serena Williams
Age: 14
Born: 11/26/1981
Country: United States
Plays: Right-handed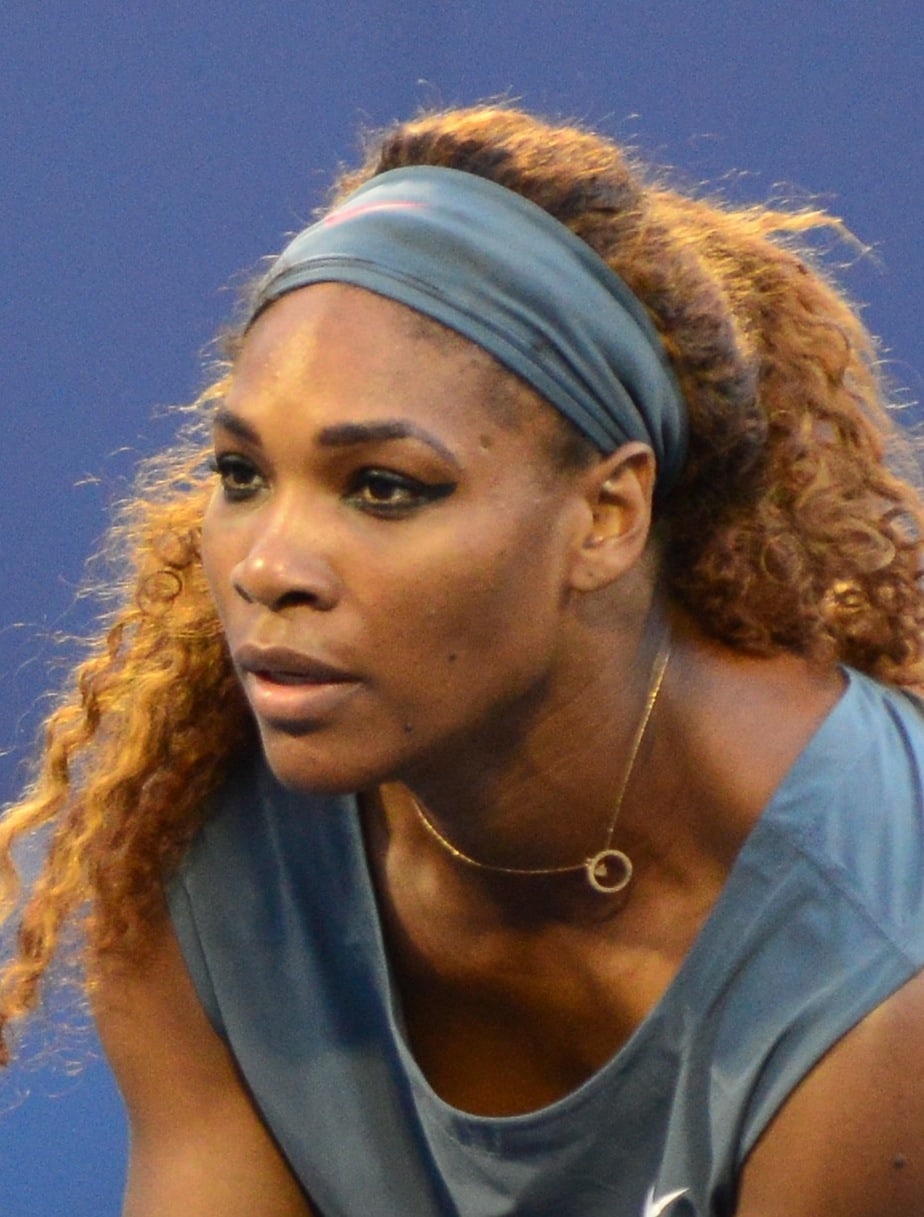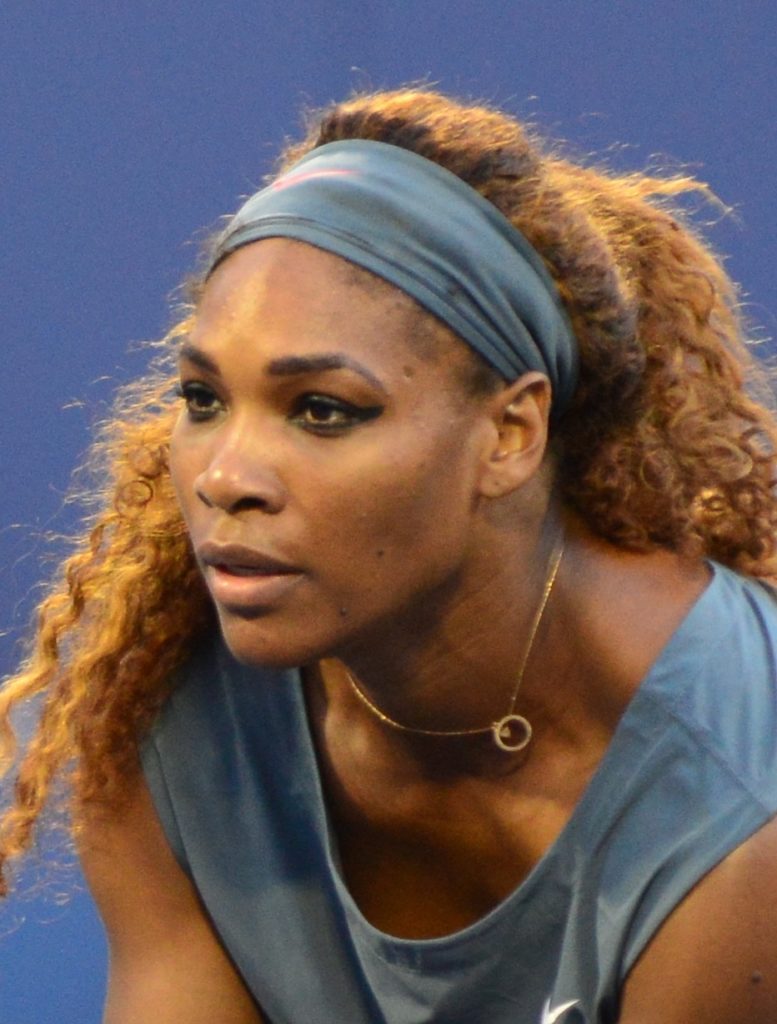 photo source: commons.wikimedia.org
Serena Williams has made a strong case for being the greatest woman's tennis player of all time. Her dominance is clear to the trained and untrained eye, and it doesn't take long to notice when you take a moment to watch her perform. Her aggressive style and natural physical attributes have netted her seven Wimbledon and Australian Open wins and six US Open victories. And that's to name just a few.
Williams has won a record 13 Grand Slam singles titles on the hardcourt. She's responsible for growing the game to unforeseen heights, inspiring generations of women to pick up a racket and participate in the global game. Serena was a force to be reckoned with in her teens, twenties, and early thirties. Though she's regressed at 40-years-old, the fact that she is still competitive at the pro level is a testament to a work ethic unmatched by mere mortals.
Did You Know?
Serena and her sister are the first black women to claim ownership in an NFL franchise. The dynamic duo owns a stake in the Miami Dolphins, which seemed to be a match made in heaven given that they both have their residence in Palm Beach Gardens, Florida.
---
1. Martina Hingis
Age: 14
Born: 09/30/1980
Country: Switzerland
Plays: Right-handed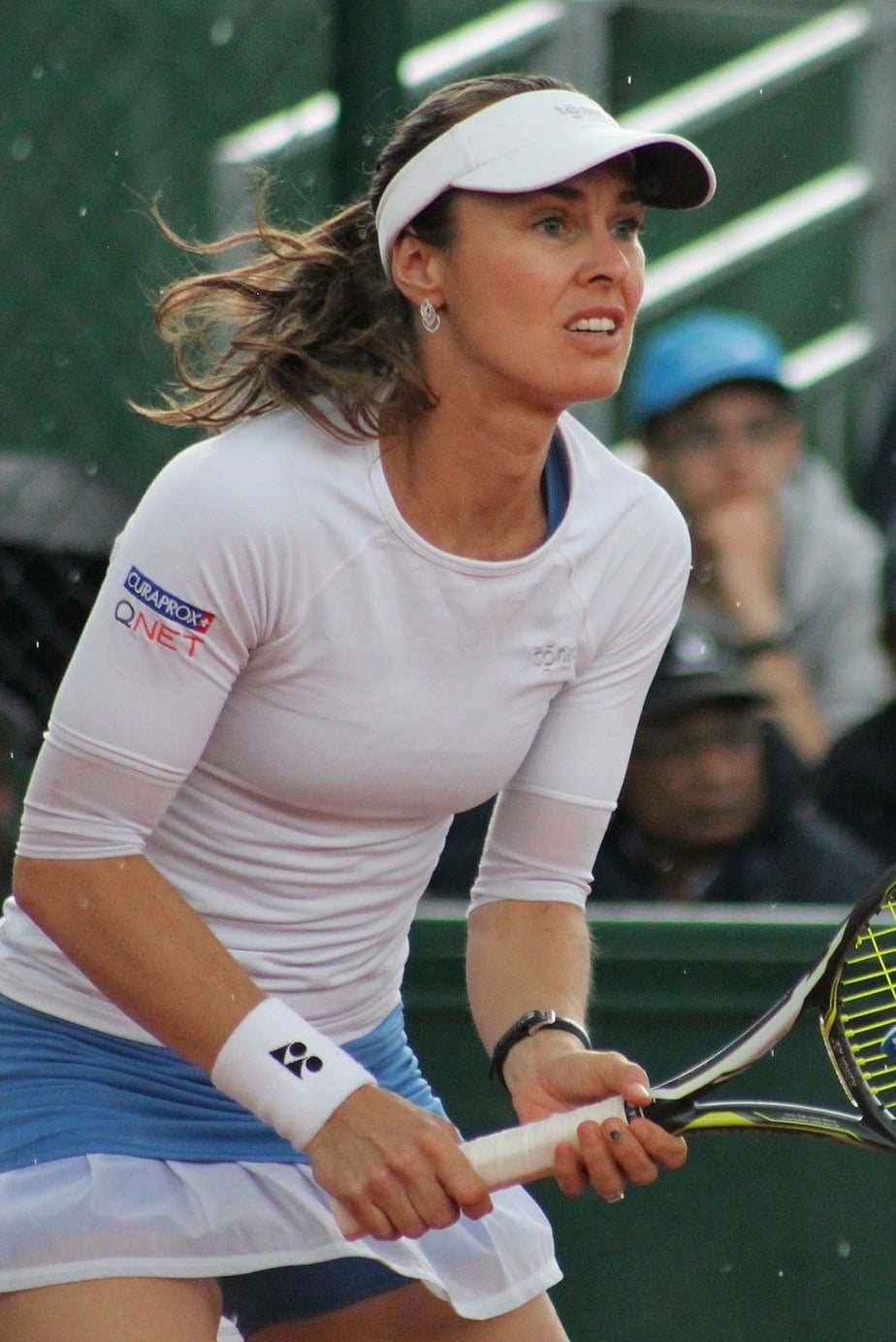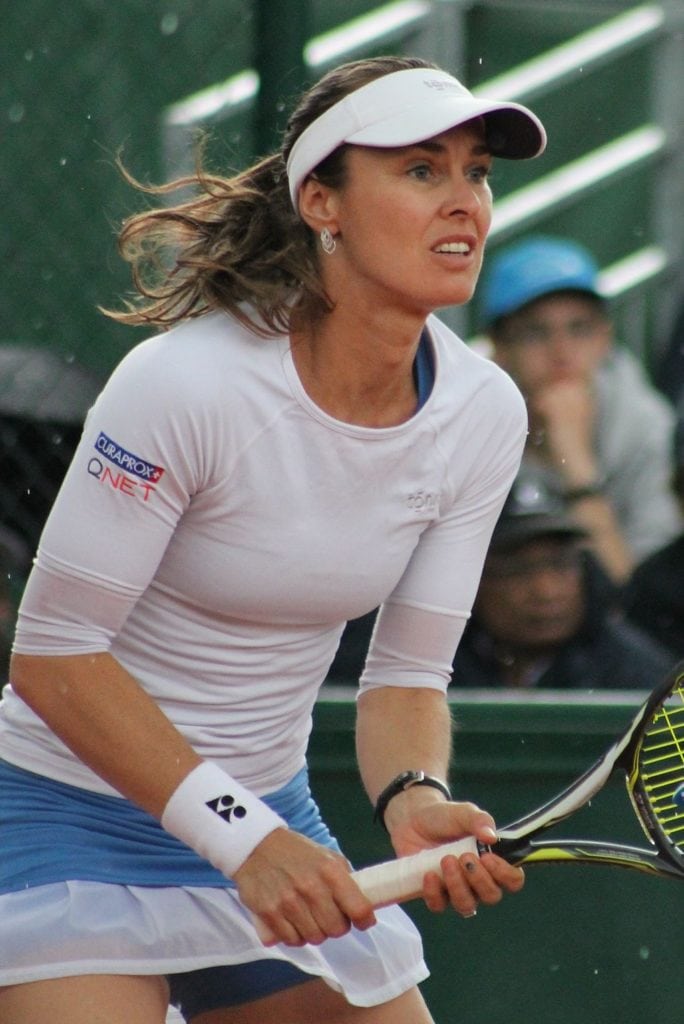 photo source: commons.wikimedia.org
Martina Hingis is the youngest professional tennis player!
Martina Hingis marks the first Swiss player, male or female, to win a Grand Slam and reach a No. 1 ranking. One of the perks of being the youngest-ever in your field is that you have a chance to take advantage of your youth and set some "youngest-ever" records if you seize that small window of opportunity the right way.
In the 1990s, Hingis became the youngest to win a Grand Slam and the youngest to rank No. 1 in the world.
Did You Know?
Hingis suffered major setbacks due to injuries and several surgeries. It is an unfortunate byproduct of a life dedicated to the mastery of her sport. Showing true grit and the makeup of a champion, she's returned time and time again. She dominated throughout her career, cementing her legacy with a spot in the International Tennis Hall of Fame.