The Olympics is an international sporting event designed to showcase the peak in human physical prowess. Individuals from around the globe train their entire lives for a chance to appear at the games, wave their countries flag, and hopefully stand triumphant on the podium, bestowed with a gold medal. The world's foremost competition houses over 200 nations currently. The games began as the ancient Olympic Games held in Olympia, Greece, from the 8th century BC to the 4th century AD.
The Olympics is one of the few events where we can see elite athletes of ages separated by a decade or more pitted against each other. It's an incredible sight for every viewer, and it underscores the jaw-dropping level of skill that these young competitors bring with them. It's the manifestation of a literal lifetime spent dedicated to a craft.
So, join me as we take a look at some of the youngest Olympians to honor their country with some gold hardware!
8. Lillian Watson
Age: 14
Born: 07/11/1950
Sport: Swimming
Olympics: 1964 Japan Summer Games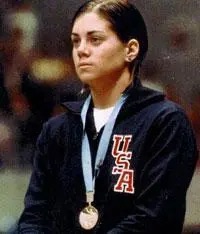 photo source: eastbaytimes.com
Lillian "Pokey" Watson was just 14-years-old when she took home the gold as a member of the first-place U.S. swim team in the 4×100 meter women's freestyle relay. Lillian was an athletic prodigy, which is practically a requirement for Olympic-caliber athletes. When she began swimming at eight, it took three years for a coach to notice her as an Olympic candidate.
Five years later, in 1964, she lived up to her expectations and appeared in the 1964 Tokyo games. Four years later, she won individual gold in the 200-meter backstroke. After collecting her hardware, she forfeited swimming to pursue her education but stayed involved in the sport as a coach.Did You Kno
Did You Know?
Lillian Watson was inducted into the International Swimming Hall of Fame in 1984.
---
7. Kusuo Kitamura
Age: 14
Born: 10/19/1917
Sport: Swimming
Olympics: 1932 Los Angeles Summer Games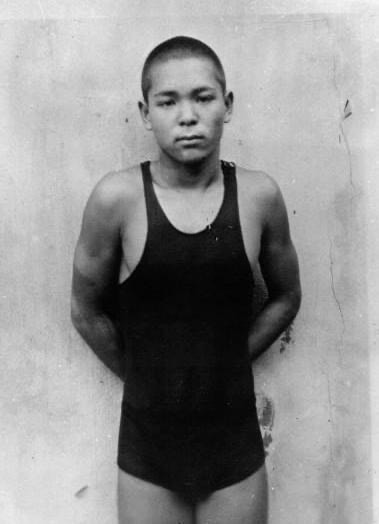 photo source: wikipedia.org
Kusuo Kitamura was a 14-years-old powerhouse in international swimming who competed in the 1932 Summer Olympic Games. He won the gold medal in the Men's 1500 meter freestyle, setting a record for the youngest swimmer to take home gold. It wasn't until the 1988 Summer games in Korea when that record was broken by Kristina Egerszegi. As for male swimming, Kitamura still holds the record.
Japan had sent a team comprised of almost exclusively teenagers. The strategy was a success with flying colors, with the Japanese swim team boasting victories of five of the six men's events.
Did You Know?
When WW2 began, Kusuo went to fight. Because metal was in short supply for the Japanese soldiers, his father attempted to donate his gold medal to the government to be used as some prestigious scrap. However, the offer was graciously rejected.
---
6. Nadia Comaneci
Age: 14
Born: 11/12/1961
Sport: Gymnastics
Olympics: 1976 Montreal Summer Games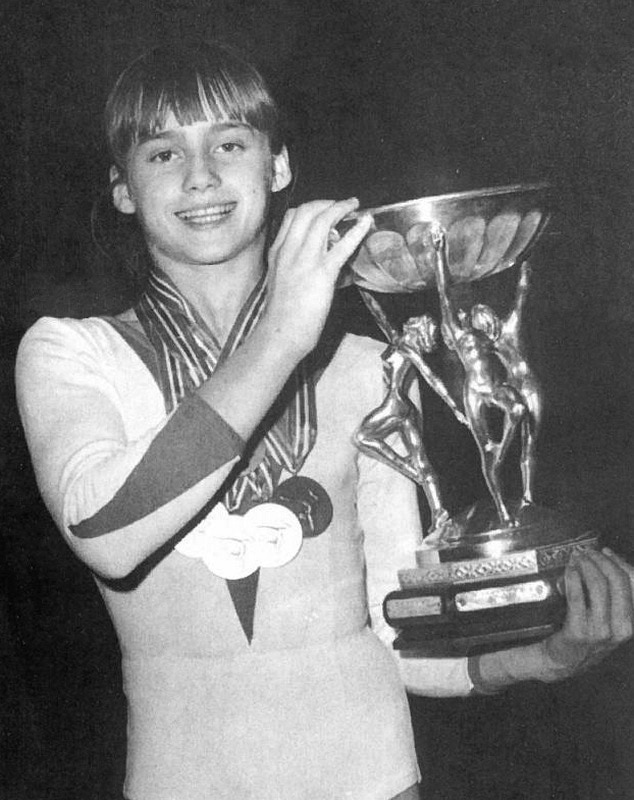 photo source: commons.wikimedia.org
Nadia Comaneci was 14-years-old when she competed in the 1976 Summer Olympics in Montreal, Canada. She's a household name in the world of gymnastics as one of the most gifted athletes of her generation with the medals to show for it. She's the first gymnast to be awarded a perfect score of 10.0 and received another six perfect scores for her difficult routines executed with masterful precision.
The Romanian phenom popularized the sport globally and is called one of the Athletes of the 20thCentury by the Laureus World Sports Academy. Nadia has nine Olympic gold medals in total.
Did You Know?
Nadia Comaneci had to defect from Communist Romania before its December 1989 revolution. She became a dual-citizen of Romania and the United States when she married Olympic gold-medal gymnast Bart Conner.
---
5. Kim Yun-Mi
Age: 13
Born: 12/01/1980
Sport: Speed Skater
Olympics: 1994 Lillehammer Winter Games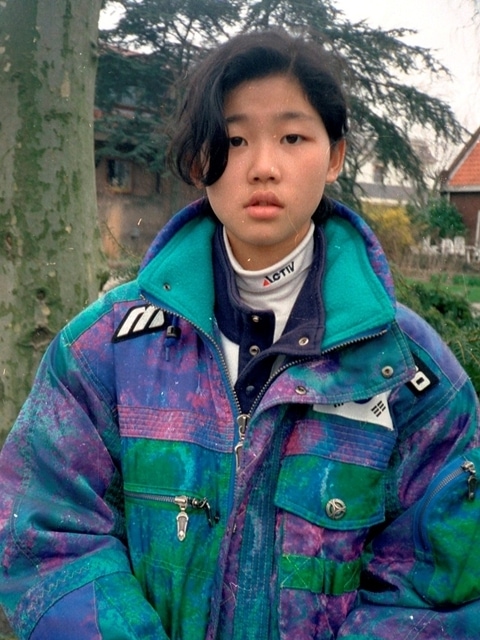 photo source: olympedia.org
Kim Yun-Mi was 13-years-old when she won gold in the short track speed skating 3000-meter relay for South Korea in the 1994 Winter Olympics. At exactly 13 years and 85 days old, she became the youngest-ever Olympic gold medalist. Kim was so young that the International Skating Union revised its age limit to be 15-years-old.
It wouldn't be the last time Kim Yun-Mi would make her country proud. She claimed another gold at the 1998 Nagano Olympics for the same event.
Did You Know?
Due to some unfortunate injuries, Kim retired from competitive racing after the 1998 games, but she went on to coach for children and Paralympic athletes.
Check out our article on the Youngest Winter Olympians in History.
---
4. Fu Mingxia
Age: 13
Born: 08/16/1978
Sport: Diving
Olympics: 1992 Barcelona Summer Games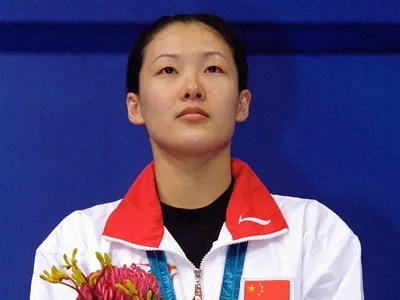 photo source: britannica.com
Fu Mingxia was 13-years-old when she won the gold medal for China in the 1992 Barcelona games. Her championship success didn't start there either. At 12, she won the platform-diving world championship, setting her bar of expectations exceedingly high. Upon earning her fourth gold medal, she joined famed American divers Pat McCormick and Greg Louganis as the world's only quadruple Olympic-diving champions.
The price for her success was a steep one. It was common for China to take children away from their families to train them to become the next generation of champions. Fu was one of these children stripped away from her parents, unable to decide what she wanted out of her life. Under the government's iron fist, she only saw her parents twice a year while training.
Did You Know?
Fu Mingxia's staggering young age was the sole reason there's now an age rule in the Olympics, stating that you have to be at least 14 to compete.
---
3. Momiji Nishiya
Age: 13
Born: 08/30/2007
Sport: Skateboarding
Olympics: 2020 Tokyo Summer Games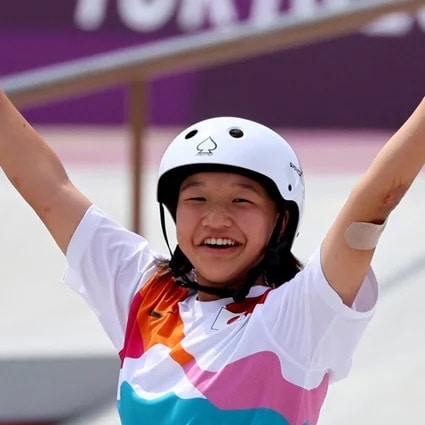 photo source: scmp.com
Momiji Nishiya was 13-years-old when she won the first-ever gold medal in the women's street skating competition. She's also the youngest to win the gold medal for Japan, scoring a 15.26.
As of June 2021, Nishiya was ranked fifth in the Olympic World Skateboarding rankings, meaning she was more than qualified to appear at the 2020 summer games.
Did You Know?
Momiji Nishiya is the third youngest gold medalist in Olympic history.
---
2. Klaus Zerta
Age: 13
Born: 11/25/1946
Sport: Rowing
Olympics: 1960 Rome Summer Games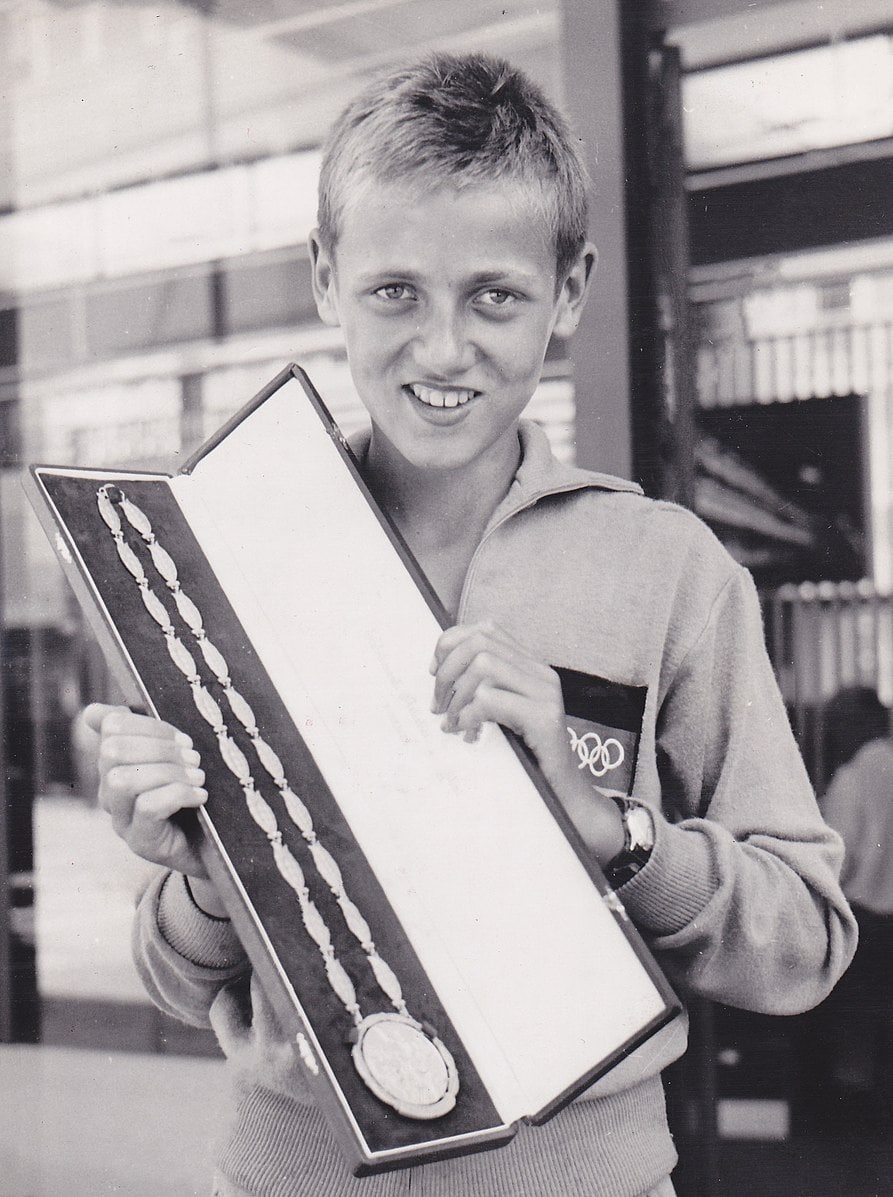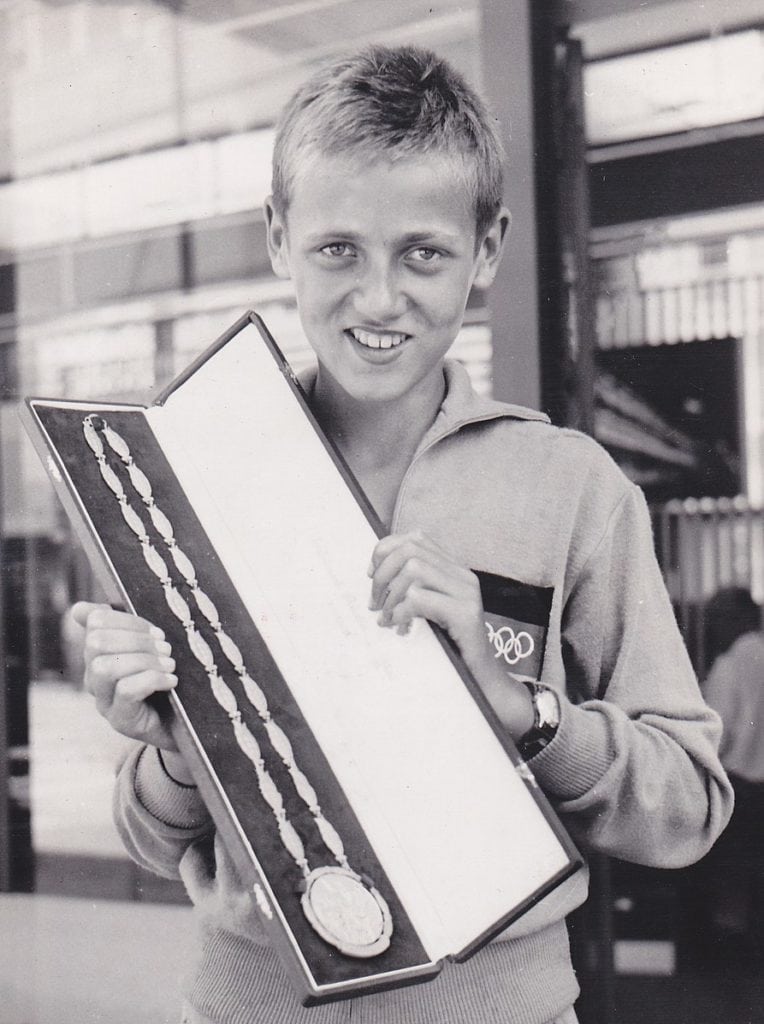 photo source: commons.wikimedia.org
Klaus Zerta was only 13-years-old when he took home the gold prize at the 1960 Rome Olympics as the German rowing coxswain. He happens to be the youngest confirmed male athlete to win a gold medal in the Summer Olympics!
He won the gold alongside his teammates Bernhardt Knubel and Heinz Renneberg.
Did You Know?
Klaus Zerta kept quite a low profile after his Olympic run was over. He became a tennis coach post-career and worked as a construction manager at Degussa. He was awarded the Silver Bay Leaf – the highest German sports honor.
---
1. Marjorie Gestring
Age: 13
Born: 11/18/1922
Sport: Diving
Olympics: 1936 Berlin Summer Games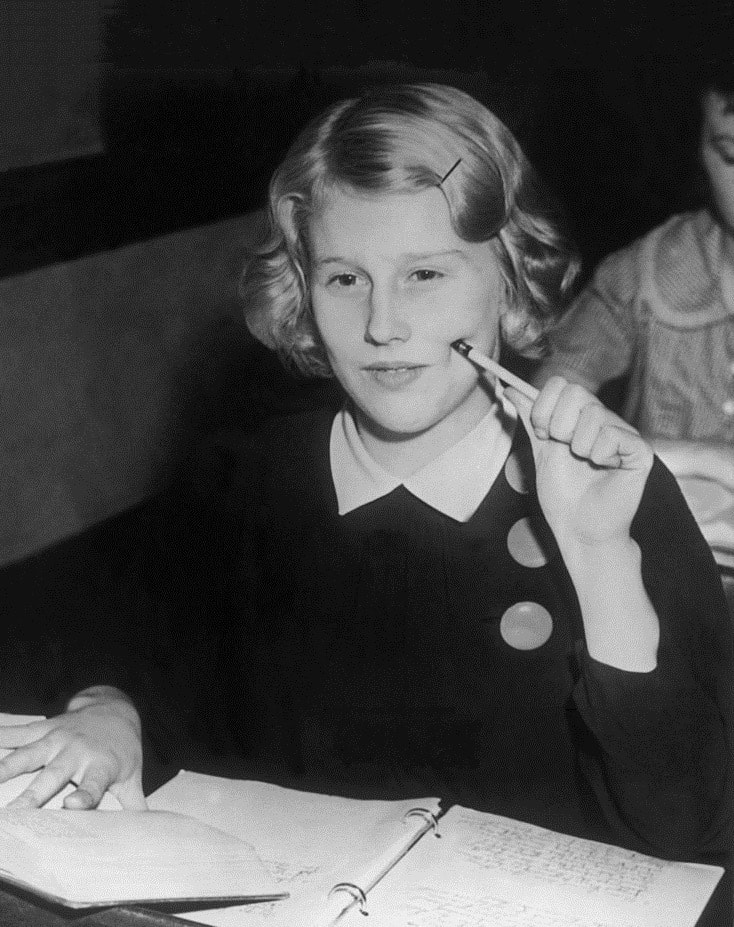 photo source: commons.wikimedia.org
Marjorie Gestring is the youngest Olympian to win a gold medal!
Marjorie Gestring was just 13 and 268 days old when she made history for the United States after capturing the gold medal in the 3-meter springboard diving competition in the 1936 Berlin Olympic Games. Unfortunately, it would be the only gold medal she'd receive through actual competition as World War 2 would put everything on hold. She was awarded a second medal by the U.S. Olympic Committee after the 1940 Summer Olympics was called off due to the war.
Post-war, Gestring began ramping up her training in an attempt to qualify for the 1948 Games but failed to make it on the U.S. team. Unfortunately, due to time and forces out of her control, her incredible success wouldn't foreshadow a long career charmed with more of it. However, she's forever written in history as the youngest to ever medal, and for that alone, she received induction into the International Swimming Hall of Fame.
Did You Know?
Marjorie placed fourth at the 1948 Final Trials, leaving her one spot shy of her second Olympic appearance.