To succeed in professional sports, it goes without saying that youth needs to be on your side. Rarely do we see players over 35 in sports competing at the elite level and excelling. Those that do, we generally know on a first-name basis.
With a constant influx of new talent funneling into the league, the talent pool becomes more and more saturated. The more crowded the pool, the harder it is to gain notoriety as the best amongst other best. Today, however, skill won't be the only metric used to make it onto this list. Instead, we want to recognize the players that were brave enough to come into a grown man's league and stand toe-to-toe against the guys that they probably grew up idolizing and staring at in the morning in the form of a poster on their walls.
Join me as we take a look at the youngest NFL players of all time!
8. Nick Bosa
Age: 22
Team: San Francisco 49ers
Born: 10/23/1997
Draft Pick: 1st round/2nd pick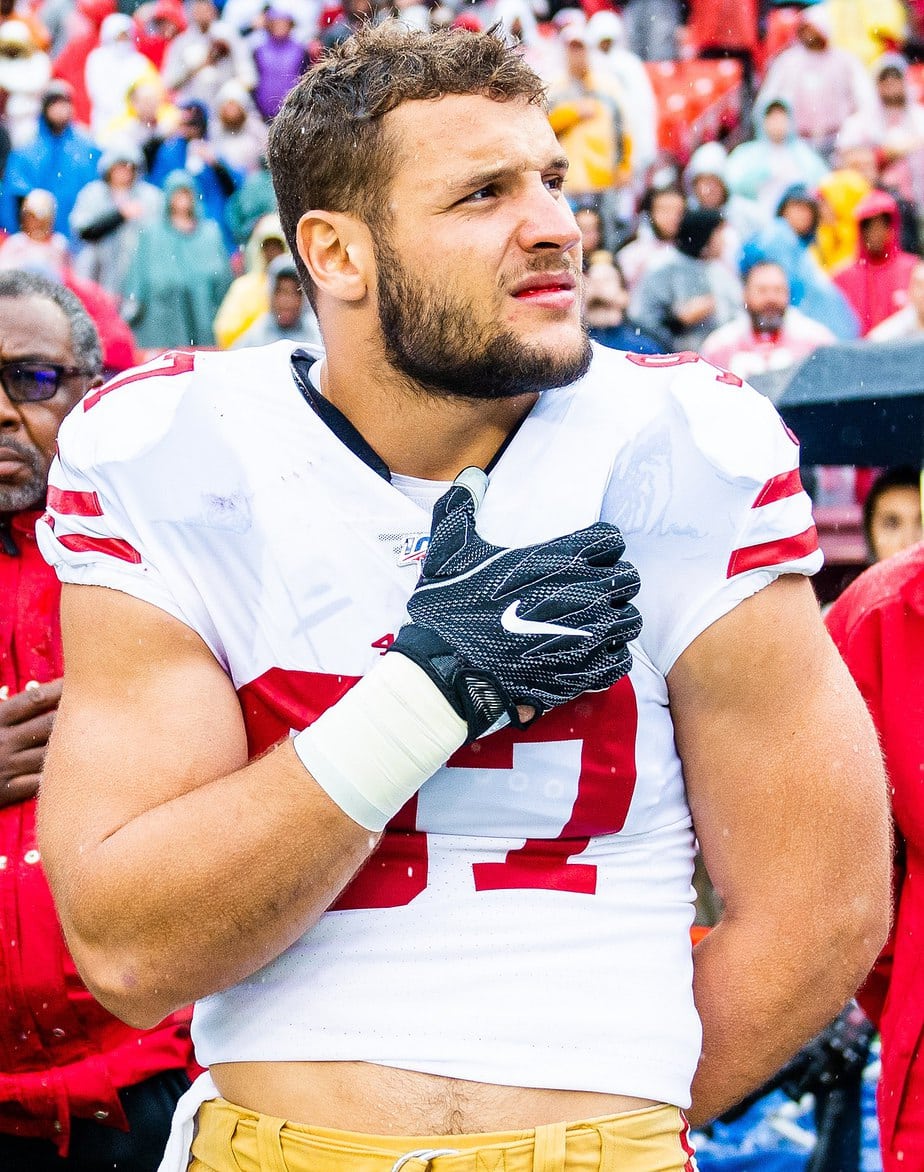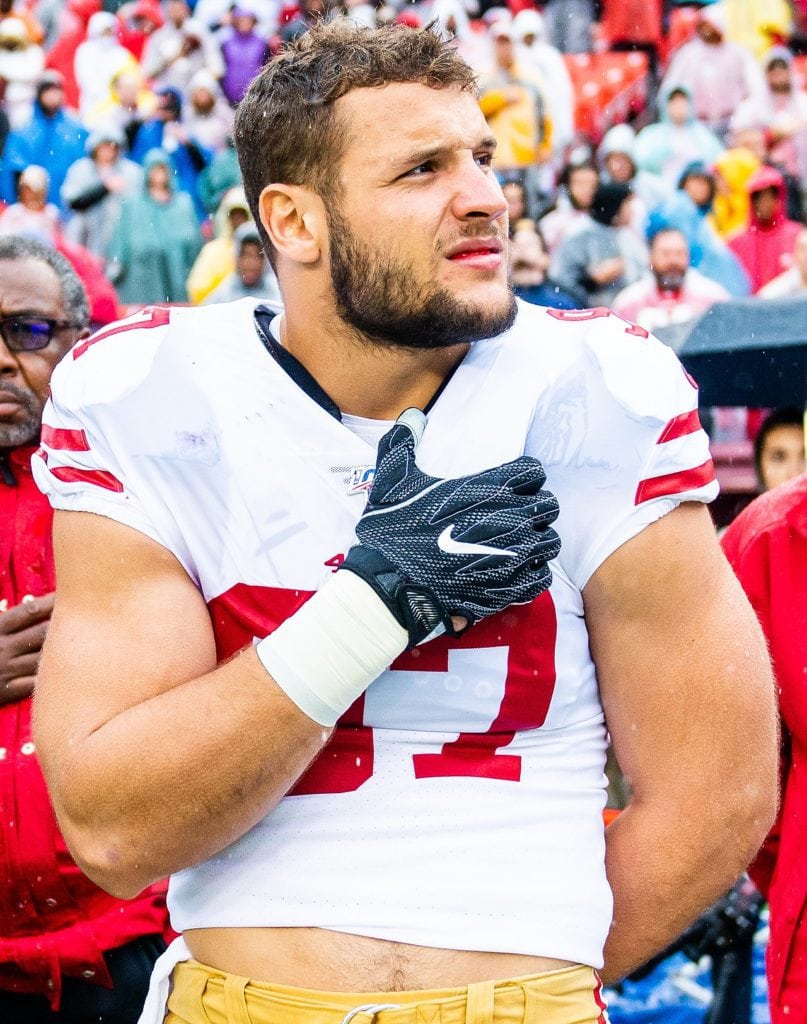 photo source: commons.wikimedia.org
Nick Bosa is a 6'4 and 266-pound defensive end for the San Francisco 49ers. Drafted in 2019 at just 22-years-old, expectations were and have been high for this 2nd overall pick.
In his few short years in the NFL, he is a Pro Bowl selection (2019) and the NFL Defensive Rookie of the Year. His resume in college suggested he wouldn't have any trouble adjusting to the pro game and he's lived up to his hype. In 2017 he won the Smith-Brown Defensive Lineman of the Year.
Did You Know?
Bosa comes from a football background like many other young, burgeoning superstars. His brother, Joey Bosa, was selected third overall by the San Diego Chargers in 2016. Their father, John Bosa, was also a first-round pick by the Miami Dolphins in 1987.
---
7. Chase Young
Age: 21
Team: Washington Redskins
Born: 04/14/1999
Draft Pick: 1st round/2nd pick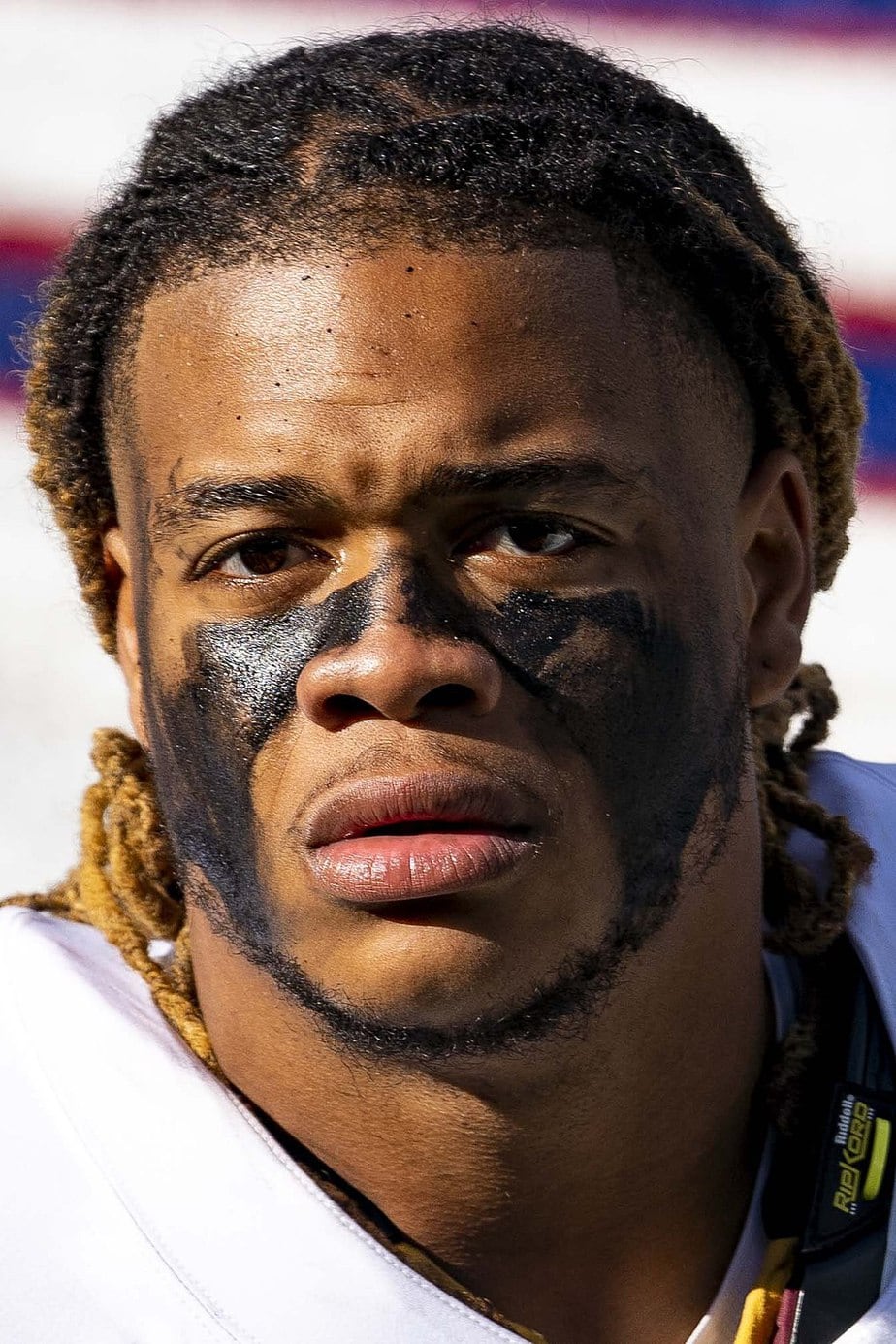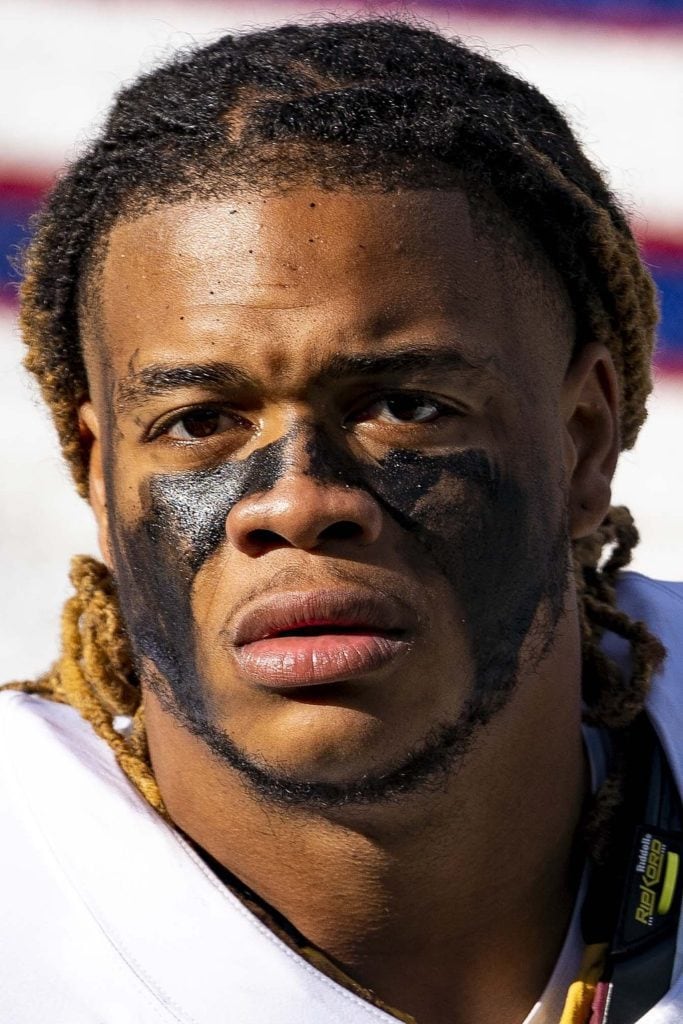 photo source: commons.wikimedia.org
Chase Young was 21 when he went 2nd overall in the 2020 NFL Draft to the Washington Football Team. He is a 6'5 and 264-pound defensive end whom Washington expects to be a cornerstone to their franchise.
Young in his introductory season already clinched the NFL Defensive Rookie of the Year and a Pro Bowl selection. In college, he was the Big Ten Male Athlete of the Year. He received scholarship offers from over 40 schools before committing to Ohio State, where Bosa had also played. Ohio State knows how to churn out exceptional defensive talent it seems.
Did You Know?
In his junior season at university, Young broke the school's single-season sack record with 16.5. For his stellar performance, he was recognized as a unanimous All-American and the owner of several defensive player of the year honors.
---
6. Patrick Queen
Age: 20
Team: Baltimore Ravens
Born: 08/13/1999
Draft Pick: 1st round/28th pick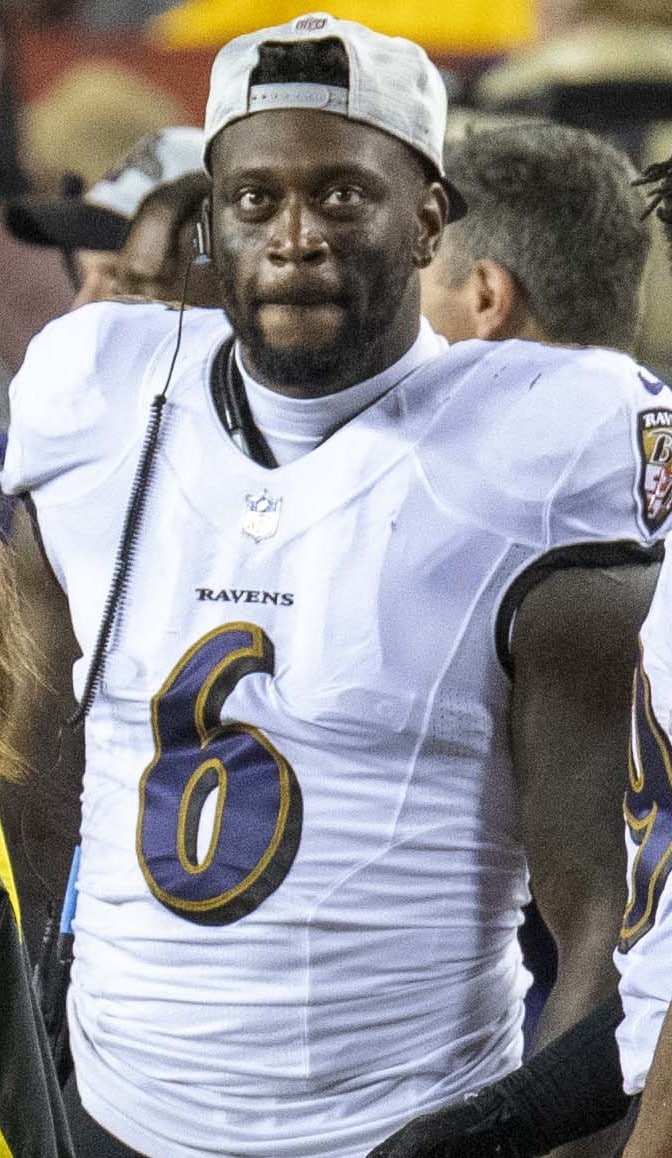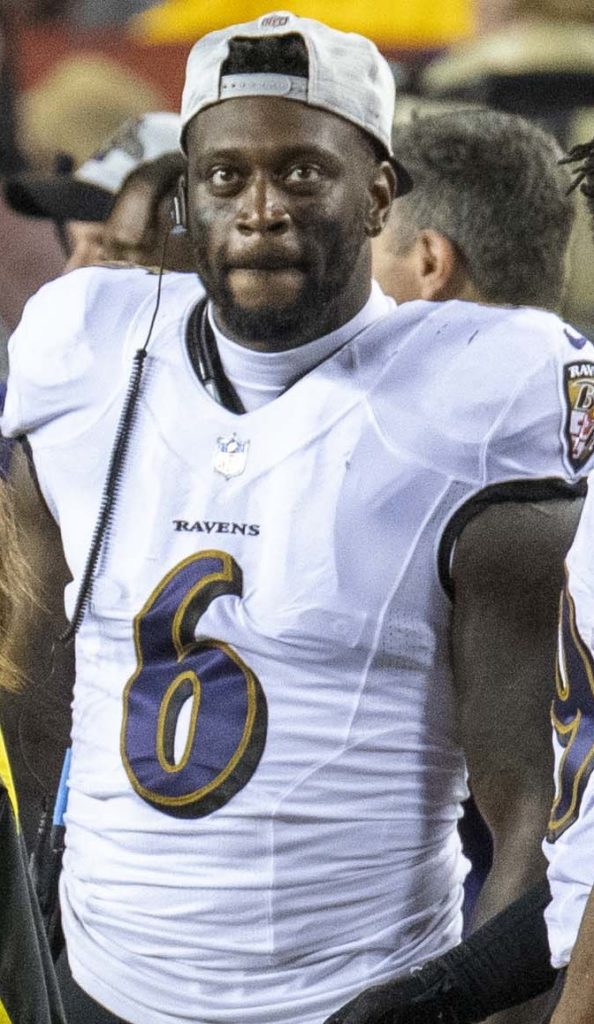 photo source: commons.wikimedia.org
Patrick Queen is 6'0, 232 pounds, and linebacker for the Baltimore Ravens. Drafted as the 28th overall pick in 2020 at only 20-years-old, he's already recorded 160 tackles, five sacks, three forced fumbles, and two pass deflections.
Playing for LSU before entering the league, he got off to a slow start in his freshman year when he only recorded six tackles over 12 games. His next year he came back with a vengeance and recorded 40 tackles. He finished his regular season with 69 tackles, 2.5 sacks, and three pass deflections.
Did You Know?
Queen is the first player out of LSU they've drafted. He represented his university well and silenced any doubts about drafting from LSU when he recorded a team-high eight tackles, a sack, and a forced fumble.
---
5. Juju Smith-Schuster
Age: 20
Team: Pittsburgh Steelers
Born: 11/22/1996
Draft Pick: 2nd round/62nd pick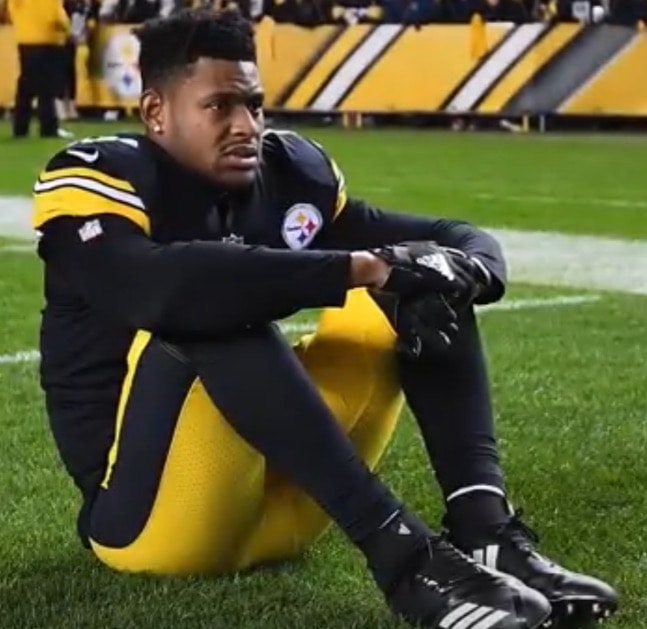 photo source: commons.wikimedia.org
Juju Smith-Schuster is a 6'1, 215-pound wide receiver for the Pittsburgh Steelers. Taken 62nd in the 2nd round of the 2017 draft, Juju knew he had something to prove. Four years later and now in 2021, he's the face of his franchise thanks to his electric playstyle and vibrant, charismatic personality.
So far, he was part of the 2018 Pro Bowl and is the youngest player ever with over 2,500 receiving yards. He's recorded 323 receptions, 3,855 receiving yards, 240 return yards, and 28 touchdowns with much more on the way.
Did You Know?
Smith-Schuster has amassed a pretty substantial following outside of the football medium. He often streams on Twitch and Youtube, where he plays popular games like Fortnite and Call of Duty. He's been so heavily involved in games that in 2020 he announced his ownership of an esports team called, Team Diverge. With his team, he aims to bring athletes, musicians, and others in the entertainment industry together to game, interact, and make their lives more accessible to the fans.
---
4. Elmer Angsman
Age: 20
Team: Chicago Cardinals
Born: 12/11/1925
Draft Pick: 3rd round/16th pick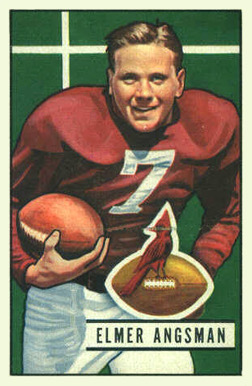 photo source: commons.wikimedia.org
Elmer Angsman was a 5'11, 200-pound running back for the Chicago Cardinals. Drafter 16th in the 3rd round in 1946, Angsman was expected to bring a championship to the Cardinals. In 1947 he did just that.
Against the Philadelphia Eagles, Angsman had two separate 70-yard carries for touchdowns. He finished the game with 10 carries totaling 159 yards. To this day, his 15.9 yards per carry average is an NFL post-season record. Unfortunately, this would mark the last championship in the history of their franchise.
Did You Know?
Angsman found a new career in paper manufacturing and owned a few companies that specialized. He retired to Juno Beach, Florida, where he lived out the remainder of his days.
---
3. Tremaine Edmunds
Age: 20
Team: Buffalo Bills
Born: 05/02/1998
Draft Pick: 1st round/16th pick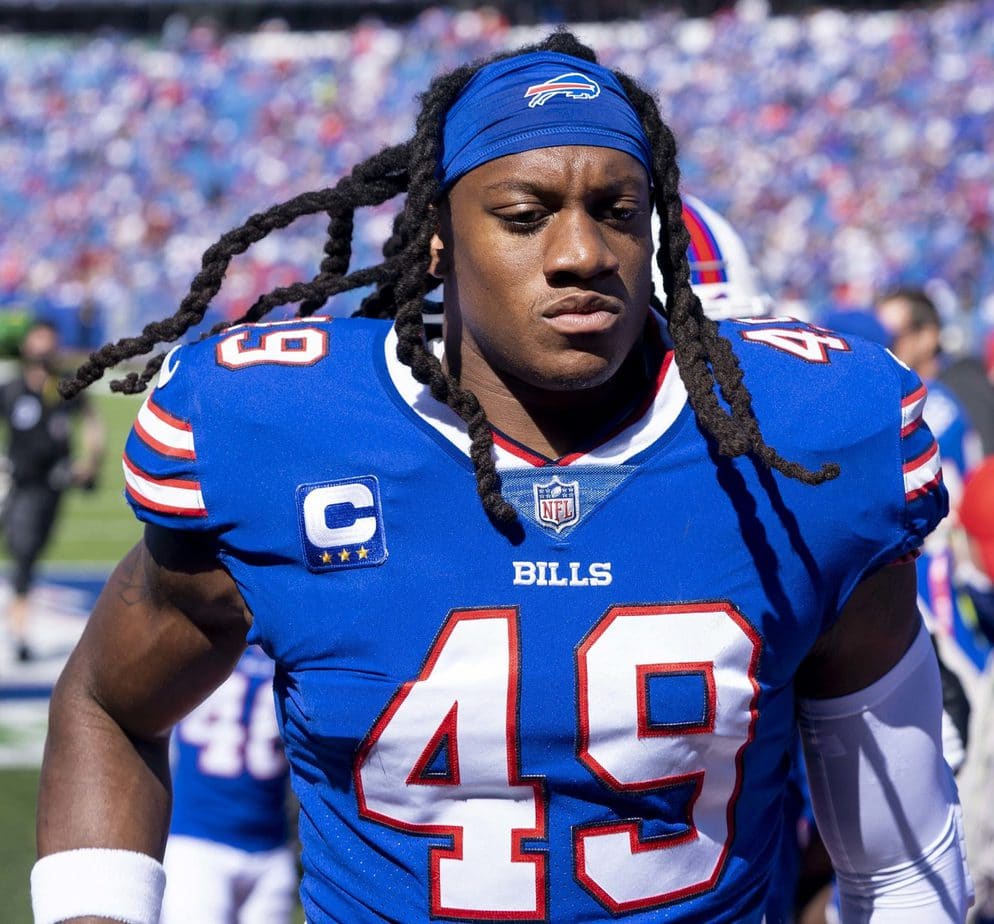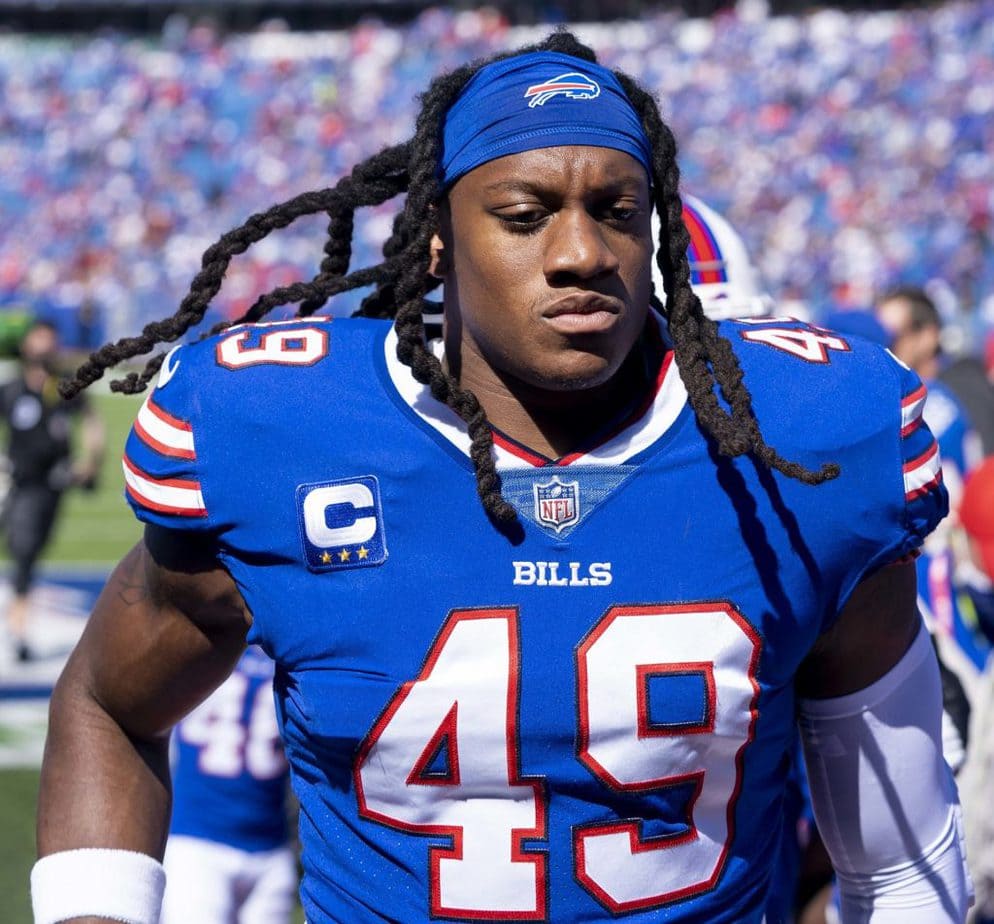 photo source: commons.wikimedia.org
Tremaine Edmunds is a 6'5, 250-pound linebacker for the Buffalo Bills. Going 16th overall in the first round of the 2018 draft, he hit the ground running and was quickly named team captain at the start of 2019. He is a 2x Pro Bowl selection in 2019 and 2020.
So far in 2021, he's recorded 410 tackles, 5.5 sacks, two forced fumbles, four interceptions, and an eye-catching 26 pass deflections which shows his impeccable, natural instincts.
Did You Know?
Edmunds played for Virginia Tech before turning pro from 2015-2017. After an impressive college stint, he would opt out of his senior year to enter the 2018 draft. In his short tenure with the university, he recorded 213 tackles, 10 sacks, and one interception, making him a finalist for the Butkus Award.
---
2. Danielle Hunter
Age: 19
Team: Minnesota Vikings
Born: 10/29/1994
Draft Pick: 3rd round/88th pick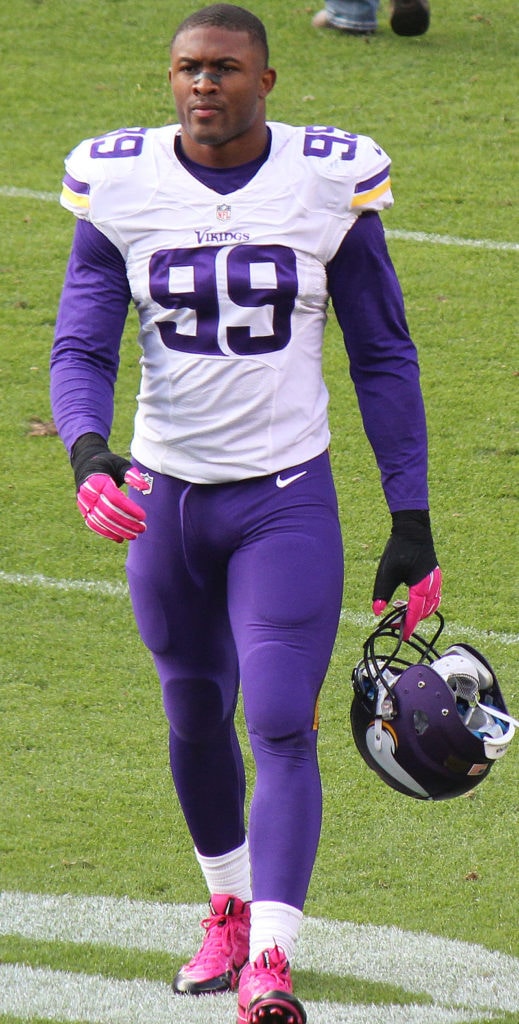 photo source: commons.wikimedia.org
It's hard to imagine that someone who is currently 27-years-old has already spent eight years in the NFL. That's because Danielle Hunter, a 6'5, 263-pound defensive end for the Minnesota Vikings, entered the league at just 19-years-old. He was the 88th pick in the 3rd round of the NFL Draft.
In his career, he was nominated to Second-team All-Pro in 2018 and a 2x Pro Bowl selection. He's recorded 314 tackles, 60.5 sacks, and six forced fumbles. With how young he is, there's no telling how impressive his resume could look by the end of his career.
Did You Know?
Hunter went to LSU from 2012-2014 before deciding to forgo his final season and declare for the 2015 draft. He finished his collegiate career with 142 tackles, 4.5 sacks, eight pass breakups, and two forced fumbles.
---
1. Amobi Okoye
Age: 19
Team: Houston Texans
Born: 06/10/1987
Draft Pick: 1st round/10th pick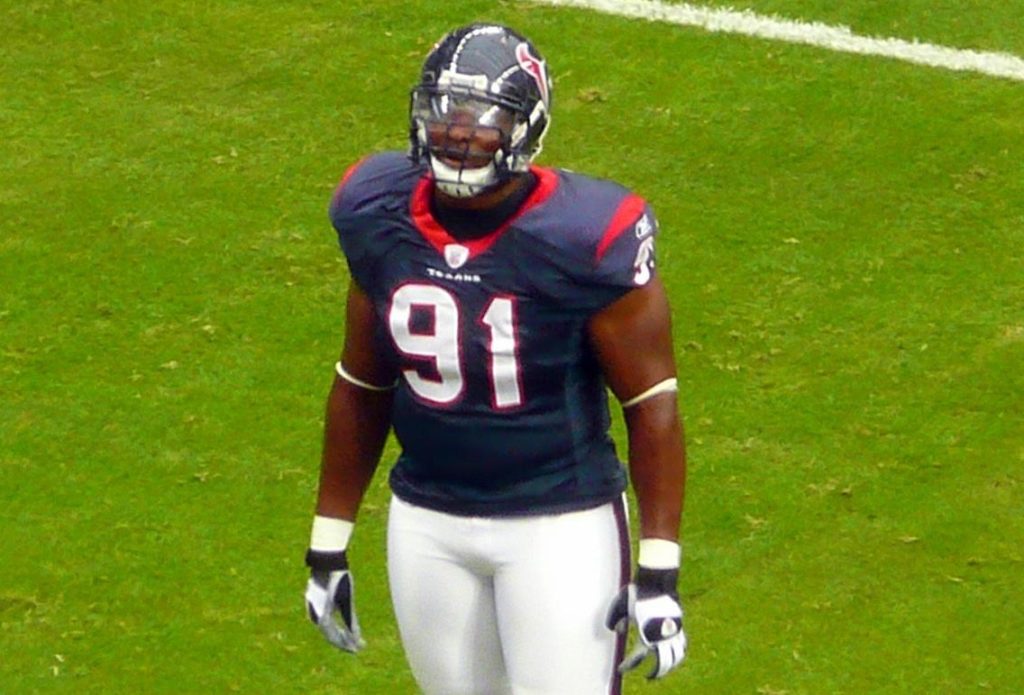 photo source: commons.wikimedia.org
Amobi Okoye is the youngest player to ever play in the NFL!
Amobi is 6'2, 292-pound, former defensive tackle drafted by the Houston Texans. He went 10th overall in the 2007 draft but never quite lived up to what that draft pick would demand of a player.
He recorded 177 tackles and 16 sacks total in his seven-year NFL playing career. Academically, Okoye excelled. He completed his psychology degree early in three and a half years and even fielded offers from Harvard before deciding on the University of Louisville, thanks to their stronger football program.
Did You Know?
On top of being the youngest to play in the NFL, he was also the
OTHER POSTS YOU MAY BE INTERESTED IN