Coaching, unlike playing, is usually exclusive to the elder statesmen who have spent a lifetime studying their craft and paying their dues. With age comes a gravitas that younger athletes respond to. It commands respect. That's why when the conventional norms and traditions of professional sports are broken or deviated from, it can be pretty jarring and difficult to adapt.
Like with anything, there are always exceptions and rare outliers. That's what makes American sports so captivating and interesting to talk about. That's why this time, we're going to delve deep and explore those rare outliers that defied the traditions and made it to the pinnacle of coaching in American football. Whether their records were bad, great, or somewhere in between, it takes a clever tactician's mind to make it this far. For that reason, they deserve to be recognized.
8. John Madden
Age: 32
Born: 04/10/1936
Team: Oakland Raiders
Super Bowl Wins: 1 (XI)(presumably alive)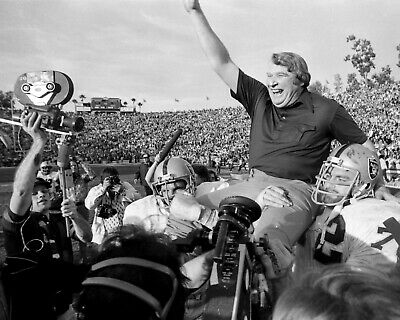 photo source: eBay.com
John Madden is arguably the most recognizable name when it comes to coaching in American football. Much of that is probably thanks to the popular franchise of games, aptly titled, Madden.
At just 32 years old when he became the coach of the Oakland Raiders, he already had a string of coaching gigs that earned him the position of head coach in 1969. He served as an assistant coach and head coach to Allan Hancock College from 1960-1963, a defensive coordinator at San Diego State, the Oakland Raiders Linebackers coach, and then finally landing the gig as the figurehead of the franchise. He sported a winning percentage of 76.3%.
Did You Know?
Madden is a 16x Emmy Award Winner for his broadcasting talent, lending his voice and talent for great and colorful commentary to CBS, Fox, ABC, and the NBC Sports Networks.
---
7. Josh McDaniels
Age: 32
Born: 04/21/1976
Team: Denver Broncos
Super Bowl Wins: 6 (XXXVI, XXXVIII, XXXIX, XLIX, LI, LIII)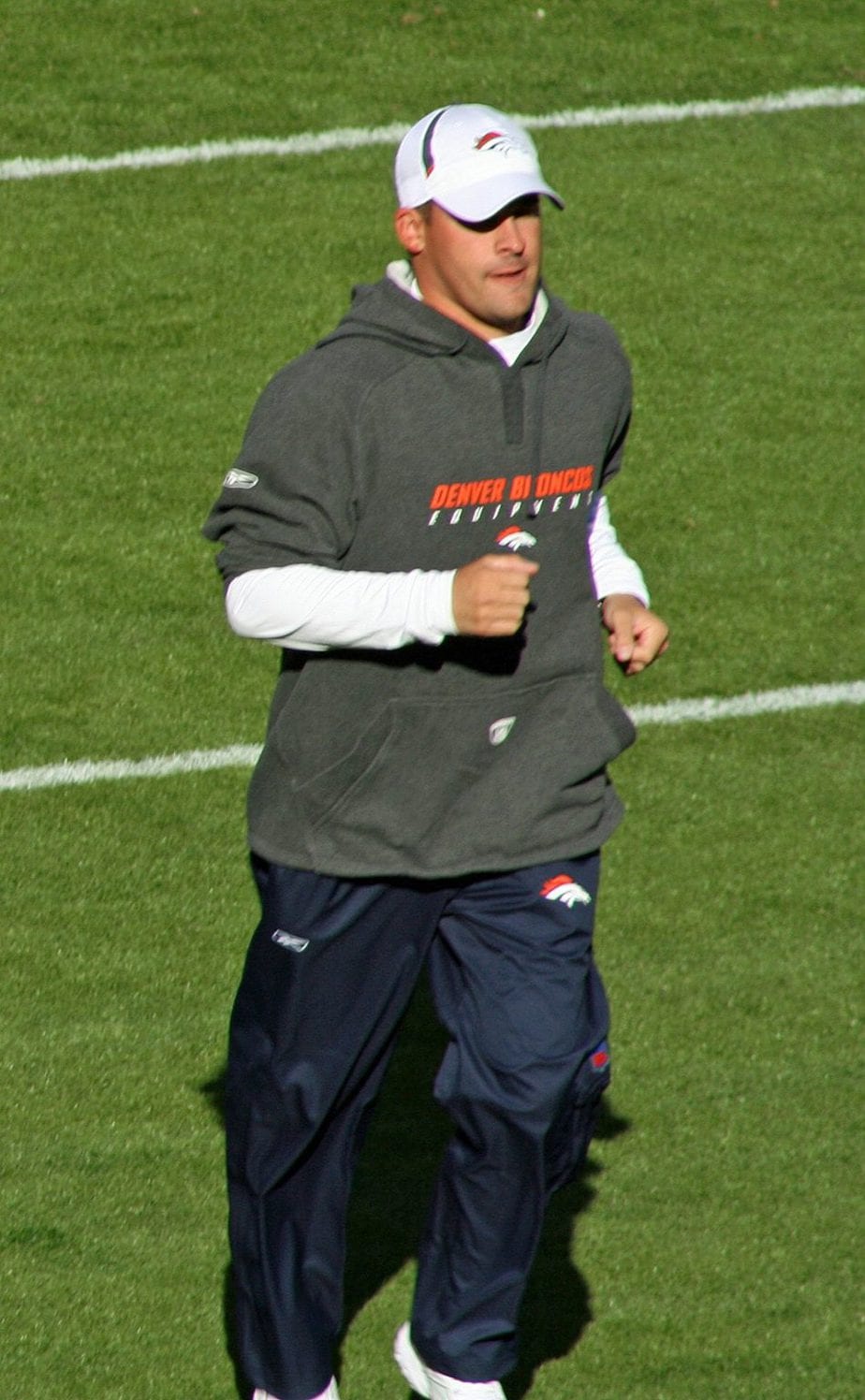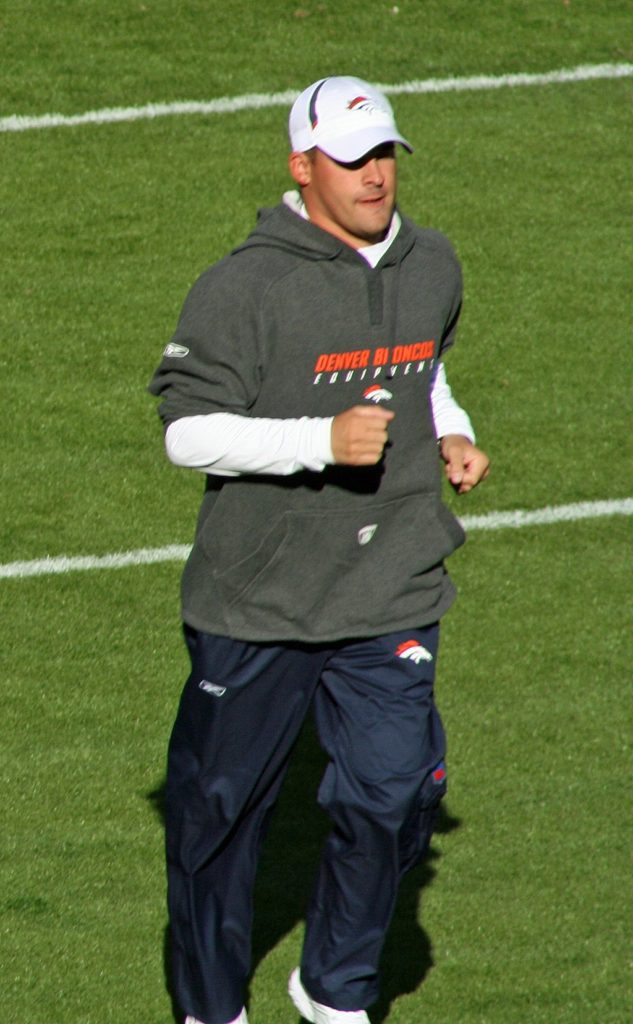 photo source: commons.wikimedia.org
Josh McDaniels is the current offensive coordinator for the New England Patriots, hence why he holds so many Super Bowl wins! He was present for all six victories during Brady's reign as quarterback. Talk about good timing!
In 2009 when McDaniels took over the head coaching job for Denver, he had big shoes to fill when replacing Mike Shanahan. He signed a four-year, $8 million contract. His tenure as head coach was plagued with controversy and division between himself and some key players. Those included their quarterback, Jay Cutler, and their wide receiver, Brandon Marshall. Ultimately, McDaniels wouldn't complete his contract and went over to the St. Louis Rams in 2011 as an offensive coordinator.
Did You Know?
McDaniels' father, Thom McDaniels, was described as a legend of Ohio High School football. Attending practices and observing his father's passion for the game is what inspired him to follow suit. Josh's brother, Ben McDaniels, is currently a coach for the Houston Texans.
---
6. David Shula
Age: 32
Born: 05/28/1959
Team: Cincinnati Bengals
Super Bowl Wins: 0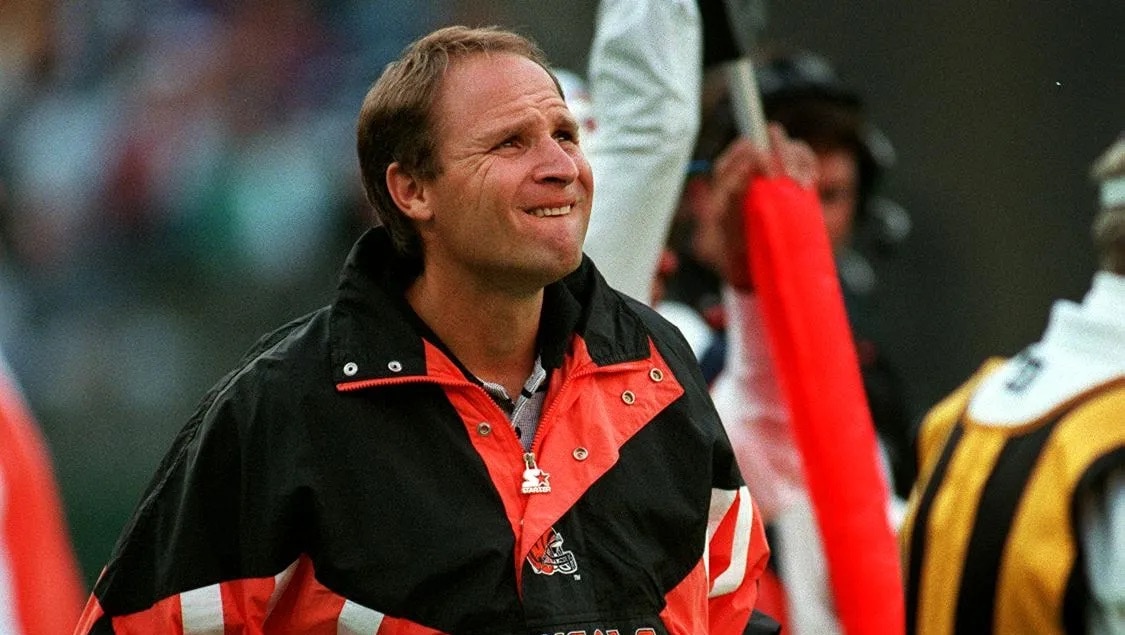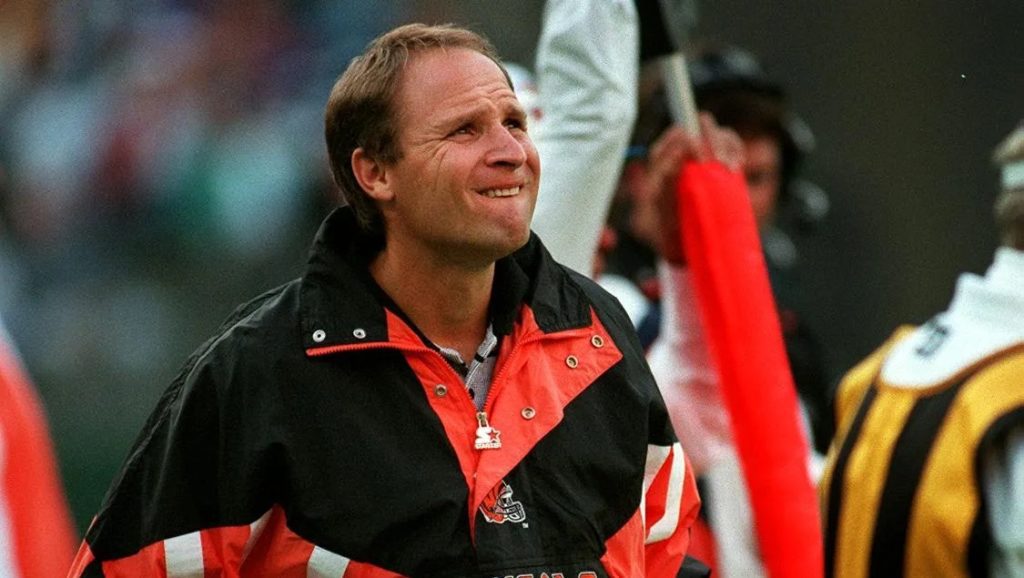 photo source: Cincinnati.com
If that last name rings a bell, it's because David Shula is the son of Hall of Fame coach, Don Shula. Don, to this day, remains the only coach to go undefeated in a season enroute to a Super Bowl victory with the 1972 Miami Dolphins.
David's success never came close to his father's, sporting a 19-52 overall win-loss record. The Bengals fired Shula after starting the 1996 season 1-6, and he carries the unfortunate title of the coach to lose 50 games the fastest.
Did You Know?
David and his father went head-to-head twice with both games played in Cincinnati. Home field advantage did not affect the elder Shula as he won both contests, dubbed the Shula Bowl.
---
5. Raheem Morris
Age: 32
Born: 09/03/1976
Team: Tampa Bay Buccaneers
Super Bowl Wins: 1 (XXXVII)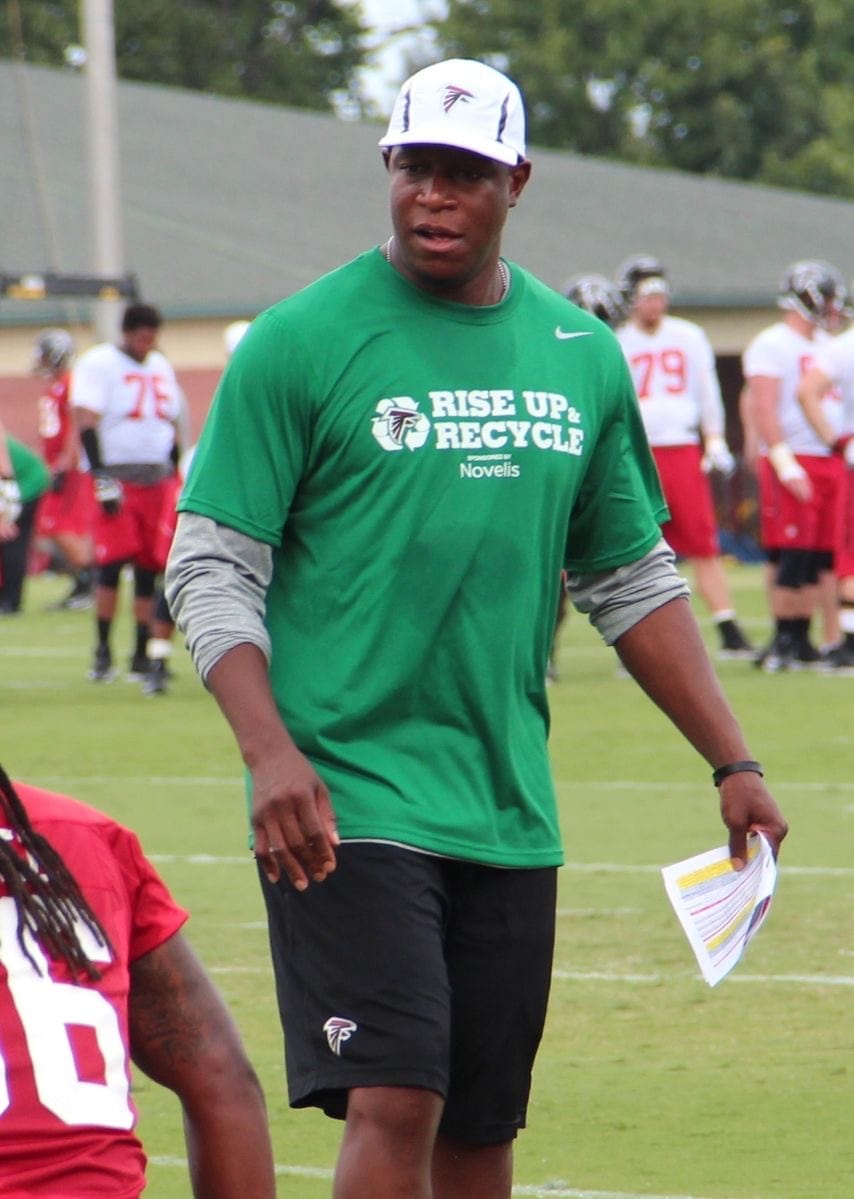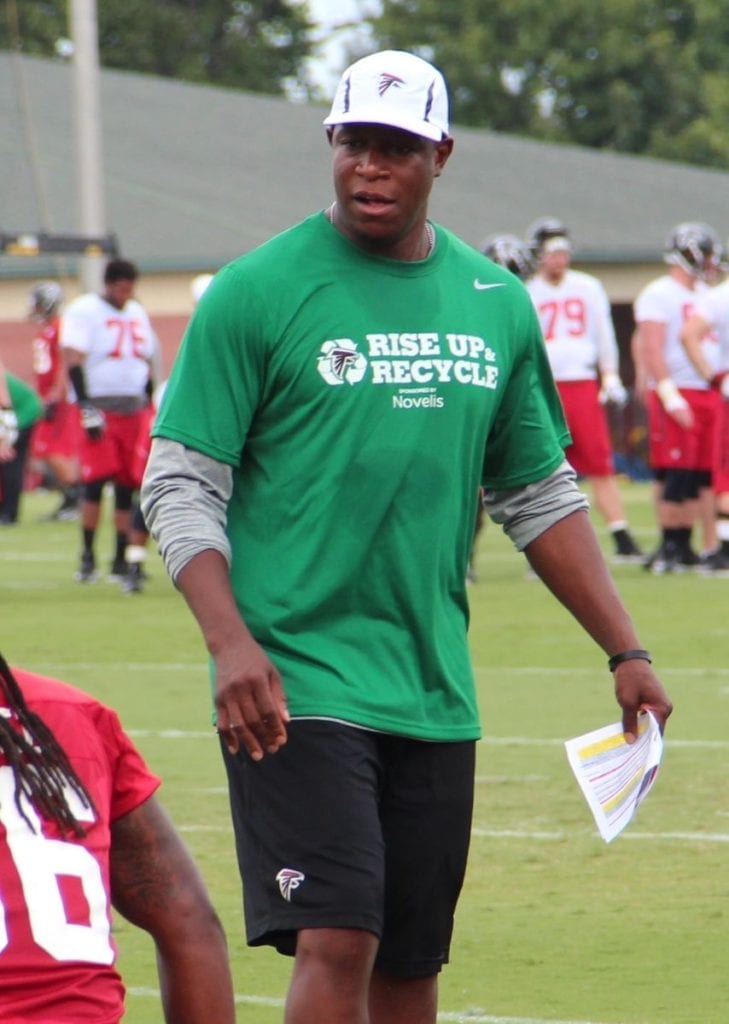 photo source: commons.wikimedia.org
Raheem Morris has one Super Bowl win that came as a defensive assistant under John Gruden. After Gruden's firing in 2009, Morris took the helm as head coach. Saying he got off to a shaky start would be an understatement. His first win came in week nine after suffering through an 0-7 record.
Morris had his redemption arc by turning it around the next season and finishing with a 10-6 record still just shy of a playoff appearance.
Did You Know?
Morris is the current defensive coordinator for the Los Angeles Rams under head coach, Sean McVay.
---
4. John Michelosen
Age: 32
Born: 02/13/1916
Team: Pittsburgh Steelers
Super Bowl Wins: 0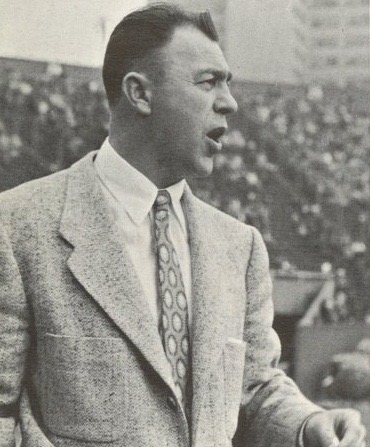 photo source: Wikipedia.com
John Micheloson served as the head coach of the Pittsburgh Steelers for three years (1948-1951). During his tenure, he boasted a record of 20-26-2. He was a native son of Pittsburgh and grew up in Ambridge, a suburb of Pennsylvania. Though Micheloson's career wasn't worthy of a double-take, he's credited as a major influence for future NFL greats like Mike Ditka and Marty Schottenheimer, who were Pittsburgh natives themselves.
More impactful and meaningful than any record was his involvement in the Civil Rights movement. He was in charge of the first team to break the color barrier in the 1956 Sugar Bowl when they put an African-American player on the field.
Did You Know?
Micheloson was a naval flight instructor for three years during World War 2.
---
3. Harland Svare
Age: 31
Born: 11/15/1930
Team: Los Angeles Rams
Super Bowl Wins: 0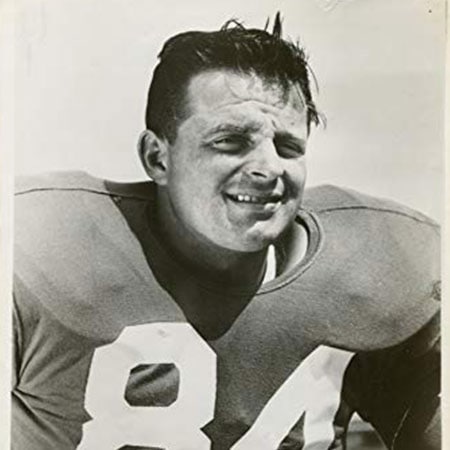 photo source: playerswiki.com
Harland Svare, in his pro football career, could be compared to a career world traveler. He's been all over the league and had been a part of many teams both as a player and coach. As a player, Svare spent eight seasons with the Los Angeles Rams and New York Giants. He was the 204th pick in the 17th round of the 1953 draft.
He did see success at the height of the championship level as a player for being part of the NFL champion New York Giants in 1956.
Did You Know?
Svare was awarded a five-year coaching contract from San Diego Chargers owner, Eugene V. Klein. At the time, this was an unpopular decision. The controversy surrounding the offer might have played a role in Svare deciding to leave the following season.
---
2. Lane Kiffin
Age: 31
Born: 05/09/1975
Team: Oakland Raiders
Super Bowl Wins: 0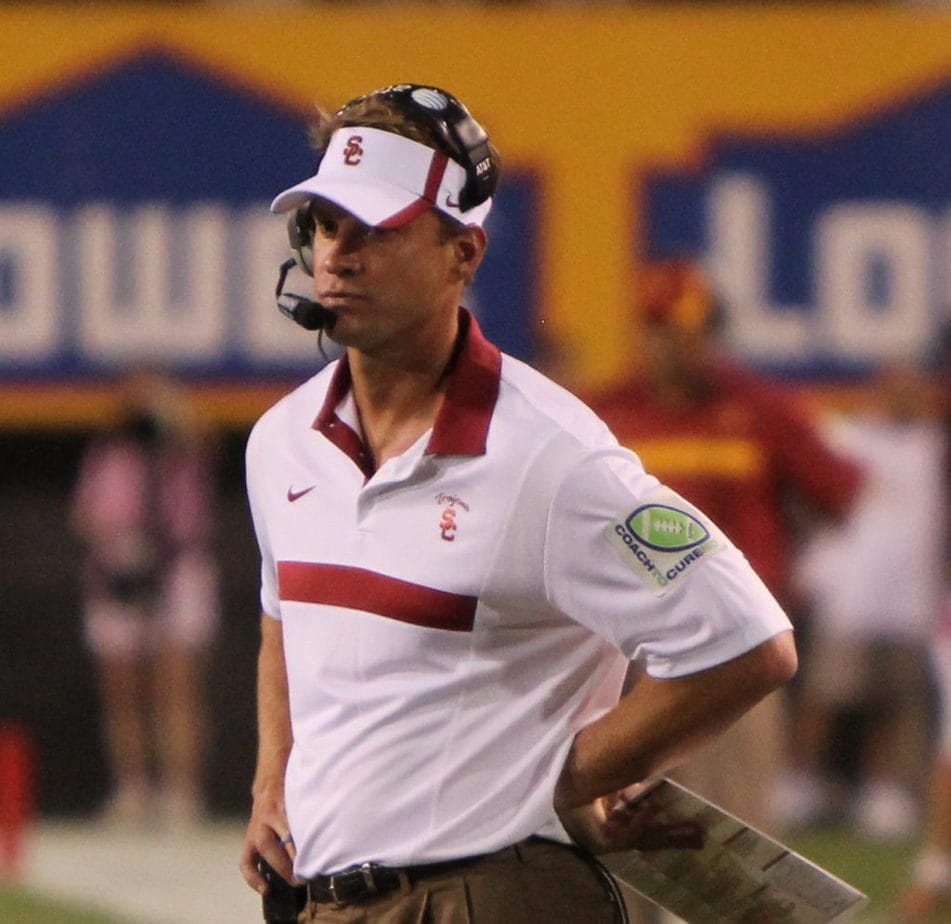 photo source: commons.wikimedia.org
Lane Kiffin was hired by Raiders' owner, Al Davis, in January of 2007. His hiring made him the youngest coach in Raiders history ahead of John Madden, thus barely edging him out on this top 8 list!
Rumors swirled that Davis had little patience when it came to the process teams take on their way to eventual success, and after a rocky season that ended in a 4-12 record, Davis allegedly tried to force Kiffin to resign. A very public spat ensued that involved name-calling, accusations of lying, etc. At this point, the writing was on the wall plain for everyone to see. Kiffin was fired over the phone in September of 2008.
Did You Know?
Kiffin ended his career with a total of five wins and 15 losses. It's debatable whether this was an issue of inability as a coach or just being a victim of bad circumstances surrounding him. In nine out of ten cases, a team needs time to acclimate and build a culture of trust and good chemistry. Unfortunately, Kiffin was never afforded that opportunity.
---
1. Sean McVay
Age: 30
Born: 01/24/1986
Team: Los Angeles Rams
Super Bowl Wins: 0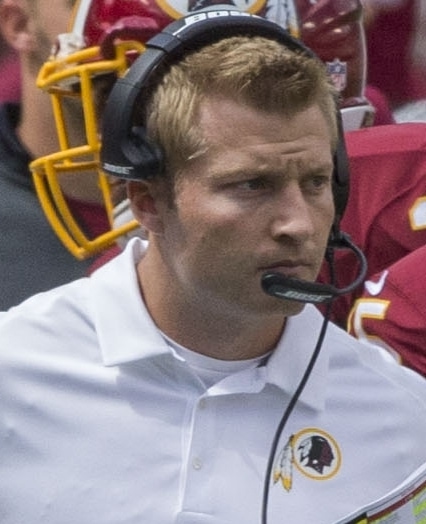 photo source: commons.wikimedia.org
Sean McVay is the youngest coach in the history of the NFL!
McVay became the Los Angeles Rams head coach in 2017 at just 30 years old. If that isn't impressive enough by itself, McVay also led his Rams to Super Bowl LIII where they had the misfortune of facing Tom Brady and the New England Patriots.
When McVay stepped into the regime, it marked the Rams' first winning record since 2003 and their first postseason appearance since 2004. His achievements in such a short time frame earned him AP NFL Coach of the Year.
Did You Know?
Because of the success McVay had at such a young age, something called the "Sean McVay Effect" took hold. NFL teams have shifted their thinking in the wake of this revelation, believing that a younger, fresher, more modern approach to the game could lead to more creativity on the football field equaling more success. Not to mention that the younger the coach is, the easier it is to come off as relatable to the younger players.
OTHER POSTS YOU MAY BE INTERESTED IN