Going fast is a thrill that applies to both the young and the old. It's human nature to seek out that adrenaline rush that is hard to replicate through any medium other than pure velocity. Perhaps when we watch NASCAR, and the reason so many of us love it despite it being a series of consecutive left turns is that it allows us to step into the driver's seat and feel that rush vicariously through these incredible speedsters.
We zip around in our mini coopers, stick our heads out of the window to feel the rush of crisp air run through our hair, let the top down to throw our hands in the sky in celebration because it's what makes us feel alive. And though these drivers we're about to list hadn't been on this planet for too long when they began their NASCAR careers, one could say that no one has ever been more alive than these rare men and women who decided to risk everything in pursuit of glory and the thrill of a lifetime.
Join me as we take a look at some of the youngest NASCAR drivers of all time.
8. James Beuscher
Age: 24
Born: 03/26/1990
Hometown: Melbourne, Florida
Awards: 2006 ASA Most Popular Driver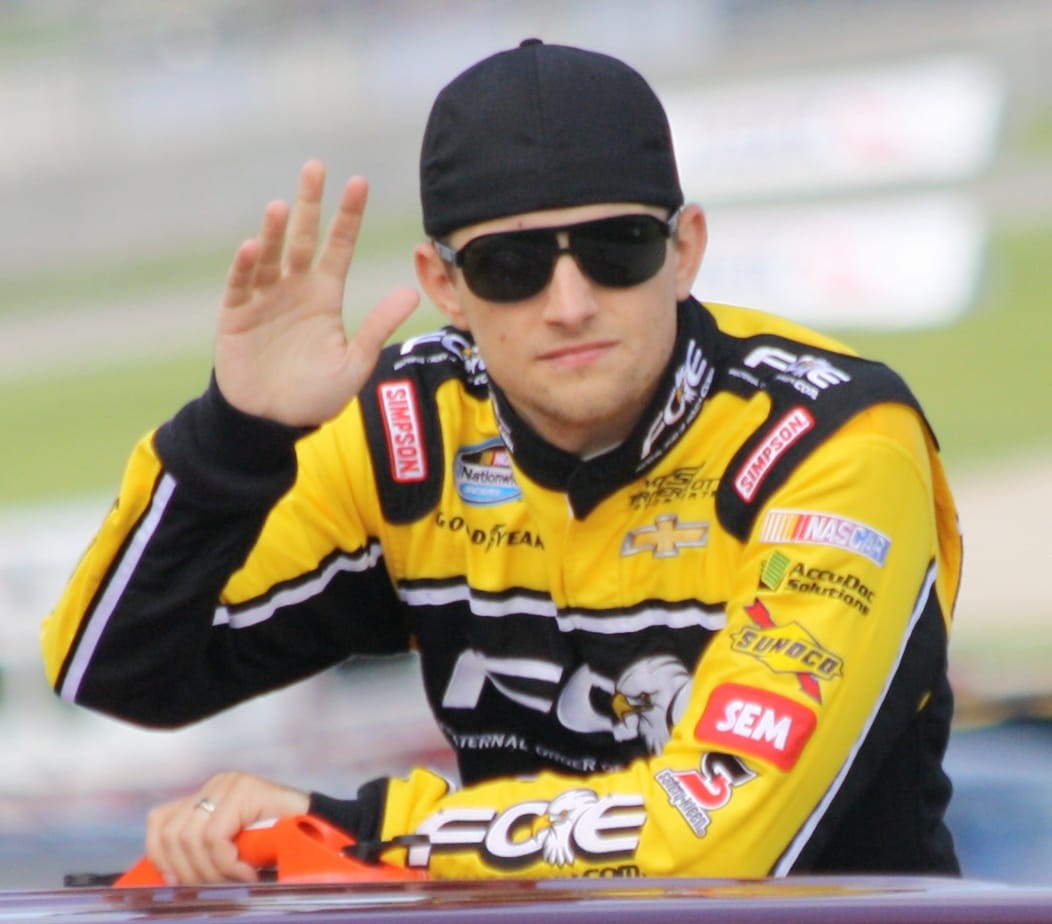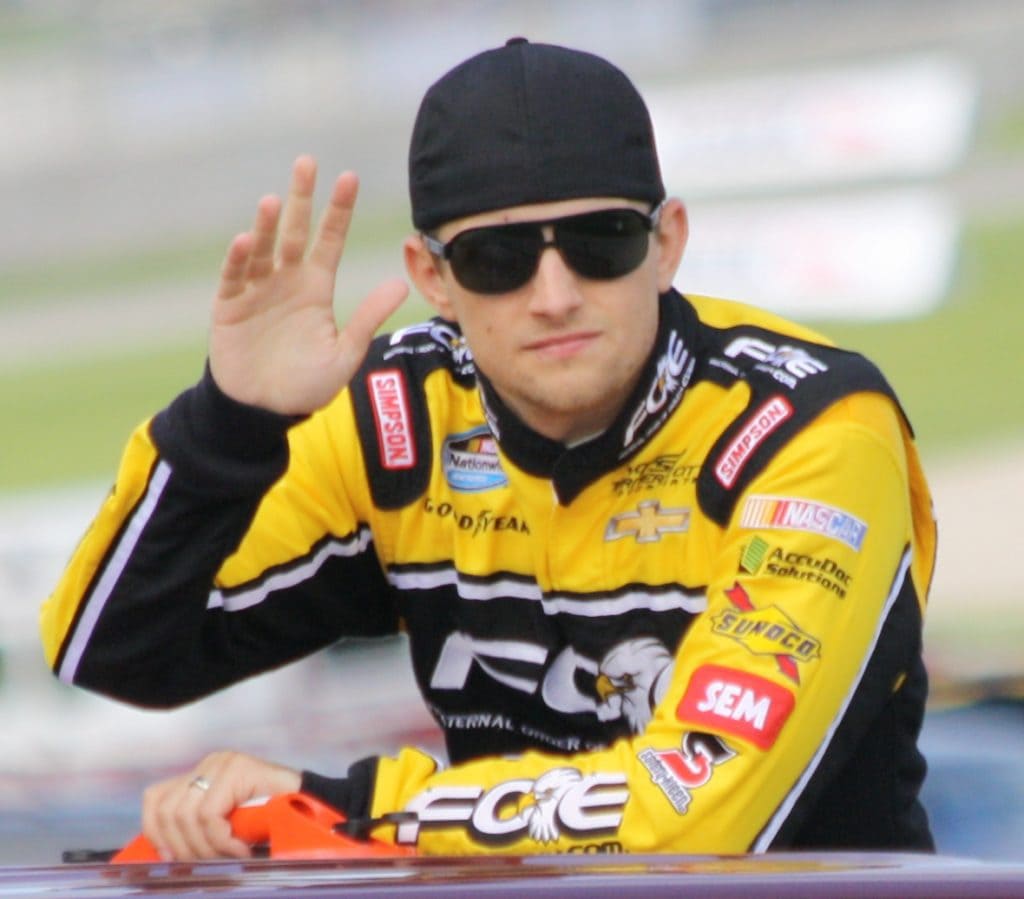 photo source: commons.wikimedia.org
James Buescher had a racing career spanning 91 races over seven years. This fact alone is impressive. Now compound it with the achievements he's gathered throughout that career. Some of these include becoming the 2012 Camping World Truck Series Champion. This is an official NASCAR event for those wondering!
After struggling in 2015 and losing his spot with NTS Motorsports, Buescher decided to hang up the racing suit and become a real estate agent. Transitioning from a sport that requires you to stay conscious traveling at speeds greater than 200 mph to a job that demands a suit and tie probably wasn't easy, but for Buescher, he's doing just fine as the co-founder of his real estate agency, The Buescher Group.
Did You Know?
James returned to racing in 2020, when he joined Niece Motorsports for a Truck Series Race in 2020.
---
7. Kyle Larson
Age: 22
Born: 06/31/1992
Hometown: Elk Grove, California
Awards: 2021 NASCAR Cup Series Champion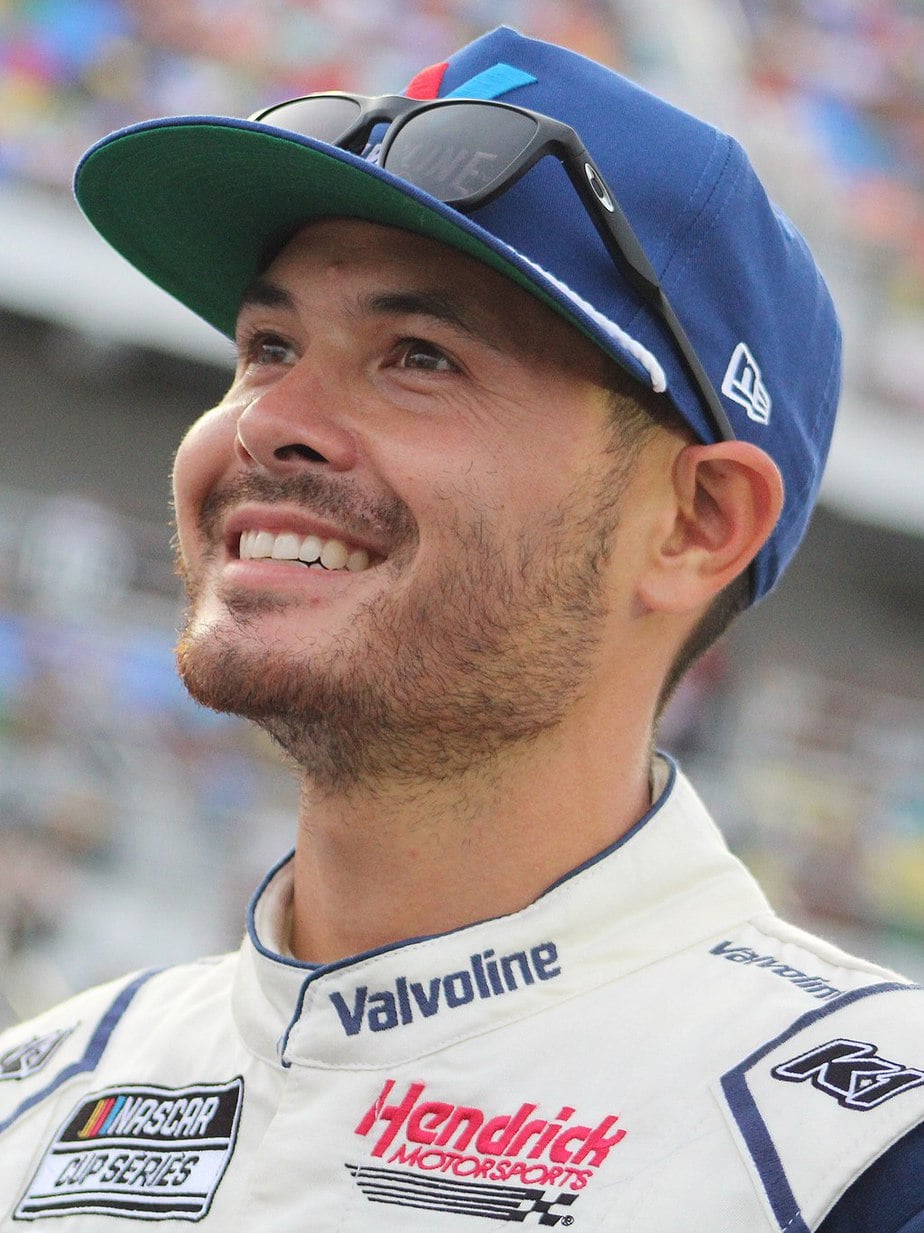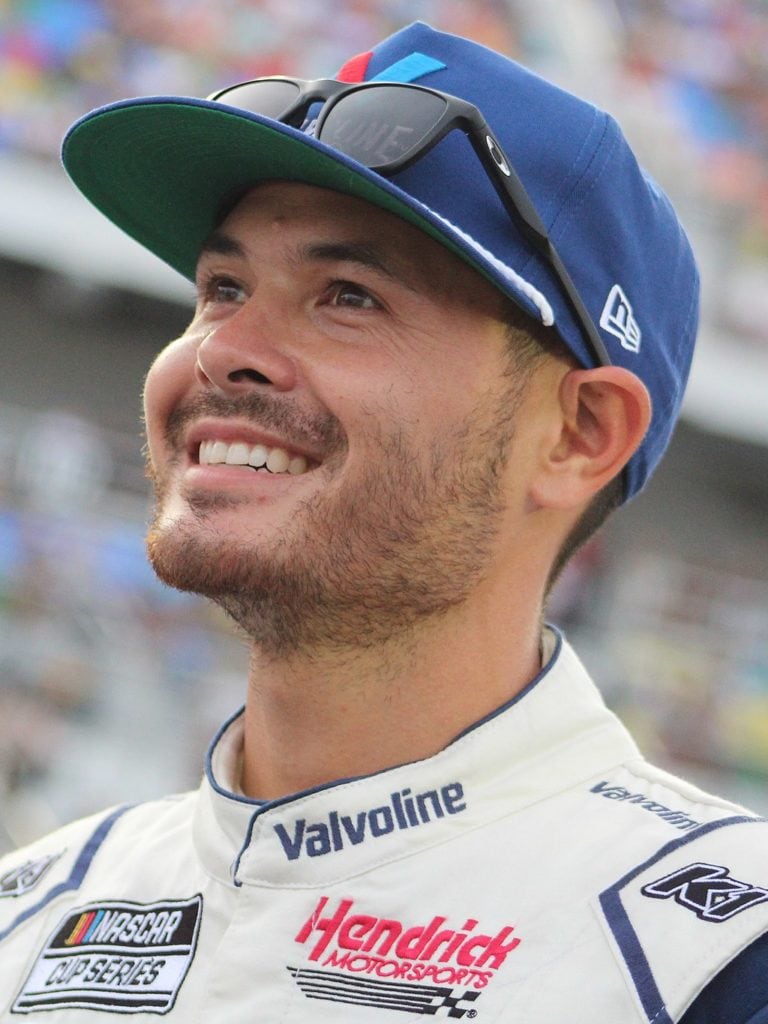 photo source: commons.wikimedia.org
Kyle Larson has a resume that even the most accomplished veterans can marvel at. On top of being the 2021 NASCAR Cup Series Champion, he's also the regular series champion, a 3x Grand Prix Winner, the 2021 Coca-Cola 600 Winner, and a 2x NASCAR All-Star race winner. It's safe to say he's qualified to drive for Uber.
With a talent for racing in all its forms, Larson has also been a successful dirt track racer. He's won famed events like the King's Royal, Knoxville Nationals, and the overall winner of the 24 Hours of Daytona race, clearly demonstrating the skill carryover from NASCAR into other motorsports.
Did You Know?
Larson made a celebrity appearance as a run-of-the-mill limo driver in the 2017 film Logan Lucky, starring Daniel Craig.
---
6. Trevor Bayne
Age: 21
Born: 02/19/1991
Hometown: Knoxville, Tennessee
Awards: 2011 Daytona 500 Winner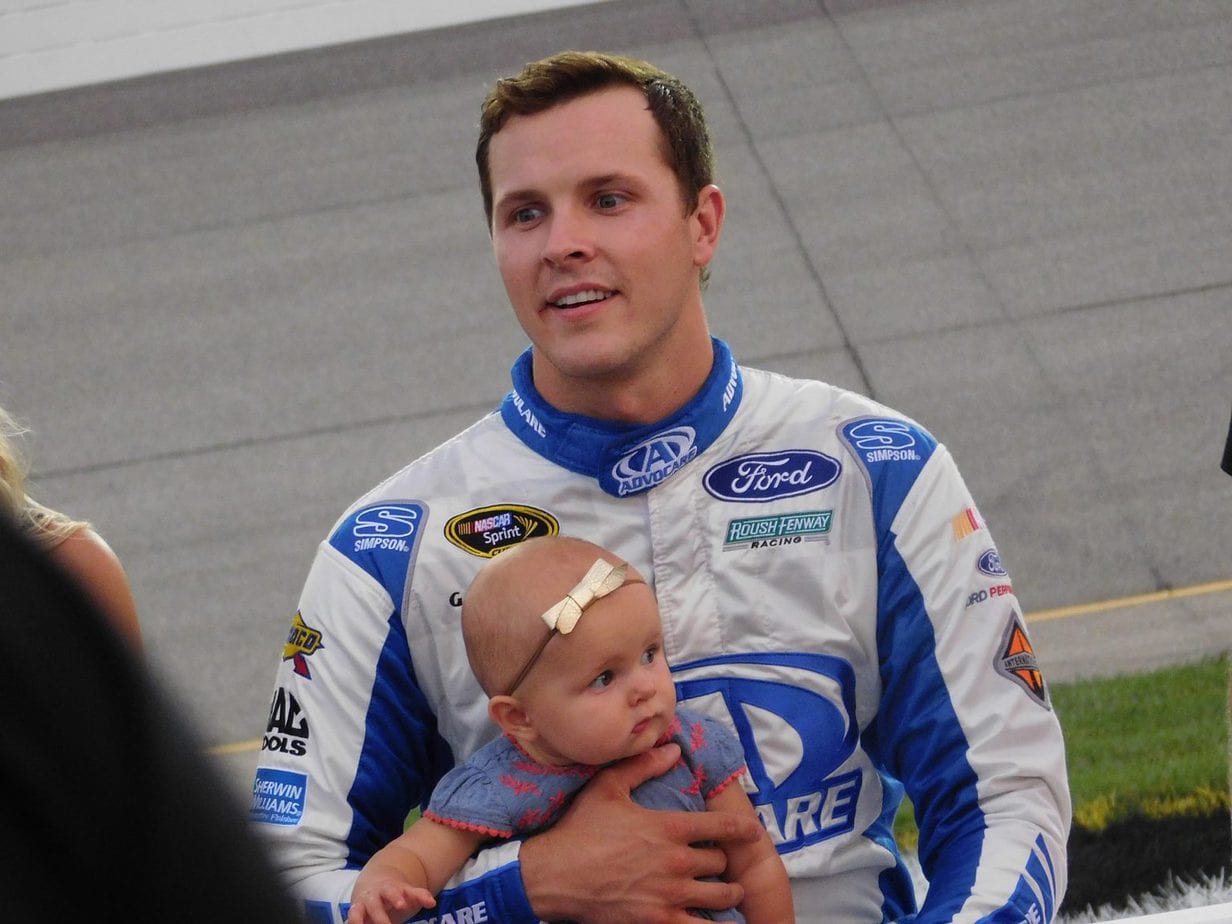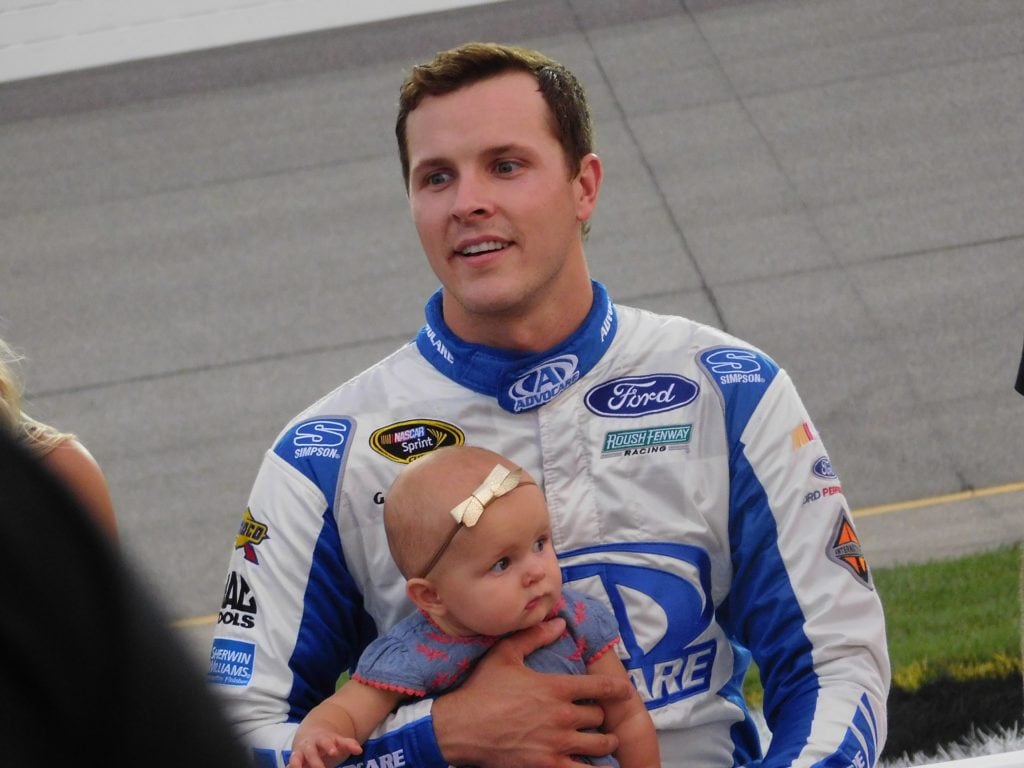 photo source: commons.wikimedia.org
Trevor Bayne is the youngest person to win the Daytona 500 at 20-years-old. It's also known as the largest even in NASCAR. Talk about setting expectations high for the future! Sometimes it can be a gift and a curse.
That victory came in his second race in NASCAR's top series. It was his first and last victory. In his NASCAR career, he totaled 187 races over nine years.
Did You Know?
Bayne is the owner and operator of Mahalo Coffee Roasters in Knoxville, Tennessee.
---
5. Darrell Wallace
Age: 21
Born: 10/08/1993
Hometown: Mobile, Alabama
Awards: 2010 K&N Pro Series East Rookie of the Year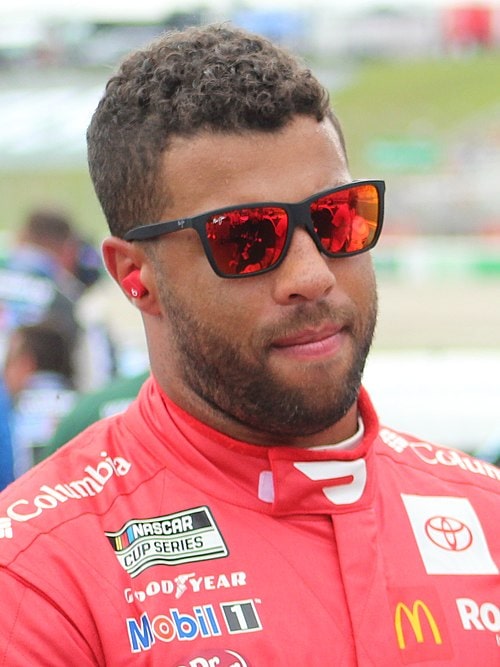 photo source: commons.wikimedia.org
Darrell "Bubba" Wallace has had tremendous staying power in NASCAR and is a household name in the sport even to non-fans. He currently drives the No. 23 Toyota Camry for 23XI Racing.
He also has the distinction of being the only full-time African American in the three national series and the only one to win more than once in the Cup, Xfinity, or Truck series.
Did You Know?
Bubba can add some impressive film credits to the resume because, in 2017, he voiced the character Bubba Wheelhouse in the Pixar Studios film, Cars 3. In 2021, he appeared in a music video for Post Malone's song, "Motley Crew."
---
4. Ryan Blaney
Age: 21
Born: 12/31/1993
Hometown: Ohio
Awards: 2013 NASCAR Camping World Truck Series Rookie of the Year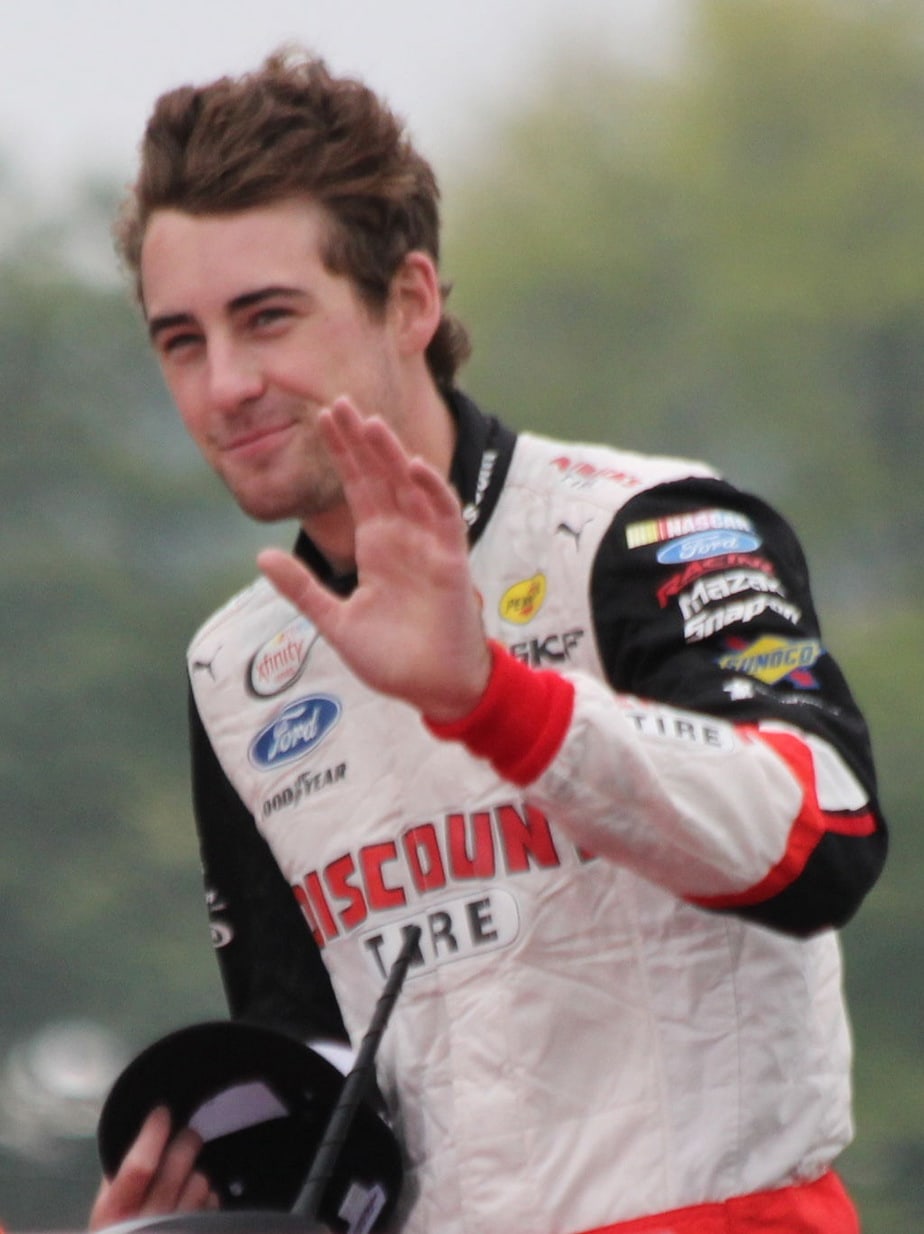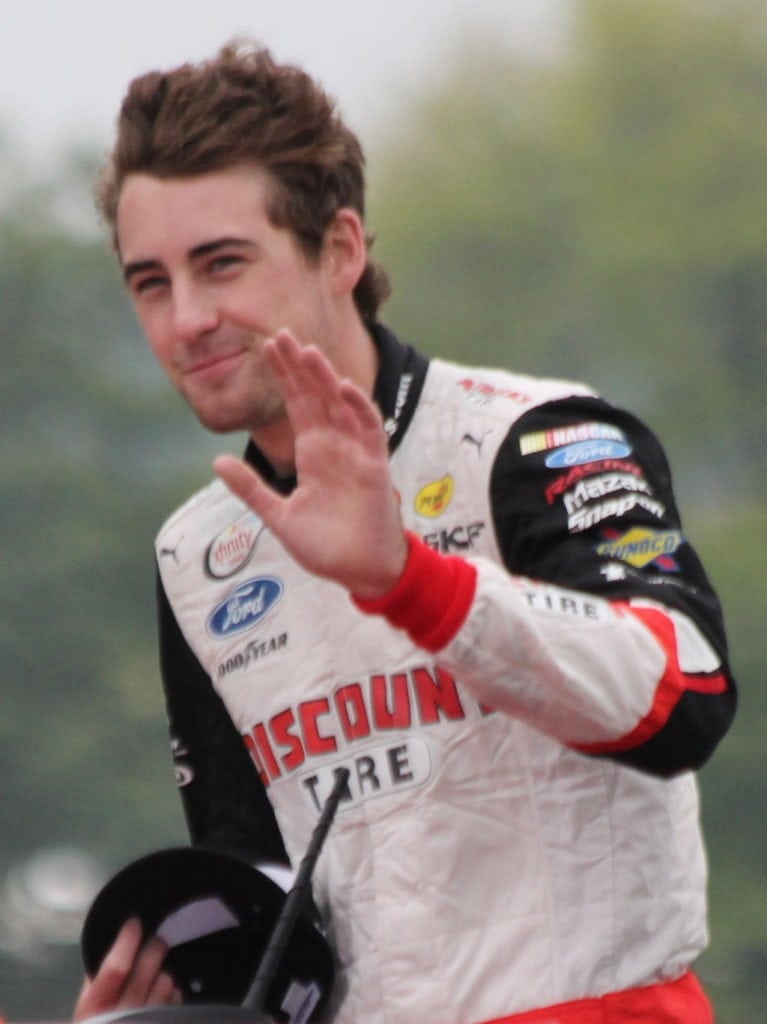 photo source: commons.wikimedia.org
It's a family affair. Ryan Blaney is the third generation of racers in the Blaney household. He's the son of former Cup Series driver Dave Blaney and grandson of dirt track legend Lou Blaney. Unlike Dave, Ryan won his first race at nine-years-old. Similar to cars, it looks like they get better with each generation. He currently drives as No. 12 for Ford Mustang GT, for Team Penske.
Blaney is the middle child between his two sisters, Emma and Erin. Emma is married to fellow NASCAR driver Cale Conley. They have to keep that racing bloodline alive at all costs!
Did You Know?
Blaney is a die-hard Star Wars fan. So much so that he has a tattoo of the franchise on his right leg. I'm willing to bet that if he were in the Star Wars universe, he'd probably be piloting an X-Wing for the Rebellion.
---
3. Chase Elliot
Age: 19
Born: 11/28/1995
Hometown: Dawsonville, Georgia
Awards: 2014 NASCAR Nationwide Series Rookie of the Year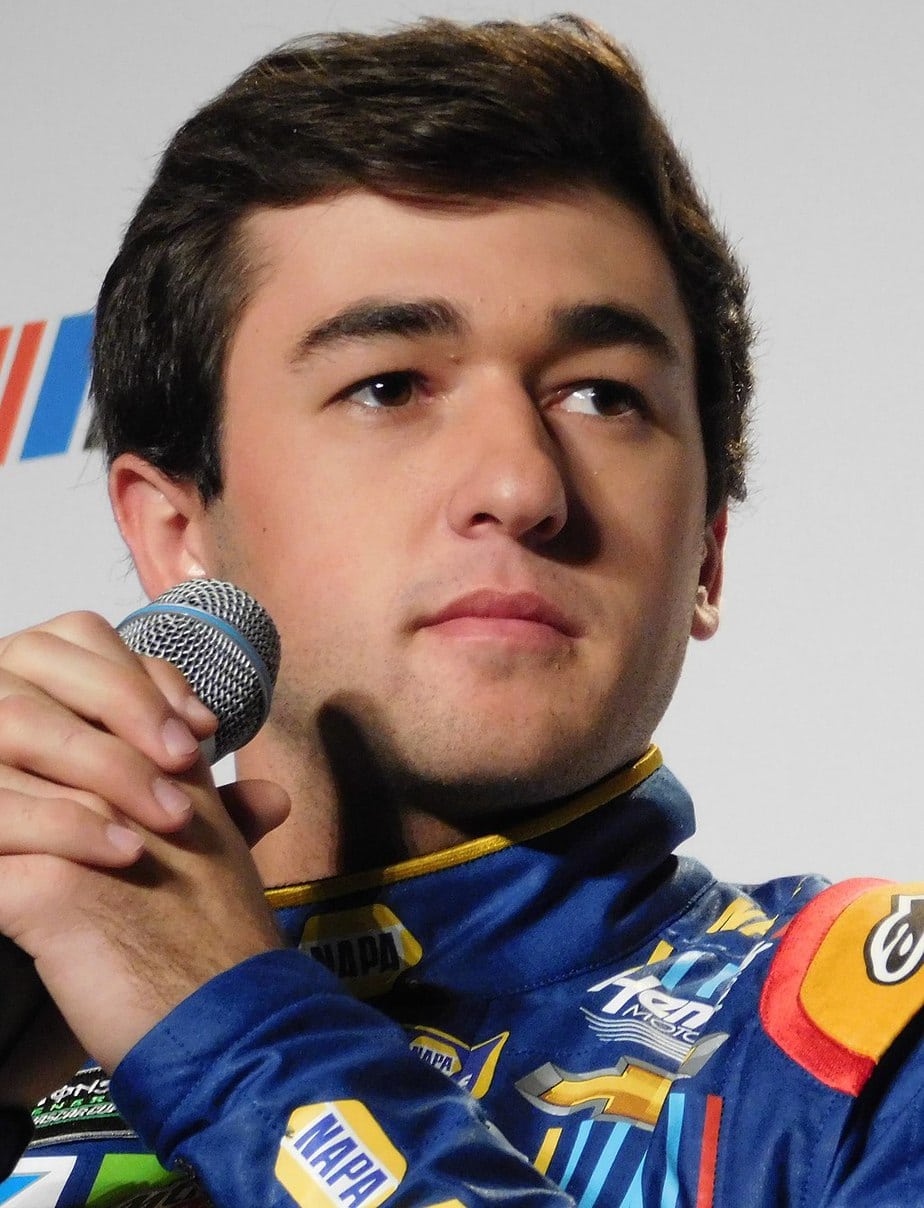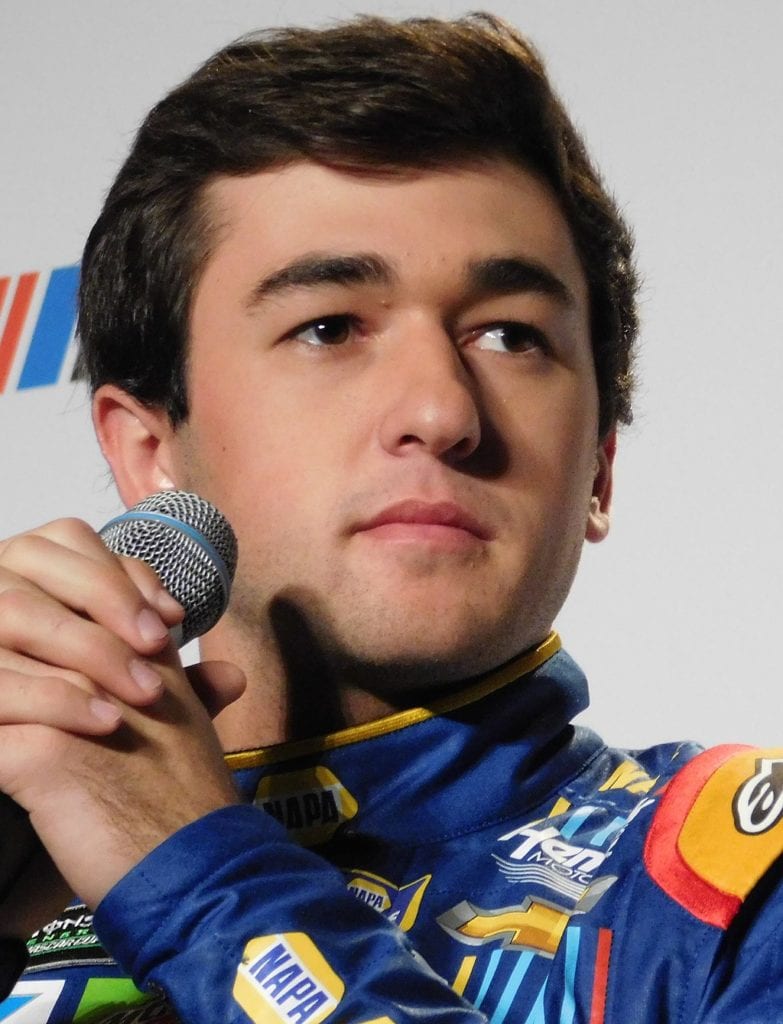 photo source: commons.wikimedia.org
Chase Elliot drives as No. 9 in a Chevrolet Camaro ZL1 1LE for Hendricks Motorsports. He didn't disappoint the classic car company with his 2014 NASCAR Nationwide Series Championship. With that victory, he became the first and youngest rookie to win a national series championship.
As recent as 2020, he won the Cup Series yet again. Hendrick Motorsports hadn't seen a victory in the series since 2016 until Elliot decided four years was long enough. Chase the son of the 1988 Winston Cup Series champion, Bill Elliott. Like the Blaney family. The Elliotts come from a racers bloodline and are the third father-son NASCAR champions in history. The other dynamic duos are Lee and Richard Petty and Ned and Dale Jarrett.
Did You Know?
While many names in NASCAR aren't recognized past the bubble of the racing enthusiasts, Chase isn't one of them. He's appeared on several drive magazines, appeared on The Dude Perfect Show, voices Mark Set-Go on Nickelodeon's Blaze and the Monster Machine, and voiced Chase Racelott along with Bubba Wallace in Cars 3.
---
2. Erik Jones
Age: 18
Born: 05/30/1996
Hometown: Byron, Michigan
Awards: 2015 NASCAR Camping World Truck Series Rookie of the Year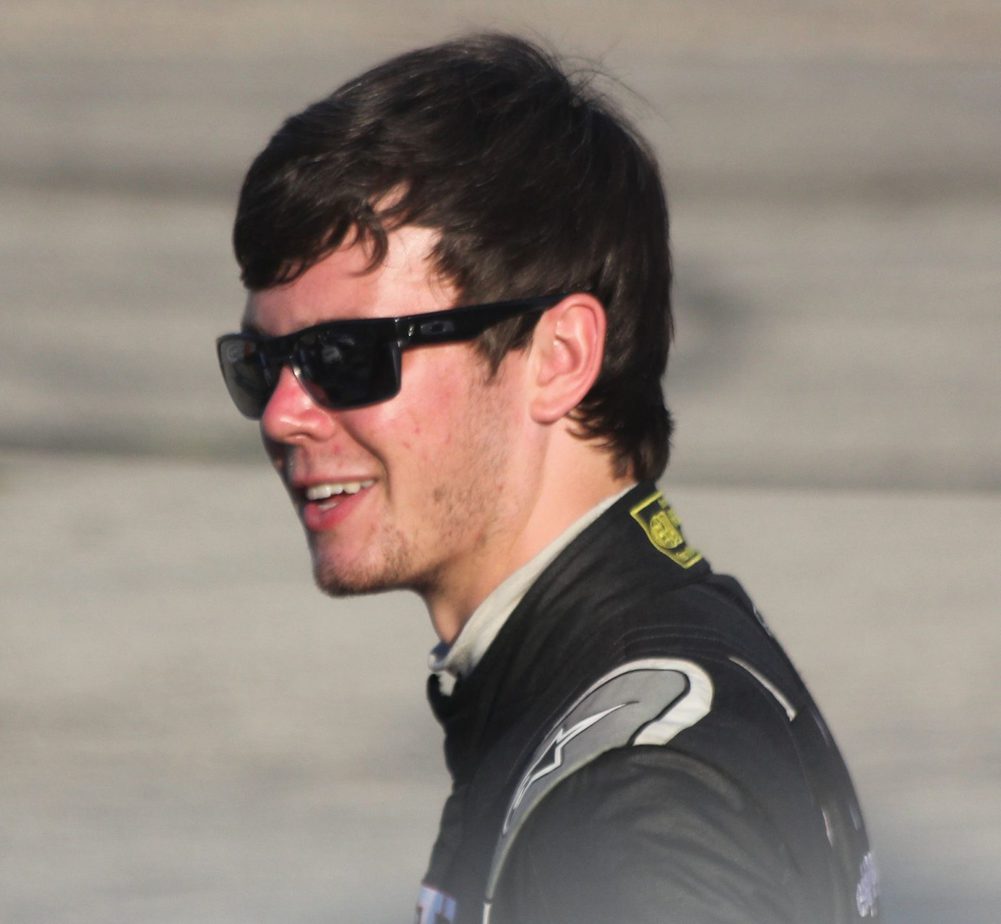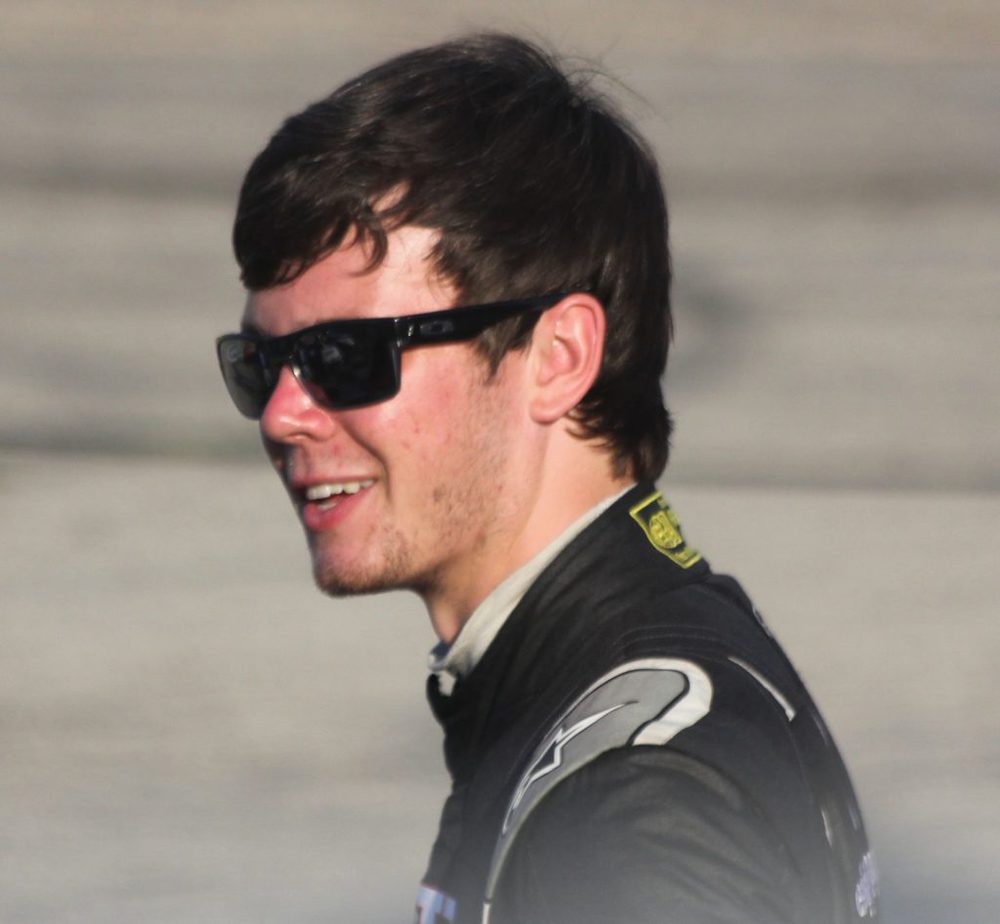 photo source: commons.wikimedia.org
Erik Jones started his career at the ripe old age of seven. By 13, he was behind the wheel of stock cars. Since then, he's hit the asphalt running, or racing, I should say. He drives as No. 43 for Chevrolet Camaro ZL1 1LE for Petty GMS Motorsports. He's also a part-time participant in the NASCAR Xfinity Series.
He's the first driver ever to win Rookie of the Year in all three NASCAR national series.
Did You Know?
Until 2021, Erik spent his entire NASCAR career under the Toyota banner. It wasn't until 2021 that he went to the dark side and began representing Chevrolet. With no notable accolades to show for his recent transition as of yet, we're confident that it will pay dividends. After all, it's always been about the man or woman that makes the car. Not the car making the man/woman.
---
1. Joey Lagano
Age: 18
Born: 05/24/1990
Hometown: Middletown, Connecticut
Awards: 2009 Spring Cup Series Rookie of the Year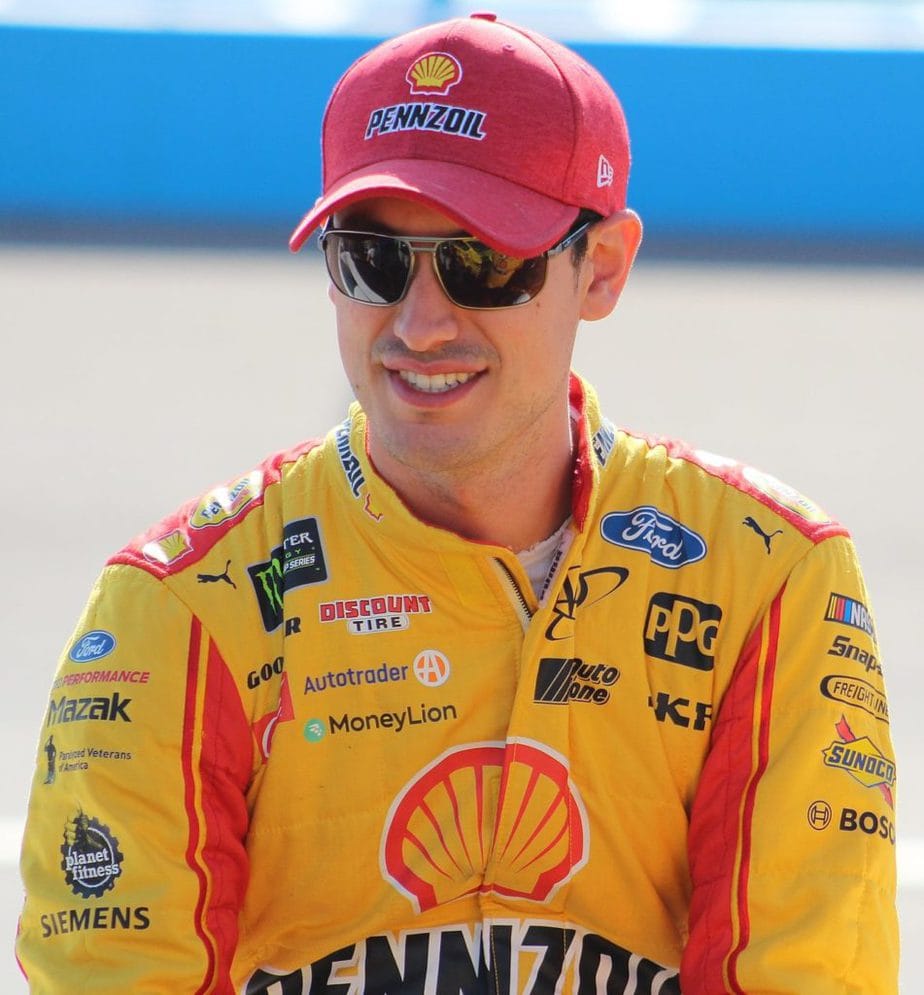 photo source: commons.wikimedia.org
Joey Logano is the youngest NASCAR driver.
Logano is the youngest driver to win a Nationwide series at 18-years-old in the Meijer 300. Taking advantage of youth's short window, he became the youngest winner in Cup Series history at the 2009 Lenox Industrial Tools 301 at 19-years-old.
Now, at 31, he's shown no signs of slowing and only gets better with age. He drives full-time in the NASCAR Cup Series in a classic Ford Mustang GT for Team Penske as No. 22. He's come a long way since beginning his racing career at six!
Did You Know?
Logano has a few acting credits to add to his name. He's appeared in the movie Drive, a film about quarter-midget racing, Logan Lucky, Twin Turbos, and the near Oscar-winning classic, Sharknado 3: Oh, Hell No!
OTHER POSTS YOU MAY BE INTERESTED IN