The Super Bowl is the pinnacle of American sports. Played between the two best teams in the NFL, it is watched by millions each year. After a hard-fought season, these players battle it out on the biggest stage in their sport. They want to win, they want to stand atop the podium with their arms aloft and receive that trophy.
This makes the Super Bowl one of the biggest events in American sports every year. Historically, Quarterbacks is the star player of any team in the Super Bowl. Quite often, the MVP of the game is given to the quarterback itself.
If you want to know more about the quarterbacks who were hailed MVPs, read on, as this article will discuss the 10 Youngest Quarterbacks to be Named MVP.
10. Nick Foles (January 20, 1989 – present)
Age When Became MVP: 28 years old
Season: 2017
Team: Philadelphia Eagles
Rate: 106.1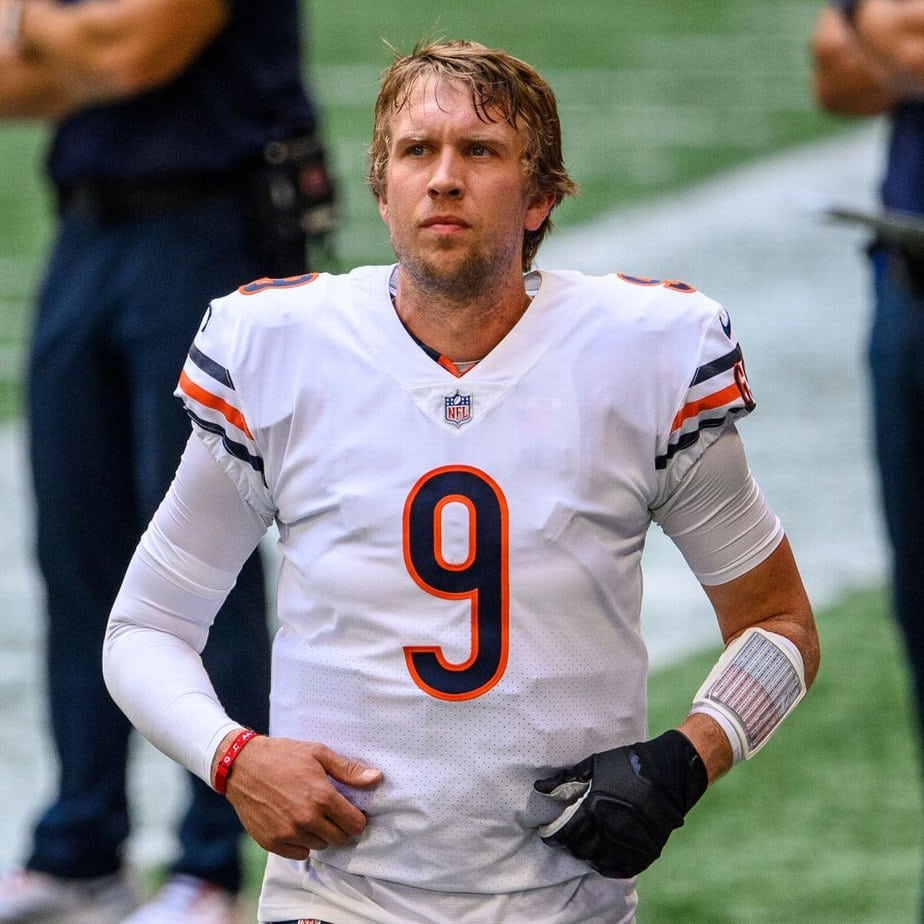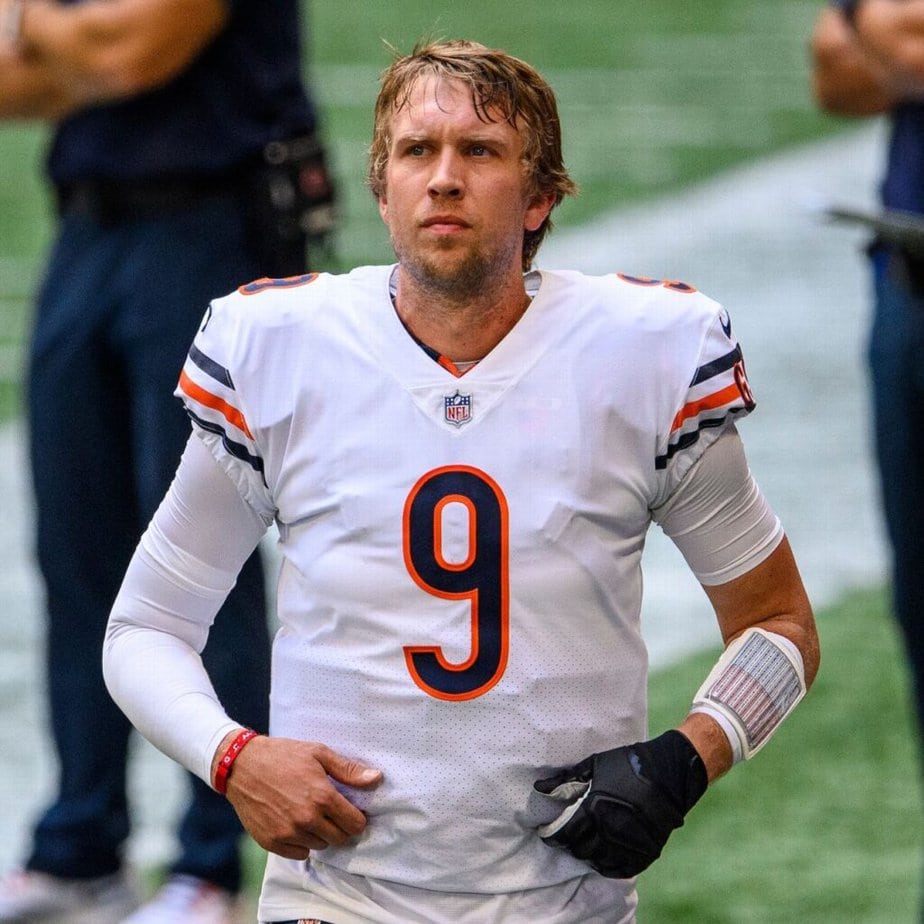 photo source: ESPN
An American football quarterback, Nicholas Edward Foles, was born on January 20, 1989. The Philadelphia Eagles chose him in the third round of the 2012 NFL Draft after he played college football for Arizona. Midway through his first season, Foles, who had previously been the team's backup, was anointed the starter.
He stayed in the starting lineup until 2013 when he established the best touchdown-to-interception ratio in a single NFL season and had a perfect passer rating. As Carson Wentz's backup when he rejoined the Eagles in 2017, Foles was elevated to the starting position after Wentz suffered an injury after the campaign.
Foles was the captain of the Eagles during their playoff run, which concluded in Super Bowl LII and the first Super Bowl victory for the team, earning him the game's MVP honors. After Wentz was again sidelined by injury in 2018, Foles assumed his backup position. He then led Philadelphia to another postseason run.
Did You Know?
To join the Jacksonville Jaguars in 2019, Foles chose to opt out of his contract with the Philadelphia Eagles. However, he sustained an injury in the season opener that kept him out for most of the year.
---
9. Aaron Rodgers (December 2, 1983 – present)
Age When Became MVP: 27 years old
Season: 2010
Team: Green Bay Packers
Rate: 111.5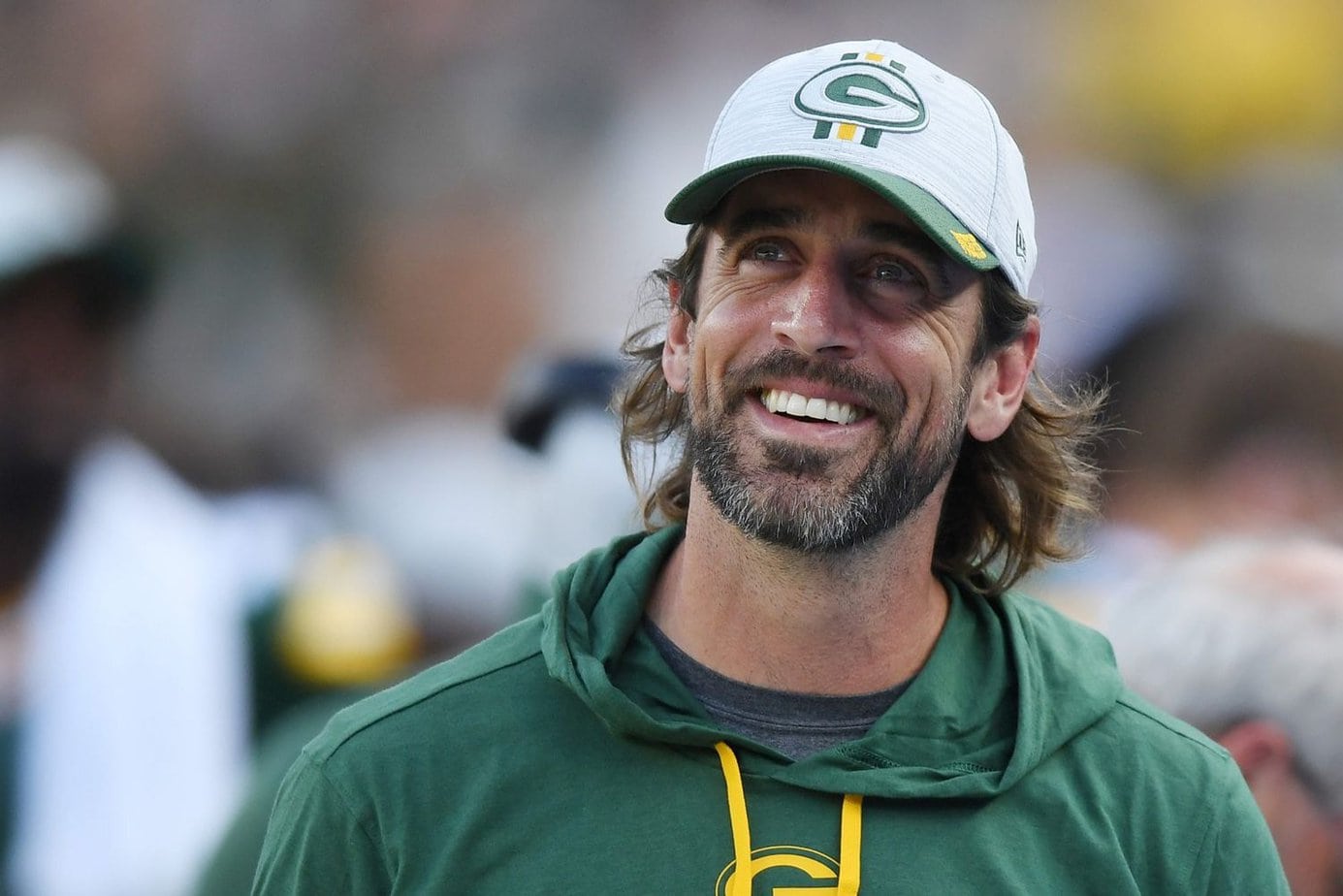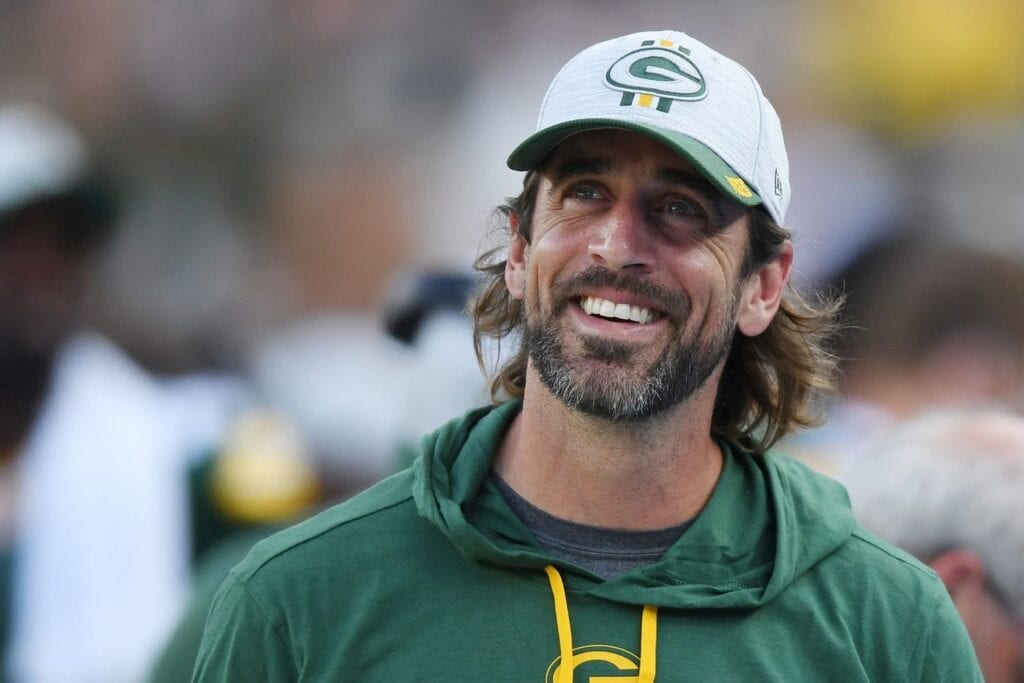 photo source: People
Aaron Charles Rodgers started his collegiate football career at Butte College in 2002 before moving to the University of California, Berkeley, to play for the California Golden Bears. In 2008, Aaron Rodgers became the Packers' primary quarterback after serving as Brett Favre's backup for the first three years of his NFL career.
Rodgers won the Super Bowl MVP in 2010 after leading them to victory against the Pittsburgh Steelers in Super Bowl XLV.
With a regular-season career passer rating of over 100 (the first player to ever have a rating over 100), Rodgers is third on the NFL's all-time list of regular-season passer ratings. Throughout the 2010s decade, he also had the highest passer rating, the best touchdown-to-interception ratio, and the lowest passing interception percentage in NFL history.
Did You Know?
Many sports commentators and athletes believe that Aaron Rodgers is one of the finest and most gifted quarterbacks ever.
---
8. Joe Flacco (January 16, 1985 – present)
Age When Became MVP: 27 years old
Season: 2012
Team: Baltimore Ravens
Rate: 124.2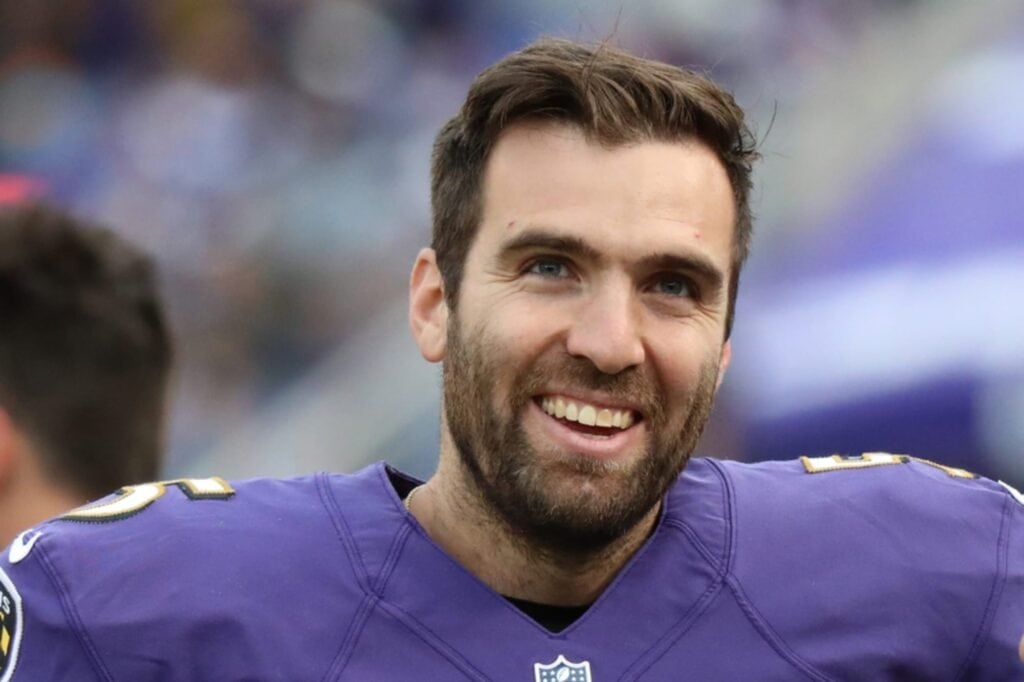 photo source: Ebony Bird
After transferring from Pittsburgh to Delaware, Joseph Vincent Flacco played collegiate football there before being selected by the Baltimore Ravens in the first round of the 2008 NFL Draft. Flacco has also suited up for the Philadelphia Eagles and Denver Broncos.
After a playoff performance in which he tied Joe Montana's single-postseason record for touchdown passes without an interception, Flacco was awarded Super Bowl XLVII's MVP.
He agreed to a six-year deal worth $120.6 million over the offseason, a quarterback record at the time. After posting a career-high 27 touchdown passes and over 4,000 passing yards in 2014, Joe Flacco was invited to play in the Pro Bowl. However, he declined since his wife would give birth to one of their children the following weekend.
Did You Know?
Joe Flacco was selected to start the Jets' Week 11 matchup against the Miami Dolphins on November 17, 2021.
---
7. Troy Aikman (November 21, 1966 – present)
Age When Became MVP: 26 years old
Season: 1992
Team: Dallas Cowboys
Rate: 140.7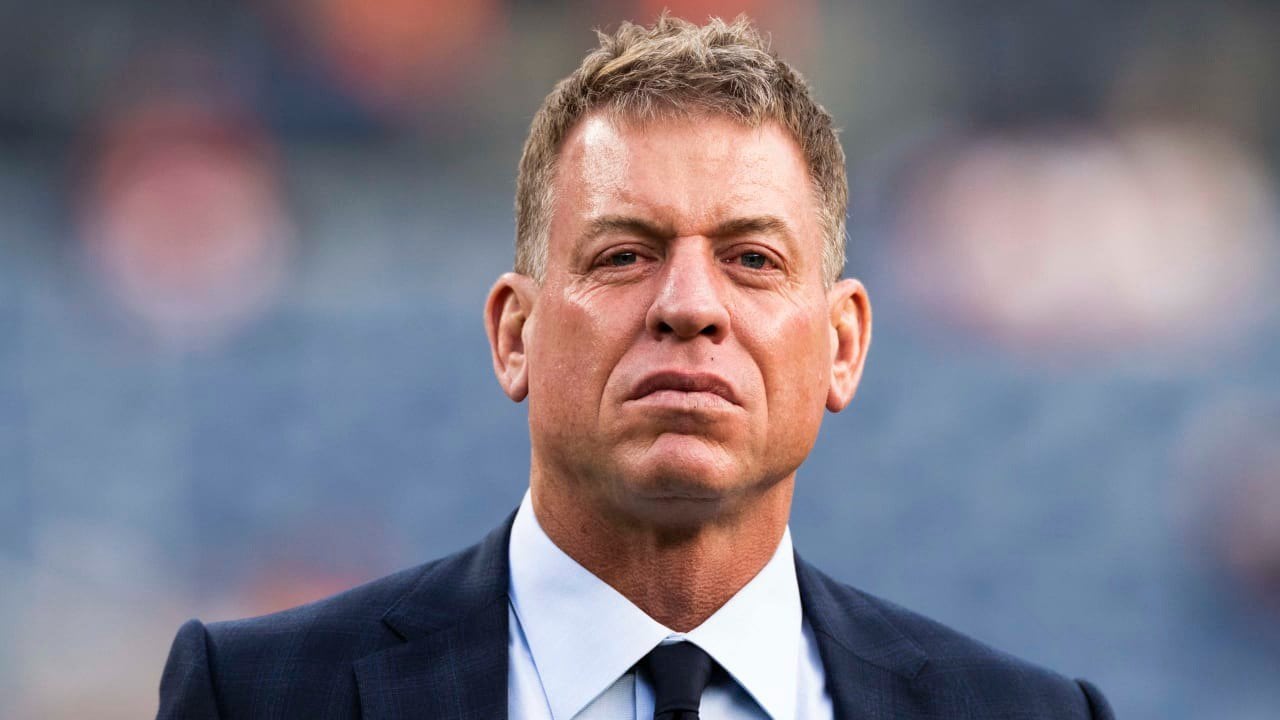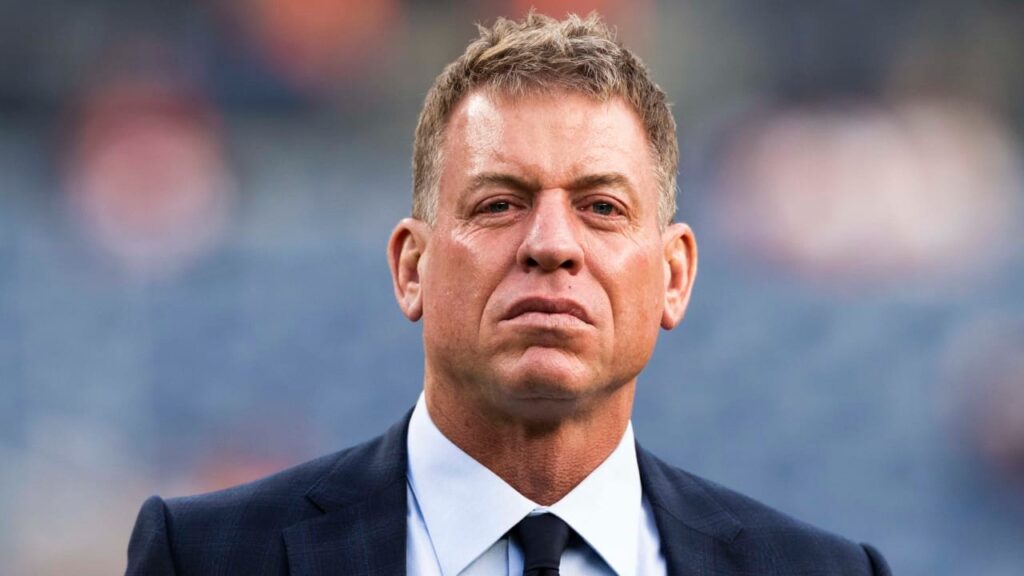 photo source: NFL
American former quarterback Troy Kenneth Aikman spent 12 seasons with the Dallas Cowboys in the National Football League (NFL). After leaving Oklahoma, he played collegiate football at UCLA, earning the Davey O'Brien Award as a senior.
Aikman was chosen first overall by the Cowboys in the 1989 NFL Draft. While playing for them, he was picked for six Pro Bowls and won three Super Bowls.
In addition, he received the MVP award for Super Bowl XXVII, the team's first championship in over ten years. In 2006, Aikman was inducted into the Pro Football Hall of Fame.
Aikman and fellow former Cowboys quarterback Roger Staubach co-owned the NASCAR Sprint Cup Series team Hall of Fame Racing from 2005 to 2009. He was also a partial owner of the Major League Baseball franchise San Diego Padres (MLB).
Did You Know?
Troy Aikman worked as a color commentator for NFL on Fox from 2001 to 2021 after he retired in 2000. Since 2022, he has done the same for Monday Night Football.
---
6. Tom Brady (August 3, 1977 – present)
Age When Became MVP: 26 years old
Season: 2003
Team: New England Patriots
Rate: 100.5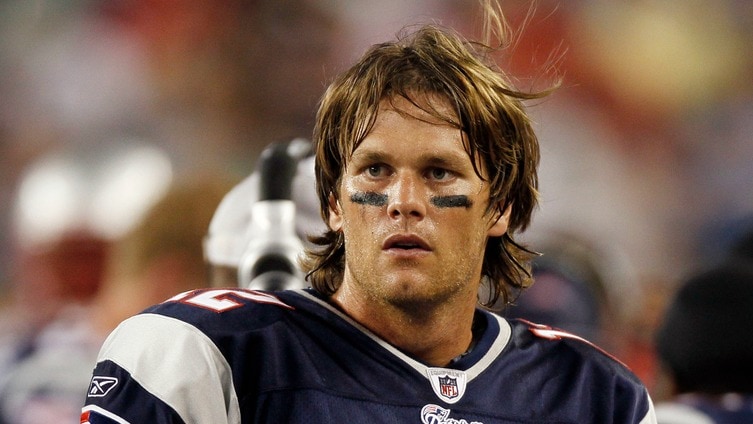 photo source: NBC Sports
Thomas Edward Patrick Brady Jr. played with the New England Patriots for his first 20 seasons, playing a key role in the team's dynasty from 2001 to 2019. Brady is largely recognized as the best quarterback ever to play the position.
Brady, who played college football at Michigan, was chosen by the Patriots in the sixth round of the 2000 NFL Draft, 199th overall, earning him the nickname "the NFL's biggest draft steal."
Brady worked as an intern at Merrill Lynch throughout the summers of 1998 and 1999. Brady rebounded effectively in 2003 after finishing 9-7 in 2002 and missing the playoffs. After being beaten by co-winners Peyton Manning and Steve McNair in the MVP poll, he defeated both in the playoffs.
In the divisional round, the Patriots defeated McNair's Titans, and in the AFC Championship, they defeated Manning's Colts.
Did You Know?
In 2003, he was inducted into the Junipero Serra High School Hall of Fame, joining other Serra High alums, Barry Bonds, Lynn Swann, Gregg Jefferies, and Jim Fregosi.
---
5. Eli Manning (January 3, 1981 – present)
Age When Became MVP: 26 years old
Season: 2007
Team: New York Giants
Rate: 87.3
photo source: CNN
Former American football quarterback Eli Manning spent 16 seasons with the New York Giants in the National Football League (NFL). He belongs to the football dynasty of the Manning family and is Peyton Manning's younger brother and the youngest son of quarterback Archie Manning.
At Ole Miss, where he played college football, Manning received the Maxwell and Johnny Unitas Golden Arm Awards in his final year.
San Diego Chargers traded him to the Giants after selecting him first in the 2004 NFL Draft. Although Manning struggled with consistency for much of his career, he is remembered for twice leading the New York Giants to upset victories over the New England Patriots dynasty in Super Bowls XLII and XLVI. Manning held the Giants' club records for passing yards, touchdown passes, and completions from 2004 to 2019.
Did You Know?
Eli Manning was named Most Valuable Player in both victories, making him one of only five players to win multiple MVP awards in Super Bowls.
---
4. Joe Namath (May 31, 1943 – present)
Age When Became MVP: 25 years old
Season: 1968
Team: New York Jets
Rate: 83.3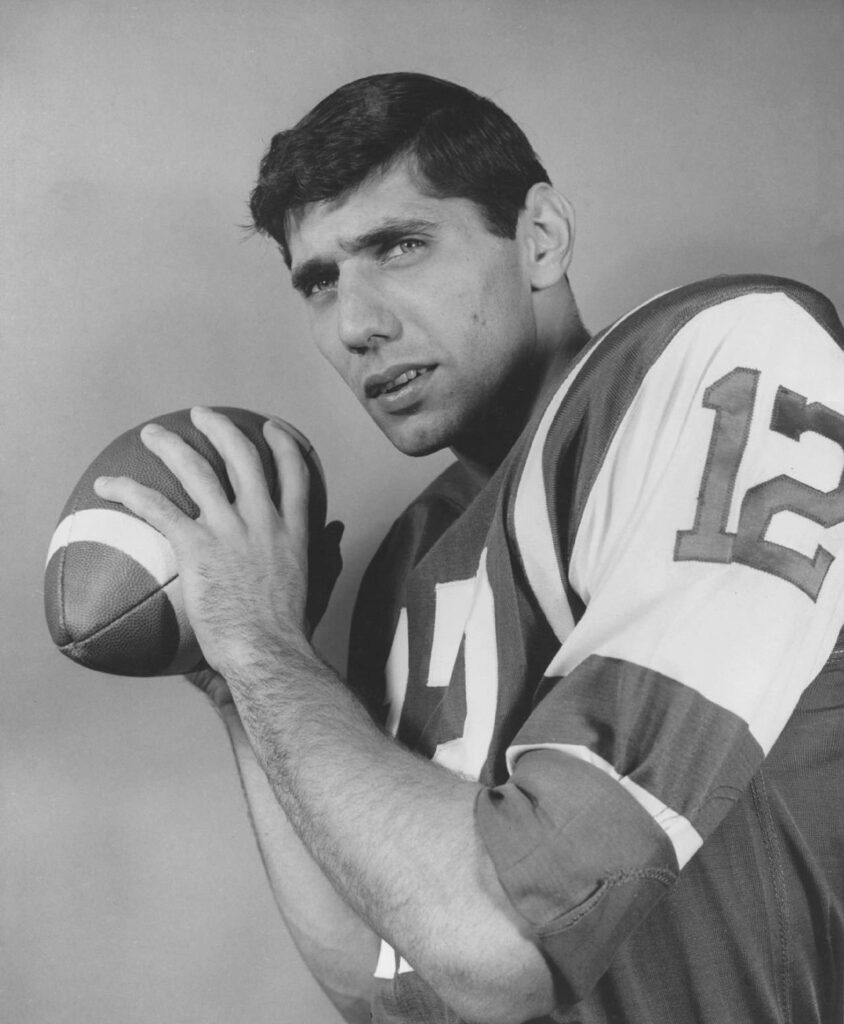 photo source: Wikipedia
Former American football quarterback Joe Namath spent 13 seasons playing in the National Football League (NFL) and American Football League (AFL), mostly with the New York Jets. He participated in college football at Alabama, where his senior year saw him win the national title, and was chosen first overall by the Jets in the 1965 AFL Draft.
He led the Jets to one AFL title and one Super Bowl during his five AFL seasons, and he was twice named the league's MVP and leader in passing yards. Namath led the New York Giants to a 27-23 victory over the Oakland Raiders, who were the defending AFL champions, in the 1968 AFL championship game.
His accomplishments during the 1968 campaign won him the Hickok Belt as the year's top professional athlete.
Did You Know?
In an event, Joe Namath handed the Vince Lombardi Trophy to the Pittsburgh Steelers, who won Super Bowl XLIII, in 2009, 40 years after winning Super Bowl III.
---
3. Joe Montana (June 11, 1956 – present)
Age When Became MVP: 25 years old
Season: 1981
Team: San Francisco 49ers
Rate: 100.0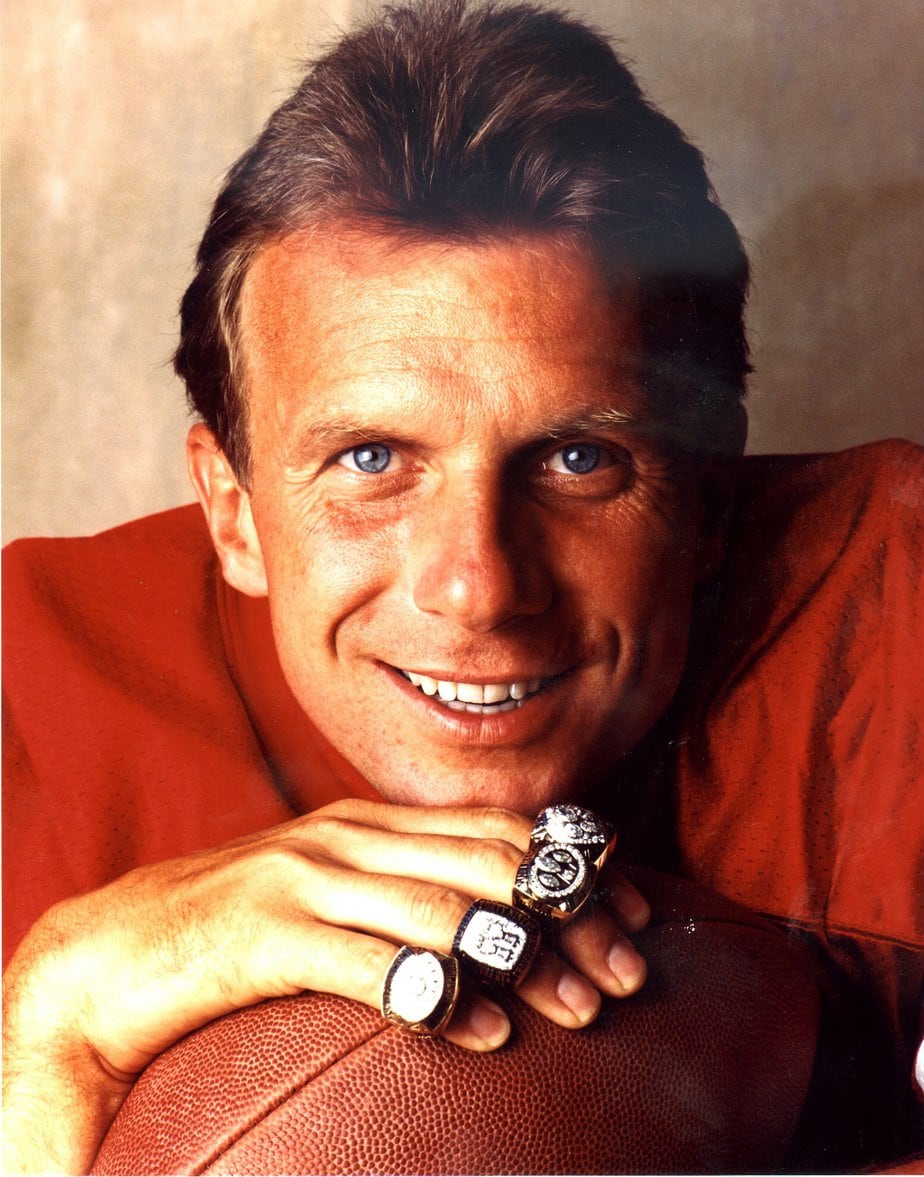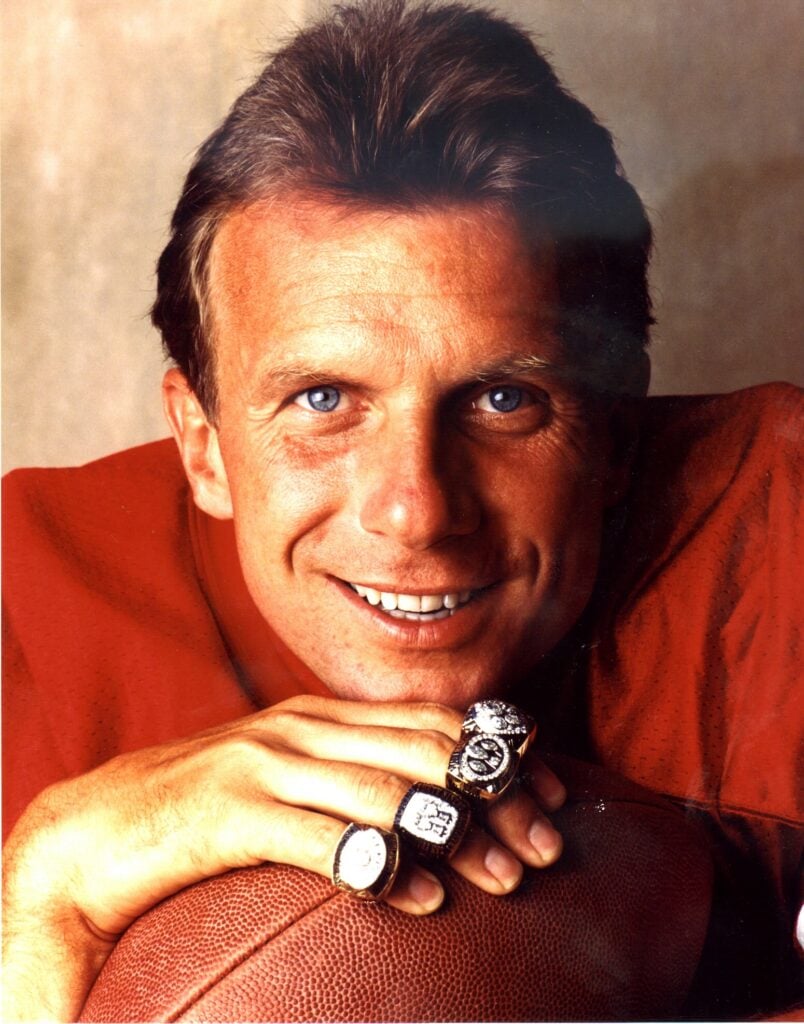 photo source: IMDb
One of the best quarterbacks of all time is largely believed to be Joseph Clifford Montana Jr., well known by the nicknames "Joe Cool" and "the Comeback Kid." Montana started his NFL career in 1979 in San Francisco, where he played for the following 14 seasons, following his success at Notre Dame, when he won a national title.
NFL highlight reels frequently feature "The Catch," a touchdown pass to Dwight Clark against Dallas in the 1981 NFC Championship Game, and his Super Bowl-winning 92-yard drive against the Cincinnati Bengals in Super Bowl XXIII. The 49ers played the Washington Redskins in the NFC Championship game, thanks to this victory.
Did You Know?
Montana was rated the top 4 player in The Top 100: NFL's Greatest Players on the NFL Network.
---
2. Tom Brady (August 3, 1977 – present)
Age When Became MVP: 24 years old
Season: 2001
Team: New England Patriots
Rate: 86.2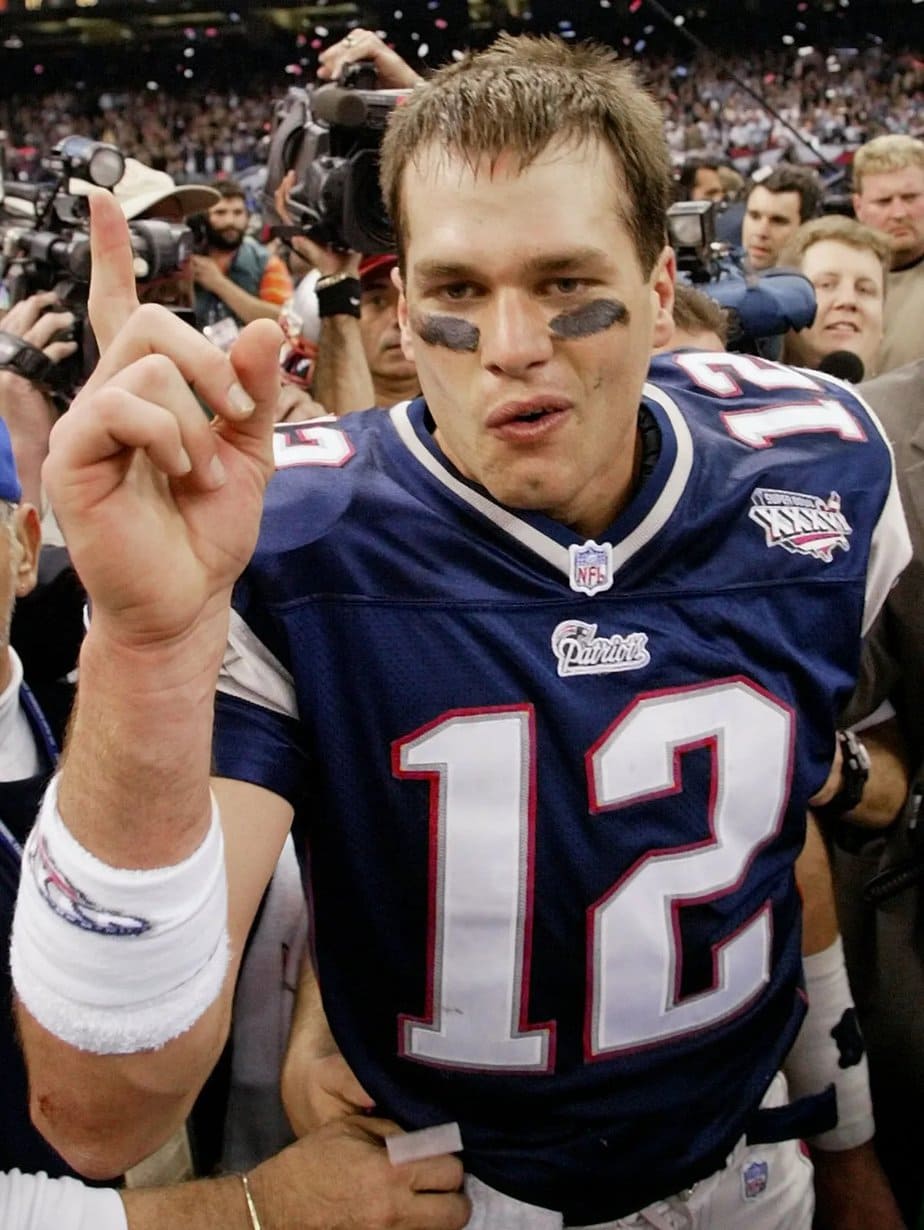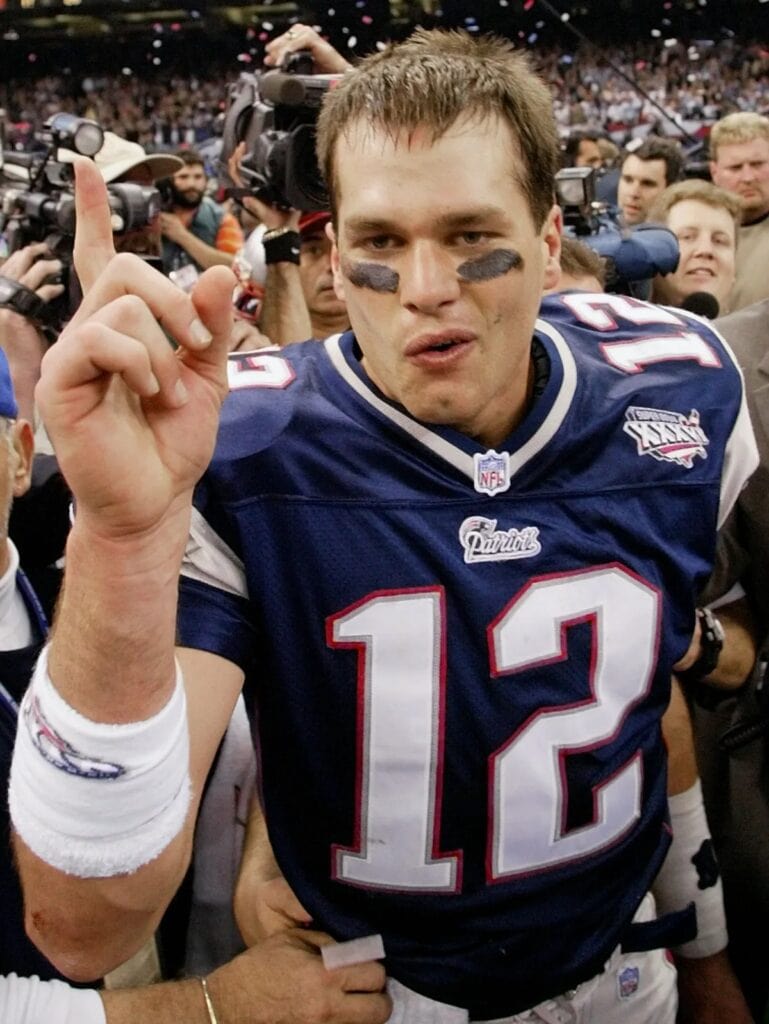 photo source: USA Today
Before winning the 2003 title, Tom Brady had an 86.5 passing rating in 15 games in 2001, throwing for 2,843 yards, 18 touchdowns, and 12 interceptions. He was chosen to participate in his inaugural Pro Bowl.
He earned his first title and MVP award for the Super Bowl. Brady is now among the youngest quarterbacks in history to get the MVP award, along with Patrick Mahomes, who is also 24 years old when he became MVP in 2019.
The most successful quarterback-head coach combination in the NFL, Brady, and Bill Belichick, was on the Patriots. From 2001 until 2019, they were constantly given credit for the Patriots' dynasty, which led to the dynasty being termed the Brady-Belichick period in their honor.
Did You Know?
Due to an injury, Brady's streak of 111 starts from 2001 to 2008 stopped, and his streak of 112 starts from 2009 to 2016 ended when he was suspended due to the Deflategate scandal.
---
1. Patrick Mahomes (September 17, 1995 – present)
Age When Became MVP: 24 years old
Season: 2019
Team: Kansas City Chiefs
Rate: 78.1
photo source: Sports Illustrated
At 24 years old, Patrick Lavon Mahomes is the youngest quarterback to be named MVP, similar to Tom Brady in 2001. After his sophomore year, Mahomes gave up baseball to concentrate completely on football. He was the NCAA Division I FBS player with the most passing yards (5,052) and total touchdowns in his junior year (53).
The Kansas City Chiefs picked him with the 10th overall pick in the 2017 NFL Draft. Mahomes served as Alex Smith's backup during his debut season.
As a result of the Chiefs' trade of Smith to the Washington Redskins in 2018, he was appointed the starter. Mahomes had a 5,097-yard passing total, 50 touchdown passes, and 12 interceptions throughout that season. Mahomes guided the Kansas City Chiefs to Super Bowl LIV in the 2019 season, their first trip in the big game in fifty years when they defeated the San Francisco 49ers.
Did You Know?
Being able to throw for more than 5,000 yards in a single season in both the NFL and college made Mahomes the first quarterback in history to accomplish this feat.
OTHER POSTS YOU MAY BE INTERESTED IN