The Heisman Trophy is a premier annual award given to the best-performing college football player. The trophy was launched in 1935 by New York City's Downtown Athletic Club, and named after the club's first manager, John Heisman.
86 American football players have been honored with the Heisman trophy. In addition to achieving record-breaking margin points, here are eight players who won the Heisman trophy before celebrating their 22nd birthdays.
8. Sam Bradford
Born: 1987
Age When he Won the Trophy: 21 years, 1 month, and 6 days
The Year he Won the Trophy: 2008
His Current Age: 34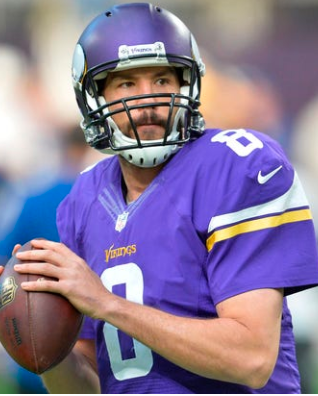 photo source: forbes.com
Sam Bradford was only 21 years and 36 days when he was voted the ultimate winner of the 2008 Heisman Trophy. He received 1726 points, beating Tim Tebow by 122 points and Colt McCoy by 151 points to become the 2nd consecutive sophomore and 5th Oklahoma winner of Heisman.
Sam Bradford completed 4720 yards and 50 touchdowns, breaking the record for highest-scoring offense in NCAA history. While playing for the Oklahoma Sooners football team, Bradford won the starting quarterback role, National Offensive Player of the Week, and NCAA freshman record.
Did You Know?
Bradford is the third novice quarterback to start in the sixteen regular-season games. He broke Peyton Manning's record by winning more attempts and completed passes.
---
7. Reggie Bush
Born: 1985
Age When he Won the Trophy: 20 years, 9 months, and 8 days
The Year he Won the Trophy: 2005
His Current Age: 37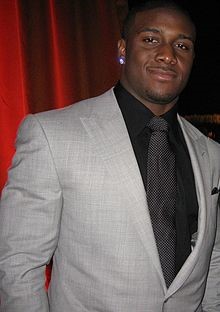 photo source: en.wikipedia.org
Reggie Bush is a former talented college footballer and the notable winner of the 2005 Heisman trophy. He's currently an active Fox Sports on-air college football analyst.
Before quitting American college football, Bush played for USC. He won two All-American honors and the Best Nationwide College Football Player Award.
Reggie Bush also played for the New Orleans Saints, where he received All-Pro Punt Returner, as well as the Super Bowl XLIV honors. Other college football clubs Bush played for include the San Francisco 49ers, Buffalo Bills, Detroit Lions, and Miami Dolphins.
Did You Know?
Reggie Bush has partaken in many charity works with the Diamond Empowerment Fund. He was co-founder of the Athletes for Africa, and was previously involved in charity projects for Africa and Haiti. Bush has also donated over $50,000 for sports equipment to New Orleans schools.
---
6. Barry Sanders
Born: 1968
Age When he Won the Trophy: 20 years, 3 months, and 27 days
The Year he Won the Trophy: 1988
His Current Age: 53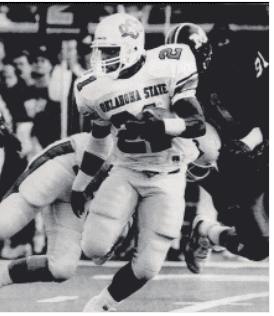 photo source: okhistory.org
Agile and fast, Barry Sanders is acknowledged as one of the most electrifying runners in NFL history.
Sanders played for Oklahoma State Cowboys as a junior footballer, winning the greatest individual seasons in 1988. In the same year, Barry Sanders was crowned the Most Outstanding Player of the Year, and Oklahoma State's first-ever Heisman Trophy winner.
Barry Sanders won 1989's NFL Offensive Rookie Award, 1994's NFL offensive Player Award, and 1997's NFL Most Valuable Player Award. By the time Sanders retired in 1998, he had achieved 99 rushing touchdowns and 15,269 rushing yards.
Did You Know?
Barry Sanders has been ranked at the top among the most distinguishable footballers of the National Football League. He's one of the few professional college footballers holding 34 NCAA records.
---
5. Archie Griffin
Born: 1954
Age When he Won the Trophy: 20 years, 3 months, and 13 days
The Year he Won the Trophy: 1974
His Current Age: 67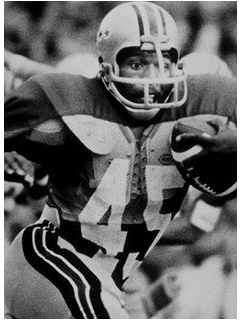 photo source: Footballfoundation.org
Archie Griffin is a retired running back in the National Football League. He set the record as the only two-time Heisman Trophy winner in 1974-1975, and has retained it to date.
Griffin ranks top among the most indomitable college footballers of all time. There are myriad awards and honors associated with his name, including a silver football trophy, Walter Camp Player of the Year, the Maxwell Award, and Sporting News Award for the Man of the Year, to name a few.
Did You Know?
For the four years Archie Griffin played for OSU, he played in all Rose Bowls and helped the team win 4 Big Ten companionships. In his time at OSU, Griffin scored 5,589 yards and 26 touchdowns.
---
4. Mark Ingram Jr
Born: 1989
Age When he Won the Trophy: 19 years, 11 months, and 22 days
The Year he Won the Trophy: 2009
His Current Age: 32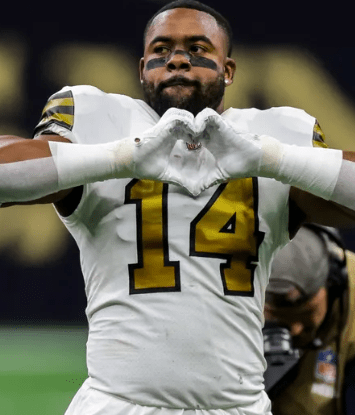 photo source: canalstreetchronicles.com
Mark Ingram Jr. is one of the top-rated running back football players in the National Football League that ever played for the New Orleans Saints. In 2021, he was dubbed the best New Orleans Saints rushing leader of all time.
In the 2009 sophomore college season, Ingram Jr. was voted the most formidable player of the year, and the first-ever Alabama Crimson Tide Heisman Trophy winner. He was only 19 years, 11 months, and 22 days when he won the Heisman trophy.
Ingram Jr. has won 3 Pro Bowl selections and earned four-game suspensions as an NFL player.
Did You Know?
Mark Ingram's football career was catapulted by the legacy his father left behind. His father, Mark Ingram Sr., a legendary American college footballer, molded him to become a force in college and high-school football.
---
3. Rashaan Salaam
Born: 1974
Age When he Won the Trophy: 19 years, 11 months, and 16 days
The Year he Won the Trophy: 1994
His Current Age: Deceased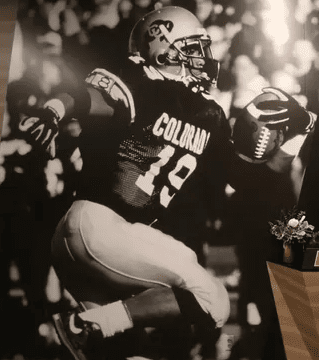 photo source: usatoday.com
Rashaan Salaam's incredible running back skills are etched in the memories of everyone who watched him play. He was talented, dutiful, and always motivated by the zeal to make a change. Salaam played for the University of Colorado, and was voted winner of the 1994 Heisman trophy.
Salaam was selected by the Chicago Bears in the 1995 NFL Draft's first round. In his professional years as a college footballer, he also played for other college football clubs, including the Colorado Buffaloes, Green Bay Packers, Cleveland Browns, Memphis Maniax, and Detroit Lions.
Did You Know?
Rashaan Salaam died on 2016 December 5, aged 42, due to self-inflicted gunshots approximately two miles from the Buffaloes Football stadium. His death happened one week before he celebrated his 22-year Heisman Trophy award anniversary.
---
2. Jameis Winston
Born: 1994
Age When he Won the Trophy: 19 years 11 months 8 days
The Year he Won the Trophy: 2013
His Current Age: 28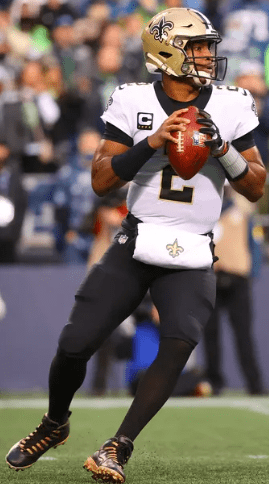 photo source: canalstreetchronicles.com
Jameis Winston is a pro-skilled quarterback playing for the New Orleans Saints. He is known for his incredible abilities, great NFL-fitting arm strength, and good body size. He's the youngest New Orleans Saints player ever to win the Heisman Trophy at 19 years, 10 months, and 17 days.
Winston led his team to win the 2014 BCS National Championship in his freshman year. Following the sophomore season in the 2015 NFT Draft, he was selected the best overall by the Tampa Bay Buccaneers. In addition, he won Pro Bowl Honors, helping his team win 2019 passing yards.
Did You Know?
Jameis Winston never dreamt of becoming a professional college footballer as a child. In fact, his childhood career goal was to become a podiatrist.
---
1. Lamar Jackson
Born: 1997
Age When he Won the Trophy: 19 years, 11 months and 3 days
The Year he Won the Trophy: 2016
His Current Age: 25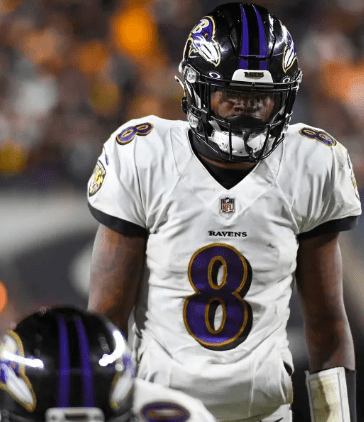 photo source: sports.yahoo.com
Lamar Jackson is the youngest Heisman Trophy winner. He is also a top-rated American football quarterback.
The 25-year-old American football quarterback won the NFL MVP Award after only two years in the NFL. He was 21 years old when he joined the 2018 NFL draft, and became the best entrant of the 2018 Draft.
Jackson's college football career ended with 9043 passing yards, 69 turndown passes, and 50 rushing touchdowns. He is considered one of the most explosive running threats in the NFL, with amazing rushing skills and spectacular agility. His flexibility enables him to make difficult throws with ease and amazing deep ball passing attacks.
Did You Know?
Lamar Jackson didn't employ a traditional manager, as is the case with other American college football players. Instead, he employed his mother as his manager, likely because of the special relationship they share.