We all grew up watching Jackie Chan and Bruce Lee performing crazy tricks on the big screen. Most of us also tried to replicate their movements with poor results. But some kids not only managed to perfectly reproduce those moves but even to become better than our beloved idols! Earning a black belt in any martial arts takes an average of ten years, plus tons of practice, sweat, and sacrifice. Despite this, some kids received their black belts at an incredibly young age. Would you like to get to know more about these unbelievably gifted kids?
Here is a list of the eight youngest black belts in history!
8. Amber Granzien
Received Black Belt: 7
Nationality: Australia
Started To Train: 4
Martial Art: Taekwondo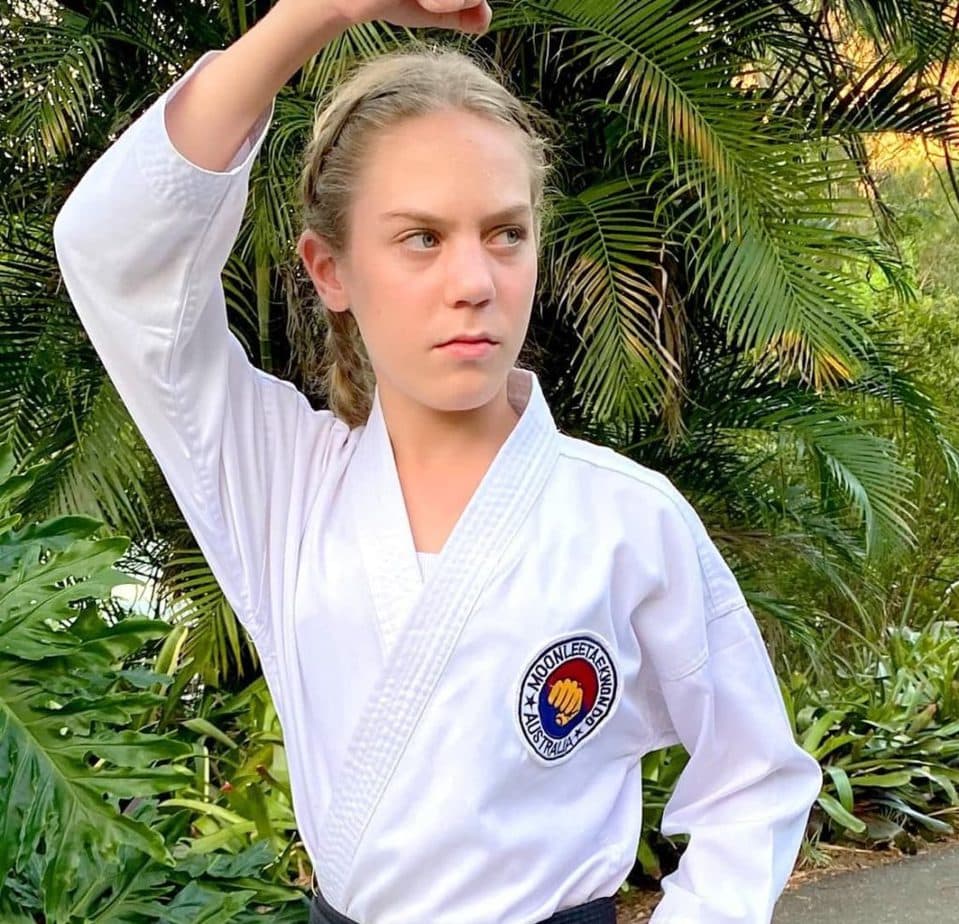 photo source: www.princeofpeace.qld.edu.au
Amber Granzien received her black belt at the young age of seven. She started practicing when she was only four. You may think her exam was easier than a normal one, but this was not the case. She had to perform the same tasks required by an adult candidate. The only difference was in the thickness of the board she was supposed to break with a spinning kick. This was, in fact, slightly thinner than usual ones, given her young age and body. Amber got her black belt on the same day her dad and brother, age 10, received their first Dan.
Did You Know?
Amber is now a young teenager and has earned her 3rd Dan level in Taekwondo. Now her technique is so advanced that she can train with her dad and older brother.
---
7. Mayon Jayawickrama
Received Black Belt: 7
Nationality: UK
Started To Train: 4
Martial Art: Shotokan Karate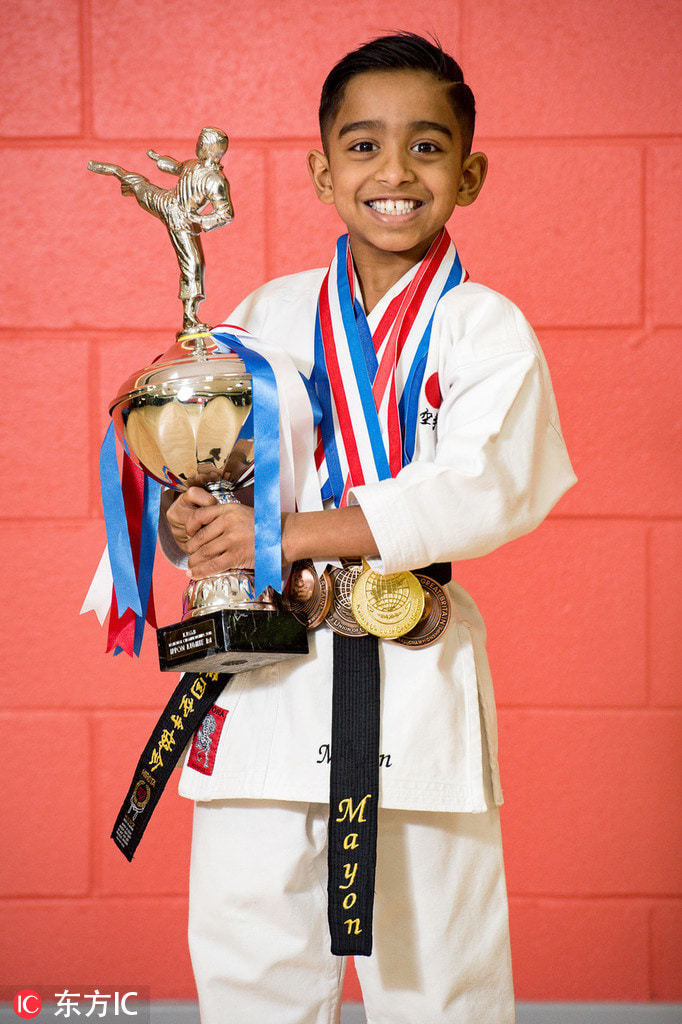 photo source: chinaplus.cri.cn
Mayon Jayawickrama got his passion for karate from his mom, Nilu Samarasinghe. She received her black belt when she was just a teenager, but young Mayon managed to do even better. He got his black belt at the age of seven, after training with his mom for three years. Nilu introduced her son to karate to improve his concentration, confidence, and courage.
But Mayon is not only excellent at this martial art. He is an extremely well-behaved kid, and karate judges awarded him an overall trophy for the best attitude and etiquette.
Mayon initially trained at Barnsley Shotokan Karate Club three times per week along with his mom and other members. But as the black belt exam started to approach, he began to train every single day after school. This surely paid off as little Mayon managed to get his black belt at an incredibly young age.
Did You Know?
According to Mick Padgett, senior instructor at Barnsley Shotokan Karate Club, kids are allowed to follow classes from the age of seven onwards. But he decided to let Mayon join the team as he always went to see his mom practice.'He showed such a keen interest, so I started to let him join in for the last 30 minutes,' said Mr. Padgett.
---
6. Sabrina Yu
Received Black Belt: 6
Nationality: US
Started To Train: 3
Martial Art: Taekwondo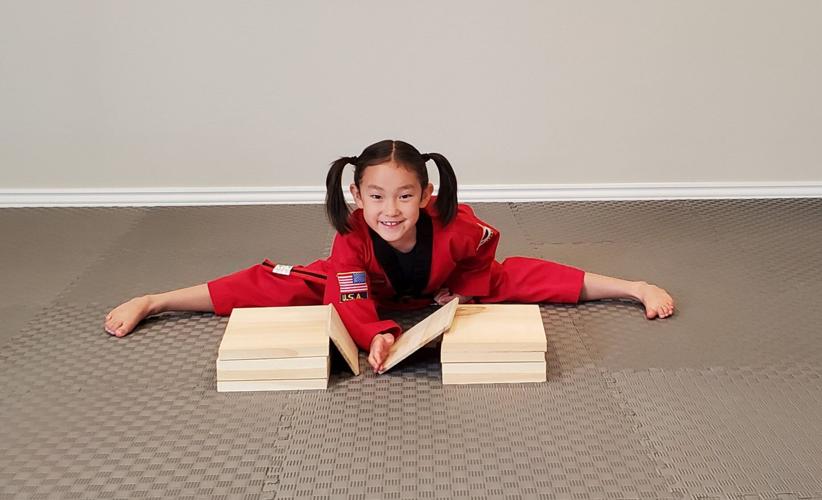 photo source: gazette.com
Just like Mayon, Sabrina Yu got her passion for martial arts from her relatives. Both her mom and sister practiced Taekwondo, and she grew up watching them training. Sabrina's parents sign her up for Taekwondo classes at the age of only three and a half.
According to Master Jay Lee, children cannot join the classes at U.S. Taekwondo Center in Monument until the age of four. However, Sabrina showed such great talent that they decided to take her in.
To be admitted to the black belt exam, Sabrina had to master the fundamentals of Taekwondo. This consisted in learning ten patterns of traditional forms. In addition, she also had to demonstrate her body was fit and muscular. Sabrina had to run three miles within 45 minutes, do 200 push-ups and sit-ups, plus complete a written test.
But Taekwondo is not only about physical strength, but mindfulness and kindness too. Sabrina also had to do 25 acts of kindness to pass her exam. To do so, she cooked cookies for her neighborhood and helped her dad with house chores.
Did You Know?
The whole Yu family practices Taekwondo. Sabrina's mom, in particular, got tons of benefits from this martial art that helped her reverse a pre-diabetes diagnosis in 2019. She lost 40 pounds thanks to the training and dietary changes that significantly improved her lifestyle.
---
5. Sidney DeLibero
Received Black Belt: 6
Nationality: US
Started To Train: 3
Martial Art: Taekwondo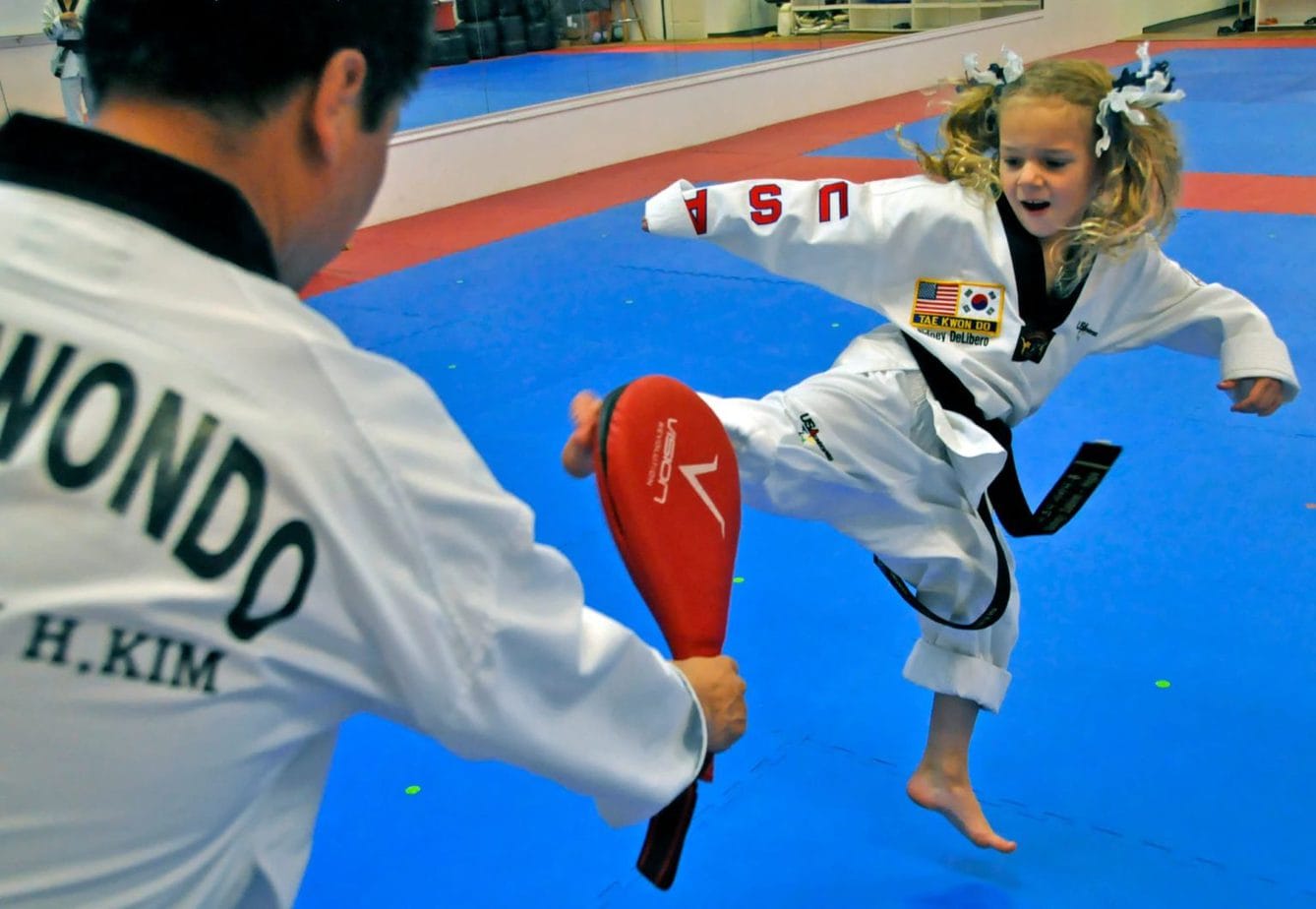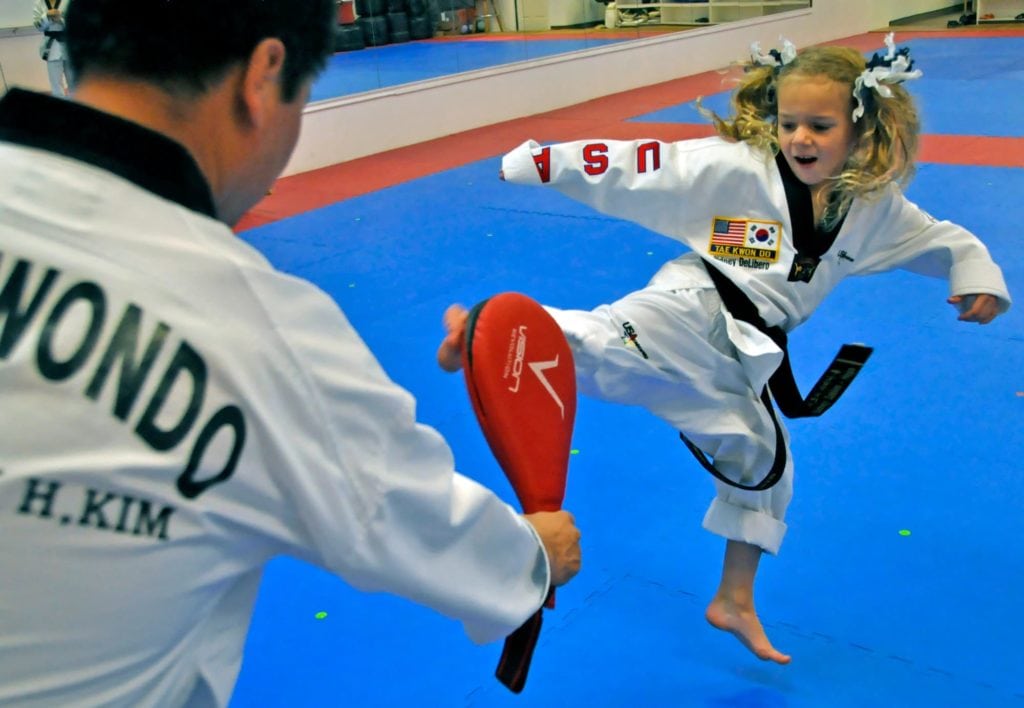 photo source: www.af.mil
Sidney DeLibero was born in a military family. Her dad, Scott DeLibero, got deployed plenty of times, and both her mom and brother always had to adapt to the sudden changes in Scott's job.
According to Kalisa, Sidney's mom, when her daughter was born, in 2006, Scott got deployed to Iraq. At the time, Sidney's brother, Simon, was only four and had to face the birth of a sister along with the departure of his dad. Kalisa decided to get him distracted by taking him to Taekwondo classes.
Young Sidney would always go to see her brother train even though she was not allowed to join till the age of three. Her talent became evident as soon as she started to train together with her brother. At the age of only six, she received her first-degree black belt!
Apart from taekwondo, both Sidney and Simon enjoy other sports and hobbies. Their parents believe it's important for both of them to be well-rounded. That's why they also involved them in church, roller skating, and piano lessons.
Did You Know?
Sidney's brother is also incredibly good at Taekwondo. He received his second-degree black belt at the age of 10.
---
4. Kechelle deSouza Dalton
Received Black Belt: 6
Nationality: UK
Started To Train: 3
Martial Art: Karate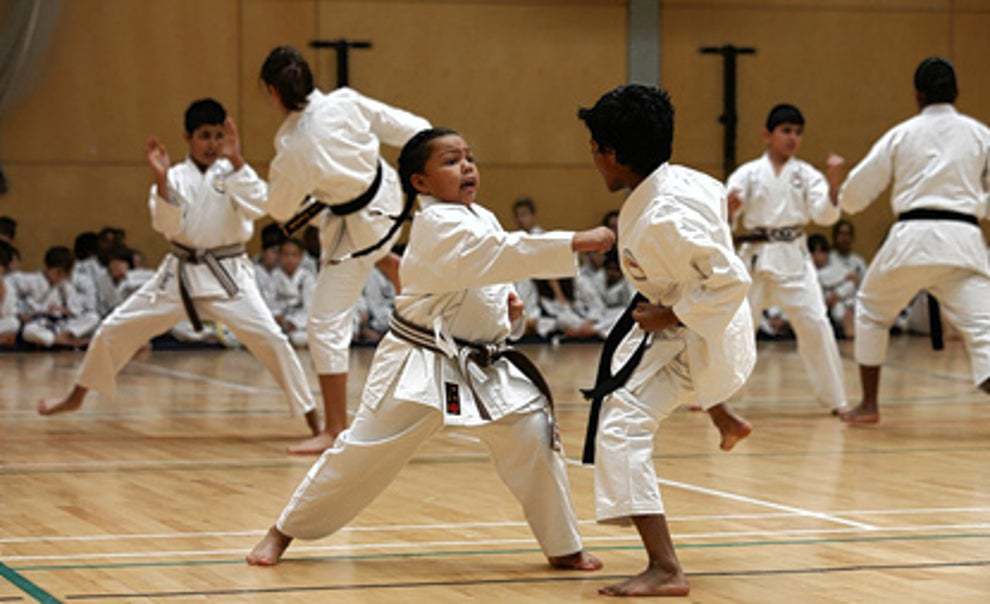 photo source: www.standard.co.uk
According to her mom, Kechelle deSouza Dalton got interested in karate as soon as she started to speak. She learned about this sport watching her brother, Lamar, who got his black belt at 12.
Kechelle started to train at the age of three. Initially, she practiced four days a week, but as she got better, Kechelle decided to go to karate class five days a week. According to her mom, after her practice, she would continue perfecting her technique at home. This led her to win a black belt in 2010, at the age of only six.
Her karate skills also helped her deal with bullies. According to her mother, she was taught to use martial arts exclusively for self-defense. But when one day she was attacked by a bully, she had no alternative but to defend herself with all her karate knowledge. The little kid did not know who he was dealing with!
Did You Know?
Kechelle's instructor is Shihan Alex Constantinos Sylvan, vice-president of the martial arts federation of Great Britain.
---
3. Agnivesh Jyotiraditya
Received Black Belt: 5
Nationality: Indian
Started To Train: Unknown
Martial Art: Shotokai Karate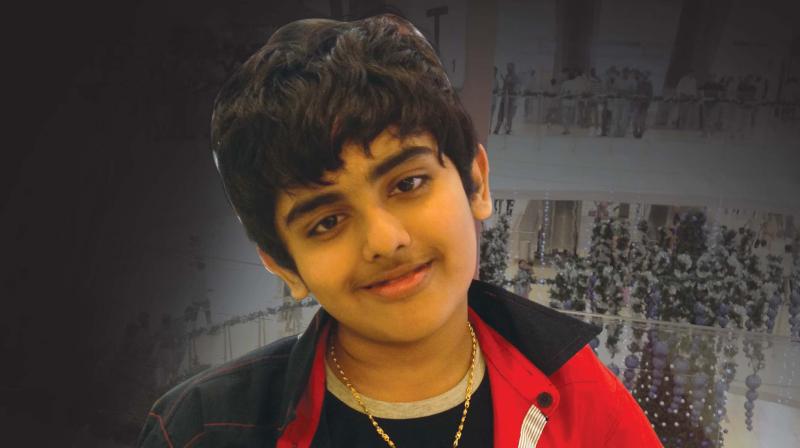 photo source: www.deccanchronicle.com
Agnivesh Jyotiraditya, known by most as Monu, got his black belt in Shotokai Karate at the impressive age of five. But young Monu is not only known for this hobby. This little boy seems to be exceptionally good at everything he does. Apart from karate, he's a terrific dancer, drummer, and most of all, writer. His parents encouraged him to note down little stories as soon as he learned to write. That's how he published his first book Little Story by Little Monu. At a very young age, he had already won several prizes for his dancing, storytelling, and musical skills!
Did You Know?
Monu is also a polyglot kid speaking five different languages.
---
2. Varsha Vinod
Received Black Belt: 5
Nationality: Indian
Started To Train: 3
Martial Art: Karate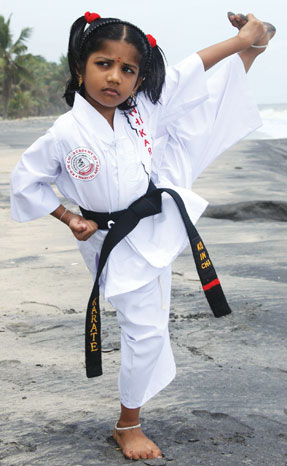 photo source: littleindia.com
Varsha Vinod started to show an interest in karate at the tender age of two. Like many other kids, her idol was martial art veteran Bruce Lee. But unlike most, she actually decided to follow in his footsteps.
Varsha started to practice karate at the age of only three. After school, she always took time for practice. Her classes lasted about two and a half hours and were even longer during the weekend. At the age of four, she got her brown belt, and the following year was awarded the black belt.
After this important achievement, Varsha's popularity started to grow, and she got invited by many organizations and clubs in Kerala to show her talent.
Did You Know?
Varsha Vinod also had a sparring session with the British karate champion Juan Moreno. He said he was extremely impressed with the girl's skills and commented: "She is the ultimate karate kid. It's hard to remember she is just five. Her skills and concentration are amazing."
---
1. Manushree Saxena
Received Black Belt: 4
Nationality: India
Started To Train: 2
Martial Art: Karate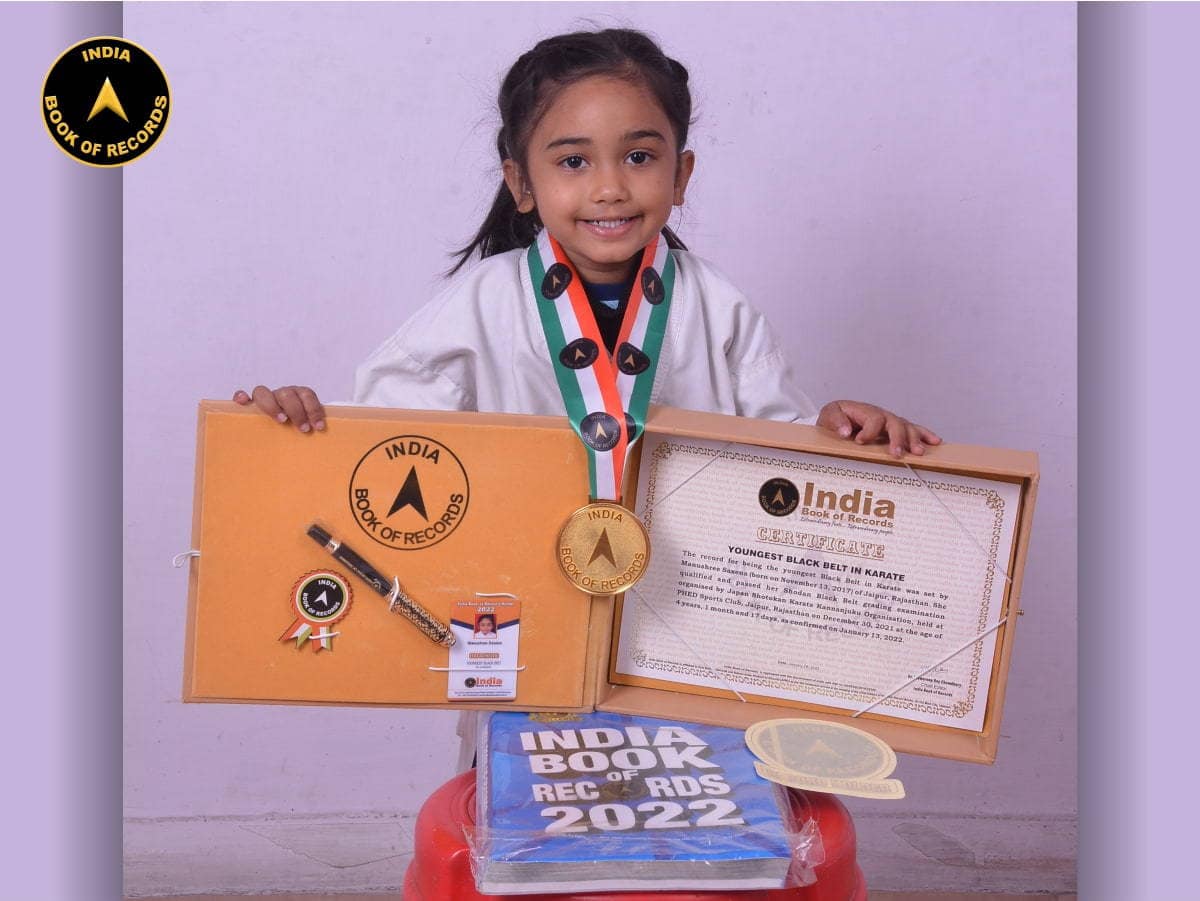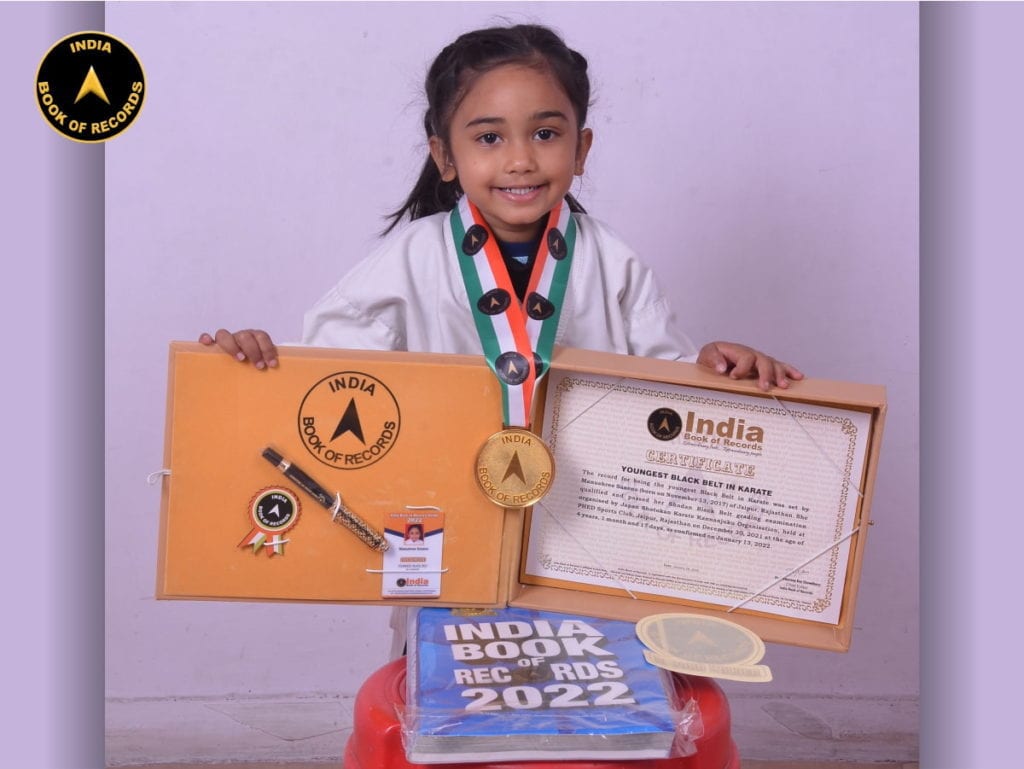 photo source: indiabookofrecords.in
Manushree Saxena is the youngest black belt in the world as she received her black belt at the age of four. This little girl from Jaipur is now in the India Book of Records as well as the Asia Book of Records.
Manushree's parents started to train her in karate when she was only two years old. It all started when Manushree's sister, Tanushree Saxena, began to take karate lessons with coach Mahesh Kayat, at the Asian Karate Federation. After class, she would go back home and practice her kicks and punches with her sister. The coach soon noticed Manushree's interest in this martial art and started to give her all his attention.
Did You Know?
Manushree's coach is now also trying to get her name in the Guinness Book of World Records.