Ballon d'Or is the oldest, most iconic award ever presented to an individual football player in Europe. The Ballon d'Or award was introduced in 1956 by Gabriel Hanot, a retired French footballer and columnist. Hanot was the brain behind France's LIQUE 1 championship and co-founder of the European Cup, currently known as the UEFA Champions League.
Stanley Mathews, the greatest English player to play for Blackpool Football Club, was the first player to win Ballon d'Or. After Mathews, Alfredo Di Stéfano stepped into the spotlight as one of the best footballers to play for Real Madrid. However, it is Lionel Messi – an Argentinian football megastar – who holds the greatest number of Ballon d'Or awards, followed by Cristiano Ronaldo, a globally-celebrated Portuguese footballer.
Other Ballon d'Or winners have been credited for winning this award at a young age. Read on to discover eight footballers whose names will remain etched in the Guinness Book of Records for winning the Ballon d'Or award before hitting 30.
8. Marco van Basten
Born: 1964
Nationality: Dutch
Year He First Won the Award: 1988
Current Age: 57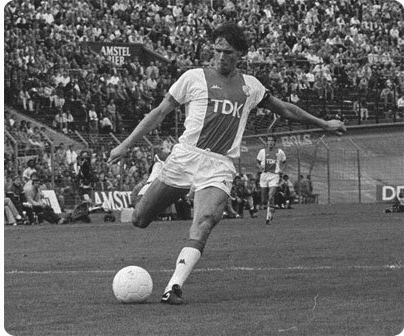 photo source: Footballhistory.org
Marco van Basten is a Dutch striker and famous football manager whose striking skill was undeniably outstanding. Van Basten's AC Milan, Ajax, and Netherlands National Team records are remarkable. Although his football career ended at age 31 following a troublesome ankle, Basten is one of the best Dutch footballers of all time.
Ajax signed Van Basten at age 16, which catapulted his professional career to a far-fetched feat. In 1988 while aged 24 years and 57 days, Marco Van Basten won his first Ballon d'Or title. The other two titles came in 1989 and 1992 before he retired in 1995.
In only 15 years of active footballing, Basten scored 152 goals for Ajax in 172 matches, and 125 for AC Milan in 201 games. That's a pretty outstanding record that not many footballers have achieved.
Did You Know?
Marco van Basten led the Netherlands Football team to a Euro 88 win after scoring a brilliant strike while playing finals against the Soviet Union. The abrupt stop of Basten's football career resulted from a severe ankle injury.
---
7. Eusébio da Silva Ferreira
Born: 1942
Nationality: Mozambican-born Portuguese
Year He First Won the Award: 1965
Current Age: Deceased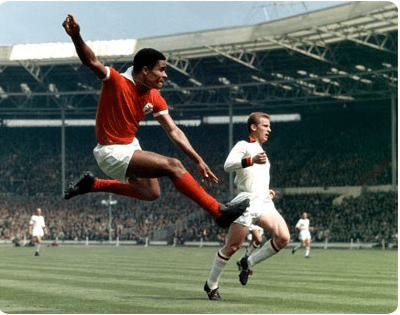 photo source: Footballhistory.org
Born Mozambican, Eusebio da Silva was S.L. Benfica's shrewdest player and Portugal's greatest footballer of all the time. At S.L. Benfica, Eusebio played 440 matches and scored 473 goals, a record not many Portuguese footballers have broken to date.
In total, Eusebio played 745 games and scored 733 goals – meaning that on average, he scored a goal in each match except in 12 games. In his time, scoring a goal in two consecutive football games was unheard of, making him the shrewdest and most successful footballer of his time.
He recorded most goals in the 1964/65, 1965/1966, and 1967/1968 European Cups. Eusebio won the Bola de Prata award a total of seven times. He also won the European Golden Boot in 1968 and 1975. However, his most outstanding achievement was the Ballon D'Or, which he won aged 23 years and 338 days.
Did You Know?
Eusebio won five Portuguese cups and 11 Portuguese league titles while playing for Benfica. He unfortunately had five knee operations that resulted in the premature end of his football career.
---
6. Cristiano Ronaldo
Born: 1985
Nationality: Portuguese
Year He First Won the Award: 2008
Current Age: 37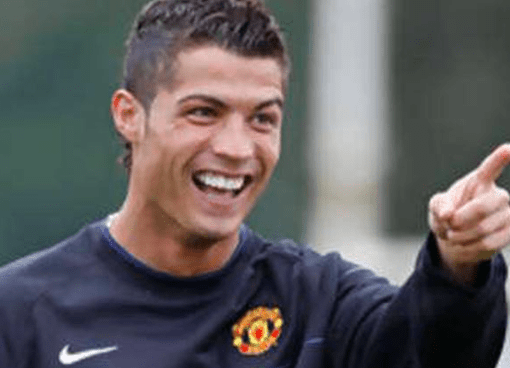 photo source: thenationalnews.com
Cristiano Ronaldo tops the chart of the most in-demand and globally bookmarked footballers. His success story is highlighted by his feats, including five Ballon D'Or awards, four European Golden Shoes, Three Pichichi trophies, and six Champions League Top Scorer awards.
Cristiano Ronaldo's accomplishments correlate to the top-rated football clubs he has played for, including Sporting CP, Man United, Real Madrid, and Juventus. In total, Cristiano has played 1095 matches and scored 801 goals. And he is also on the list of Oldest Ballon d'Or Winners.
Cristiano Ronaldo won the first-ever Ballon d'Or in 2008 while playing for Manchester United. He was voted Manchester United's best player of the season in 2008. In addition, Ronaldo helped the club win the English Premier League consecutively from 2007 to 2009.
Did You Know?
Although right-footed, Cristiano Ronaldo plays on both wings and as a striker. He has excellent heading capabilities, thanks to his supportive 6' height.
---
5. Oleg Blokhin
Born: 1952
Nationality: Ukrainian and Soviet
Year He First Won the Award: 1975
Current Age: 69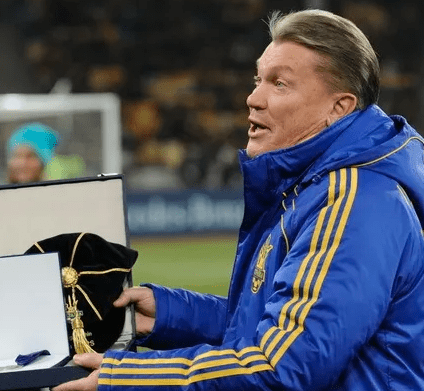 photo source: Sports-nova.com
Oleg Blokhin's journey to a successful football career began early. He won his first Soviet League Championship award while playing for Dynamo Kiev teen's league. Blokhin was named one of the shrewdest scorers of the Soviet era after helping Dynamo Kyiv carry the championship cup for four consecutive years, from 1972 to 1975.
In 1975 while aged 23 years and 57 days, Oleg Blokhin led Dynamo Kyiv to winning the European Cup. He won the title of the Best European Footballer of that year, scooping his first-ever Ballon d'Or award. Oleg Blokhin has played 582 matches and scored 266 goals total.
Did You Know?
Blokhin scored three goals in the two-legged UEFA Super Cup while playing against Bayern Munich in 1975. He is the second footballer from the erstwhile Soviet Union after Lev Yashin to win the 1963 Ballon d'Or.
---
4. George Best
Born: 1946
Nationality: Northern Irish
Year He First Won the Award: 1968
Current Age: Deceased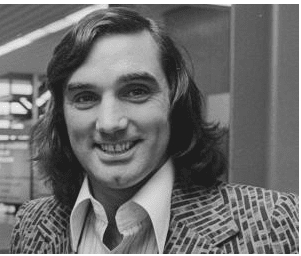 photo source: thefamouspeople.com
The history of Manchester United's Football Club wouldn't be complete without mentioning George Best. George Best was an Irish-born premier league player and genius footballer whose records in scoring acrobatic goals and dibbling are unbreakable. He joined Manchester United at age 15, and played in the first-division league two years after.
Best led the club into winning a premier league title before hitting the age of 20. Through his efforts, the club won the Europe Cup for the first time in 1968, becoming the first-ever English club to win such an achievement. George Best played 466 matches and scored 178 goals. He won the Ballon D'Or award in 1968, aged 22 years and 215 days.
Did You Know?
George Best played 37 games for Northern Ireland, scoring nine international goals. Although he never played in a World Cup game, he is thought to be one of the most top-skilled, internationally-recognized footballers of all time.
---
3. Lionel Messi
Born: 1987
Nationality: Argentine
Year He First Won the Award: 2009
Current Age: 34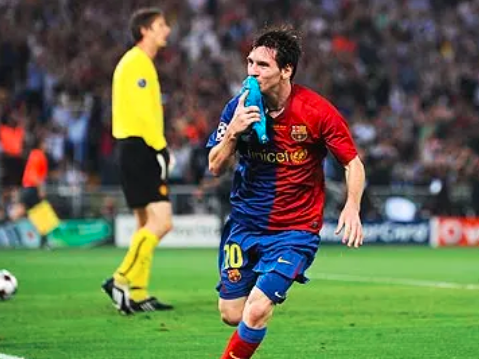 photo source: theguardian.com
Lionel Messi is a seven-time winner of the Ballon d'Or, and one of the most talented football players that the Paris Saint-Germain and Argentina national teams have ever signed.
Messi won the Ballon d'Or for the first time in 2009, aged 22 years and 160 days. He has several prestigious awards under his belt, including The Best FIFA Men's Player medal, FIFA FIFPro World XI awards, Pichichi Trophies, and European Golden Shoe awards.
As a top-scorer and award-winning footballer, Lionel Messi has played 1109 matches and scored 804 goals.
Did You Know?
Lionel Messi's contract to join F.C. Barcelona was signed on a napkin. To date, he always dedicates his goals to his grandma.
---
2. Michael Owen
Born: 1979
Nationality: British and English
Year He First Won the Award: 2001
Current Age: 42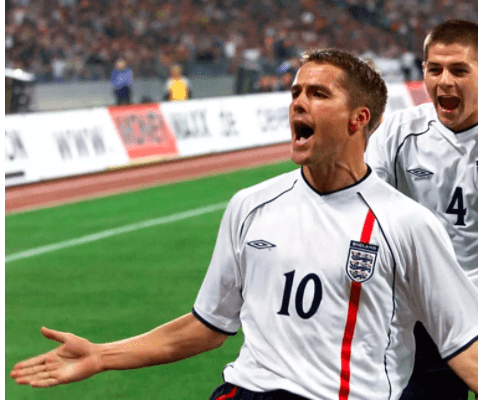 photo source: fourfourtwo.com
Michael Owen is a talented striker and an excellent finisher. He's known for his amazing composure and superb speed while tackling the ball.
Michael Owen won his first Ballon d'Or in 2001, aged 22 years and four days. He was the first Englishman to win this award two decades after the last English player.
Michael Owen scored 24 goals playing for Liverpool in the 2000/2001 season. He also scored the deciding goal that led to a Liverpool victory over Bayern Munich 3-2, enabling the club to win the UEFA Super Cup.
Owen played 297 matches for Liverpool, scoring 158 goals in total. He's considered one of the best Liverpool players of all time.
Did You Know?
Michael Owen was named Best United Kingdom's Sportsman of the Year in 1998, and Europe's best Footballer of the Year in 2001. He has played England clubs such as Liverpool, Manchester United, Real Madrid, Stoke City, and Newcastle United.
---
1. Ronaldo Nazario
Born: 1976
Nationality: Brazilian
Year He First Won the Award: 1997
Current Age: 45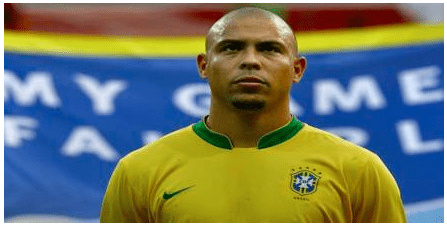 photo source: assignmentpoint.com
Ronaldo Nazario is the youngest ever player to win the Ballon d'Or. He was only 21 years and 96 days when he won this prestigious award.
Nazario is considered one of the most technically-gifted strikers in the history of competitive football. One of the many feats that earned him great recognition is when he scored 47 goals in 49 matches while playing for Barcelona.
Nazario has won many other outstanding awards, including the Cup Winners Award, the Spanish Super Cup, and the Copa Del Rey. Ronaldo Nazario has been considered Serie A top-scorer multiple times. He has won Male Soccer Player ESPY Award and the FIFA World Cup Golden Ball.
Did You Know?
Ronaldo was the youngest player in the Brazilian squad when it won the 1994 FIFA World Cup. In his most active moments, Ronaldo played for Brazil, scoring 62 goals in 98 games.