Unlike surfing, golf or even basketball, skateboarding is fairly recent—gaining traction in the 1970s and 80s and becoming an Olympic sport this year. As such, this list doesn't contain records of ancient bowls or ramps, but instead a familiar history that continues into the present day. Read below to learn about skateparks from around the world that have changed the sport by establishing innovative structures, supporting new tricks and fostering community.
10. Livingston Skatepark
Year Opened: 1981
Location: Livingston, Scotland
Still Operating?: Yes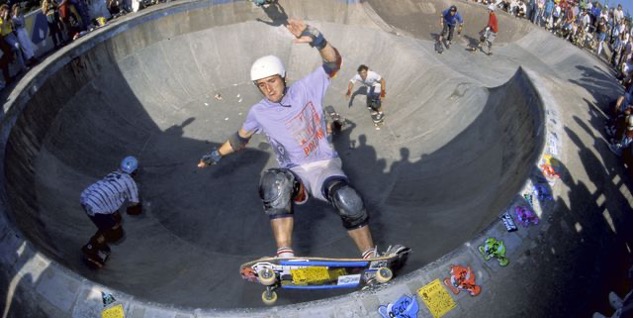 photo source: Tim Leighton-Boyce via Read and Destroy Archive
Out of place among Scotland's medieval structures and rolling hills, Livingston Skatepark is a charming and historic contribution to the legacy of skating. Built in 1981, the park incorporates California designs, like concrete bowls—an improvement on the town's previous attempts, which included flimsy wooden ramps. After a visit to the US and personal interviews with local skaters, Iain Urquhart, an Edinburgh-based architect, was ready to start the project. Although it's experienced some wear and tear over the years, the park is an important part of European skate culture.
Did you know?
Livingston Skatepark, known as "Livi" by the locals, is one of Tony Hawk's favorite skate destinations. His presence at the park increased its international status significantly
---
9. The Dish
Year Opened: 1980
Location: San Francisco, CA
Still Operating?: Yes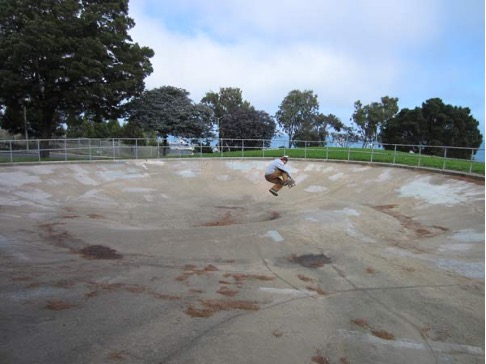 photo source: Skateboard Blog
A simple design, The Dish is one of San Francisco's most iconic landmarks—at least among its skaters. Locals exclusively enjoyed the park for several years, until videos of pro skater and musician Tommy Guerrero skating the bowl ended up online. After that, skaters from across the country grew interested in The Dish. In its heyday, The Dish was host to skate competitions—including Thrasher's Day of Hell.
Did you know?
After its peak years, The Dish went back to being a local haunt rather than an well-known skating destination. In 2015, though, the city sought to change this, using $300,00 to expand the park.
---
8. Parque Bustamente
Year Opened: 1979
Location: Santiago, Chile
Still Operating?: Yes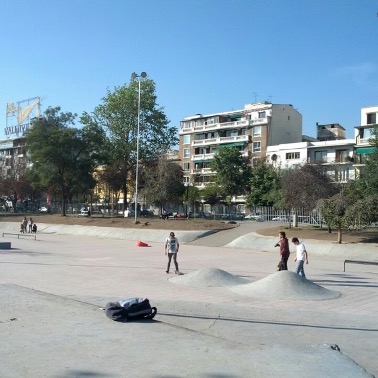 photo source: Four Square
Santiago's oldest major skatepark, Parque Bustamente was the result of a skating boom that hit Chile around the early 1970s. After several Chilean skaters returned from the U.S., they paved the way for Santiago's own skate scene—establishing places like Parque Bustamente. Situated in the heart of the city, this park offers several bowls, pipes, rails and ramps for all sorts of skaters and reminds athletes of Santiago's skating history.
Did you know?
Santiago's skate scene hit a wall in the '80s when dictator Augusto Pinochet Ugarte took over. After he left, Chile recovered economically and several more Skateparks were built.
---
7. Sandy Hills Skatepark
Year Opened: 1978
Location: Landsowne, MD
Still Operating?: Yes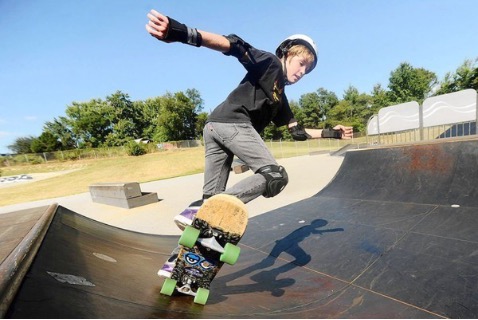 photo source: Brian Krista, Patuxent Publishing via Baltimore Sun
Another well regarded skatepark with lots of enthusiastic visitors, Sandy Hills brings the charms of vintage skating to an otherwise inconspicuous Maryland neighborhood. Most notable is the park's combination of concrete and metal structures, allowing a wider variety of tricks and better opportunities for rookie skaters to learn the craft. Locals claim that this unique feature draws international attention, with skaters coming from places like Russia and England.
Did you know?
Professional skateboarder Bucky Lasek once asked for a private session at Sandy Hills.
---
6. Seylynn Skatepark
Year Opened: 1978
Location: North Vancouver, B.C.
Still Operating?: Yes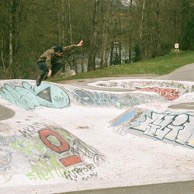 photo source: Shop Task
Canada's oldest surviving skatepark, Seylynn has been a mainstay of the Vancouver community for decades. Situated in Seylynn city park, the skatepark area features several steep bowls and snake runs ideal for more intense tricks. Through community efforts, this city-established space has received periodic renovations that have allowed it to last for years.
Did you know?
Like the originators of Australia's Snake Run, Seylynn's designers based the park on surfing—hoping to create a skate experience comparable to carving a wave
---
5. Rom Skatepark
Year Opened: 1978
Location: Hornchurch, East London, UK
Still Operating?: Yes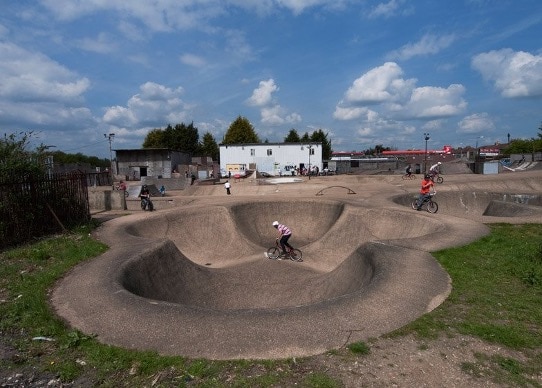 photo source: Dezeen
Perhaps not a typical item on any historic tour through England, Rom Skatepark gained landmark protection and status in 2014 because it's one of the longest operating and surviving skateparks in the UK. While the sport has its roots in 1950s and '60s California, it made its way across the pond in the late '70s. The park mimics California trends, featuring bowls that resemble the empty pools skaters used in the early days. After England's skating scene dropped off in the 80s, many parks closed down, leaving Rom as one of the few that still shows England's skating history.
Did you know?
Rom is the first skatepark to receive historical listed status
---
4. Kona Skatepark
Year Opened: 1977
Location: Jacksonville, FL
Still Operating?: Yes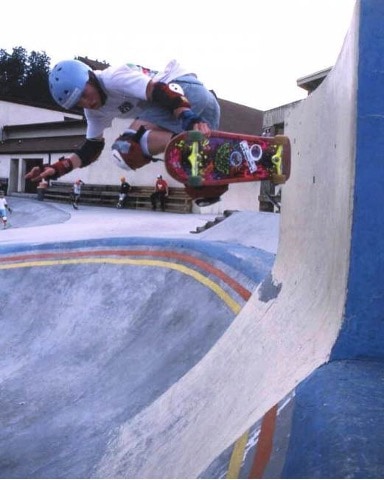 photo source: Visit Jacksonville
Credited by the Guinness Book of World Records as the "Oldest Privately Owned Skatepark," Kona has offered skaters of all ages exciting bowls and rails since 1977. Kona also introduced several structures still seen in modern skating, like the "vert" ramp, which is a half pipe that extends up to 12 feet. Over the years, Kona has seen quite a bit of skate royalty—including Tony Hawk, Peggy Turner, Tony Alva and the rest of the Dogtown skaters. Jacksonville natives and pro-skaters Mike Peterson and Clyde Singleton grew up skating at Kona.
Did you know?
Kona is depicted on a level on Tony Hawk's Pro Skater 4 game
---
3. The Snake Run
Year Opened: 1976
Location: Albany, Western Australia
Still Operating?: Yes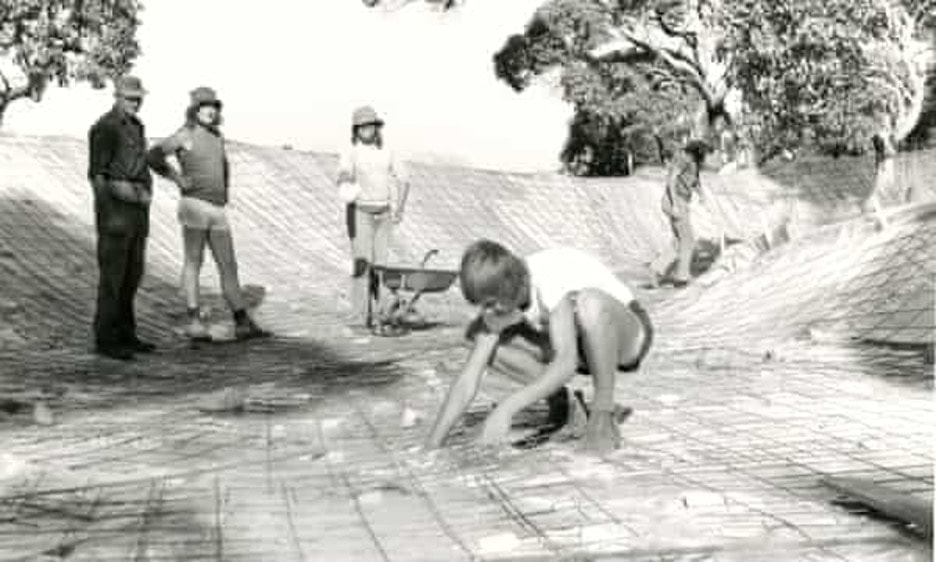 photo source: City of Albany
The Snake Run is Australia's oldest skatepark and credited with being the second oldest surviving skatepark in the world. In the mid-1970s, a group of local teen skaters gathered funds and council support to build the park. During its 40th anniversary, many of those original skaters returned, now adults ready to test their creation once again.
Did you know?
With no point of reference on what skateparks looked like, the Snake Run founders based their designs off surfing—creating bowls that resembled waves
---
2. Carlsbad Skatepark
Year Opened: 1976
Location: Carlsbad, CA
Still Operating?: No
The second oldest skatepark Carlsbad Skatepark was California's first skatepark. Opened by Jack Graham and John O'Malley, the park operated until 1979. After that, it was left to deteriorate, covered in decades of dirt and grime.
Despite community efforts
to save and reconstruct the spot in 2004, the city officially tore down the park the next year. A retrieved piece of concrete from the park is now at the Smithsonian National Museum of American History.
Did you know?
The appeal to save the park in 2004 suggested that the space also include a museum to record Carlsbad's skateboarding history
---
1. Surf City
Year Opened: 1965
Location: Tucson, AZ
Still Operating?: No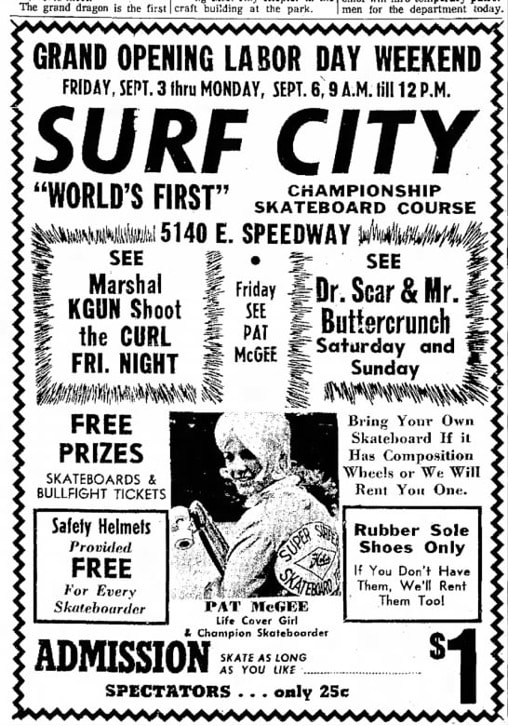 photo source: Tucson Daily Citizen
The world's first official skatepark was Surf City, ironically located in landlocked Arizona. Predicting the skate trend that would rise in the 70s and 80s, this maverick park offered patrons concrete ramps. There aren't a lot of official documents relating to this space, but there's no doubt it bolstered (maybe even started) American skating as we know it.
Did you know?
Patti McGee, the woman's national champion, attended the grand opening.
OTHER POSTS YOU MAY BE INTERESTED IN