According to a study cited by the Huffington Post, the peak age of performance for athletes is about 26 years old. While this may be true of sports that are more physically demanding such as track and field and swimming, several Olympic sports while just as hard, are less taxing on an athlete's body and competing at an advanced age isn't too much of a problem. To illustrate this point, the majority of the oldest Olympic competitors were Equestrian competitors while the others were involved with some form of Shooting. All of the Olympians on this list were over 60 years old and at the top of their game as several of them earned medals, including gold.
8. Joshua Millner
 Oldest Age While Competing: 60
Country:  Great Britain
Year Competed:  1908 Summer Olympics
Sport: Shooting
photo source: Wikimedia Commons
Joshua Millner (also known as Jerry Millner) is one of the oldest athletes to compete in the Olympics and the second oldest shooter on this list. Millner competed in the 1908 Games and became one of the oldest gold medalists in history when he won the 1,000 yards Free Rifle competition. He was a contemporary of Oscar Swahn (second oldest, sometimes first depending on who you ask, Olympic athlete) who was also a shooter that also competed during the 1908 Olympics. When Swahn won his gold medal at the 1912 games, he unseated Millner person to ever win an Olympic gold medal.
---
7. Lida Peyton "Eliza" Pollock
 Oldest Age While Competing: 63
Country:  United States
Year Competed:  1904 Summer Olympics
Sport: Archery
photo source: Wikimedia Commons
Lida Peyton "Eliza" Pollock (listed as Jessie Pollock in the Olympic records) is the oldest American woman to have competed in the Olympics. She participated in the 1904 Olympic Games in Archery and ended up winning three medals. Pollock won two individual medals, both bronze, one for the Double National round and the other for the Double Columbia round. She also won a gold medal for the Team round, making Pollock the oldest female gold medalist.
---
6. Ian Millar
 Oldest Age While Competing: 65
Country:  Canada
Year Competed:  2012 Summer Olympics (also competed in every Summer Olympics from 1972 – 2012)
Sport: Equestrian Jumping
Ian Millar has the distinction of being the oldest Canadian Olympic competitor as well as being the first athlete in any sport, from any nation, to compete in 10 Olympic Games. He set both of these records at the 2012 Summer Olympics when he competed in the Equestrian Jumping event. Millar went to his first Olympics in 1972 and participated in every Games thereafter until 2012, with the exception of the boycotted 1980 Moscow Games.
During his entire Olympic career, Millar earned one medal, a silver in the team event at the 2008 Beijing Games. Millar had hoped to compete in the 2016 Rio Games, but his primary horse, Dixon, had undergone surgery before the start of the Games and was unable to compete. However, a Millar still competed at the 2016 Olympics as his daughter, Amy, made her Olympic Equestrian debut.
---
5. Lorna Johnstone
 Oldest Age While Competing: 70
Country:  Great Britain
Year Competed:  1972 Summer Olympics (also competed in 1956 and 1968)
Sport: Equestrian Dressage
Lorna Johnstone is the oldest female to ever compete in the Olympics as she was 70 years old during the 1972 Olympic Games. Johnstone had grown up around horses and prior to competing in the Olympics,
she was a thirteen time British national dressage champion
. She competed in the Olympics for the first time at the 1956 Summer Olympics at age 53.
When she competed again at the 1972 Games, she became the oldest woman and the second oldest British (though many people consider her to be the oldest British competitor as art competitions no longer count) athlete to compete in the Olympics. Johnstone never earned an Olympic medal – her best finish was at 5th place in the 1968 Mixed Dressage Team event.
---
4. Hiroshi Hoketsu
 Oldest Age While Competing: 71
Country:  Japan
Year Competed:  2012 Summer Olympics (also competed in 1964 and 2008;qualified in 1988)
Sport: Equestrian Dressage
Hiroshi Hoketsu was the oldest Olympic competitor at both the 2008 and 2012 games at ages 67 and 71, respectively. Hoketsu
made his Olympic debut at the 1964 Games in Tokyo, Japan at age 23
and he did not compete again in the Olympics for over 40 years. He actually qualified for the 1988 Olympics, but could not compete because his horse was quarantined.
Throughout his business career, Hoketsu continued to practice his equestrian riding. Hoketsu returned to compete in the Olympics in 2008 after retiring from his career and went on to ride in one more Olympic competition in 2012. He had intended to try to qualify for the 2016 Olympic Games in Rio, Brazil, but was unable to meet the Japanese team requirement of competition scores because his horse had fallen ill. If Hoketsu had competed at the 2016 Games, he would have broken the record for being the oldest Olympian at age 75.
---
3. Arthur von Pongracz
 Oldest Age While Competing: 72
Country:  Austria
Year Competed:  1936 Summer Olympics (also competed in 1924 and 1928)
Sport: Equestrian Dressage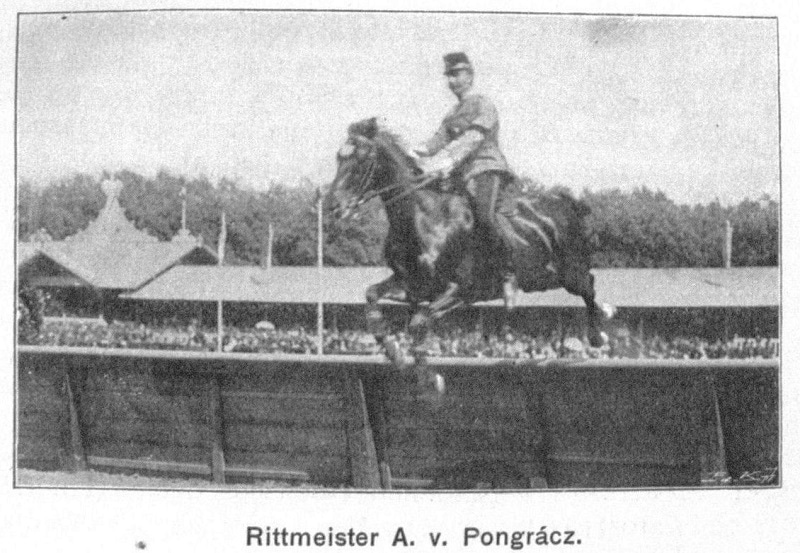 photo source: Wikimedia Commons
Arthur von Pongracz is known for being one of the oldest Olympic athletes – he was 72 at the 1936 Summer Olympics in Berlin, Germany (which are known for being hosted by Adolf Hitler and Nazi Germany). Pongracz never medaled at any of the Olympic Games that he competed in, his best performance was 4th place in Men's Team Dressage at the 1936 Games. His first Olympics Games were the 1924 Summer Olympics in Paris, France, where he competed in dressage for the first time at age 60.
---
2. Oscar Swahn
 Oldest Age While Competing: 72
Country:  Sweden
Year Competed:  1920 Summer Olympics (also competed in 1908 and 1912)
Sport: Sports Shooting
Since the International Olympic Committee no longer recognizes art competition medals, Oscar Swahn is often considered to be the oldest Olympic athlete and medalist. Swahn, who was a sports shooter,
first competed in the Olympics in 1908 at age 60
. He won two gold medals that year, one for the individual single-shot running deer and the other for the team single-shot running dear.
Swahn competed at the next Olympics in 1912 and won another gold medal at age 64 (100m team running deer, single-shot), making him the oldest gold medalist ever – he is even recognized by the Guinness World Records as the oldest Olympic gold medalist. At the age of 72, Swahn returned to the Olympics for the final time in 1920 and became the oldest athlete to ever compete – he also won a silver medal that year, which makes him the oldest silver medalist.
---
1. John Copley
 Oldest Age While Competing: 73
Country:  Great Britain
Year Competed:  1948 Summer Olympics
Sport: Art Competitions – Mixed Painting, Engravings, and Etchings (no longer recognized as a sport)
If you include the old art competitions category that used to be recognized as an Olympic sport, then John Copley was the oldest Olympian to have ever competed in the Games at age 73. Copley was a
British artist who was known for his prints, etchings, and lithographs
. Not only is Copley the oldest Olympian, but he is also the oldest medalist due to his sliver medal win for his engraving titled Polo Players at the 1948 Summer Olympic Games. This was the last year that the International Olympic Committee gave out medals for the art competitions.