Sometimes referred to as a sport for the rich, tennis was first played by Victorian gentlemen and ladies in the 19th century. Over the years, tennis has become one of the most popular sports for players and spectators, gathering attention worldwide.
Organizations such as the International Tennis Federation (ITF) were responsible for modern tennis getting popular in the 1960s, but the turning point might have been the "lawn tennis" patent in the 1870s. Lawn tennis is different than the modern game we have today, but it set the tone for years to come.
Tennis has become an Olympian sport, and today is played at all levels of society, adequate for all ages. The first major tournament, as well as the first Grand Slam, was Wimbledon, starting an avalanche of competitions worldwide that now counts for over 300 professional tennis tournaments.
The history of how tennis came to be is fascinating enough, but let's dive into some of the most popular and oldest tennis tournaments today!
*ATP Tour – the Association of Tennis Professionals (male)
*WTA Tour – the Women Tennis Association
9. Cincinnati Masters
Year established: 1899
Most Titles: Roger Federer (7), Ruth Sanders Cordes, Clara Louise Zinke (5)
Location: Lindner Family Tennis Center, Cincinnati, Ohio, United States
Grand Slam: No
Court: Hard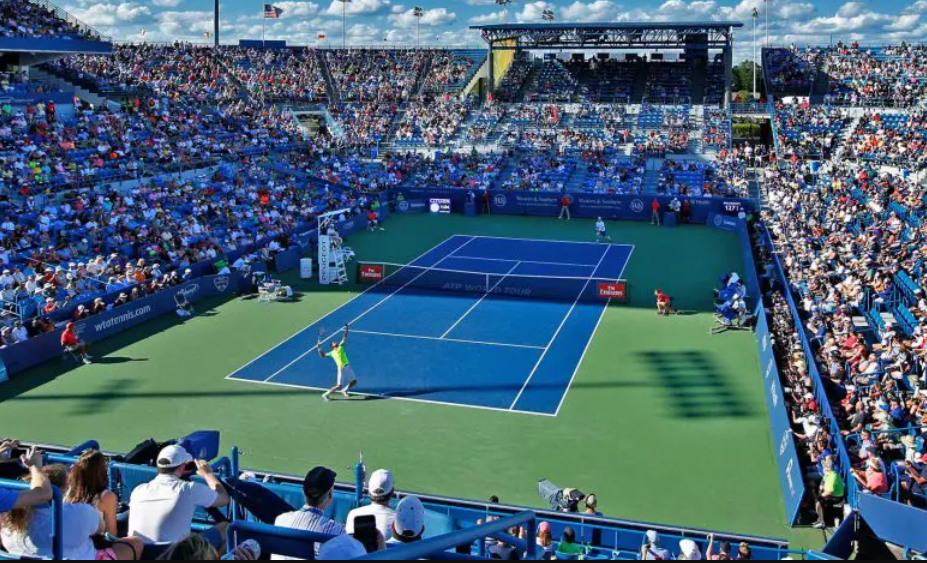 photo source: Perfect Tennis
The Cincinnati Masters (Western & Southern Open) has been playing for over 123 years, with a grand prize of $6,280,880. The current champions are Alexander Zverev and Ashleigh Barty. This tournament is on both ATP Tour and WTA Tour, taking place at the beginning of August.
Cincinnati Masters is the second largest summer tennis tournament after the US Open tournament. However, it's also the oldest tennis tournament in the United States played in the original city. This tournament gives out 1000 ranking points to the winners along with a hefty prize.
Did You Know?
Roger Federer has won seven out of his eight finals, but this tournament was a turning point for Novak Djoković in 2018, as he became the first player to win the Career Golden Masters. Djoković has won all nine Masters singles and holds the record for the most titles (38).
---
8. Swiss Open
Year established: 1898
Most Titles: Liselotte Blumer (6)
Location: Roy Emerson Arena, Gstaad, Switzerland
Grand Slam: No
Court: Clay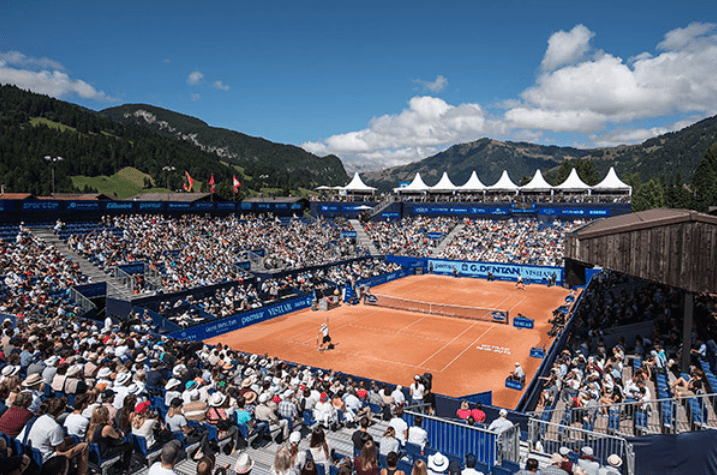 photo source: Ticket Corner
The Swiss Open, also known as EFG Swiss Open Gstaad, is played on outdoor clay surfaces. It's a part of the ATP Tour as an ATP Tour 250 series event. The current champion is Casper Ruud in singles and Tomislav Brkić and Francisco Cabral for doubles. The grand prize is around 500,000 dollars.
Gstaad is located around 3,450 feet above sea level, making this tournament one of the highest on the ATP Tour. It is only lower than Ecuador Open held in the Andes. The male-only game is currently sponsored by EFG International, a global banking group, hence the name.
Did You Know?
The tournament had difficulties attracting big names for a while because of the altitude and a rugged trail to conquer on your way up to Gstaad, so they opted to pay travel expenses of the players along with awarding them even for just playing. In 1954 the winners were gifted gold watches.
---
7. Monte-Carlo Masters
Year established: 1897
Most Titles: Rafael Nadal (11)
Location: Monte Carlo Country Club, Roquebrune-Cap-Martin, France
Grand Slam: No
Court: Clay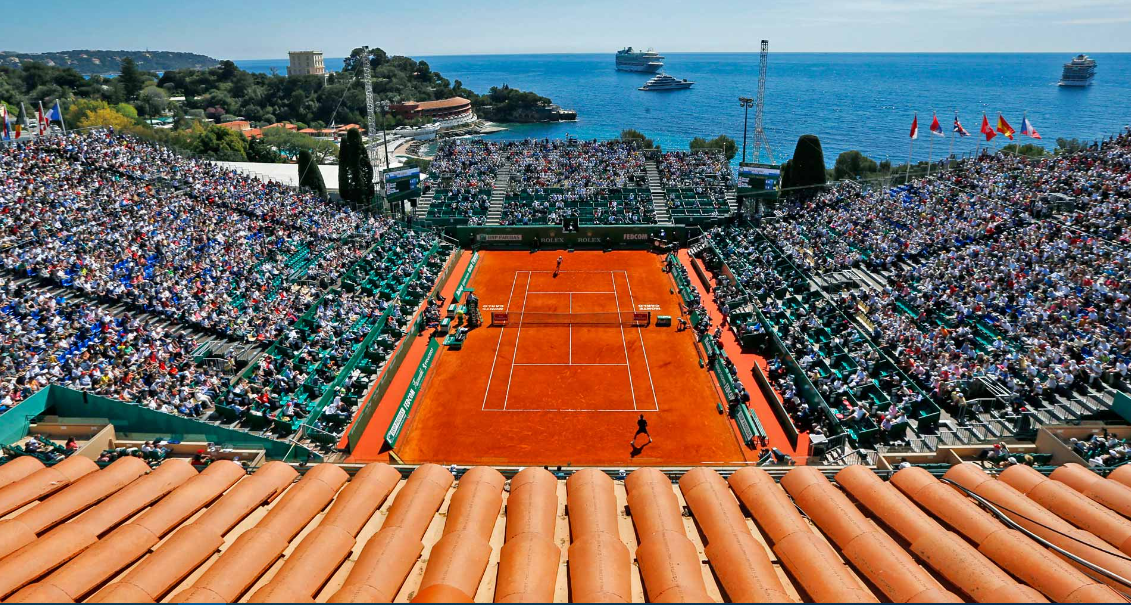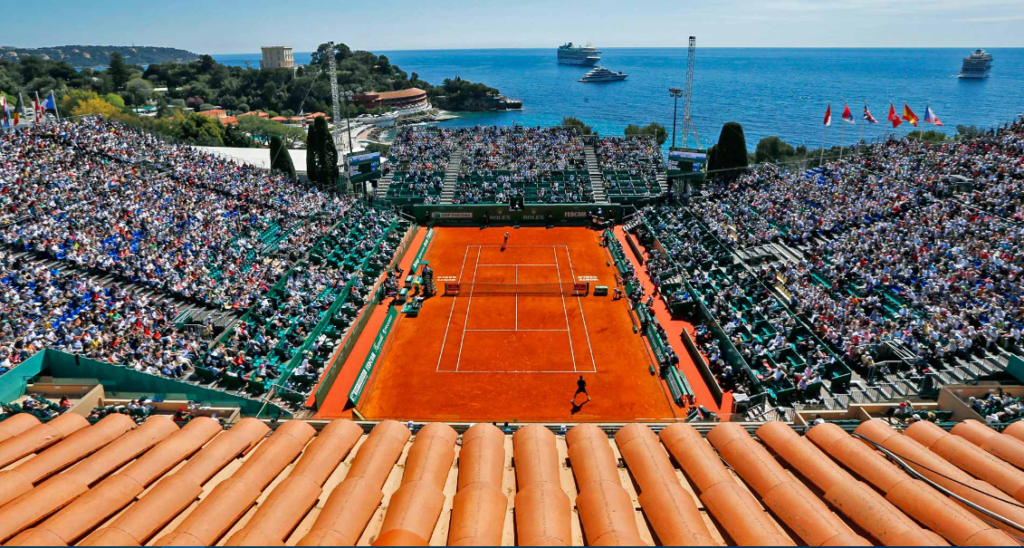 photo source: ATP Tour
Monte-Carlo Masters is the second exclusively male professionals tournament on our list, taking place in the Roquebrune-Cap-Martin commune in the French Alps during the Spring months. The current champion is Stefanos Tsitsipas in singles, while Rajeev Ram and Joe Salisbury hold the titles in doubles.
Monte-Carlo Masters plays on clay surfaces as a part of the ATP Tour Masters 1000.
Winners take the prize of 5,802,475 euros or almost 6 million dollars. Rafael Nadal has become the face of the tournament as the "man to beat" since he has the most titles.
Did You Know?
The central court at the Monte-Carlo Country Club where the tournament takes place is named after Rainier III, who ruled Monaco as a Prince for over 50 years. The prince was married to iconic Hollywood actress Grace Kelly, who became Princess Grace of Monaco until she died in 1982.
---
6. Austrian Open Kitzbühel
Year established: 1894
Most Titles: Major Ritchie (5)
Location: Tennis Stadium Kitzbühel, Kitzbühel, Austria
Grand Slam: No
Court: Clay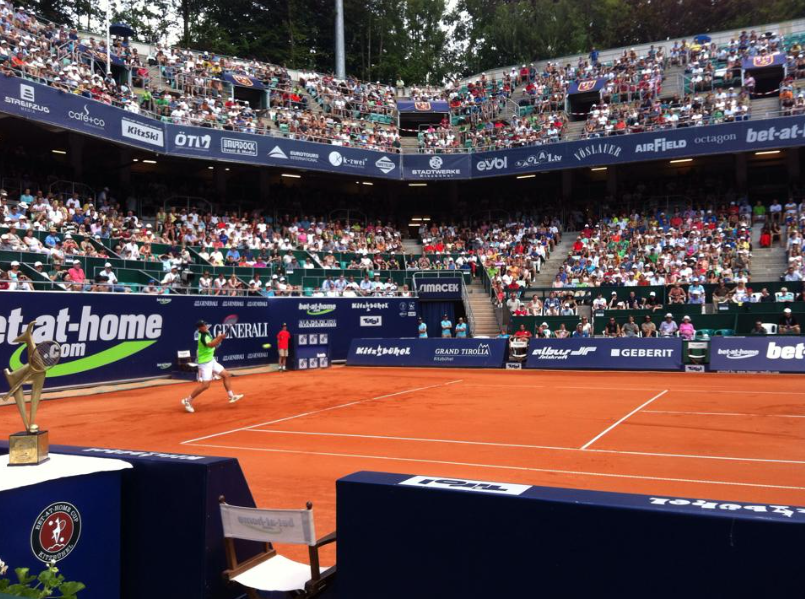 photo source: Kitzbühel
The Austrian Open takes place in July in Kitzbühel, a ski resort in the Alps. Formerly known as the Generali Open Kitzbühel, this annual tournament is a part of the ATP World Series, but it was downgraded to ATP World Tour 250 series in 2009.
Current champions are Roberto Bautista Agut for singles, while Pedro Martínez and Lorenzo Sonego hold the title for doubles. The tournament changed locations over the years, starting with Prague, Vienna, and Portschach, before switching to Kitzbühel in 1968.
Did You Know?
This tournament on the ATP tour is probably one of the most stunning stops due to the famous ski resort in the Austrian province of Tyrol. The grand prize for the winning player of 2022 was $540,500.
---
5. Hamburg European Open
Year established: 1892
Most Titles: Steffi Graf (6), Otto Froitzheim (7), Roger Federer (4)
Location: Am Rothenbaum, Hamburg, Germany
Grand Slam: No
Court: Clay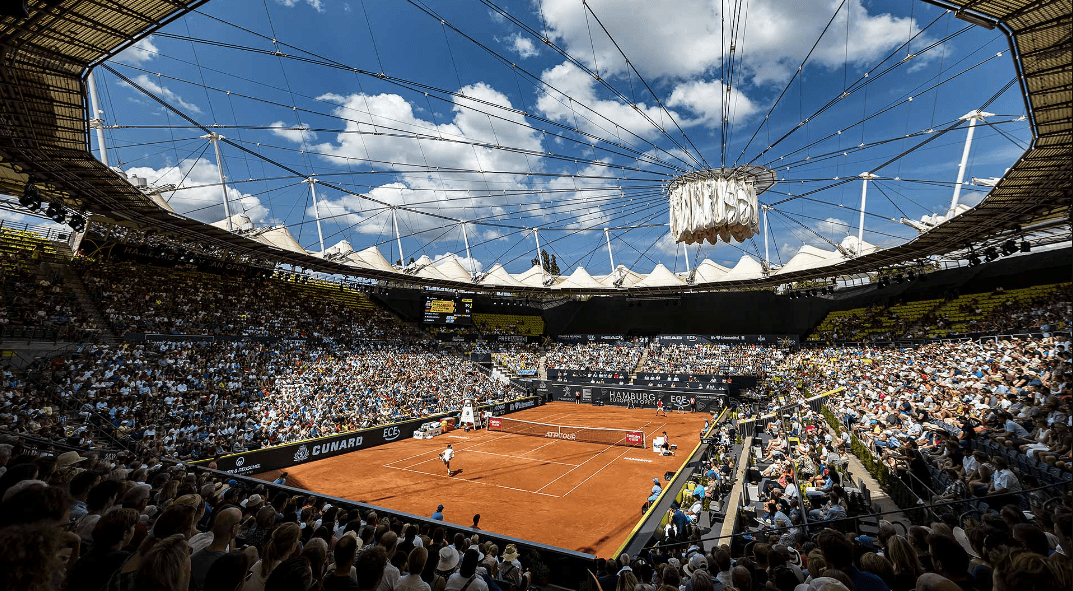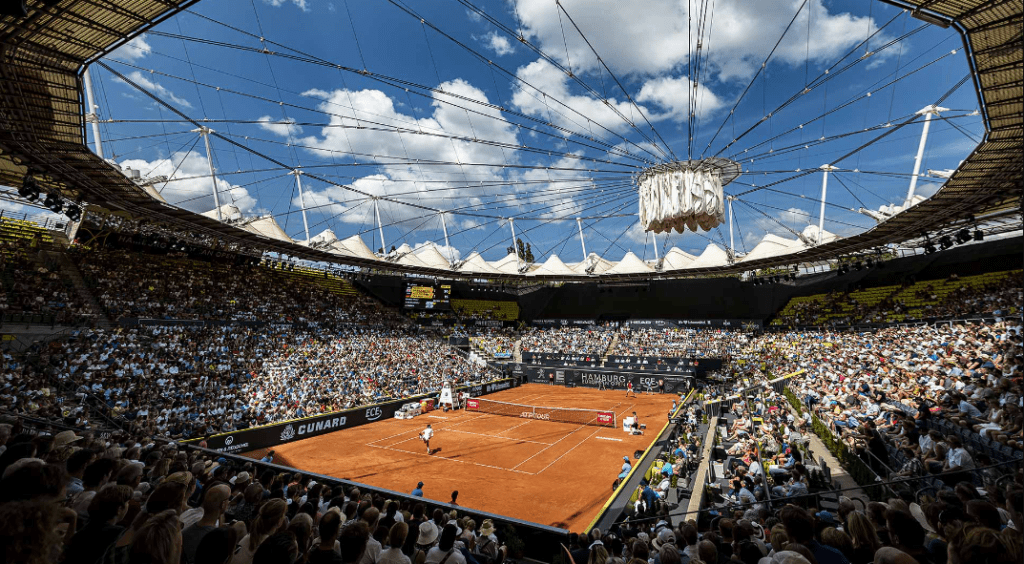 photo source: ATP Tour
Formerly the German Open Tennis Championships, Hamburg European Open was a male-only event until 2021. The tournament is a part of the WTA Tour for women, but it was played separately from 1982 to 1983. Current champions are Lorenzo Musetti and Bernarda Pera, the second women to win a title.
The grand prize for men's winners is $1,065,100, significantly different from $250,750 for women. Hamburg Open was a part of the ATP Masters until 2009, when it was downgraded to an ATP Tour 500 event. They tried to sue ATP because of this, but the decision remained the same.
Did You Know?
Named one of the "30 Legends of Women's Tennis" by Time, Mónika Szeles was stabbed during the quarterfinal match against Magdalena Maleeva by an obsessed fan in 1993. Luckily, the cut was not deep, and Szeles recovered quickly. She proceeded to have 53 career titles until her retirement in 2008.
---
4. French Open
Year established: 1891
Most Titles: Rafael Nadal (14), Chris Evert (7)
Location: Stade Roland Garros, Paris, France
Grand Slam: Yes
Court: Clay, Sand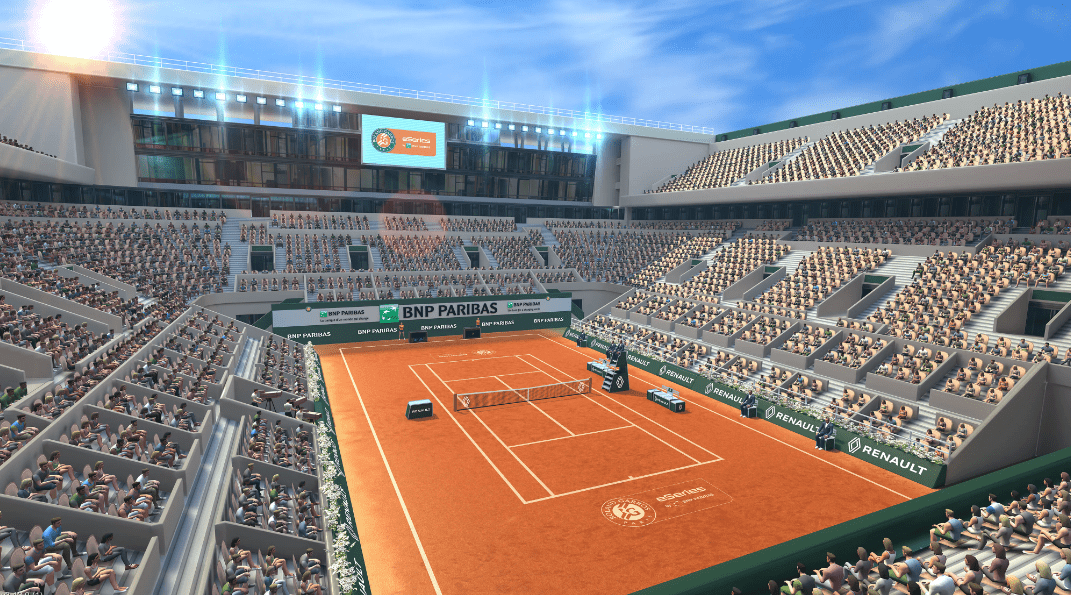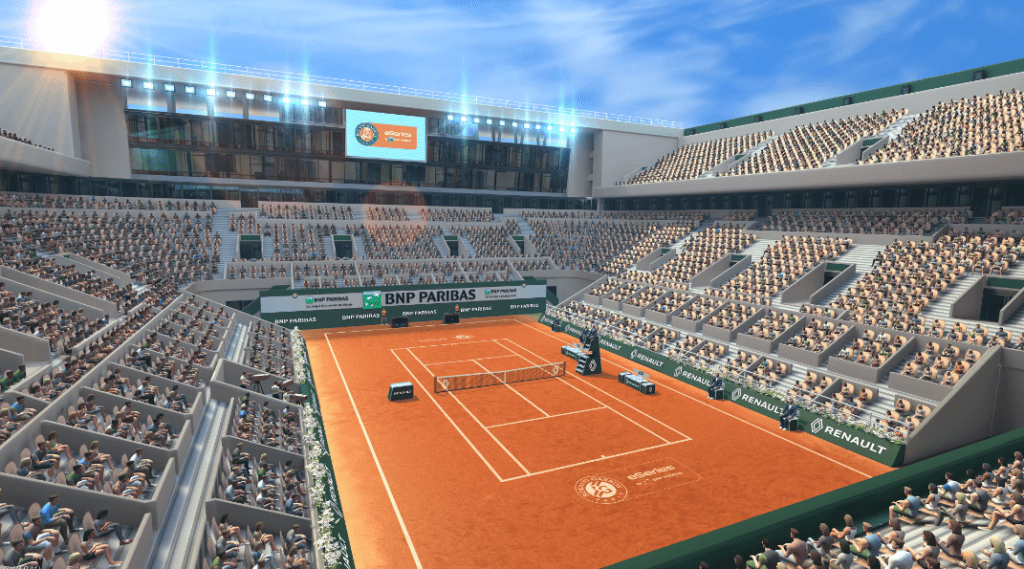 photo source: Roland Garros
First Grand Slam on our list is the French Open, also known as Roland-Garros, which occurs in Paris at the beginning of May. The tournament is the second to last Grand Slam in a year, founded in 1891 (the Australian Open being the last, founded in 1905), played on clay and sandy surfaces.
Current champions are Iga Świątek and Rafael Nadal with his fourteenth title. French Open is the most physically demanding tennis tournament due to the clay surface, which results in a slower pace and higher bounce for the players.
Did You Know?
Roland-Garros was the first Grand Slam to allow amateurs and professionals to compete officially in 1968. The trophies for the champions are made of pure silver, designed by Maison Mellerio dits Meller, the oldest jewelry house of the same name in Europe.
---
3. Canadian Open
Year established: 1881
Most Titles: Ivan Lendl (6)
Location: IGA Stadium & Sobeys Stadium, Montreal & Toronto, Canada
Grand Slam: No
Court: Hard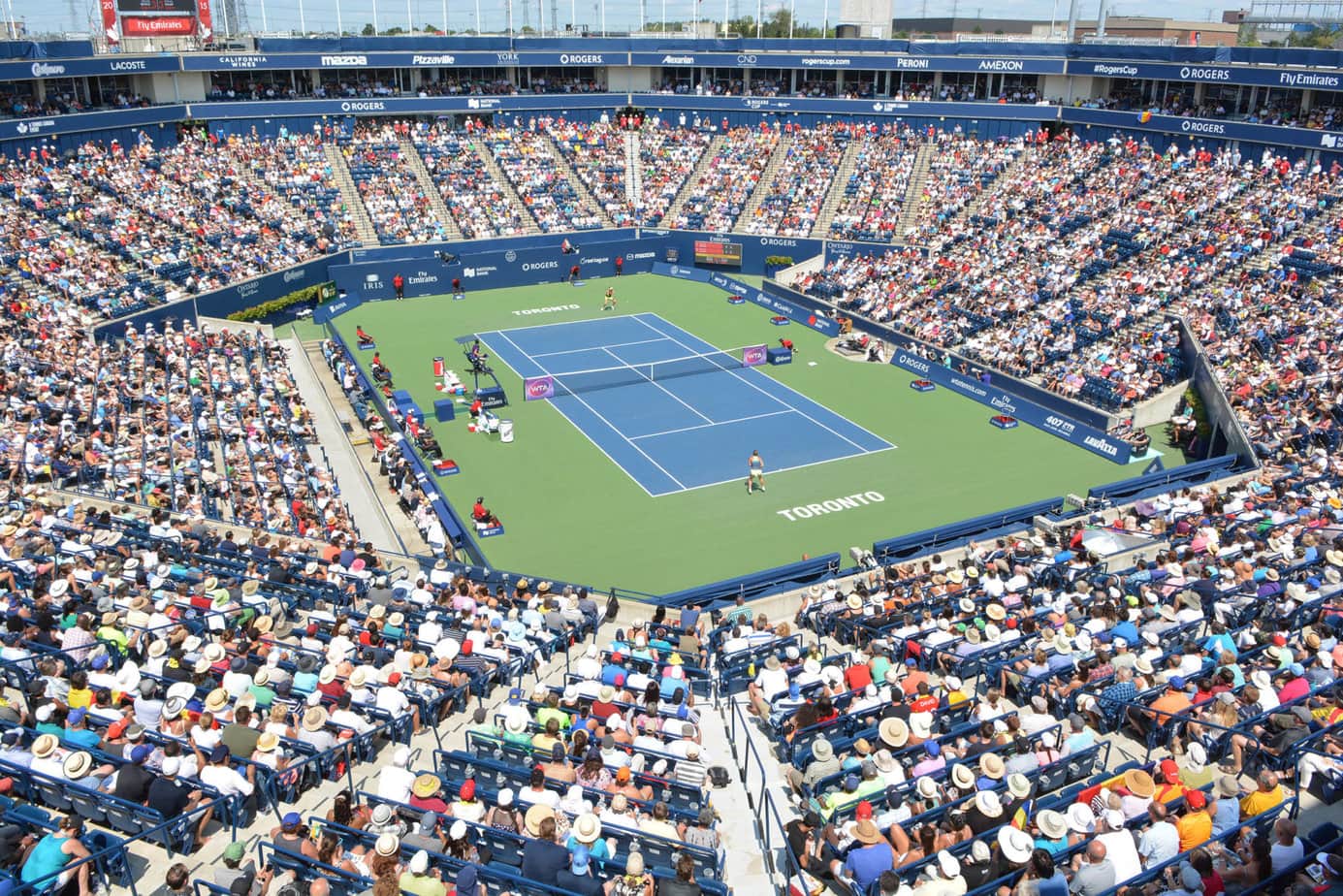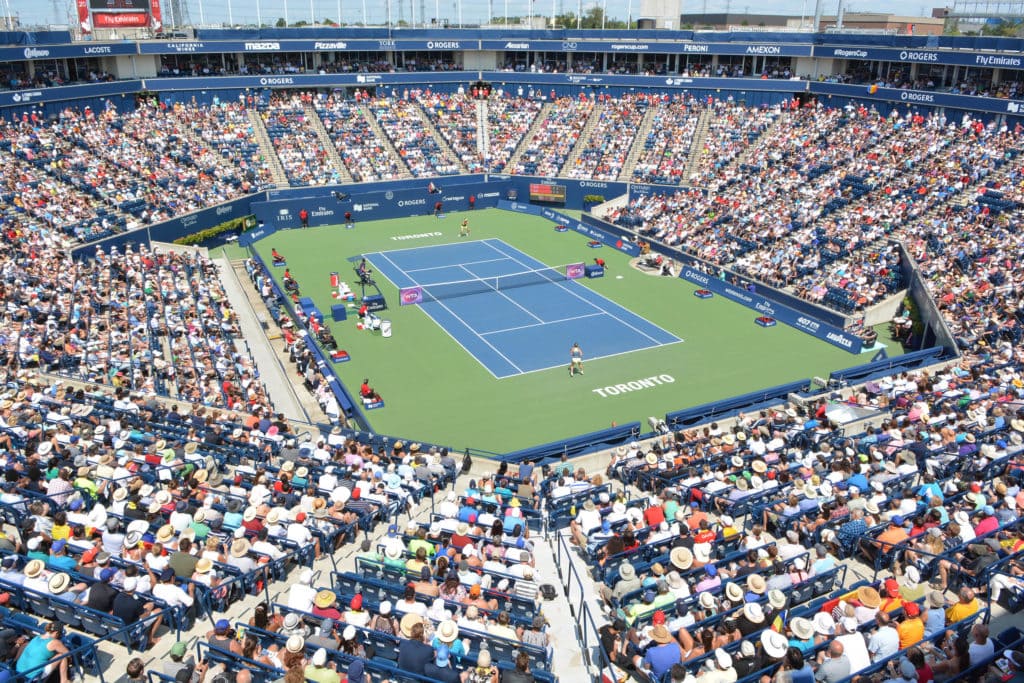 photo source: National Bank Open
Canadian Open, now branded as the National Bank Open presented by Rogers due to sponsorship reasons, is the oldest tennis tournament that is not a Grand Slam. The men's competition ATP Tour is played in Montreal, while the women's WTA Tour is in Toronto, and vice versa, on hard courts.
This tournament is a part of the Masters 1000 event consisting of nine annual tennis tournaments featuring the top-ranked players of the ATP Tour. Canadian Open's two competitions take place in the same week in August. Current champions are Daniil Medvedev and Camila Giorgi.
Did You Know?
Unequal pay is still a problem for most sports, tennis included. Canadian Open men's singles winner received $370,290, while the women's single winner received $221,500. Women receive less for their victories in all tennis tournaments except for four Grand Slams, where the prize money has been equal since 2007.
---
2. US Open
Year established: 1881
Most Titles: Molla Mallory (8), Richard Sears, William Larned, Bill Tilden (7)
Location: USTA National Tennis Center, New York, United States
Grand Slam: Yes
Court: Hard, Clay, Grass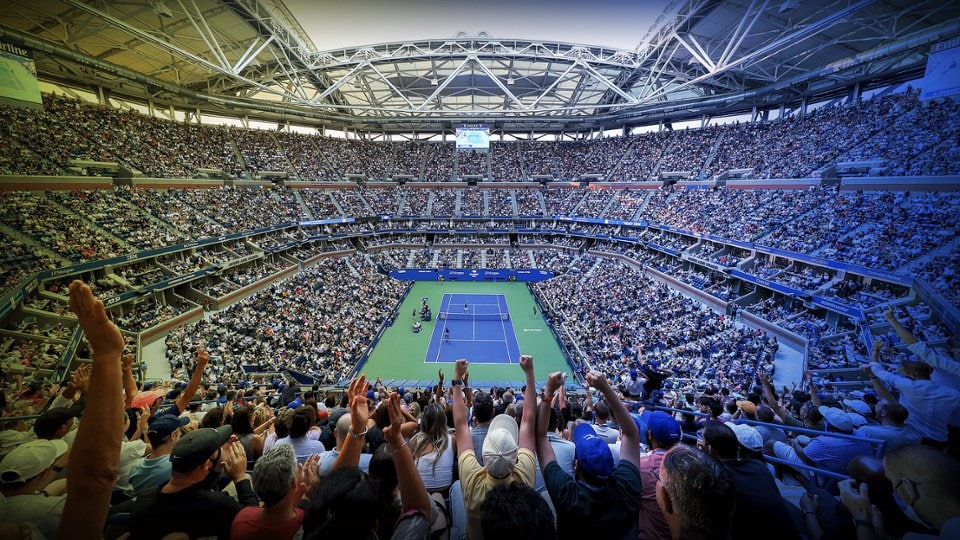 photo source: US Open
The US Open is the final Grand Slam tournament of the year, occurring at the end of August and the beginning of September. Unlike Wimbledon, US Open is played on hard acrylic surfaces, occasionally on grass. Current champions are Daniil Medvedev and Emma Raducanu.
Sears, Larned, and Tilden have the most titles, but from the pre-open era when only amateurs were allowed to compete. Jimmy Connors, Pete Sampras, and Roger Federer have five men's singles titles, and Chris Evert and Serena Williams have six. US Open has a signature cocktail called Honey Deuce.
Did You Know?
Famous tennis sisters Venus and Serena Williams became the first siblings to compete in a Grand Slam final at the US Open in 2001. Venus won 6-2, 6-4, in a match that lasted 70 minutes. Venus has 22 career titles, while Serena has 73.
---
1. Wimbledon
Year established: 1877
Most Titles: Martina Navratilova (9), Roger Federer (8)
Location: All-England Club, London, England
Grand Slam: Yes
Court: Grass


photo source: Wimbledon
Wimbledon (Wimbledon Championships) is the oldest tennis tournament in the world and the oldest Grand Slam in the world. The only Grand Slam tournament played exclusively on a grass court is considered the most prestigious as well, having been played for over 145 years.
Wimbledon includes a traditional all-white dress code for the competitors and royal patronage, the grand prize being 2.5 million dollars. The tournament was canceled for the first time since World War II in 2020 due to COVID-19. Wimbledon does not play during the night, unlike other Grand Slams.
Did You Know?
The current champion in men's singles is Novak Djoković and Elena Rybakina in women's. The game of tennis was invented in the United Kingdom by Walter Clopton Wingfield, called initially "sphairistikè," a Greek word meaning "the art of playing ball."