Aside from the National Football League (NFL) games, what people love to watch is the cheerleading that comes with it. Cheerleaders are no doubt a must-watch attraction in the NFL. They don't just entertain football fans, but also they help teams get more attention, and increase media exposure, local, national, and international support, and of course, motivation.
However, did you know that when the NFL started, there was no cheerleading? It was just in 1954 that cheerleading was introduced until it became mainstream.
That's why, you might be asking, which is the oldest NFL cheerleader today? Thankfully, we answered that question today.
In this article, check out the 10 oldest NFL cheerleaders in history.
10. Buffalo Jills
Formation: 1967
Age when dissolved: 47 years (2014)
Former names: Cheerleaders (1960-1965)
NFL team: Buffalo Bills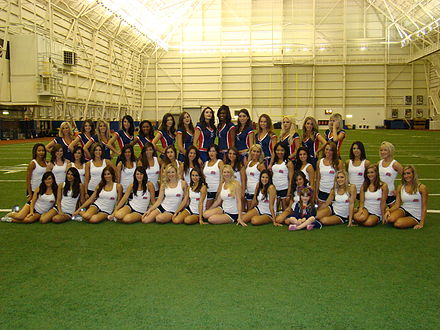 photo source: Wikipedia
The Buffalo Jills was founded by Jo Ann Gaulin in 1967. Before that, Buffalo Bills already had cheerleaders, but with limited functions. They were called Buffalo Bills Cheerleaders in 1960. They only lasted until 1965. It was then in 1967 that a new squad was formed and was known as Buffalo Jills.
Starting in 2000, the group sold swimsuit calendars. They also do some Troop visits regularly and they even went to Iraq to visit US soldiers.
Did You Know?
The Buffalo Jills were riddled with lawsuits and court appearances. Due to legal issues and problems, the Buffalo Bills needed to discontinue their affiliation with the Buffalo Jills. Finally, in 2014, the group was discontinued and its members were distributed to other cheerleading teams.
---
9. Detroit Lions Cheerleaders
Formation: 1963
Current age (as of August 2022): 11 years (1963-1974); 6 years (2016 – present)
Director: Rebecca Girard-Smoker
NFL team: Detroit Lions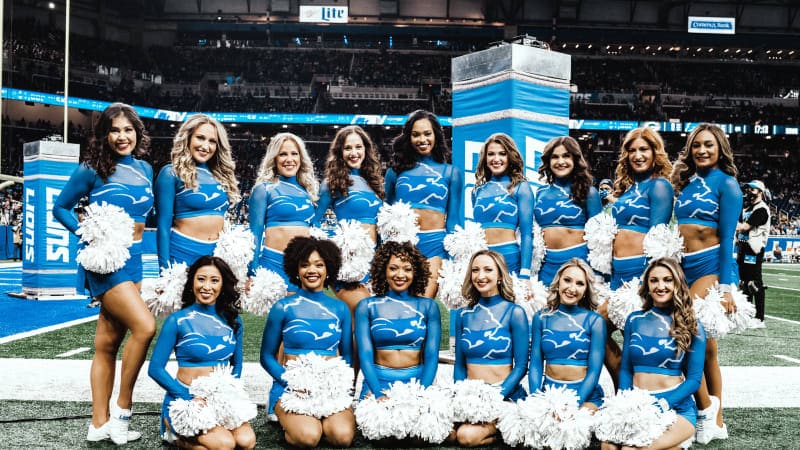 photo source: Detroit Lions
The Detriot Lions Cheerleaders is the official squad of Detroit Lions. The current Detriot Lions Cheerleaders were only formed in 2016. However, the first cheerleaders were already dancing from 1963 until 1974.
The promoter of the current Detroit Lions Cheerleaders contacted the Detroit Pistons and was rejected multiple times. William Clay Ford Sr, the owner of the Detroit Lions wasn't too keen to have cheerleaders.
However, when Ford was replaced, the cheerleader squad was hired. On June 12, 2016, they officially became the Detriot Lions Cheerleaders.
Did You Know?
It took 40 years for the Detroit Lions to gain its cheerleading team once again. When this happened, they hired Rebecca Girard-Smoker to coach the cheerleaders. The cheerleading squad has regularly become part of the entertainment factor of football games. They also play an active role in community events.
---
8. Command Force
Formation: 1962
Current age (as of August 2022): 61 years
Former names: Redskinettes (1962–2019); First Ladies of Football (2019–2020)
NFL team: Washington Commanders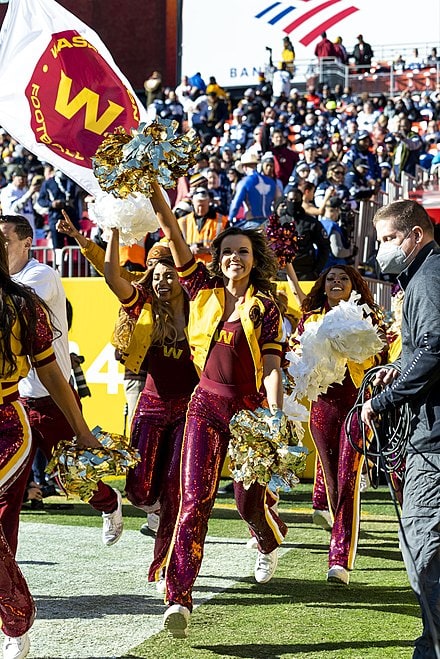 photo source: Wikipedia
Referred to as the First Ladies of Football, the Command Force is the official cheerleading squad of the Washington Commanders.
They have a lot of notable members who also became successful outside of the game. For example, Maureen Gardner became the wife of Bob McDonnell, the former Virginia governor. Another member is Debbi Barrigan who became a member of the popular Blast! Dance troupe.
Did You Know?
The Command Force was originally known as the Redskinettes and they are the official number two longest-running cheerleading squad in the NFL. At first, the Washington Commanders were called Redskins. Thus, their original name.
---
7. Dallas Cowboys Cheerleaders
Formation: 1961
Current age (as of August 2022): 60 years
Nickname: America's Sweethearts
NFL team: Dallas Cowboys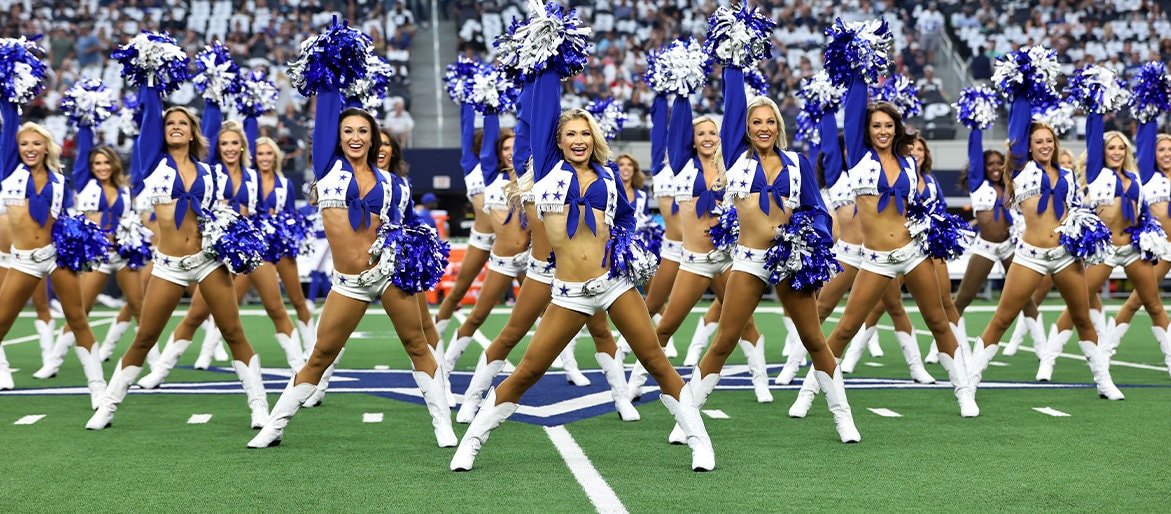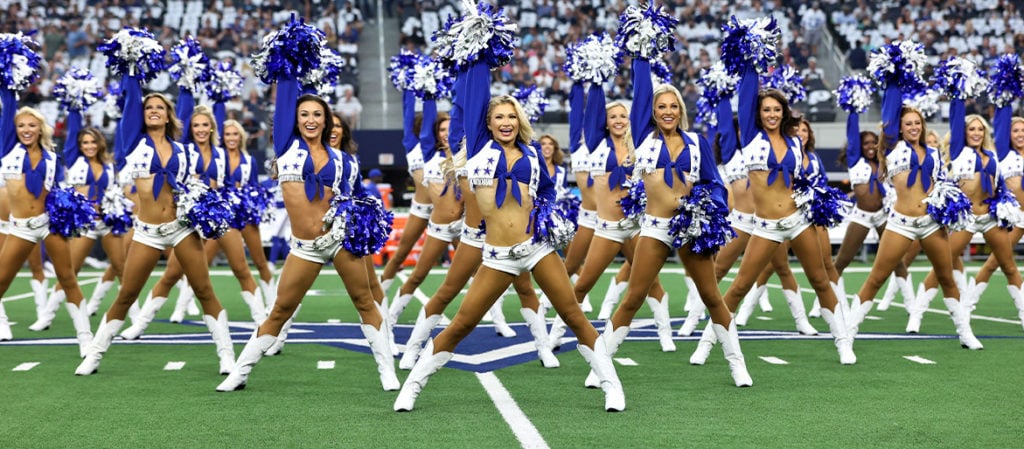 photo source: Facebook
The Dallas Cowboys Cheerleaders or DCC for short is the official NFL cheerleading squad of the Dallas Cowboys team. They have 36 members and are directed by Kelli Finglass.
The DCC revamped its lineup, dance routines, and uniforms. This led to the squad's rise in popularity. They were even made more popular when a daring cheerleading photoshoot and posters were made. They were featured in various magazines and TV appearances.
Did You Know?
The conception of the Dallas Cowboys Cheerleaders started when Bubbles Cash, a well-known stripper at that time, grabbed people's attention during a game between the Atlanta Falcons and Dallas Cowboys. The commotion led to the audience's cheering and entertainment.
The general manager of the Cowboys, Tex Schramm, felt more convinced that a cheerleader squad would gather more people to the game. That's when the DCC was born.
---
6. Las Vegas Raiderettes
Formation: 1961
Current age (as of August 2022): 61 years
Former names: Oakland Raiderettes (1961–1982); Los Angeles Raiderettes (1982–1995); Oakland Raiderettes (1995–2019)
NFL team: Las Vegas Raiders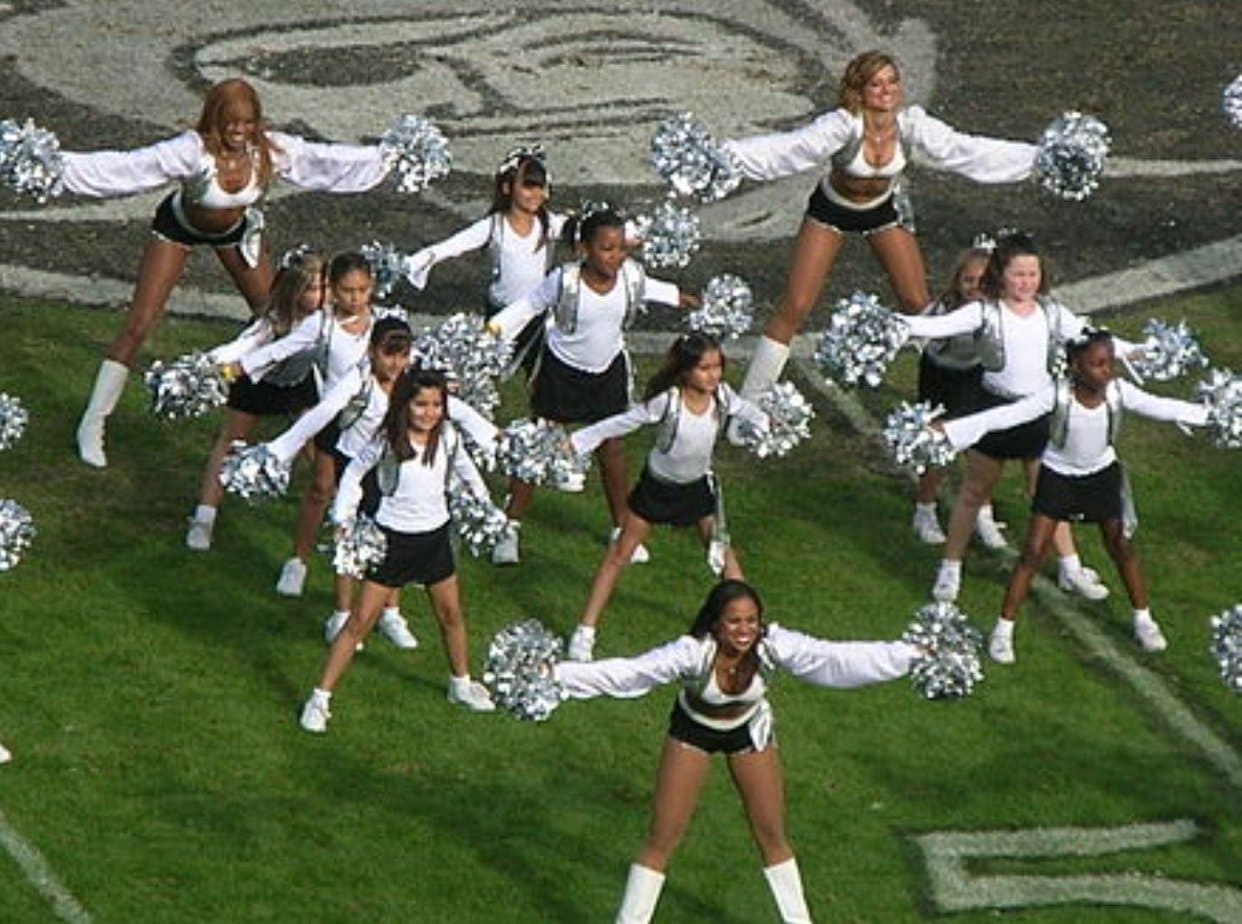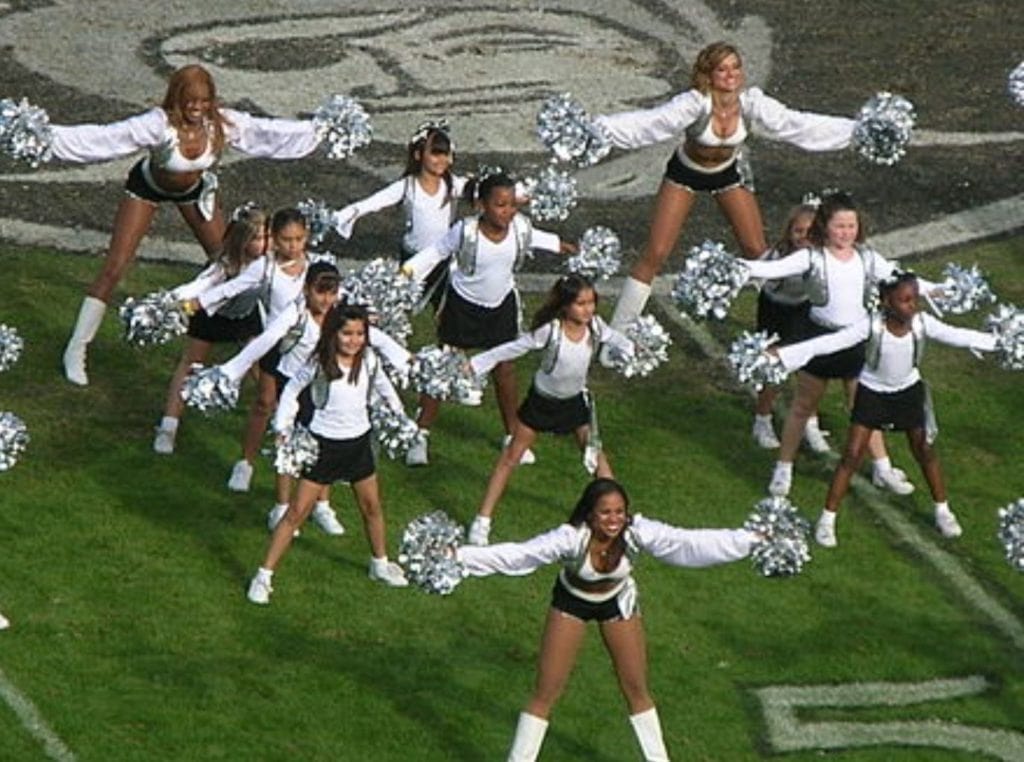 photo source: Wikipedia
In 1961, the Las Vegas Raiderettes were formally formed. They performed for their NFL team, the Las Vegas Raiders. They changed their names a few times due to their team being moved from one place to another. They finally got a new name in 2020 as they moved to Las Vegas and got a new 20,000-square-foot studio.
Did You Know?
The Raiderettes led to a wave of lawsuits filed in the NFL. It was in 2017 that they filed a lawsuit against the Raiders. They eventually won the case and it was settled for $1.25 million. The suit has inspired other NFL cheerleaders to do the same.
---
5. Pittsburgh Steelerettes
Formation: 1961
Age when dissolved: 8 years (1969)
Former names: Kept the same name
NFL team: Pittsburgh Steelers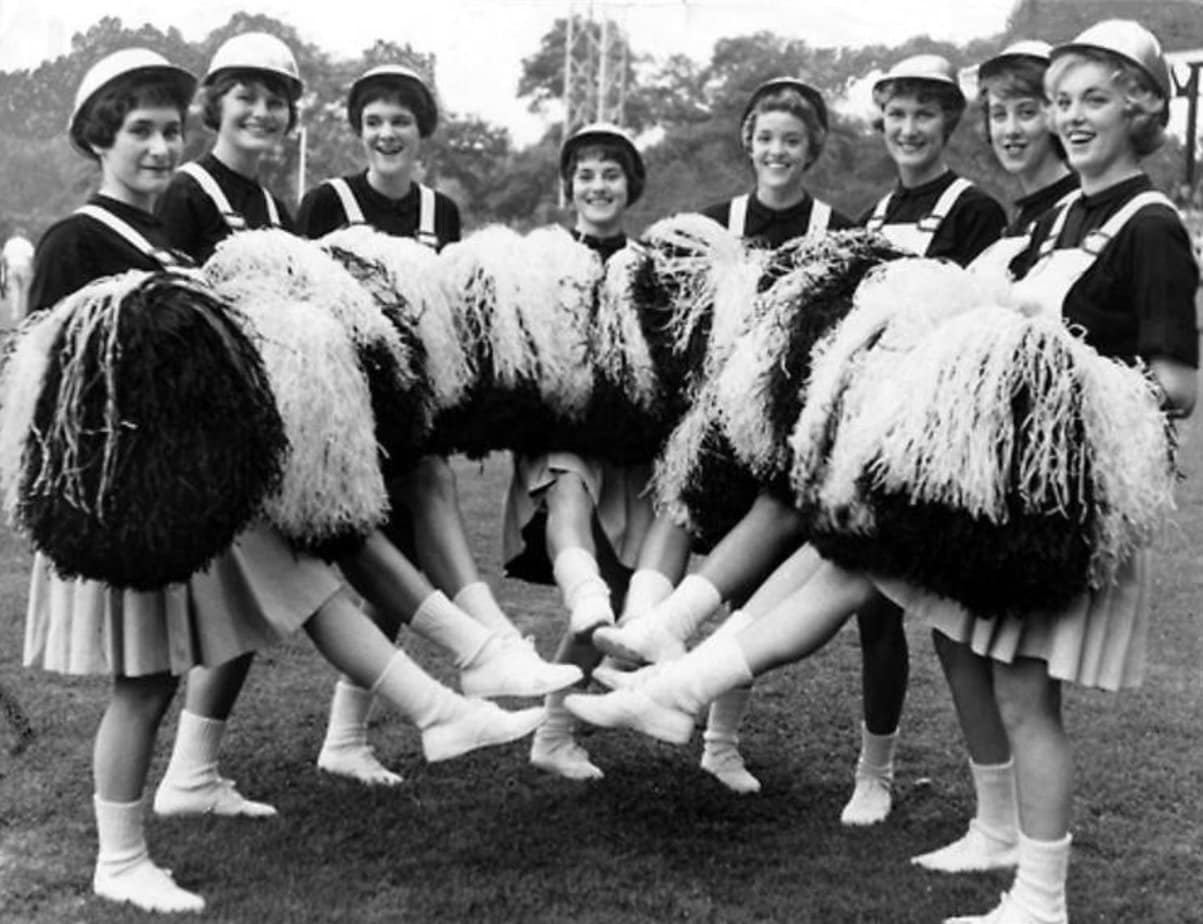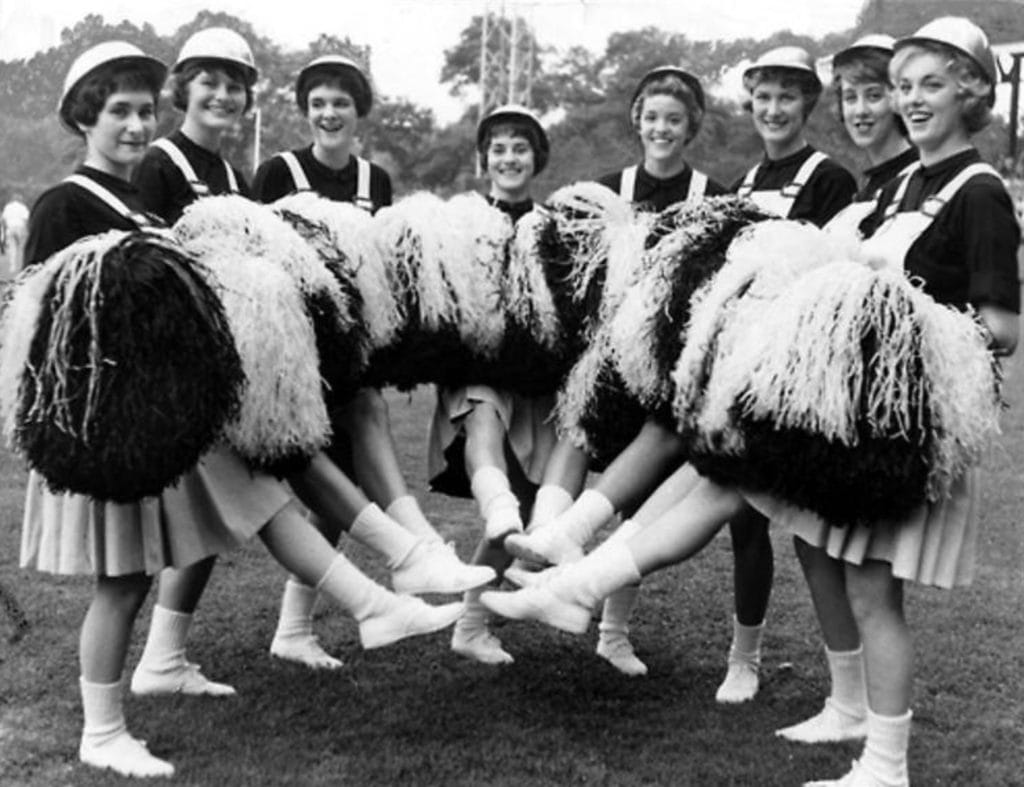 photo source: Brookline Connection
The Pittsburgh Steelerettes started in 1961 but later disbanded. This made the Pittsburgh Steelers among the NFL teams that don't have a cheerleading squad.
In all its history, the Steelerettes' squad members are from Robert Morris Junior College. All of them were students of that school. Since the college didn't have a football team, they kind of made the Pittsburgh Steelers their own team.
Did You Know?
The decision to dissolve the band happened in the late 1960s. The college where the cheerleaders came from already has its own football team. Aside from that, the cheerleaders wanted to have more daring and modern costumes. The Steelers' owner at that time didn't like the idea, and thus, the squad was discontinued.
---
4. Kansas City Chiefs Cheerleaders
Formation: 1960
Current age (as of August 2022): 62 years
Former names: Chiefs Cheerleaders (1964); Chiefettes (1971-1985)
NFL team: Kansas City Chiefs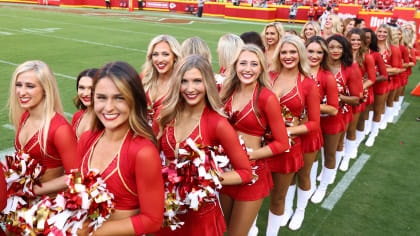 photo source: Chiefs Website
The Kansas City Chiefs Cheerleaders is the official cheerleader squad of the Kansas City Chiefs. Ever since the Kansas City Chiefs started, they have already employed a team of cheerleaders.
At first, the cheerleaders were all female. They were then referred to as Chiefettes. The cheerleaders then evolved to include dance and drills, which they performed before games and during halftime.
Did You Know?
The Kansas City Chiefs Cheerleaders became a mixture of men and women starting in 1986 to 1992. However, in 1993, they again made it an all-female squad, which was then called the Chiefs Cheerleaders. They would then include one male in their ground in 2020.
---
3. Indianapolis Colts Cheerleaders
Formation: 1954
Current age (as of August 2022): 68 years
Former names: Baltimore Colts Cheerleaders (1954–1983)
NFL team: Indianapolis Colts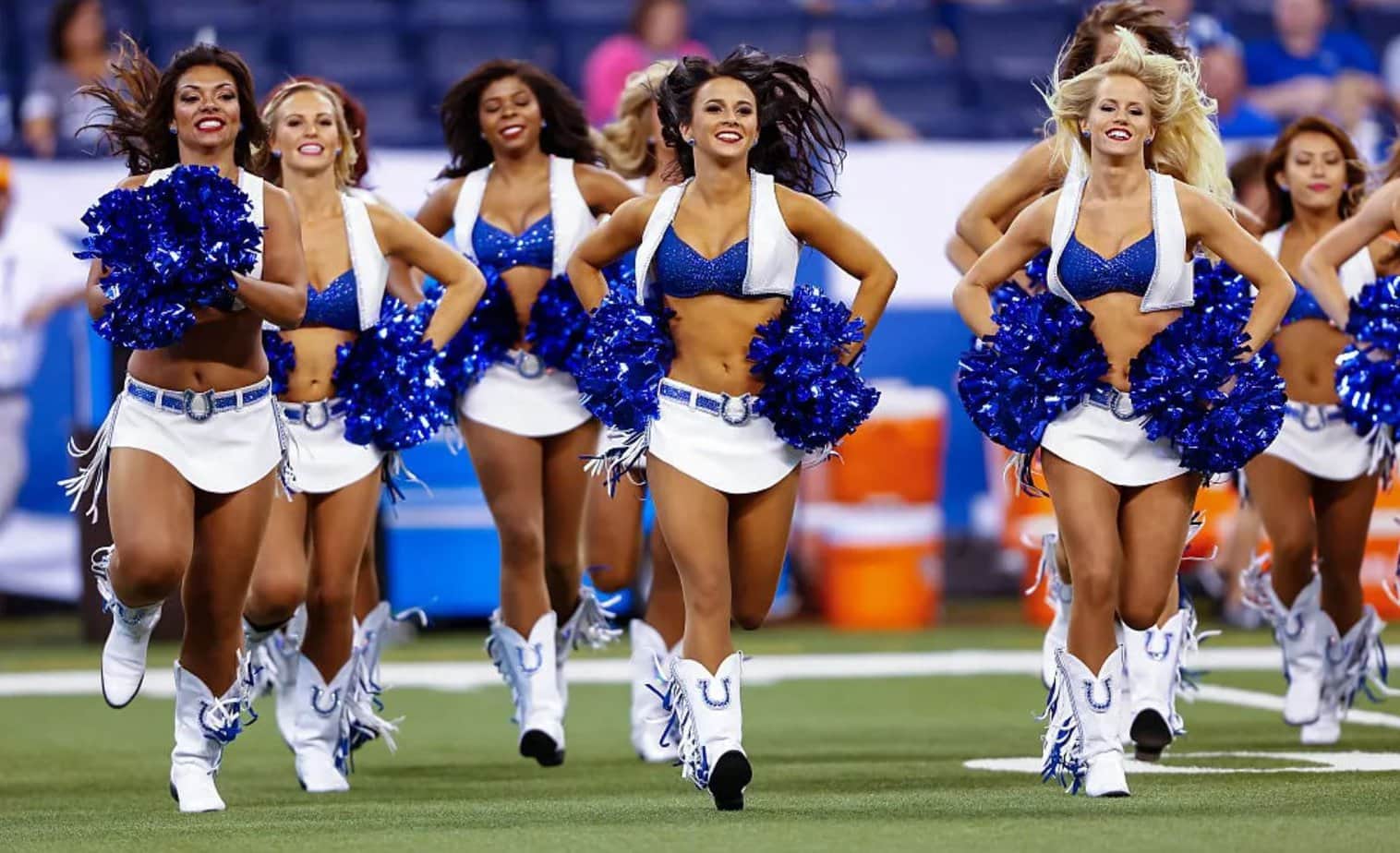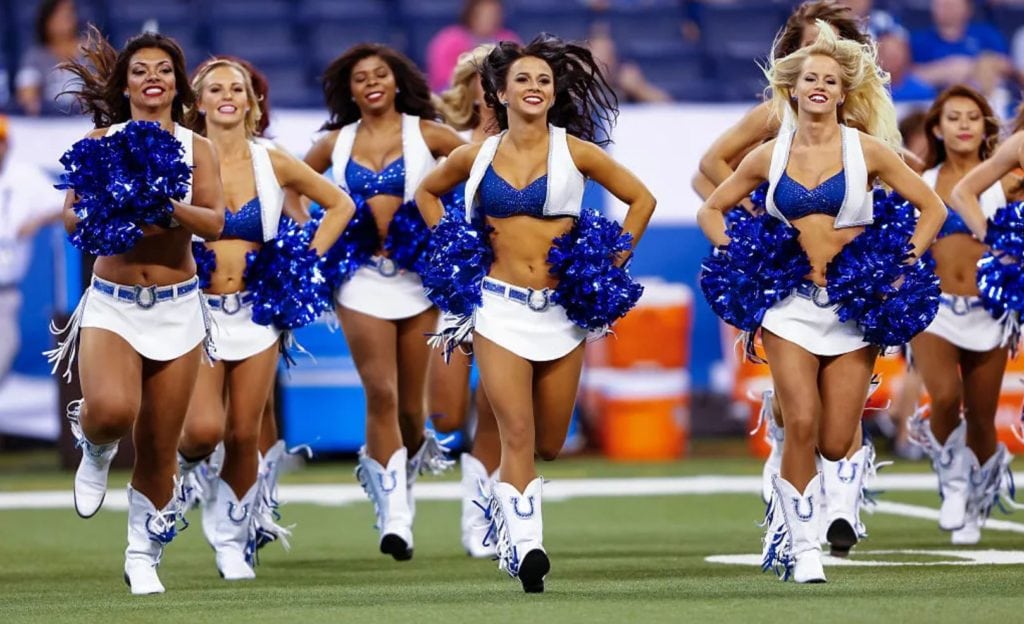 photo source: brobible
The Indianapolis Colts Cheerleaders is the oldest NFL cheerleader in the league itself. What this means is that they were first formed by an NFL team.
The cheerleader team was called Baltimore Colts Cheerleaders when they debuted in 1954. As the oldest cheerleading team, they have set the trend in the NFL, which has led other teams as well to add their own cheerleading squads.
Cheerleaders of the Indianapolis Colts should be at least 18 years old and will perform at every game and appearance at home.
Did You Know?
Today, the Indianapolis Colts Cheerleaders have 32 members. They mainly perform at the Colts Stadium Lucas Oil Stadium. Among their most memorable dances were when they performed at Sun Life Stadium during Super Bowl XLI and Super Bowl XLIV at Sun Life Stadium.
---
2. Green Bay Packers Cheerleaders
Formation: 1950
Age when dissolved: 36 years (1986)
Former names: Packerettes (1950); Golden Girls (1961-1972); Packerettes (1973-1977); Sideliners (1977-1986)
NFL team: Green Bay Packers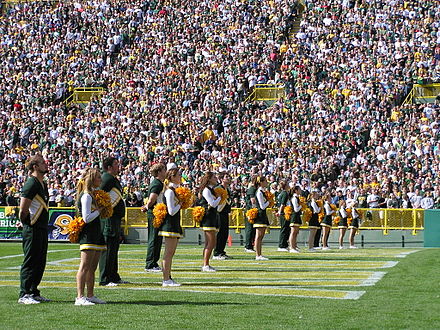 photo source: Wikipedia
Green Bay Packers Cheerleaders should already be 72 years old this year in 2022 if they haven't been discontinued in 1986. The Green Bay Packers were among the first NFL teams that formed a cheerleading squad. It was in 1931 that the Green Bay Packers cheerleaders started. They were first known as Packerettes and have changed their name three times.
After the dismantling of the squad, the Packers decided to use collegiate cheerleaders instead. These cheerleaders don't perform full-time and have a limited role. They only appear during home games.
Did You Know?
When the Green Bay Packers Cheerleaders was first formed, the members were taken from the West and Green Bay East high schools. Vince Lombardi, the coach of the Green Bay Packers specified that the cheerleaders should be modest and not wear short skirts.
---
1. Philadelphia Eagles Cheerleaders
Formation: 1948
Current age (as of August 2022): 74 years
Former names: Eaglettes (1948–1970s); Liberty Belles (1970s–1980s)
NFL team: Philadelphia Eagles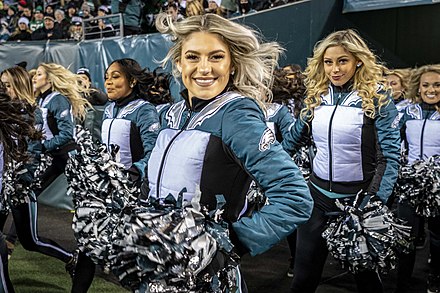 photo source: Wikipedia
The Philadelphia Eagles Cheerleaders is the oldest NFL cheerleader in history based on the year they were formed. The team started in 1948 and they were known as the Eaglettes. Today, they are cheering for the Philadelphia Eagles.
Every April, they hold their annual auditions. Their final auditions, which are held in the Kimmel Center, are aired on the official website of the Philadelphia Eagles.
Did You Know?
The director of Philadelphia Eagles Cheerleaders is Barbara Zaun. If you remember, she was once the Miss USA and even Miss America title holder. She has become instrumental in making the squad more popular because of various activities, photoshoots, and programs.
The Philadelphia Eagles Cheerleaders would best be remembered for their performance during Super Bowl XXXIX.