Hockey is such an exciting, fast-paced sport and has some of the most loyal fans. From pep bands playing loud fight songs to maniacal fans hurling insults at hated rivals, the animated energy inside hockey arenas is enough to warm cold winters.
America's charming old-school collegiate rinks, with their trophy and memorabilia-lined lobbies and intimate configurations, may be worlds away from the video montages and kiss cams of big commercial arenas, but if their walls could speak, they would tell us the history, the evolution, and key moments that have made hockey what it is today.
Here's a list of 'The Oldest Hockey Rinks in the United States
10. Duluth Entertainment Convention Center
Year opened: 1966
Location: University of Minnesota, Duluth
City: Minneapolis, Minnesota
Capacity: 5,333 seating for Hockey games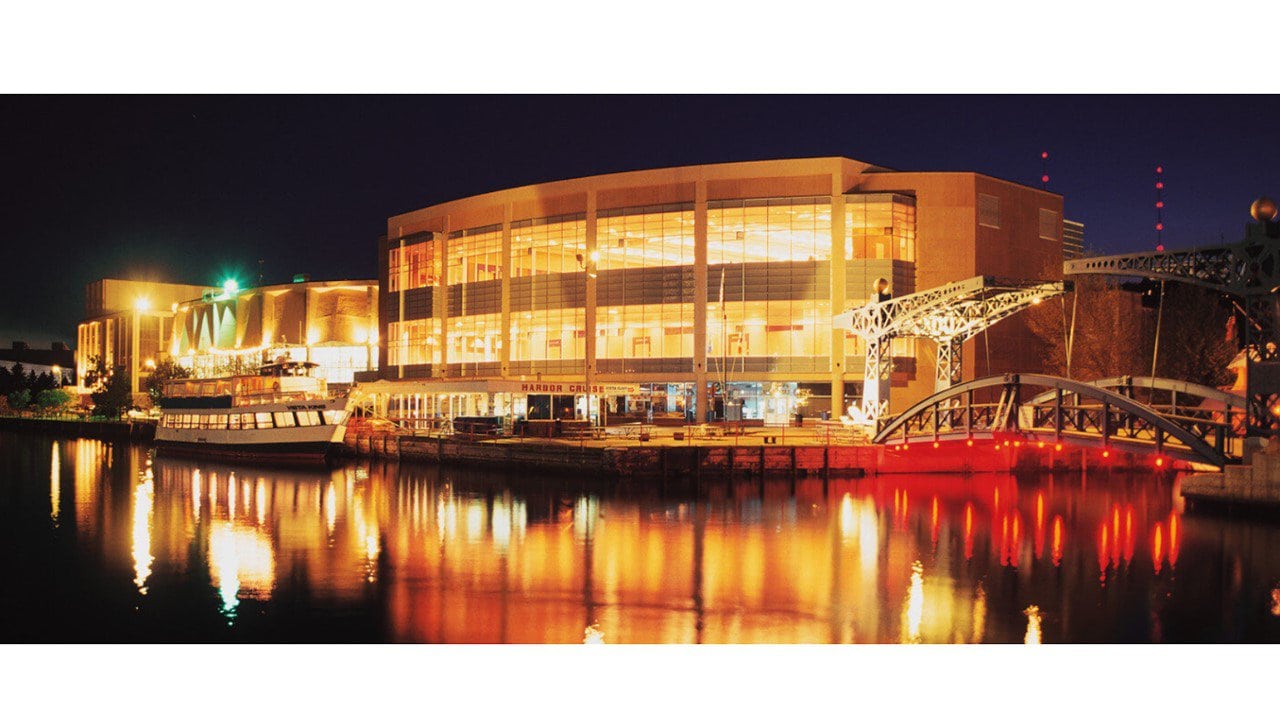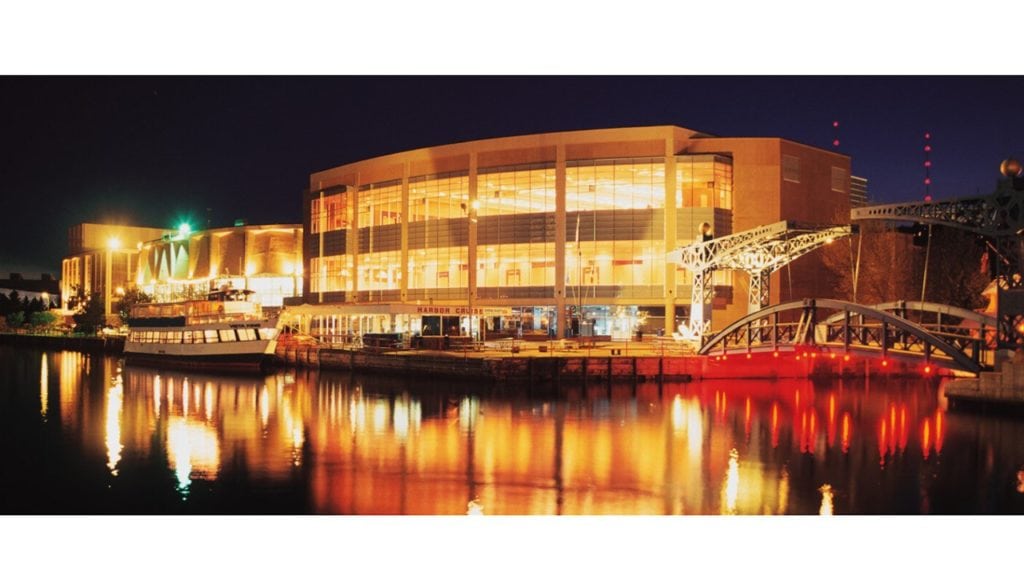 photo source: decc.org
Built at a cost of USD $6.5 million, the Duluth Entertainment Convention Center (DECC) can seat more than five thousand hockey fans in a steep angle, enabling a view of the rink similar to the orientation of the Colosseum in Rome. It was home to the University of Minnesota Duluth Bulldog hockey team from 1966-2010.
It has hosted a slew of hockey historical games including the National Collegiate Athletic Association (NCAA) Men's Hockey Division in the 1960s; and the women's division in later years.
The DECC has evolved to be a center of entertainment in the twin cities. The 1990s and the 2000s saw the addition of at least 10 state of the art movie theaters- including a 65-foot wide ultra screen. It also has a 12-thousand square feet ballroom overlooking the lake.
Did You Know?
While it still is fully-equipped to hold the occasional hockey game, the center also focuses on hosting concerts and other entertainment programs since its expansion in 2010.
---
9. Gutterson Fieldhouse
Year opened: 1963
Location: University of Vermont
City: Burlington, Vermont
Capacity: 4,007 seating for Hockey games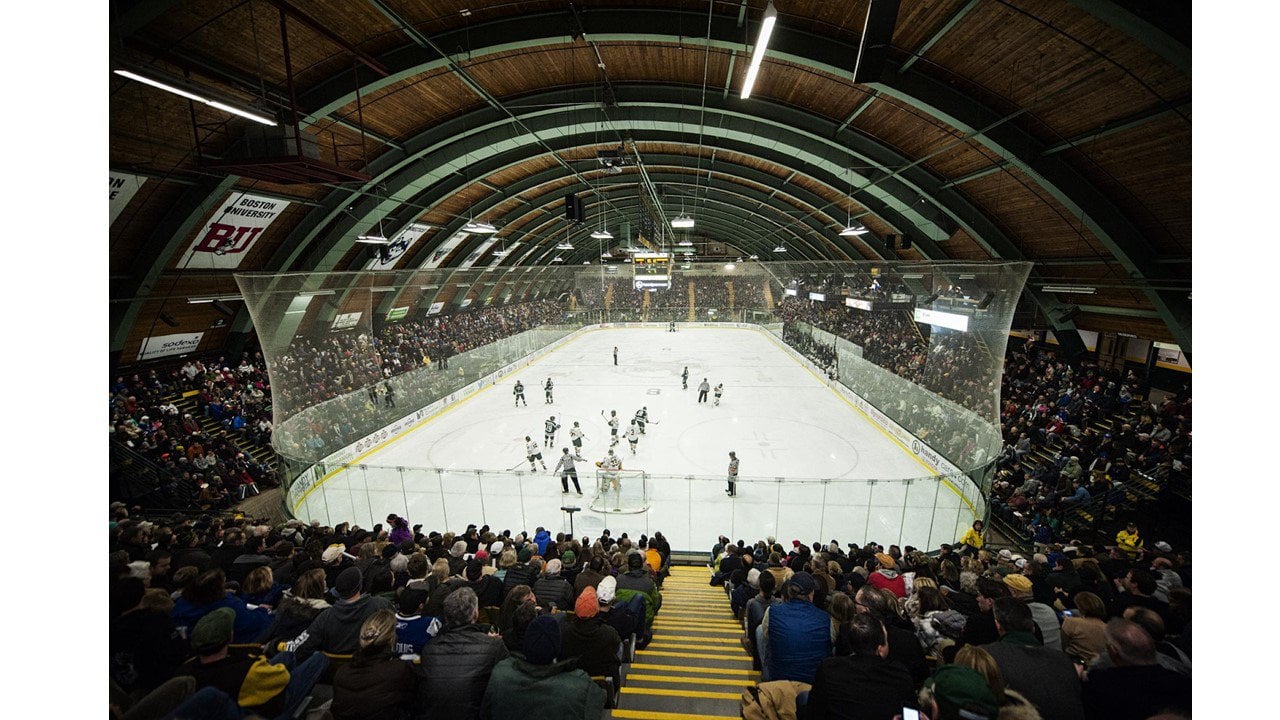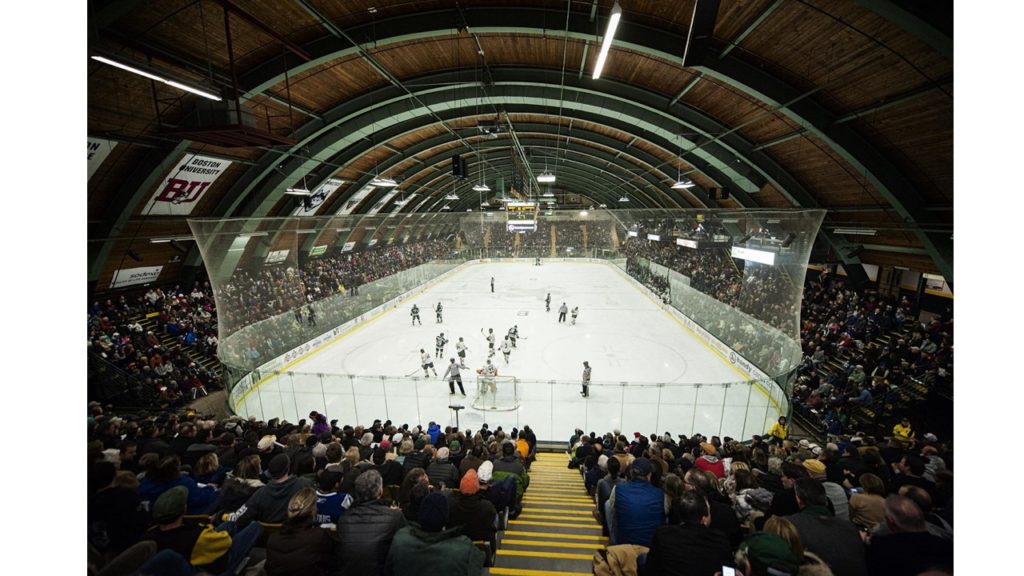 photo source: uvmathletics.com
"The Gut", as it is sometimes called, is the largest indoor arena in the state of Vermont. Its original seating capacity of 3,335 was augmented to its current 4,007 seats back in the 1990s.
Known for hosting the first women's hockey game ever to be nationally televised in the US, it is also where US President Barack Obama made his first public appearance when he visited Vermont.
Sellout games percentage is at 75 percent since 1987, and fans used to rush the doors to get the best seats before reserved seating was an option.
Speaking of best seats, 'The Gut's' unusual seating configuration in which majority of the seats are behind both goals is useful for Vermont Catamount fans, as it makes the visiting team's goalies vulnerable to the endless taunts, jeers, and thunderous roars raining from behind them.
Did You Know?
Modern Hockey in the United States would literally not be where it is now, if not for 'The Gut.' After all, it was the main venue for the New York Rangers training camp from 1995 until 2004. Even Wayne Gretzky, the biggest name out of the National Hockey League (NHL) , trained there. Other hockey elites like Adam Graves, Brain Leetch, Mark Messier and Mike Richter also worked on their skating game at The Gut.
---
8. Meehan Auditorium
Year opened: 1961
Location: Brown University
City: Providence, Rhode Island
Capacity: 3,059 seating for Hockey games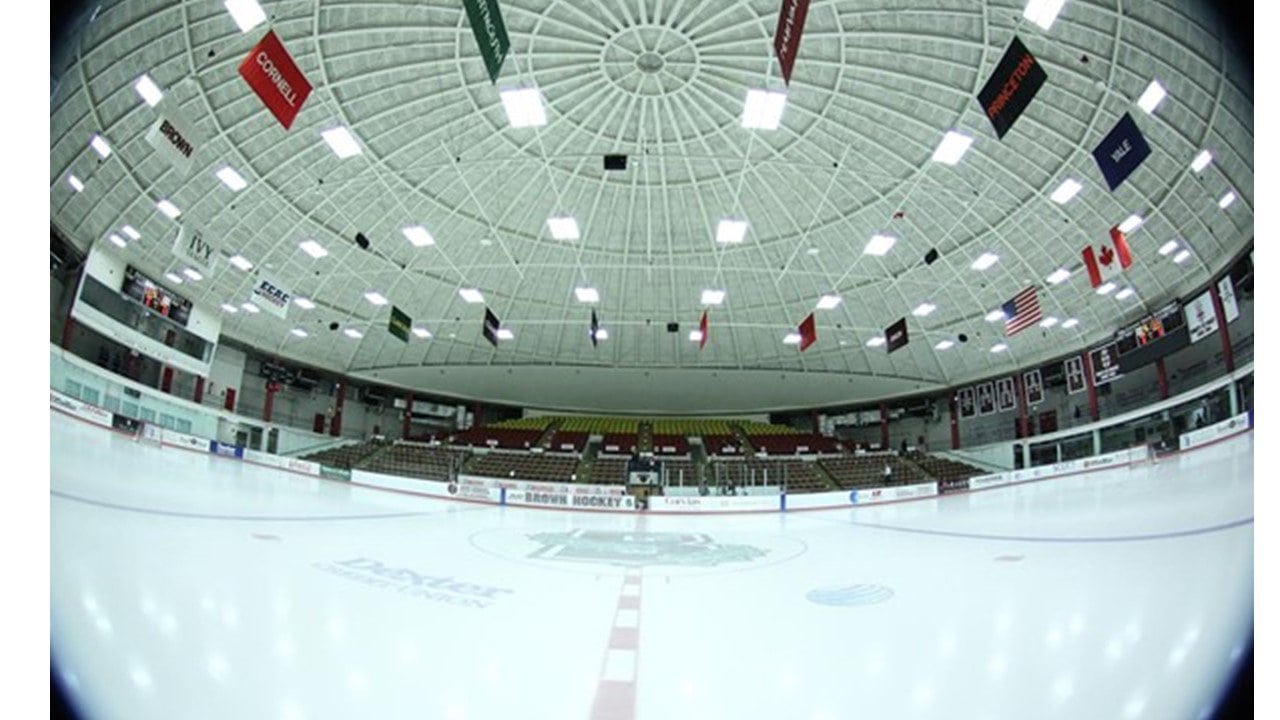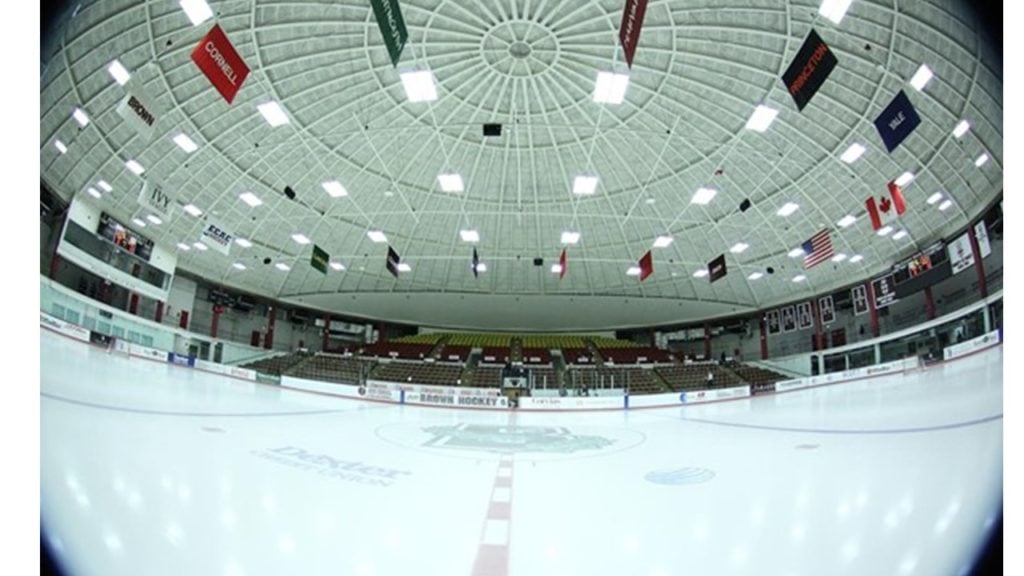 photo source: brownrec.com
Opened in 1961 and named after its benefactor, George V. Meehan, the auditorium is distinguished by its large white domed roof that resembles a UFO.
The high ceiling is both a boon and a bane – while there are no obstructed views for the fans inside, the atmosphere tends to be more dismal than spacious.
Temperatures inside the rink can get frosty, as the vast space is not conducive to trapping body heat.
Did You Know?
Meehan prides itself on having "the world's first ice skating band", the Brown University Band. The group features talented musicians who attempt to perform maneuvers in the tradition of the Ice Capades while playing their instruments.
---
7. J. Howard Starr Rink
Year opened: 1959
Location: Colgate University
City: Hamilton, New York
Capacity: 2,000 seating for Hockey games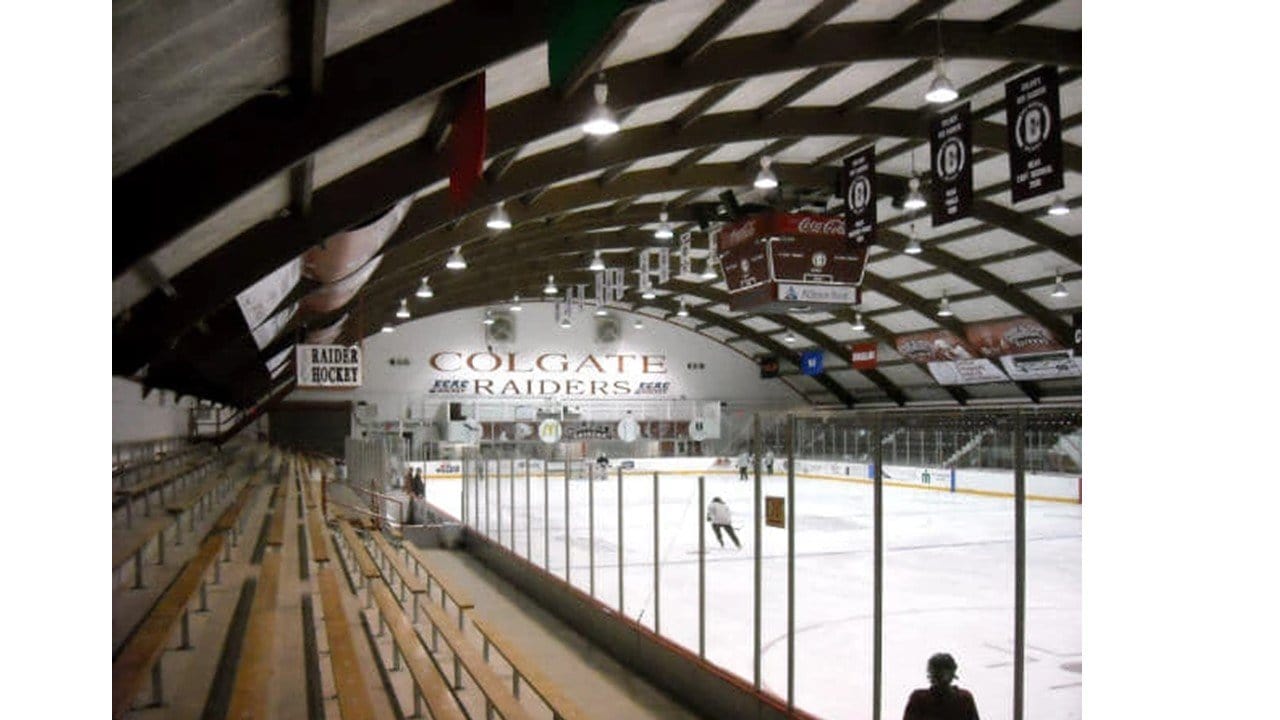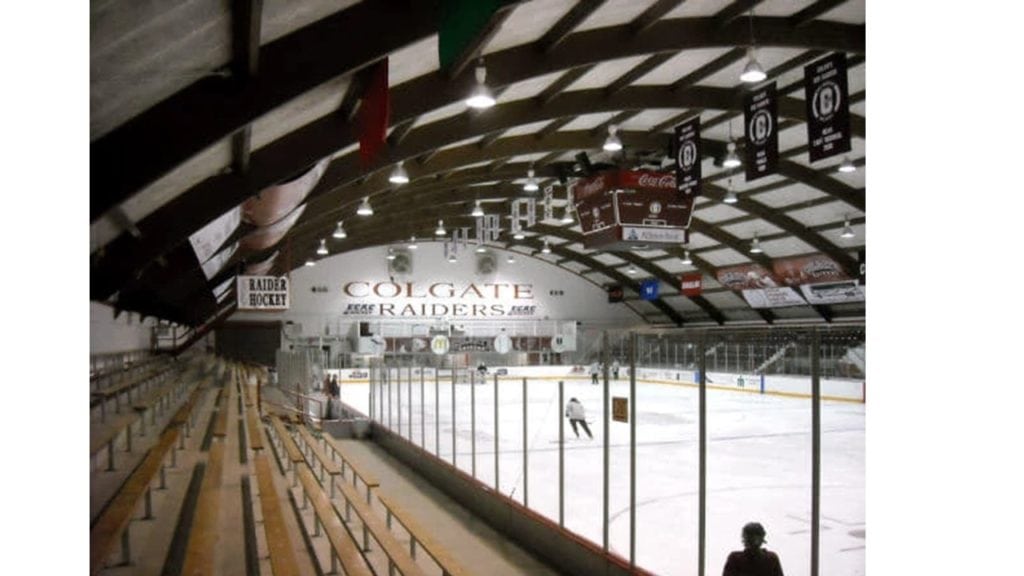 photo source: static.wikia.nocookie.net/
Portions of the American sports comedy "Slap Shot" were shot inside the Starr Rink in 1977 and is the arena's claim to fame.
Opened in 1959, its wooden bleachers seat 2,000 fans but sellout games are rare, except on occasions when the Raiders nemesis, the Cornell Big Red, is playing against them.
Currently, the rink no longer operates as a Hockey arena, but rather, as a Basketball practice court.
Did You Know?
This rink was dedicated to the longest serving Hockey coach of Colgate University. In addition to being a Physical Education Professor, J. Howard Starr served as coach from 1932 until 1950.
---
6. Ingalls Rink
Year opened: 1958
Location: Yale University
City: New Haven, Connecticut
Capacity: 3,500 seating for Hockey games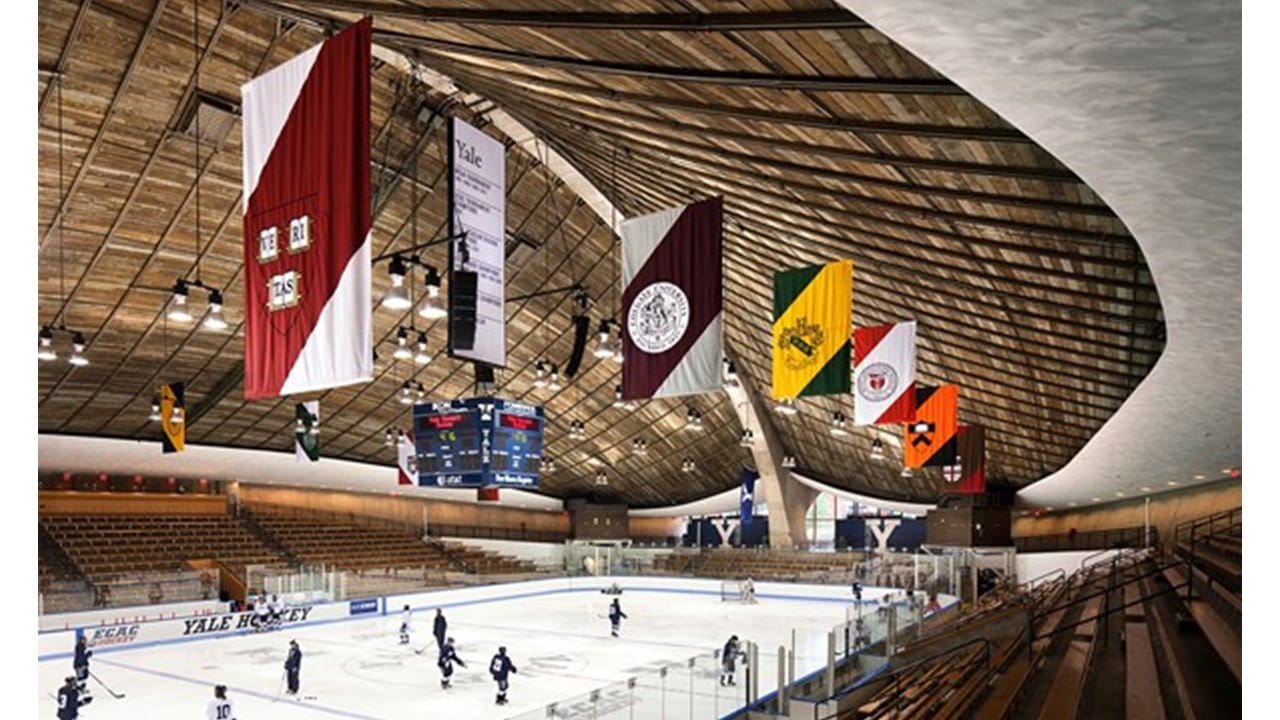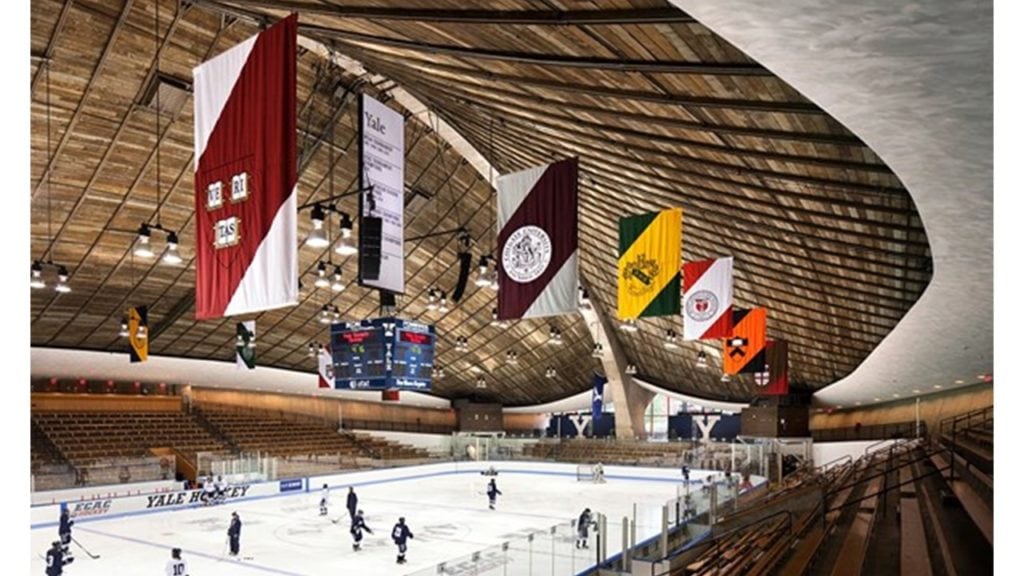 photo source: yalebulldogs.com
Designed by Eero Saarinen, the same architect responsible for the Gateway Arch in St. Louis, the Ingalls Rink holds the distinction of being one of the few skating rinks to be included in the pages of Architectural Digest magazine.
Its double curvature roof resembles a humpback whale, thus gaining the moniker "Yale Whale". It is considered an architectural masterpiece with no less than the New York Times citing it as the best designed Hockey rink.
Did You Know?
Ingalls has had its share of controversy, namely the bombing of a rock conncert that was protesting against the Black Panther trials. The explosions caused cracks to form on its arch but thankfully, no injuries.
It underwent a $23.5 million renovation in 2009.
---
5. Lynah Rink
Year opened: 1957
Location: Cornell University
City: Ithaca, New York
Capacity: 4,267 seating for Hockey games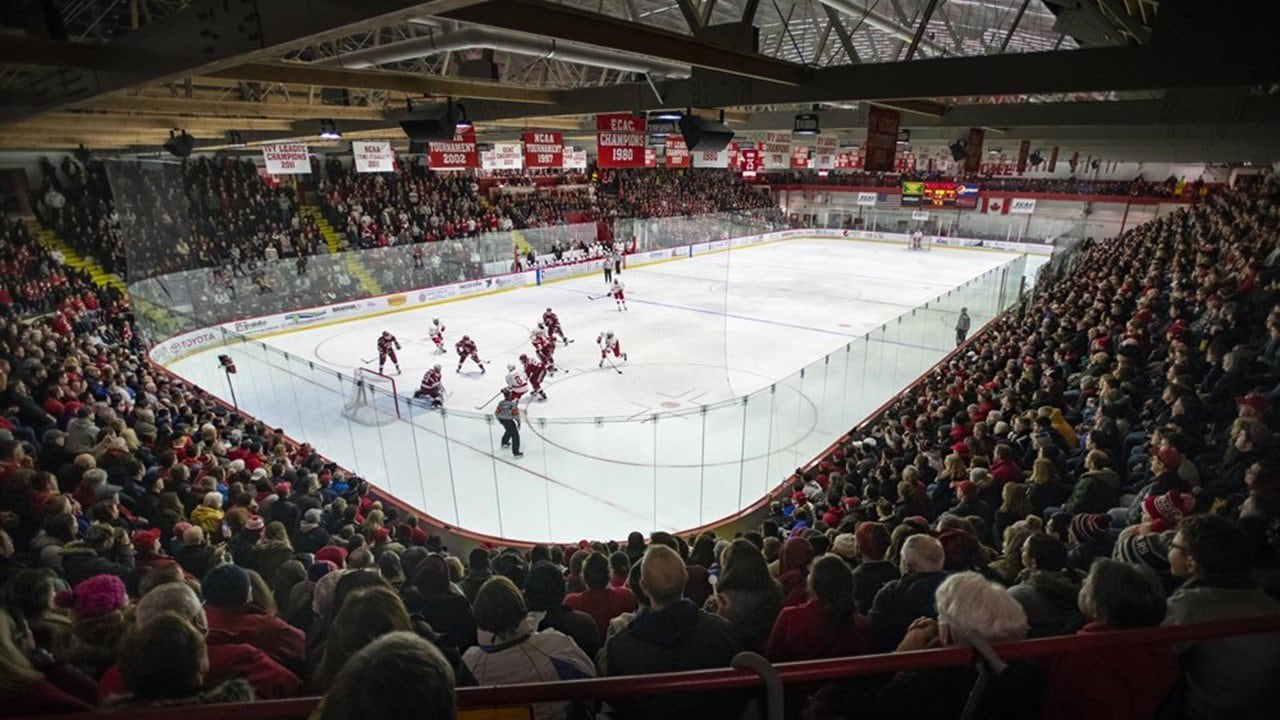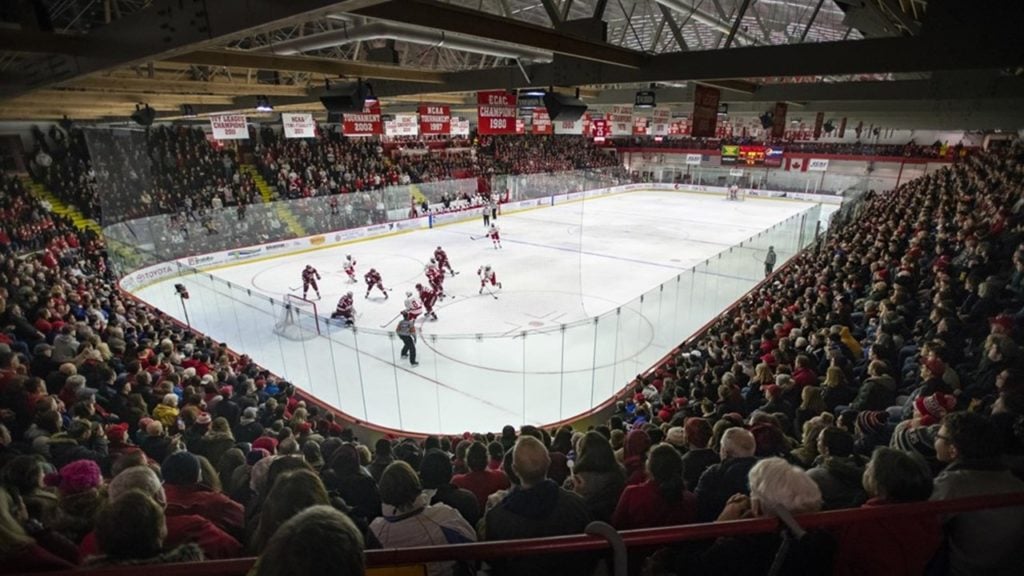 photo source: cornellbigred.com
While the Lynah Rink by itself is architecturally unremarkable, Cornell's Big Red is known for its devoted, if not rabid, fanbase. The students are known to camp out overnight to secure prized season tickets and a capacity crowd of 4,267 is almost always a guarantee.
The answer to Duke's Cameron Crazies, intimidation is the name of the game in Lynah, and fans are known to welcome visiting teams by pelting them with everything from fish (Harvard Crimson) to Colgate toothpaste boxes (Colgate Raiders).
As if that's not enough, the Cornell crowd hold up newspapers while chanting "boring" in unison whenever rival teams are introduced, after which the crumpled papers are tossed onto the ice. Rival goalies are serenaded with chants of "it's all your fault" while being wagged accusatory fingers whenever the home team scores.
It goes without saying that Lynah is a hostile environment for visiting squads and perhaps accounts for Big Red winning 70 percent of its games since Lyna opened its doors.
Did You Know?
This historic rink is named after the late James Lynah who loyally served as Cornell's Director of Athletics from 1935 until 1943.
---
4. Appleton Arena
Year opened: 1951
Location: St. Lawrence University
City: Canton, New York
Capacity: 3,200 seating for Hockey games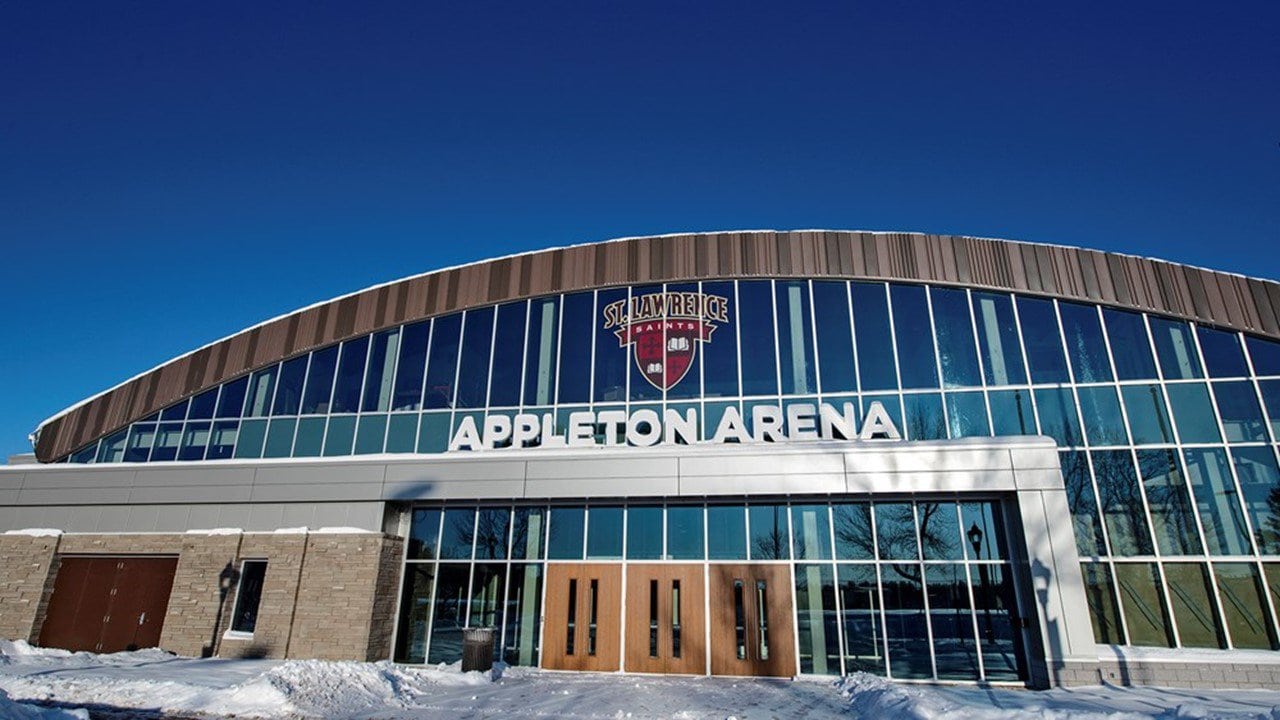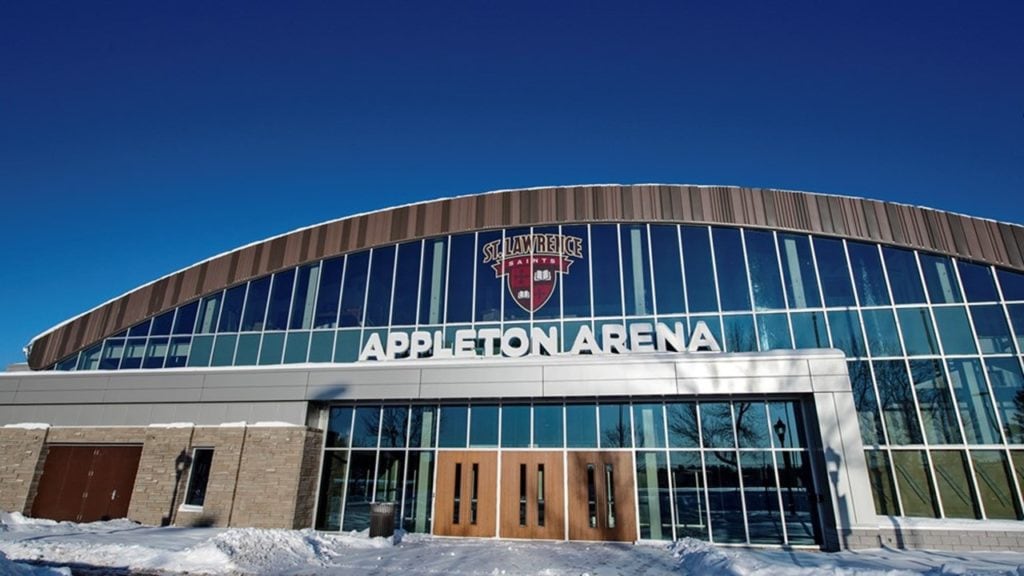 photo source: saintsathletics.com
Although not exactly huge, Appleton Arena's rustic interior of wooden arched ceilings and 3,200 stained wood seats has more than enough space for its undergrad fans.
Not only does the arena house memorabilia of its outstanding players but there are also small plaques placed in certain areas around the rink to pay tribute to both fans and parents who have cheered on the Skating Saints throughout the years.
Visiting teams are treated to the deafening barrage along with the stomping of the wooden bleachers every time St Lawrence scores a point.
Did You Know?
It is one of the loudest venues, thanks to a blaring siren reaching ear-splitting decibel levels as that of an air-raid horn.
---
3. Houston Field House
Year opened: 1949
Location: Rensselaer Polytechnic Institute
City: Troy, New York
Capacity: 4,780 seating for Hockey games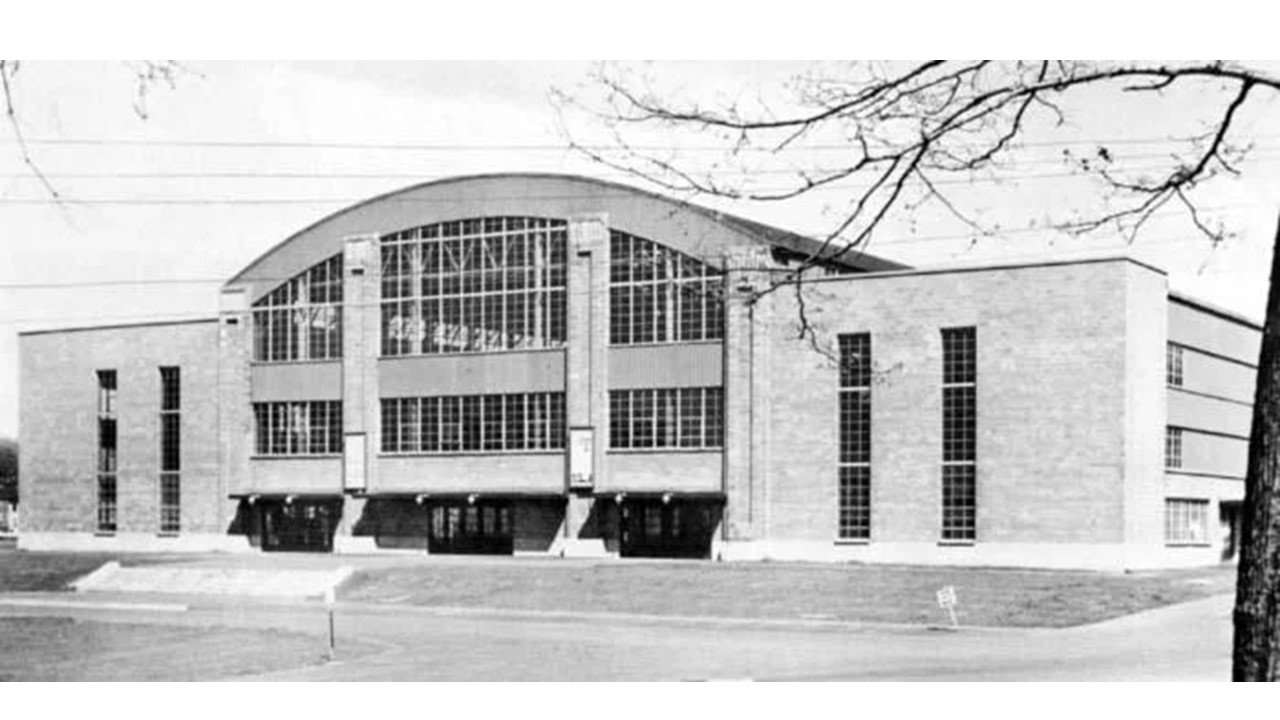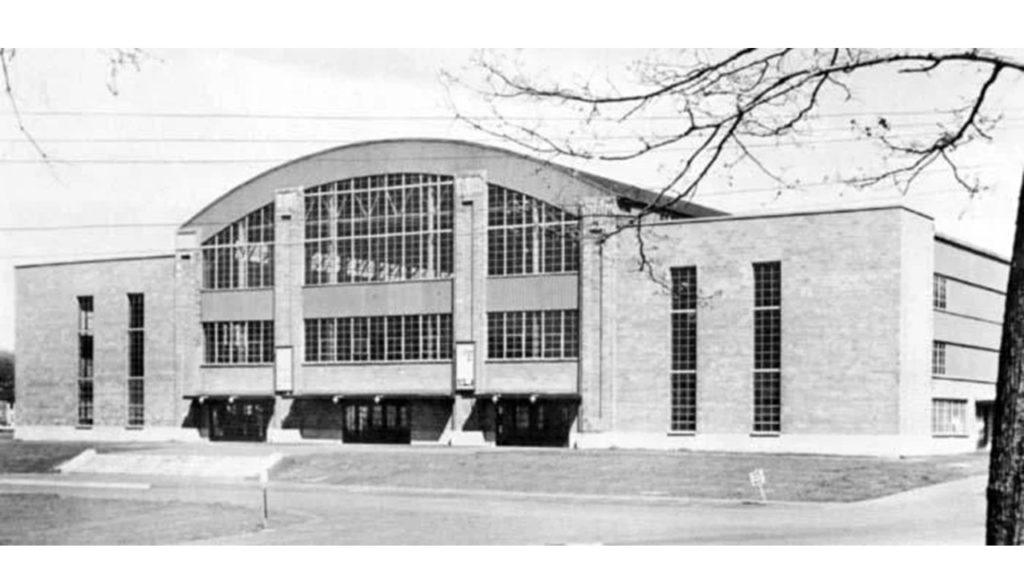 photo source: archives.rpi.edu
Much of the motivating force behind the construction of the Field House was to create a home for the school's ice hockey team which played its first game in 1901. Prior to its construction, the team played on an outdoor rink rebuilt every winter on the campus grounds.
The Big Red Freakout, held every early February, is when students, alumni, and fans get to cheer the Engineers while dressed from head to toe in red. The event, known for its unrestrained atmosphere, got so loud during its game with Brown in 1987 that it brought about the implementation of the "RPI Rule" which prohibits fans from using extra-loud artificial noisemakers during games.
Did You Know?
The Houston Field House used to be a US Navy warehouse.
---
2. Hobey Baker Rink
Year opened: 1923
Location: Princeton University
City: Princeton, New Jersey
Capacity: 2,092 seating for Hockey games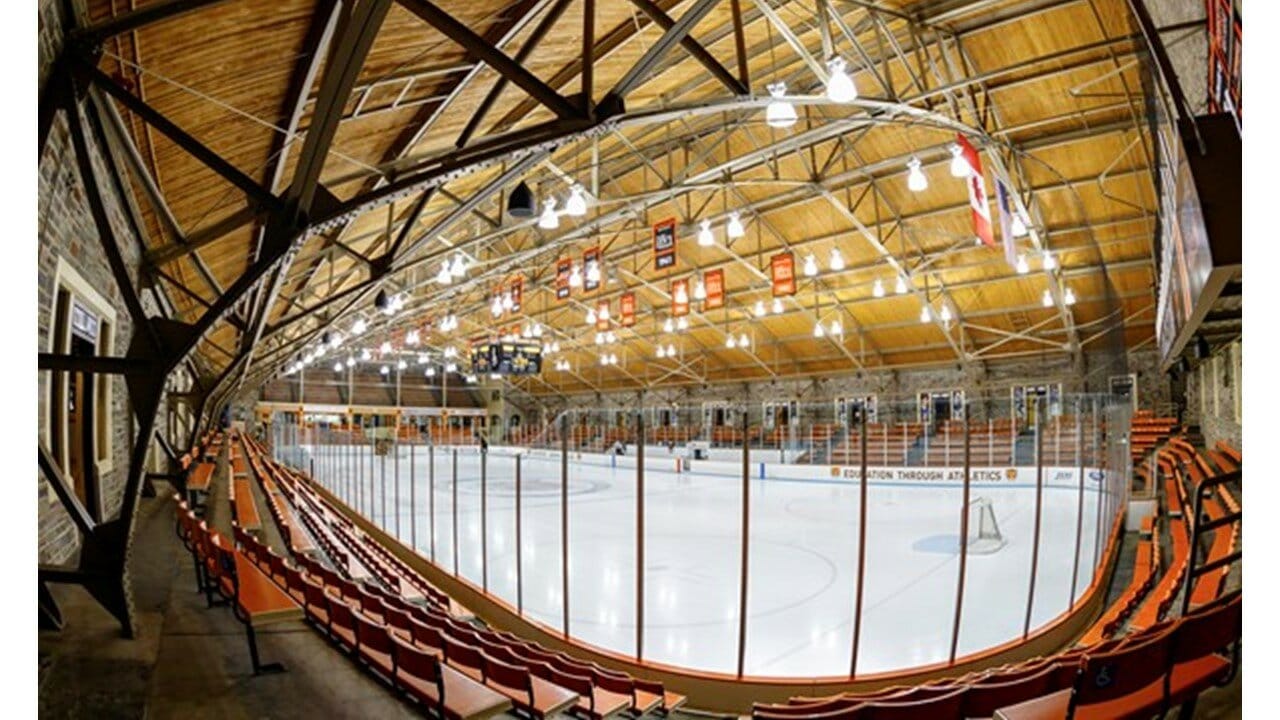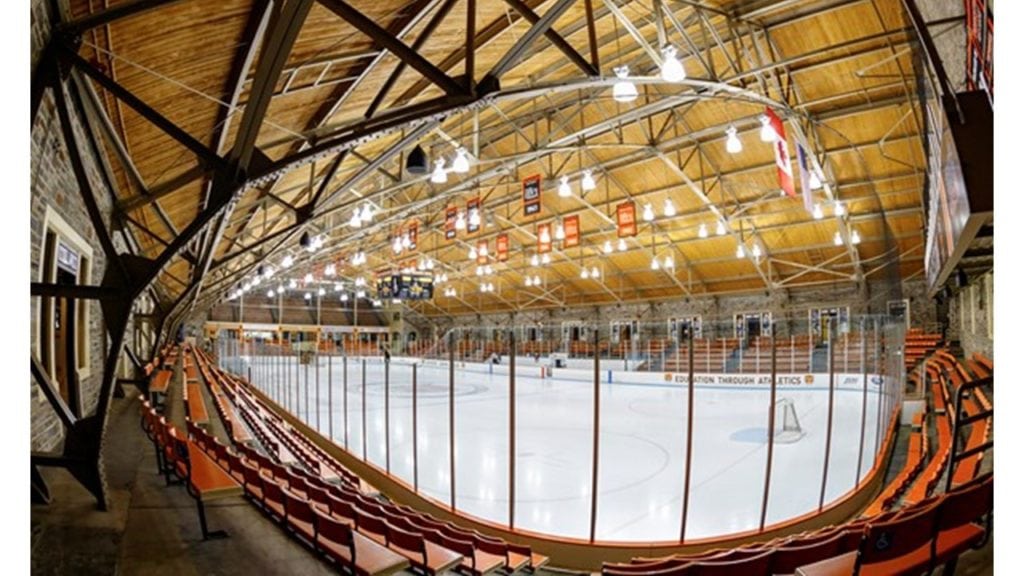 photo source: archives.rpi.edu
Home to the Princeton University Tigers, the Hobey Baker Rink is the sole ice skating rink on the Princeton University grounds.
Its arching roof and stone walls make one think of Gothic churches, a fitting parallel since the arena holds sacred artifacts of the sport's local patron saints — Hobart "Hobey" Baker (its namesake) and Patty Kazmier.
Did You Know?
It is the second-oldest arena still in use in NCAA Division I hockey and has undergone major improvements since the 1970s.
---
1. Matthews Arena
Year opened: 1910
Location: Northeastern University
City: Boston, Massachusetts
Capacity: 4,666 seating for Hockey games, 5,066 seating for Basketball games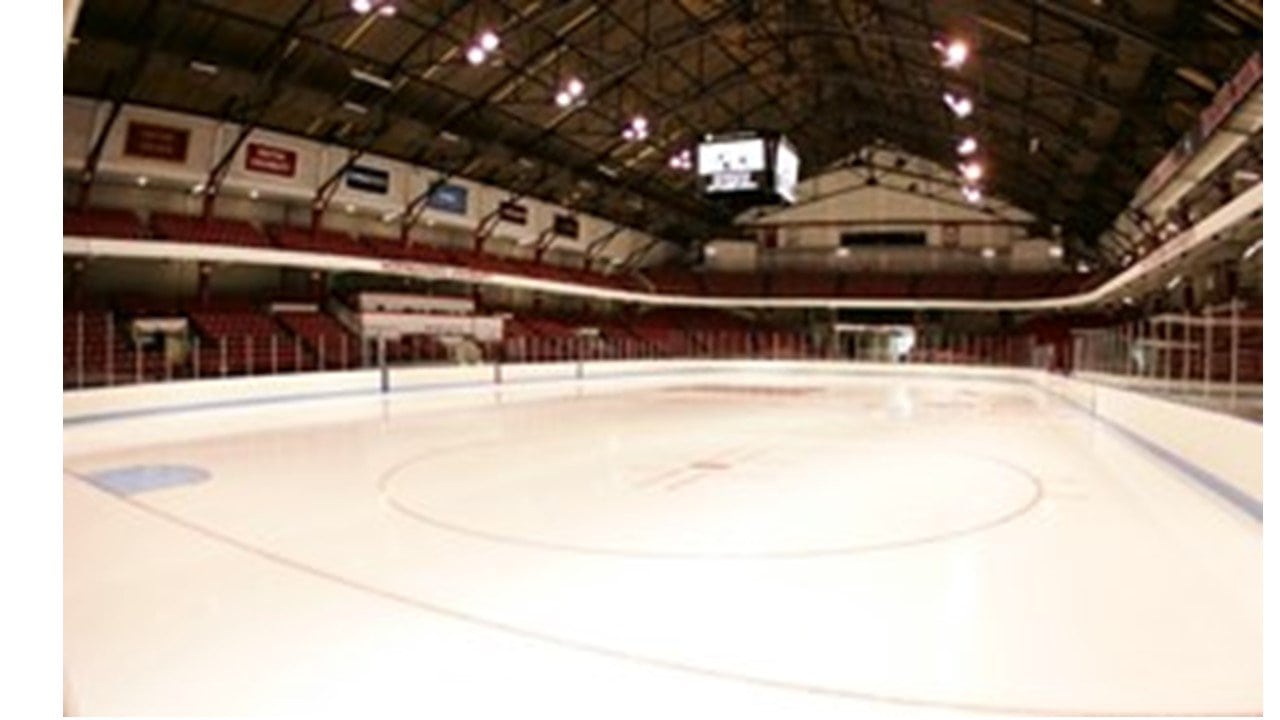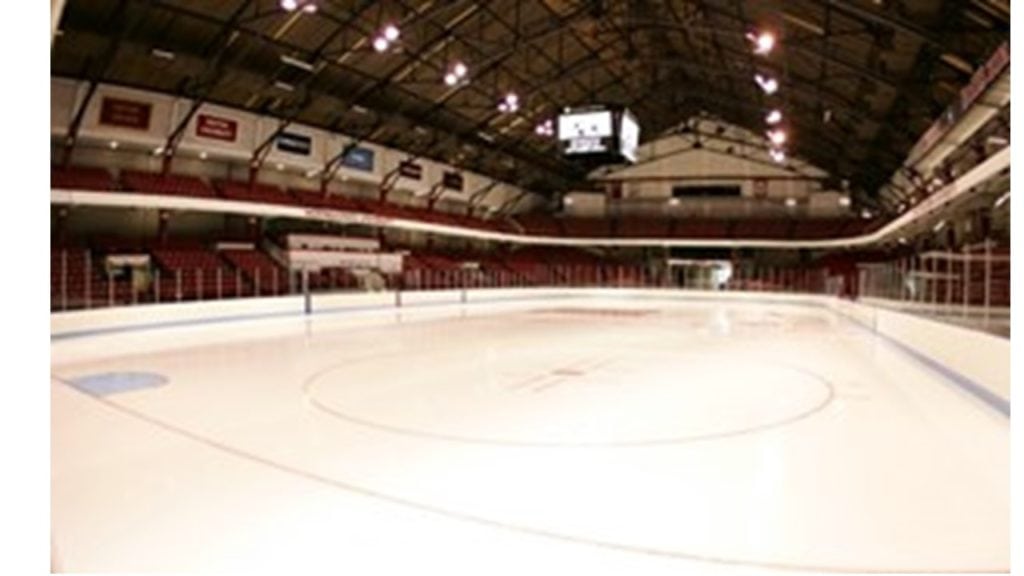 photo source: archives.rpi.edu
Formerly known as the Boston Arena, the Matthews Arena holds the distinction of being 'The Oldest Hockey Rink in the United States.' This historic athletic palace was supposed to open on December 25, 1909 but delays in construction pushed back the opening a year later in April.
Two years older than Fenway Park, the Matthews Arena is where the Boston Bruins made their debut. It would also welcome the Celtics 22 years later. Partially destroyed by fire on December 18, 1918, it has undergone numerous renovations and recently underwent a multimillion-dollar upgrade to modernize its facilities.
Hockey fans are treated to probably one of the best perches on the first row of the balcony, which also happens to be the Dog House student section. Visiting teams can attest to the disadvantage of having the Dog House hovering above one of the goals, as students mock and hurl insults from just a few feet away.
Did You Know?
The Matthews Arena has hosted many famous people — from presidents Theodore Roosevelt in 1912 and John F. Kennedy in 1946, to dignitaries Charles Lindbergh and Amelia Earhart. Boxing legends Jack Dempsey, Gene Tunney, Joe Lewis and Marvin Hagler all had bouts within its walls — even the great Muhammad Ali trained in its gym.
Other celebrities to utilize the arena include the rockers Jerry Lee Lewis, Chuck Berry, Buddy Holly, and even the iconic rock band, The Doors.
---