When we think of world-class athletes and their physical makeup, particularly in a game as demanding as NFL Football, it's only natural for our imaginations to pivot toward an individual in the physical primes of their career. An early to mid-20's athlete, they are sometimes so young that they even have their high school or college diploma still in hand when they dawn their uniform on their Monday Night Football debut.
The NFL is referred to as, "The Young Man's Game," and for good reason. According to RBC research, the average retirement age for NFL players is 27.6, ranking the youngest amongst the MLB, NHL, and NBA. Breaking into the league is hard enough, let alone winning an MVP. But this got us thinking, who are some of the rare outliers who not only defied the pitfalls of Father Time but achieved the pinnacle of individual success in spite of it?
Together, let's find out and take a look at the leagues top 10 oldest MVPs.
10. Mark Moseley
MVP Year: 1982
Age: 34
Team: Washington Redskins
Position: Kicker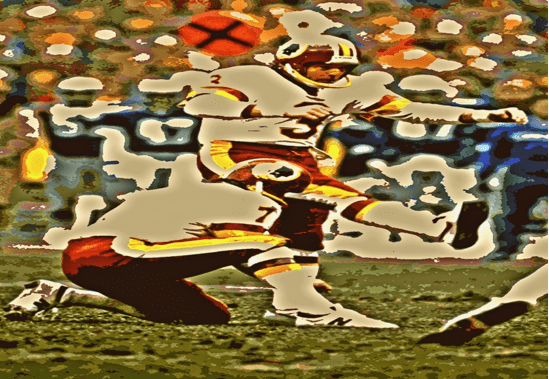 photo source: Publicdomainpictures.net
Did you do a double-take there?
Never seen before or since, in perhaps the strangest football season ever, a kicker won the most prestigious NFL accolade. Moseley sported a then-best 95.2% success rate, landing 20/21 field goals in a season shortened due to strikes. He set a new standard in kicking marksmanship.
Though Moseley struggled that postseason, missing four field goals, he still got to have his cake and eat it too when they triumphed over the Miami Dolphins in Super Bowl XVII.
Did You Know?
The newly-minted MVP was cut from the Washington Redskins just three years later, but ultimately ended up finding success with the Cleveland Browns, where he had another successful season.
With the Browns, Moseley won a thrilling double-overtime game against the Jets, but fell just short of another Super Bowl berth. Moseley retired that season in 1986.
---
9. Joe Theismann
MVP Year: 1983
Age: 34
Team: Washington Redskins
Position: QB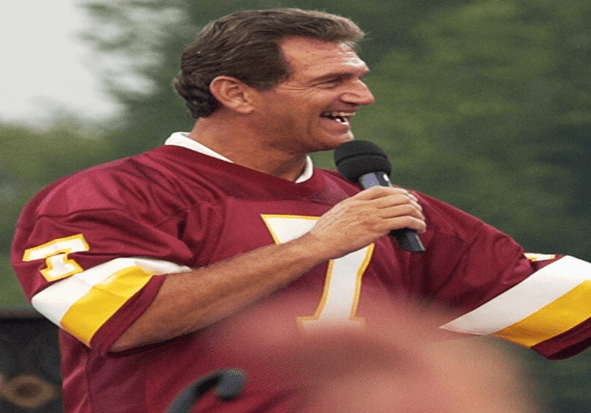 photo source: Wikimediacommons.org
Joe Theismann was the superstar quarterback for the Washington Redskins. So far, Washington is two for two on this list. They clearly know how to take care of their older statesmen!
Theismann led the Redskins to a regular-season record of 14-2, ultimately falling to the Los Angeles Raiders in Super Bowl XVIII. However, this didn't stop him from snagging the NFL MVP and Offensive Player of The Year. Theismann would stay involved in the game after retirement by serving as a color commentator for CBS and ESPN's NFL coverage.
Did You Know?
Joe Theismann never made it to the Hall of Fame. After enduring a gruesome, career-ending leg injury in 1985, he just wasn't able to dress up the resume enough to receive the nod for entry into the pantheon of legends.
Theismann left a lasting legacy on the game of football. Had his career continued, there's no doubt he would have been a lock-in.
---
8. Joe Montana
MVP Year: 1990
Age: 54
Team: San Francisco 49ers
Position: QB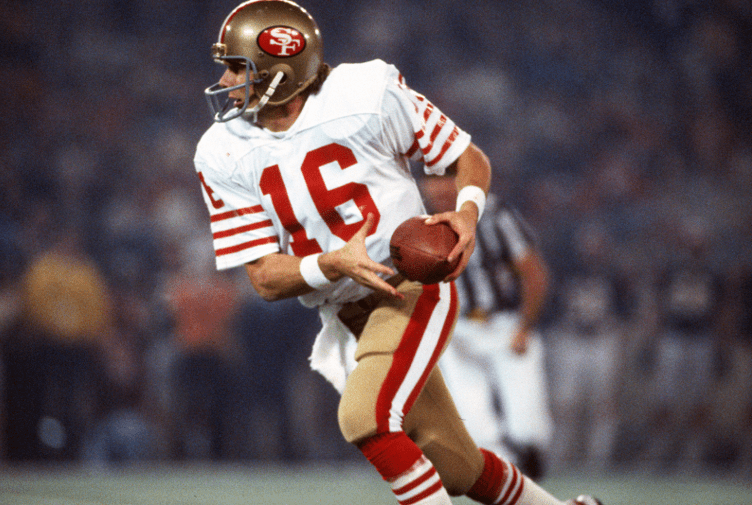 photo source: ninernoise.com
Joe Montana, affectionately known as "Joe Cool," was a four-time MVP winner, with his last occurring in 1990. The 82nd pick in the third round of the 1979 draft, do you figure he had a little chip on his shoulder?
Playing with something to prove, Montana won four Super Bowls in all four of his MVP seasons. These include 1982, 1985, 1989, and 1990. He ranks among the NFL's all-time leaders in passing yards and touchdown passes, flaunting 40,551 passing yards and a whopping 273 touchdown passes. Montana hung up his cleats ranked #4 in NFL Networks: Top 100 Greatest Players.
…Not too shabby for "The Comeback Kid."
Did You Know?
Joe came to be known as "Joe Cool" because he was never seen yelling or losing his temper while on the field. He exhibited almost a zen-like quality during battle, atypical of the standard code of conduct and a stark contrast to the stereotypical jock. His composed presence on the field was a major benefit to his team's success.
---
7. John Brodie
MVP Year: 1970
Age: 35
Team: San Francisco 49ers
Position: QB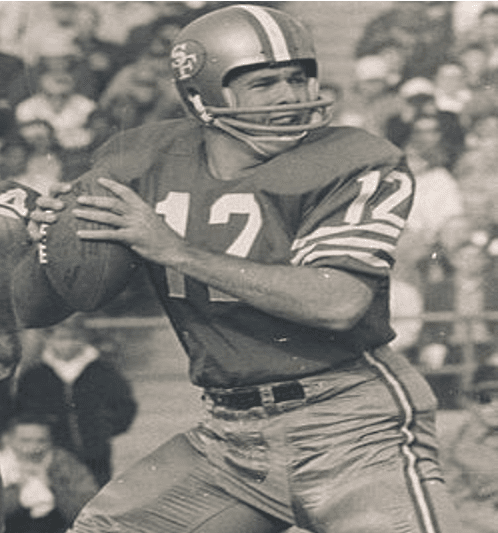 photo source: Wikimediacommons.org
John Brodie is statistically deemed the third greatest passer in NFL history. He was a 35-year-old league MVP and a two-time Pro Bowl selection – though maybe that's to be expected of the third pick in the first round of the draft!
Though he won his MVP in 1990, his best statistical year came in 1965, when he led the league with 3,112 passing yards and 30 passing touchdowns. In contrast, in his MVP season, he threw for 2,941 yards with an outstanding completion rating, having only 2.6% of his passes resulting in interceptions.
Brodie never won a Super Bowl; nevertheless, he received countless accolades throughout his 17-season career.
Did You Know?
Brodie had a second successful career as a Senior PGA Tour professional golfer, with one victory and 12 top-ten finishes. He also went on to commentate both football and golf.
---
6. Fran Tarkenton
MVP Year: 1975
Age: 35
Team: Minnesota Vikings
Position: QB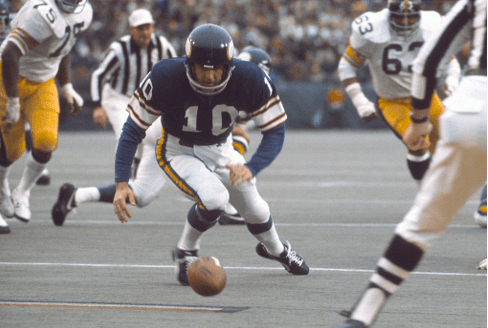 photo source: Sportscasting.com
Fran Tarkenton played in 18 NFL seasons. At age 35 in his 1975 season, he led his team to an NFC best, 12-2 record, earning him not just an MVP award but Offensive Player of The Year, to boot.
Tarkenton's lack of a Super Bowl victory despite his three appearances is a testament to how, despite individual greatness, a team-oriented sport like football must rely on the collective unit. It takes skill, chemistry in droves, and a little bit of luck!
Did You Know?
Tarkenton became an entrepreneur in later years. After his football career ended, he helmed a computer software development startup, Tarkenton Software – a program generator company.
In 1999, Tarkenton was caught in a securities fraud sweep, but this didn't stop him from running a new annuity marketing firm years later, called Tarkenton Financial. Despite the man's flaws, he certainly could never be accused of laziness!
---
5. Y.A. Tittle
MVP Year: 1963
Age: 37
Team: New York Giants
Position: QB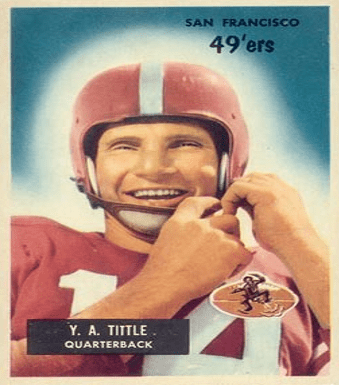 photo source: Wikimediacommons.org
Y.A. Tittle only played four seasons with the New York Giants (1961-1964). He made the most of his time there, being named MVP in 1961 and 1963.
Tittle, in his advanced age, relative to football players, was not exempt from scrutiny, with several players exclaiming that Tittle was too "washed up." It didn't take long to prove that what he may have lacked in athleticism, he made up for with leadership and wit. He took over starting duties from Charlie Conerly after week two of the season, having missed week 1 due to a back injury.
Did You Know?
A picture of Tittle, shown kneeling, battle-worn, and concussed in the end zone was taken by photographer named Morris Berman. It's regarded as an iconic image in American sports because of how it captures the brutality of such a violent and life-threatening sport. The photo won a National Headliner Award.
---
4. Rich Gannon
MVP Year: 2002
Age: 37
Team: Oakland Raiders
Position: QB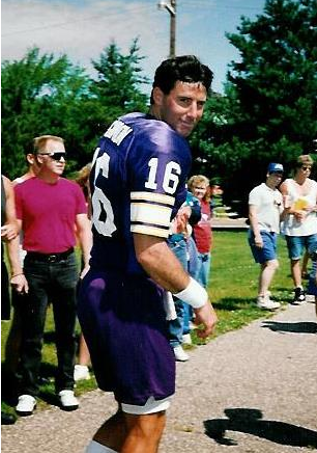 photo source: Wikimediacommons.org
Rich Gannon spent 17 seasons in the NFL, but it wasn't until two years before his retirement in 2004 that he would register a record-setting season.
Some of those jaw-dropping, video-game style stats include 21 rushing touchdowns and a total of 2,449 rushing yards. For a man just three years shy of 40, that kind of mobility is impressive; however, it's not totally surprising given that, upon going in the 4th round of the draft to the Patriots, the intention was to repurpose Gannon into a running back.
Gannon's single Super Bowl appearance in 2003 wasn't the ideal follow-up to his record season. He threw a Super Bowl record with five interceptions, resulting in a 48-21 loss to Tampa Bay.
Did You Know?
Rich Gannon and his wife, Shelly Brown, are prominent figures in the fight against Celiac Disease after their daughter, Danielle, was diagnosed in 1997. They hold an annual Celiac Walk at Holy Family Catholic High School in Victoria, Minnesota.
---
3. Peyton Manning
MVP Year: 2013
Age: 37
Team: Denver Broncos
Position: QB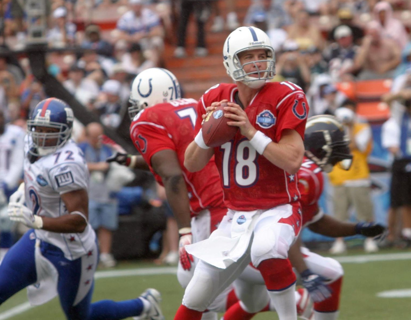 photo source: Wikimediacommons.org
Peyton Manning is the quintessential quarterback. From the look, the walk, the talk, the slight southern drawl, and the football family from which he came, he was bred to be a quarterback.
Manning was the recipient of 5 MVPs, joining the likes of Michael Jordan, Wayne Gretzky, Kareem Abdul-Jabbar, Bill Russel, and Gordie Howe as athletes to have won at least 5 in their careers.
Though he didn't win a Super Bowl in his MVP season, Manning did win a second title three years later with the Broncos as the follow-up to his 2007 title with the Colts, all the while silencing his critics who claimed that lightning wouldn't strike twice in his old age. In spite of this, his 2013 numbers – including five touchdowns and a nearly 70% completion rate – spoke for themselves.
Did You Know?
The Manning family is considered dynastic. Eli Manning, Peyton's brother, achieved Super Bowl success too, winning two titles. Their father, Archie, was a successful collegiate player and played professionally for several teams.
---
2. Aaron Rodgers
MVP Year: 2020
Age: 37
Team: Green Bay Packers
Position: QB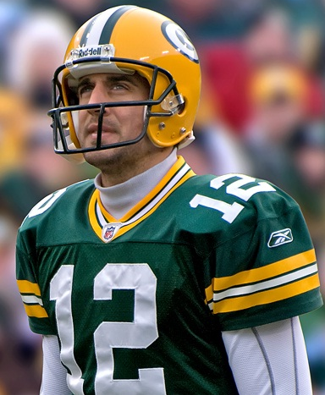 photo source: Wikimediacommons.org
Aaron Rodgers recently won the 2020 MVP award. Before that, he was the recipient in 2012 and 2014, joining his predecessor, Brett Favre in Green Bay. He also joined Tom Brady and Peyton Manning as the only players to take home the title more than twice.
Throwing only five interceptions in the regular season of 2020 and showcasing a completion rating of 70.7%, it's clear why he was crowned the league's MVP at 37 years old.
Did You Know?
Aaron Rodgers waited patiently on the bench behind Brett Favre for three seasons, careful not to threaten or disrespect the future first-ballot HOF'er. In 2008, he took the torch and is now considered by many as having surpassed Favre, even while his story is still being written.
---
1. Tom Brady
MVP Year: 2017
Age: 40
Team: New England Patriots
Position: QB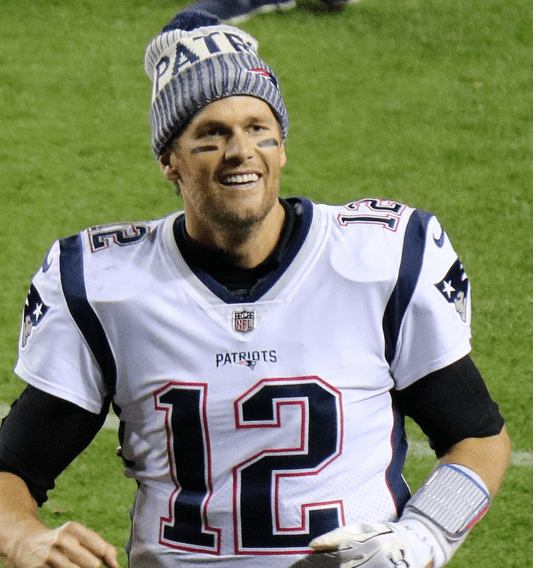 photo source: Wikimediacommons.org
Tom Brady is the oldest NFL MVP.
Much like fellow athletes Jeter and Jordan, Tom Brady is as relevant today in season 21 as he was when he was drafted in 2000. He is the true example of the underdog story.
Brady was the 199th pick at the bottom of the sixth round, behind the selection of 6 other QB's. 5 MVP nods and 7 Super Bowl rings later, he's proven to be a once-in-a-generation talent with his most recent MVP coming at 40. Now, after securing the Buccaneers a title during his first year with them in 2020, he aims to repeat his success, and is showing no signs of slowing down at age of 44.
Did You Know?
Brady's training regiment is very unorthodox. Unlike the traditional strength exercises that players incorporate in their routines, such as squats and deadlifts, Brady focuses on a method called "Pliability."
Pliability relies heavily on resistance bands, which Brady couples with extensive stretching and muscle massaging. The athlete believes that muscles that stay long and soft lead to better performance, durability, and health in the long run.
OTHER POSTS YOU MAY BE INTERESTED IN