Running a marathon is a gruelling task, even to seasoned and trainer runners in the prime of their youth. But as we all know, age is just a number, and many participants over the years have proven that they can finish a 26-mile run well into ripe, old age. Here are 9 of the world's oldest marathon finishers.
9. Iva Barr
Age when running: 87
Country from: London, UK
Latest marathon: London Marathon 2015
Time: 7:29 (26.2 miles)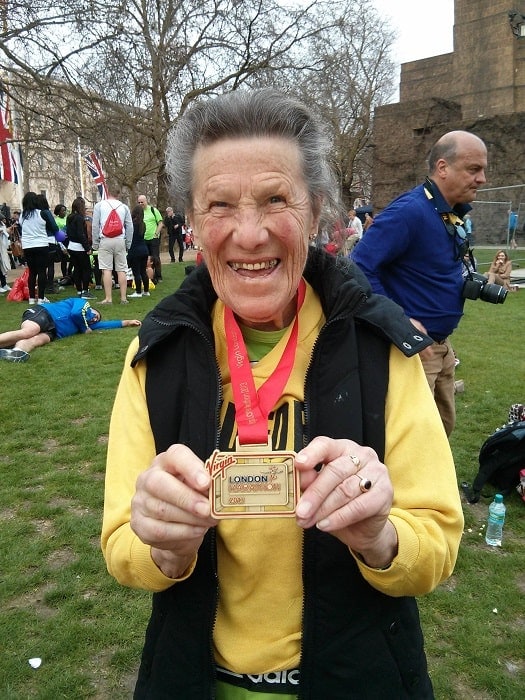 photo source: Imgur
Running for Whizz Kids, Iva Barr crossed the finish line in the London Marathon of 2015 with what she credits as pure determination. Originally, she thought she'd be walking most of the way, but found out she was capable of far more.
Barr didn't have any sort of training plan, typically just enjoying long walks and eating more carbs in the weeks leading up to a marathon. Sometimes, she'd try to get in a 20-mile run before the actual marathon, but that year she'd only made 16 miles. Regardless, her minimal efforts still took her far as she crossed the finish line. She received the Point of Light award for her achievements.
Barr attempted to run during the 2016 London Marathon too, but pulled out after 18 miles. Despite not being able to finish, she said that she truly enjoyed herself and was happy to hang up her running shoes once and for all.
---
8. Betty Jean McHugh
Age when running: 88
Country from: Canada
Latest marathon: Honolulu Marathon 2016
Time: 6:31:32 (26.2 miles)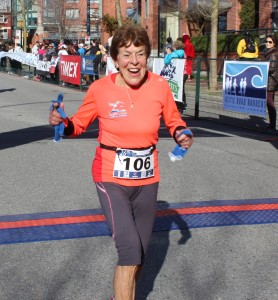 photo source: Frank Stebner
Betty Jean McHugh has been breaking records in her age group for years before completely shattering the previous record for the Honolulu Marathon by 92 minutes. Just the year before this marathon, she ran at the Vancouver First Half-Marathon and finished it with a time of 2:43:30, 30 minutes faster than the record for her age group in a half marathon.
While she'd always been athletic, McHugh only began running seriously when she turned 50. Today, her running has earned her the nickname "Flying Granny". The coolest part about her latest marathon completion? She had suffered a fall just days before the run and participated and finished anyway!
---
7. Jenny Wood Allen
Age when running: 90
Country from: Scotland
Latest marathon: London Marathon 2002
Time: 11:34 (26.2 miles)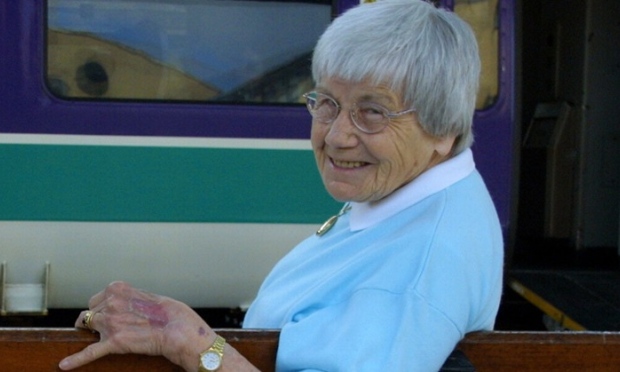 photo source: Erun360
Jenny Wood Allen once held the record for the oldest female marathon finisher in history, awarded when she completed the 2002 London Marathon. She was disappointed with her time, but had run despite suffering a head injury a few weeks prior.
Allen was a councillor involved with the organization of the very first Dundee Marathon in 1983 at the age of 71 and decided to join, despite her colleagues warning her against it. Since then, she went on to set multiple records in multiple different marathons.
In her running career, Allen raised over £70,000 for charity and ran more than 30 marathons, even being featured in a BBC documentary on long distance runners in 1992. Though the 2002 London Marathon was her last, she continued to run around 50 miles per week in her own time. She passed away on 30 December 2010 at the age of 99.
---
6. Paul Freedman
Age when running: 90
Country from: England
Latest marathon: London Marathon 2015
Time: Unknown (26.2 miles)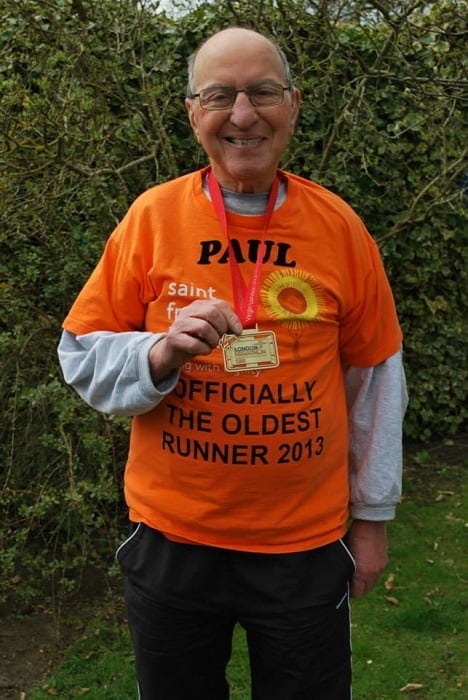 photo source: Facebook
Paul Freedman first began running marathons at the age of 69 and continued going ever since, not even allowing a heart attack that he contracted at 79 stop him. For most of the years that he ran the London Marathon in his late 80s, he was the oldest official participant.
Freedman was an ambassador for the St. Francis Hospice and helped raise over £100,000 for the organization through running marathons. He also ran a group known as the Entertainers, which organizes performances for the sick and elderly. In his life, he aimed to do as much charity work as he could.
Freedman was awarded the Member of the Most Excellent Order of the British Empire. He passed away due to cancer in February 2017.
---
5. Gladys Burrill
Age when running: 92
Country from: America
Latest marathon: Honolulu Marathon 2012
Time: 9:53:16 (26.2 miles)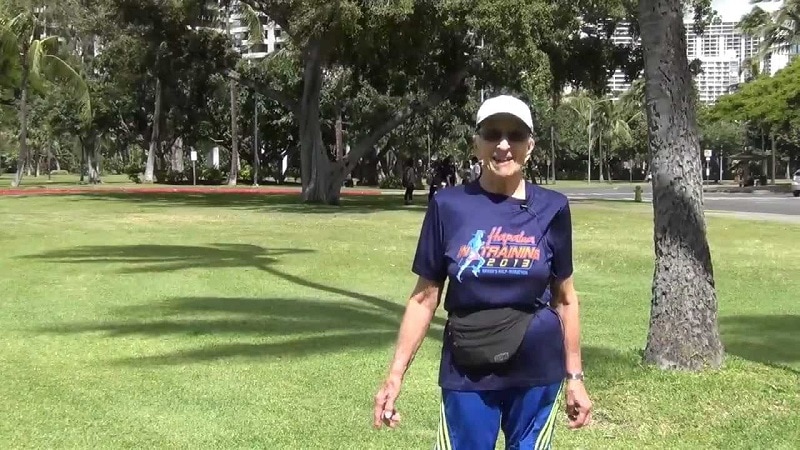 photo source: YouTube
Gladys Burrill began running in 2004 at the age of 86, finishing multiple marathons and setting the record for the oldest woman to finish a marathon with her final run in 2012, earning herself the nickname "Gladiator".
Burrill has always been an adventurous, risk-taking sort of person. She's worked as a multi-engine pilot, hiked through deserts, climbed mountains, and ridden horses. She decided to run her first marathon after watching a fireworks ceremony that opened before a marathon. Her philosophy in life is to always think positively and to laugh often.
---
4. Harriette Thompson
Age when running: 94
Country from: America
Latest marathon: Diego Rock 'N' Roll Marathon 2017
Time: 3:42:56 (13.1 miles)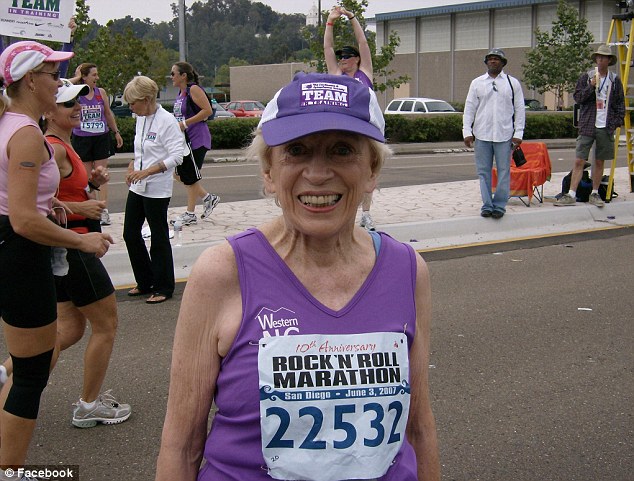 photo source: Facebook
Harriette Thompson ran in the San Diego Rock 'N' Roll Marathon nearly every year since 1999, and it's a tradition she did with her entire family. She became the oldest female marathon runner in 2015 at the age of 92, and when she completed another run in 2017, she honestly didn't think it was such a big deal.
Thompson's response isn't surprising considering her strength — she's beaten cancer twice. When asked how she felt about being an inspiration for younger runners, she jokingly said, "At least I'm good for something!"
Before she got into running at the age of 76, Thompson was a concert pianist. She sadly passed away in October 2017 after suffering from a fall.
---
3. Jonathan Mendes
Age when running: 96
Country from: America
Latest marathon: New York City Marathon 2016
Time: 11:23 (26.2 miles)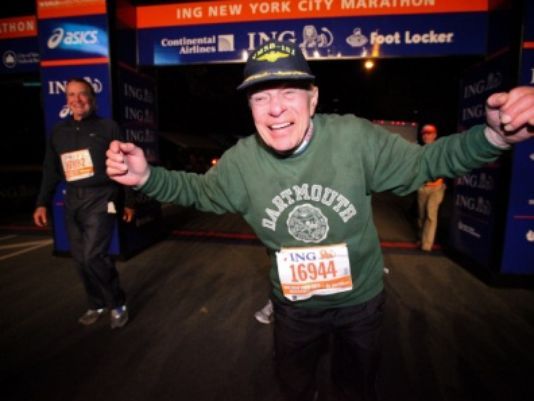 photo source: U.S. Marine Corps/DVIDS
Jonathan Mendes unofficially finished his latest marathon with the help of two aids, mostly walking at a 25-minute mile pace. He is believed to be the oldest unofficial marathon finisher of the New York City Marathon, ever. He was cleared by his personal trainer — who does strength training with him — as fit to safely take part in the marathon two weeks prior.
As a World War II marine who flew in over 100 missions — and then over 70 more missions in the Korean War — Mendes' whole life philosophy is about setting goals. At his age, however, he felt like he'd done it all — gone skiing, canoeing, flying dive-bombers — and this was just another goal he found to accomplish.
Upon finishing the race, Mendes went to lie down and asked for a Scotch. He continues to walk daily and continue his personal training regimen.
---
2. Dimitrion Yordanidis
Age when running: 98
Country from: Greece
Latest marathon: Marathon from Greece to Athens, 1976
Time: 7:33 (26 miles)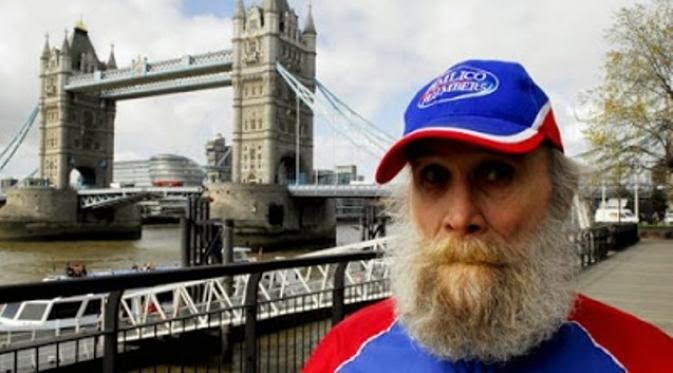 photo source:beritagan
Dimitrion Yordanidis held the record for the oldest marathon runner in history until the year Fauja Singh displaced him. He was a runner from Greece.
Next to nothing is known about Yordanidis. A fellow runner at the marathon he competed in accused him of cutting through the race with a car in some parts, but no proof has ever surfaced to supplement those claims.
---
1. Fauja Singh
Age when running: 102
Country from: India
Latest marathon: Hong Kong Marathon 2013
Time: 1:32:28 (10km)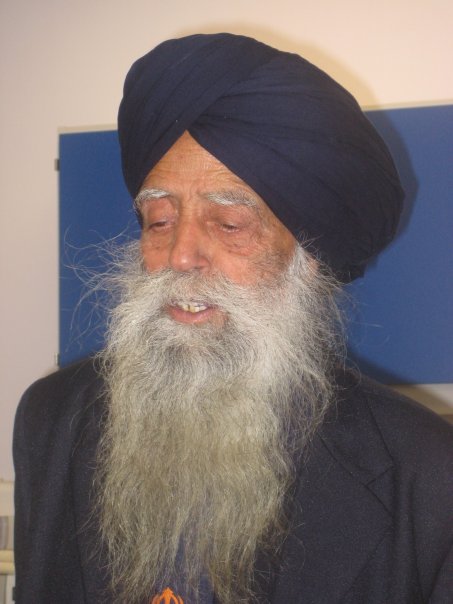 photo source: Wikipedia
Fauja Singh attempted to begin his running career in his youth, but it wasn't until 1995 that he revisited this hobby of his youth. He is the first 100-year-old to finish a marathon and holds multiple records, which makes Fauja Singh the oldest marathon runner in the world.
Following the death of his wife, son, and other family members, he moved to London and turned to running. He had no idea what a marathon was, but when he heard about the London Marathon, he knew he had to sign up.
Singh ran that marathon in 2000, thanks to vigorous training from his coach. Then, at the age of 93, he broke the record time for a marathon runner in the 90 and over age range by 57 minutes. He shot to fame after this success, being featured in ad campaigns for companies and brands like Adidas and PETA.
Singh retired after his final marathon in Hong Kong, though he continues to keep up his fitness regimen with lots of light exercise and a vegetarian diet. He was awarded the British Empire Medal (BEM) in the 2015 New Year Honours.
OTHER POSTS YOU MAY BE INTERESTED IN