Many young prospects, when it comes to hockey, enter into the big leagues at a young age. Eighteen and nineteen-year-olds are drafted every year, sliding themselves into the corresponding slots to train up for their change playing with the NHL. While it takes great strength and fitness to play in the professional leagues, it also takes a toll on your body – which means that hockey players are at their pique in their younger years. But that doesn't mean that the older hockey players are out of luck. In fact, with age comes great experience.
Many players retire in their late thirties or early forties – either due to injury, age, or just deciding that it's time to give up the game. Others, however, seem to be ready to play until they can't physically play anymore. Let's take a look at some of the oldest!
9. Joe Thornton
Age: 38 years old
Team: San Jose Sharks
City/Country: San Jose, California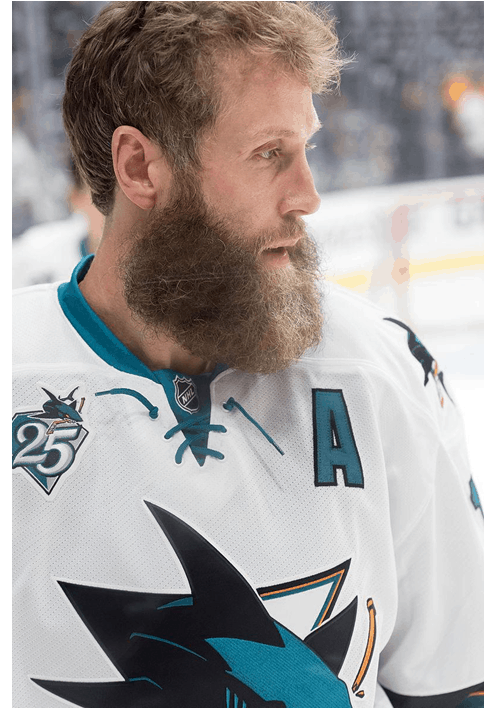 image credit: Wikipedia
Joe Thornton started his professional hockey career with a bang, in 1997 when he went 1st overall in the draft to the Boston Bruins – even if he did manage to fracture his arm in the pre-season.
Thornton has insofar played for only two NHL teams – his original team with the Bruins, from 1997 to 2005, and the San Jose Sharks from 2005 to present. Despite not having a Stanley Cup under his belt, Thornton has won two World Cup of Hockey for Team Canada, once in 2004 and again in 2016.
You can check out our article on the Youngest Hockey Players Currently Active in NHL.
---
8. Jason Chimera
Age: 38 years old
Team: New York Islanders
City/Country: New York City, New York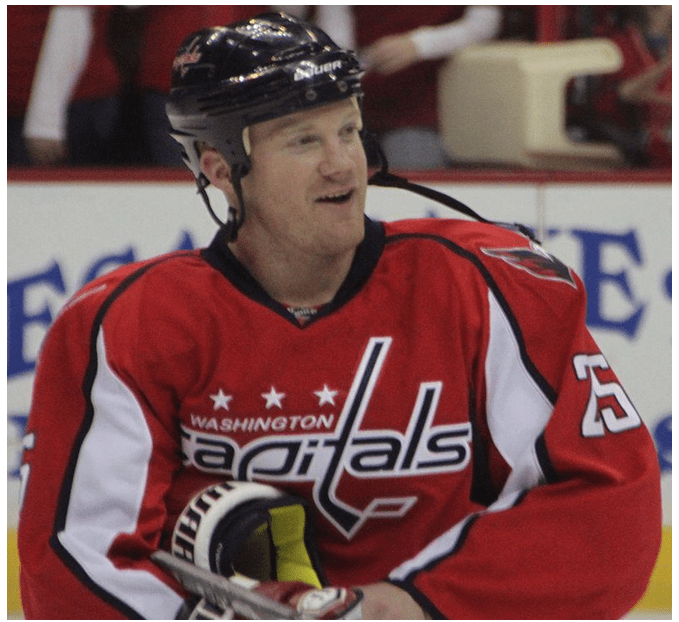 image credit: Wikipedia
In 1997, Jason Chimera was drafted 121st overall with the Edmonton Oilers, the team of his hometown in Edmonton, Alberta. He's moved around quite a bit since then, from the Oilers to the Columbus Blue Jackets, to the Capitals and then, finally, to the Islanders in 2016 as a two-year deal as a free agent. Chimera's age is nothing to scoff at, because during his season with the New York Islanders in 2016, he went on to play his 1000th game.
---
7. Roberto Luongo
Age: 38 years old
Team: Florida Panthers
City/Country: Sunrise, Florida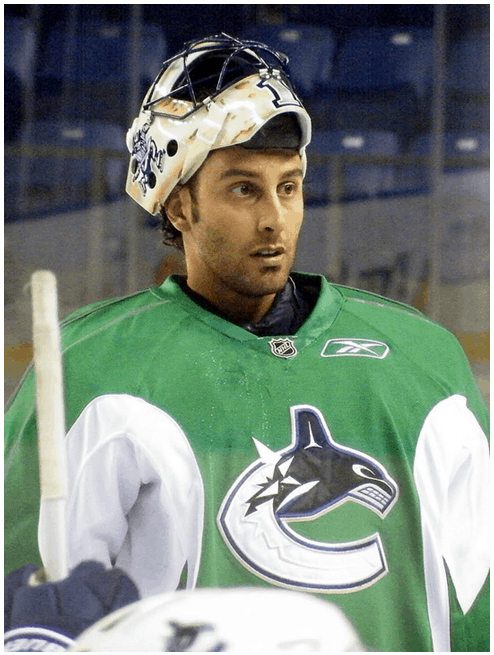 image credit: Wikipedia
Roberto Luongo not only makes the list for some of the oldest active hockey players, but he's also currently the oldest active goaltender as well.
Back in 1997, Luongo was drafted 4th overall for the New York Islanders and has since made his way between the Islanders, the Canucks and now, currently, the Florida Panthers. Although Luongo has won an array of NHL awards, from the World Junior Best Goalie in 1999 and Team Captain of the Canucks from 2008 to 2010, Luongo is still hanging on for a chance at the Stanley Cup.
---
6. Marian Hossa
Age: 38 years old
Team: Chicago Blackhawks
City/Country: Chicago, Illinois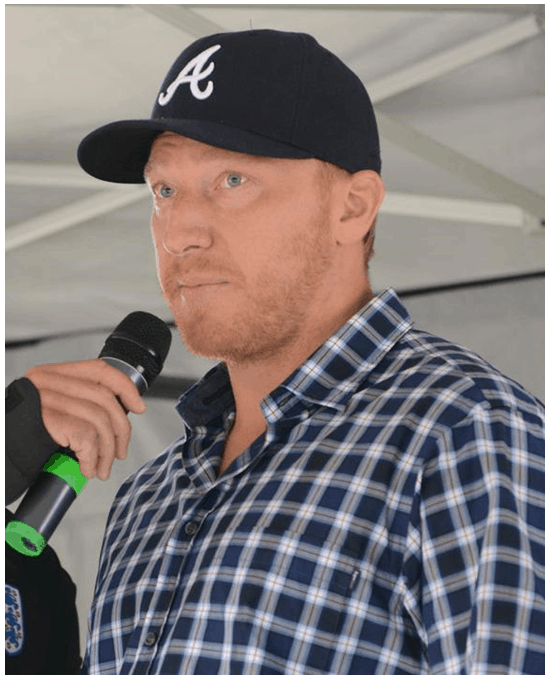 image credit: Wikipedia
In 1997, Marian Hossa was drafted 12th overall of the Ottawa Senators, and proceeded to pay for them until 2004. Currently, Hossa is playing for the Chicago Blackhawks, and has been since 2009, making him also present for the two cups in two years for Chicago.
Though he's nearing 39, Hossa doesn't seem to be letting anything slow him down – not even married life, after Hossa married his long-term girlfriend, Jana Ferova, back in 2010. Hossa is still suiting up with the Blackhawks in 2017.
---
5. Michal Rozsival
Age: 39 years old
Team: Chicago Blackhawks
City/Country: Chicago, Illinois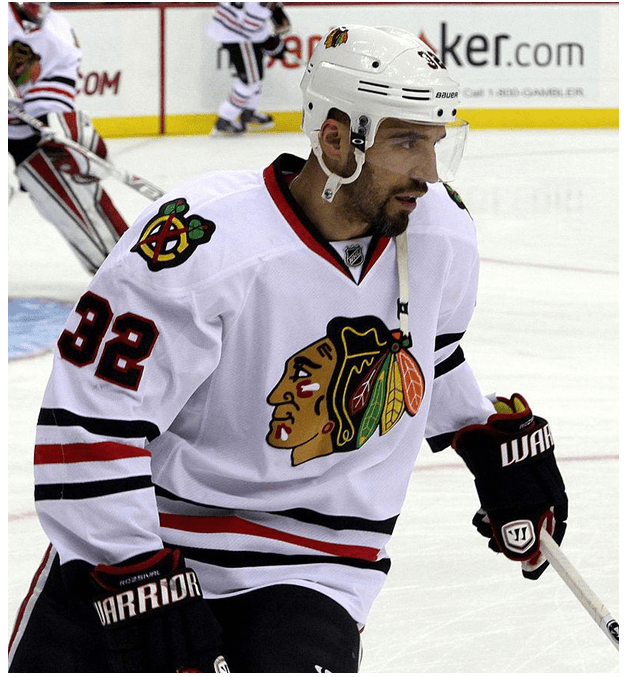 image credit: Wikipedia
Michal Rozsival is from Vlasim, Czechoslovakia, and has been playing defence since 1995. He was originally drafted 105th overall in 1996 to the Pittsburgh Penguins. While other players of his age have quite a few teams and trades under their belts, Michal Rozsival has only played for four teams: the Pittsburgh Penguins, the New York Rangers, the Phoenix Coyotes (now the Arizona Coyotes) and, presently, the Chicago Blackhawks.
He's a two-time Stanley Cup winner with the Blackhawks famous two cups in two years, both in 2013 and 2015 .
---
4. Mark Streit
Age: 39 years old
Team: Montreal Canadiens
City/Country: Montreal, Quebec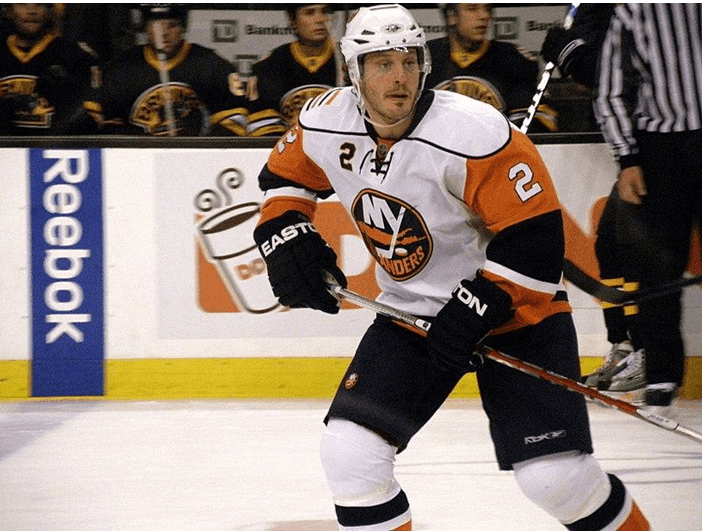 image credit: Wikipedia
Swish Defensemen, Mark Streit is one of the few players referred to as a "swingman' – that is to say, he's capable of playing both as a defenseman and as a forward . And while he was 262nd overall draft pick in 2004 for the Montreal Canadiens, he hasn't let a single moment go to waste. At 39, Streit seems intent on playing for as long as possible.
Though he didn't join the NHL until 2004, Streit has been playing on professional ice since 1995, in Switzerland, before coming to America to play with minor leaves in the early 2000s. After his draft, he has played for teams up and down the east coast, from the Pittsburgh Penguins to the New York Islanders. He's returned back to his roots, though, and currently plays again for the Habs.
---
3. Zdeno Chara
Age: 40 years old
Team: Boston Bruins
City/Country: Boston, Massachusetts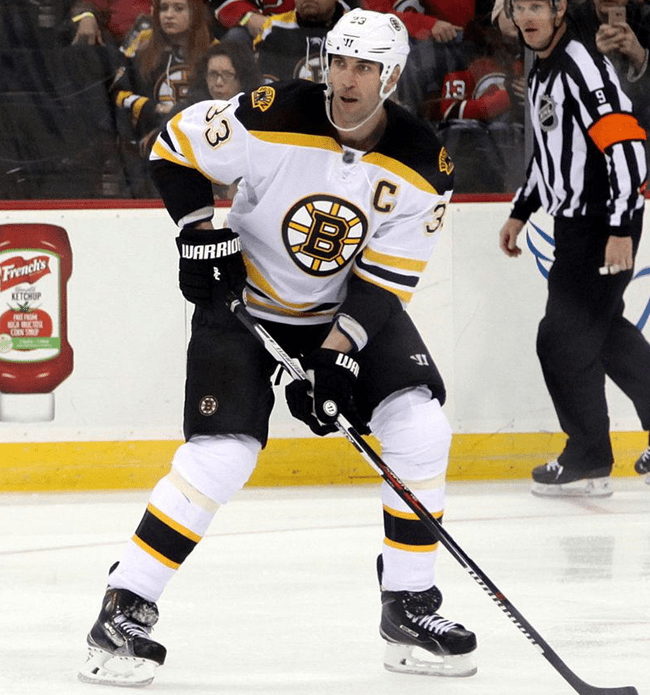 image credit: Wikipedia
Currently the captain of the Boston Bruins, Zdeno Chara is also the tallest player currently playing in the NHL … and also the tallest to ever play in the NHL, towering over the rest of his team (and all the other teams) at 6 ft 9 .
He's also 40 years old and doesn't seem to be slowing down anytime soon. His original draft pick was 56th overall with the New York Islands, where he played from 1997 to 2001, before moving on to the Ottawa Senators and then, finally, the Boston Bruins, where he won the Stanley Cup in 2011.
---
2. Matt Cullen
Age: 40 years old
Team: Minnesota Wild
City/Country: St. Paul, Minnesota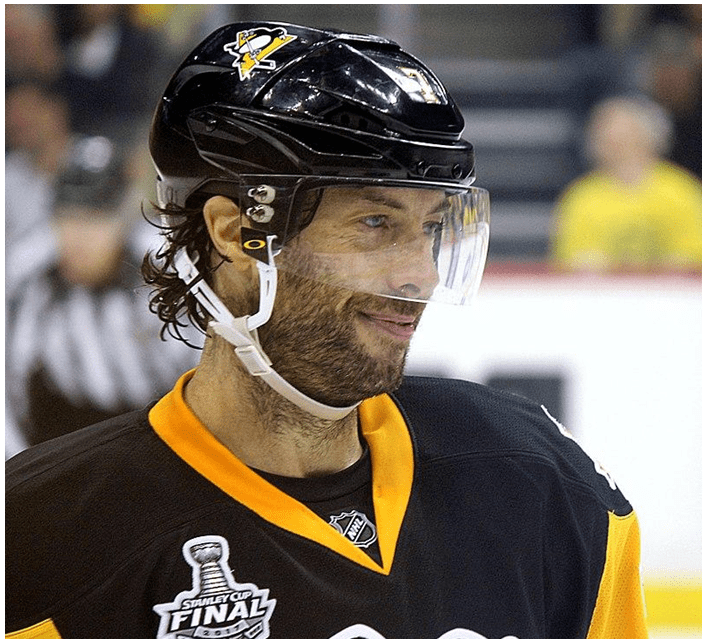 image credit: Wikipedia
Three-time Stanley Cup Champion Matt Cullen isn't letting age slow him down. Cullen went 35th overall in the 1996 draft with the Mighty Ducks of Anaheim, and proceeded to go through eight different teams in the league throughout his career.
In 2006, Cullen was with the Carolina Hurricanes when he won his first Stanley Cup and was with the Pittsburgh Penguins when they floored the world with two consecutive Stanley Cups in 2016 and 2017 . Now, Cullen is getting ready to suit up with the Minnesota Wild. No doubt, his eyes are on a fourth Stanley Cup.
---
1. Jaromir Jagr
Age: 45 years old
Team: Free Agent
City/Country: Czechoslovakia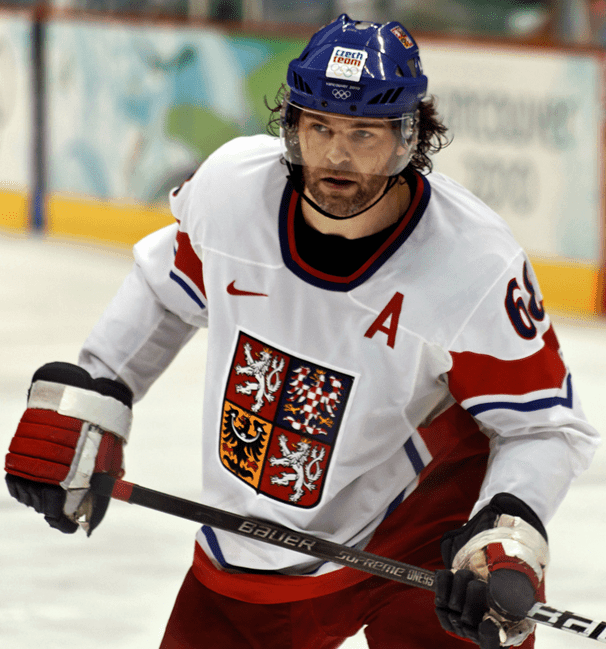 image credit: Wikipedia
Writing about the oldest current players in the league would be incomplete without mentioning Jagr. He's currently a free agent in the league, but back in 1988 he was drafted to the Pittsburgh Penguins, and went on the play for them, as well as other stars in the league like the Washington Capitals and the Boston Bruins .. as well as not-so-shining stars.
Either way, Jagr was the 5th overall draft pick for the Pittsburgh Penguins and is currently the leading point scorer among active players – not to mention having the second most points in the NHL, ever. That's what you get for playing hard long after the rest of your peers have retired.