American football is the most popular sport in the US, with approximately 37% of Americans considering it their favorite sport. The most followed league when it comes to football is surely the National Football League (NFL) in which the 32 best teams in the country compete against each other.
Becoming the owner of one of these teams is not an easy task! You either need several billion in your bank account or be lucky enough to inherit it from your parents. In both cases, people tend to be quite old when this happens.
But there are some exceptions. For instance, Jim Irsay, who became the owner of the Indianapolis Colts at the impressive age of 37! Today, NFL owners are not that young, but some of them are still in their fifties. Keep reading to find out the current youngest NFL owners!
8. David Tepper (September 11, 1957 – present)
Age: 64
Birthplace: Pittsburgh
Profession: hedge fund manager
Owners of: Carolina Panthers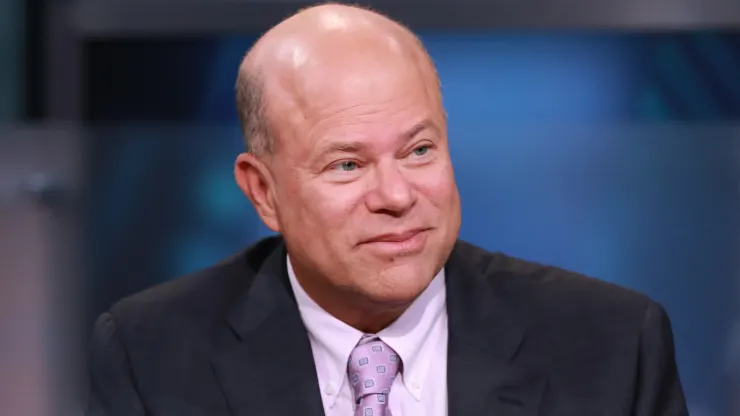 photo source: www.cnbc.com
David Tepper is the owner of the Carolina Panthers and he's currently among the youngest NFL owners at the age of 64. He's also known for being the president and founder of Appaloosa Management, a trust fund based in Miami Beach. Apart from this, David is also the owner of an American soccer club, the Charlotte FC.
This businessman was raised in a Jewish family in Pittsburgh. He received a degree in economics and graduated with honors. His passion for investments emerged from an early age. During his college years, David would, in fact, invest in various markets with the help of his father.
The Carolina Panthers' owner is also involved in philanthropy. For instance, in 2012, he donated $200,000 to Jersey City after Hurricane Sandy hit the city. In more recent years, he also helped the city of Chicago to fight the Covid-19 pandemic, devoting $2.65 billion to the cause.
Did You Know?
Forbes put David in the third position of its 2018 Highest-Earning Hedge Fund Managers.
---
7. Jim Irsay (June 13, 1959 – present)
Age: 62
Birthplace: Lincolnwood
Profession: businessman
Owners of: Indianapolis Colts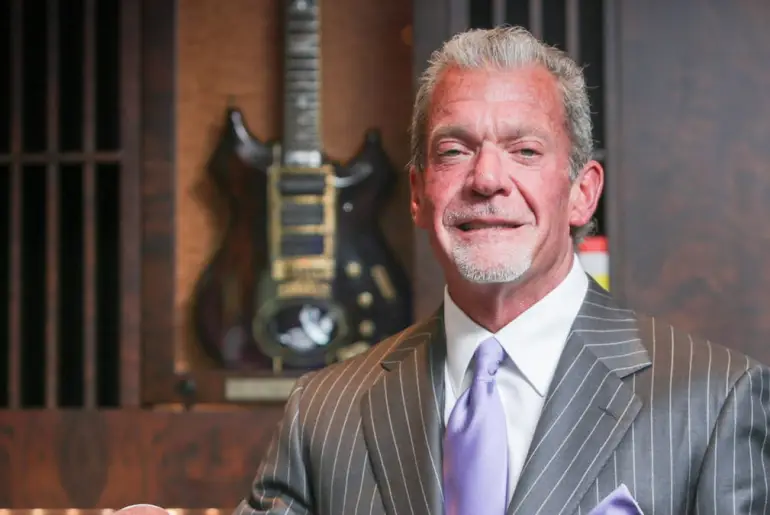 photo source: abtc.ng
Jim Irsay is the owner and CEO of the Indianapolis Colts and is currently 62 years old. He inherited this team from his father, Robert Irsay who purchased it when it was still located in Baltimore. After his father suffered a stroke in 1995, Jim became the Indianapolis Colts' manager. He maintained this role till his father died, two years later.
In 1997, Jim started a legal dispute with his stepmother over the ownership of the Indianapolis Colts, which he won becoming the youngest NFL owner at the time, at the age of only 37!
Jim married Meg Coyle in 1980 and had three daughters. The couple divorced in 2013 even though they had been separated since 2003.
Apart from sports, Jim is particularly interested in literature and music. In 2001, he bought the original manuscript of On The Road, a novel written by Jack Kerouac and considered a masterpiece of the Beat Generation. Jim also owns several guitars from renowned musicians such as Elvis, John Lennon, and Prince.
Did You Know?
In 2014, Jim was arrested under suspicion of drug possession and DUI.
---
6. Steve Bisciotti (April 10, 1960 – present)
Age: 62
Birthplace: Philadelphia
Profession: business executive
Owners of: Baltimore Ravens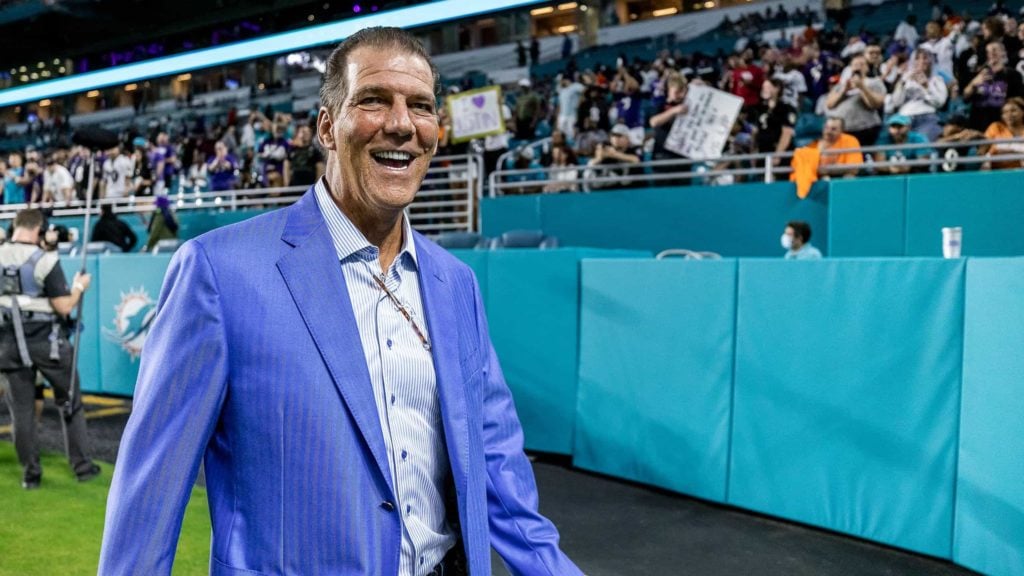 photo source: www.baltimoreravens.com
Steve Bisciotti is currently 62 and is the main owner of the Baltimore Ravens. He is also the founder of the largest privately owned recruiting company in the US, known as Aerotek. But this is not all! Steve also cofounded Allegis Group, an international talent management group.
This businessman was born in Philadelphia in an Italo-American family. Unfortunately, he did not have a happy childhood. In fact, his dad died of leukemia when he was only eight years old. Steve graduated in 1982 with a degree in Liberal Arts and started his company, Aerotek, a year later.
He became co-owner of the Baltimore Ravens in 2000. According to the deal, he would have been given the chance to buy the remaining part of the company in 2004 for the price of $325 million, which he obviously did.
Soon after becoming the owner of this franchise, Steve decided to finance the construction of the team's training facility, now known as 'The Castle'.
Did You Know?
Steve is considered one of the richest men on Earth. In 2005, he was, in fact, ranked 378 among the Forbes 400. Apart from the Baltimore Ravens, he also owns a yacht worth $20 million and two private jets.
---
5. Daniel Snyder (November 23, 1964 – present)
Age: 57
Birthplace: Silver Spring
Profession: businessman
Owners of: Washington Commanders
photo source: commons.wikimedia.org
Daniel Snyder was born in 1964 and is currently 57 years old. He's the owner of the Washington Commanders, a professional American football team that won the Super Bowl three times.
Daniel was born in Maryland and at the age of 12 moved to a little town near London where he lived for two years.
This businessman purchased the Washington Redskins in 1999, after the death of the previous owner, Jack Kent Cooke. The price for the deal was $800.000, together with the Jack Kent Cooke Stadium.
Daniel's management has been heavily criticized over time. In fact, the Washington Commanders haven't been very successful since 1999.
Did You Know?
Daniel has been a successful entrepreneur from a very young age. After dropping out of university at the age of 20, he started a business with his friend Joe Craig selling leasing jets to college students. According to him, he cleared $1 million running this business.
---
4. Clark Hunt (February 19, 1965 – present)
Age: 57
Birthplace: Dallas
Profession: chairman and CEO
Owners of: Kansas City Chiefs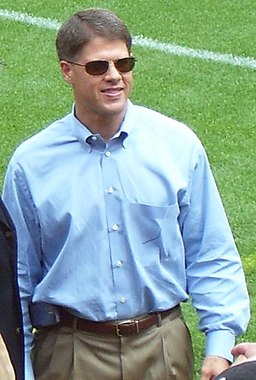 photo source: commons.wikimedia.org
Clark Hunt is one of the youngest NFL owners and is currently 57 years old. He's the owner, CEO, and chairman of the Kansas City Chiefs, and chairman of Hunt Sports Group. Together with his mother and siblings, he inherited the franchise after the death of his father in 2006. It was, in fact, Clark's dad who founded the Chiefs in 1960.
Before becoming the owner of the Chiefs, Clark worked for two years as an investment banker for Goldman Sachs, an American multinational investment bank.
Clark is now married to Tavia Shackles, who was elected Miss Missouri Teen USA. Together they have a daughter, named Gracie. She was also named Miss Kansas USA in 2021.
Clark is a devoted Christian and throughout his life, he donated over $50,000 to Republican causes and candidates.
Did You Know?
Since Clark became the public face of the Kansas City Chiefs the team has been extremely successful. It made the playoffs eight times, appeared in two Super Bowls, and even won one!
---
3. Joel Glazer (March 31, 1967 -present)
Age: 55
Birthplace: Rochester
Profession: businessman
Owners of: Tampa Bay Buccaneers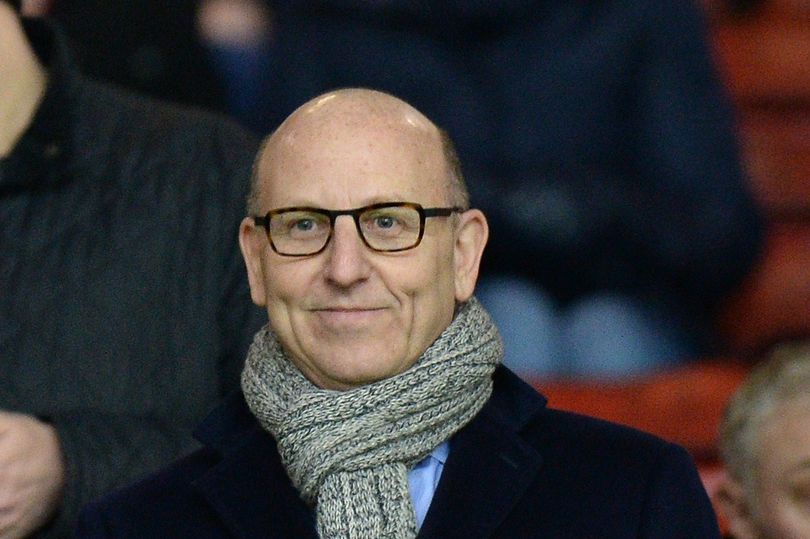 photo source: www.manchestereveningnews.co.uk
Joel Glazer is one of the many owners of the Tampa Bay Buccaneers. This team is, in fact, officially owned by several members of the Glazer family. Among these, there are Avram Glazer, born on October 19, 1960, and currently 61 years old, and Bryan Glazer, born on October 27, 1964, and currently 57. It is unclear who exactly currently owns the franchise, but we know that Darcie Glazer Kassewitz, Edward Glazer, and Kevin Glazer play important roles in its management.
Joel grew up in Rochester, has a degree in Interdisciplinary Studies, and is the youngest member of the Glazer family. This young businessman is also involved in charitable causes and is active in the Tampa Bay community thanks to the Glazer Family Foundation. In fact, in 2010, this foundation donated $5 million to build a Children's Museum in Tampa.
Did You Know?
While Joel served as a co-chairman of Manchester United, the team was extremely successful. It won five Premier Leagues, one Champions League, and one Europa League title.
---
2. Michael Bidwill (April 20, 1969 – present)
Age: 53
Birthplace: St. Louis
Profession: football executive
Owners of: Arizona Cardinals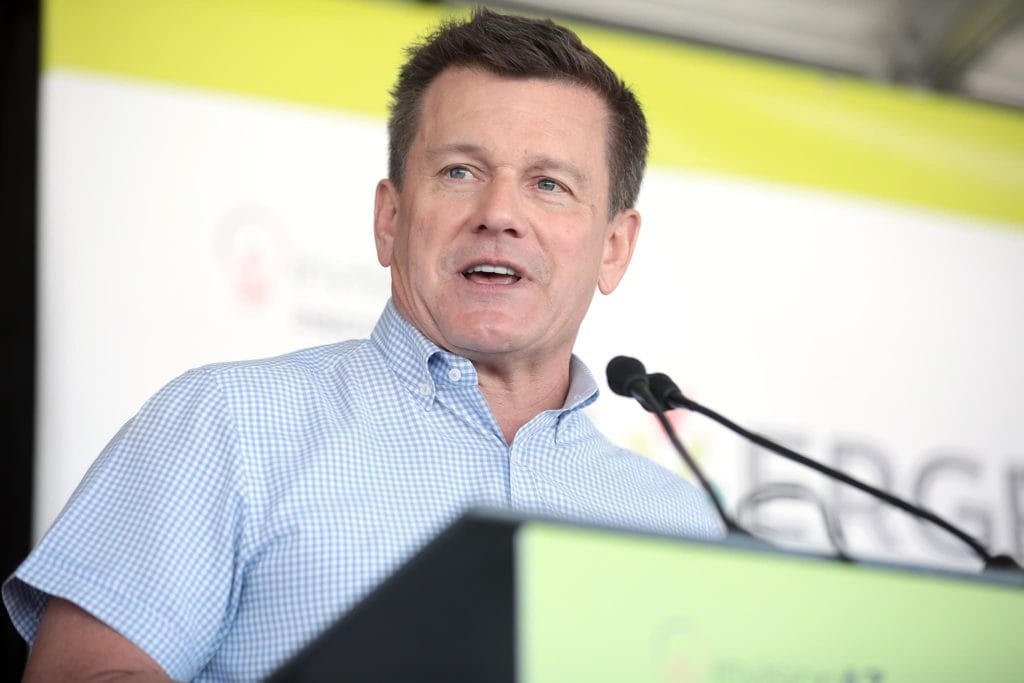 photo source: commons.wikimedia.org
Michael Bidwill is the second youngest NFL owner as he's currently 53 years old. He's the owner, president, and chairman of the Arizona Cardinals. Michael inherited the franchise from his father, Bild Bidwill, who was part-owner of the company for almost sixty years before his death in 2019. His father, in return, inherited the team from Michael's grandad, who bought the franchise in 1933.
Michael studied law and worked in this field for six years before becoming the Vice President and General Counsel of the Arizona Cardinal. He was born in St. Louis in Missouri, but he now lives in Paradise Valley, Arizona.
Michael is considered one of the most popular NFL owners. In fact, in 2010, the Phoenix Business Journal listed him among the 25 most admired CEOs.
Did You Know?
There are only two families that manage to own a team for as long as the Bidwills. One of them is the Halas-McCaskey family, who owns the Chicago Bears, and the other one is the Mara Family, owners of the New York Giants.
---
1. Kim Pegula (June 7, 1969 – present)
Age: 52
Birthplace: Seoul
Profession: businesswoman
Owners of: Buffalo Bills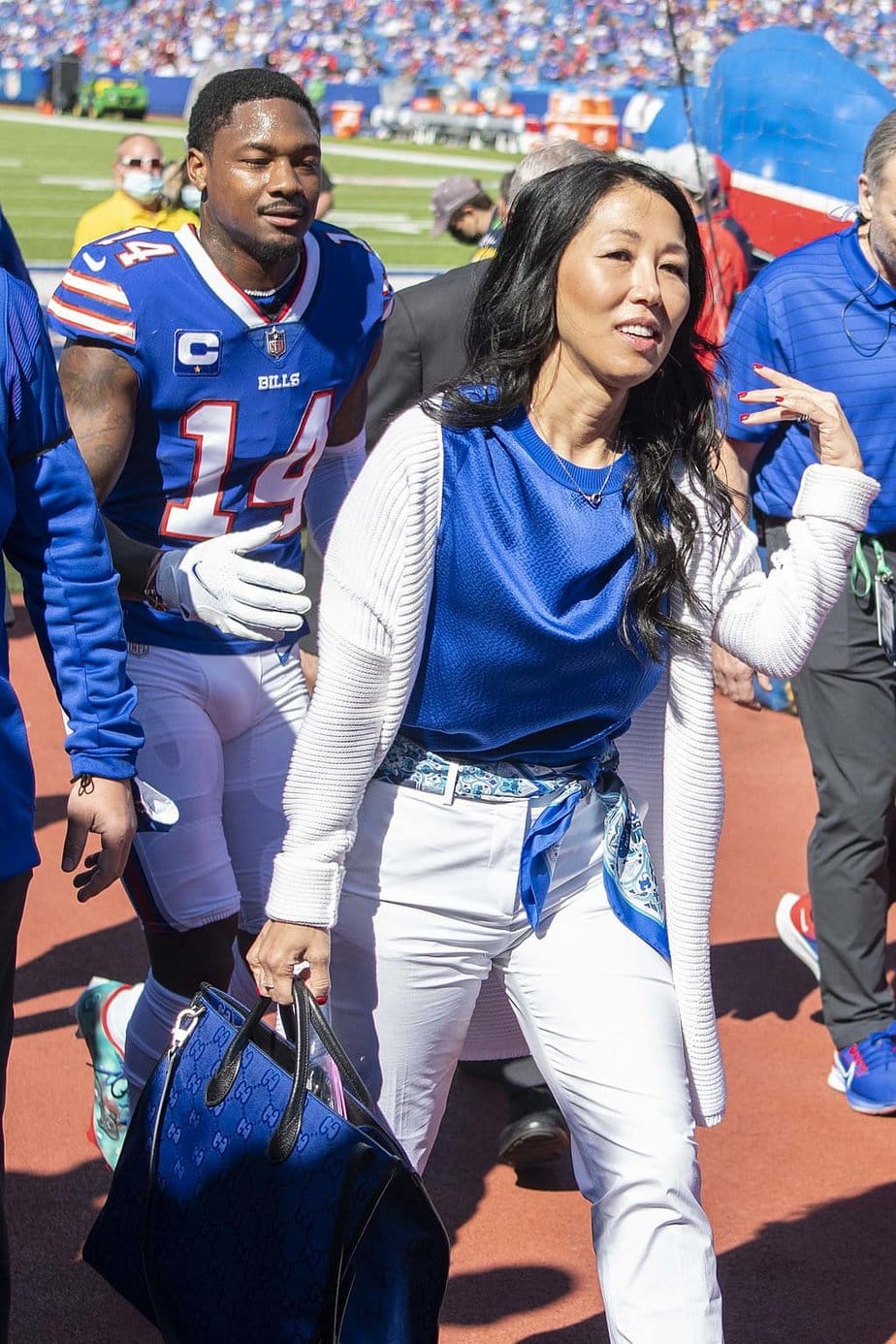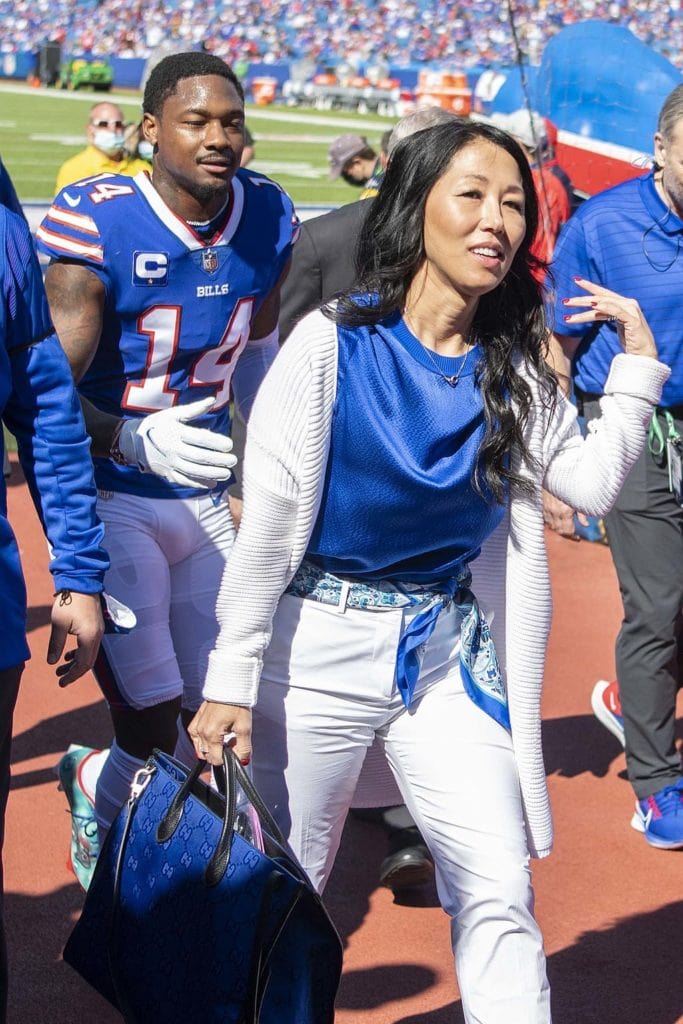 photo source: commons.wikimedia.org
Kim Pegula is the youngest NFL owner at the moment as she is only 52 years and 11 months old. She is the owner of the Buffalo Bills, together with her husband, Terry Pegula, who is currently 71 years old. Kim is a famous businesswoman and the president of Pegula Sports and Entertainment.
She was born in Seoul in South Korea and was brought to the US at the age of 5. Kim has no recollection of her life there and cannot remember her parents. However, a DNA test revealed that she has Japanese roots. Kim was adopted by Ralph and Marilyn Kerr and grew up in Fairport, NY.
This businesswoman met Terry at a restaurant while applying for a waitressing position. Terry offered her a position in his natural gas company, and eventually, the two started to date. They married in 1993 and now have three kids.
Did You Know?
Together with Shahid Khan and Zygi Wilf, she is one of the only three NFL owners who were not born in the US.