The Trump name is a strange one in that it can elicit a different, unique response on a person-by-person case. Whether it's a visceral, physically repulsed reaction, or a passionate one that fills one with a sense of patriotism and love of country, you're sure to get a reaction. If you've lived in America your whole life and if you've been here over the last six or so years, then you know a middle-of-the-road, neutral reaction to the family name is essentially non-existent. Everyone has a strong opinion of the family, especially when it comes to Donald. And make no mistake, a reaction is justified!
Not much was known about the Trump family before Donald pulled off the unthinkable and became president in 2016. Since then, he and his family have been put in the Petri dish, under the microscope, examined for the world to see. Much has been uncovered about the family beyond just the surface-level understanding of real estate, hilariously outrageous business ventures, and reality tv.
Well, today we're going to be doing a deeper dive into the kids that make up the Trump's from oldest to the youngest.
5. Donald Trump Jr.
Age: 44
Born: 12/31/1977
Partner: Kimberly Guilfoyle
Occupation: Businessman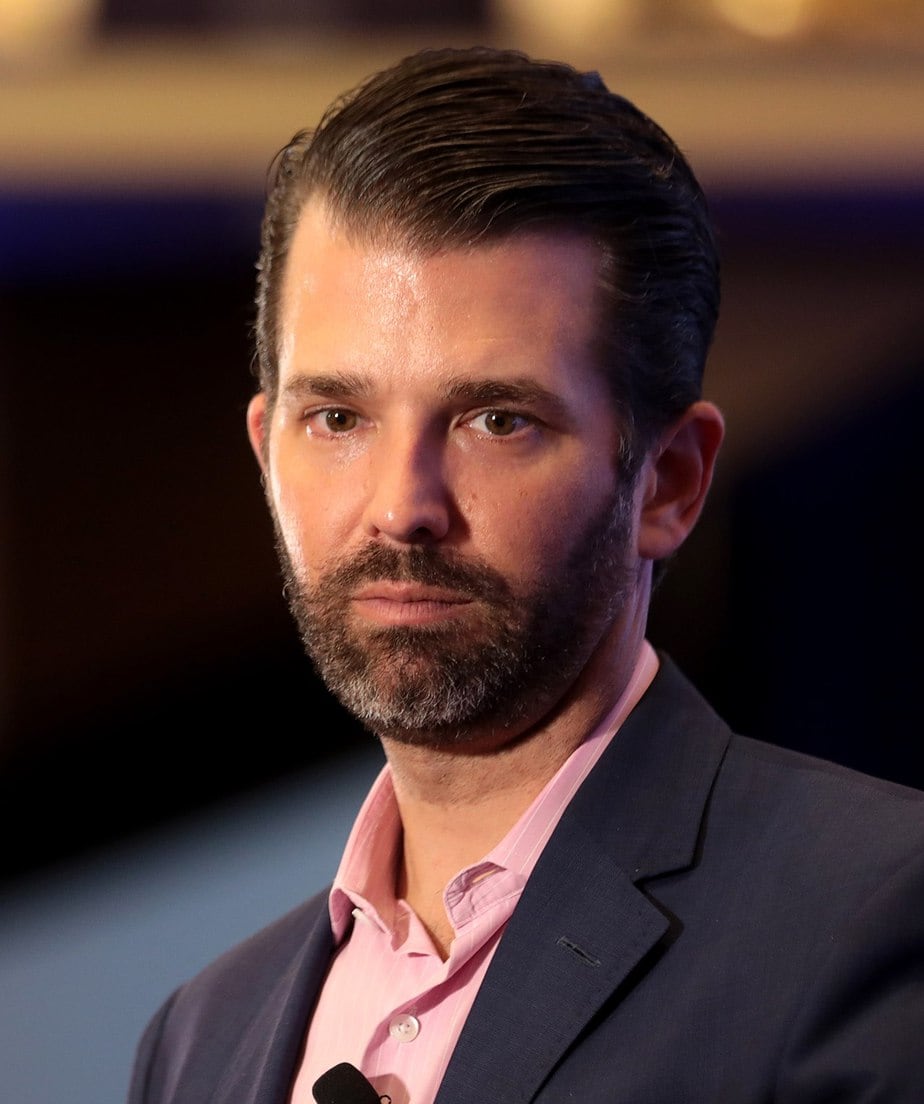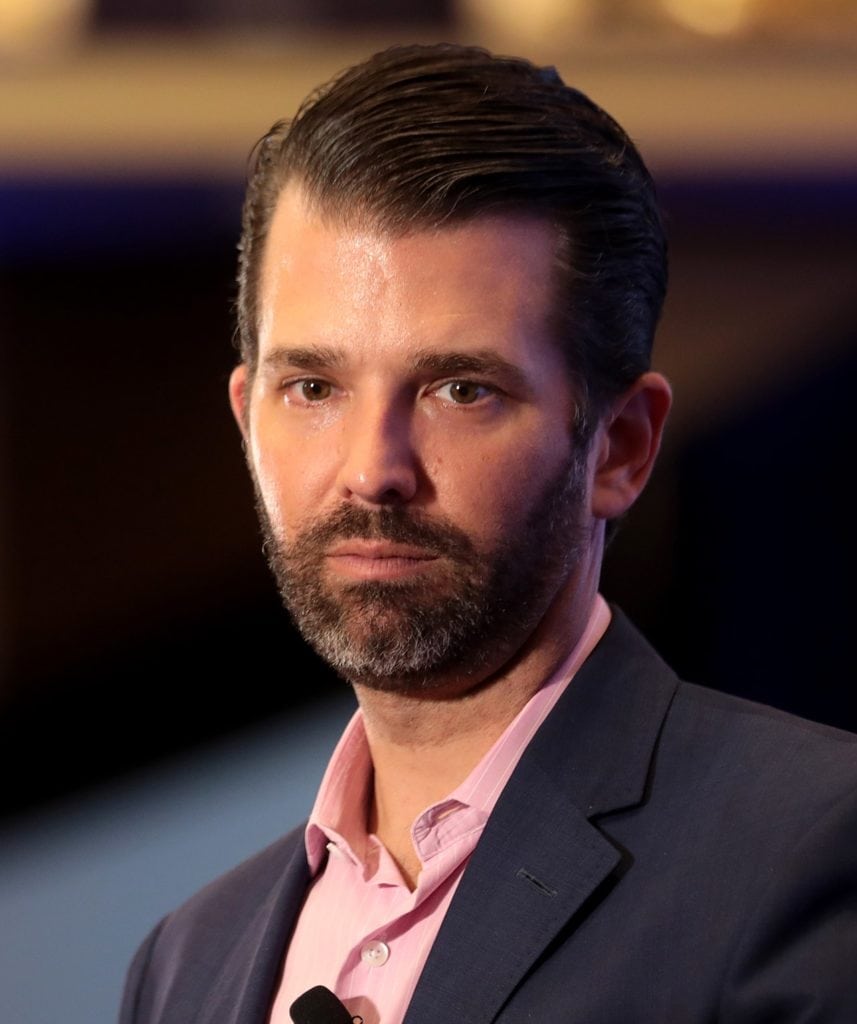 photo source: commons.wikimedia.org
Donald Trump Jr. is the 44-year-old oldest son of the real estate mogul and controversial television personality. Trump Jr. has made sure to make his father proud, following closely in his footsteps as a trustee and executive vice president of The Trump Organization. He and his brother, Eric, run the company together. His father trusted him to continue to execute deals, invest, and handle relations with other countries that use their company's services while their father was president. This attracted much controversy and public attention because it called into question conflicts of interest when the family was collecting payments from foreign entities off the strength of the new title.
Trump Jr. worked as a bartender for a year to get a sense of an average day in middle-class America before he re-joined the family enterprise. He's an avid hunter, welcoming even more controversy when pictures surfaced of his hunting trophies in 2010, angering animal rights activists. He's enjoyed other outdoor activities since his graduation from Penn State in 2000, moving to Colorado to fish, ski, and live in a truck for a time as well.
Did You Know?
Donald Trump Jr. has five kids with his ex-wife, Vanessa Kay Haydon. His father suggested he should meet her. His father's taste in women mirrors his own and is another similarity between the two. After the two settled their divorce at the end of 2018, he began dating Kimberly Guilfoyle, a longtime friend of the family. They officially announced their engagement in January 2022.
---
4. Ivanka Trump
Age: 40
Born: 10/30/1981
Partner: Jared Kushner
Occupation: Businesswoman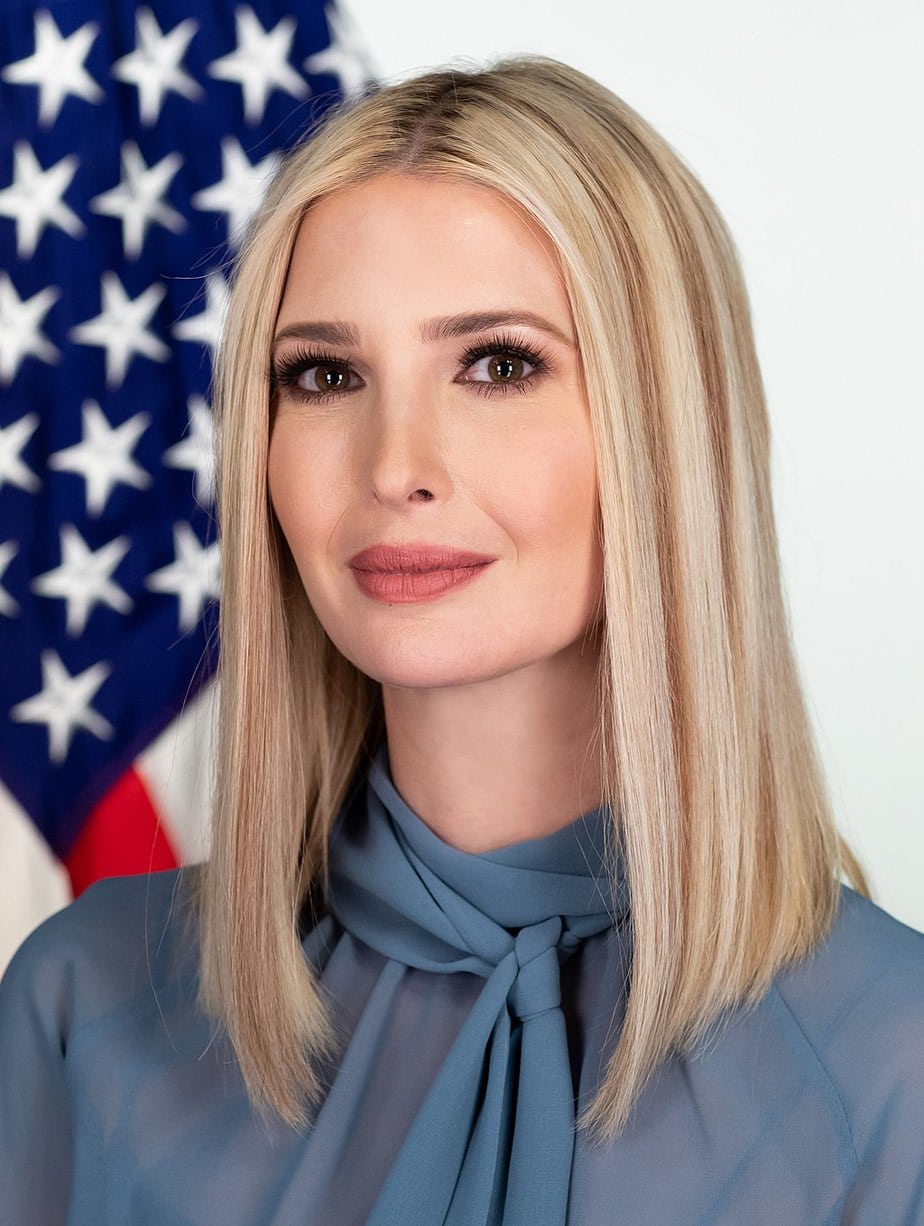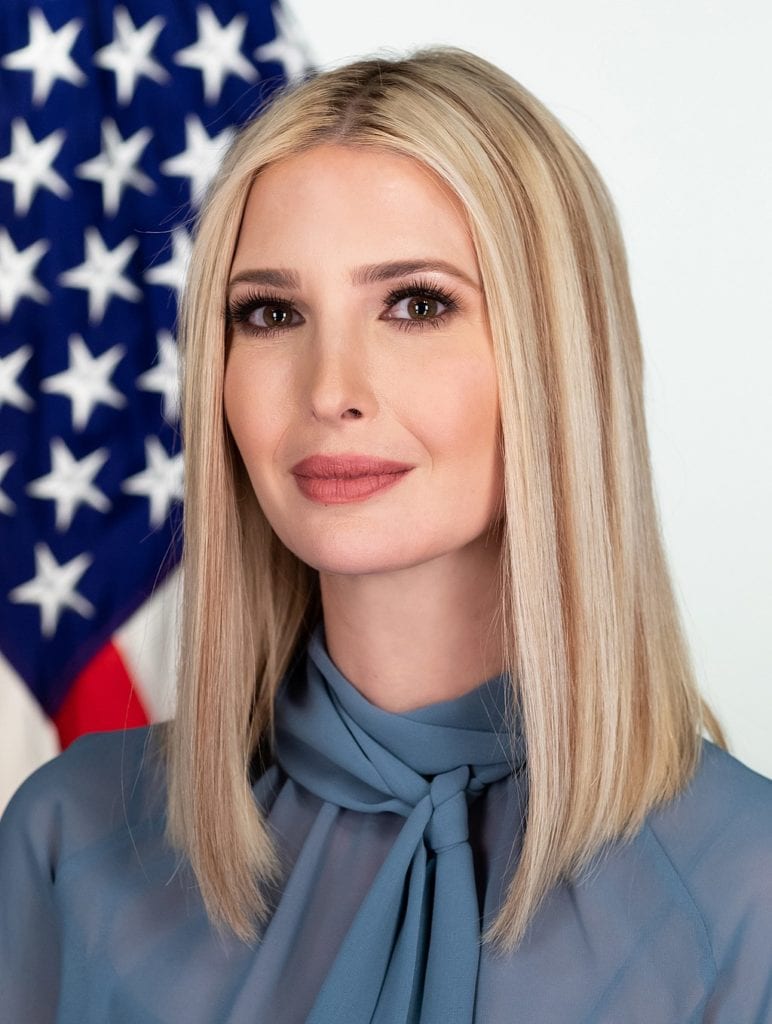 photo source: commons.wikimedia.org
Ivanka Trump is the 40-year-old businesswoman and oldest daughter of Donald Trump. We presume she's the favorite of the five children, considering Trump has sung her praises on several occasions, boasting how he is the reason for her good looks, and even alluding to a strange sexual attraction to her on the television show, The View. She served as an advisor and senior aide to her dad. Her responsibilities included working towards the education and economic empowerment of women in the workforce by assisting them in skills training and other ways to develop employees into integral members of the workforce.
Along with serving at the helm of her dad's real estate empire, often brokering some of the most high-profile deals, she's also been heavily involved in the beauty industry. She's founded her line of shoes, accessories, and clothing. Her experience seeing Donald Trump's success gave her the confidence to step away from her ventures in fashion to pursue a career in politics, in hopes of capturing the same enthusiasm and thirst for unconventional leadership that led to her father's rapid ascension into political royalty – and then infamy.
Did You Know?
Ivanka Trump converted to Judaism before marrying her husband, Jared Kushner. Kushner also played an integral role in the Trump administration, serving as his senior advisor. Together, they have three children. She's flexed her acting chops and played herself in an episode of the popular tv show Gossip Girl.
---
3. Eric Trump
Age: 38
Born: 01/6/1984
Partner: Lara Trump
Occupation: Businessman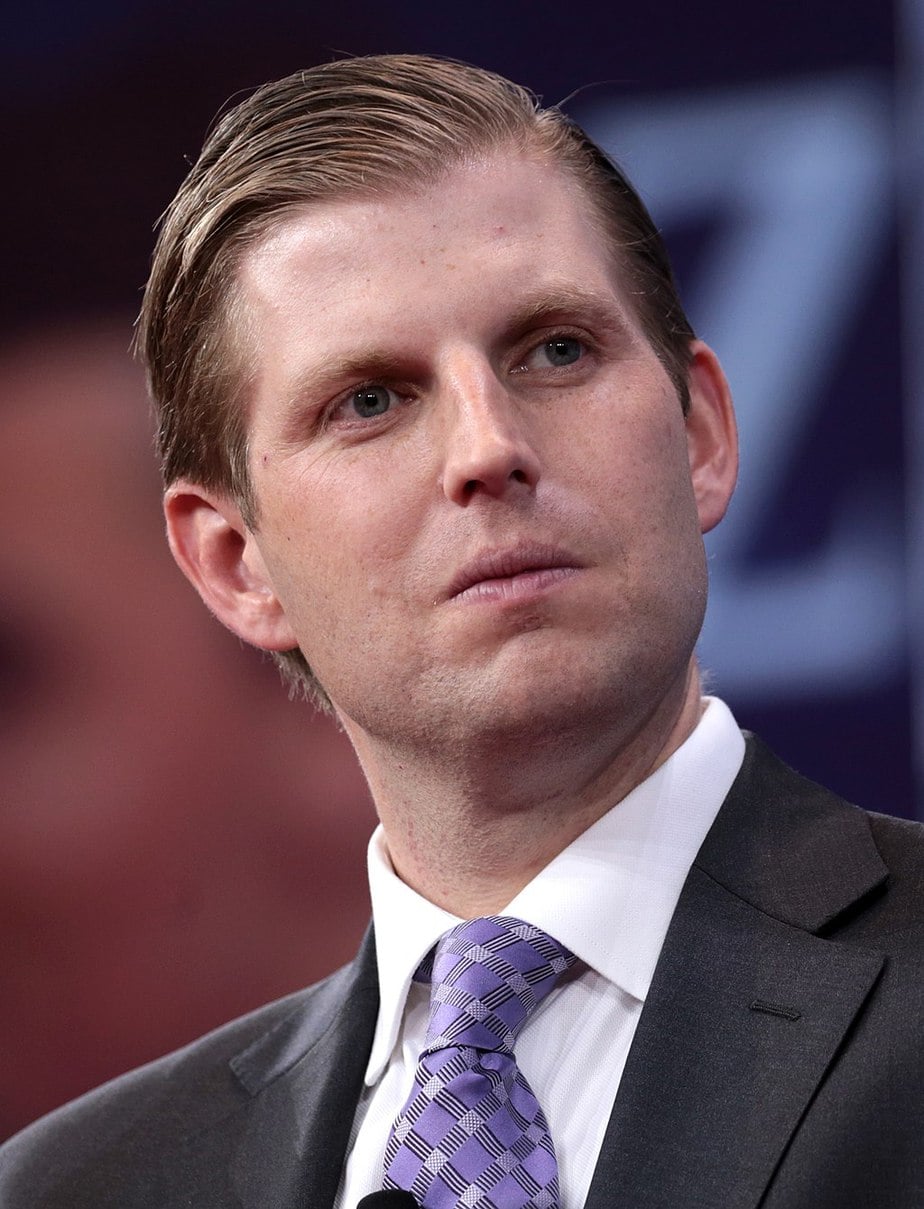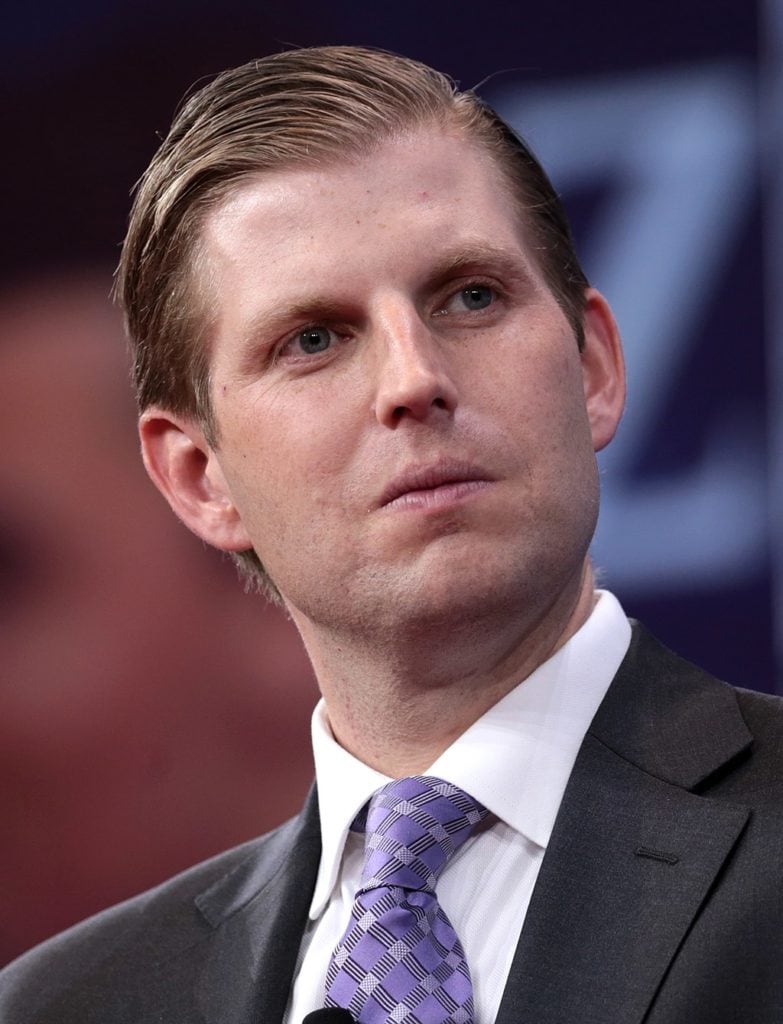 photo source: commons.wikimedia.org
Eric Trump is a 38-year-old businessman and second son of Donald Trump. He is a fellow trustee and executive vice president of the family business. He, along with his older siblings, have been guest boardroom judges on The Apprentice, which you could say is the show that catapulted the family into pop culture superstardom. Eric appeared in 23 episodes. In 2007, he founded the Eric Trump Foundation, a charity created to raise funds for St. Jude Children's Research Hospital.
He oversees the development of residential properties, luxury hotels, golf courses, and entertainment venues, among other ventures for the Trump business. He graduated from Georgetown University with a degree in finance and management.
Did You Know?
Eric is married to Lara Yunaska Trump, a former television producer for Inside Edition. She now produces and hosts Trump Productions' Real News Update. Together, they have a son and daughter, Luke and Carolina.
---
2. Tiffany Trump
Age: 28
Born: 10/13/1993
Partner: Michael Boulos
Occupation: Legal Research Assistant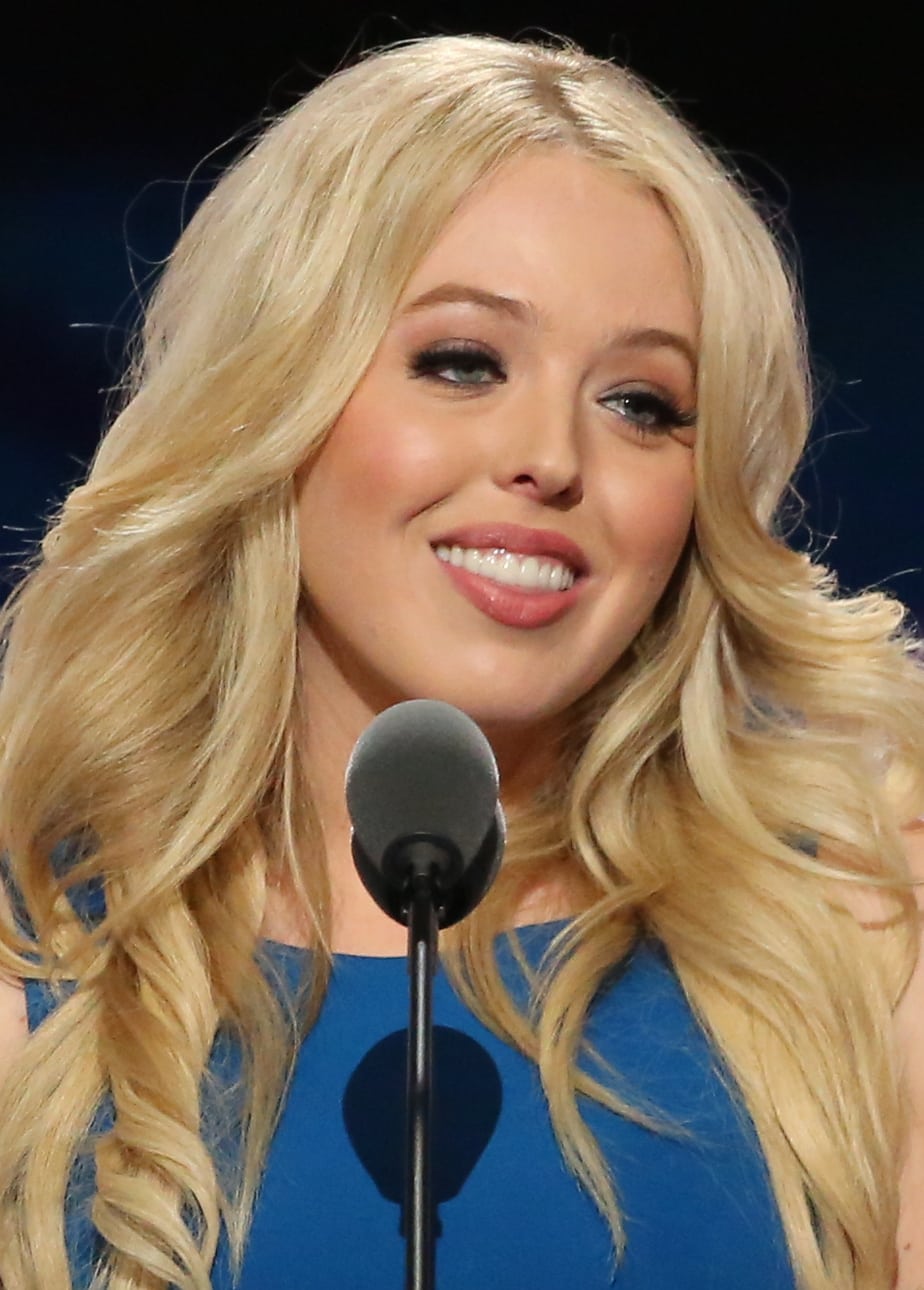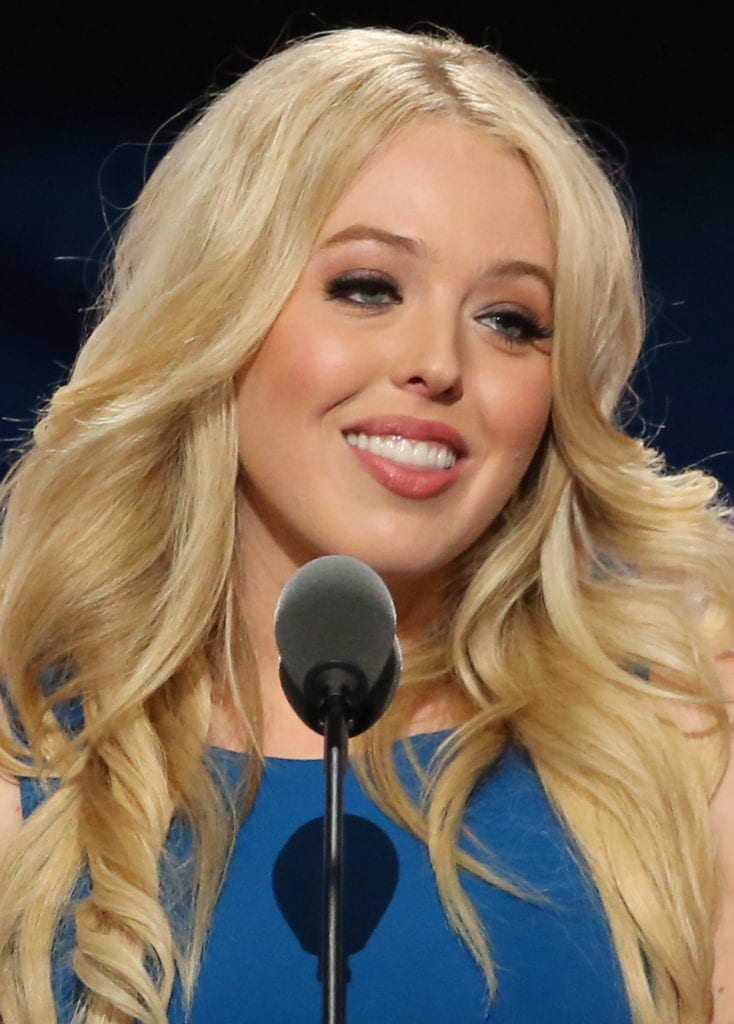 photo source: commons.wikimedia.org
Tiffany Trump is the 28-year-old youngest daughter of former President Donald Trump. Not as much is known about Tiffany relative to the public lives of her older siblings. If that's by design, can we blame her? Life subjected to public opinion, positive or not, is a difficult way to function peacefully in the world. The legal research assistant at Georgetown Law has supported her father's reign as leader of the free world, appearing at a few political conventions. Most notable is the 2020 Republican National Convention, stating in her speech, "A vote for my father is a vote to uphold our American ideals."
She graduated from the University of Pennsylvania in 2016 and double-majored in sociology and urban studies. She took her education to the next level and got her law degree from Georgetown shortly after.
Did You Know?
Tiffany was keen to avoid the trappings that come with pigeon-holing yourself into one identity. That's why in 2011, she released a music single titled "Like a Bird." By 2015, she worked as an intern for Vogue and by 2016, was modeling for an Andrew Warren fashion show during New York Fashion Week.
---
1. Barron Trump
Age: 15
Born: 03/20/2006
Partner: N/A
Occupation: N/A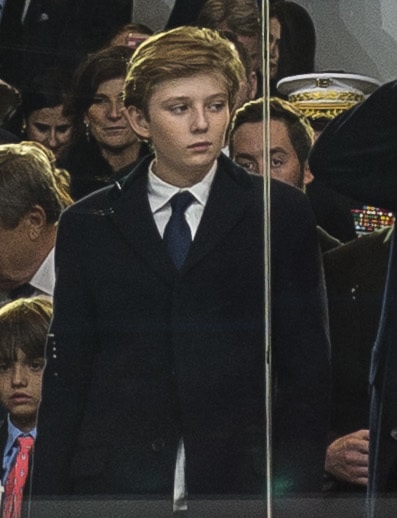 photo source: commons.wikimedia.org
Barron William Trump is the youngest child of the Trump Family!
Born in 2006, we've seen a young Barron Trump grow up right before our eyes from Trump's first election cycle to now in 2022 as a young boy to a 6'7" young man. One look at Barron, and it's easy to see his towering stature came from Donald, who is 6'3".
Barron has stayed isolated from public scrutiny and attention, thanks to his mother, Melania Trump. She did an excellent job shielding him from the media frenzy during his father's time in the White House. It's also worth noting that his former supermodel mother, Melania, is 5'11". With that understanding, it's not surprising that Barron appears NBA-ready at 15-years-old.
Did You Know?
What we know about young Barron is that he is passionate about sports. He's even expressed an interest in football. His mother would have a hard time letting him play, especially with the recent findings surrounding brain trauma and CTE that has put every parent on edge when it comes to the violent game. He's also fluent in English and Slovene, thanks to his Slovenian-born mother who taught him as a child.
OTHER POSTS YOU MAY BE INTERESTED IN