Most amateur tattooists learn and master their craft while working with another trained tattooist or experienced mentor; for those who were born into a family of tattoo artists, a love and appreciation for tattoos comes all the more naturally, as it is an art that is often passed down through generations.
Shockingly, there are well-known tattoo artists who are as young as nine years old inking out unique designs that catch the world's attention. They serve celebrities, or tap into the power of social media to create a fanbase that follows their artwork in real-time.
Would you trust a tattooist under the age of ten to apply permanent words or images to your body? Hold that thought – let's take a look at some of the youngest tattooists out there!
8. Krish Goorye (c.1996 – Present)
Age When He/She Started Tattoo Work: 23 years
Country of Origin: Denis Island, Seychelles
Tattoo Studio: Darkbox Tattoo Reunion and Patrick Tattoo Shop Mauritius
Nickname: None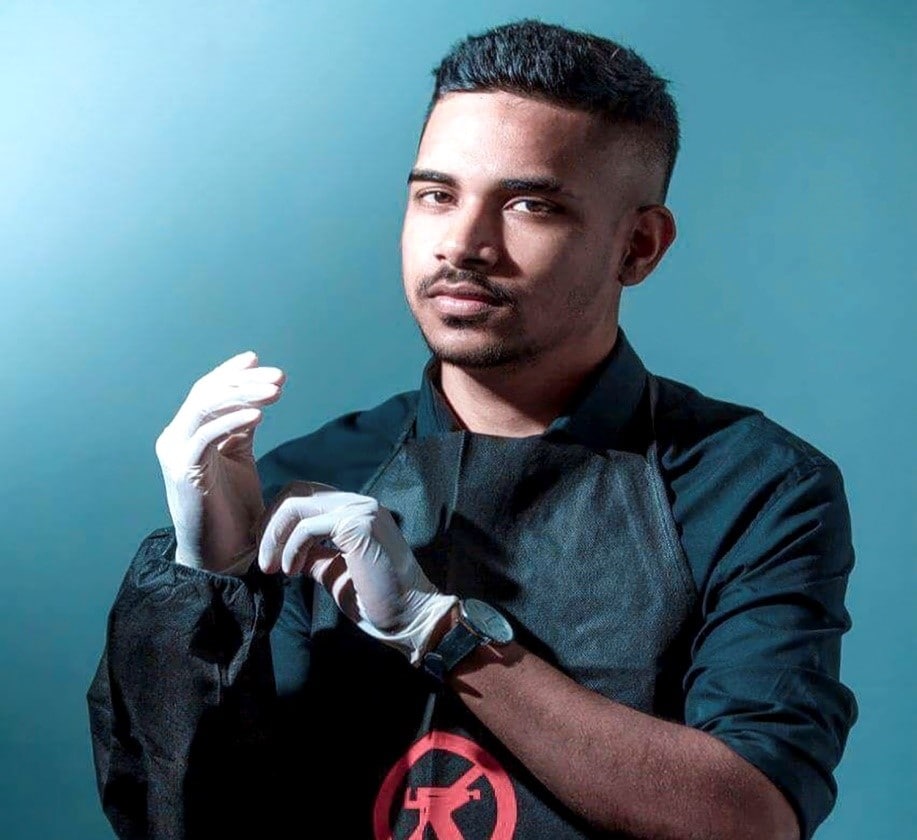 photo source: Lexpress.mu
Krish Goorye is a gifted tattoo artist who hails from Denis Island, Seychelles. He now practices in Mauritius.
Goorye discovered his natural talent for art much earlier than he began his career. In fact, while still in high school in 2015, the young tattooist was ranked amongst the Top 3 on the Arts Side for the HSC Laureates. His exceptional performance earned him a scholarship to the School of Fine Arts at Mahatma Gandhi Institute, where he studied general art before pursuing tattoo artistry.
Did You Know?
As a child, Goorye dreamed of becoming an art lecturer. His ambitions changed when he was exposed to tattoo artwork in college. Goorye is now a competitive tattooist in his early twenties, and runs a studio in Mauritius.
---
7. Johnny Gloom (c.1992 – Present)
Age When Started Tattoo Work: 22 years old
Country of Origin: Paris, France
Tattoo Studio: Private Studio in Paris
Nickname: None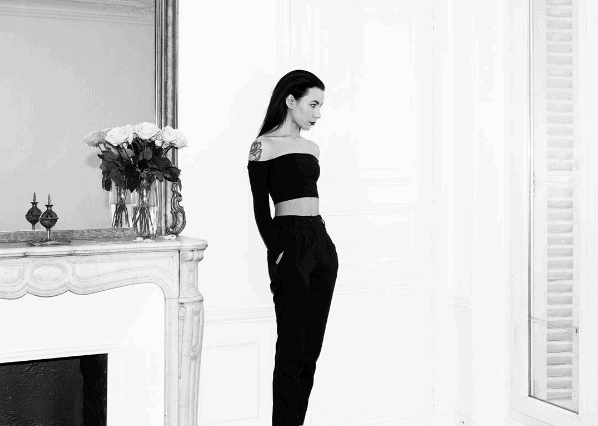 photo source: Vile Company
When you think of a young tattoo artist who can depict the full spectrum of human of emotions in their art, think of Johnny Gloom.
Based in glamorous Paris, Gloom fell in love with tattoo artwork while studying advertising and communication. Today, she inks elegant portraits of seductive women in minimalistic black shades, attributing her choice of quintessentially-French artwork to her highly sensitive nature. Gloom finds Parisian girls fascinating, which is why they tend to steal the spotlight in most of her designs.
Did You Know?
In 2016, Ball & Chain Co. — a renowned street wear brand — collaborated with Johnny Gloom to use some of her fetish-tinged designs in a special street-clothing edition. The series sold out in a matter of hours.
---
6. Keith Ho (c.2002/2003 – Present)
Age When Started Tattoo Work: 19 years old
Country of Origin: Singapore
Tattoo Studio: Tempest Studio Singapore
Nickname: None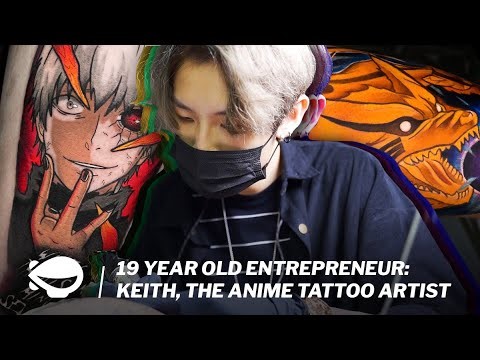 photo source: You Tube
Keith Ho is an established anime tattoo artist who overcame a rough childhood to rise to success in his field. Ho grew up in a hostile family environment where his dad would resort to violence when disciplining him. Likewise, his mother experienced domestic violence at the hands of Keith's father. They eventually divorced, leaving young Ho with emotional scars.
Tragically, Ho's sad story continued after his parents' divorce. His mother fell ill and his family sank into debt, but the young artist couldn't sit by and do nothing. He began to work as a waiter to take some of the financial stress off of his family, becoming independent at a young age.
It was around this time that Ho and his friends became interested in tattoos. Wanting to get one, but not being able to afford the cost, Ho opted to buy the cheapest tattoo kit and ink his own tattoo. Eventually, he convinced his mother to convert one of their spare rooms into a private tattoo studio, which was the start of Tempest Studio Singapore.
Did You Know?
Even though Ho started with traditional tattoo designs, his fame rose when he began posting anime tattoo designs on Instagram and TikTok. His followers grew overnight, and Ho embraced the opportunity to grow his business.
---
5. Lilith Siow (c.2007/2008 – Present)
Age When Started Tattoo Work: 11 years old
Country of Origin: Singapore
Tattoo Studio: Visual Orgasm Tattoo and Piercing in Singapore
Nickname: None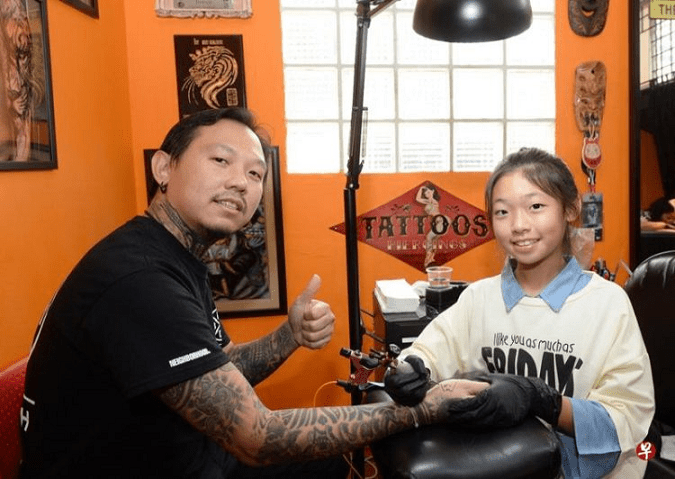 photo source: Oddity Central
Lilith Siow is the daughter of Joseph Tan, a renowned tattoo artist in Singapore. She had an early exposure to tattoo culture, since she would spend most of her evenings after school doing homework at her father's tattoo studio: Visual Orgasm Tattoo and Piercing.
Today, Lilith works as an apprentice at the studio during school holidays. Indeed, while most girls her age are busy with iPads and games, Lilith is rolling out the latest tattoo designs for high-end clients.
Lilith inked her first tattoo when she was just 11 years old, when her client selected a cartoon character. Since then, she has been exploring new designs and customizing them to her style.
Did You Know?
Asked whether he would let her daughter tattoo on his skin, Joseph Tan exclaimed that he had already reserved a space for her.
---
4. Ezrah Dormon (July 22, 2005 – Present)
Age When Started Tattoo Work: 11 years
Country of Origin: Panama City, Panama
Tattoo Studio: Honolulu Tattoo in Panama City
Nickname: The Shark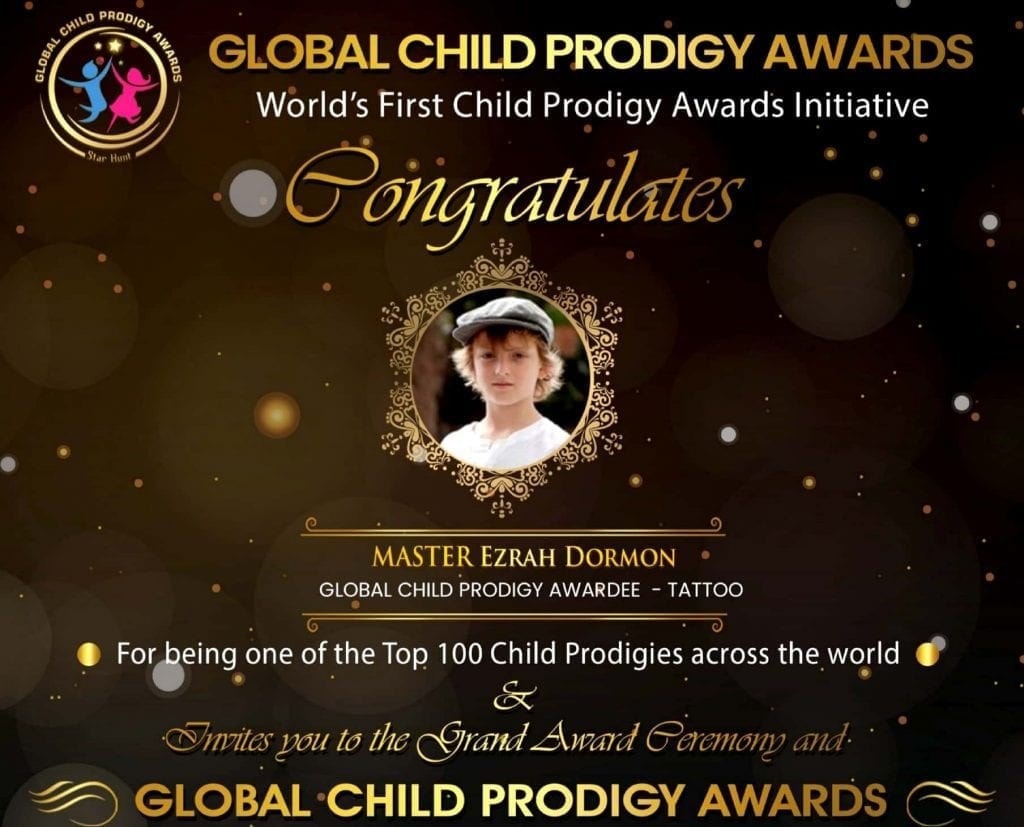 photo source: Global Child Prodigy Awards
Ezrah Dormon is an Instagram star and a tattoo apprentice. Nicknamed "The Shark," he boasts of at least 20 unique designs that he can comfortably ink on any client. His artwork includes sharks, roses, panthers, swallows, and snakes.
Ezrah practices his skills using oranges and grapefruits in a tattoo shop in Honolulu. He started posting pictures of his artwork on Instagram in September, 2016 and now has more than 100,000 followers.
Ezrah's first tattoo encounter occurred when he went with his mother to get a red flower tattoo. Admiring tattooist Ali Garcia's creation, Ezrah decided that he wanted to do what Garcia could do. Garcia gave Ezrah a go at the tattoo gun to finish some of the remaining lines of the red flower.
Ali Garcia remains Ezrah's mentor to date.
Did You Know?
In 2020, Ezrah was included in the 100 Top Prodigies of the Year. He also won the Global Child Prodigy Awards for his tattooing skills.
---
3. Sarah Macneil (March 10, 1994 – Present)
Age When Started Tattoo Work: 10 years old
Country of Origin: Canada
Tattoo Studio: Sarah Macneil Tattoo in Invercargill City, New Zealand
Nickname: None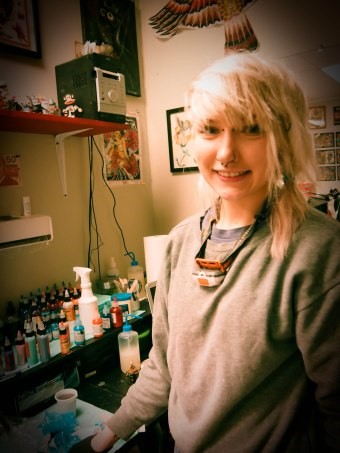 photo source: Gloom The Cult of Melancholy
Sarah Macneil is a New Zealand-based female creative specializing in neo-traditional tattoo artwork. She uses big and bold lines, and is known for bright colors with a modern spin as well as nature designs. She features flowers, birds, elephants, and wolves in her portraits.
Macneil has gotten most of her clients by publicizing her work on Instagram, Facebook, and Twitter. She has also been hosted as a guest on several influencers' pages.
Did You Know?
Macneil started practicing tattoo work using old tattoo magazines she got from her friend. She recommends young and upcoming artists to emulate the work of Tim Pausinger, Tyler Carman, Travis Driscoll, Erin Chance, and Chelsea Shoneck.
---
2. Noko Nishigaki (December 2008 – Present)
Age When Started Tattoo Work: 6 years old
Country of Origin: Japan
Tattoo Studio: Gakkin in Amesterdam
Nickname: None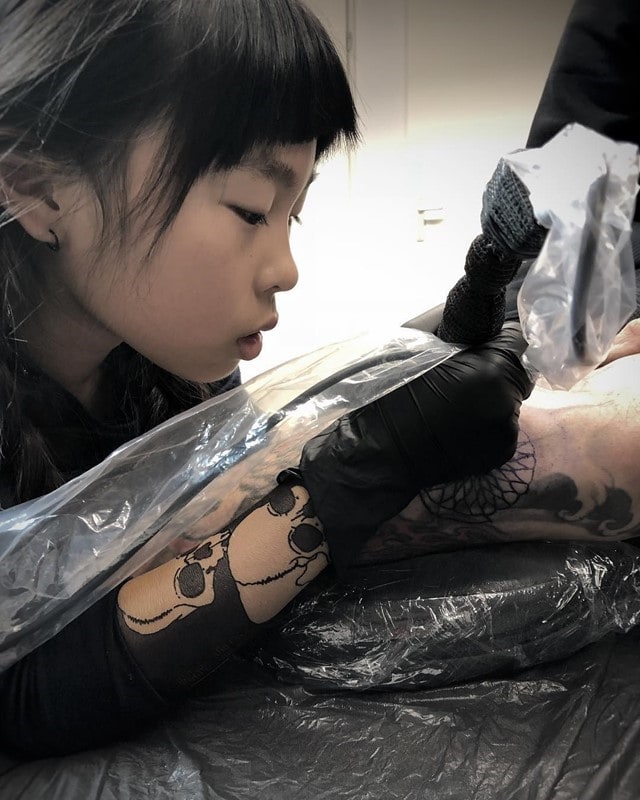 photo source: Dazeddigital.com
Noko Nishigaki is a second-generation tattoo artist. She was barely six years old when her father, Gakkin — a world-renowned Japanese tattoo artist — introduced her to the art.
Noko first practiced her inking skills on silicone skin. Once people started complimenting her designs, Noko was hooked.
Currently, Noko is undergoing her tattooing apprenticeship in Amsterdam, where she and her family relocated in 2016. She already has 20 unique designs that cut across genres, but her personal preference is to use color-blocking and bold lines that are characteristic of artwork dating back to the Japanese Edo era.
Did You Know?
Noko's parents know that she might pursue a different career path than tattoo artistry when she grows up. For this, they manage her Instagram account and put no pressure on her to be perfect.
---
1. Maya Lu (c.2011 – Present)
Age When Started Tattoo Work: 2 years old
Country of Origin: Tengen, Southern Germany
Tattoo Studio: Psyland 25 in Tengen
Nickname: Little Swastika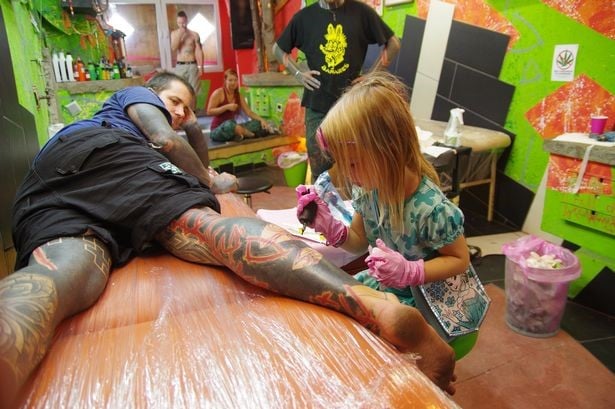 photo source: Daily Star
Maya Lu is reportedly the youngest tattoo artist ever. She started scribbling ink on her parents' feet when she was a toddler, and, like most young tattoo artists, they were instrumental in encouraging her to further her skills and interest.
The young and talented Lu has a heavily-tattooed, non-binary father who runs a tattoo studio and art space called Psyland 25. It was here that Maya spent most of her toddler years. While other toddlers play with dolls and cars, Maya mastered using a tattoo gun that she now operates with no help from her parents.
Her unique designs include ceramic teeth, eyeballs, and inked swastikas that stand for peace, not Nazis beliefs.
Did You Know?
Despite Maya having such impressive tattooing skills at such a young age, an appointment with her happens only "when she feels like it." Often, her parents had to bribe her with candy before she decided to work on a client.
OTHER POSTS YOU MAY BE INTERESTED IN