While anyone can technically begin flying at any age, the Federal Aviation Administration (FAA) requires that a fledgling pilot be at least 14 or 16 years before making a solo trip on a glider or powered flight.
Similarly, the pilot needs to be at least 17 years to obtain a Private Pilot Certificate, 18 years for a Commercial Pilot Certificate, and 23 years for an Airline Transport Certificate; otherwise, the pilot must have a certified instructor on board.
With all of these guidelines in place, you'd expect that the youngest pilot ever would be at least 15 years old, but historical records point to pilots as young as 14 years of age embarking on adventurous journeys and setting world records. How did they do it? Check out our list of the eight youngest pilots below to find out!
8. Amelia Earhart
Age: 35 years
Born: 1897
Achievement: The First Female Aviator to Fly Solo across the Atlantic Ocean
Year of Making the Achievement: 1932
Type of Aircraft: Lockheed Vega 5B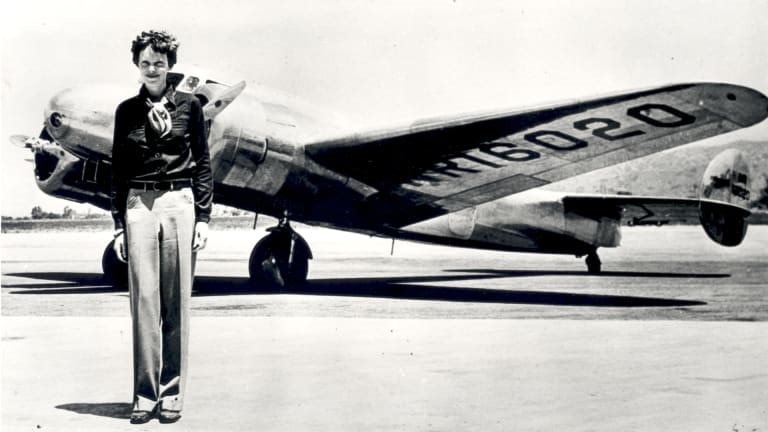 photo source: History.com
Amelia Earhart aka "Lady Lindy" was a young female pilot in the 19th century, and one of the most inspirational women in aviation.
In 1928, Earhart joined Wilmer Stultz to fly across the Atlantic. Then, in 1932, Amelia made a solo non-stop Atlantic flight that gave her celebrity status. For this, the military decorated her with the United States Distinguished Flying Cross.
Amelia made numerous contributions to the growth of the aviation industry, including writing bestselling books that promoted commercial air travel. She was also one of the founders of Ninety-Ninety, an organization for female pilots.
Did You Know?
In 1937, Amelia attempted to become the first female pilot to circumnavigate the globe. Tragically, her Lockheed Model 10-E Electra aircraft disappeared over the Pacific Ocean. She was declared dead one and a half years after her disappearance.
---
7. Shaesta Waiz
Age: 30 years
Born: 1987
Achievement: The First Youngest Woman to Fly Solo around the World
Year of Making the Achievement: 2017
Type of Aircraft: Beech A36 Bonanza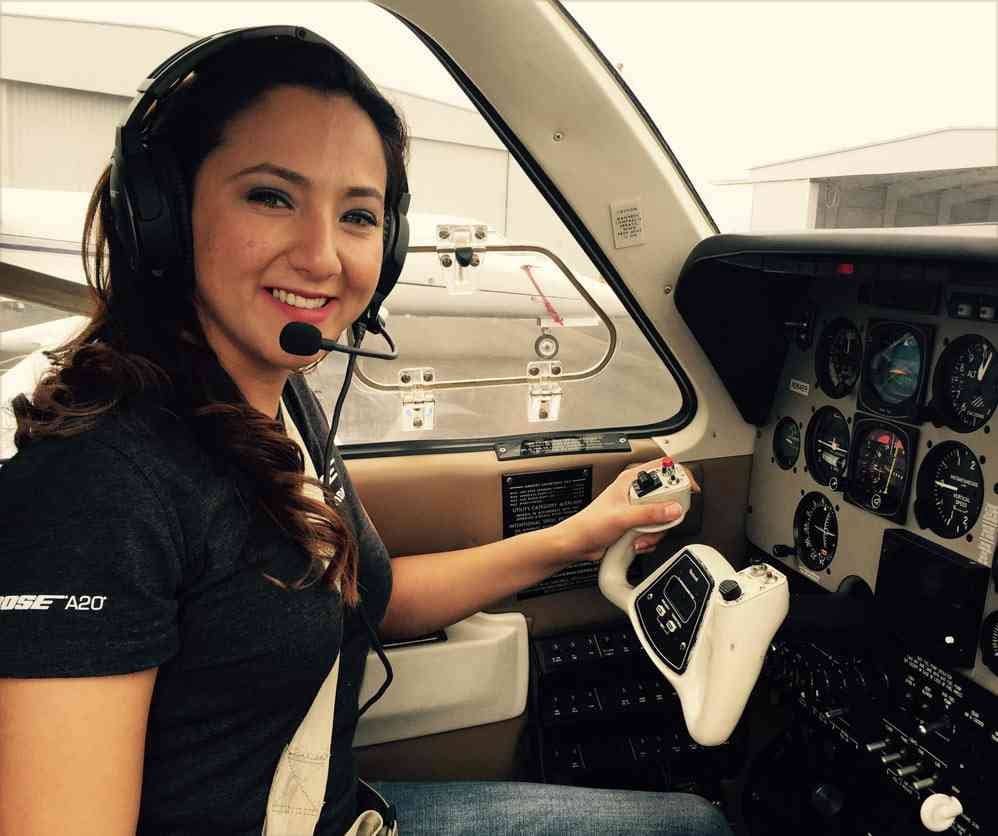 photo source: Amy Poehler's Smart Girls
Shaesta Waiz is an Afghan-American aviator. She is also the youngest woman to fly solo around the world, even though she was 30 years old by then. Shaesta completed her solo round-world trip after stopping at five continents and visiting 22 countries.
Did You Know?
Since childhood, Shaesta had to overcome challenges, including fleeing war from her native Afghanistan home country. Nancy Roe Pimm wrote a children's book titled Fly, Girl, Fly! recognizing Shaesta's achievements and struggles.
---
6. Semin Ozturk
Age: 21 years
Born: 1991
Achievement: First Female Civilian Aerobatics Pilot of Turkey
Year of Making the Achievement: 2012
Type of Aircraft: Pitts S-2B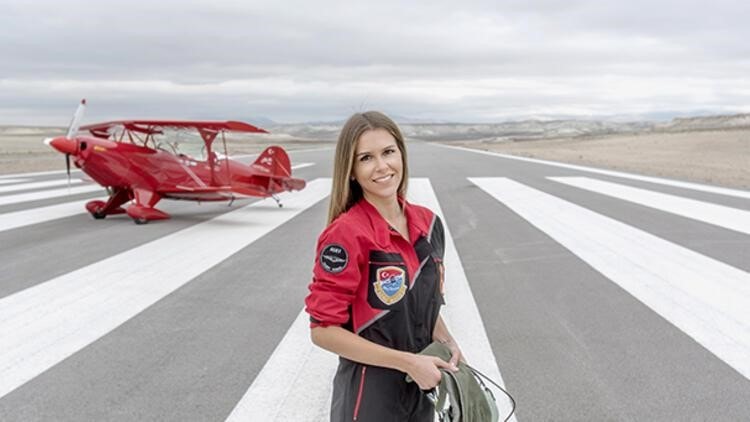 photo source: hurriyet.com.tr
Semin Ozturk is a professional aerobatic display pilot from Turkey. She was born into a family of aviators. Her father was a professional aerobatic pilot and her mother is a private pilot license holder. Semin is the youngest pilot to undertake a solo aerobatics flight.
To date, Semin boasts of flying unique aircraft, including Mustang P-51 and the Boeing Stearman E-75. In 2018, her photo was on the wall of the Wings Over the Rockies Air & Space Museum during the centennial celebrations in Denver, Colorado.
Did You Know?
Apart from being a professional aerobatic display pilot, Semin completed her private helicopter training in 2016 to become Turkey's first Civilian Woman Helicopter Pilot.
---
5. Zara Rutherford
Age: 19 years
Born: 2002
Achievement: Youngest Woman to Fly Solo around the World
Year of Making the Achievement: 2022
Type of Aircraft: Aero Shark UL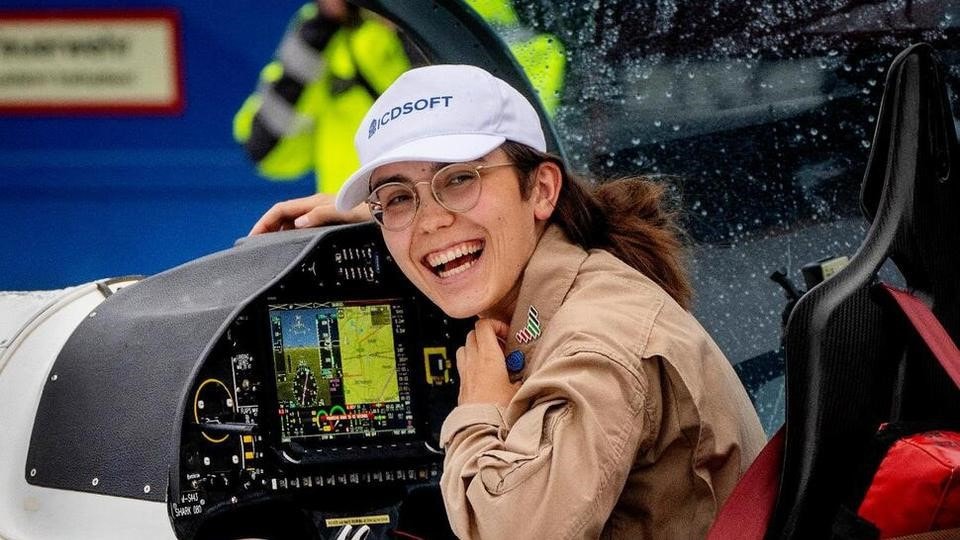 photo source: TRT World
Zara Rutherford is a Belgian-British pilot who flew on a solo trip around the world at the age of 19. She covered more than 52,000 kilometers, made stopovers on five continents, and visited 41 countries. Her expedition on a single-engine micro-light aircraft took 155 days to complete.
Zara's win broke the solo-world record, having defeated 30-year old Shaesta Waiz from the U.S. Also, she became the youngest woman to circumnavigate the world on a microlight aircraft.
Did You Know?
Zara's expedition around the world was not only a fun experience, but also daring. She had to endure the biting winter cold in Russia and Siberia, overcome visa issues that delayed her trip for weeks, and escape the fog, wildfires, smoke, and even typhoons. All in all, Zara extended her planned 3-month trip for two more months.
---
4. Matt Guthmiller
Age: 28 years
Born: 1994
Achievement: Youngest Person to Circumnavigate the World on a Solo Flight
Year of Making the Achievement: 2014
Type of Aircraft: Two-seat, 1975 Cessna 150M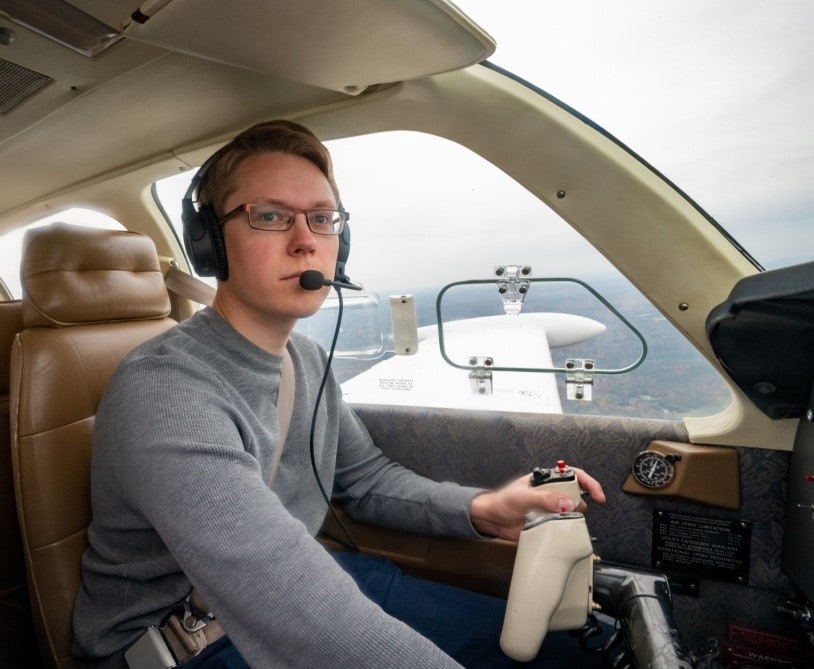 photo source: Matt Guthmiller
Matt Lee Guthmiller is an American aviator based in South Dakota. He is the youngest person to circumnavigate the world on a solo flight at 19 years of age.
On May 31, 2014, Matt departed California for a 44.5-day trip across the world, covering over 30,000 miles and making 23 stops in five continents and 23 countries.
Since Matt needed to be airborne for extended durations of up to 16.5 hours per flight, he replaced the rear seats of his aircraft with additional fuel tanks. Ultimately, the modified aircraft was 25% heavier than the authorized takeoff weight. It was featured at the National Air and Space Museum Udvar-Hazy Center and the EAA Airventure Oshkosh center.
Did You Know?
By the time Matt made his daring solo trip across the world, he held private pilot certificate, a commercial pilot certificate, a seaplane rating, a glider rating, and an instrument rating. His passion for aviation pushed him to scale fast in his career. Today, Matt holds numerous speaking engagements to encourage other upcoming pilots.
---
3. Travis Ludlow
Age: 18 years
Born: 2003
Achievement: Youngest Person to Circumnavigate by Aircraft, Solo
Year of Making the Achievement: 2021
Type of Aircraft: Cessna 172R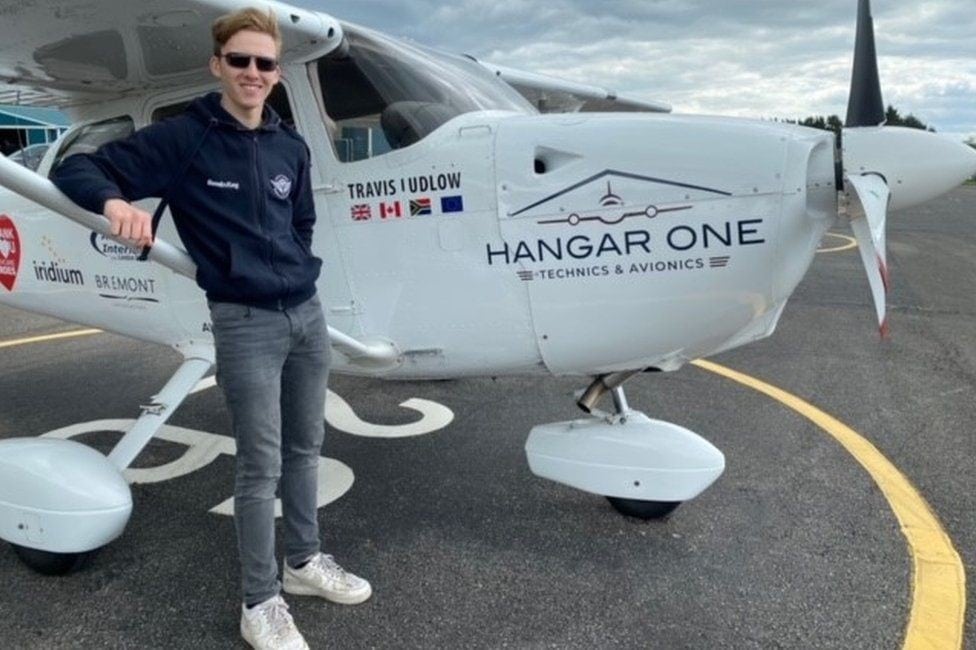 photo source: bbc.com
Travis Ludlow is the reigning record holder for the youngest person to circumnavigate the world on a solo trip. He claimed this title when he was 18 years of age, after breaking Matt Guthmiller's record on July 12, 2021. It took Travis 44 days to cover the 24,900 miles of his entire journey around the globe.
Unlike most young pilots with family roots in aviation, Travis is the only person in his family who flies. His grandfather is a former RAF photographer, and his closest connection to aviation.
Did You Know?
Apart from being the youngest person to circumnavigate the world on a solo trip, Travis is also UK's youngest glider pilot, having attained this achievement while only 14 years old.
---
2. Maggie Taraska
Age: 17 years
Born: 2011
Achievement: Youngest Pilot to Make a Successful Emergency Landing
Year of Making the Achievement: 2018
Type of Aircraft: Single-engine Piper PA28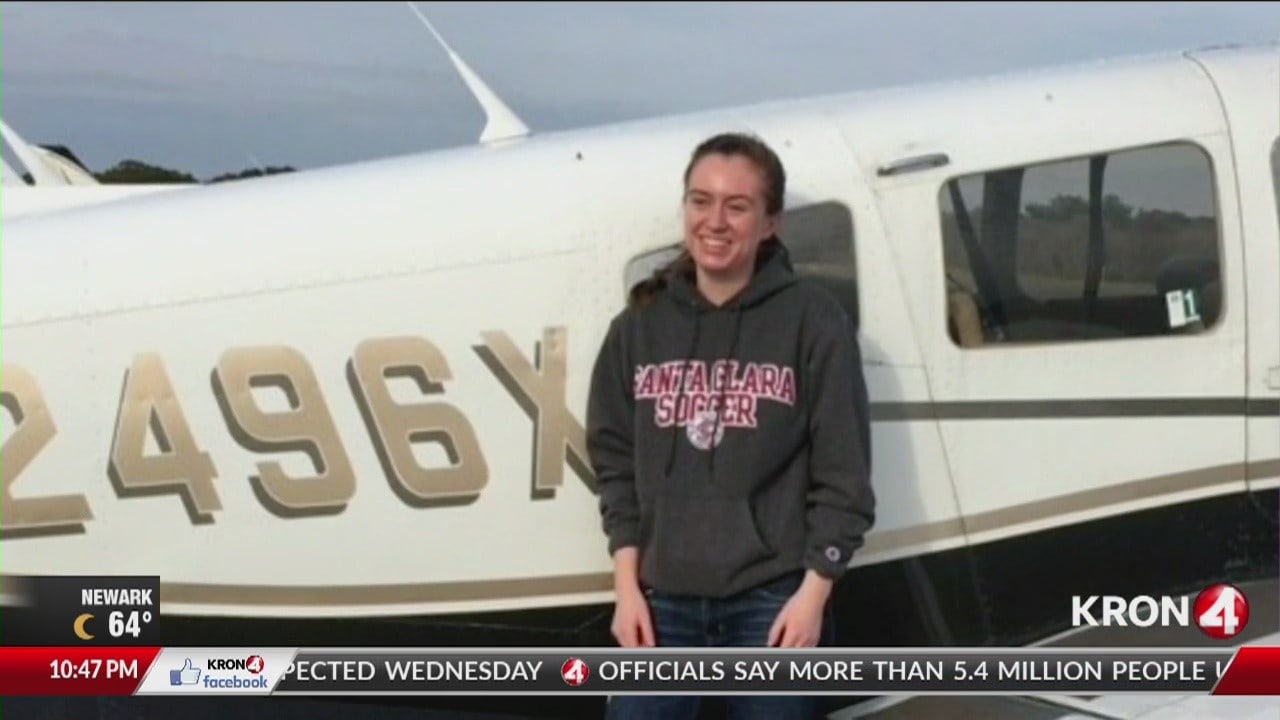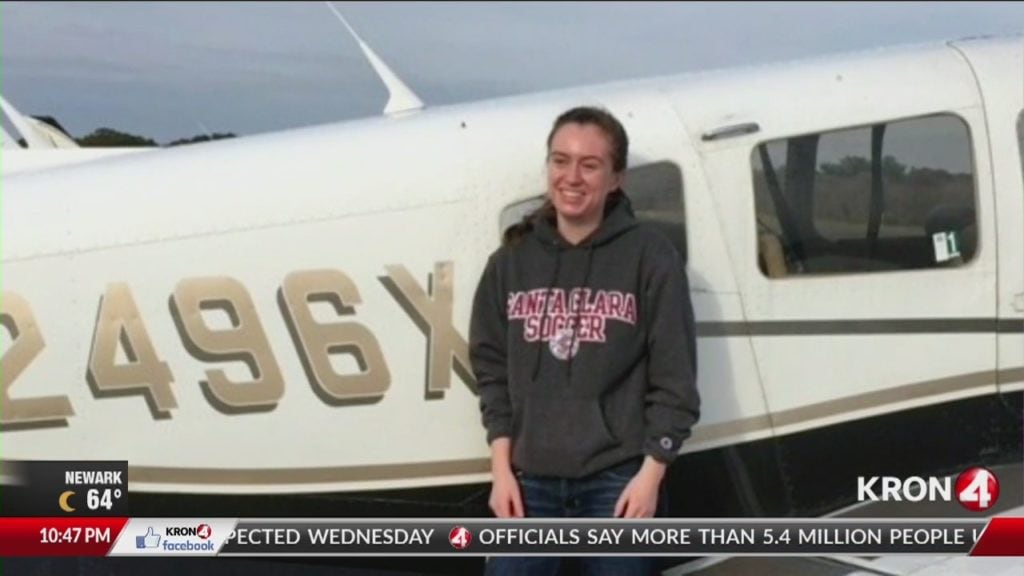 photo source: KRON4
Maggie Taraska was a 17-year-old student pilot and a high school senior from Gloucester when her plane lost a wheel after takeoff. With the help of her instructor, John Singleton, and air controllers directing her from the ground, the panic-stricken teen steered the aircraft to an emergency landing without any injuries. Still, her plane had significant damage on impact.
Did You Know?
The incident that pushed Maggie into the limelight was not on any ordinary occasion; it was a solo cross-country trip to demonstrate her ability to plan a flight, file a flight plan, navigate unknown terrain, and land the aircraft at unfamiliar airports. Already, she had 60 hours of flying and three years of flight training.
---
1. Riley Speidel
Age: 14 years
Born: 2005
Achievement: Youngest Pilot to Fly Solo across the USA coast-to-coast
Year of Making the Achievement: 2019
Type of Aircraft: Pispistrel Sinus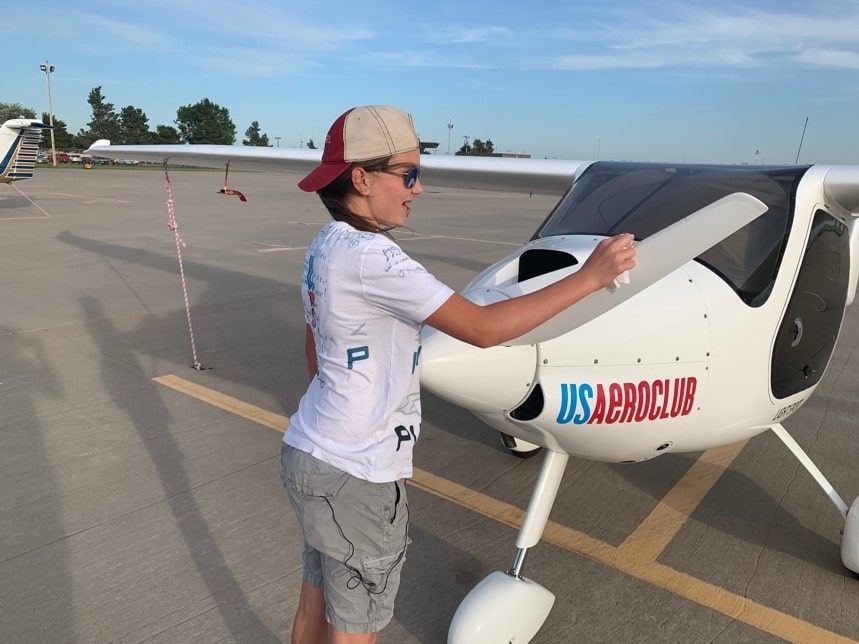 photo source: Pipistrel Aircraft
Riley Speidel is the youngest pilot in the world.
A private pilot and a Pipistrel Sinus-touring motor glider, Riley Speidel grew up surrounded by pilots and airplanes. Her grandparents, aunt, and father are certified pilots, and her father and grandfather are former pilots for United Airlines. They became Riley's flight instructors when she turned 12. By her 14th birthday, Riley got her student pilot certificate.
In the summer of 2019, while celebrating her 14th birthday, Riley made her historical solo trip across the U.S. on a Pipistrel motor glider. She traveled across the US, from California to Maine, covering 3,300 miles and burning 96 gallons of gas. There were three other airplanes following her, including her father's.
Did You Know?
Even though Riley Speidel got her student pilot license at 14 and her private pilot license at 16, she has yet to get her driver's license.