It's hard to believe that the Apollo 11 mission was over 50 years ago. It takes a lot of work to wrap your head around the concept. One of the goals of the Apollo program was to establish humanity's presence on the moon and return home safely, but it took longer than expected.
The mission required careful planning, precise timing, and technical expertise. The astronauts had to be able to adapt on the fly if something went wrong.
We're all familiar with some historical astronauts who have touched the moon and those who haven't. But who are the youngest people to land on it? The answer is surprisingly more than we expect. Many people were very young when they first landed on the moon.
Read on as we explore in this list the youngest people who landed on the moon.
10. John Young (September 24, 1930 – January 5, 2018)
Age Landed on the Moon: around 41 years old
Year: 1972
Nationality: American
Mission: Apollo 16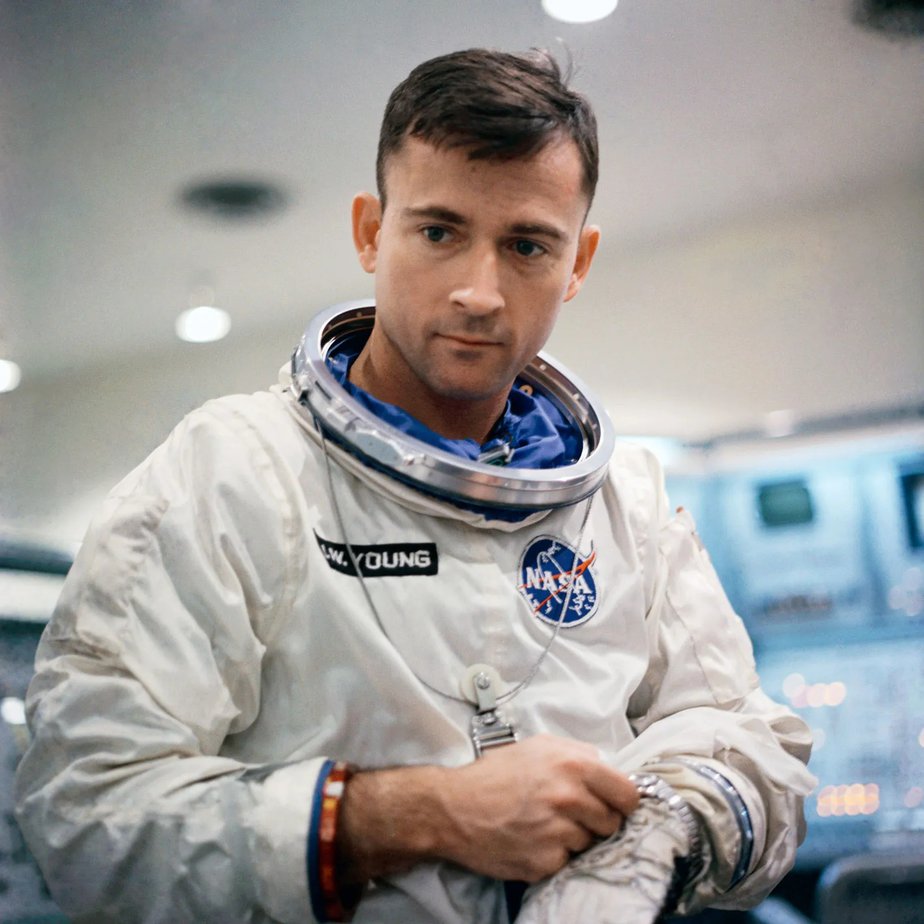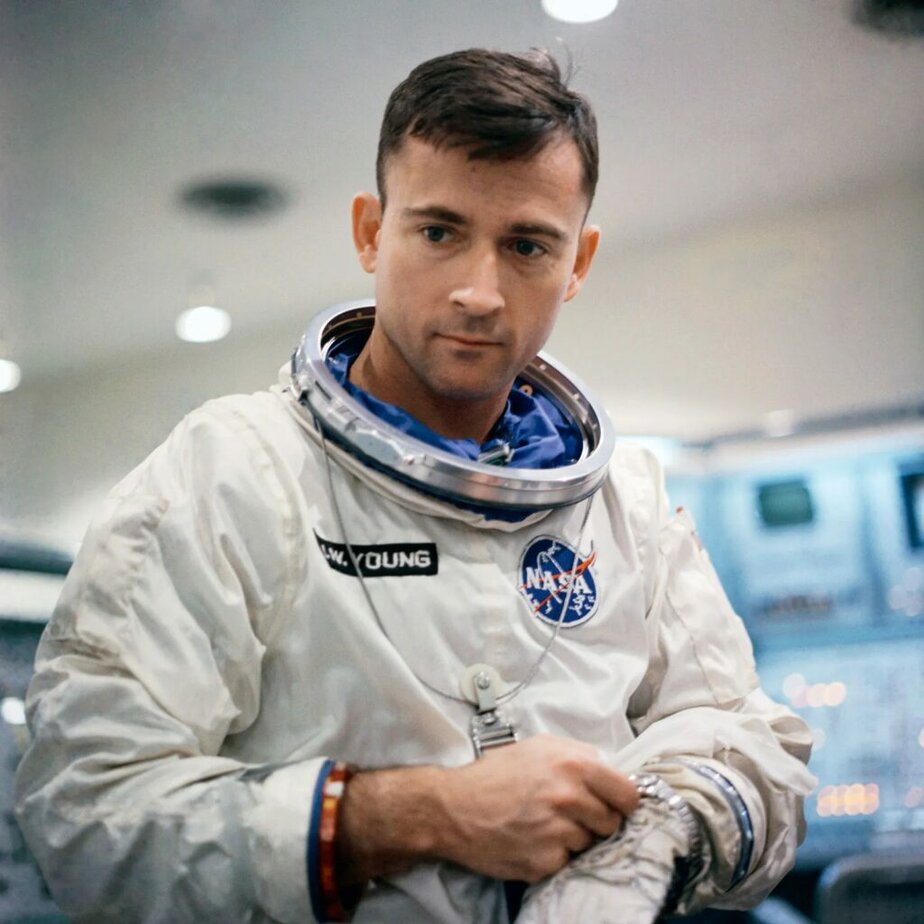 photo source: Encyclopedia Britannica
American astronaut John Watts Young was a navy officer, test pilot, and aeronautical engineer. As the Apollo 16 mission's commander in 1972, he became the ninth person to set foot on the moon. Including Gemini, the Apollo control and service module, the Apollo Lunar Module, and the Space Shuttle, he is the only astronaut to have flown on all four classes of spacecraft.
After retiring, Young continued to work as a public speaker and promoted the necessity of asteroid impact avoidance, lunar colonization, and climate engineering. Young and Crippen spoke about their adventures during the trip during the Kennedy Space Center's 25th-anniversary celebration of the STS-1 launch in April 2006.
Did You Know?
John Watts Young co-wrote Forever Young, his autobiography, with James R. Hansen in 2012.
---
9. Edgar Mitchell (September 17, 1930 – February 4, 2016)
Age Landed on the Moon: 40 years old
Year: 1971
Nationality: American
Mission: Apollo 14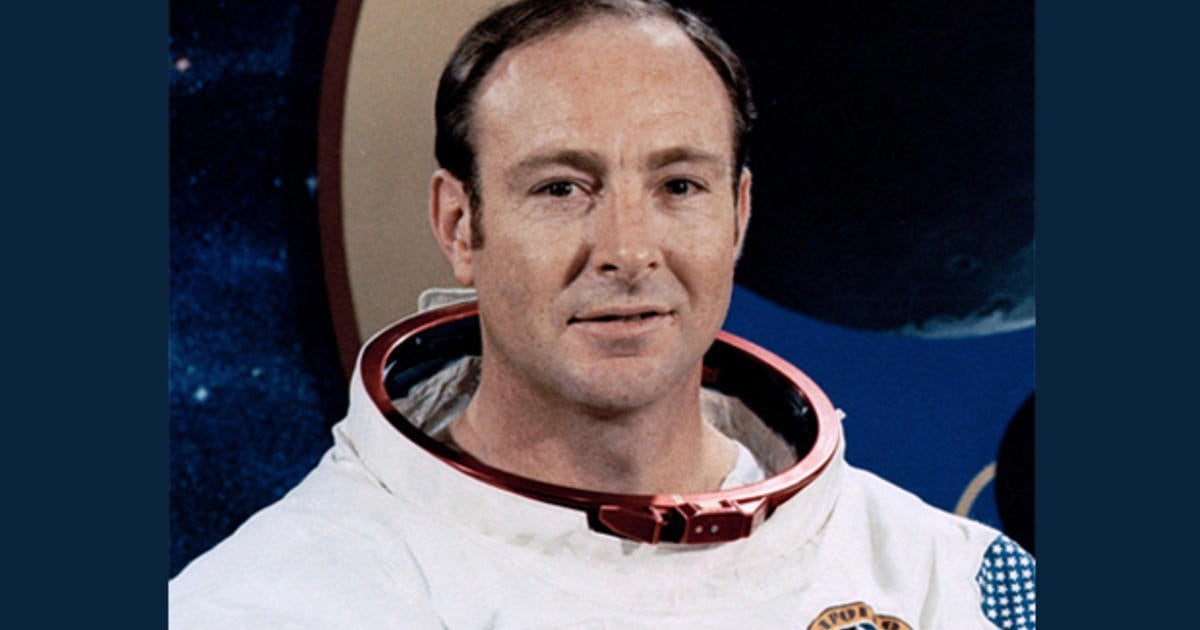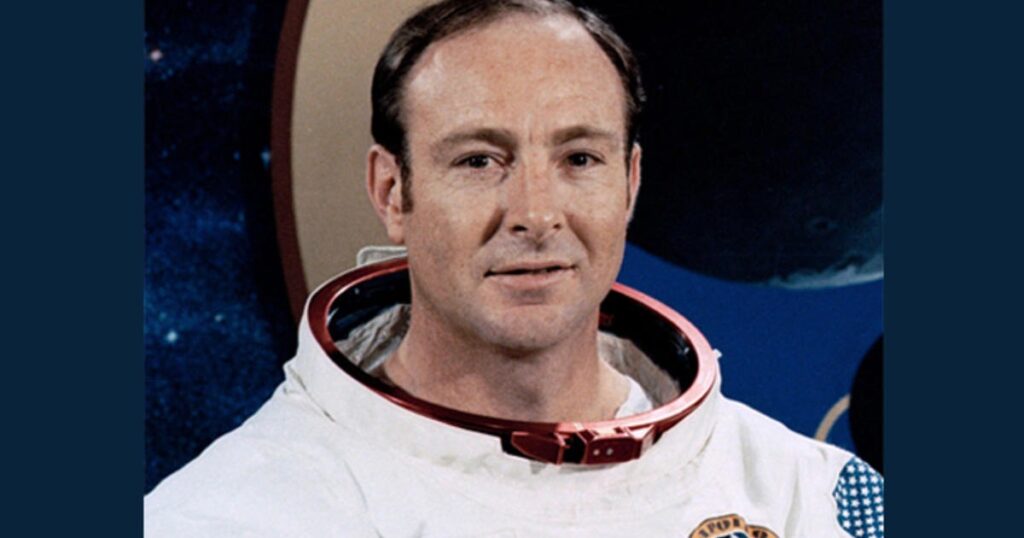 photo source: CBS News
Mitchell enrolled in the manned space program in 1966. Mitchell developed protocols for the safe return of the spacecraft and its crew while working in the lunar module simulator at the Lyndon B. Johnson Space Center in Houston during the 1970 Apollo 13 mission when an oxygen tank explosion destroyed the spacecraft. For his efforts, he was awarded the Presidential Medal of Freedom in 1970.
Mitchell, Shepard, and Roosa broke records for the length of time (33 hours), and the distance traveled on the lunar surface during the Apollo 14 mission. Additionally, 42.6 kg of soil and rock samples were gathered for analysis. Mitchell left the Navy and the Space Program in 1972.
In 1973, he founded the Institute of Noetic Sciences in Palo Alto, California, due to his interest in parapsychology.
Did You Know?
In 1996, he published The Way of the Explorer, a book on his spiritual development and astronaut adventures.
---
8. Buzz Aldrin (January 20, 1930 – present)
Age Landed on the Moon: 39 years old
Year: 1969
Nationality: American
Mission: Apollo 11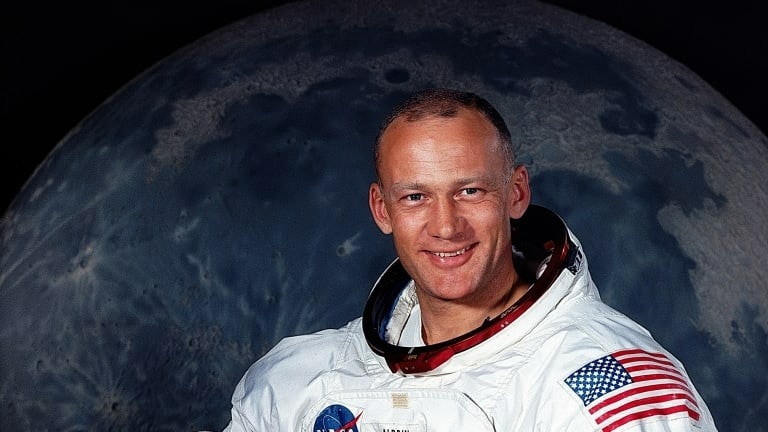 photo source: www.history.com
Montclair, New Jersey, was the hometown of Buzz Aldrin. His father, Edwin Eugene Aldrin, was a pioneer in aviation, and his mother, Marion Moon, was the granddaughter of an Army chaplain. Buzz entered the US Military Academy at West Point, where he earned a BS in mechanical engineering while graduating from Montclair High School one year early.
He later enlisted in the Air Force, where he flew F86 Sabre Jets in 66 combat missions over Korea, downed two MIG-15s, and was awarded the Distinguished Flying Cross. After serving a term of duty flying F100s in Germany, he received his doctorate in astronautics from MIT and focused on Manned Orbital Rendezvous for his thesis.
Did You Know?
In the wake of leaving NASA and the U.S., Col. Aldrin of the Air Force has steadfastly supported manned space flight since becoming a Global Statesman for Space.
---
7. Pete Conrad (June 2, 1930 – July 8, 1999)
Age Landed on the Moon: 39 years old
Year: 1969
Nationality: American
Mission: Apollo 12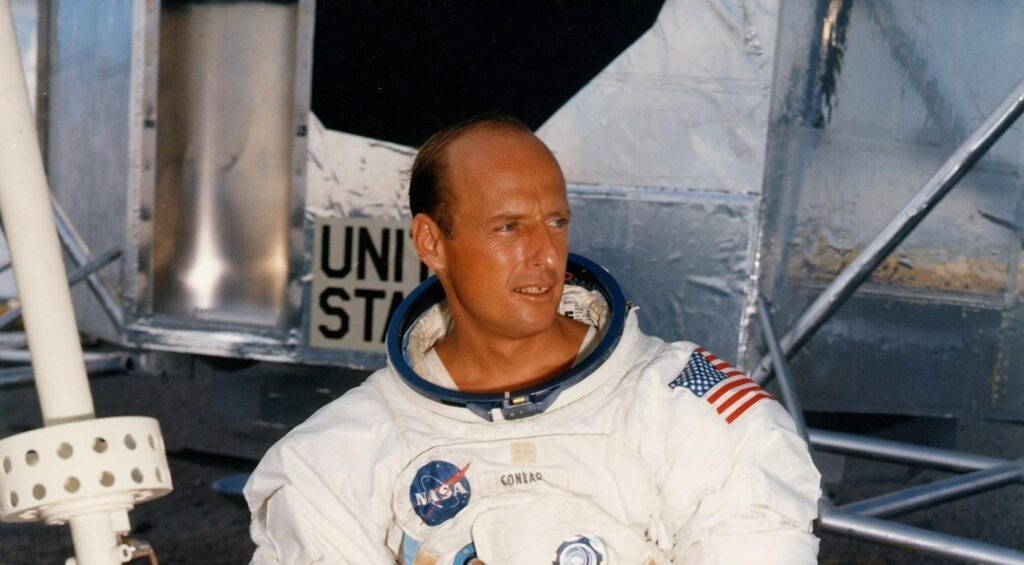 photo source: Hack the Moon
The third person to set foot on the Moon was Charles "Pete" Conrad Jr., an American NASA astronaut, naval officer, aviator, test pilot, and aeronautical engineer. He was the mission commander of the Apollo 12 space mission. In 1962, Conrad was chosen for NASA's second astronaut class. On his first space mission, Gemini 5, Conrad and Command Pilot Gordon Cooper broke the eight-day space endurance record.
Later, Conrad piloted Apollo 12 in 1969 and Gemini 11 in 1966. After Apollo, in 1973, he oversaw Skylab 2, the first crewed Skylab mission. He fixed substantial launch problems to the Skylab space station while sailing with his fellow crew members. In 1978, President Jimmy Carter presented him with the Congressional Space Medal of Honor in recognition of this.
Did You Know?
Pete Conrad's contributions to NASA and research earned him the agency's posthumous Ambassador of Exploration Award in 2006.
---
6. David Scott (June 6, 1932 – present)
Age Landed on the Moon: 39 years old
Year: 1971
Nationality:
Mission: Apollo 15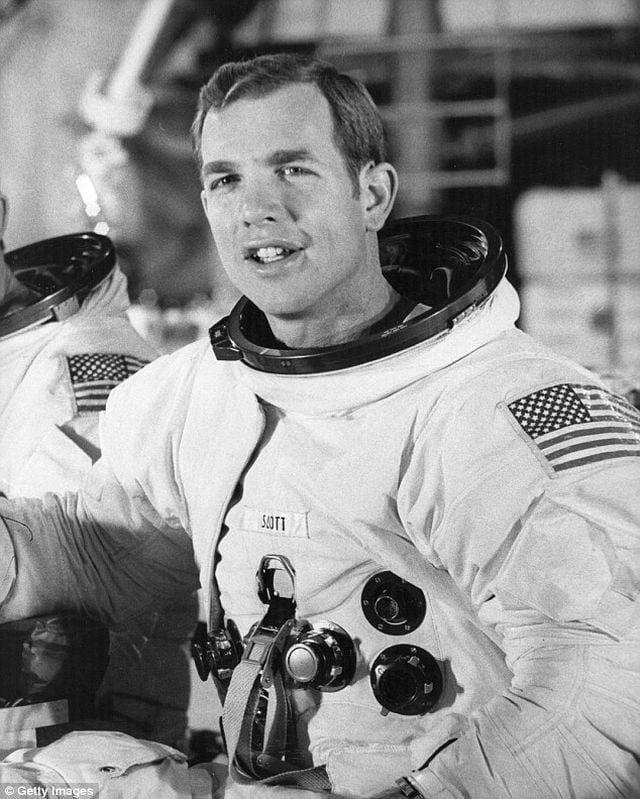 photo source: Forbes
David Scott moved to the U.S. Air Force to complete flying training after graduating from West Point Military Academy in 1954. He received his M.S. in astronautics and aeronautics from the Massachusetts Institute of Technology (MIT) and completed his test pilot training at Edwards Air Force Base in California. He was selected as one of the third set of American astronauts in 1963.
Scott and Gemini 8's pilot Neil Armstrong was its crew on March 16, 1966. The first space docking was accomplished with a successful rendezvous and docking with an unmanned Agena target ship, but an electrical malfunction caused the Agena-Gemini vessel to veer erratically.
Did You Know?
In 1977, David Scott quit the space program to start a commercial company in Los Angeles.
---
5. Eugene Cernan (March 14, 1934 – January 16, 2017)
Age Landed on the Moon: 38 years old
Year: 1972
Nationality: American
Mission: Apollo 17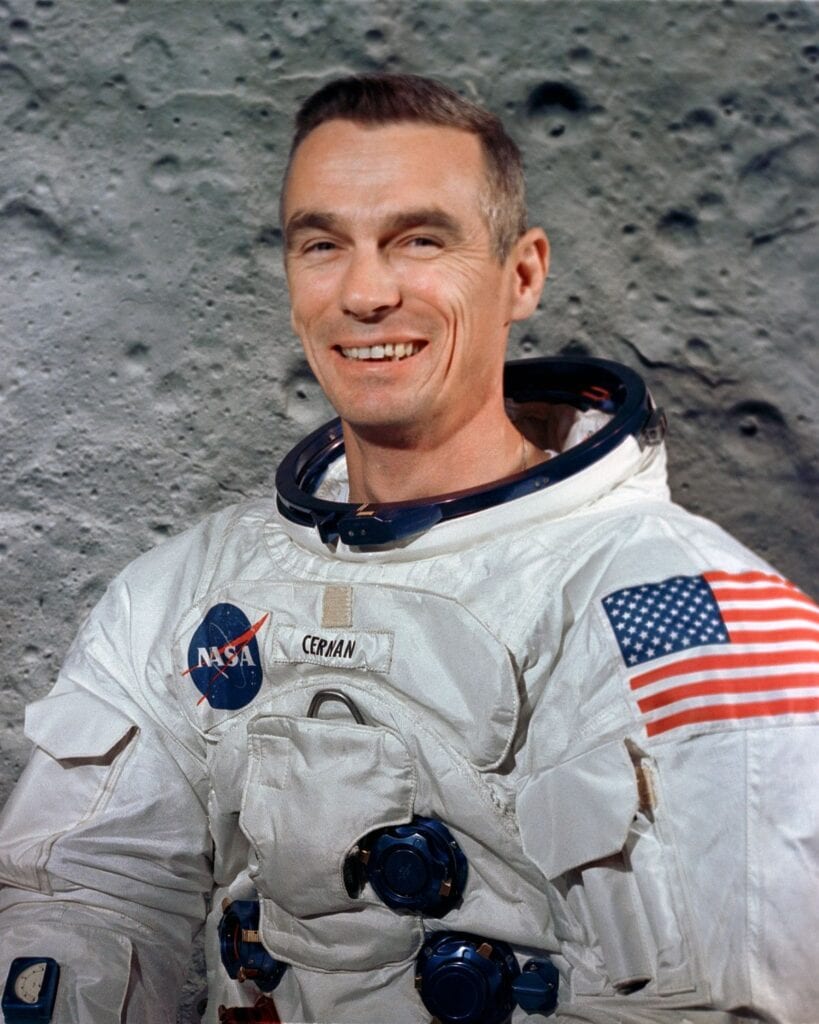 photo source: Wikipedia
Captain Eugene Cernan of the U.S. Navy made a significant contribution to the history of navigation by making three space flights and two moon landings. He also holds the honor of being the last person to leave footprints on the moon and the second American to walk in space.
In October 1963, NASA chose 14 astronauts, including Cernan. In June 1966, he flew a three-day Gemini 9 mission alongside Commander Thomas P. Stafford.
He flew the lunar module on Apollo 10 in May 1969, which served as the lunar lander's first thorough test in lunar orbit. The mission demonstrated the functionality, stability, and dependability of the Apollo command, service, and lunar modules. The mission involved a fall just eight nautical miles above the moon's surface.
Did You Know?
After leaving NASA, Eugene Cernan entered the private sector and worked as a television commentator for the first space shuttle missions.
---
4. Neil Armstrong (August 5, 1930 – August 25, 2012)
Age Landed on the Moon: 38 years old
Year: 1969
Nationality: American
Mission: Apollo 11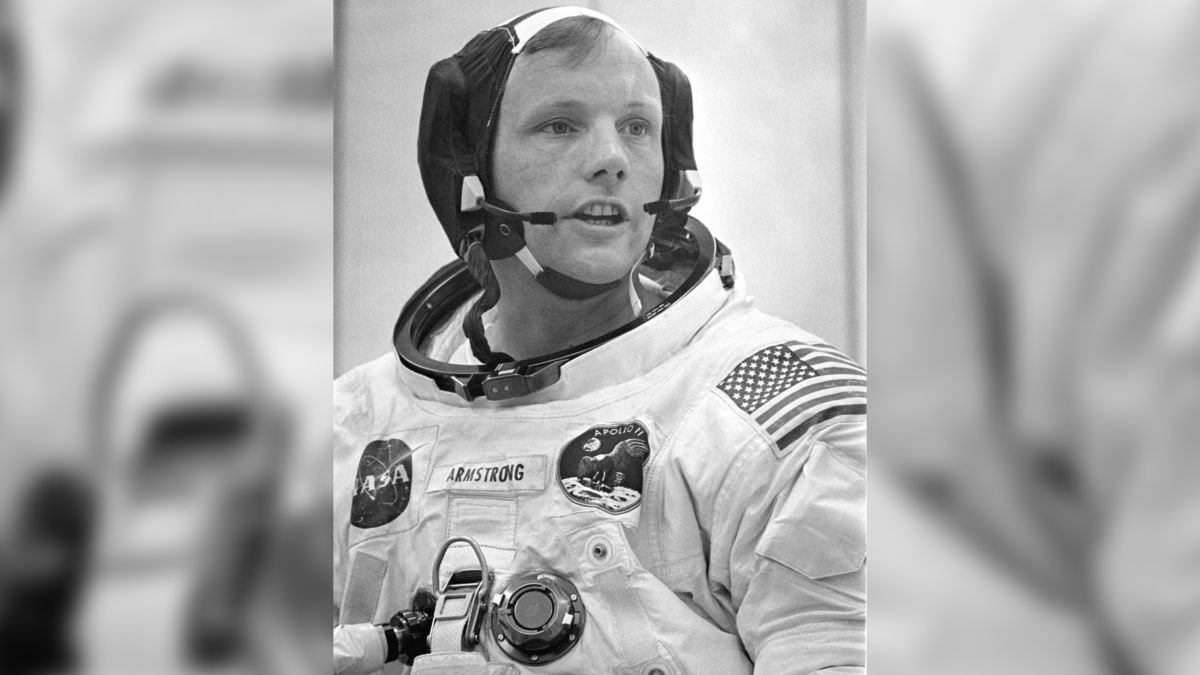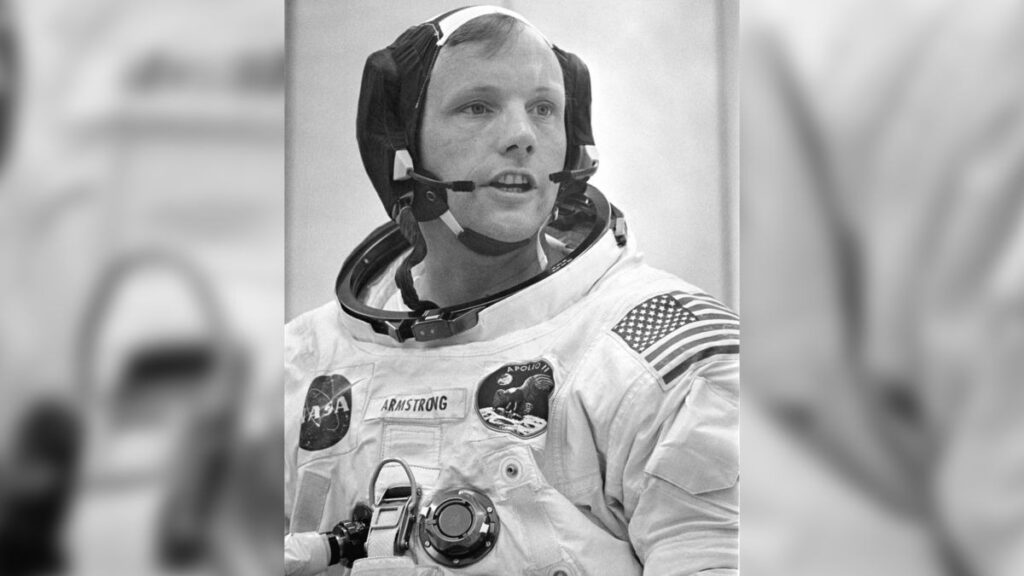 photo source: Space.com
American astronaut and aeronautical engineer Neil Alden Armstrong made history in 1969 when he became the first to set foot on the moon. In addition, he was a test pilot, university professor, and navy aviator. Armstrong was a member of the second batch of astronauts chosen by NASA in 1962.
In March 1966, he performed his first space journey as the command pilot of Gemini 8, becoming NASA's first civilian astronaut.
He accomplished the first pairing of two spacecraft on this trip with David Scott as his pilot; nevertheless, the mission was canceled after Armstrong spent some of his fuel for re-entry control to stop a potentially fatal roll brought on by a blocked thruster.
Armstrong had to escape from the Lunar Landing Research Vehicle just before a crash during training for his second and final space mission as captain of Apollo 11.
Did You Know?
Armstrong taught in the University of Cincinnati's Department of Aerospace Engineering from 1971 until 1979 after leaving NASA.
---
3. Alan Bean (March 15, 1932 – May 26, 2018)
Age Landed on the Moon: 37 years old
Year: 1969
Nationality: American
Mission: Apollo 12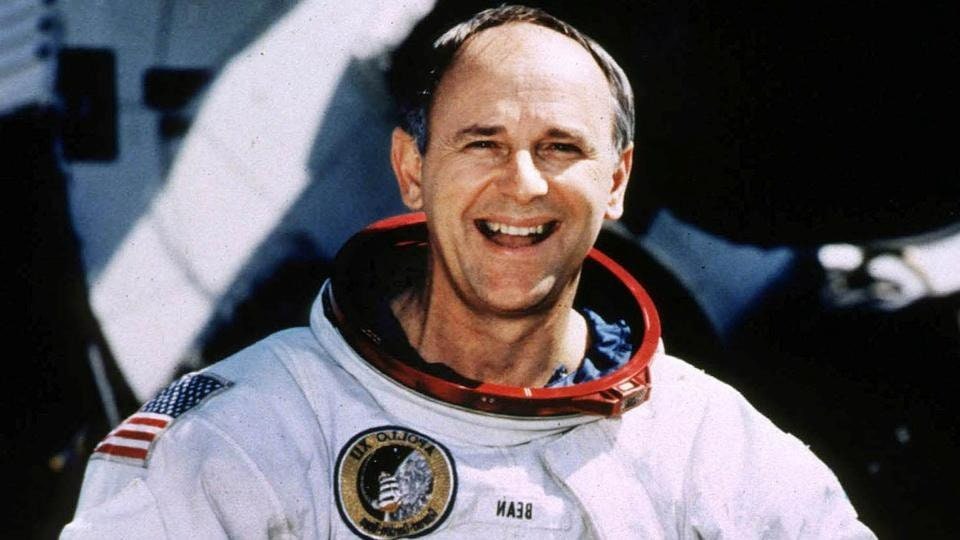 photo source: TRT World
On the Apollo 12 mission, an American named Alan Bean, whose full name is Alan LaVern Bean, piloted the lunar module and completed two lengthy moonwalks that lasted about eight hours. Bean and commander Charles Conrad, Jr. directed the lunar module Intrepid to a precise landing close to the robotic American spacecraft Surveyor 3.
In addition to leading the Apollo 12 mission, Jack Lousma, Owen K. Garriott, and Bean were the second crew to enter the Skylab orbiting laboratory during the Skylab 3 mission. A record for the longest spaceflight was set by their stay there, which lasted 59 days.
Did You Know?
Alan Bean left NASA in 1981 to focus on painting, particularly interested in themes inspired by his astronaut experiences.
---
2. Harrison Schmitt (July 3, 1935 – present)
Age Landed on the Moon: 37 years old
Year: 1972
Nationality: American
Mission: Apollo 17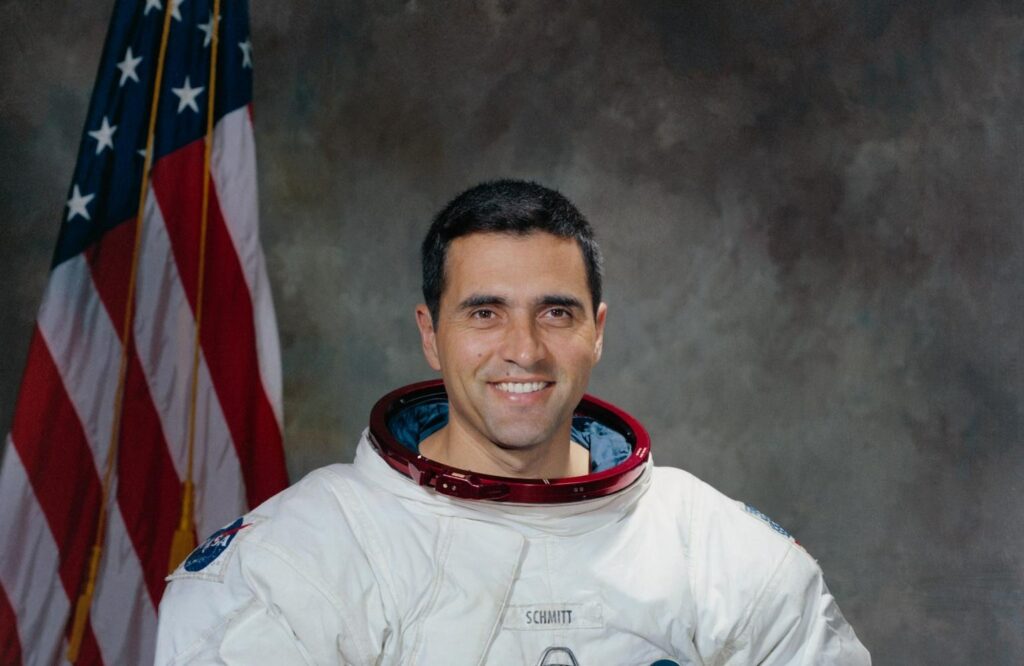 photo source: Hack the Moon
The most recent living Moonwalker—and the only one without a military aviation background—is an American geologist, university professor, retired NASA astronaut, and former senator from New Mexico named Harrison Hagan Schmitt.
Schmitt was a part of the crew of Apollo 17 in December 1972, making him the first scientist-astronaut group from NASA to fly in space.
He was the second-youngest person to step on the Moon, the twelfth person overall, and the second-to-last person to leave the Moon because Apollo 17 was the final Apollo mission. He was a prominent member of the geology community that supported the Apollo program.
Before beginning his training for an Apollo trip, he had been one of the researchers who trained the Apollo astronauts selected to travel to the moon.
Did You Know?
Harrison Schmitt is the only licensed scientist who has visited the Moon and flown outside of low Earth orbit.
---
1. Charles Duke (October 3, 1935 – present)
Age Landed on the Moon: 36 years old
Year: 1972
Nationality: American
Mission: Apollo 16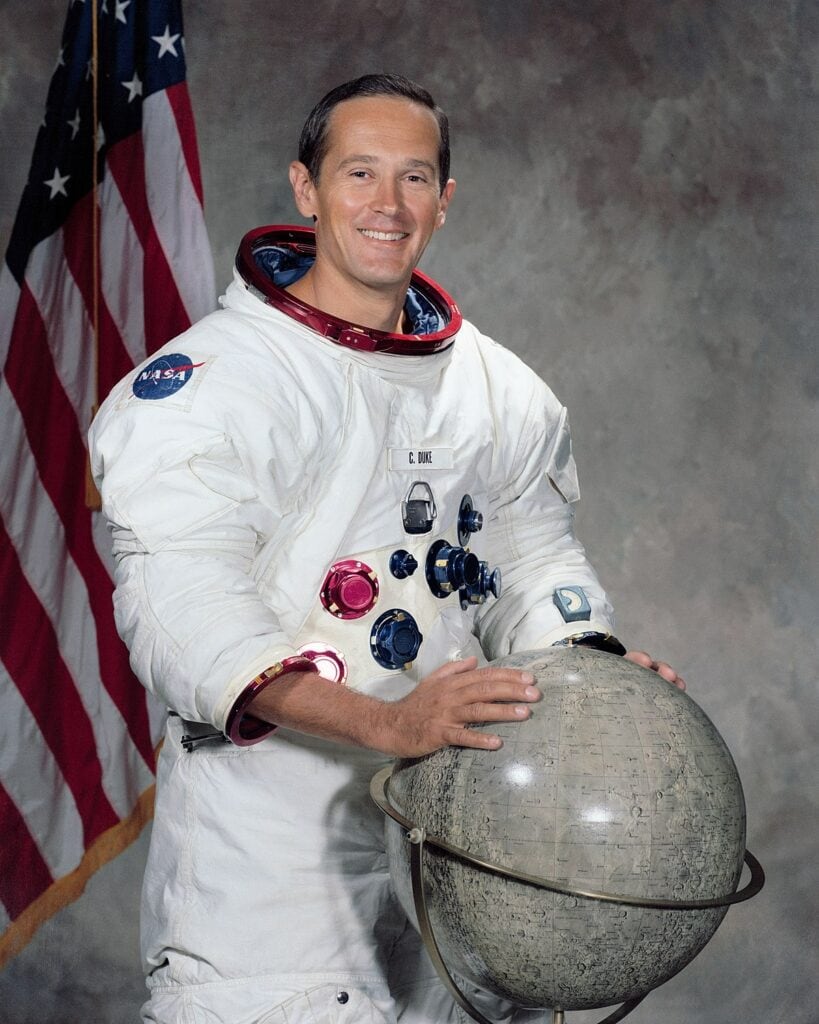 photo source: Wikipedia
American test pilot, former astronaut, and USAF officer Charles Moss Duke Jr. was the youngest person to walk on the moon in 1972. He excelled in advanced flight training on the F-86 Sabre at Moody Air Force Base in Georgia.
On Apollo 13, Charles Duke served as the backup lunar module pilot. He unintentionally exposed the main crew to rubella (German measles) just before the expedition by contracting it from a friend's child.
On Apollo 16, John Young and Duke performed three extravehicular exercises after landing in the Descartes Highlands (EVAs). He further worked as Apollo 17's reserve lunar module pilot. Duke joined the Air Force Reserve after leaving NASA and worked as a mobilization augmenter for the USAF Basic Military Training Center commanders and the USAF Recruiting Service.
Did You Know?
Charles Duke was a capsule communicator for the Apollo 11 mission to the moon with Buzz Aldrin and Neil Armstrong.
OTHER POSTS YOU MAY BE INTERESTED IN