Larry King, for decades, was at the pinnacle of media, entertainment, and a king of the interviewing medium. Forgive the pun! Known for his trademark overalls, gaunt frame, and tall shoulders, he represented the peak of what was achievable as a television host. He's landed an eclectic, extremely varied gallery of guests, subjected them to personal, intimate, and sometimes hard-hitting questions that have become memorable moments in not just pop culture's history, but in world history as well. He's sat down with Prince to peel back the layers to his creative process, went one-on-one with Frank Sinatra, to mediating a contentious debates between Vice President Al Gore and presidential candidate Ross Perot.
Love him or hate him, one thing that is certain is he has made some gripping television and collected countless insightful interviews for us to refer back to and enjoy, learning something new about his guests each time we look into the archives, and that is all thanks to his expertly crafted questions and disarming style.
We know about the late great Larry King, but not much is known about his five children he had during his journey throughout seven marriages. It can't be easy living in the shadow of one of the greatest hosts of all time. That's why we decided to take a moment to learn a little about the lives of the children whom he loved so dearly, and find out who among them is the youngest!
5. Andy King
Age: 65
Born: 1955
Children: Jillian King
Mother: Alene Akins
View this post on Instagram

Andy King was an American businessman and the oldest son of Larry King and his then-wife, Alene Akins. He is the only of King's sons who is not blood-related. Akins had Andy from a previous marriage but was adopted by Larry in 1961, officially becoming part of the famous family. Much unlike his father, who was a fixture in the public consciousness and the entertainment industry altogether, Andy preferred to live a modest, private life.
Much isn't known about Andy or his marital status, whether he had been dating or his family life, and it's understandable considering he had a front-row seat to the scrutiny his father endured throughout his prolific career. He wisely chose not to put himself through the same.
Did You Know?
Andy King passed away tragically on July 28th, 2020, due to a heart attack at 65-years-old.
---
4. Larry King Jr.
Age: 60
Born: November, 1961
Children: 3
Mother: Annette Kaye
View this post on Instagram
Larry King Jr. is the 60-year-old son of Larry King. King Jr.'s upbringing and relationship with his celebrity father were about as far from conventional as you can get. That's because, according to King Sr., he had no idea his son existed until they were united while King Jr. was in his thirties!
"I knew there was a Larry King Jr. out there. I'd heard that, but I didn't know he was mine. The marriage was very short, and she told me if it's a boy, I'm gonna name him Larry King Jr.," said King in an interview with the New York Post in 2009.
Larry King being the brilliant showman he is, decided this was a unique opportunity that would make for gripping, jaw-dropping television. And so, he introduced Larry King Jr. to the entire world on his CNN show Larry King Live.
King Jr. is now reportedly married to Shannon King, and the two have three children together.
Did You Know?
Larry King and Annette Kaye's marriage in 1961 was short-lived. They stayed together for less than a year but had King Jr. within that time.
---
3. Chaia King
Age: 51
Born: 1969
Children: 0
Mother: Alene Akins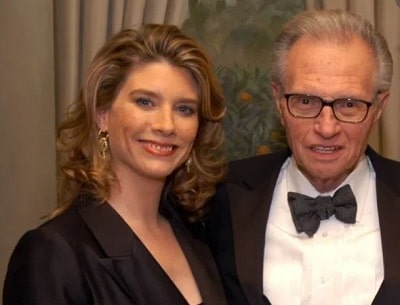 photo source: wikicelebs.com
Chaia King was the 51-year-old daughter of Larry King and Alene Akins. In 1997, the father-daughter duo wrote a children's book together, titled Daddy Day, Daughter Day. The wonderfully illustrated book deals with the adult themes of divorce, recounting the true story of Larry's and the struggles that come along with it, including the harmful, unintended effects it can have on the kids caught in the crossfires. In the book, they show how quality moments together filled with love and comfort can help mend the painful scars left in the aftermath of two parents splitting up.
Cleverly, they make sure to include the perspectives of both the father and the daughter, providing a very well-rounded, in-depth look at how the same event can have such drastically different interpretations by two people.
Did You Know?
Chaia King passed away after a long bout with lung cancer on August 19, 2020. It came just weeks after Andy's death the month prior. Larry King shared the tragic news in an announcement. "It is with sadness and a father's broken heart that I confirm the recent loss of two of my children, Andy King, and Chaia King."
"Both of them were good and kind souls and they will be greatly missed."
---
2. Chance King
Age: 22
Born: 03/09/1999
Children: 0
Mother: Shawn Southwick
View this post on Instagram
Chance King is the 22-year-old son of Larry King and his seventh wife, Shawn Southwick. Though he had the least amount of time to spend with King, having been born 30 years after the next oldest sibling, it's clear that he and his brother Cannon loved their father deeply and cherished each moment they got to spend together. Chance has taken to social media to share photos of him and Larry King attending Dodgers games and enjoying their father-son bonding time.
Chance is a student at the University of Southern California and majoring in Communication and Journalism, clearly inspired by the timeless work of his father. Before King Sr. passed away and began suffering from health complications, he posted a poignant letter illustrating his love.
"… all I could think about was how there was nothing I wouldn't do to get more time with him. He fought and his INDOMITABLE spirit pulled him through. I will be forever grateful for my Dad and the amazing man and example he is to me. Our love for each other is endless and everlasting"
Did You Know?
In June of 2021, Chance, Cannon, and King Jr. accepted a posthumous Daytime Emmy award for their late father.
---
1. Cannon King
Age: 21
Born: 05/22/2000
Children: 0
Mother: Shawn Southwick
View this post on Instagram
Cannon King is the youngest son of Larry King at 21-years-old!
Cannon King hasn't necessarily followed in his father's journalistic footsteps. But much like his father, he's ready for a career in the spotlight. Cannon was a baseball player at West Los Angeles College and was drafted by the Chicago White Sox as an infielder in the 37th round! His brother Chase also signed a year prior but chose not to officially ink a deal with the ball club. It's clear that both siblings were gifted the athletic gene that King Sr. and Shawn Southwick had in their early years.
During a phone interview in 2017, Larry King said that his son drafted was the ultimate thrill for a proud father. He was welcomed with love by Chance as well, understanding that when it comes to baseball, how difficult it is to be drafted in any round.
Did You Know?
In a joint statement from King Jr., Chance, and Cannon, following their media icon father's passing, they expressed heartbreak, stating:
"We are heartbroken over our father's death, and together with out extended family mourn his passing," they continued, "The world knew Larry King as a great broadcaster and interviewer but to us he was 'dad'. He was the man who lovingly obsessed over our daily schedules and our well-being, and who took such immense pride in our accomplishments – large, small, or imagined."


OTHER POSTS YOU MAY BE INTERESTED IN