If you were a pre-teen or teenage girl during the height of the early 2000s with a cable subscription to the Disney channel, or just a fan of pop music, then the band, The Jonas Brothers is no stranger to your home. The blood-related pop trio permeated practically every aspect of popular culture and entertainment and captured the hearts and ears of millions of boys and girls. Conversely, they grated the ears of the parents that had to drive their kids to their jam-packed, sold-out arena concerts.
Their sound was the quintessential bubble gum pop we all either loved or hated with no in between, in the form of world-famous boy bands like N'Sync and Backstreet Boys. Deviating slightly from the stereotypical boy band model, The Jonas Brothers forged their own unique identity by merging that trademark boy band flavor and infusing a rock influence with the help of their drums, bass, and electric guitar.
The brothers come from humble beginnings. Born in Wyckoff, New Jersey, they started to make waves in the industry when they collaborated on their first record that made its Hollywood Records release in 2005. They've enjoyed much commercial success since then, while also dealing with the patented breakups that seem like a prerequisite for successful pop groups. In 2021, they are back together and performing new material and old classics that appeal to our childhood nostalgia, selling out shows, picking up right where they left off in 2013.
We've learned a lot about the Jonas brothers as we've grown up alongside them, but if you think you know everything, think again! We're going to be taking a look at the youngest of the brothers. The answer might not be what you expect!
4. Kevin Jonas
Age: 34
Height: 5'9"
Children: Valentina Jonas, Alena Jonas
Spouse: Valentina Danielle Jonas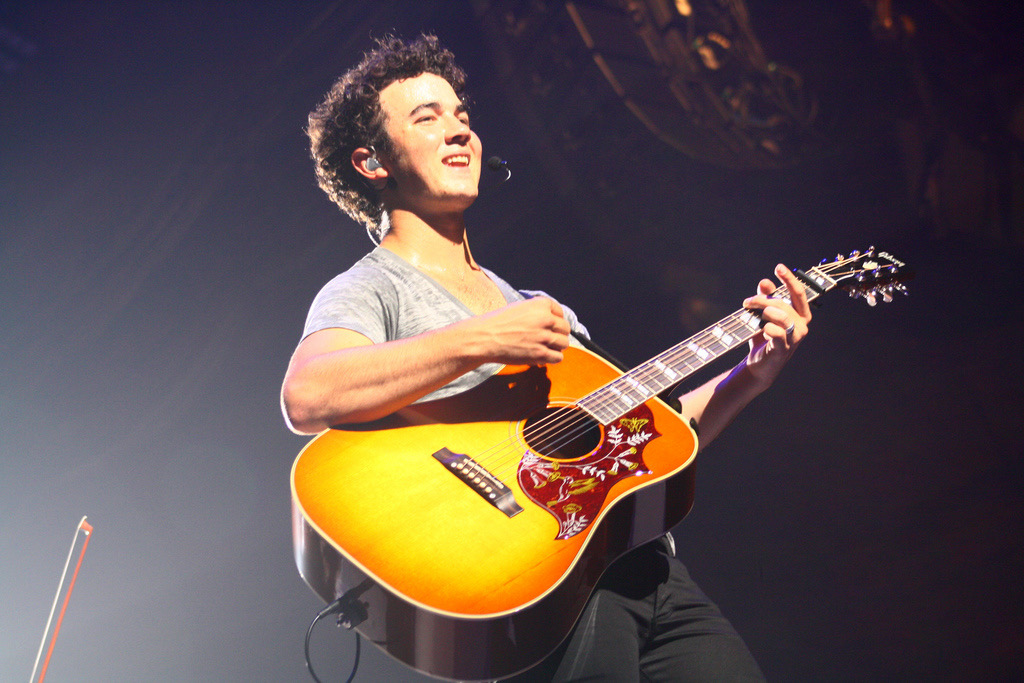 photo source: commons.wikimedia.org
Kevin Jonas is the oldest member of the brotherly pop group. He is the lead guitarist and thanks to the seniority that comes with being the older brother, is also a contributing background vocalist. Multi-faceted and multi-talented, Kevin is also a skilled mandolin player on top of just the guitar, piano, and vocals.
He's appeared alongside his brothers in hit Disney movies like Camp Rock, Camp Rock 2, and a television series revolving around the band, called Jonas Brothers: Living the Dream. Following a break the group decided to take in 2012, Kevin Jonas stayed busy. He appeared in his own 2012 E! reality series, Married to Jonas. He continued to embrace the spotlight, appearing in the seventh season of The Celebrity Apprentice in 2014. He married Danielle Jonas in 2009. She is a television personality, actress, and the founder of the jewelry company, Danielle Jonas Co. The business ventures don't stop with the ladies in the family. Kevin is a successful entrepreneur in his own right as a founder of his construction company, Jonas Werner.
Did You Know?
Kevin Jonas holds the very high honor of appearing in People Magazine's edition of the Sexiest Man Alive in 2008. He barely made the cut-off for "man" qualifications as a 21-year-old, thus joining the rare 21 Club for sexiest men alive.
---
3. Joe Jonas
Age: 32
Height: 5'7"
Children: Willa Jones
Spouse: Sophie Turner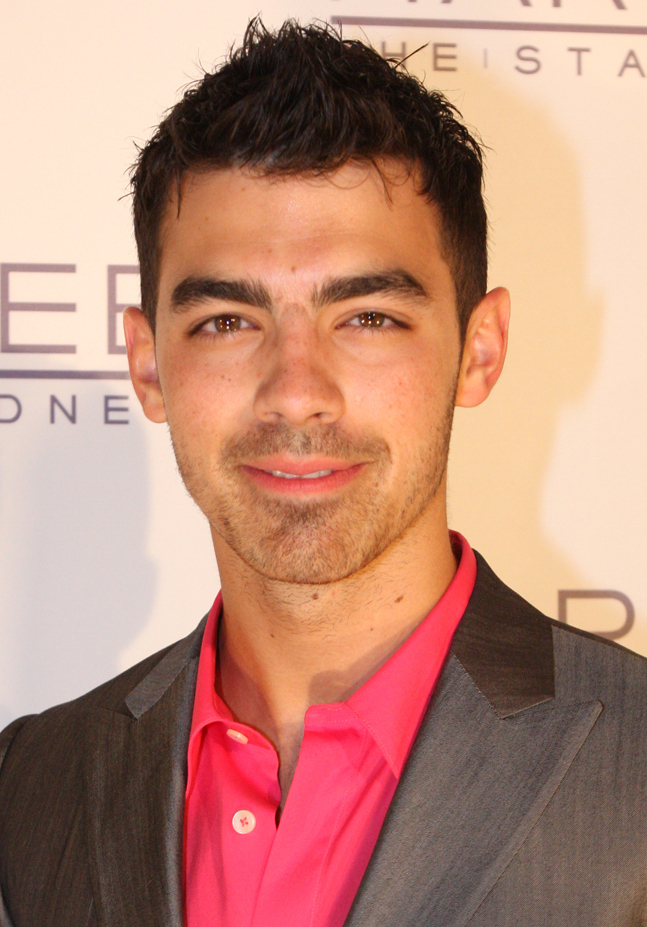 photo source: commons.wikimedia.org
Joe Jonas is the middle child of The Jonas Brothers but far from the black sheep. Born on August 15, 1989, he is 32-years-old and married to actress, Sophie Turner. She's best known for her role in Game of Thrones as Sansa Stark and in X-Men as the Dark Phoenix.
Joe Jonas had very public relationships with fellow pop stars like Taylor Swift in 2008 and Demi Lovato in 2010. When he's not busy as one of the frontmen for the family venture, he's spending his time as the lead singer of his other band, DNCE, founded in 2015. His hit song with the group is called "Cake by the Ocean," which peaked at nine on the Billboard 200 chart. In 2005, when the band was first getting its footing and establishing themselves in the industry, Joe and his brothers recorded "Please Be Mine," their first song ever recorded. Columbia Records president Steve Greenberg signed the three as an ensemble after being impressed by Joe and Nick on vocals.
Did You Know?
After the band officially broke up, Joe Jonas was hard at work searching for musical fulfillment. That search manifested as the group DNCE, which comprised his friends and former touring partners, Jack Lawless and JinJoo Lee. The three then added Cole Whittle, a member of the alt-rock bank, Semi Precious Weapons, to round out the freshman band and make it official.
---
2. Nick Jonas
Age: 29
Height: 5'7"
Children: None
Spouse: Priyanka Chopra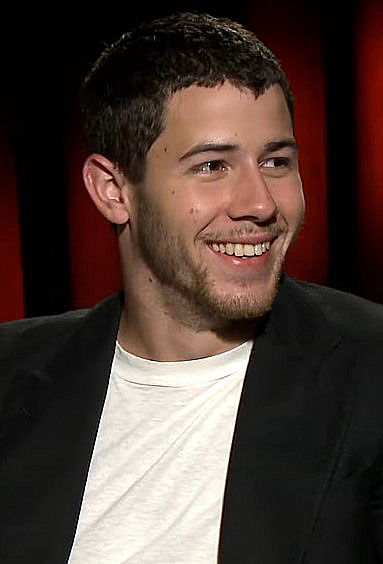 photo source: commons.wikimedia.org
Nick Jonas is technically the youngest of The Jonas Brothers if we define the Jonas bros as just a group. As for the whole family, he doesn't take the number one spot! At 29-years-old, Nick is married to Priyanka Chopra, an Indian actress, model, film producer, and singer. She is also 10 years his senior. They were married in 2018. In terms of commercial success, you could make the case that Nick Jonas has been the most successful. He's starred in major Hollywood blockbusters like Night at the Museum: Battle of the Smithsonian, Midway, Chaos Walking, and Jumanji: Welcome to the Jungle, starring alongside Kevin Hart and Dwayne Johnson.
He and his wife stay involved in philanthropic causes. They've announced their donations to organizations like UNICEF, Feeding America, Goonj, Doctors Without Borders, and No Kid Hungry.
Did You Know?
Nick Jonas was diagnosed with type 1 diabetes at 13-years-old. He's used an insulin pump ever since to cope with his condition. Because of his struggles, he founded the Change for Children Foundation, partnering with several charities with the common goal to raise money and awareness for diabetes. Since August of 2008, Bayer Diabetes Care has partnered with Jonas as a fellow ambassador to help promote the importance of maintaining and tracking your health and managing diabetes.
---
1. Frankie Jonas
Age: 21
Height: 5'4"
Children: None
Spouse: N/A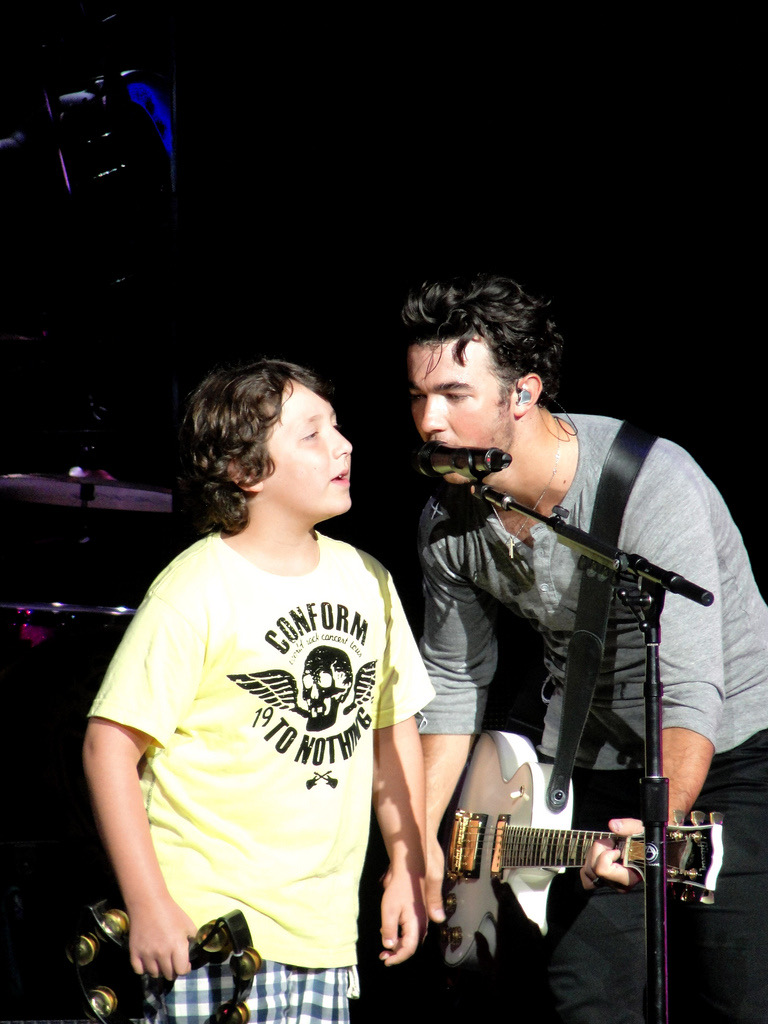 photo source: commons.wikimedia.org
Frankie Jonas is the youngest brother of the Jonas family!
Though Frankie Jonas isn't the youngest member of the group, he is the youngest in the family. He's followed in his brothers' footsteps by showing the same passion for the arts and entertainment. He is a musician and former child actor, beginning his music career in 2017 by posting original music on the music streaming app, SoundCloud. He's become something of a TikTok aficionado, amassing over one million followers. He's signed with UTA, the same agency that represents his brothers.
Showing a true passion for the technical aspect of music, he graduated from the audio engineering program at Blackbird Academy at Blackbird Studios in Nashville. Juggling his online success and his passion for academics, he's done a great job in marrying the two together. He's currently at Columbia University, studying astrophysics and taking academic writing classes. In case his online success fades, his backup plan is to become an astrophysicist. As far as backup plans go, that's not too bad!
Did You Know?
Frankie Jonas was a voice actor in the popular animated film, Ponyo, by the highly respected, internationally acclaimed artist, Hayao Miyazaki. He is a Japanese animator, director, producer, screenwriter, author, and manga artist. Miyazaki is also the co-founder of Studio Ghibli. Other appearances in film by Frankie include The Haunting Hour and Married to Jonas. In March 2021, during an interview and in a TikTok video posted to his account, he spoke candidly about his struggles with substance abuse and suicidal thoughts and the difficult path on the road to reaching sobriety. Coming out on the other side of his struggles for the better, he revealed that the most valuable lesson he's learned is that it's "okay not to be okay."
OTHER POSTS YOU MAY BE INTERESTED IN