Although yoga has been practiced in India for thousands of years, it has picked up steam in the rest of the world in recent years. Yoga is now a world-wide phenomenon and practiced by an estimated 2 billion people. Many people believe that yoga can aid in treating various ailments and help people live longer and healthier lives. A testament to this belief is the fact that many of the best-known yoga teachers lived well into their 90s with a few reaching over 100 years of age. Not only did these yoga teachers have long lives, but they also continued to teach until it was no longer physically possible.
9. Krishna Pattabhi Jois (July 26, 1915 – May 18, 2009)
Last Known Age: 93 years old
Country of Origin: Karnataka, India
Years Teaching: c.1937 – 2009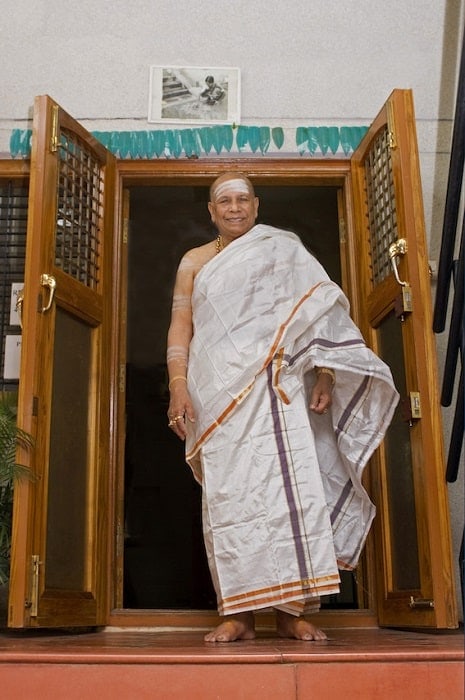 photo source: Wikimedia Commons
Krishna Pattabhi Jois is one of several famous yoga teachers who is credited with helping to spread yoga from India to the West during the 20th century. Jois is also known for popularizing Ashtanga Yoga, which is promoted as a modern form of classical Indian yoga.
When Jois was 12 years old in 1927, he attended a lecture and demonstration by Sri Tirumalai Krishnamacharya and ended up becoming one of his students the next day. Jois studied under Sri Krishnamacharya for two years before running away to Mysore to study Sanskrit. Around the early 1930s, Jois reconnected with Sri Krishnamacharya, who had also moved to Mysore, and started teaching yoga in 1937. The film Guru by Robert Wilkins was made about Jois.
---
8. Vera Paley (October 1922 – Unknown)
Last Known Age: 95 years old in early 2015
Country of Origin: Born in Australia but lives in Florida, USA
Years Teaching: 1982 – 2015 (last known information from 2015)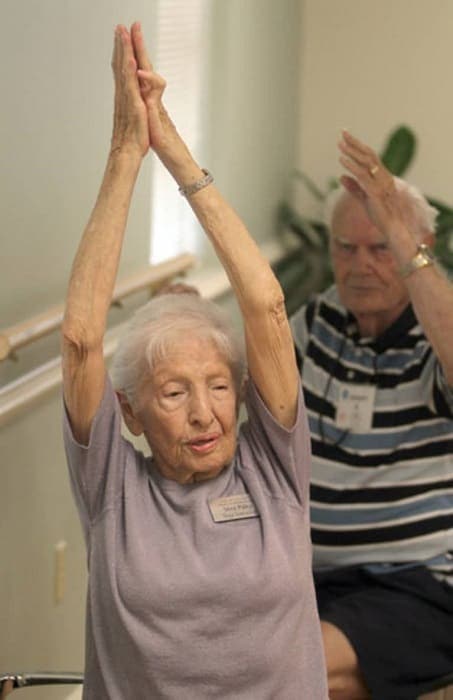 photo source: mindbodygreen.com
When she was 91 in 2011 Vera Paley was featured in online news outlets for being a nonagenarian yoga teacher who taught people with Alzheimer's and other related diseases. In her interview Paley said that she taught classes almost daily at Louis and Anne Green Memory & Wellness Center at Florida Atlantic University.
Paley has been doing yoga since she was in her 50s and started teaching in 1982. According to one source, Paley is an expert in chair yoga, or classical postures modified so they can be done seated on a chair – Paley even made a DVD in 2004 of her teaching her chair yoga techniques. The last time that Paley was interviewed in 2015 when she was 95, she said that she had no intention to stop teaching yoga anytime soon.
---
7. B.K.S. Iyengar (December 14, 1918 – August 20, 2014)
Last Known Age: 95 years old
Country of Origin: Karnataka, India
Years Teaching: 1937 – his early 90s c.2010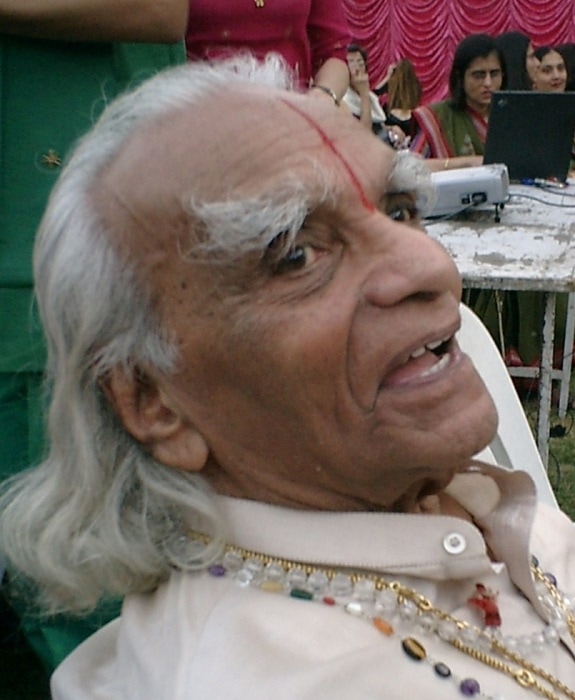 photo source: Wikimedia Commons
B.K.S. Iyengar was a world-renowned yoga teacher who was the founder of the Iyengar Yoga style. Iyengar was one the first students of one of the most famous yoga teachers ever, Sri Tirumalai Krishnamacharya, who was his brother in law. As a child, Iyengar was sickly and weak due to an influenza epidemic in his home town. When Iyengar was 15, Sri Krishnamacharya invited him to Mysore to improve his health through practicing yoga.
After learning yoga from Sri Krishnamacharya for a few years, Iyengar moved to Pune in 1937 when he was 18 years old to teach yoga. Iyengar became famous just like Sri Krishnamacharya and taught yoga to notable people including Aldous Huxley, Queen Elisabeth of Bavaria, Annette Bening, Kareena Kapoor, Donna Karan. In 2004, Iyengar was named one of the 100 most influential people in the world by Time magazine. Iyengar was also honored on December 14, 2015, which would have been his 97th birthday, by being the subject of that day's Google Doodle shown in India, North America, much of Europe, Russia, and Indonesia.
---
6. V Nanammal (February 24, 1919 – Present)
Last Known Age: 99 years old
Country of Origin: Coimbatore, Tamil Nadu, India
Years Teaching: Unknown – Present (sources say nearly her entire life)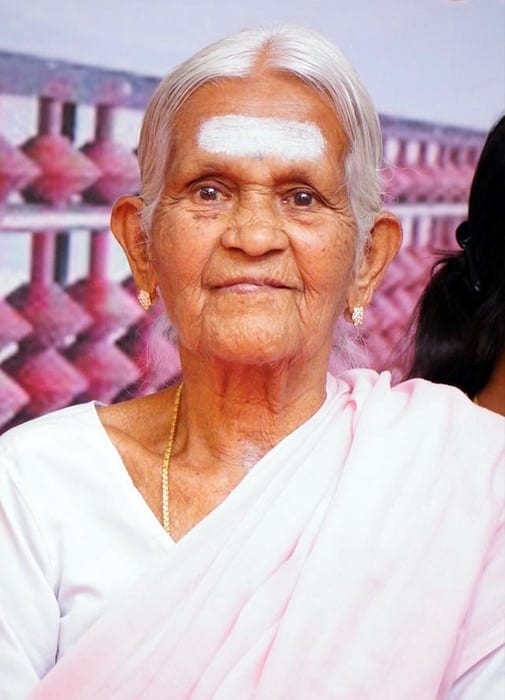 photo source: Wikimedia Commons
V Nanammal is known for being the oldest active yoga teacher in India. Nanammal comes from a family that regularly practiced yoga and her father taught it to her when she was just eight years old. Since then, Nanammal has never stopped doing yoga and has passed the tradition down to her entire family, who are now all full time yoga teachers as well.
Nananmmal's very first student was her mother-in-law after she sprained her ankle and offered to teach her some yoga asana to help with recovery. In 1972, Nanammal and her family established the Ozone Yoga school where they teach yoga following strict traditional rules. Intially, the Ozone Yoga school was only open to Hindus, but Nanammal's family now teaches students from around the world. At one point, Nanammal attempted to get in the Guinness Book of World Records by teaching a class of over 20,000 students at once in Coimbatore.
---
5. Tao Porchon-Lynch (August 13, 1918 – Present)
Last Known Age: 99 years old (will be turning 100 later in the year)
Country of Origin: Born on a ship in the English Channel but lives in the United States
Years Teaching: 1967 – Present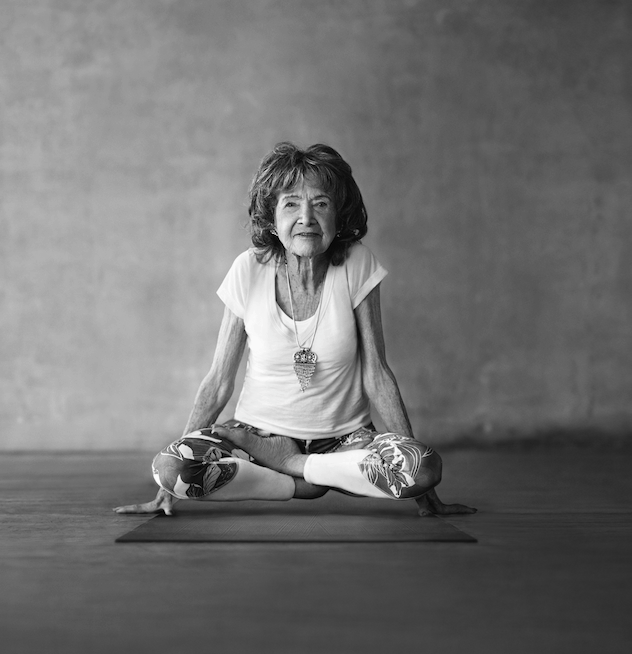 photo source: Huffington Post
Although she is not officially recognized as the oldest yoga teacher in the world (Ida Herbert is named in the official listing) by Guinness World Records, Tao Porchon-Lynch is widely regarded as still holding the title because she still actively teaches. Despite losing her oldest yoga teacher title, Porchon-Lynch recently received another record title as the oldest competitive ballroom dancer in 2017.
Porchon-Lynch, who is of French and Indian descent, first became interested in yoga when she was eight years old and saw people practicing yoga on a beach in India. Fascinated by what she saw, Porchon-Lynch started practicing yoga but did not start teaching until later in her life. In her early adulthood, Porchon-Lynch worked in the entertainment industry as a model and actress. In 1967, she dropped her acting career and decided to become a full-time yogi. Porchon-Lynch eventually became known for teaching yoga to famous Hollywood actors.
---
4. Ida Herbert (August 21, 1916 – Unknown)
Last Known Age: 100 years old in 2016
Country of Origin: Born in England but lived in Ontario, Canada
Years Teaching: 1990 – 2016 (last known information from 2016)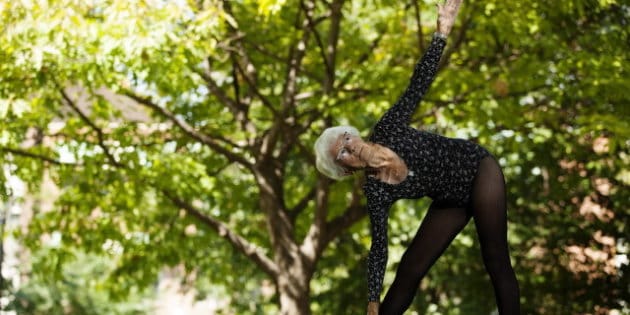 photo source: The Huffington Post Canada
Like several of the people on this list, at one point Ida Herbert was named the oldest yoga teacher in the world by the Guinness Book of World Records. Herbert was recognized for her achievement in 2012 when she was 96 years old. When Herbert celebrated her 100th birthday in 2016, she said that she had retired from teaching yoga full time around 2013 but still taught a weekly class to a group of 70 year old women she calls "Ida's Girls."
Although Herbert dedicated the later part of her life to yoga, she did not start participating in the activity until she was in her 50s. Herbert learned about yoga after seeing a woman at her local gym practicing some asanas. After receiving private lessons from her health club's supervisor, Herbert learned more about yoga through reading books and practicing on her own. Eventually, she was teach yoga at her local YMCA when she was in her 70s.
---
3. Connie Dennison (1915 – Unknown)
Last Known Age: 100 years old in 2015
Country of Origin: North Queensferry, Fife, Scotland
Years Teaching: 1975 – 2015 (last known information is from 2015)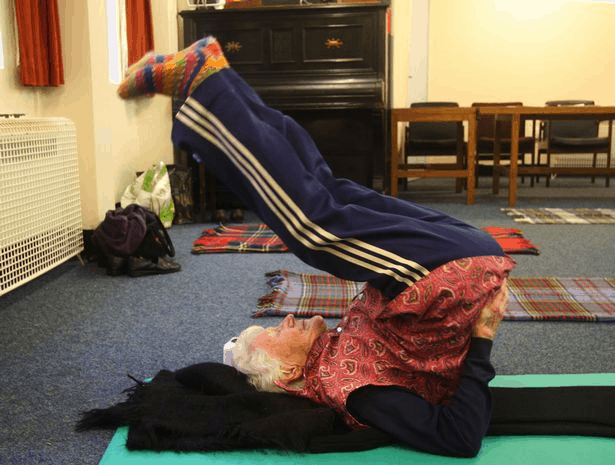 photo source: Daily Record UK
Although her record was recently broken, in 2013, Connie Dennison was recognized by Guinness World Records as the world's oldest yoga teacher at the age of 98. The last time that Dennison was interviewed in 2015, she had just taught a yoga session and said that she hoped she would still be strong enough to teach after she turned 100 later that year.
Dennison was first introduced to yoga around 1965 when she was living in Melbourne, Australia. Although yoga was largely unknown in the Western world at the time, Dennison instantly fell in love with yoga. Dennison brought her love of yoga back with her when she returned to Scotland and she started teaching yoga in the 1970s at her local church. Four generations of Dennison's family practice yoga including her daughter, granddaughter, and great-granddaughter.
---
2. Sri Tirumalai Krishnamacharya (November 18, 1888 – February 28, 1989)
Last Known Age: 100 years old
Country of Origin: Madras, India
Years Teaching: 1920s – 1989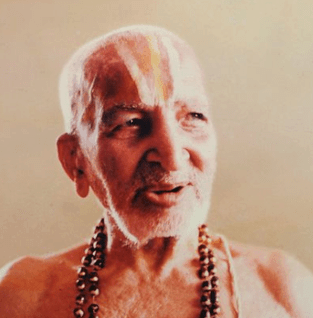 photo source: Wikipedia
Sri Tirumalai Krishnamacharya was a renowned Indian yoga teacher, ayurvedic healer, and scholar. He is often referred to as the "father of modern yoga" and is also widely regarded one of the most influential yoga teachers of the 20th century. Sri Krishnamacharya was well-educated as a child and is a descendant of the legendary yogi and Sri Vaishnava saint Nathamuni.
Sri Krishnamacharya continued both his scholastic and yoga education into his early adulthood. Around the mid-1920s, Sri Krishnamacharya started teaching yoga at the Mysore Palace. He held many demonstrations and renewed the public's interest in yoga. Sri Krishnamacharya continued teaching yoga until he slipped into a coma and died in 1989. Several of Sri Krishnamacharya's best students also become famous yoga teachers.
---
1. Indra Devi (May 12, 1899 – April 25, 2002)
Last Known Age: 102 years old
Country of Origin: Riga, Russian Empire
Years Teaching: c. early 1930s – 2002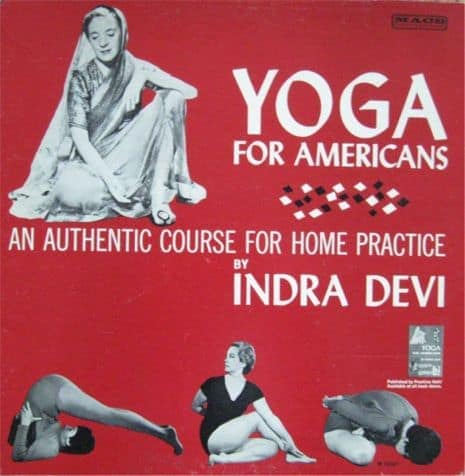 photo source: Wikipedia
Indra Devi (born Eugenie Peterson) who was known as the "mother of western yoga" was the oldest yoga teacher in the world. She passed away in 2002 at the age of 102 and continued to work in some capacity as a yoga teacher until the end of her life.
Devi, who was born to European nobility, learned the art of yoga from the legendary guru Sri Tirumalai Krishnamacharya. Initially, Sri Krishnamacharya refused to teach Devi because she was a Westerner and a woman but she used her connections to the Maharaja and Maharini of Mysore to convince Sri Krishnamacharya to change his mind. Sri Krishnamacharya trained Devi to be a yoga teacher and she is believed to be the first Westerner to teach yoga in India and write a book on the subject. Later in her life, Devi moved to Argentina where she established a foundation to teach her yoga methods.
OTHER POSTS YOU MAY BE INTERESTED IN
---