Tupac Shakur has left an indelible imprint on American and world culture. Tupac was recognized as a transcendent figure and an influential leader in the Black Panther and Civil Rights movement.
His lyrical content spoke to issues of race, violence, police brutality, and unjust laws set in place to subjugate and mistreat the lower class. These are all issues as relevant in 2022 as they were when Tupac took to the recording studio and streets to protest the injustices.
His interest in political activism came from his mother, Afeni Shakur, a prominent political activist and member of the Black Panther Party. For any fans of Tupac Shakur, it's clear that her influence informed the messages in his music, interviews, and any creative endeavor he was involved in.
To learn more about the life and legacy of the man regarded as the greatest, there's no better place to start than at the source – his family. So join us while we look at the Shakur siblings from oldest to youngest.
7. Landon Garland
Landon Garland is the son of William Jefferson "Billy" Garland and half-brother of Tupac Shakur.
No details on Landon's life are presently known.
Did You Know?
Billy died in 1999.
---
6. Chinua Shakur
Chinua Shakur is Tupac Shakur's step-brother.
Details of Chinua's life remain unknown.
Did You Know?
Chinua Shakur is the son of Mutulu Shakur, an American activist and former member of the Black Liberation Army. He is currently 71-years-old and sentenced to serve a 60-year sentence for a 1981 robbery of a Brinks armored truck, resulting in the deaths of a guard and two police officers.
---
5. Mopreme Shakur (August 17, 1967 – Present)
Age (as of May 26, 2022): 54
Born: South Jamaica, New York
Occupation: Rapper
Career Achievement: Member of Thug Life
View this post on Instagram
Mopreme Shakur, also known as Wycked, is the 54-year-old step-brother of legendary rapper Tupac Shakur. He's also a member of the hip-hop group Thug Life (founded by Mopreme and Tupac) and Outlawz.
However, he was forced to drop out from the group after a disagreement with the infamous record label – Death Row Records. We can only assume it had something to do with shady contracts, which Death Row Records was routinely known.
Mopreme made his first notable musical introduction on Tony Toni Toné's single "Feels Good." Three years later, he collaborated with Tupac on "Papa'z Song." As a member of Thug Life, Mopreme played an essential creative role as a songwriter alongside Tupac for the better part of the album Thug Life: Volume 1.
That only album went gold, and the group decided to quit while they were ahead.
The group consisted of Mopreme, Tupac, Big Syke, Macadoshis, and Rated R.
Did You Know?
Mopreme offered his knowledge of the streets, his father, and the life of a gangster as an official consultant for a single episode on the BET series American Gangster.
---
4. Tupac Shakur (June 16, 1971 – September 13, 1996)
Age (On Death): 25
Born: East Harlem, New York
Occupation: Rapper, Actor
Career Achievement: Sold over 75 million records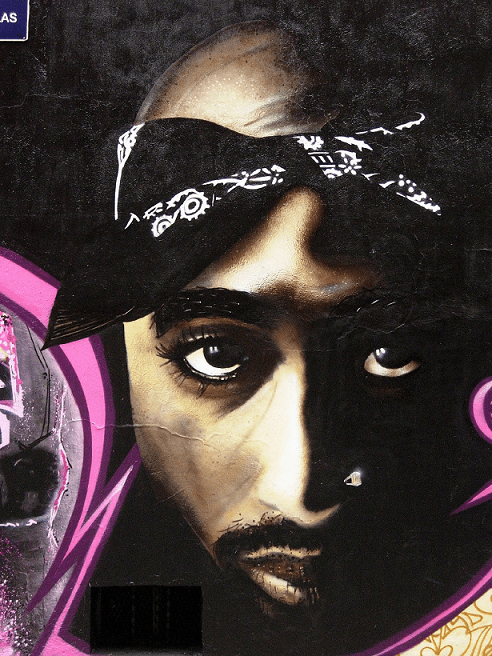 photo source: Flickr via jlmaral
Tupac Shakur was a rapper, actor, and activist, often referred to as the greatest rapper there ever was. Known as much for his political involvement as his musical career, he's solidified himself in pop culture immortality with his timeless catalog, introspective lyrics, and near-prophetic visions for the political climate of the future.
Shakur was born in New York and raised by parents who were active members of the Black Panther Party. Primarily raised by his mom, Afeni, the two relocated to San Francisco in 1988. Tupac credited the Bay Area as an inspiration in developing his unique sound.
On top of the several accolades he's won for his music, he also found his niche as an actor, starring in films like Juice, Above the Rim, Poetic Justice, Bullet, and Gang Related. Poetic Justice is considered his best role, starring as the love interest of pop sensation Janet Jackson.
Tupac suffered his fair share of physical violence thanks to gang affiliations and as part of the inevitable result of the rivalry between east and west coast music. Before his fatal encounter with still-unidentified gunmen on September 7, 1996, in Las Vegas, he was shot five times in the lobby of a New York recording studio.
His assassination is clouded in conspiracy, mystery, and unanswered questions. His death sent shockwaves beyond the music industry, and several stars and public figures mourned the loss of a transcendent figure in our culture.
Did You Know?
Tupac's life was chronicled in the 2017 biopic All Eyez on Me – the name of his fourth album, which debuted on February 13, 1996. That album made history as rap's first double album, contractually fulfilling two of the three albums he was supposed to release for Death Row Records. The biopic starred Demetrius Shipp Jr., who has strikingly similar features to the late rapper.
Tupac had no children in his young life. He is survived by his six siblings, who live to keep his memory and legacy alive, carrying forward his message of equality, love, and the fight against social injustice.
---
3. Sekyiwa "Set" Shakur (1975 – Present)
Age (as of May 26, 2022): 47
Occupation: Activist
Career Achievement: Activism
View this post on Instagram
Sekyiwa Shakur has carried the torch of her late brother and continued the fight against corruption and racism in America. She and Tupac share the same mother — Afeni Shakur. They were close in childhood, growing up together in Harlem, New York. Aside from her appearances in various protests, she stays out of the public eye.
Sekyiwa runs the Tupac Amaru Shakur Foundation based in California. The foundation offers services for mental health, creative arts, and families who have been affected by incarceration.
Did You Know?
Sekyiwa made headlines when she was spotted at the protest for George Floyd in 2020, who was another man killed by excessive police force. She spoke to thousands who gathered to honor his memory and use his untimely passing as a vehicle to voice their discontent with the complacency of our political figures in allowing these incidents to continue.
"We are worthy," she remarked in her speech. "We are not disposable. Each one of you is just as precious as George Floyd, as Tupac Shakur." Distraught from the tragedy, she collapsed into the arms of her friends before being taken away.
---
2. Nzingha Shakur (May 16, 1981 – Present)
Age (as of May 26, 2022): 41
View this post on Instagram
Nzingha Shakur is the daughter of Mutulu Shakur and Makini Shakur.
She is the 41-year-old stepsister of Tupac Shakur.
Did You Know?
Nzingha lives a quiet life much like the rest of the Shakur family, aside from their vocal support for various political causes they deem worthwhile. As far as we know, there is no social media presence for Nzingha.
---
1. Takerra Allen (1984 – Present)
Age (as of May 26, 2022): 38
Occupation: Author
Career Achievement: African-American Literary Award Nomination
View this post on Instagram
Takerra Allen is the youngest sibling in the Shakur family!
It's believed that Takerra is thirteen years younger than her late brother, making her 38-years-old. A successful writer like her brother, she's the author of 17 books, even earning a Literary Award nomination for her novel, Heaven's Hell.
She's published with Kensington Books and co-owner of ASP Films, which she used to adapt Heaven's Hell into an independent film.
Did You Know?
You can find Takerra on Instagram, where she has over 7,000 followers.
OTHER POSTS YOU MAY BE INTERESTED IN