Steve Aoki's rise to music prominence isn't your typical story of struggle and financial hardship, downtrodden by an unforgiving industry and on the cusp of calling it quits, but finally experiencing the big break that saves a career. But that doesn't make it any less unique. Aoki has been a household name in the electronic music underground and mainstream for over a decade.
Steve Aoki is the son of Rocky Aoki – the founder of the Japanese restaurant chain Benihana. Joined by six siblings, the Aoki family is tied to two worlds – music and cuisine.
Today we wanted to take a closer look at Steve and his family as we rank the Aoki siblings from oldest to youngest!
7. Echo V. Aoki
Echo Aoki is the oldest of Steve Aoki's siblings. Personal and professional information about Echo is not available.
---
6. Jenifer Crumb
Personal and professional information on Jenifer Crumb is unknown.
---
5. Kyle N. Aoki
Personal and professional information on Kyle Aoki is unknown.
---
4. Kana Grace Nootenboom (January 1, 1968 – Present)
Age (as of August 25, 2022): 54
Personal and professional information on Kana Grace Nootenboom is unknown. Kana is the daughter of Rocky Aoki and Chizuru Kobayashi.
---
3. Kevin Aoki
Age (as of August 25, 2022): N/A
Born: N/A
Occupation: Restaurateur
Known For: Brother of Steve Aoki
View this post on Instagram
Kevin Aoki is the son of Rocky Aoki and Chizuru Kobayashi. Like his father, Kevin has assumed the mantle in the Aoki family as a restaurateur and partner with his brother Steve.
Together, they continue a prestigious legacy that began when their father founded the award-winning and fan-favorite restaurant chain Benihana, famous for its interactive and up close and personal cooking experience.
Kevin and Steve opened Kuru Kuru Pa, a relaxed, casual-style chicken yakitori restaurant at Resorts World's Famous Foods Street Eats. Their goal is to achieve for yakitori what their father did for teppanyaki.
By all accounts, they're on the right track toward a Japanese cuisine takeover of American culture by embracing the pillars of Japanese culture like anime and manga and infusing it into the restaurant itself.
"We want the Japanophiles to come and spread the gospel. It's about the cult of it. We want to get to the core, and we want to break open chicken yakitori in America," said Steve Aoki.
Did You Know?
Kevin's difference in personality and skillset has made for a successful collaboration between the two brothers, who have remained close their entire lives. "I am different from my dad," said Kevin. "I am more of an operations guy, my dad was more of an entertainer. Steve has that entertaining spirit. My dad loved being in front of everything. When the cameras came on, he would light up. When they turned off, he'd fall asleep."
---
2. Steve Aoki (November 30, 1977 – Present)
Age (as of August 25, 2022): 44
Born: Miami, Florida
Occupation: DJ, Producer, Executive, Businessman, Music Programmer
Known For: Electronic Dance Music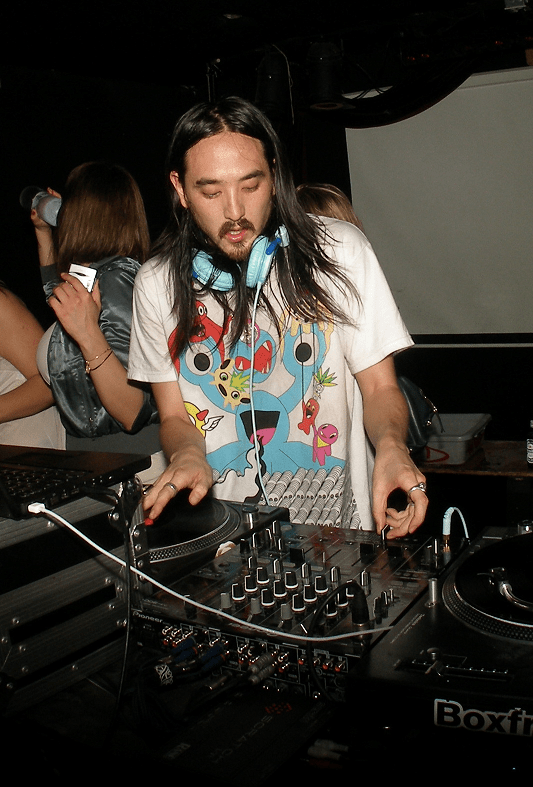 photo source: Wikimedia Commons
Steve Aoki is a multi-faceted, multi-talented, multi-award-winning DJ and record producer best known for his collaborations with other acclaimed artists and groups like Fall Out Boy, Kid Cudi, BTS, blink-182, Rise Against, and more.
Among his several Billboard charting albums, Wonderland was nominated for a Grammy Award for Best Dance/Electronica Album in 2013.
Aoki comes from a charmed background as the son of Rocky Aoki, who we now know as one of the most successful restaurateurs in the world and whose legacy we still interact with today.
Beyond music, Steve has always had an insatiable appetite for learning. He graduated from the University of California, Santa Barbara, with two B.A degrees in feminist studies and sociology. While pursuing his education, he moonlit as a producer and ran underground concerts in the universities student housing section.
By his early 20s in 1996, he had his own record label, Dim Mak Records, which was a reference to his childhood idol, Bruce Lee. Taking a page out of his father's book of showmanship, Aoki is just as praised for his live show atmosphere as he is for the music itself.
His entrepreneurial spirit has placed him in every arena of entertainment, between video games, television, and music videos. An avid gamer, Aoki became co-owner of Rogue, an esports company based in Berlin, Germany.
Steve's fortune and time are put to good use, as Aoki is involved with several charities and placed No. 1 on EDM.com's list of 11 most charitable EDM producers. He's the founder of Steve Aoki Charitable Fund, which raises money for humanitarian organizations and medical research.
Did You Know?
In 2019, Steve Aoki published his memoir, Blue: The Color of Noise. It offers an intimate account of the highs of being one of the premier DJs in the world, along with the sacrifices in personal relationships it cost him during his ascent.
---
1. Devon Aoki (August 10, 1982 – Present)
Age (as of August 25, 2022): 40
Born: New York, New York
Occupation: Actress, Model
Known For: 2 Fast 2 Furious
View this post on Instagram
Devon Aoki is the youngest of the Aoki siblings at 40-years-old!
Devon Aoki is the daughter of Rocky Aoki and Pamela Hilberger. Apart from being the little sister to an acclaimed producer and DJ, Devon has made her career as a model and actress. She's best known for supporting roles in 2 Fast 2 Furious and Sin City. As a model, she made her debut in 1997 and worked for prestigious brands like Chanel and Balenciaga.
By 16, she even replaced Naomi Campbell as the face of Versace. For anyone that knows how notoriously competitive and in-demand Naomi Campbell was in her prime, Devon's ascent to the top of the modeling food chain at the expense of its golden girl put her in the sights of several companies that were desperate to work with her.
She's considered "one of the most recognizable alternative faces of the 90s," according to Dominic Cadogan of Dazed magazine.
Did You Know?
Devon is married to James Bailey. They have four children, which prompted her to retire to focus on the full-time job that is motherhood.
OTHER POSTS YOU MAY BE INTERESTED IN