Rami Malek is a famous actor mostly known for his interpretation of Freddie Mercury in the movie Bohemian Rhapsody. He is the son of Nelly Abdel-Malek and Said Malek, two immigrants originally from Egypt. His father used to work as a travel agent but tour guide and decided to leave his native country when Rami's oldest sibling was still very young.
Together with his family, he settled in Sherman Oaks, where his wife got pregnant with twins. The couple raised their three children in the Coptic Orthodox Christian faith and spoke to them in Egyptian Arabic.
While Rami decided to pursue a career as an actor, his two siblings took a completely different direction. Would you like to know more about this family? Then keep reading! We created a list of Rami Malek's siblings ranked oldest to youngest.
3. Yasmine Malek (late 70s – present)
Current Age (as of November 2022): 42-47 Years Old
Occupation: Medical doctor
Birthplace: Egypt
Yasmine Malek is Rami's oldest sibling and only sister. We are not sure of the exact date of her birth, but we know for certain that she's older than Rami and Sami as she was born in the late 70s in Egypt.
Unlike her brother Rami, Yasmine chose to stay away from the media attention and pursued a medical career. She is an avid student and has two degrees. Yasmine got her first one from an undisclosed university before proceeding to study medicine at the University of California, in Los Angeles.
She then did a fellowship at the Shock Trauma Unit at the University of Maryland Medical Center. After all the years of studies, Yasmine is now a practicing emergency room physician.
Yasmine loves both her brothers and the three seem to have a close bond. Not by chance, they were seen together at multiple events, including red carpet occasions. Yasmine was seen together with her brother Rami at movie premieres and Hollywood parties.
Rami's oldest sister got married to George Koumoudis on July 29, 2016. Her husband is a successful entrepreneur working in the roofing industry with over 19 years of experience in the field. In 2002, he also founded SGK Contracting, an American contracting service.
Did You Know?
Jasmine's wedding made the news because of Rami's celebrity status. The bride chose to be accompanied to the altar by both her brothers and several celebrities attended the celebration.
---
2. Rami Malek (May 12, 1981 – present)
Current Age (as of November 2022): 41 years, 5 months, 23 days
Occupation: Actor
Birthplace: Torrance, California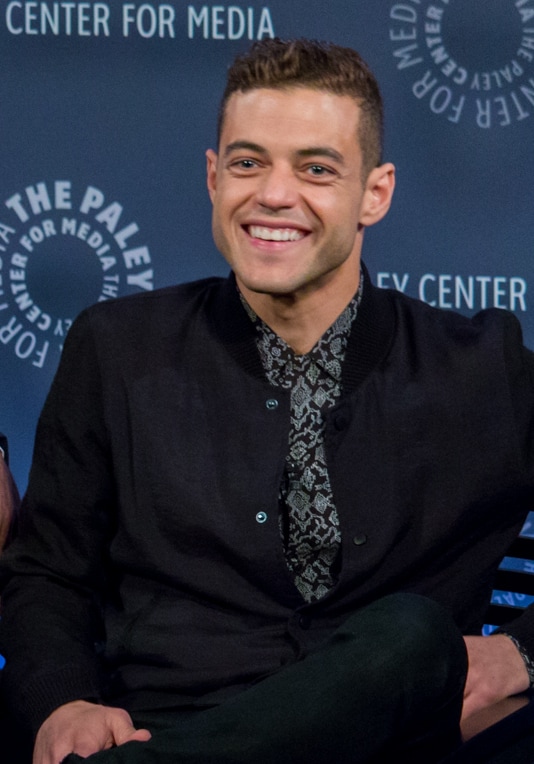 photo source: commons.wikimedia.org by Dominick D
Rami Malek was born in 1981 and is currently 41 years old. This actor is mostly known for being the leading character in the movie Bohemian Rhapsody which came out in 2018.
Thanks to his role, he was awarded an Academy Award, a Golden Glove, a British Academy Film Award, as well as a Screen Actors Guild Award for best actor.
But this movie did not only revolutionize Rami's career. It also changed his love life. In fact, following the film's release, this Hollywood star started to date Lucy Boynton, who played the role of Mary Austin in the movie. Mary was one of Freddie Mercury's best friends and the two have been in a relationship for several years.
Did You Know?
Rami declared that one of his favorite things about living in New York is meeting strangers and learning about their lives.
---
1. Sami Malek (May 12, 1981 – present)
Current Age (as of November 2022): 41 years, 5 months, 23 days
Occupation: Educator
Birthplace: Torrance, California
Sami is Rami Malek's youngest sibling, as he was born in May 1981. The two are identical twins, but Sami is four minutes younger than his famous brother.
Similarly to his sister, Sami decided to stay away from the entertainment industry and pursued a career in education.
According to records, he has two majors, one in American Literature & Culture and one in African American Studies. Similarly to Yasmine, following his brother's success in the movie Bohemian Rhapsody, Sami took part in several Hollywood events together with his siblings.
Did You Know?
Sami started his career working for the non-profit organization Teach for America.
OTHER POSTS YOU MAY BE INTERESTED IN