Diana, Princess of Wales, is a name that brings the whole scope of emotion for people that grew up around the same time she was on the front cover of every national media publication, capturing the hearts of millions from every corner of the globe.
People fell in love with her refreshingly relatable persona in an environment which was everything but relatable.
Diana threw away traditional norms of decorum when representing the royal family. For as much respect and adoration that got her amongst the people, earning her the unofficial title "the people's princess," she dealt with scrutiny from the press and psychological warfare behind closed doors.
Life was far from the projected image of glitz and glam. For those curious to learn more about the life and legacy of one of Britain's most iconic figures, join us because we'll be learning more about Diana and her five siblings as we rank them from oldest to youngest!
6. Lady Sarah McCorquodale (March 19, 1955 – Present)
Age (as of July 18, 2022): 67
Born: United Kingdom
Occupation: Former High Sheriff of Lincolnshire
Known For: President of the Diana, Princess of Wales Memorial Fund
Lady Sarah McCorquodale is the 67-year-old older sister of Princess Diana. She was born as "The Honourable," and didn't earn her title as "Lady" until 1975. Lady Sarah was known for having a bit of a promiscuous inclination and wasn't shy about sharing her exclusive inside scoops as a member of the Royal Family with the press.
Sarah kept a scrapbook containing clippings from her favorite press headlines about her several romances, which she's saved to show her future grandchildren. She needs proof that grandma used to be fun!
Did You Know?
McCorquodale played a pivotal role in shaping the future of world history, as hindsight would have it. In step with her flirtatious personality, Sarah was actually the first to start a romance with Prince Charles, and because of her, he met Diana. She commented on her sister's marriage to take credit, saying, "I introduced them. I'm Cupid."
To see pictures of Lady Sarah, click here.
---
5. Cynthia Jane Fellowes, Baroness Fellowes (February 11, 1957 – Present)
Age (as of July 18, 2022): 66
Born: United Kingdom
Occupation: Baroness
Known For: Sister of Princess Diana
Cynthia Jane Fellowes is the 66-year-old sister of Princess Diana and daughter of John Spencer and Frances Kydd. She and her sister Sarah were the subjects of speculation surrounding their relationship with Diana after she passed away.
Diana's butler Paul Burrell claimed that their relationship soured due to her husband's position as secretary to the Queen, whom Diana was at odds with during her tenure.
Jane attended Prince William and Kate Middleton's wedding in 2011 and Prince Harry and Meghan Markle's wedding in 2018. She is the godmother of Prince William's daughter, Princess Charlotte.
Did You Know?
Jane married Robert Fellowes in 1978, who was then an assistant private secretary to the Queen. They have three children – Laura, Alexander, and Eleanor Fellowes.
To see pictures of Baroness Fellowes, click here.
---
4. John Kydd (May 2, 1959 – Present)
Age (as of July 18, 2022): 63
Born: United Kingdom
Occupation: Photographer
Known For: Stepbrother of Diana
John Shand Kydd is the 63-year-old stepbrother of Princess Diana and son of Peter Shand Kydd and Janet Munro Kerr. He studied art at Exeter University but by graduation, came to the realization that art wasn't going to be his greatest strength, stating: "There's so much crap art around, and what's the point of being a mediocre artist?"
In his defense, is there any great artist on this planet who isn't his or her harshest critic?
Nevertheless, John never lost his passion for the arts and channeled his creative energy through the lens of photography. After selling 19th-century paintings for several years at Bond Street art gallery, he took pictures of his artist friends and others in the creative space.
Soon enough, his work was collected and appeared in a book titled Spit Fire, which the National Portrait Gallery used to showcase 42 of his prints.
Did You Know?
Kydd has published three books featuring his portraits. They are Spit Fire: Photographs from the Art World (1996/97), Crash (2006), and Siren City (2009). The latter is the result of eight years of his time in Naples – a place he describes as one of the most radical cities in Europe.
---
3. John Spencer (January 12, 1960 – January 12, 1960)
Age (as of July 18, 2022): 0
Born: United Kingdom
Occupation: N/A
Known For: N/A
John Spencer was the son of Edward John Spencer and Frances Shand Kydd. Unfortunately, John passed away just 10 hours after his birth.
---
2. Diana Frances Spencer (July 1, 1961 – August 31, 1997)
Age: 36
Born: United Kingdom
Occupation: Princess of Wales
Known For: Member of Royal Family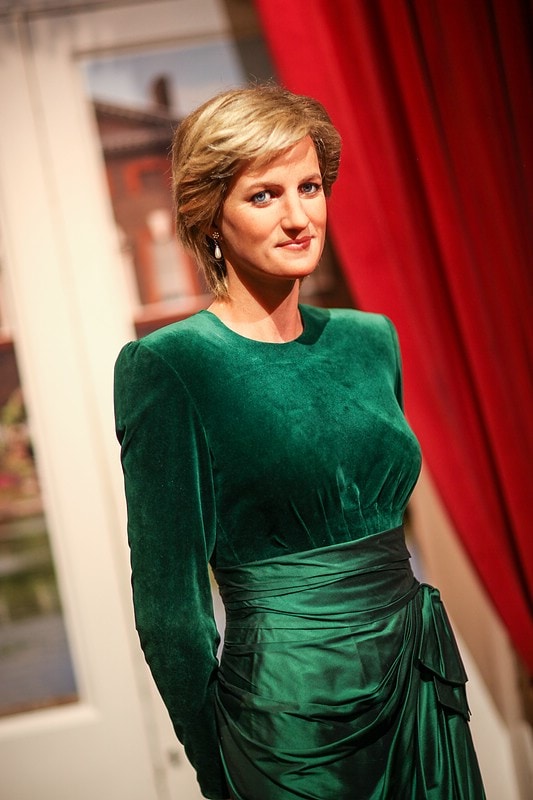 photo source: commons.wikimedia.org
Diana, Princess of Wales, was dubbed "The People's Princess." Despite being born into British nobility, public perception painted her as someone based in the real world, searching for normalcy in a fantasy.
Her rebellious nature and disregard for some of the royal customs put her in favor of the people. But in the eyes of the Royal Family and even her husband, this was cause for division.
Her duties were on behalf of the Queen as her representative for the numerous functions they attended. Her involvement in charity work gained a lot of praise because instead of simply throwing money from a distance, Diana was up close and personal and exuded a motherly quality that everyone could feel.
During the uptick in AIDS, misinformation and fear were rampant, given how unfamiliar the illness was.
There was a theory in the media that AIDS spread through contact as simple as a single touch, so it was custom to wear protective equipment when visiting patients. However, Diana, unfazed by the media's propaganda campaign of fear, was famously seen hugging and touching AIDS-afflicted patients and sharing laughs and smiles with them.
This image became iconic in encapsulating how many felt about Lady Diana.
In 1986, Diana started an affair with James Hewitt, a former riding instructor for the family, and Charles resumed a relationship with his former girlfriend, Camilla Bowles. One year later, rumors of Diana and Charles's rocky relationship began to control the headlines.
Her marriage to Prince Charles fell apart in 1996 due to their philosophical differences and extramarital affairs.
The activism, conspiracy, and complex private life created a perfect storm that turned her into one of the world's icons. She transcended politics as a troubled figure, hated by some as much as she was loved by others.
As time has passed, books and films have been made documenting her tumultuous life and even revealed a suicidal level of unhappiness and isolation she felt during the 80s and 90s.
When she passed in a car accident while fleeing paparazzi, it was no surprise conspiracy and accusations of MI6 involvement were thrown around, given how public the rift between her and the top brass of the Royal Family was.
Did You Know?
Princess Diana is survived by her two children – Harry and Prince William. Harry had a contentious public exit from his duties as a member of the Royal Family after disagreements he had over their criticism of his partner, Meghan Markle, and unresolved issues with the way his mother was treated during her time as a princess.
---
1. Charles Spencer (May 20, 1964 – Present)
Age (as of July 18, 2022): 58
Born: United Kingdom
Occupation: Author, Journalist, Broadcaster
Known For: Brother of Princess Diana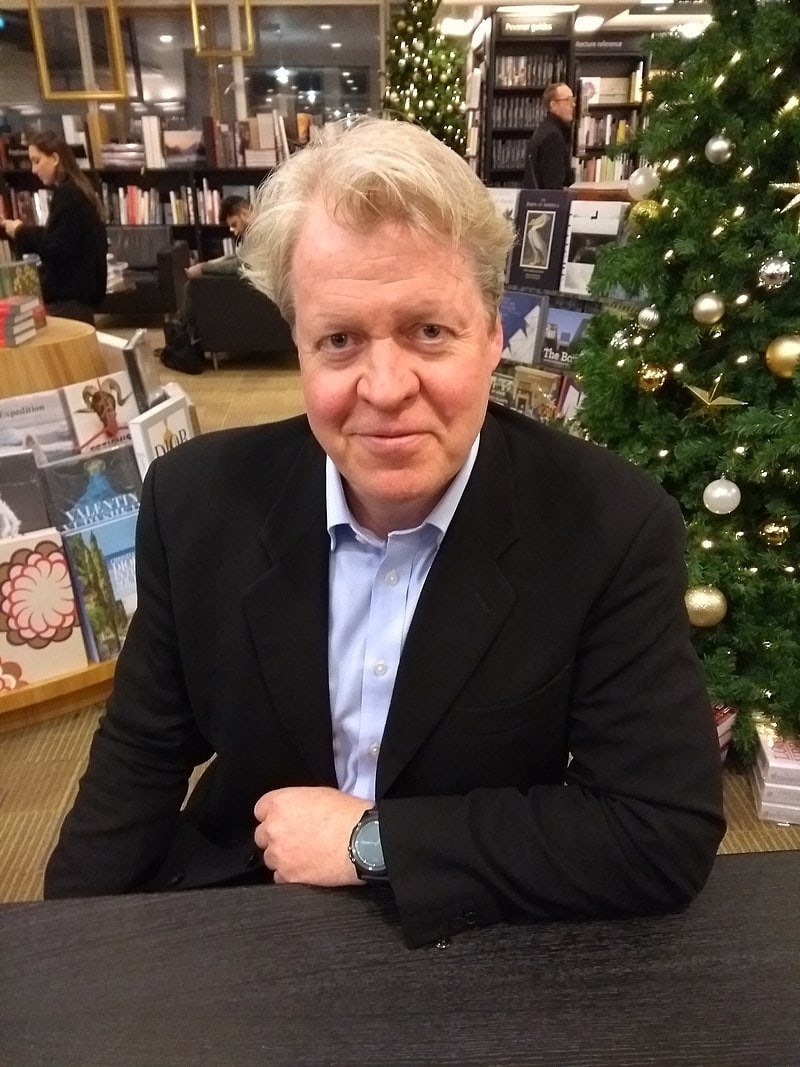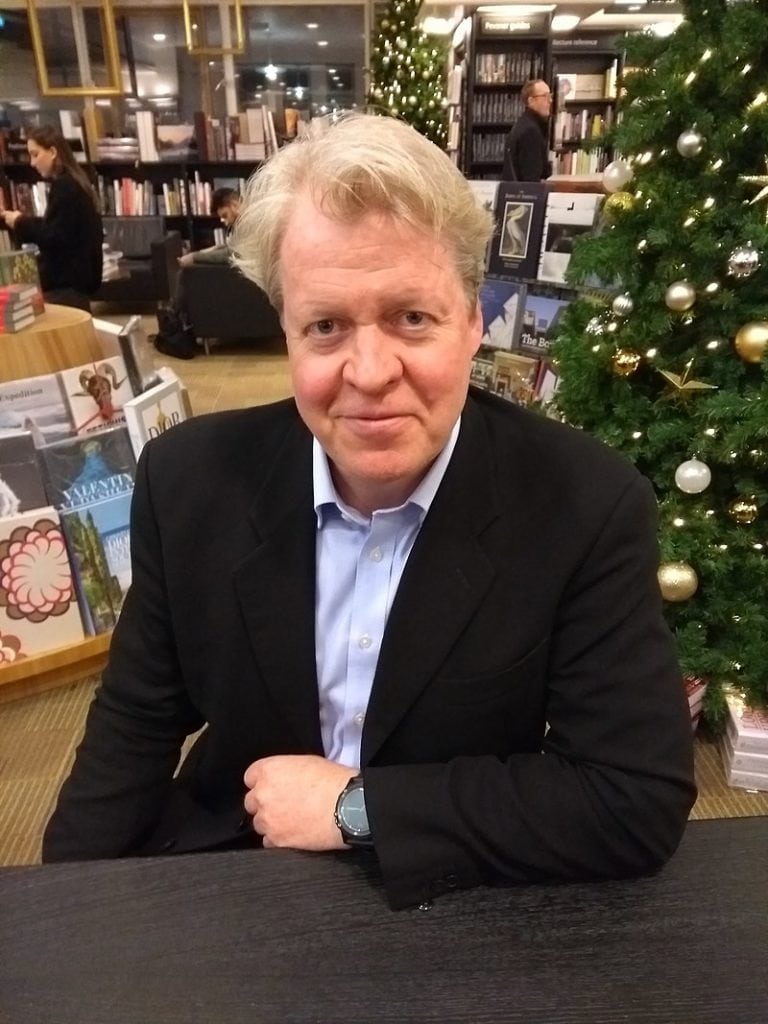 photo source: commons.wikimedia.org
Charles Spencer is the youngest of Princess Diana's siblings at 58-years-old!
Charles is a journalist, broadcaster, author, and uncle to Prince William and Prince Harry, but he will forever be known as the little brother of Diana Spencer. He worked as an on-air personality for NBC News and Today.
In his eulogy for his sister six days after her death in Paris, he criticized the Royal Family and the press for their mistreatment of Diana.
Did You Know?
Spencer has been married three times. He has four children with Victoria Lockwood – Kitty, Eliza, Katya, and Louis Spencer, and another two with Caroline Freud, Edmund, and Lara Spencer. He's currently married to Karen Gordon, a Canadian entrepreneur, and CEO of Whole Child International.
OTHER POSTS YOU MAY BE INTERESTED IN