Do you like football? Are you a fan of the Indianapolis Colts or the Denver Broncos? Then you've surely heard of Peyton Manning! Known for his amazing football career, Peyton is, without a doubt, one of the best football players of all time.
Born to Archie Manning and Olivia Williams, Peyton grew up together with his two siblings. Archi was born in a football household as his father was a former quarterback who played in the NFL, primarily with the New Orleans Saints, for 13 seasons!
Not surprisingly, Peyton's brothers also decided to pursue a football career, but unfortunately, it did not go too well for one of them. Are you curious to know who we are referring to? Would you like to know more about this topic? Then keep reading!
We created a list of Peyton Manning's siblings ranked oldest to youngest.
3. Cooper Manning (March 6, 1974 – present)
Current Age (as of December 2022): 48 years, 9 months, 1 day
Profession: Employer at AJ Capital Partners
Birthplace: New Orleans, Louisiana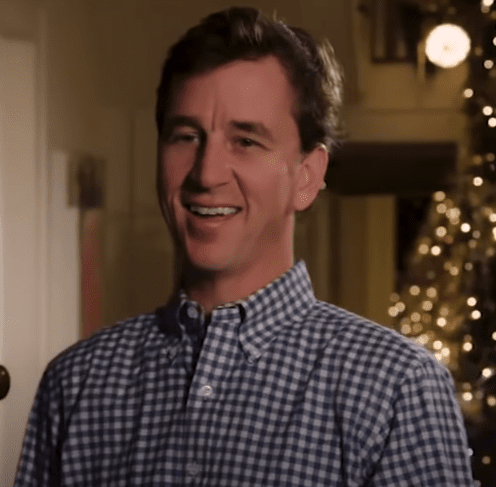 photo source: commons.wikimedia.org
Cooper Manning is Peyton's oldest sibling, who was born in 1974 and is currently 48 years old. He is the first child of Archie and Olivia Manning and played football as a wide receiver in a private institution known as Isidore Newman School.
Cooper soon distinguished himself in high school and decided to attend the University of Mississippi, but things were about to change quickly. A few months before the beginning of the academic year, Cooper started to feel numbness in his toes and fingers.
He, therefore, went to the Mayo Clinic in Rochester, Minnesota, where he was diagnosed with spinal stenosis. This disease consists of a narrowing of the spinal canal resulting in pressure on the spinal cord or nerve roots. Unfortunately, as a consequence, Cooper was forced to abandon his football career.
Cooper soon had to reinvent himself. He first worked as a partner of an energy investment boutique known as Scotia Howard Weil. But Cooper missed sports, and that's why, later in life, he also started to work in the media, hosting his segment on The Dan Patrick Show, a radio and television sports talk show.
His segment was called 'Manning on the Street.' In 2015, he also joined the broadcast team of Fox NFL Kickoff, which serves as the secondary pregame show for the NFL under the NFL on Fox brand. Since 2016, Cooper has been working with AJ Capital Partners as senior managing director of investor relations.
Did You Know?
Cooper is married to his wife Ellen and has three kids, two sons, and a daughter. All his children are sports enthusiasts. For instance, his younger son, Heid, plays center at Isidore Newman School, while his daughter May won the Louisiana State Volleyball Championship with the Sacred Hearth team in 2020. His son Arch also plays quarterback at Isidore Newman School.
---
2. Peyton Manning (March 24, 1976 – present)
Current Age (as of December 2022): 46 years, 8 months, 14 days
Profession: Professional Football Player
Birthplace: New Orleans, Louisiana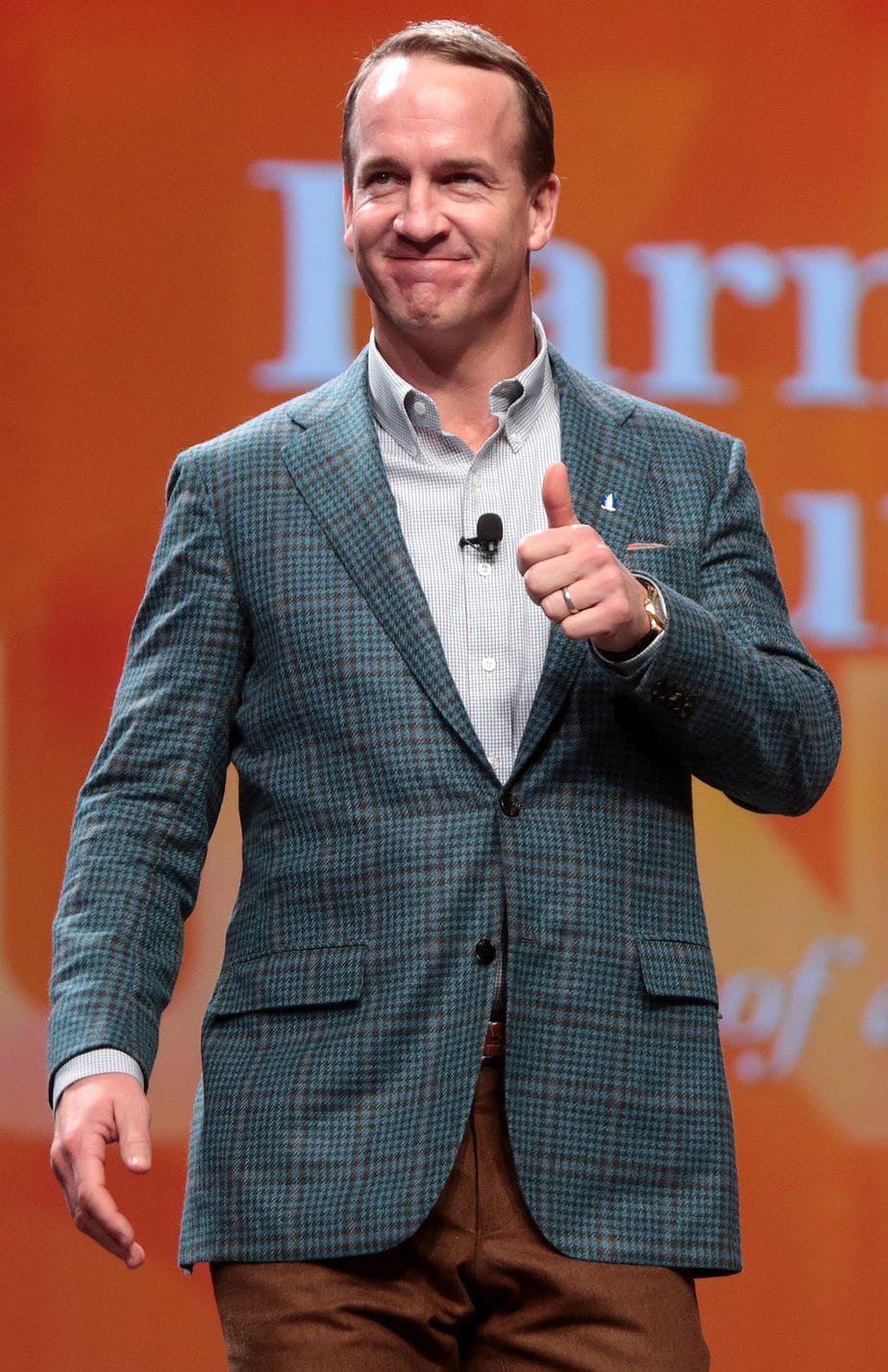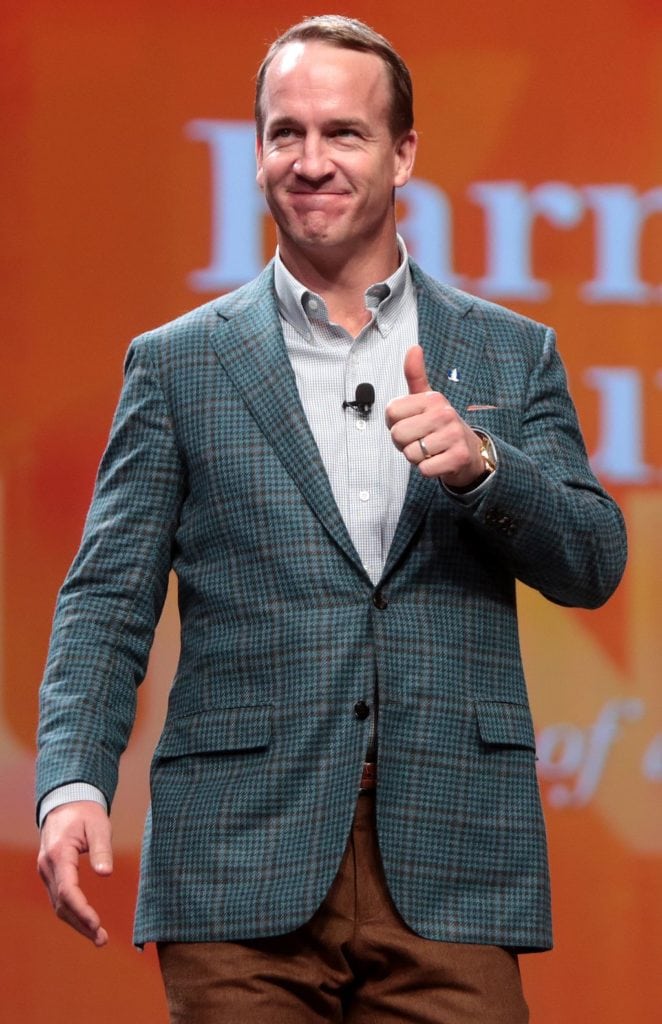 photo source: commons.wikimedia.org
Peyton Manning was born in 1976 and is currently 46 years old. He is a former football quarterback who played in the NFL for a total of 18 seasons.
Peyton went to Isidore Newman School, where he was named Gatorade Circle of Champions National Player of the Year.
In high school, he wore the #18 jersey in honor of his older brother, Cooper, who had to retire from football due to a spinal injury. He then chose the University of Tennessee Volunteers, where he trained under coach Phillip Fulmer.
During the 1998 NFL Draft, he was chosen by the Indianapolis Colts for which he played as a quarterback from 1998 to 2010. During these years, he greatly helped the team leading them to 11 playoff runs, three AFC Championship Games, two Super Bowl appearances, and one championship title in Super Bowl XLI.
Unfortunately, in 2011 Peyton had an operation on his neck and was released by the team. He soon signed with the Denver Broncos, for which he played for three years, from 2012 to 2015. Despite his operation, Peyton remained an amazing player and helped the team reach two Super Bowls.
Peyton married his wife, Ashley, in 2001 on St Patrick's day. The two had twins, a daughter called Mosley and a son named Marshall. The family lives in Denver, Colorado.
Peyton is also a philanthropist. Soon after starting his professional career, he launched his charity organization called Peyback Foundation. This nonprofit operates in Louisiana, Colorado, Indiana, and Tennessee and helps disadvantaged kids.
Peyton also served as a volunteer in the wake of Hurricane Katrina, assisting in delivering 30,000 pounds of water, pillows, diapers, baby formula, and Gatorade to the people of New Orleans.
Did You Know?
Peyton was nicknamed 'The Sheriff' and was the first starting quarterback to win the Super Bowl for more than one franchise.
---
1. Eli Manning (January 3, 1981 – present)
Current Age (as of December 2022): 41 years, 11 months, 4 days
Profession: Professional Football Player
Birthplace: New Orleans, Louisiana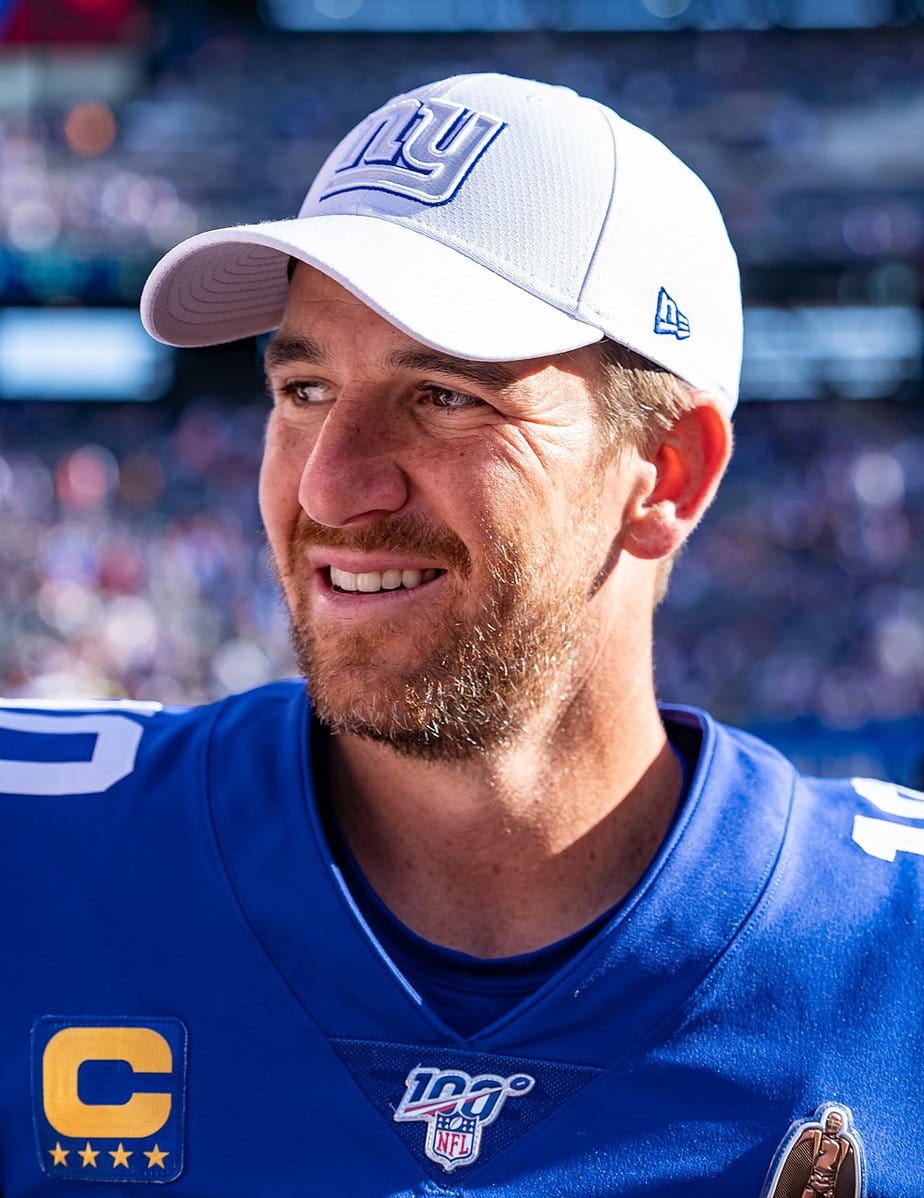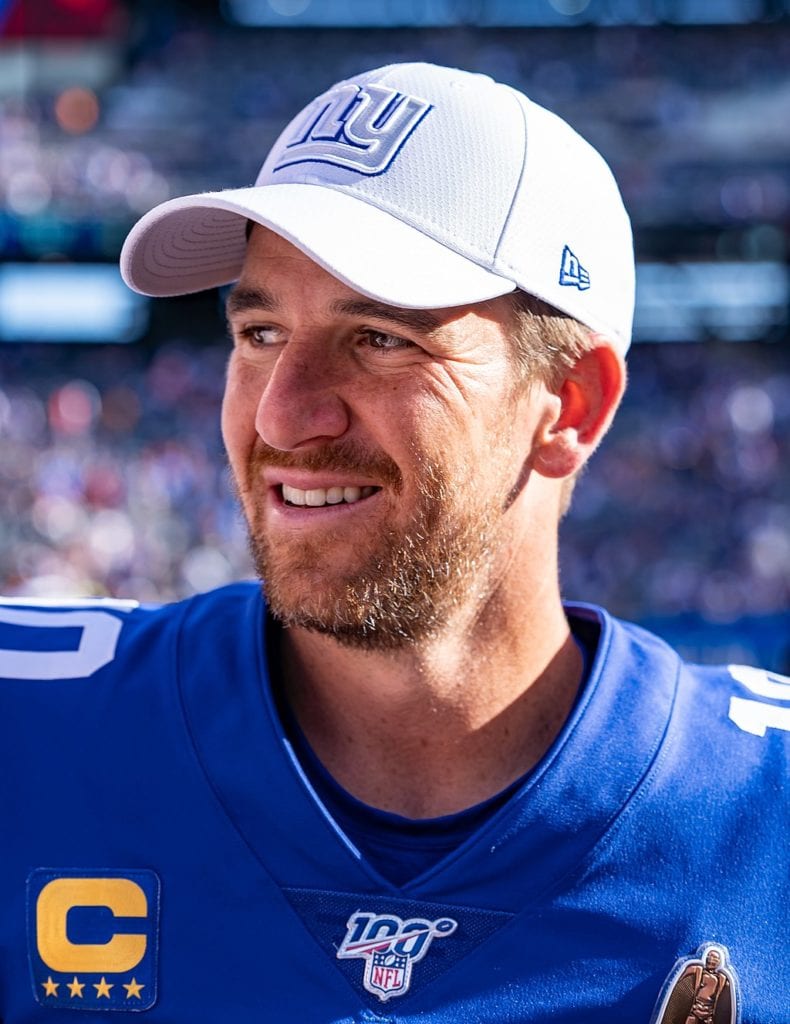 photo source: commons.wikimedia.org
Eli is Peyton Manning's youngest sibling, who was born in 1981 and is currently 41 years old.
Similarly to his older brothers, Eli decided to pursue a career in football. He went to high school at Isidore Newman School, where he played both basketball and football.
At the beginning of 1999, he decided to attend the University of Mississippi, where he played for the Rebels and soon distinguished himself. During this period, he won several records, including the Conerly Trophy – Best College Football Player In Mississippi, the Independence Bowl MVP, and the Maxwell Award – Nation's top Player.
Not surprisingly, Eli was selected first overall in the 2004 draft by the San Diego Chargers. However, soon after, he was traded to the Giants. He played for this team from 2004 to 2019. Eli led the Giants to two Super Bowl victories against the New England Patriots dynasty in both Super Bowl XLII and Super Bowl XLVI.
In his career, Eli was named Most Valuable Player twice and is one of the only five players to have been awarded such a title more than once. Apart from this, this player also holds the Giants' record for touchdown passes, completions, and passing yards. He also never missed a single game due to injuries.
Eli announced his retirement on January 22, 2020, after a successful career. Since then, he has joined ESPN as an NFL analyst for the 2021 season. He also hosts 'Eli's Places,' a show where he travels all over the country, meeting the biggest stars of college football.
Eli has been dating the same woman, McGrew, since his years in college. The two married in April 2008 in a private ceremony and now have four children, three daughters, and a son. The family lives happily together in Summit, New Jersey.
Did You Know?
Similarly to his brother, Eli also volunteered in the wake of Hurricane Katrina.
OTHER POSTS YOU MAY BE INTERESTED IN