Patrick Mahomes II has become one of the best football players in recent years. Drafted 10th overall in the 2017 NFL draft, he began his career as the backup to Alex Smith. Shortly after, the Kansas City Chiefs promoted him to the starting position in 2018.
The promotion was all he needed to take the sports world by storm. Hitting the ground running, he showed the poise, craftiness, and leadership of a savvy veteran.
He threw over 5,000 yards, 50 touchdowns, and only 12 interceptions. His success in his rookie campaign mirrored his college career at Texas Tech University.
Mahomes became the only player next to Peyton Manning, who threw 50 touchdown passes and 5,000 yards in a single season.
Patrick made his first Pro Bowl appearance that year. With an Offensive Player of the Year award and an MVP award under his belt, that was the fuel he needed to add to the fire for his sophomore season, which culminated in a victory at Super Bowl LIV. It was the first appearance for the Chiefs in their 50-year history.
Mahomes set the bar impossibly high for himself, and to recapture that magic of his first couple of years would seem a daunting task for any man. However, he's managed to meet the lofty expectations of armchair quarterbacks and studio analysts.
Even so, Mahomes couldn't take the weight of the expectation of an entire franchise without the right support system — his family.
So let's look at the siblings who lovingly cheer on their brother from the sidelines, starting with the oldest down to the youngest!
3. Patrick Mahomes II (September 17, 1995 – Present)
Age (as of May 25, 2022): 26
Born: Tyler, Texas
Occupation: NFL Quarterback
Instagram: @patrickmahomes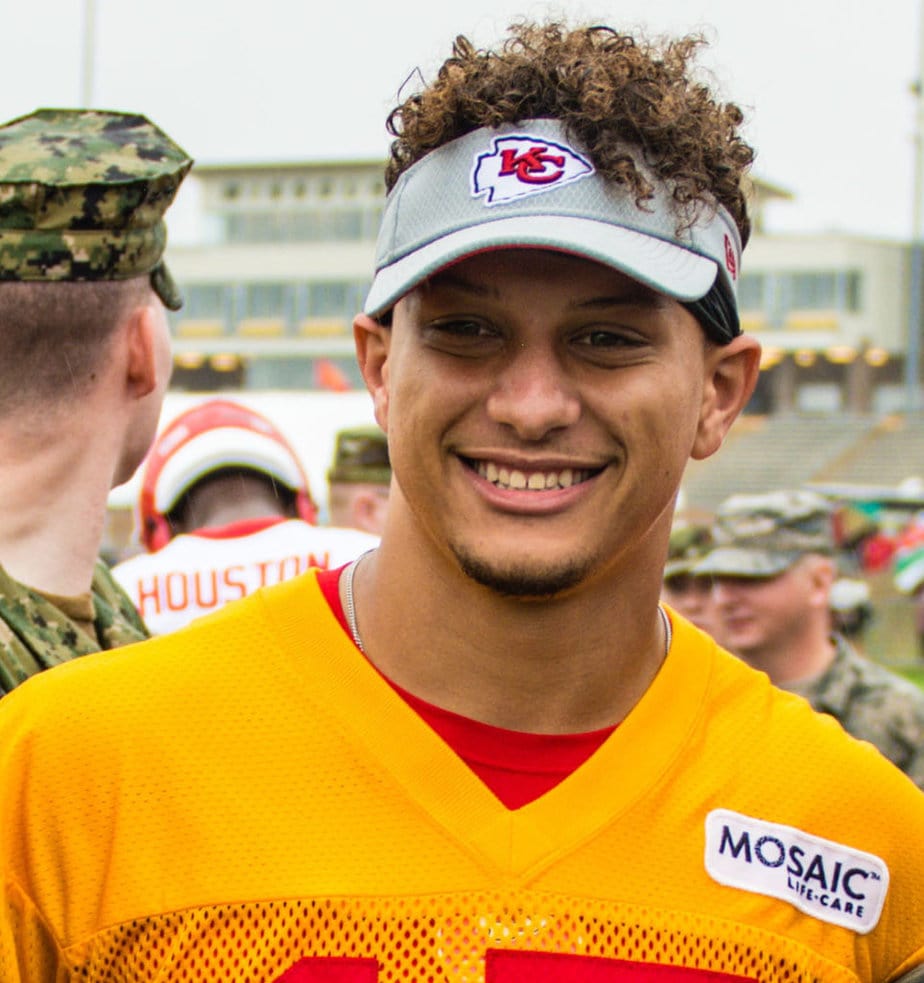 photo source: commons.wikimedia.org
Patrick Mahomes II sits at the head of the table in the Mahomes sibling hierarchy at 26-years-old. The quarterbacking sensation has had a short career in the NFL thus far but already can call himself a Super Bowl champ, a Super Bowl MVP, an MVP, and the list goes on and on.
In 2020, Mahomes signed a 10-year contract extension worth $477 million with a few extra million down the pipeline in incentives, totaling $503 million, making him the proud recipient of the second-largest contract in sports.
Patrick comes from an elite athletic pedigree. His father, Pat Mahomes, was an MLB pitcher who held various stints as a journeyman with the Twins, Red Sox, Mets, Rangers, Cubs, and Pirates.
Thankfully for Chiefs and football fans alike, Patrick was blessed with the gift of a cannon for an arm like dad, and he used it well in college as a baseball player at Texas Tech University.
He was even a top prospect in the 2014 MLB Draft, selected in the 37th round by the Detroit Tigers, but ultimately was met with the inevitable crossroad of choice between the two sports.
Like a page ripped straight from a fairytale, Mahomes proposed to his longtime girlfriend and high school sweetheart Brittany Matthews on September 1, 2020. It was the same day Mahomes received his championship ring.
Brittany is no slouch when it comes to sports either. She had a brief career as a professional soccer player for UMF Afturelding, before becoming a certified personal trainer. Brittany's playing days are over, but she's the co-owner of the women's professional soccer team, Kansas City Current.
Patrick and Brittany had their first child together (Sterling Skye Mahomes) on February 20, 2021. The two finally married on March 12, 2022, in Hawaii.
Did You Know?
Patrick Mahomes II is involved in philanthropic missions. In April 2019, he announced a nonprofit organization called the 15 and the Mahomies Foundation. A clever and cute play on words, the nonprofit says its mission is dedicated to improving the lives of children through supporting initiatives that prioritize health, wellness, and communities in need of resources.
---
2. Jackson Mahomes (May 15, 2000 – Present)
Age (as of May 25, 2022): 22
Born: Tyler, Texas
Occupation: Social Media Influencer
Instagram: @jacksonmahomes
View this post on Instagram
Jackson Mahomes is a TikTok, YouTube, Instagram, and all-encompassing social media personality.
The 22-year-old internet star currently sports over 258,000 followers, where he posts day-in-the-life style content of himself, family, and friends. He's the son of Randi Martin and Pat Mahomes.
Jackson has found himself on the receiving end of internet backlash for some of his attention-seeking antics during games. Most notably was the time he filmed a TikTok video while standing on the field during the memorial of former NFL star Sean Taylor, who died during a home invasion. However, on Twitter, Jackson was quick to apologize.
"I want to sincerely apologize for accidentally being on the Sean Taylor #21 at FedEx Field. We were directed to stand in that area and I meant absolutely no disrespect to him or his family."
Did You Know?
Jackson is best known for the dance and lip-sync videos he shares on TikTok, which are the most recent trend drawing everyone's attention on the internet. He performs to an audience of over 970,000 followers.
---
1. Mia Randall (July 12, 2011 – Present)
Age (as of May 25, 2022): 10
Born: United States
Occupation: N/A
Instagram: N/A
View this post on Instagram
Mia Randall is the youngest sibling in the family at just 10-years-old!
Mia Randall can be seen featured on her mom and brother's Instagram but otherwise stays out of the spotlight so she can live a normal, fulfilling childhood.
Her mom, Randi, works as a private events coordinator at the Hollytree Country Club in Tyler, Texas.
Did You Know?
Randi Mahomes has an Instagram, sharing snapshots of her life and her daughter Mia.
OTHER POSTS YOU MAY BE INTERESTED IN