Olivia Rodrigo joins a long list of individuals that have completed the Disney celebrity training program, successfully prepping her for a fruitful career in the entertainment industry.
The Disney alumni enjoyed her first taste of real fame when she starred in the cult-classic shows Bizaardvark and High School Musical: The Musical: The Series, based on the High School Musical films.
Like many artists who come out of Disney's family, artists try and unfortunately fail to parlay their acting into a successful music career. The number of artists who cracked the code and turned into accomplished musicians is few and far in between, but Olivia is on her way to becoming an exception rather than the norm.
Olivia has no siblings, but that's ok, considering she has enough talent to warrant an entire piece to herself! So join us while we learn more about Olivia Rodrigo's life, career, and what's next for the award-winning singer and actress.
1. Olivia Rodrigo (February 20, 2003 – Present)
Age (as of July 21, 2022): 19
Born: Murrieta, California
Occupation: Singer, Songwriter, Actress
Known For: Grammy Winning Artist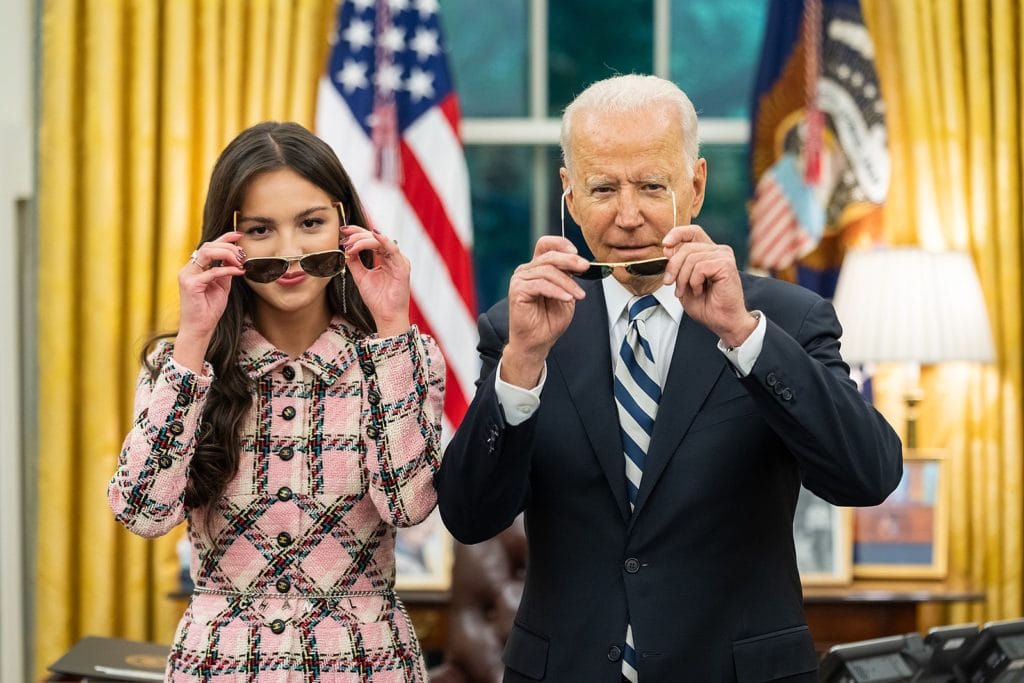 photo source: commons.wikimedia.org
Olivia Rodrigo is the only, and therefore the youngest, sibling of the Rodrigo family at 19-years-old!
Olivia Rodrigo is the daughter of a family therapist and school teacher, who she credits as the reason she entered a career in show business thanks to their encouragement and frequent suggestion she belonged on screen.
The Filipino community has reason to rejoice and claim Olivia since she and her family follow their cuisine and traditions thanks to her culturally eclectic mix of German, Filipino, and Irish.
At the behest of her mom and dad, she started taking vocal and piano lessons in kindergarten. She learned guitar, participated in theater, and turned herself into a quadruple-threat by the age of six.
For those that are fans of her music, you might hear sonic influences from world-renowned bands that came before, like Pearl Jam, No Doubt, and Green Day. Once again, we have to credit momma and poppa Rodrigo for their excellent, surprisingly modern taste in music and their insistence on imparting their love for good music to her.
But even with their influence, Rodrigo took an interest in songwriting through country music, which has a way of addressing matters of the heart in a straightforward, charming way.
As an actress, Olivia was introduced to the industry through commercial appearances for Old Navy. By 2015, at 12-years-old, she made her film debut in American Girl: Grace Stirs Up Success. It was relegated to the straight-to-DVD graveyard, but it was enough to dress up a resume that got the attention of casting agents at Disney one year later.
Her big break came with her portrayal of Paige Olvera, a guitarist on the hit Disney Channel series Bizaardvark. She starred in the series for three seasons before she moved to the Disney+ series High School Musical: The Musical: The Series, in which Rodrigo was given creative license to feature her music on the show.
Interscope and Geffen Records saw a clear superstar in the making and signed her in 2020. One year later, she co-wrote and produced the single that catapulted her to the top of the music food chain – "Drivers License."
"Drivers License" received instant acclaim and praise from critics fawning over the fact that she was able to break Spotify's record twice for most daily streams for a non-holiday song.
Over 32 million streams in two days had Rodrigo flirting with unprecedented territory. She broke another Spotify record for the first song in history to reach 80 million streams in one week.
It debuted at number one on the Billboard Hot 100 and wouldn't be budging for the foreseeable future. Her parent's long-term investment in paying for piano, vocal, and music lessons surely paid off.
Olivia isn't shy about getting political for causes she cares about. During the height of the Covid pandemic, she partnered with President Joe Biden, VP Kamala Harris, and Chief Medical Advisor Anthony Fauci to get more young people in the United States vaccinated.
With the recent overturning of Roe v. Wade, which was a transformative case brought to the Supreme Court that once allowed women to receive safe and legal abortions, Rodrigo performed Lily Allen's song, "F—k You," with Lily Allen. She dedicated the song to the Supreme Court judges responsible for overturning the bill.
Apart from Rodrigo's legendary rock influences, she cites Taylor Swift and Lorde as her idols and primary inspirations. Like Taylor, who is regarded as one of the most famous musicians of this generation, she's expressed her interest in being the best songwriter she can be and is not as concerned with being "the biggest pop star that ever lived."
Her agreement to sign with Interscope/Geffen Records was because of their attention on her songwriting ability as opposed to talking about her sex appeal as the next big star.
In February 2022, fans eagerly anticipated Olivia's announcement of her new Disney+ documentary film Olivia Rodrigo: Driving Home 2 U. It was released a month later, and mirroring the success of her music, it was a smash hit. On the outside looking in, she's enjoyed nothing but repeated success in her young professional career.
She's earned seven nominations at the 64th Annual Grammy Awards and took home the hardware for Best New Artist, Best Pop Vocal Album (Sour), and Best Pop Solo Performance (Drivers License).
The awards show marked her first appearance at the Grammys and she certainly set the bar high for her next appearance. If her track record is an indication of future success, there's no reason to believe she won't be able to match or surpass her rookie success.
Did You Know?
If you're among the millions of like-minded Olivia Rodrigo fans eager to see what the next step in her life is, you can follow her on Instagram, where she posts content featuring her friends, her music, and life on tour to over 27 million followers.
OTHER POSTS YOU MAY BE INTERESTED IN
---