There's something special about working for an organization where older employees are commonplace. It means that their longevity is not only appreciated but encouraged.
This also means that there are plenty of opportunities to learn from the experts and gain insight into how to continue working past the traditional retirement age.
In fact, most people don't plan on stopping working until they're at least 70 years old, with a significant portion saying they'll work beyond that. With a little planning and dedication, these people prove that anyone can continue working well into their golden years.
Check out these five oldest employees in the world as we explore some inspiring examples of people who simply never give up on their dreams.
5. Sara Dappen (1920 – present)
Age When Retired: 92 years old
Occupation: Fast Food Crew
Country: USA
Company: McDonald's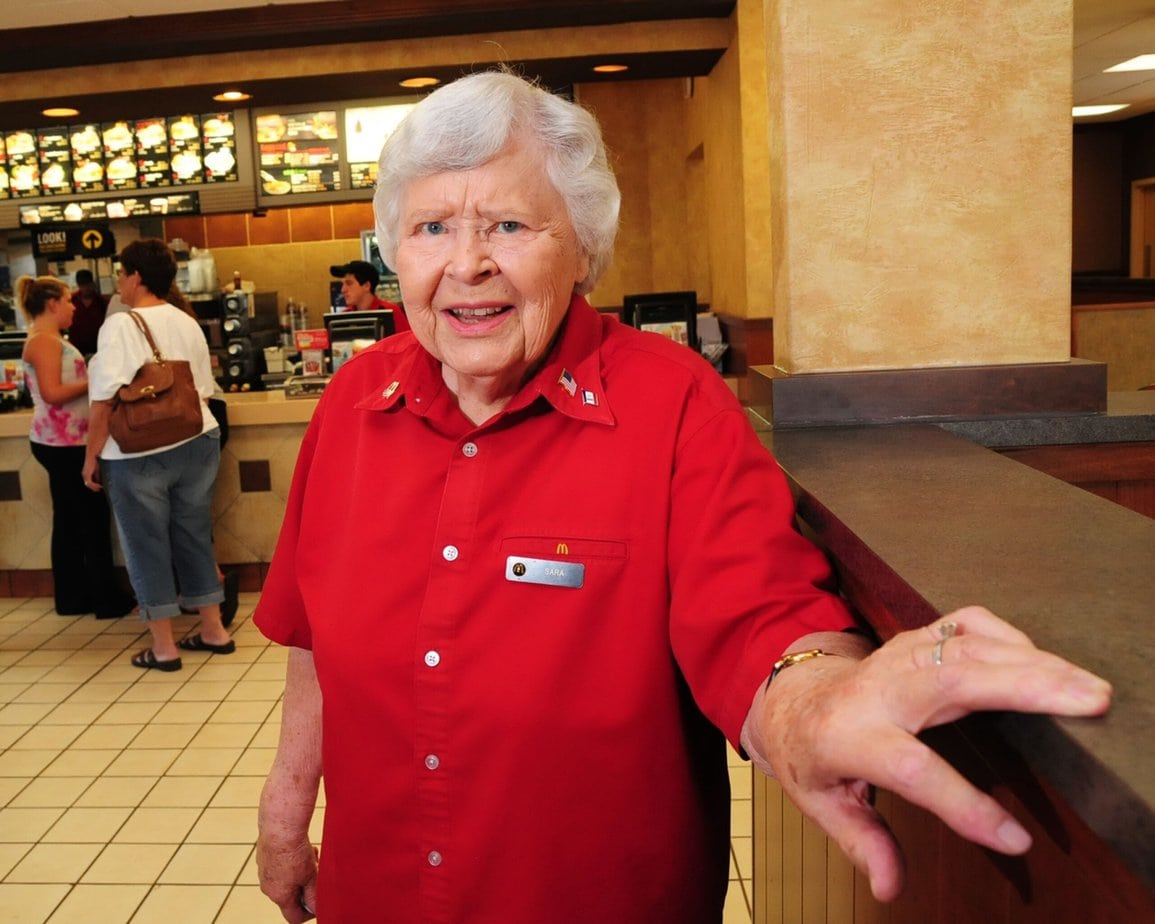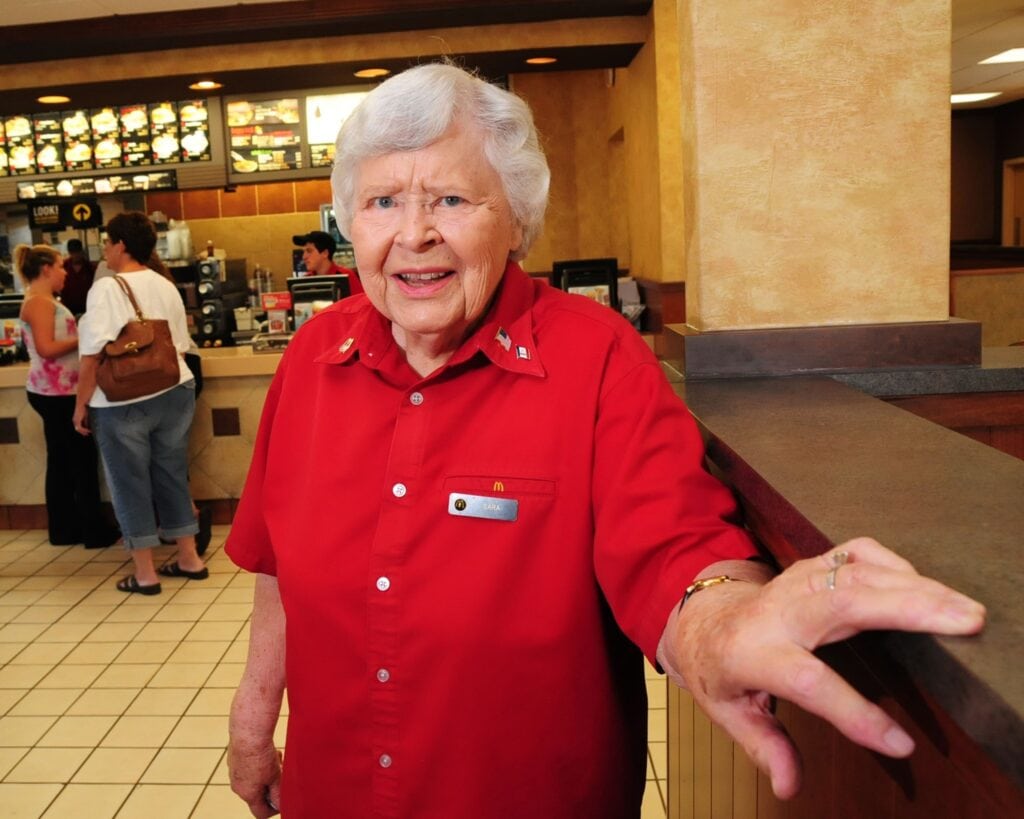 photo source: Pinterest
The oldest McDonald's employee in the world is a nonagenarian Iowa woman who was enthusiastic about her job until she retired at the ripe old age of 92.
Sara Dappen, who was born in 1920, graduated from Story City High School in 1938 and Iowa State University in 1942.
During her days at McDonald's as a fast food crew, you can find her flipping burgers at the McDonald's in Story City, where she has been employed for the previous five years.
She said her favorite aspect of the work was speaking with clients while tidying up tables after guests. Other employees seem to have picked up on her experience since they claim to be "motivated" by the way she conducts herself.
---
4. Jiro Ono (October 27, 1925 – present)
Age When Retired: Still partly active (currently 97 years old)
Occupation: Michelin Star Chef
Country: Japan
Company: Sukiyabashi Jiro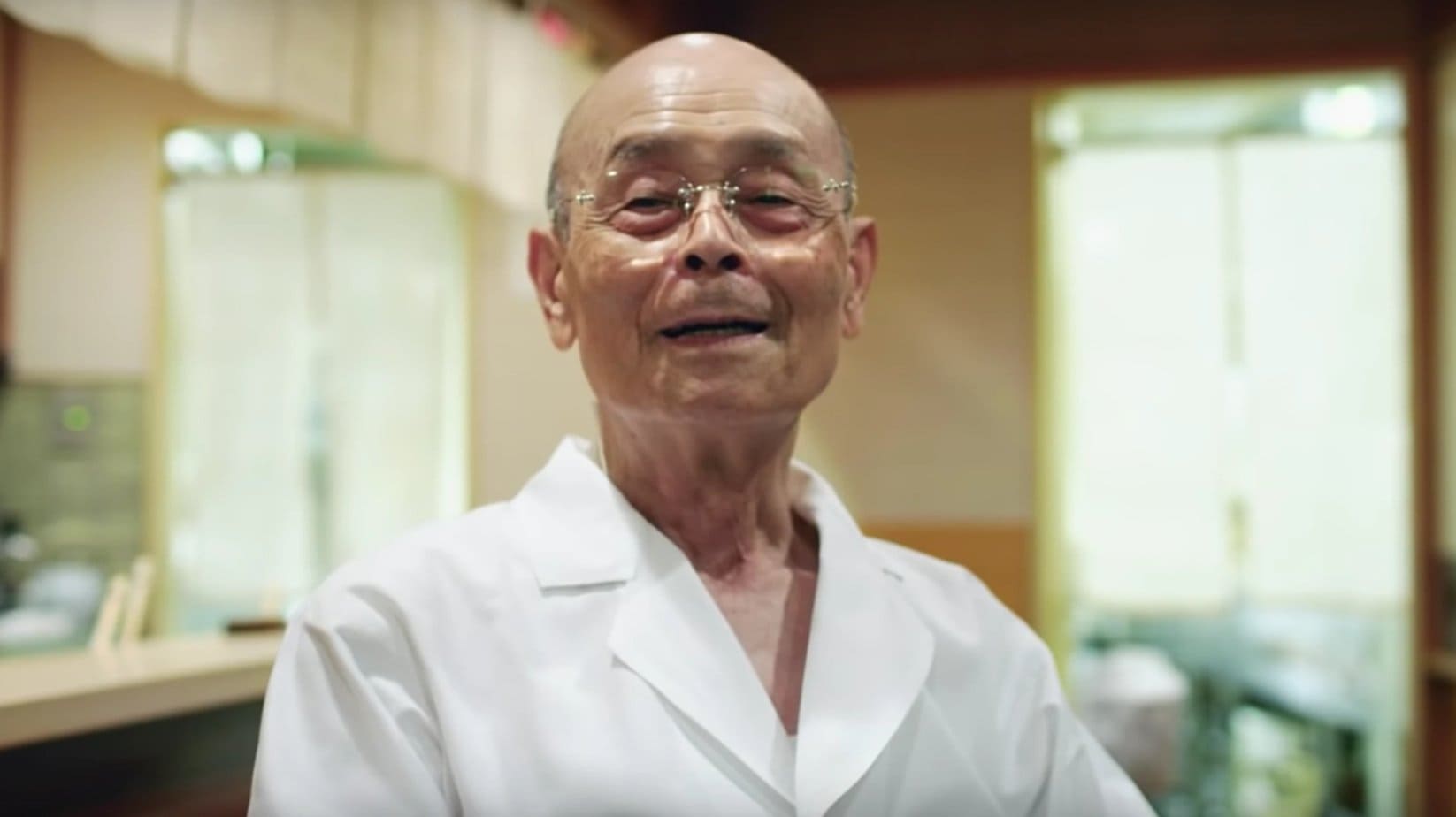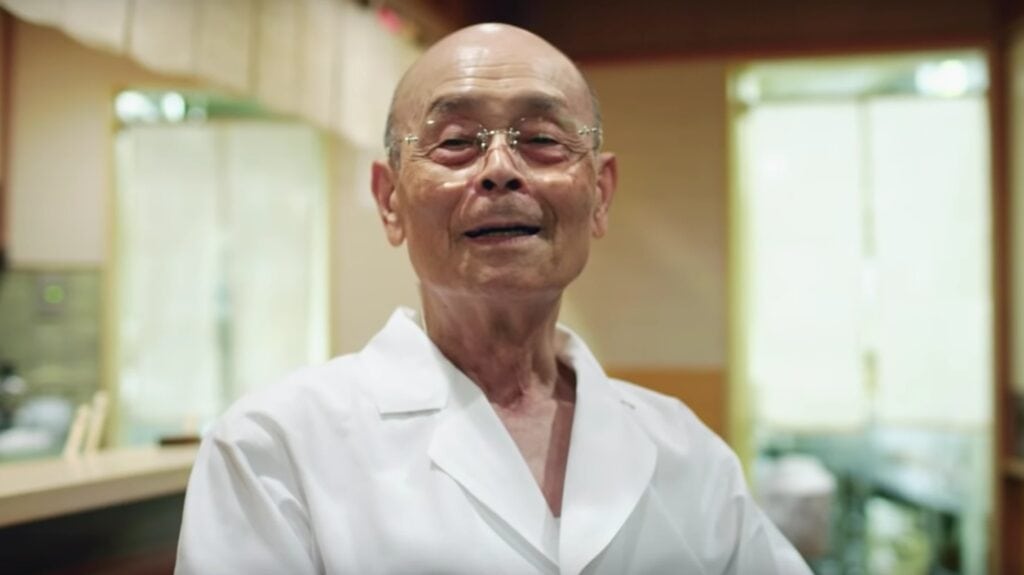 photo source: Vice
Jiro Ono is a Michelin-starred sushi chef who is considered one of the best in the world. He is about to celebrate his 97th birthday and has been a sushi chef for over 70 years.
Jiro has worked at his current restaurant, Sukiyabashi Jiro, for over 50 years. The restaurant is located in the basement of a Tokyo office building and only seats 10 people.
Jiro is known for his dedication to sushi and his perfectionism.
He wakes up at 5 am every day to begin preparing for lunch service. He sources the freshest fish and produces his own rice.
Jiro's sushi has been praised by many notable figures, including former United States President Barack Obama.
---
3. Dolly Saville (1915 – 2015)
Age When Retired: 99 years old
Occupation: Barmaid
Country: UK
Company: The Red Lion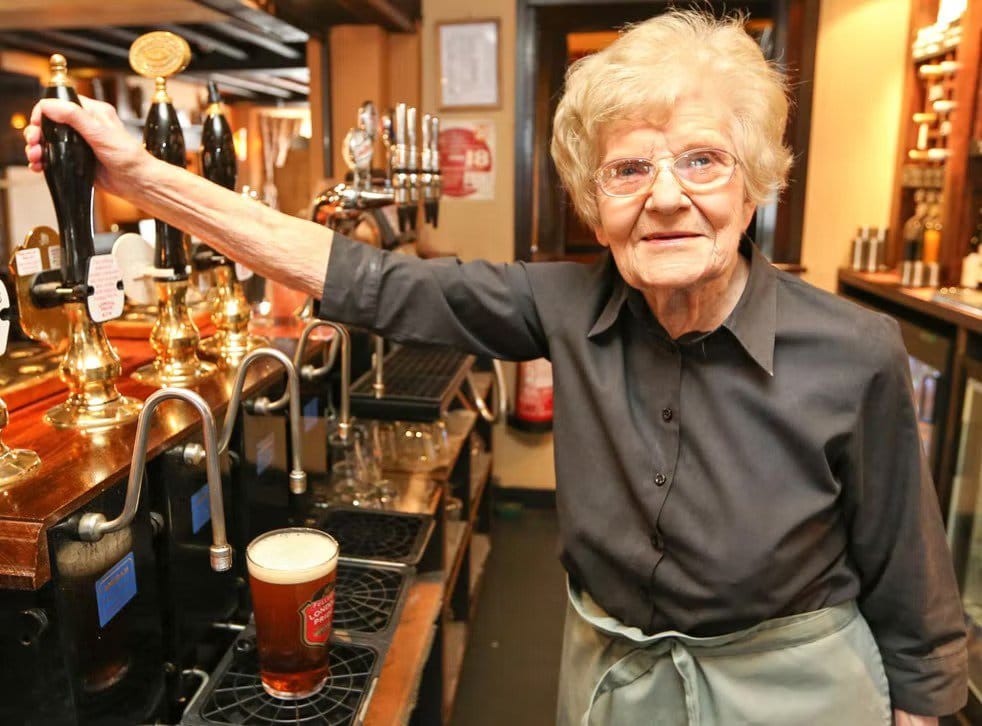 photo source: The Independent
Dolly Saville was born in 1915, making her the oldest barmaid to have worked at The Red Lion in the United Kingdom.
She began working at the pub when she was just eighteen years old and continued to do so until she retired at the age of 73 and partly worked there until her death at the age of 99 in 2015.
Dolly was known for her kind and generous nature, always taking the time to chat with customers and make them feel welcome. She was also known for her excellent baking skills, and would often bake treats for the regulars at the pub.
In her retirement, Dolly continued to live in the same village as the pub, and could often be seen taking a stroll down to the pub for a pint and a chat with the locals.
---
2. Jim Clements (1913 – 2015)
Age When Retired: 100 years old
Occupation: Office Worker
Country: UK
Company: At a security firm in Essex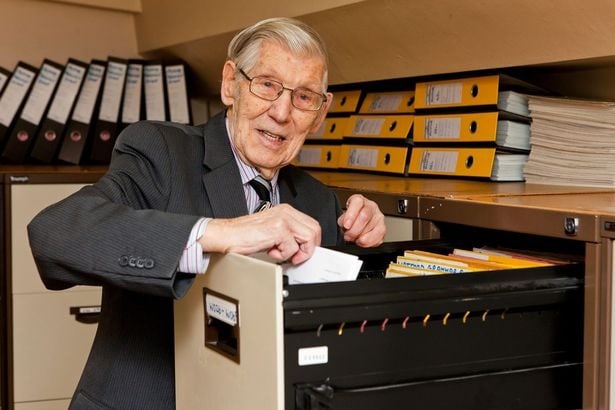 photo source: The Mirror
Jim Clements was the oldest office worker who worked at a security firm in the UK. He started working at the firm when he was just 18 years old and has been with the company for over 40 years.
In that time, he saw many changes in the security industry and played a vital role in helping the firm to adapt and evolve.
Upon his retirement, he still partly worked at the firm to make himself busy until he passed away.
Other interesting facts about Jim Clements include that he was a keen photographer and had his work featured in various publications. He was also an avid collector of stamps and had an impressive collection that he amassed over the years.
---
1. Irving Kahn (1905 – 2015)
Age When Retired: 109 years old
Occupation: Investment Banker
Country: USA
Company: Unspecified
photo source: Wikipedia
Irvin Kahn is considered the oldest employee in the world. He started his career as a second teaching assistant at Columbia Business School and continued to work until his death in 2015. Kahn was 109 years old.
As a teaching assistant, he worked under Benjamin Graham, of whom Berkshire Hathaway chairman Warren Buffet also worked as one of his students and teaching assistants.
Kahn was a renowned value investor and has been credited with helping to popularize the concept of value investing.
He was a mentor and friend of Warren Buffett and had been a guest lecturer at Columbia Business School. He was an early investor in Warren Buffett's Berkshire Hathaway.
Although Kahn was successful with his investments, he enjoyed his job and never retired.
OTHER POSTS YOU MAY BE INTERESTED IN