In recent years, the average age of first time mothers has steadily risen and many reports say that women are now more likely to have their first child in their early 30s – the average is still around age 28. All the mothers on this list have taken this delayed motherhood to the extreme as all of them are over 65 years old and many of them are even first-time mothers. These women were able to have children at such an advanced age due to modern fertility treatments.
Although these women (and their husbands if they're married) are happy with their decision to have children in their advanced stage of life, they and their doctors have earned criticism from other doctors and people around the world.  
7. Annegret Raunigk
Age:  65
 When Did She Give Birth: May 2015
Country of Origin:  Berlin, Germany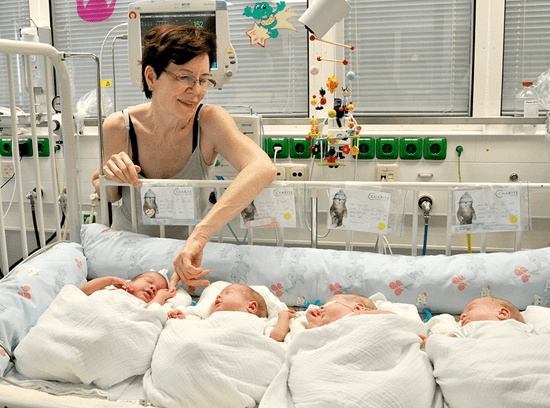 photo source: People Celebrity  
Annegret Raunigk is the oldest woman, at age 65, to give birth to quadruplets. Raunigk is already a single mother to 13 children (from five different fathers) and with the quadruplets, this brings her total number of children up to 17. 
Doctors in Germany refused to give Raunigk IVF treatments because they were concerned that her body wouldn't be strong enough to survive the stress of bearing any more children. However, a doctor in Ukraine agreed to artificially inseminate Raunigk. When faced with criticism and accusations that she is selfish and crazy, Raunigk stands by her decisions and says that everyone "should live as they want to."  
---
6. Bhateri Devi Singh 
Age:  66
 When Did She Give Birth: June 2010 
Country of Origin:  Alewa, India 
photo source: Daily Mail 
Bhateri Devi Singh gave birth to triplets, at the age of 66, in 2010. Singh delivered the babies after receiving IVF treatments from the National Fertility Center in Haryana, India, which is is known to be a controversial treatment facility as it has supplied treatments to most of the other women on this list. 
Dr Anurag Bishnoi, who supervised Singh's treatment, is proud of what the fertility center has achieved. Singh and her husband, Deva, had been trying to start a family since they were first married over 40 years ago and Deva said that he was ecstatic to become a father for the first time.  
---
5. Adriana Iliescu  
Age:  66
 When Did She Give Birth: January 16, 2005 
Country of Origin:  Bucharest, Romania  
photo source: Daily Mail  
In 2005, after giving birth to a daughter at age 66, Adriana Iliescu was the oldest recorded mother at the time. She successfully gave birth to her daughter via Cesarean section after undergoing fertility treatment for nine years. Iliescu told reporters that she had always wanted to be a mother but was unable to conceive naturally. When she was interviewed by Realitatea TV, Iliescu said that she was optimistic that she would be able to see her daughter, Eliza Maria, grow up as her family has a history of longevity.
As of 2017, there have been no reports or rumors of Iliescu's death, so she is most likely still alive and Eliza Maria would currently be 12 years old. One of the last interviews Iliescu gave was in 2010 to the Daily Mail – at the time Eliza Maria was five and Iliescu said that she was open to having another baby.  
---
4. Maria del Carmen Bousada de Lara   
Age:  66
 When Did She Give Birth: December 29, 2006 
Country of Origin:  Cadiz, Spain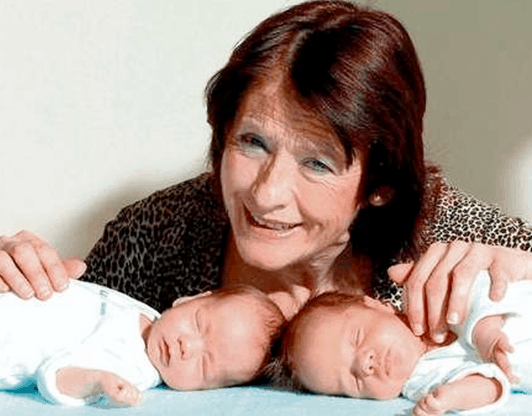 photo source: Alchetron  
Maria del Carmen Bousada de Lara is perhaps the most controversial older mother on this list. She admitted to lying about her age to doctors in order to receive her fertility treatment at a private clinic in Los Angeles, California. After giving birth to her twin sons at the end of 2006, Bousada de Lara defended her decision saying, ""I have wanted to be a mother all my life, but I never had the opportunity, or met the right man."
Her own family called her decision "selfish and irresponsible" and told her that her children would most likely be orphaned. About a year after giving birth, Bousada de Lara was diagnosed with stomach cancer and she died on July 11, 2009.  
---
3. Omkari Panwar  
Age:  70
 When Did She Give Birth: June 27, 2008
Country of Origin:  Muzaffarnagar, India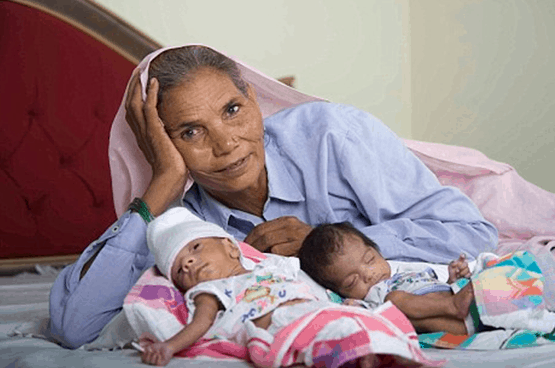 photo source: Daily Mail  
Omkari Panwar is another older mother from India, who gave birth to twins in 2008 at the age of 70. Panwar said that she was determined to have a son as she and her husband, Charan Singh Panwar, already have two adult daughters.
Due to her advanced age, Panwar had to undergo IVF treatment, which her husband paid for by selling his buffalos, mortgaging his land, spending his life savings, and taking out a credit card loan. The Panwars said that all the trouble they went through was worth it just to have their son as they now have an heir to their farmland.  
---
2. Rajo Devi Lohan 
Age:  70
 When Did She Give Birth: November 2008
Country of Origin:  Alewa, India
photo source: Daily Mail  
In 2008, Rajo Devi Lohan gave birth to her daughter at the age of 70 in India. At the time, Lohan was the oldest known first-time mother and she garnered international attention. She was able to have her baby after receiving IVF treatment at the age of 69, but nearly died in the process.
In 2013, the Daily Mail conducted a follow-up interview with Lohan, who said that having her daughter made her stronger and that she's "the only reason" that Lohan has not died despite being ill. As of 2015, Lohan appears to still be alive nearly a decade after giving birth to her daughter, Naveen.  
---
1. Daljinder Kaur
Age:  72
 When Did She Give Birth: April 19, 2016
Country of Origin:  Amritsar, India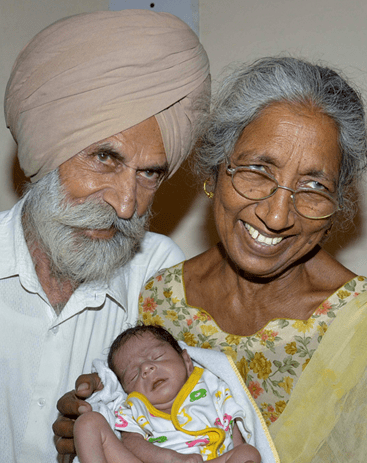 photo source: CBS News 
Daljinder Kaur made international news in early 2016 for giving birth to a son at the age of 72. The baby, who is named Arman (which means "wish" in Hindi), is the first for Kaur and her 79 year old husband Mohinder Singh Gill. After nearly five decades of marriage, Kaur was finally able to have a baby after undergoing two years of IVF treatment. Although Kaur said that she was 70 years old, the hospital where she received her treatments put her at age 72 – many people in India don't know their exact age because they don't have a birth certificate.
Dr. Anurag Bishnoi, the doctor who provided Kaur with the fertility treatments, was criticized by other doctors and fertility experts for giving IVF treatments to someone as old as Kaur. These critics worry that Kaur's success will give unrealistic expectations to other older women hoping to have children.